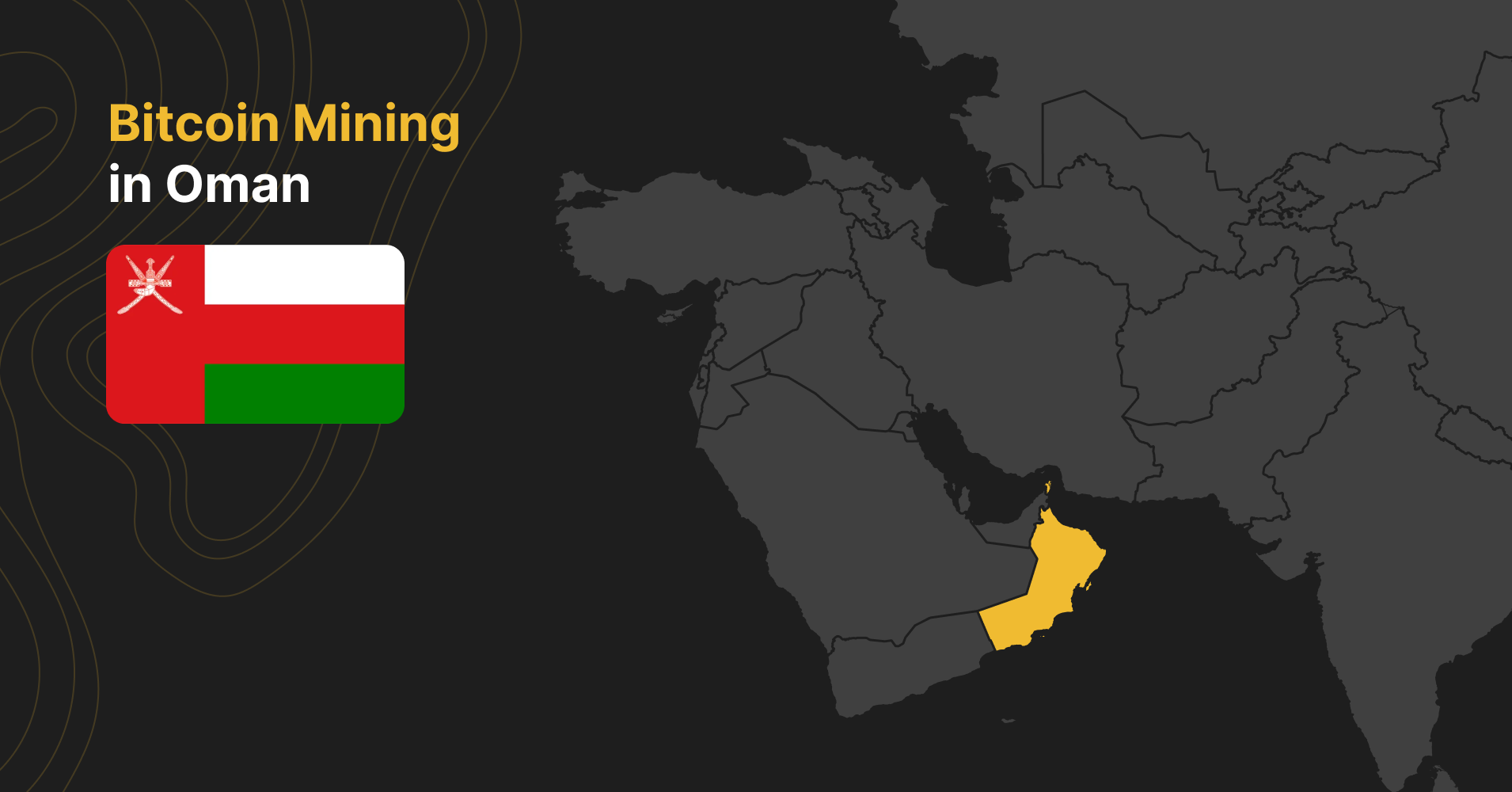 Bitcoin Mining Around the World: Oman
Oman has the potential to become the biggest bitcoin mining hub in the Middle East.
Oman recently made headlines with the launch of two mega bitcoin mining projects that could turn the country into the biggest bitcoin mining hub in the Middle East.
I spent some time in Oman in June and met with local players. In this article, I explain what characterizes bitcoin mining in Oman and analyze what its future could look like.
This article is the latest in our Bitcoin Mining Around the World series. Our previous articles cover Sweden, Norway, Finland, Iceland, Paraguay, Kyrgyzstan, Kazakhstan, and the United Arab Emirates.
The upcoming Middle East bitcoin mining giant
Oman is situated on the southeastern coast of the Arabian Peninsula, sharing land borders with Saudi Arabia, the United Arab Emirates, and Yemen. Like most countries in the region, Oman's economy is centered around oil and gas, and the country is the 6th largest oil producer per capita in the world.
With its massive energy surplus and deep desire to diversify and modernize its economy, Oman is now moving heavily into bitcoin mining. Two mega mining projects - Exahertz and Green Data City - are currently under development and could ultimately turn the country into the biggest bitcoin mining nation in the Middle East.
Exahertz is paving the way in bitcoin mining in Oman, with Green Data City also being well-positioned for solid growth going forward.
As of September, approximately 20 MW of mining capacity is operating in Oman, consisting of Exahertz's and Green Data City's pilot projects of 11 MW and 1.2 MW, in addition to a few MWs of unlicensed operations. At 27.5 J/TH, this 20 MW of power consumption should equal 0.7 EH/s, giving Oman a 0.2% share of the global hashrate.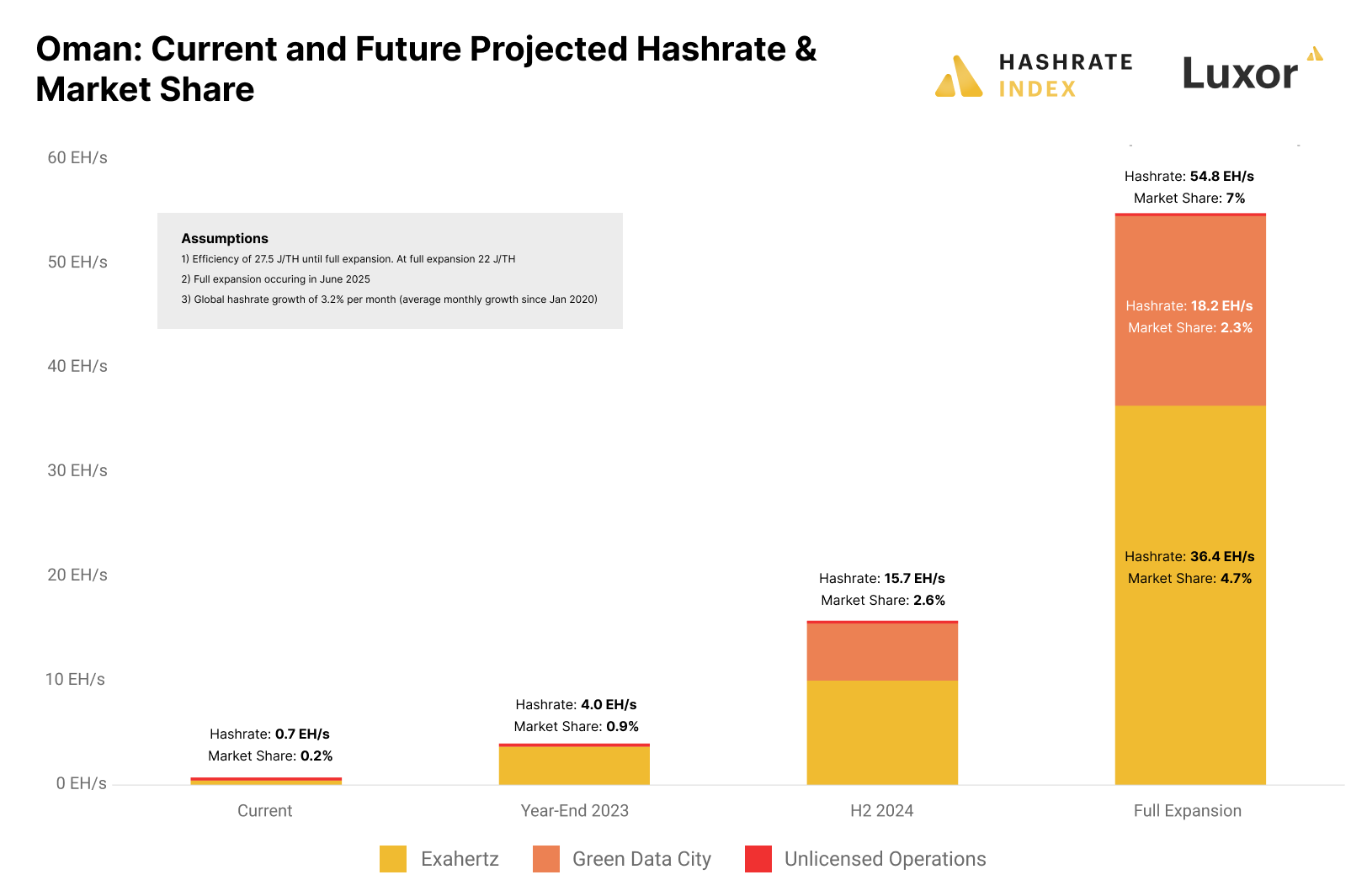 By year-end, the total hashrate originating from Oman could reach 4 EH/s, or 0.9% of the Bitcoin mining network. This growth will come from Exahertz scaling to 100 MW.
But Oman's bitcoin mining projects will not stop there. In the second half of 2024, Exahertz expects to have 275 MW running, generating 9.9 EH/s. On top of that, Green Data City plans to commission 150 MW yielding an estimated 5.5 EH/s. Thus, Oman's total hashrate in the second-half of 2024 could be 15.7 EH/s, corresponding to an estimated 2.6% of the network.
Exahertz and Green Data City will continue scaling toward 800 MW and 400 MW, respectively. Assuming an average efficiency of 22 J/TH, these projects' 1,200 MW could eventually generate a total of 54.8 EH/s, equating to an estimated 7% of the Bitcoin hashrate in June 2025. However, it is important to note that these companies do not have a stated timeline for their full expansion.
Oman's two licensed bitcoin mining companies
As explained in the previous section, the entirety of Oman's stated bitcoin mining growth will come from only two projects: Exahertz and Green Data City. These are the only companies holding licenses for developing and operating bitcoin mining operations in the country. We will now take a closer look at them.
As you can see on the map below, Oman's electricity system consists of two separate electricity grids named "Main Interconnected System" and "Dhofar". Both Exahertz's and Green Data City's pilot projects are located in or close to Salalah in Dhofar, while Exahertz has two additional sites under development in Jebel Akhdar and Sohar situated in the Main Interconnected System area.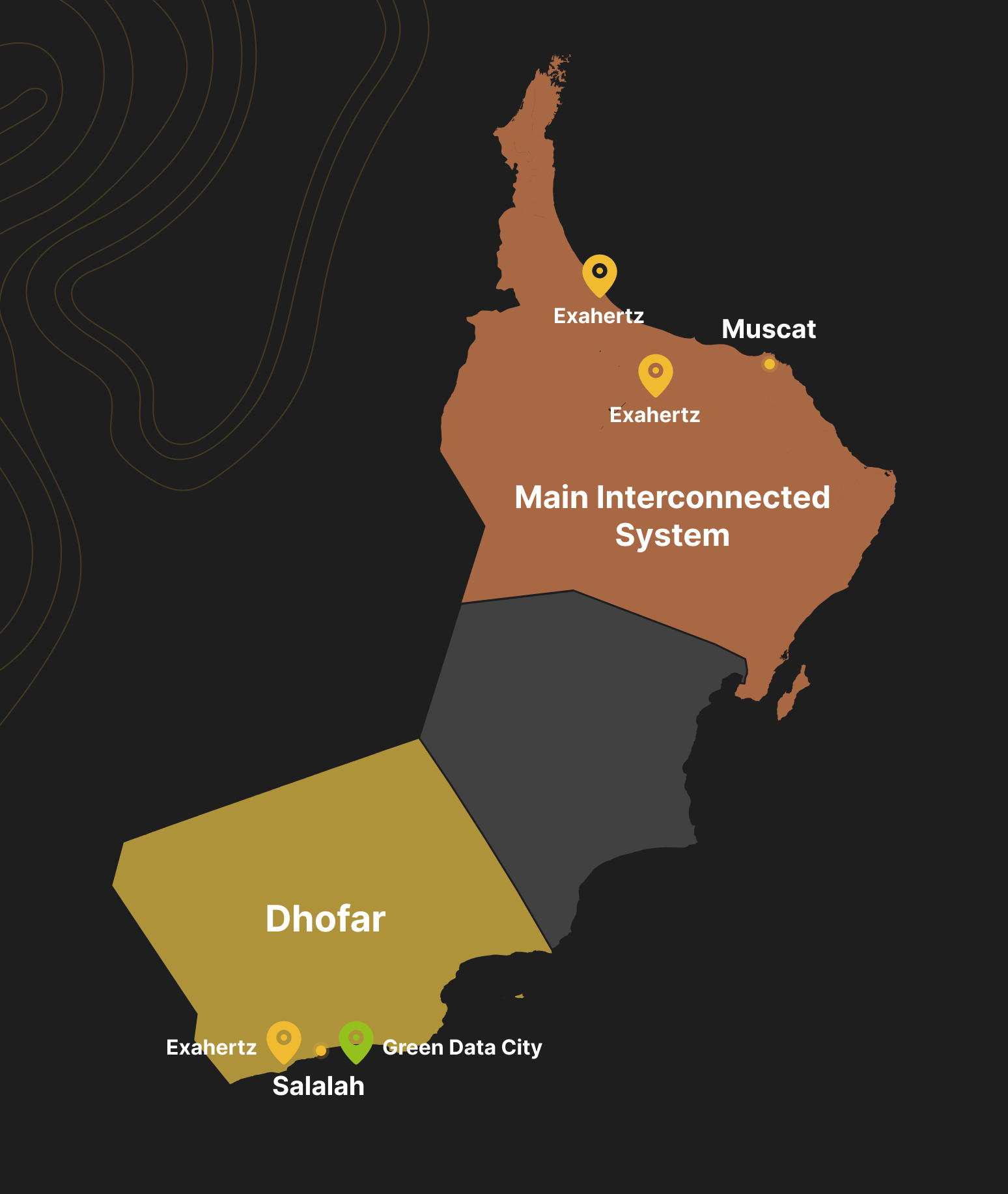 Exahertz is an Oman-based startup led by a team with deep local business and infrastructure development experience, including Jad Kharma (CEO), Dragos Dumitrascu (CSO), and Sam Ferdows. The company has solid governmental support for creating a hub in Oman for hyper-scale data centers for high-performance computing; of course, bitcoin mining plays a critical role in this vision.
I was lucky enough to visit the Exahertz team at their pilot site in Salalah in June. Arriving straight from the scorching heat in the United Arab Emirates, what immediately struck me was Salalah's cooler climate, which should, all else equal, make the place comparatively more attractive for bitcoin mining. We will take a closer look at the operating conditions later in the article.
Exahertz has a partnership with Bitmain and utilizes hydro-cooled Bitmain containers equipped with the S19 Pro+ Hydro at its Salalah pilot site. The company is also looking at alternative cooling solutions and has immersion-cooling and dry-cooling equipment being commissioned at other sites. Exahertz is adjusting this equipment for each site to optimize it for the local conditions.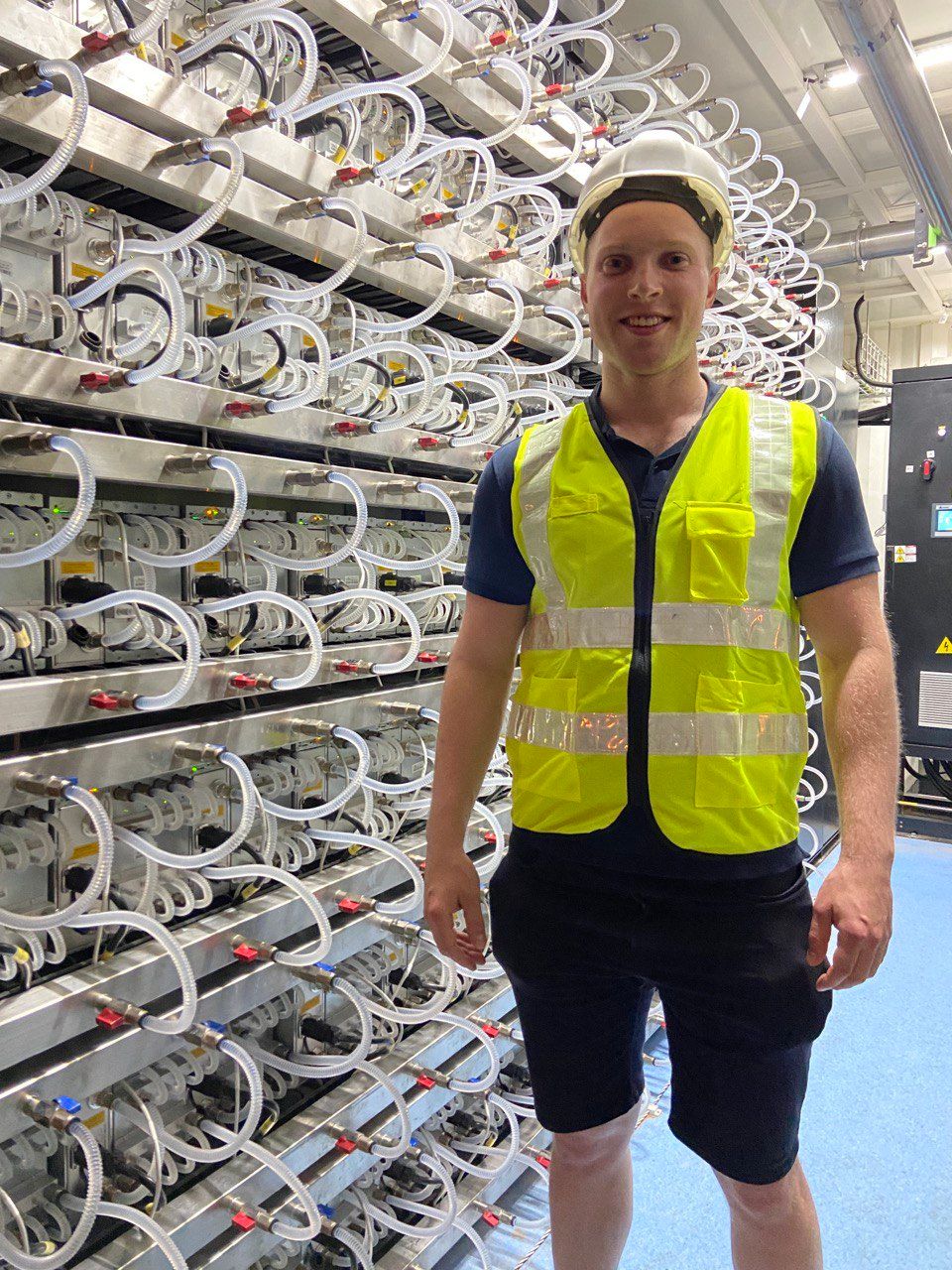 Green Data City is the other recipient of the mining license in Oman. This company also operates near Salalah and has been allocated a total electricity capacity of 400 MW, which it will lease to various bitcoin miners. Green Data City recently announced an agreement with Abu Dhabi-based Phoenix Group to construct a 150 MW mining farm which should be running at full capacity by the second half of 2024. This will not be Phoenix Group's first site in the region, as it has already built a 200 MW mining farm in Abu Dhabi in cooperation with Abu Dhabi's sovereign wealth fund.
Phoenix is a regional distributor of Whatsminer and will thus fill this facility with machines of this brand. I expect that this facility will utilize immersion-cooled machines from the M56 series.
A third and more internationally well-known player also exists in the Oman bitcoin mining sector: Crusoe Energy. In June 2022, the US-based company raised $350 million from several investors, including Oman Investment Authority, the country's sovereign wealth fund. Per our information, Crusoe Energy has still not established any mining operations in Oman.
Oman is powered by natural gas and solar
In the previous sections, we outlined the growth potential of Oman's bitcoin mining industry and described the most important players. In this and upcoming sections, we will analyze the factors that make Oman attractive for bitcoin miners, starting with the electricity system.
Similar to other Middle Eastern countries, Oman has historically exported its oil while leveraging its natural gas for domestic electricity generation. Thus, the country has historically been 100% powered by natural gas.
However, in recent years, the Omani government has adopted a fuel diversification policy with a target of generating 30% of the electricity from renewable sources by 2030. The only way to achieve this optimistic goal is by initiating massive development of Oman's excellent solar resources.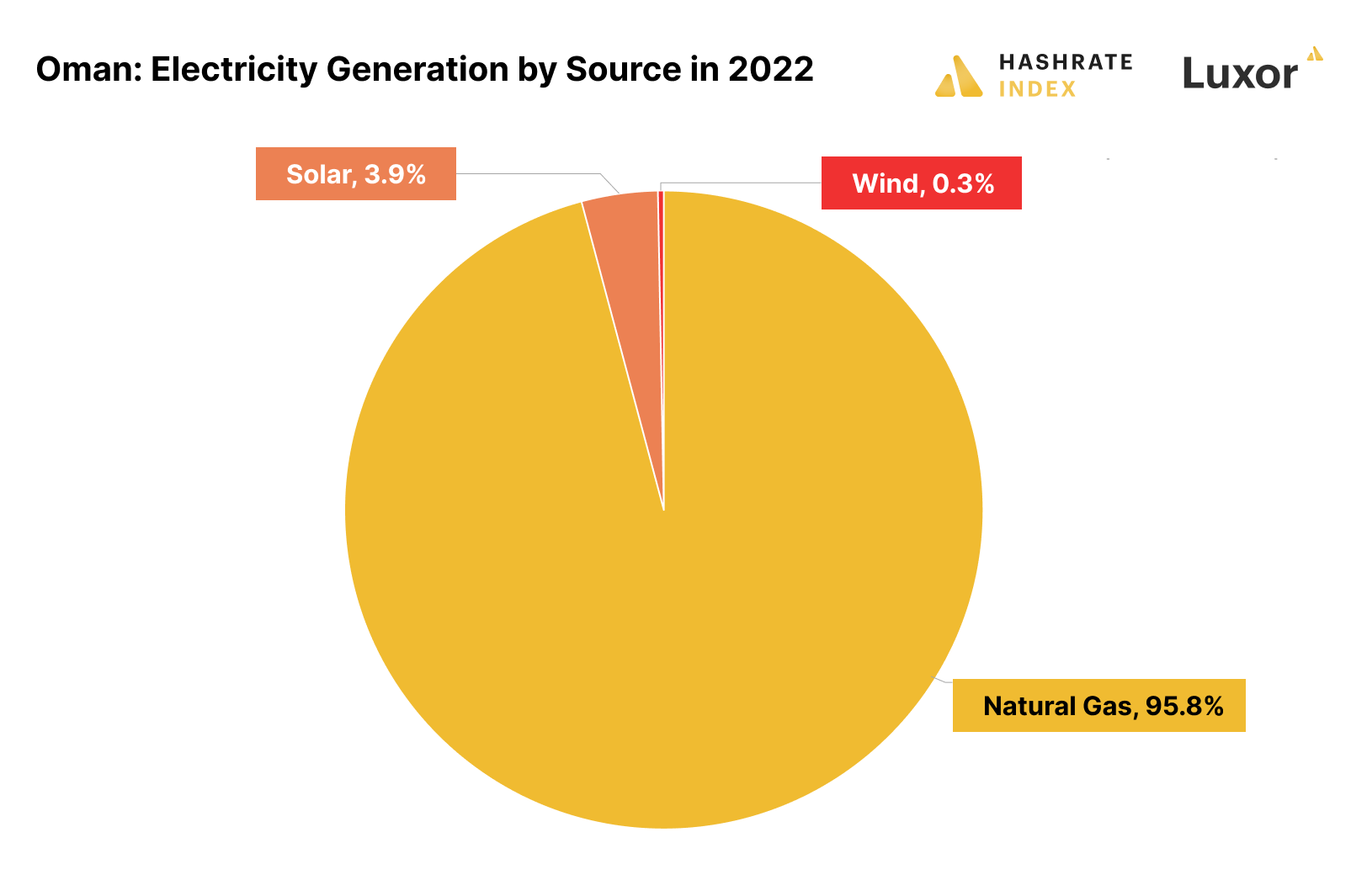 Oman commissioned a 500 MW solar plant in 2021 that generates approximately 4% of the country's electricity, while the remaining 96% comes from natural gas. The share of solar and wind is scheduled to increase dramatically as Oman commissions more of these plants.
As we have seen in some US states like Texas, a high share of variable renewable energy sources like solar often coincides with an increased need for demand flexibility to help stabilize the grid and offtake excess electricity. As I explain in this article, bitcoin miners possess several characteristics making them uniquely flexible electricity consumers and are thus ideally positioned to provide much-needed demand flexibility to highly renewable grids. Bitcoin miners could become critical tools for Oman in safely and economically integrating its solar capacity.
Oman has a growing electricity surplus
In the previous section, we described how the growing share of solar will increase the need for bitcoin miners to stabilize the grid and offtake excess electricity. We will now quantify Oman's current and future electricity surplus.
Most of Oman's population is concentrated in the northernmost and southernmost parts of the country, with barely anybody living in the central part. Due to this demographic characteristic, Oman has split its electricity system in three separate grids - one in the north, called the Main Interconnected System ("MIS"), and one in the south, called Dhofar. The country also has a small grid located in Musandam, a northern enclave surrounded by the United Arab Emirates. These grids are shown in the map earlier in the article.
Oman's total generation capacity is currently 9.4 GW, of which 8 GW is located in MIS and 1.2 GW in Dhofar. Due to the country's massive solar expansion, as well as the commissioning of a few new natural gas plants, Oman's total generation capacity is expected to reach 13.1 GW by 2027. This corresponds to a massive annual growth rate of 8.7%, highlighting the country's determination to keep growing its economy.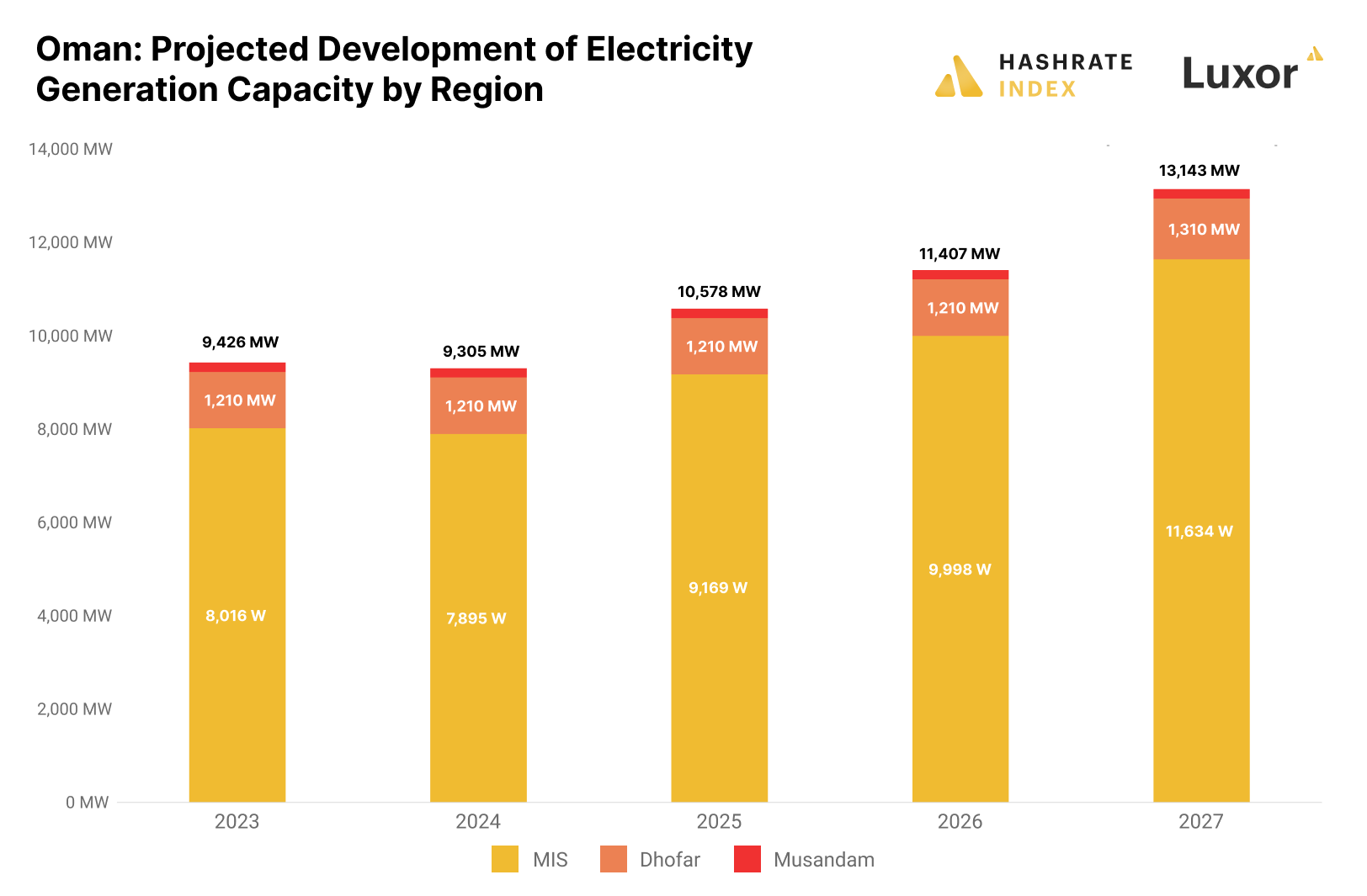 As you can see on the chart above, most of this capacity growth will come in MIS, while Dhofar will only see marginal growth. Currently, Exahertz and Green Data City are operating in Dhofar, but Exahertz is also developing sites in MIS where the electricity generation capacity growth will be the most significant.
Oman already has a considerable electricity surplus of 1.3 GW, consisting of 0.7 GW in MIS, 0.5 GW in Dhofar, and 0.1 GW in Musandam. Dhofar has the highest surplus relative to its generation capacity at 39%, while this number is only 8% for MIS. Exahertz's and Green Data City's roles in Dhofar are to monetize otherwise unutilized electricity generation capacity.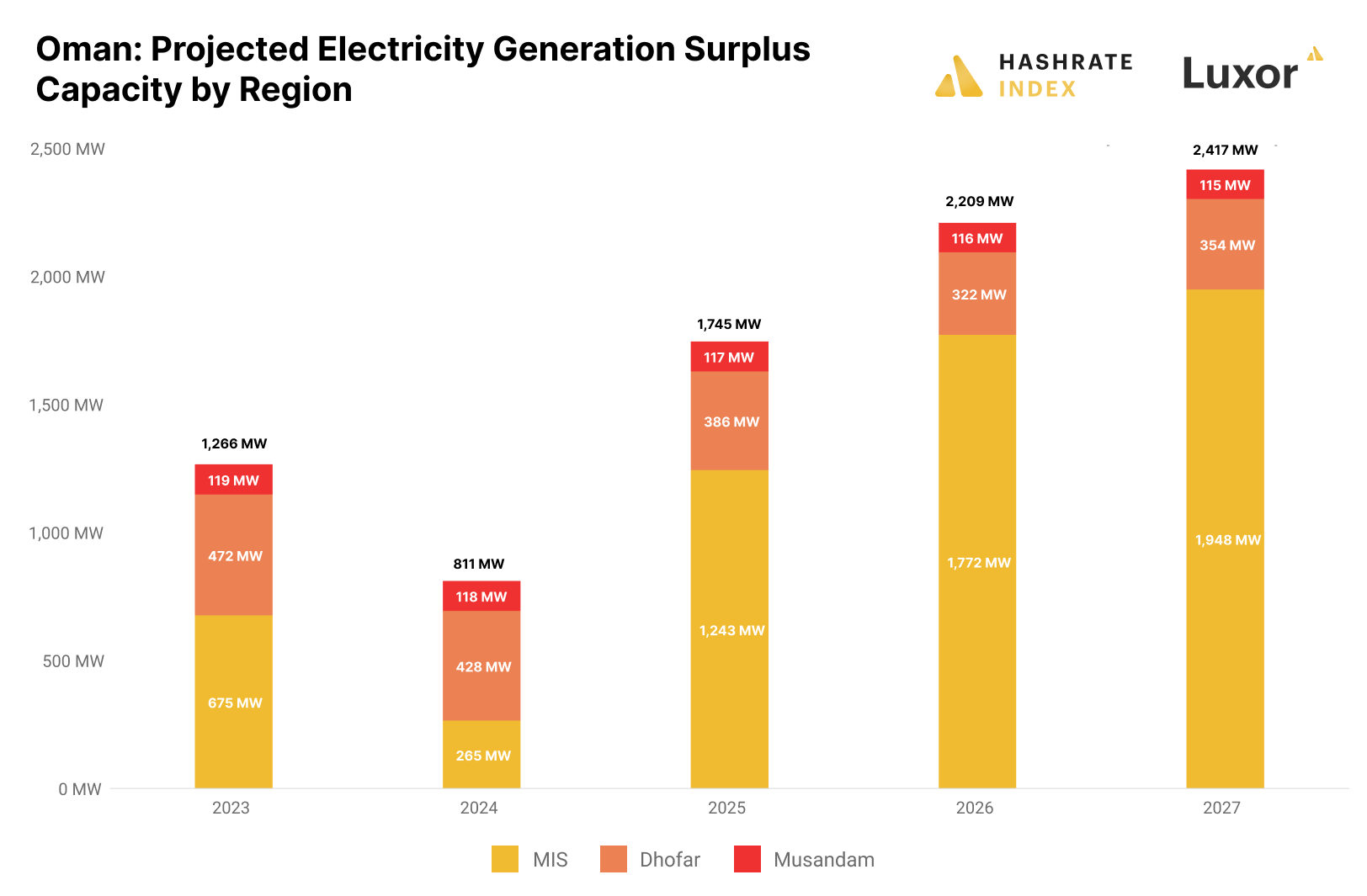 Oman's grid operator expects the electricity surplus to increase by 91% to 2.4 GW by 2027, giving plenty of room for growth for the country's bitcoin mining sector.
Furthermore, the country's electricity system is built to withstand the demand surge that occurs in the summer due to heightened air-conditioning demand. Similarly to other countries in the region, Oman produces freshwater by desalinating seawater in combined power and desalination plants. Due to the critical necessity of delivering freshwater, Oman must keep these plants running even during the winter when the electricity demand can be half of what it is during the summer. This demand and supply pattern has historically led to tremendous amounts of wasted electricity, which bitcoin miners can now help monetize.
Licensed miners pay globally competitive electricity rates
Now to the most important question: How much does Omani miners pay for electricity?
Like in most Middle Eastern countries, electricity rates in Oman are set by the utility and can vary substantially depending on the activity of the consumer. According to Global Petrol Prices, households in Oman pay only $0.026 per kWh, while businesses pay $0.166 per kWh. Thus, if miners had to pay those prices, we see that only home-mining would be profitable.
However, holders of Oman's mining license can obtain highly competitive rates which are lower than the global average for bitcoin miners. With its substantial and growing electricity surplus, the Omani government will likely not remove the miners' eligibility for this subsidized electricity rate.
Miners enjoy government support in Oman
One of the biggest advantages of mining bitcoin in Oman is the solid government support. The oil nation is looking to diversify and modernize its economy through "The Oman Vision 2040", which focuses on the buildout of modern energy and telecommunication infrastructure such as artificial intelligence, machine learning, sovereign data storage, hydrogen, solar energy, and bitcoin mining. The bitcoin mining projects in Oman are paving the way for the development of these pieces of infrastructure.
Also, the Omani government hopes that these bitcoin mining projects can attract foreign direct investment and create IT jobs for Omanis. We have on numerous occasions in multiple countries seen how bitcoin mining projects have brought in investments and jobs to rural areas, and now Oman is harvesting these benefits as well.
As mentioned in the previous section, the Omani government supports its affiliated and licensed miners by providing special, competitive electricity tariffs. In addition, these miners can leverage free zones and thus avoid most taxes, including corporate tax, VAT, and import duties.
But how long will this government support last? We have seen examples in several countries, like for example Kazakhstan, of the government suddenly changing its friendly demeanor and becoming outright hostile toward the bitcoin mining industry. We consider this risk extremely small in Oman for a couple of reasons.
Firstly, this monarchy is highly politically stable and the risk of an abrupt regime change like we saw in Kazakhstan is minimal. Secondly, Oman has a massive and growing electricity surplus and will need miners to help stabilize its grid and offtake excess electricity. For these reasons, miners in Oman will highly likely continue enjoying governmental support for the foreseeable future.
The bitcoin mining oasis of the Middle East
Scorching desert heat makes bitcoin mining a massive challenge in other Middle Eastern countries like the United Arab Emirates, Qatar, or Kuwait. Luckily, miners can come to cool down in Oman - the bitcoin mining oasis of the Middle East.
I visited Exahertz facility in Salalah in June, arriving straight from the United Arab Emirates, where I had suffered in the unbearable Dubai summer heat for a week. It was then enormously satisfying to disembark the plane in Salalah and discover that not all places in the Middle East are so hot in the summer that you can barely go outside.
A couple of areas in Oman are blessed with microclimates characterized by substantially lower temperatures than in the rest of the country. Yes, you could call these areas oases.
In addition to mountain areas in the north, one such oasis area is Salalah in the south. The nearby mountains catch the Indian Ocean's monsoon season between May and September, leading temperatures to fall 10-15°C lower than in the rest of the country. As you can see on the chart below, this phenomenon leads to relatively stable year-round temperatures in Salalah, with the average monthly temperature sitting at 20°C in January, the coolest month, and 28°C in May, the warmest month. These are survivable temperatures for bitcoin mining.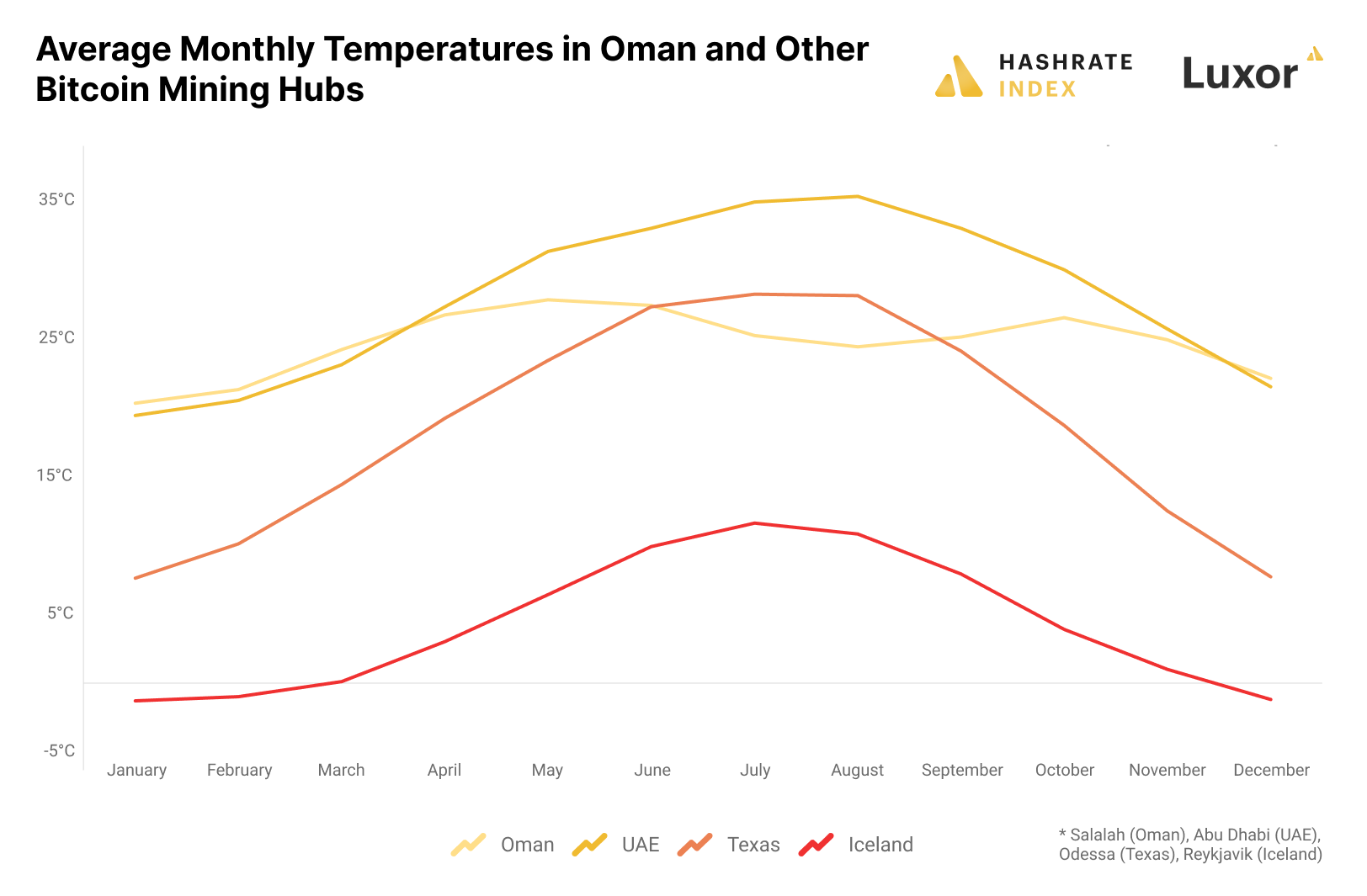 Meanwhile, temperatures in the United Arab Emirates are far more hostile toward bitcoin mining, with the average monthly temperature in Abu Dhabi hitting 35°C in August. The more benign climate is a massive advantage for bitcoin miners in Oman compared to those in the United Arab Emirates.
We also see that temperatures in Odessa, Texas, another bitcoin mining hub famous for its hot summers, are substantially higher in the summer than in Salalah. If Texas miners can survive the summers, Oman miners should also be able to.
Conclusion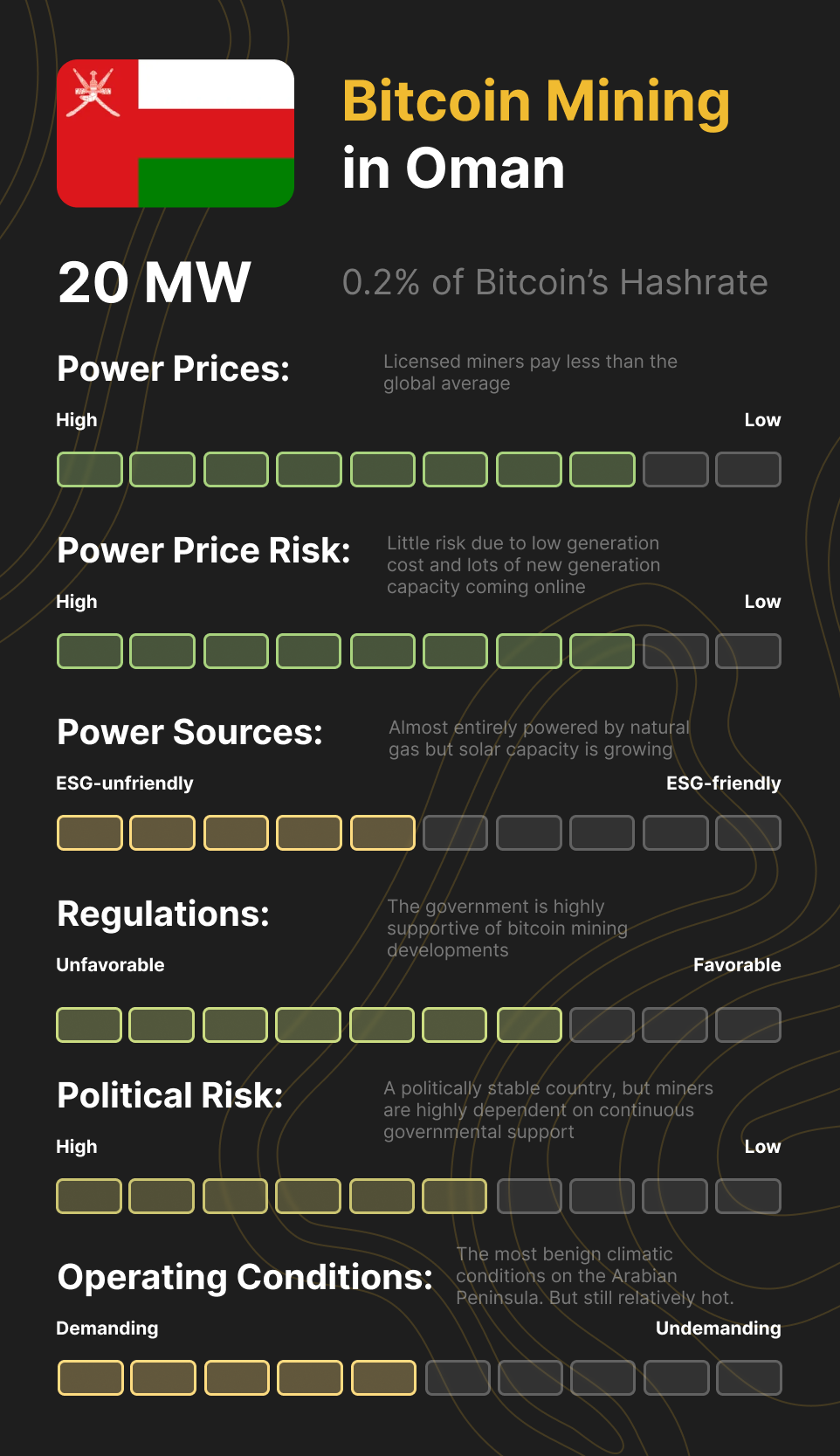 Blessed with abundant energy resources, the Middle East is one of the most promising regions for bitcoin mining. Oman, with its 1.2 GW of bitcoin mining capacity under development, could eventually become the largest bitcoin mining nation in the region.
Oman has a massive electricity surplus that will only grow bigger in the coming years as it adds more solar and natural gas to its grid. Bitcoin miners could provide significant benefits to the country's electricity system in the form of monetization of previously wasted electricity and much-needed demand flexibility.
Currently, the only way to mine bitcoin in a scalable and legally sustainable way in Oman is by closely cooperating with the government. Miners need licenses and are also expected to provide significant benefits to the community - in return, they get tax benefits and access to loads of competitively priced electricity. So far, only two companies have been able to obtain the necessary licenses: Exahertz and Green Data City.
Oman's biggest bitcoin mining advantage compared to other Middle Eastern countries is its relatively benign climate in specific locations, giving the country the nickname "the bitcoin mining oasis of the Middle East". The comparatively cooler temperatures make bitcoin mining a substantially simpler endeavor in Oman than in neighboring countries like the United Arab Emirates.
Oman will become an increasingly important bitcoin mining country over the next couple of years and could, together with neighbors like the United Arab Emirates, take the Middle East's total share of the Bitcoin mining network above 15%. That is my projection for two years from now.
---
Thanks to Jad Kharma and Dragos Dumitrascu from Exahertz for hosting me at their site and sharing invaluable insights that helped me write this article.
Hashrate Index Newsletter
Join the newsletter to receive the latest updates in your inbox.
---