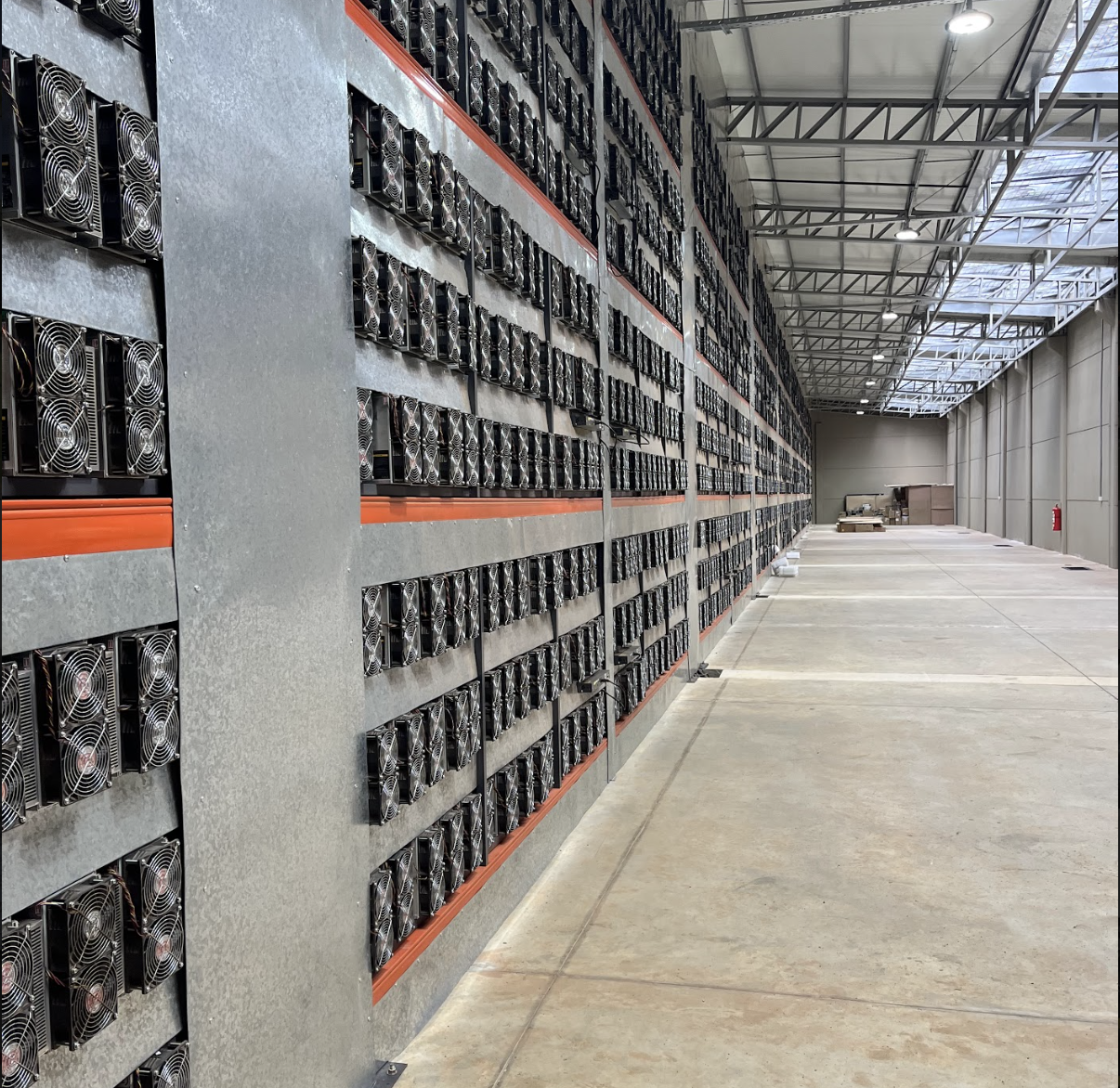 Hashrate Index Roundup (January 22, 2023)
Hashprice is ripping, but how long will this resuscitation last?
Happy Sunday, y'all!
Bitcoin's price is ripping and it's doing wonders for mining profitability. As BTC crawls out of the hole dug by FTX's implosion, hashprice is at its highest level since October 9, 2022.
The question on everyone's mind now: is Bitcoin' run a bull trap or a legit breakout from the bottom? We wish we could tell you.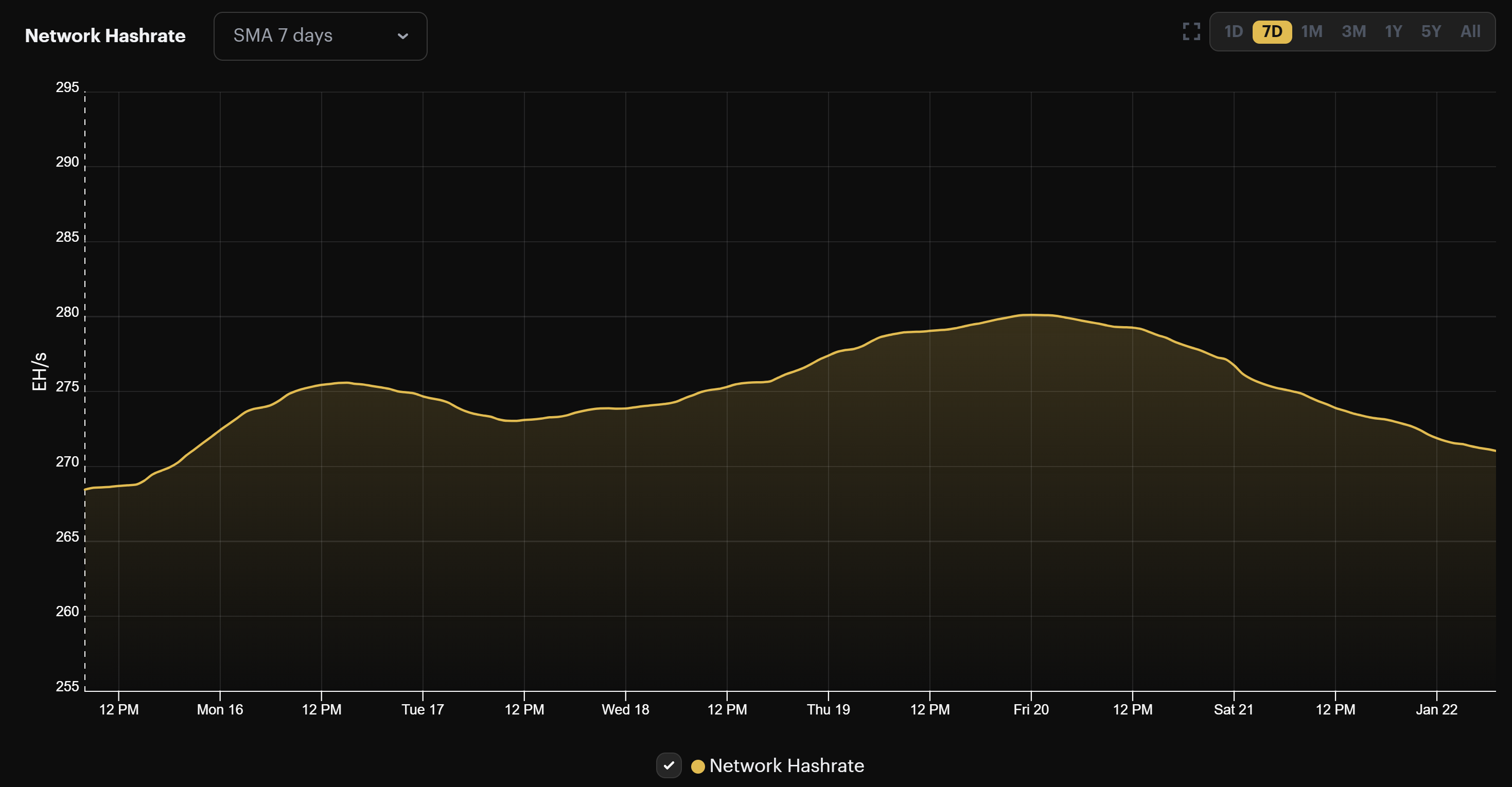 One last thing to note before we move on to the rest of the newsletter. Bitcoin's 7-day average hashrate hit an all-time high of 280 EH/s on January 20. Since then, it has fallen nearly 10 EH/s.
Usually, when hashprice rises, we expect to see hashrate rise too – not fall. Of course, hashrate changes lag in response to changes to hashprice, so we could see it rise in the near future. Still, hashprice has been on the uptick all January, so the drop is odd. It could be operations powering down from cold fronts in Texas and the Northeast (or elsewhere), or it could be normal hashrate variance that we're reading too far into.
Either way, it's worth keeping an eye on given that, if more hashrate comes offline this week, this could impact the next difficulty adjustment for the better by pushing it to the negative side.
Bitcoin Mining News
Mining Market TLDR (Change from Prior Week)
Hashprice: $77.84/PH/day (+0.34%) | 0.00339243 BTC/PH/day (-8.6%)
Hashrate: 269 EH/s (-0.7%)
Difficulty: 37.59 T (+10.26%)
---
Sponsored by Luxor

Hashprice Index (January 22, 2022)
Bitcoin's hashprice is sustaining levels that we haven't seen since Q4-2022 – and that's despite last week's 10% positive difficulty adjustment.
In fact, Bitcoin's run over the last week completely neutralized the USD hashprice losses effected by last Sunday's adjustment. USD hashprice fell 9.4% after the adjustment, but it rose 10.6% over the week as Bitcoin's own price rose.
At $77.70/PH/day, mining margins may still be well depressed from 2021 and even 2022's averages ($314.61 vs $123.88), but we're not in all-time low territory anymore. Something to be thankful for.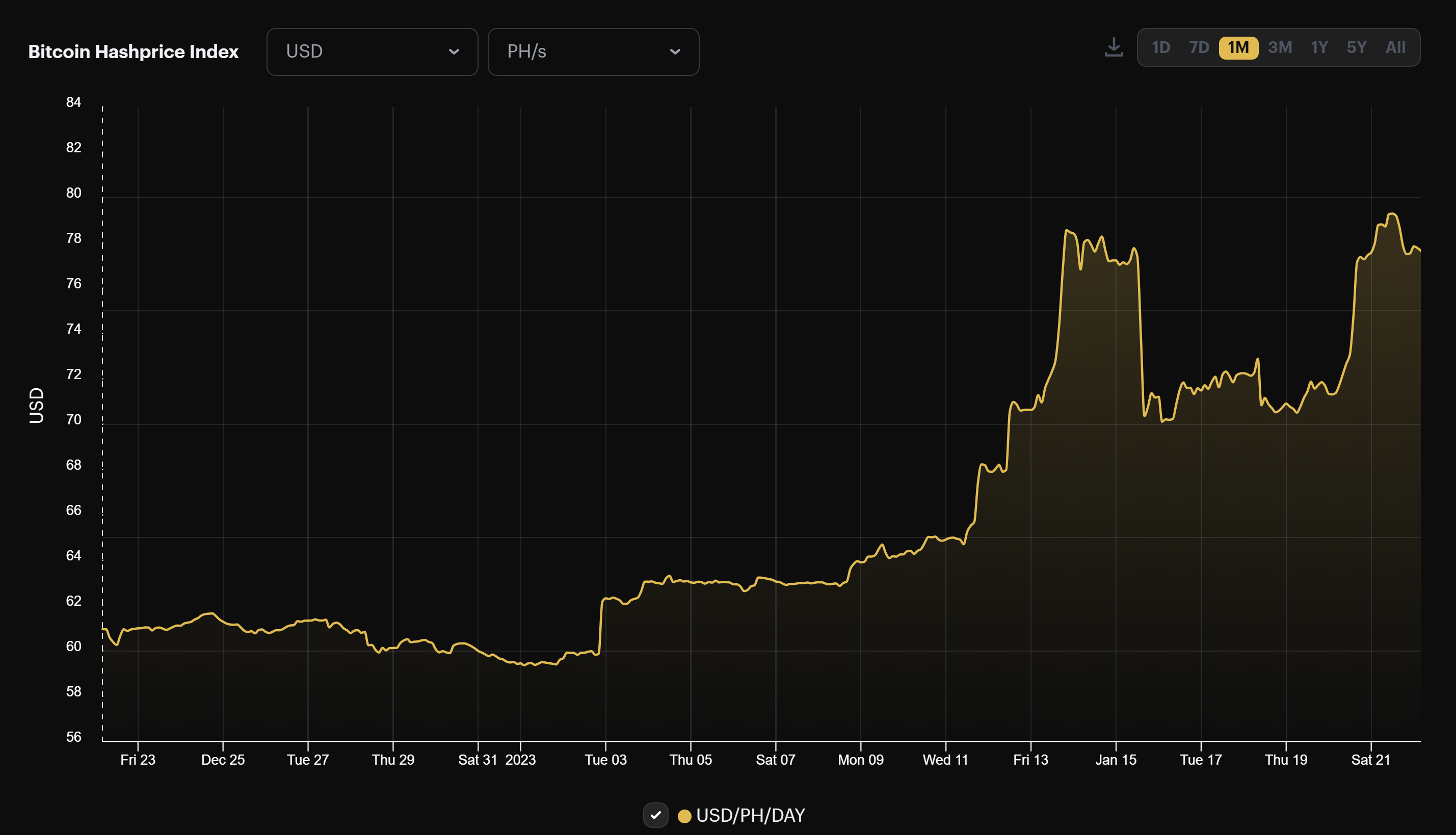 📈
BITCOIN MINING DIFFICULTY
Late last Sunday, Bitcoin's mining difficulty jumped 10.26%, the largest positive difficulty change since October 10, 2022. The upswing in difficulty came from the waves of hashrate that come back online after powering down during December's cold-snap.
We're about halfway through this current epoch, so it's too early to tell, but our difficulty forecast projects that the next adjustment could be very slightly to the downside (between 0-1%), as hashrate has fallen ~10 EH/s since hitting an all-time high of 280 EH/s on the 7-day average on January 20.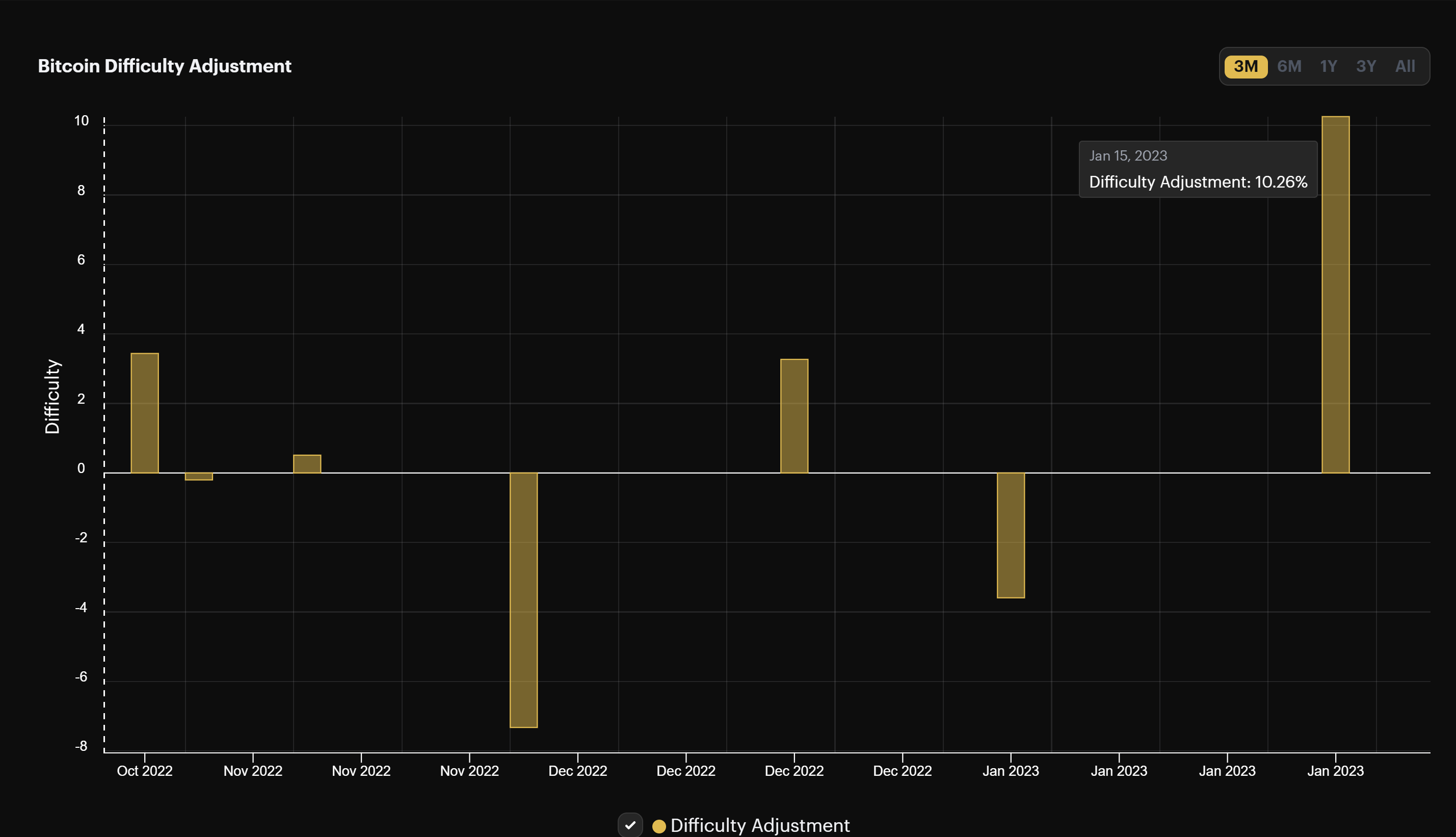 💰
BITCOIN MINING PROFITABILITY
When hashing at $0.07/kWh power cost, here are the current bitcoin mining profitability specs for popular mining rigs:
Antminer S19 XP (140 TH/s): $5.9
Whatsminer M50 (114 TH/s): $3.3
Antminer S19j Pro (104 TH/s): $2.9
Whatsminer M30s++ (112 TH/s): $2.9
Antminer S19 (95 TH/s): $1.9
Whatsminer M30s (86 TH/s): $1.2
Antminer S17 Pro (53 TH/s): $0.6
Bitcoin Mining Stocks (January 22, 2022)
Bitcoin mining stocks are riding high into the New Year off the back of Bitcoin's own price rise. Last week, our Crypto Mining Stock Index rose by 4.8%.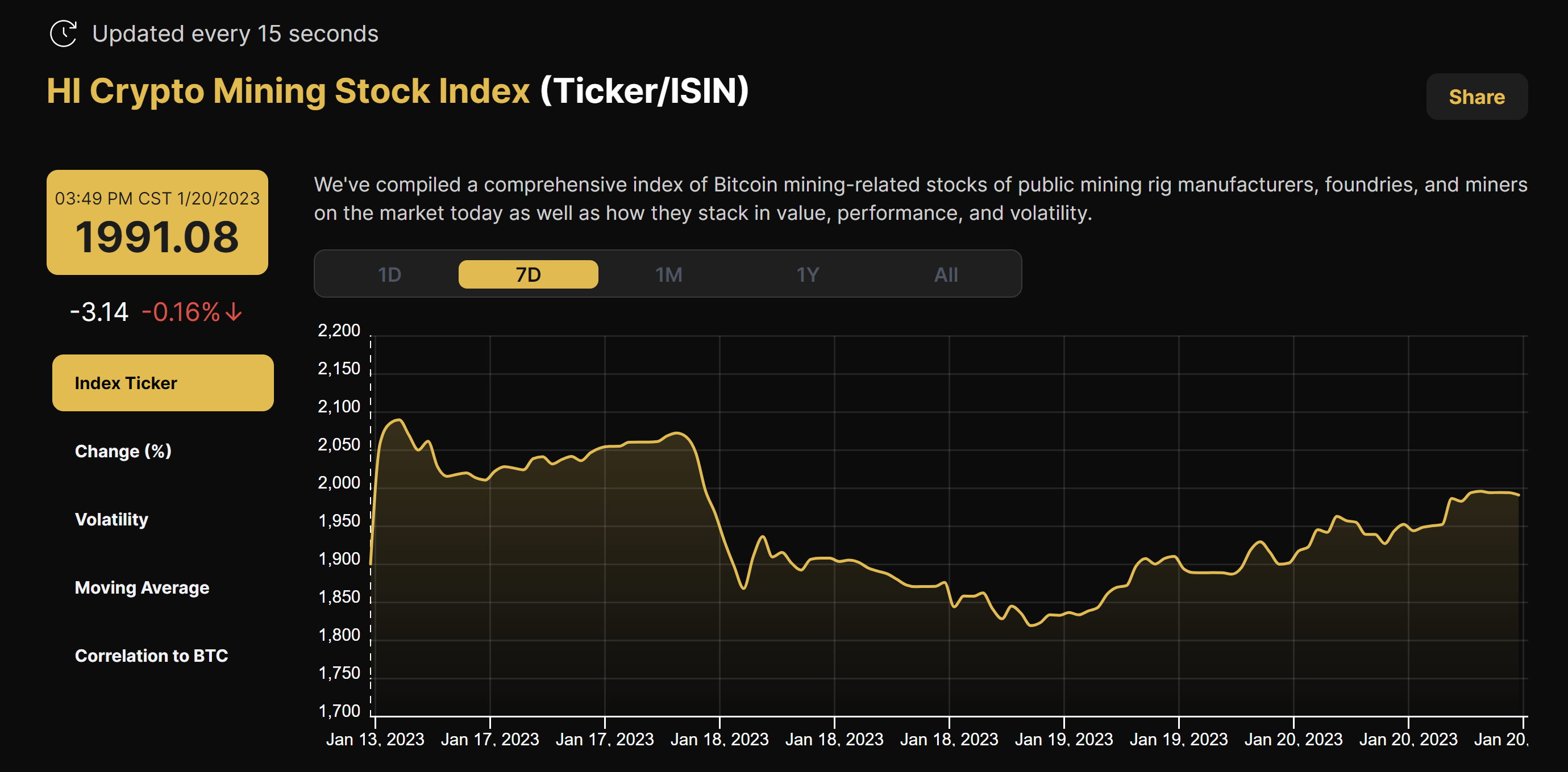 With many of them exiting 2022 down as much as 95% or more, Bitcoin mining stocks are resurrecting from last year's lows in the new year. If the price action keeps up, January will be their best month in a year.
Year-to-date performance of popular Bitcoin mining stocks:
RIOT (+84%)
HUT (+134%)
BITF (+167%)
MARA (+137%)
CLSK (+31%)
ARBK (+49%)
IREN (+66%)
New From Hashrate Index
Unsustainable Bitcoin Mining Debt Led to Record Defaults, Buyouts in 2022
Debt fed much of the Bitcoin mining sector's growth in the 2020-2021 bullrun. As margins  went from fat to thin in 2022, some miners struggled to pay the piper, making the year the most active yet for defaults, distressed asset sales, and acquisitions.
Driven by public market incentives, many public miners fattened their hashrate with growth-at-all-cost strategies in 2021. They fed operations with a goulash of fundraising that included equity sales, traditional borrowing, and equipment-financing.
Servicing debt became difficult for some of these miners in 2022, particularly those with outsized, high-interest equipment financing loans. We estimate that there is between $2-4 billion worth of ASIC financing debt on private and public miner balance sheets.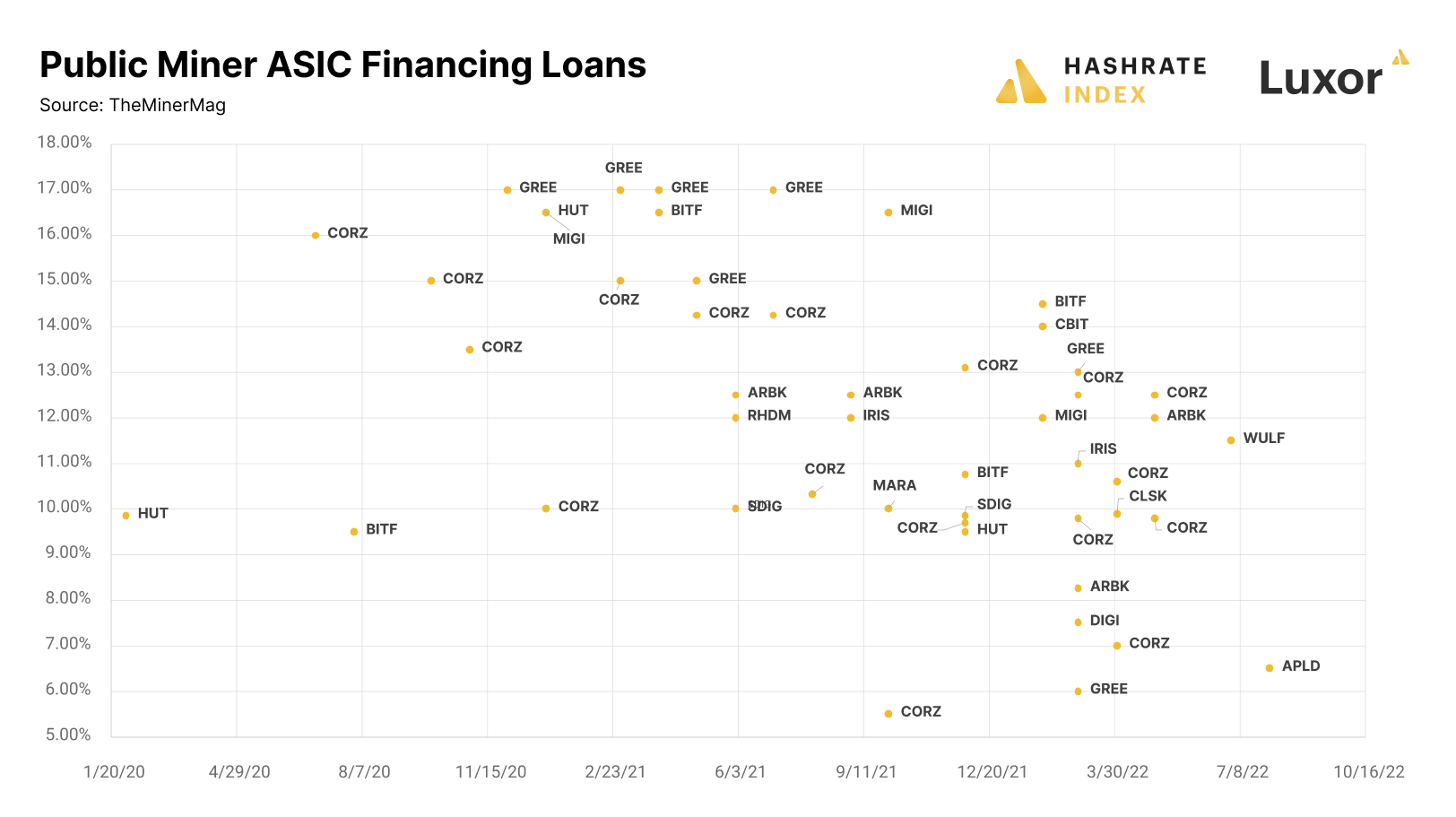 Why Power Prices Surged in Some Locations in 2022 While Staying Low in Others
A perfect storm of unfortunate developments hit the bitcoin mining industry in 2022. Simultaneously as hashprice went down in flames and evaporated mining revenues, many miners saw their electricity prices rise as the world grappled with an energy crisis.
Still, miners in specific electricity markets were spared from the worst price increases. What do these markets have in common? This article examines whether there is a relationship between US states' electricity sources and the states' vulnerability to global electricity price inflation.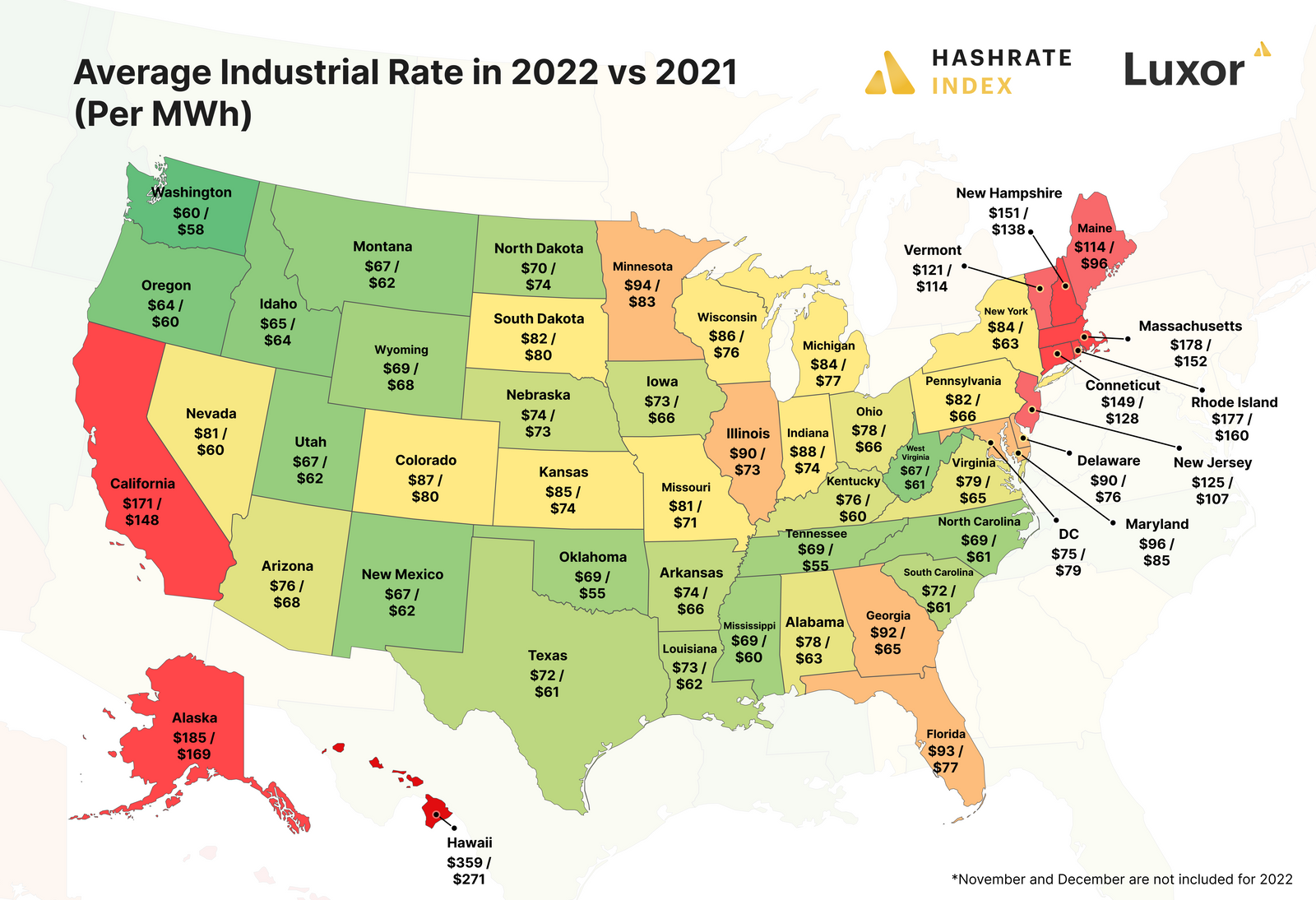 Bitcoin Mining Around the World: Sweden
Sweden has become one of Europe's last bitcoin mining refuges thanks to its stranded hydropower. But what else defines the bitcoin mining industry in this Arctic outpost?
This is the first article in a series describing the bitcoin mining industry in various countries. Why do bitcoin miners flock to specific countries while avoiding others? And which countries have the most potential for developing new mining operations? These are questions that we will answer in this article series.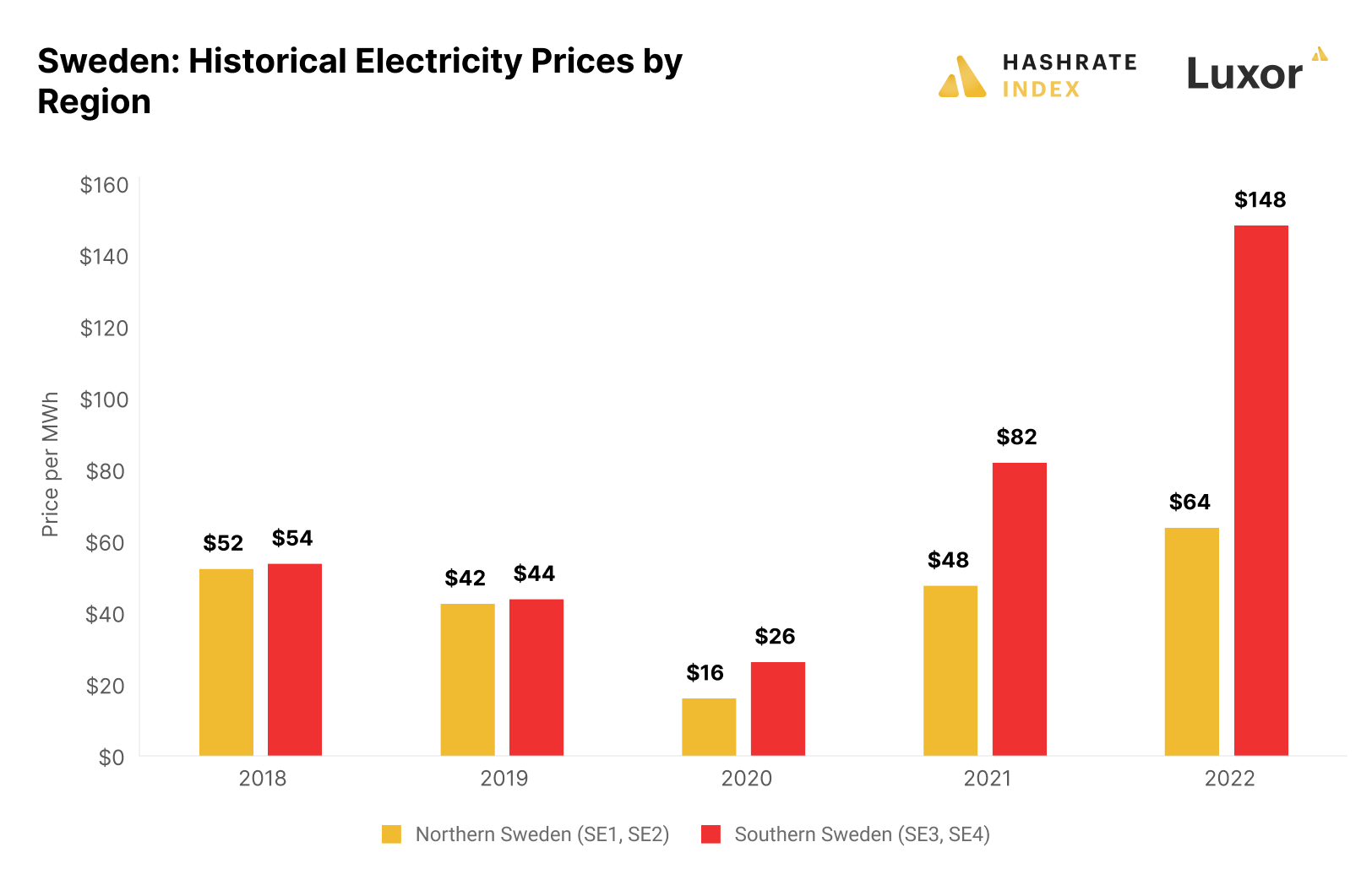 As ASIC Prices Shrunk in 2022, the Antminer S19 XP's Price Premium Grew
2022 put pressure on every aspect of the Bitcoin mining market, and few aspects of the mining market felt this pressure more than the ASIC trade. And as prices fell across the board for ASICs of all calibers, the Antminer S19 XP – along with other next-gen hardware – saw its price premiums to new, mid, and old-gen hardware rise.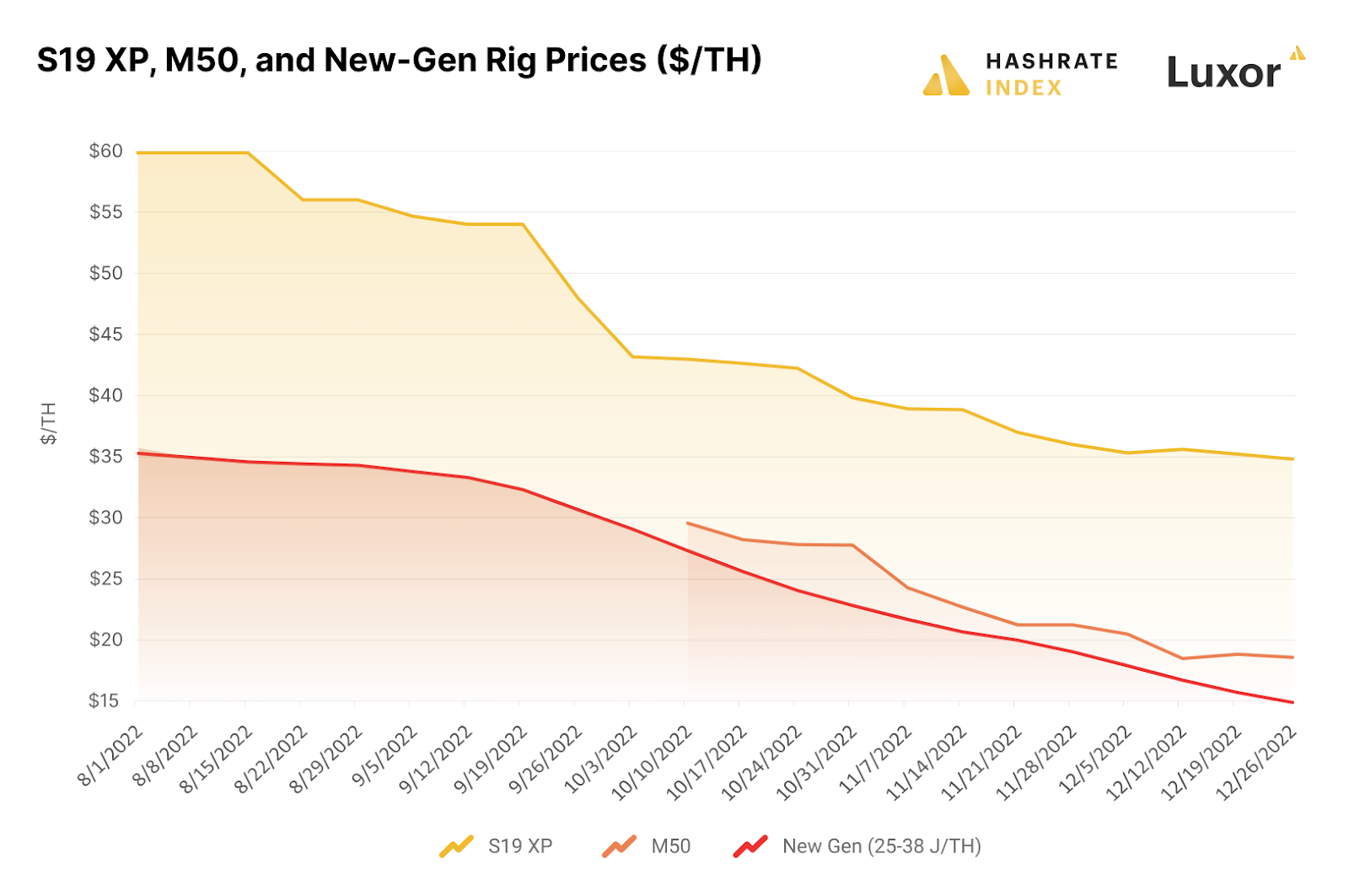 2022's Top Journlists Covering Bitcoin Mining
For the past few years a number of well-recognized journalists have begun to cover the bitcoin mining space in-depth. From the growing number of mining companies going public, collecting multi million dollar checks, all the way down to some of them now facing bankruptcy, a group of Bitcoin mining journalists has been cemented as the go-to subject matter experts for all things mining related.
2022's Top Investment Bankers in Bitcoin Mining
With the wave of Bitcoin mining companies going public and a heavy lean to institutional capital, a series of Investment Bankers have planted their flags as the go-to deal men for companies trying to raise capital and do M&A. A handful of boutique investment banks, pushed their advantage of being more nimble than the bulge brackets and got into Bitcoin Mining first, developing an expertise and network that made it hard for even the biggest bankers in the world to compete with.
---
Have a great week, and Happy Hashing!
Hashrate Index Newsletter
Join the newsletter to receive the latest updates in your inbox.
---