2022's Top Journalists Covering Bitcoin Mining
For the past few years a number of well-recognized journalists have begun to cover the bitcoin mining space in-depth. From the growing number of mining companies going public, collecting multi million dollar checks, all the way down to some of them now facing bankruptcy, a group of Bitcoin mining journalists has been cemented as the go-to subject matter experts for all things mining related.
A handful of traditional & crypto media outlets have managed to cover insightful bitcoin mining pieces by developing an expertise and network that made it hard for other media outlets to compete with. Bitcoin miners are now working together with professional reporters holding a fundamental understanding of the technical, economic and regulatory aspects of their industry. Together, they help craft a narrative in the media for an often miscomprehended industry.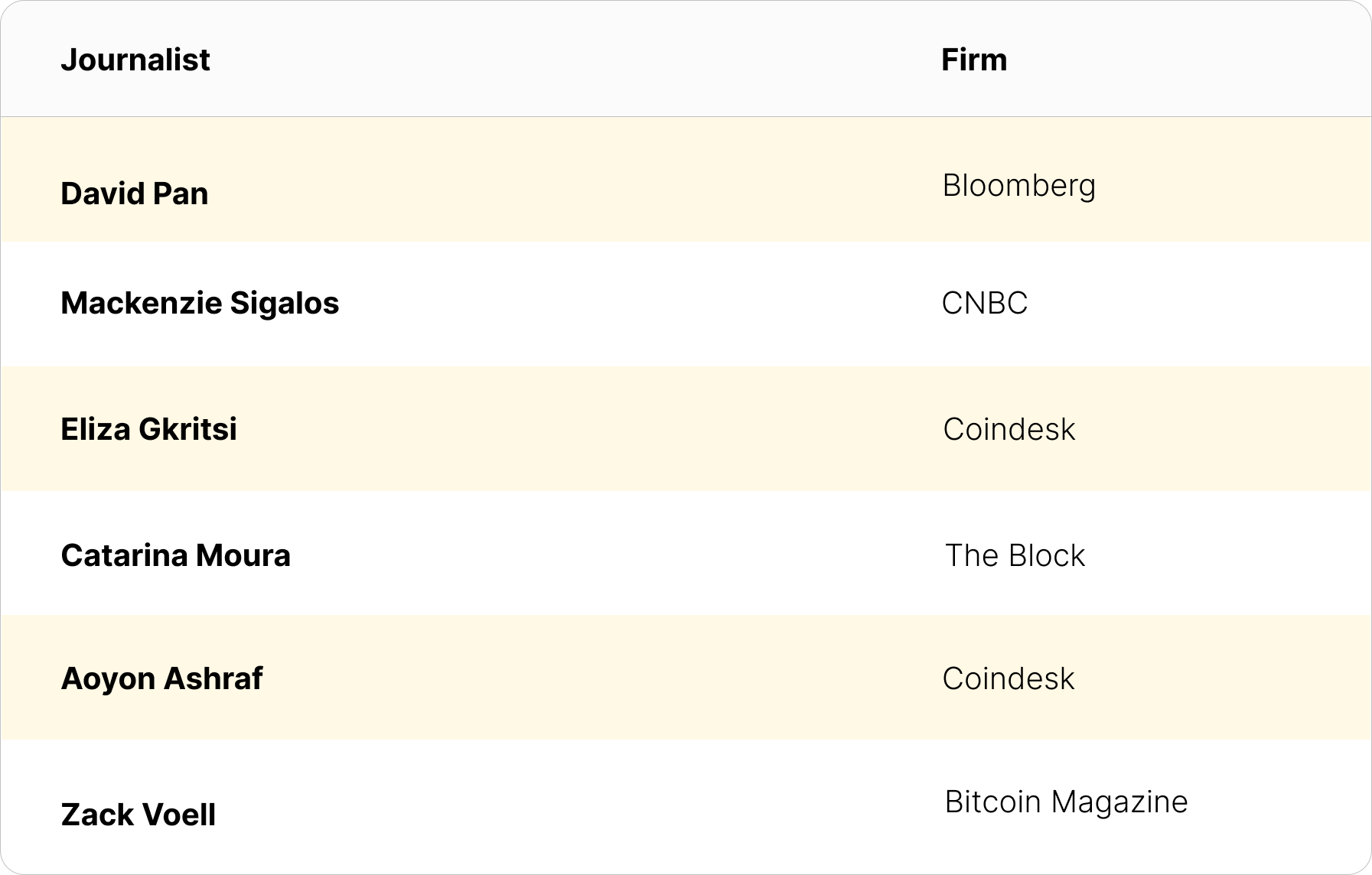 From covering the economics of public & private mining companies, the energy sector, as well as the developing regulatory environment for mining, these journalists have vastly impacted the industry and have helped raise its awareness. When a Bitcoin Mining company has a breaking story to share, usually they call one of these journalists on the list:

He is Bloomberg's most-acquainted reporter with Bitcoin mining and one of the longest standing journalists in the mining space. He started his career outside of crypto at the Wall Street Journal and USA Today Money Desk. He then began covering the Bitcoin mining space in depth at Coindesk where he became the go-to source for information in both North America and China.

Following his rise at CoinDesk, David moved on to Bloomberg where his articles and analysis hit on the major events in the mining space, and usually breaking new stories, trends and events before other major publications. Mr. Pan holds a Master's degree in Business and Economic Reporting from NYU, as well as a Master's degree in International Journalism from the Renmin University of China. With over 72 pieces covering mining in 2022, his contributions have helped educate firms and investors from traditional finance on the sector.
Top Articles:
Number of Mining Articles in 2022: 72
Writer Profile | Twitter | LinkedIn

She is one of CNBC's main reporters covering the Bitcoin mining industry and cryptocurrency space. Mackenzie has had the best reporting on the cross roads between the Bitcoin mining space and the USA/Texas regulatory and energy sector. She is able to distill complex programs and models so that the average reader outside of the industry can understand it.  Her work has been featured in various publications such as CoinDesk, Bitcoin Magazine and Decrypt. Her focus on regulatory and legal issues in the mining space has helped to bring attention to important policy debates and developments in the sector.
Ms. Sigalos holds a Master of Science from the University of Oxford, and a Bachelor's degree from Harvard. Her background in economics and finance have allowed her to report on a wide range of topics related to the crypto industry, including regulatory developments, investment trends, and the latest technology advancements.
Top Articles:
Number of Mining Articles in 2022: 9
Writer Profile | Twitter | LinkedIn

With over 150 articles covering mining, in 2022 alone, Eliza Gkritsi is CoinDesk's go-to reporter for the sector. She has gone deep into all areas of mining such as public companies, energy sector, difficulty adjustments, technology, Latin American mining and more. Eliza has one of the most comprehensive coverages of all things Bitcoin mining related.
She holds a MSc from the London School of Economics, and Fudan University. Her insights and expertise have made her an important voice in the mining community, and her work is widely read and respected.
Top Articles:
Number of Mining Articles in 2022: 167
Writer Profile | Twitter | LinkedIn

Having authored almost 300 articles covering mining, Catarina is a talented and experienced journalist who currently works as a reporter for The Block. Prior to joining The Block's team, she had a strong background in local news coverage, having worked for both Patch.com as a Local Editor and as a reporter for the New York Daily News.
Before her time in New York, Catarina began her career in her home country of Portugal, where she worked for several reputable publications including Público and Sábado. She has a plethora of experience and knowledge in the field, and holds a Masters of Arts in journalism from New York University.
Top articles:
Number of Mining Articles in 2022: 290
Writer Profile | Twitter | LinkedIn


5) Aoyon Ashraf  | Coindesk
Mr. Ashraf is CoinDesk's Managing Editor for Companies and Capital Raises. Prior to delving into crypto Aoyon spent almost a decade at Bloomberg First Word Canada where he covered mining, metal, energy and tech. He surrounded himself in the investment banking industry for two years as well.

His vast number of contributions to the mining space have helped raise awareness on the state and economics of public & private mining companies, but also developments in the regulatory environment. Aoyon holds a Bachelor of Engineering in Mining and Minerals from the University of Toronto.

Top articles:
Number of Mining Articles in 2022: 180
Writer Profile | Twitter | LinkedIn


6) Zack Voell | Bitcoin Magazine
Zack Voell is a well-versed Bitcoin mining writer who today is Bitcoin magazine's Mining Technical Correspondent, where he has published data-driven opinion pieces on mining and bitcoin markets. He holds a wealth of knowledge and experience in researching and analyzing various digital assets, while remaining an advocate of Bitcoin. Mr. Voell is also Braiins' Insights and Marketing Lead.

He has previously worked with other prominent companies in the industry. As Compass Mining's Senior Growth Manager he authored over 200 technical education, market research, and opinion articles. Moreover, at CoinDesk he also wrote nearly 300 articles on crypto mining totalling over 1,5 million total reads. His career extends to other companies such as Messari and Blockstream. His writing has been featured in several reputable publications, the likes of The New York Times, Financial Times, and The Independent.
Top articles:
Number of Mining Articles in 2022: 38
Writer Profile | Twitter | LinkedIn
Honourable mentions at mining companies:
Hashrate Index Newsletter
Join the newsletter to receive the latest updates in your inbox.
---