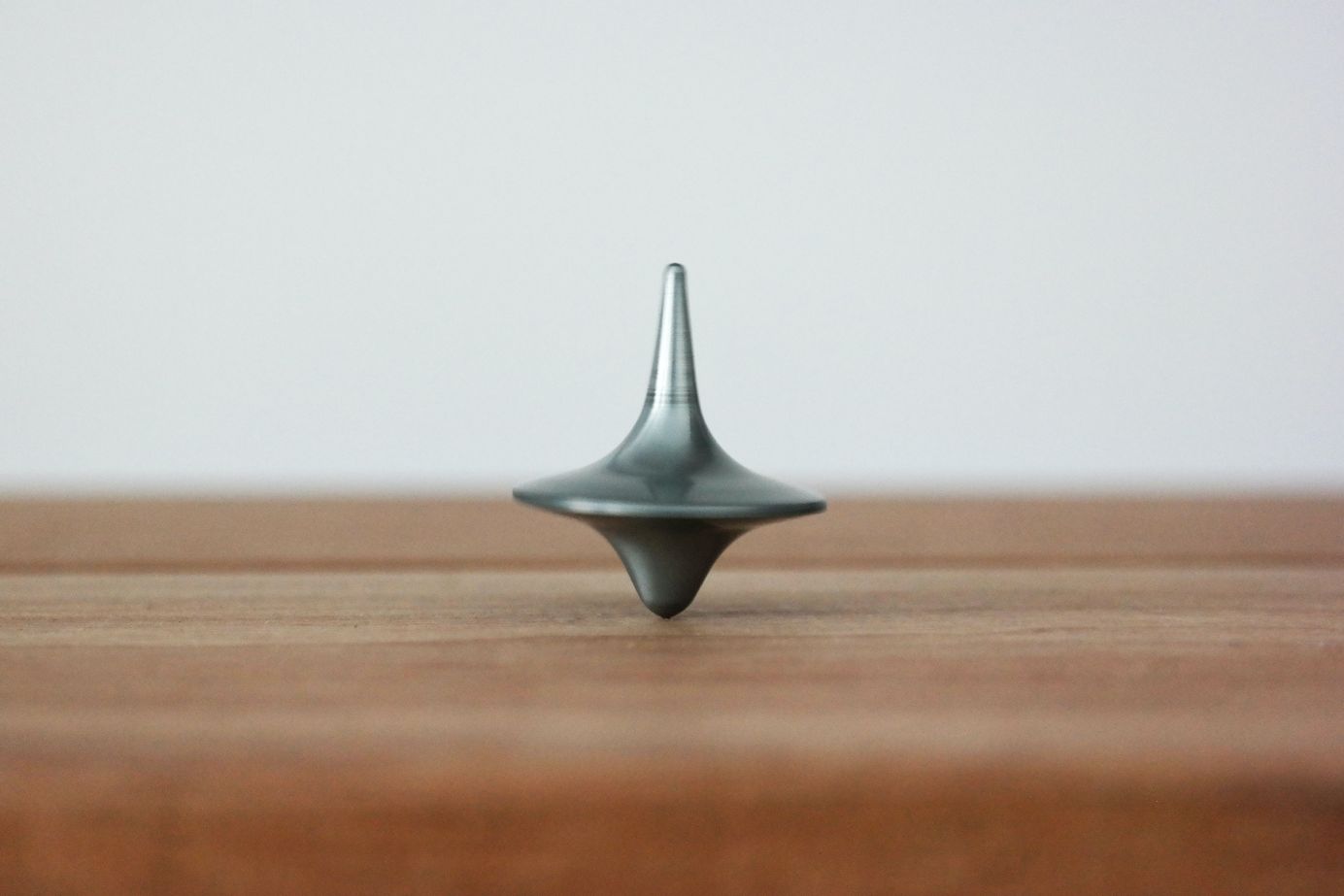 Hashrate Index Roundup (December 11, 2022)
The profitability boost from last week's difficulty adjustment won't last for long...
Happy Sunday, y'all!
Christmas is fast approaching friends, and old Saint Nick brought us an early stocking stuffer last week with the largest downward difficulty adjustment since China's mining ban.
The adjustment was a welcomed reprieve from the brutal succession of positive difficulty adjustments we experienced in late-summer and fall (including a +9.26% adjustment on the last day in August and a +13.55% one on October 10).  
BUT – sorry, there's a big but here – Bitcoin's hashrate has almost recovered to all-time high levels since this last adjustment kicked in. So all of the hashrate that came offline to necessitate last Monday's negative adjustment has been replaced/come back online, meaning we're likely in for another, hefty positive adjustment in roughly a week.
Yin and yang, y'all...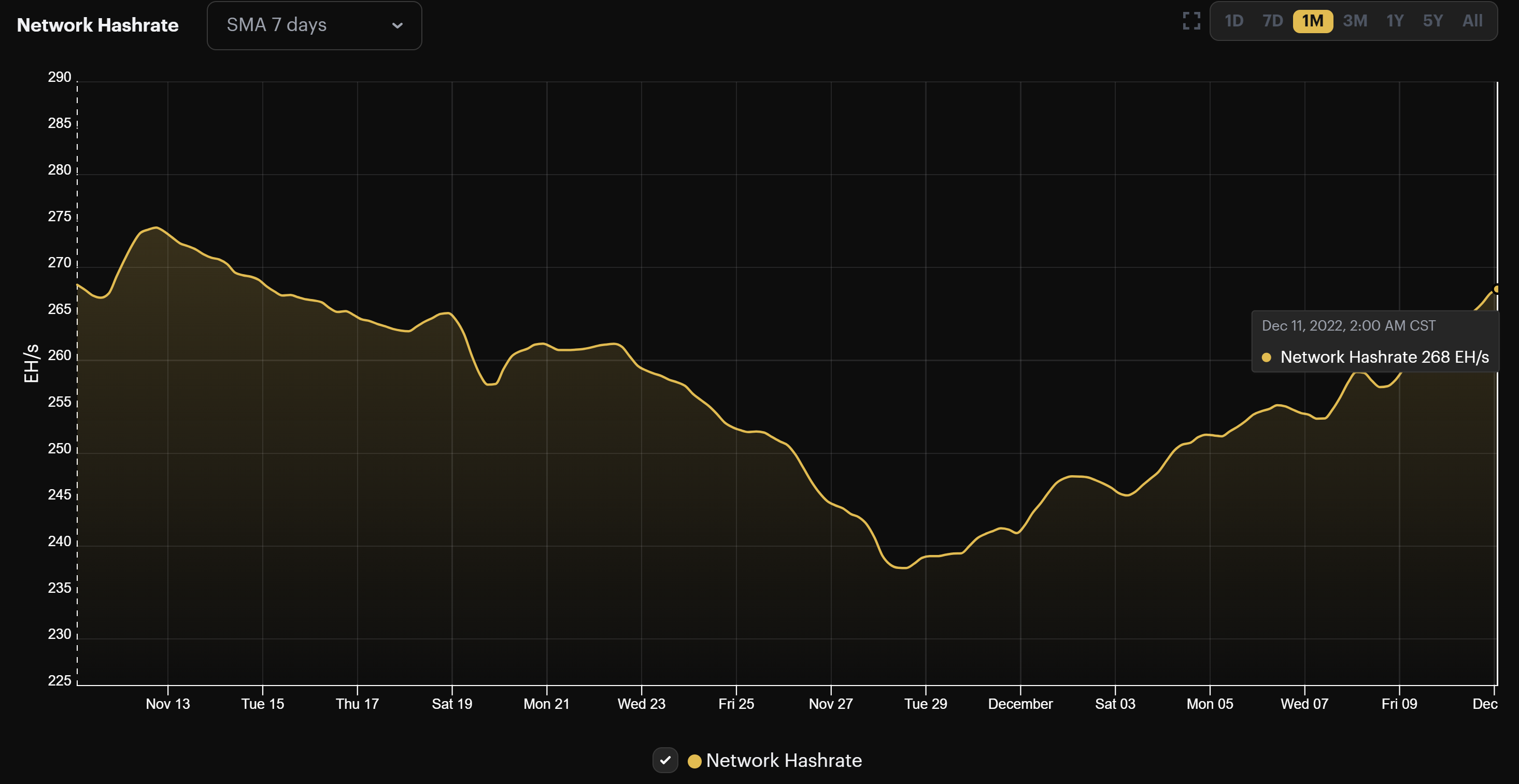 Bitcoin Mining News
Mining Market TLDR (Change from Prior Week)
Hashprice: $63.61/PH/day (+8%) | 0.00371041 BTC/PH/day (+6.8%)
Hashrate: 268 EH/s (+6.8%)
Difficulty: 34.24 T (-7.32%)
---
Sponsored by Luxor

Hashprice Index (December 11, 2022)
Bitcoin's hashprice received a much needed nudge from last week's difficulty adjustment, which raised the USD value back above $60/PH/day. With this rise, the breakeven cost for an S19J Pro was bumped up to $0.09/kWh from $0.08/kWh.
But as I stated in the intro to this newsletter, Bitcoin's hashrate growth over the week threatens to erase the progress afforded by last week's difficulty adjustment, so it's likely that next weekend's difficulty adjustment will bring us back below $60/PH/day (unless Bitcoin's price continues to bounce from here).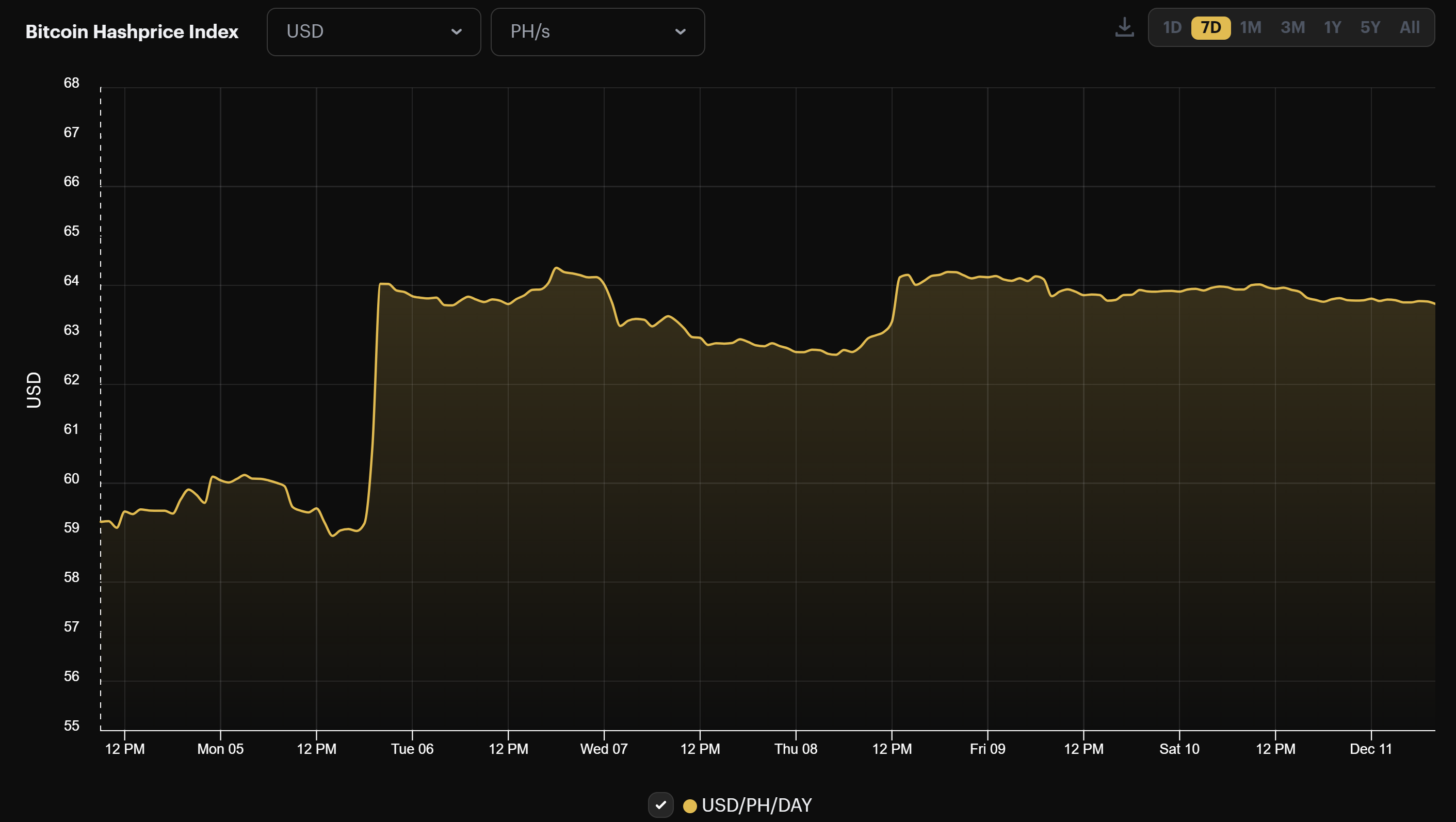 📈
BITCOIN MINING DIFFICULTY
On Monday, Bitcoin's mining difficulty dropped by 7.32%, the largest drop since July 3, 2021 after China's mining ban. This adjustment came after Bitcoin's hashrate plummeted from an all-time high of 274 EH/s to as low as 238 EH/s on November 28.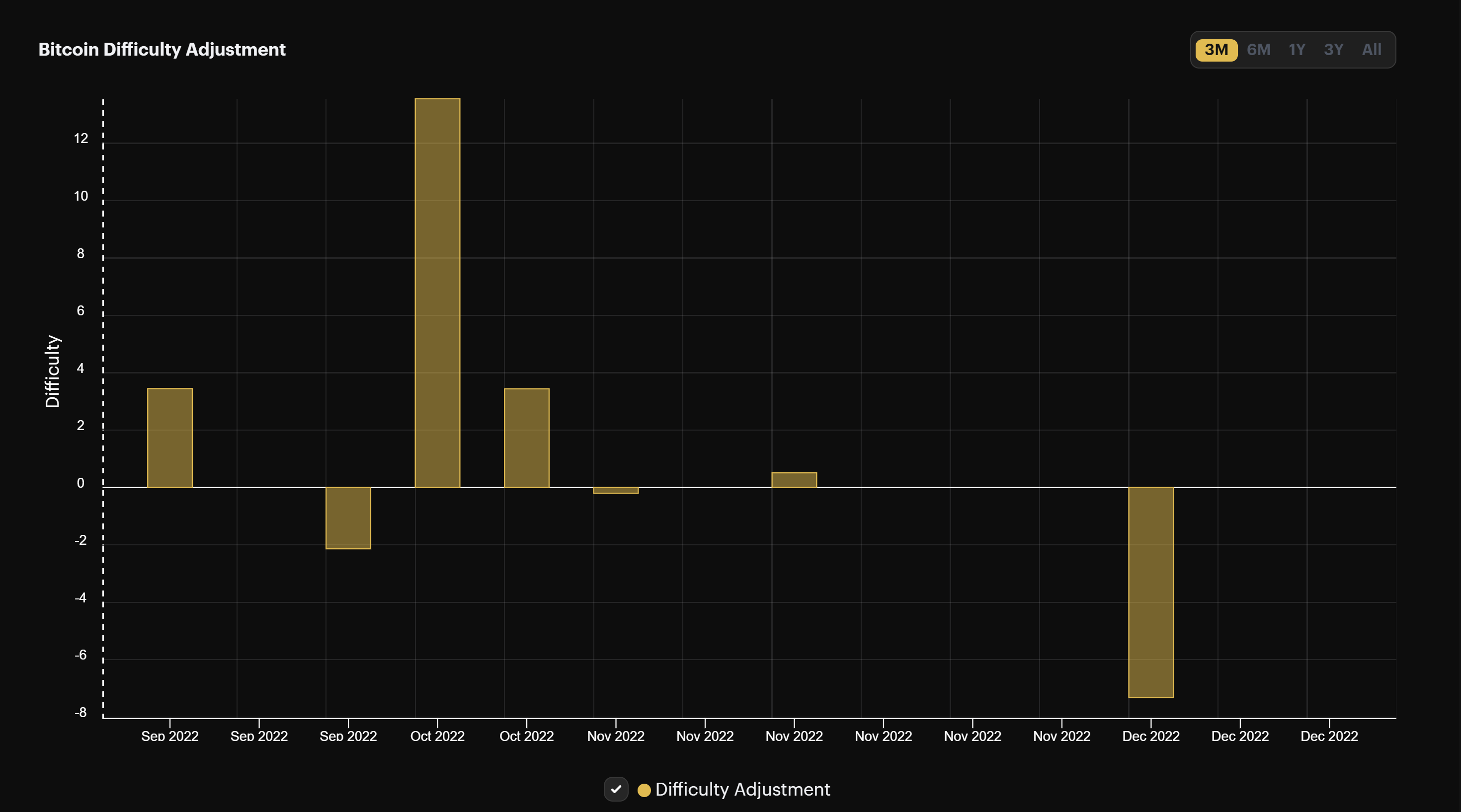 Unfortunately, the machines that came offline during this hashrate drop (which led to the -7.32% adjustment) are coming back online now that they are profitable again  – or other miners are replacing this hashrate. We're 40% into the current difficulty epoch, and miners are producing blocks at a blistering average of 9 minutes and 20 seconds.
As such, we're probably going to get a large positive difficulty adjustment in about a week, which will neutralize the profitability boost that miners enjoyed from last Monday's negative adjustment.
Bitcoin Mining ASIC Price Index (December 11, 2022)
Bitcoin mining ASIC values were pummeled again this week, with new and mid-gen rigs losing over 5% of their value.
At current hashprice and ASIC price levels (and assuming $0.06/kWh power), an S19J Pro would ROI in roughly 30 months. That's a pretty steep ROI time, especially considering that hashprice will no doubt decline from here. Which is to say, we expect ASIC price to fall much farther still until the ROI shrinks to a more manageable timeframe.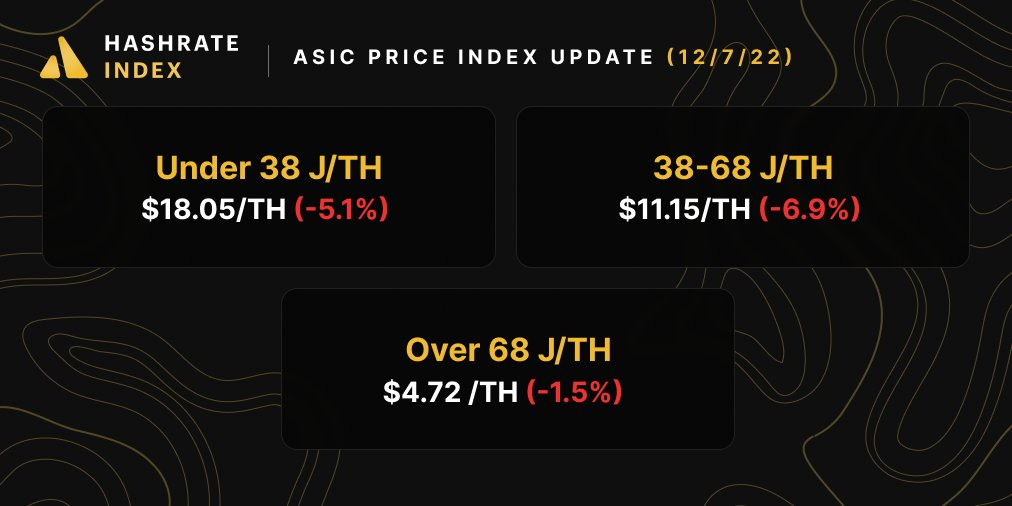 💰
BITCOIN MINING PROFITABILITY
When hashing at $0.07/kWh power cost, here are the current bitcoin mining profitability specs for popular mining rigs:
Antminer S19 XP (140 TH/s): $3.8
Whatsminer M50 (114 TH/s): $1.7
Antminer S19j Pro (104 TH/s): $1.5
Whatsminer M30s++ (112 TH/s): $1.3
Antminer S19 (95 TH/s): $0.6
Whatsminer M30s (86 TH/s): $0.0
Antminer S17 Pro (53 TH/s): $-0.1
Bitcoin Mining Stocks (December 11, 2022)
It was a rough week for Bitcoin mining stocks last as the market continued to sell-off. Our Crypto Mining Stock Index fell by 8.8%.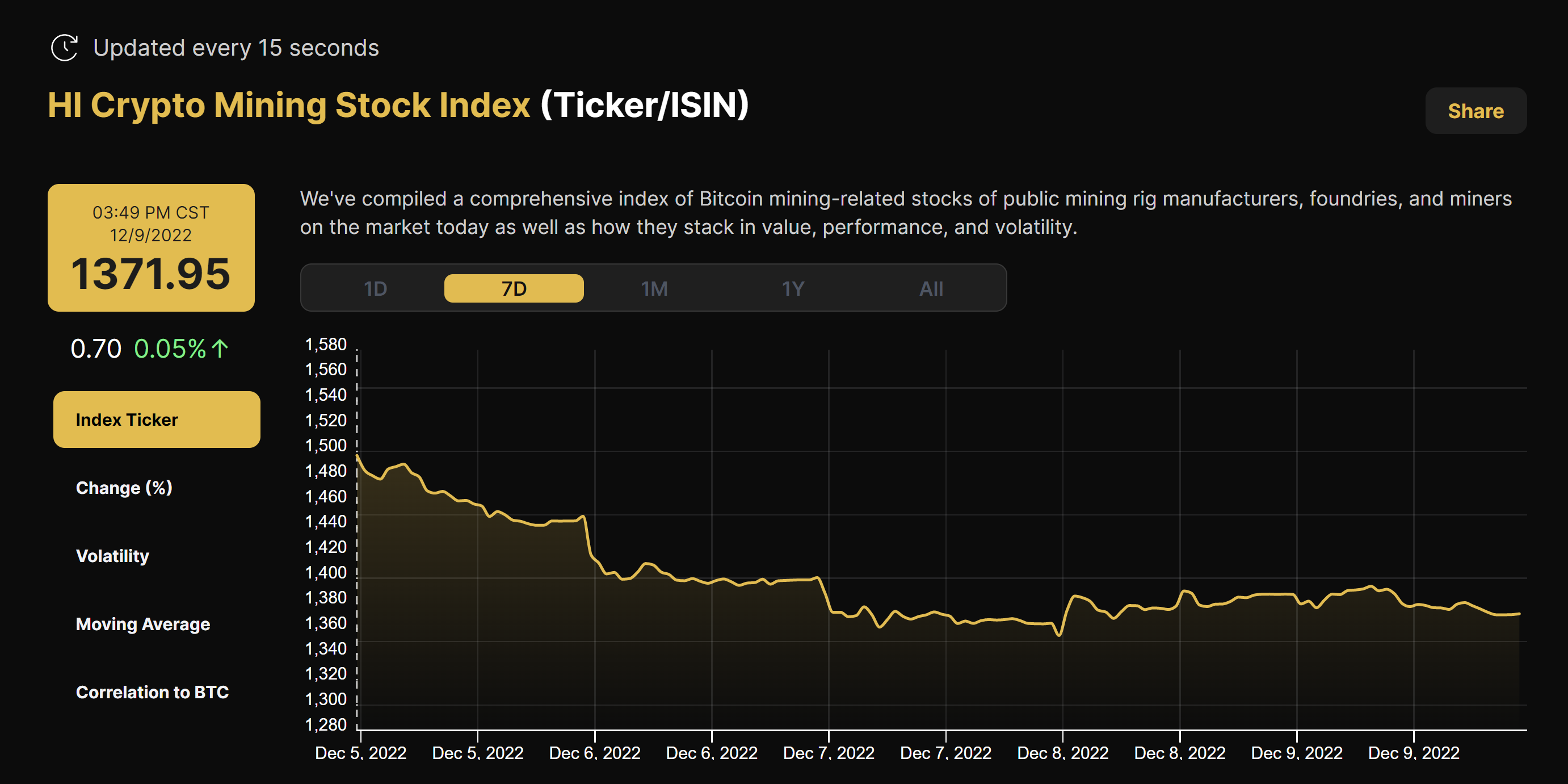 So far this year, no public Bitcoin miners have officially filed for bankruptcy. This could change soon, though, with reports that Argo could be looking to file for Chapter 11 (the UK's Financial Conduct Authority suspended trading of Argo shares just last week, ostensibly for the fact that Argo's stock has traded for under $1 for over a month). Additionally, Core Scientific is likely to file for Chapter 11, as well.
New From Hashrate Index
Quantifying Compute North's 363 Sale: Dollars Raised and Who Bought In
Compute North conducted a bankruptcy auction in November, and filings for this sale were finalized recently.
Thanks to the bankruptcy auction and its bidders, Compute North is off the hook for the majority of its debt. All of Compute North's secured debt has been assumed by new companies, and in some cases, creditors involved in the bankruptcy case – some of whom issued the debt in question.
Still, there's a not insignificant sum of unsecured debt ($39,387,165) that Compute North won't be able to fulfill with the cash it raised in the auction, and this doesn't take into account payroll, legal fees, and the like which Compute North will also cover from the proceeds.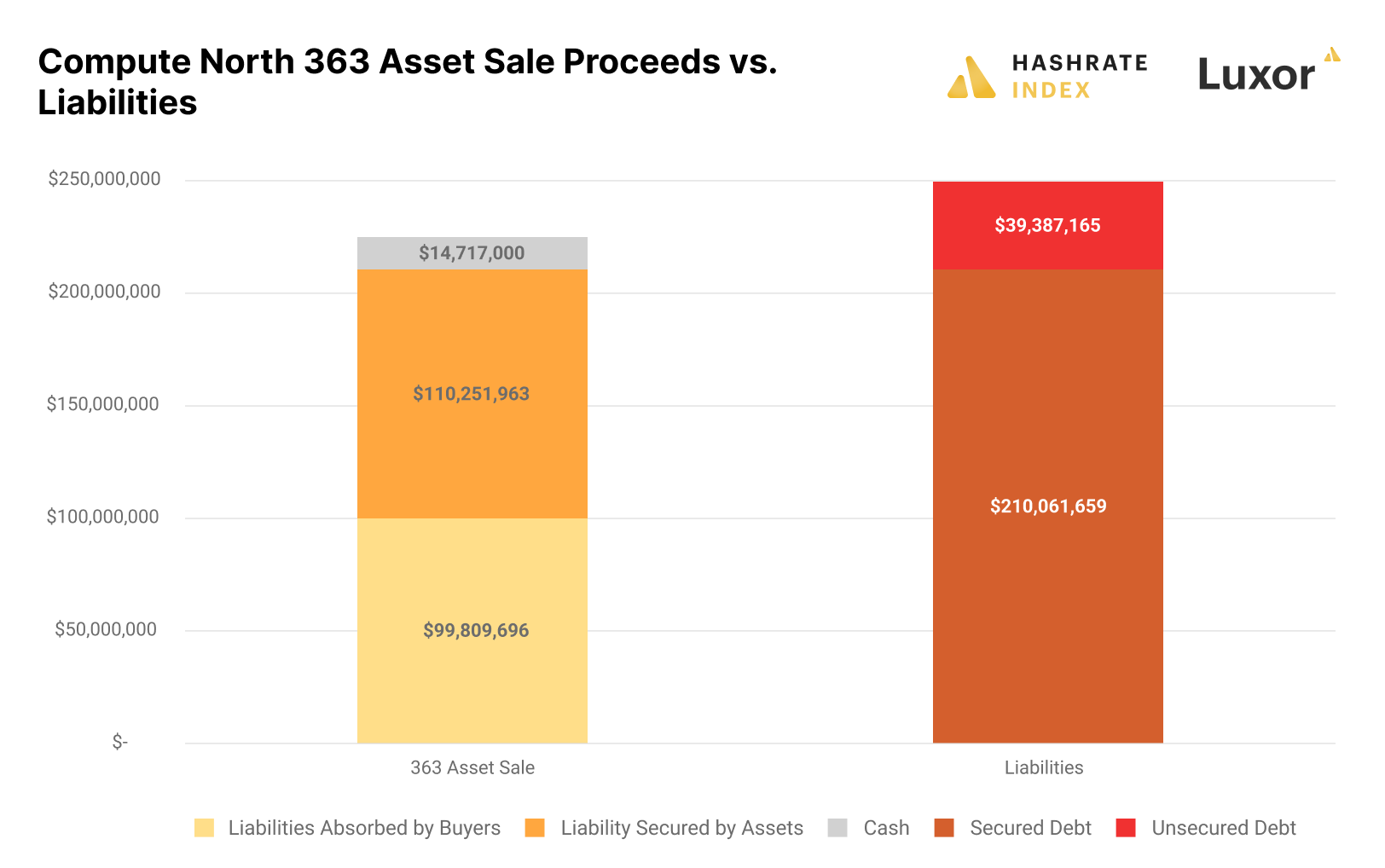 Highlights from Hive's Q3 Report
While some of the public bitcoin miners are just waiting to die, others are so strong that they could not only survive the bear market, but potentially capitalize on it. To separate the weak from the strong, we have already looked into the finances of Core Scientific, Riot, Bitfarms, Hut 8, and Marathon, and now we analyze Hive's last quarterly report.
A little background on Hive: Hive was the first cryptocurrency mining company to go public in 2017. Its 100% hydro- and geothermal-powered operations are located in Canada, Sweden, and Iceland. The company was a prominent ether miner before Ethereum transitioned to proof-of-stake and is now expanding its bitcoin mining capacity to compensate for the lost ether mining revenues.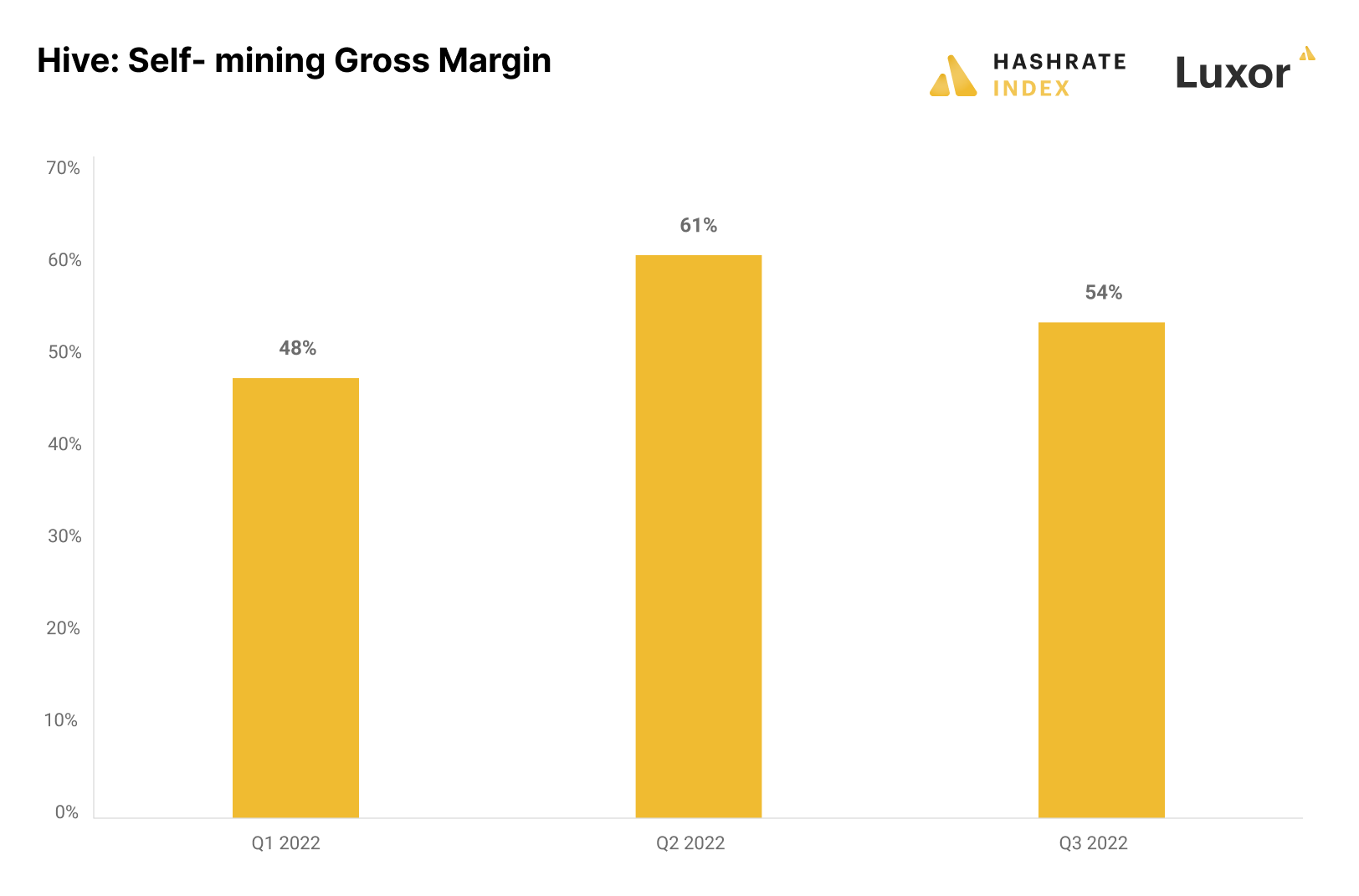 How Does the Current Bitcoin Mining Bear Market Compare to Previous Ones?
Although the current bear market is devastating for those with high operating costs and elevated debt levels, mining economics were significantly worse and stayed depressed for much longer during the previous bear market. We are all praying for the bear market to end soon, but is it realistic? Studying how the economics of bitcoin mining has developed through previous bear cycles could hint at how long the current bear market could last and how bad things could ultimately get.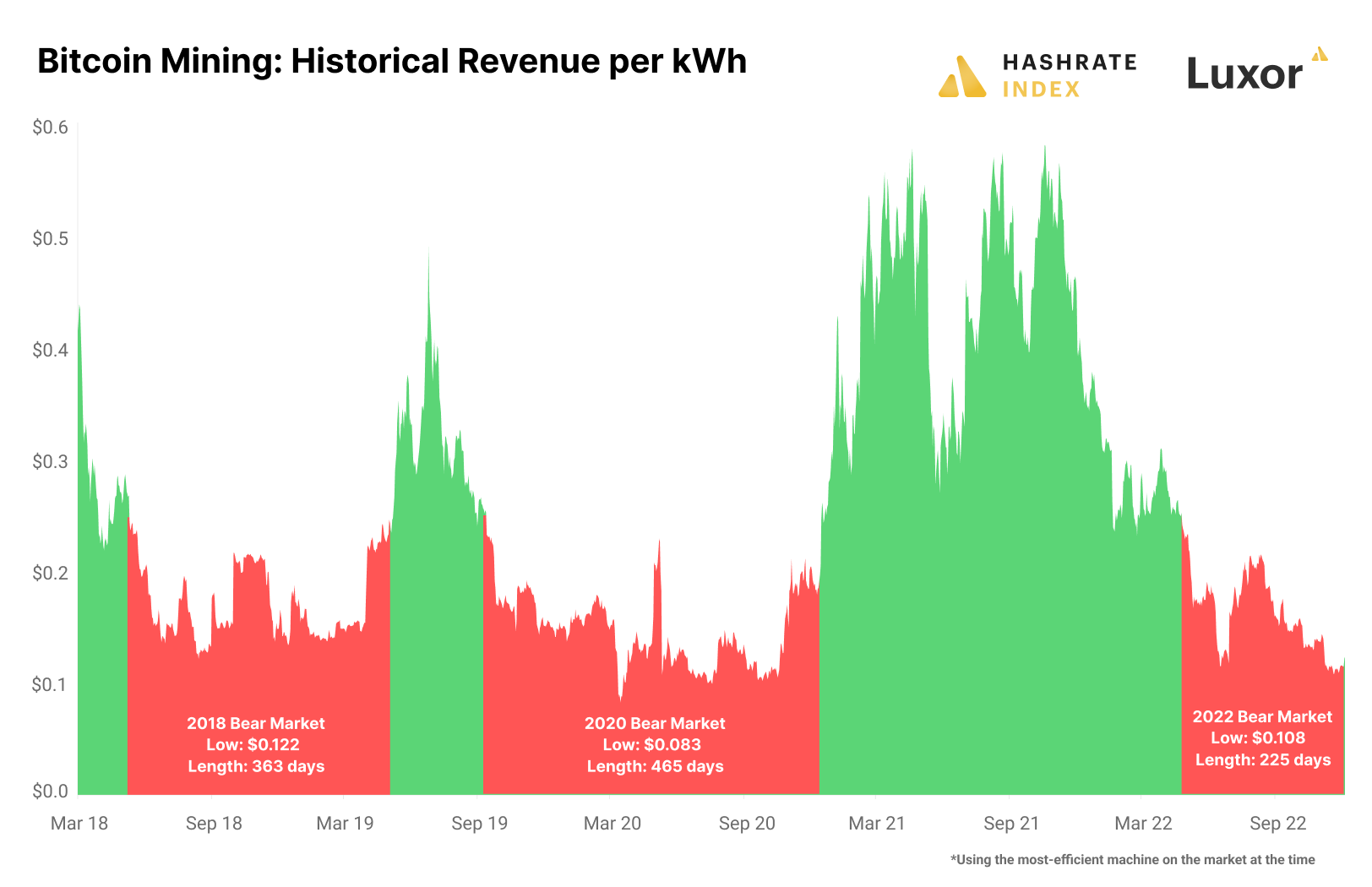 ---
Have a great week, and Happy Hashing!
Hashrate Index Newsletter
Join the newsletter to receive the latest updates in your inbox.
---