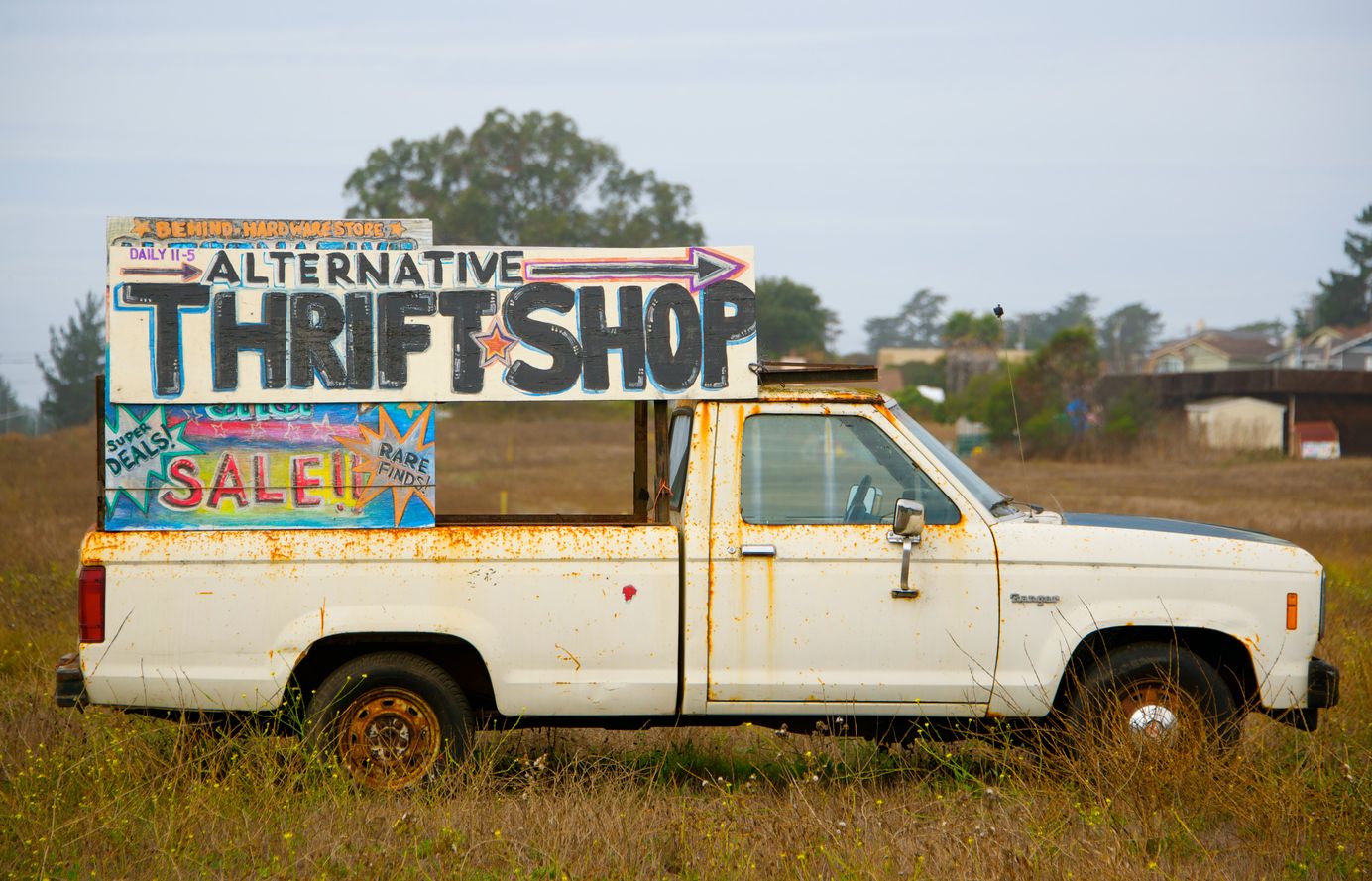 Quantifying Compute North's 363 Sale: Dollars Raised and Who Bought In
Compute North's secured debt is all accounted for, but it didn't raise enough cash to fully remunerate unsecured creditors.
Compute North's 363 asset sale is in the books.
This September, Compute North filed for Chapter 11 bankruptcy after entering into a technical default with its primary lender, Generate Capital. I wrote about the details of the bankruptcy here. But if you're too impatient or don't have the time to read that article, here's the TLDR:
Compute North was once the second largest Bitcoin mining hosting provider in North America, housing some $700 million worth of equipment from 84 clients at the time of its bankruptcy filing in late September. The company racked up $247 million in debt from a total of 96 creditors. $101 million of this belong to its primary lender, Generate Capital, and was guaranteed by its Kearney, Nebraska and Granbury, Texas "(Wolf Hollow") facilities; the remaining $146 million is a mix of secured and unsecured obligations. The asset sale took place on November 1.
Compute North's business structure is a labyrinth of joint-ventures (some of which were established with its creditors) and subsidiaries.
Thanks to the bankruptcy auction and its bidders, Compute North is off the hook for the majority of its debt. All of Compute North's secured debt has been assumed by new companies, and in some cases, creditors involved in the bankruptcy case – some of whom issued the debt in question.
Still, there's a not insignificant sum of unsecured debt ($39,387,165) that Compute North won't be able to fulfill with the cash it raised in the auction, and this doesn't take into account payroll, legal fees, and the like which Compute North will also cover from the proceeds.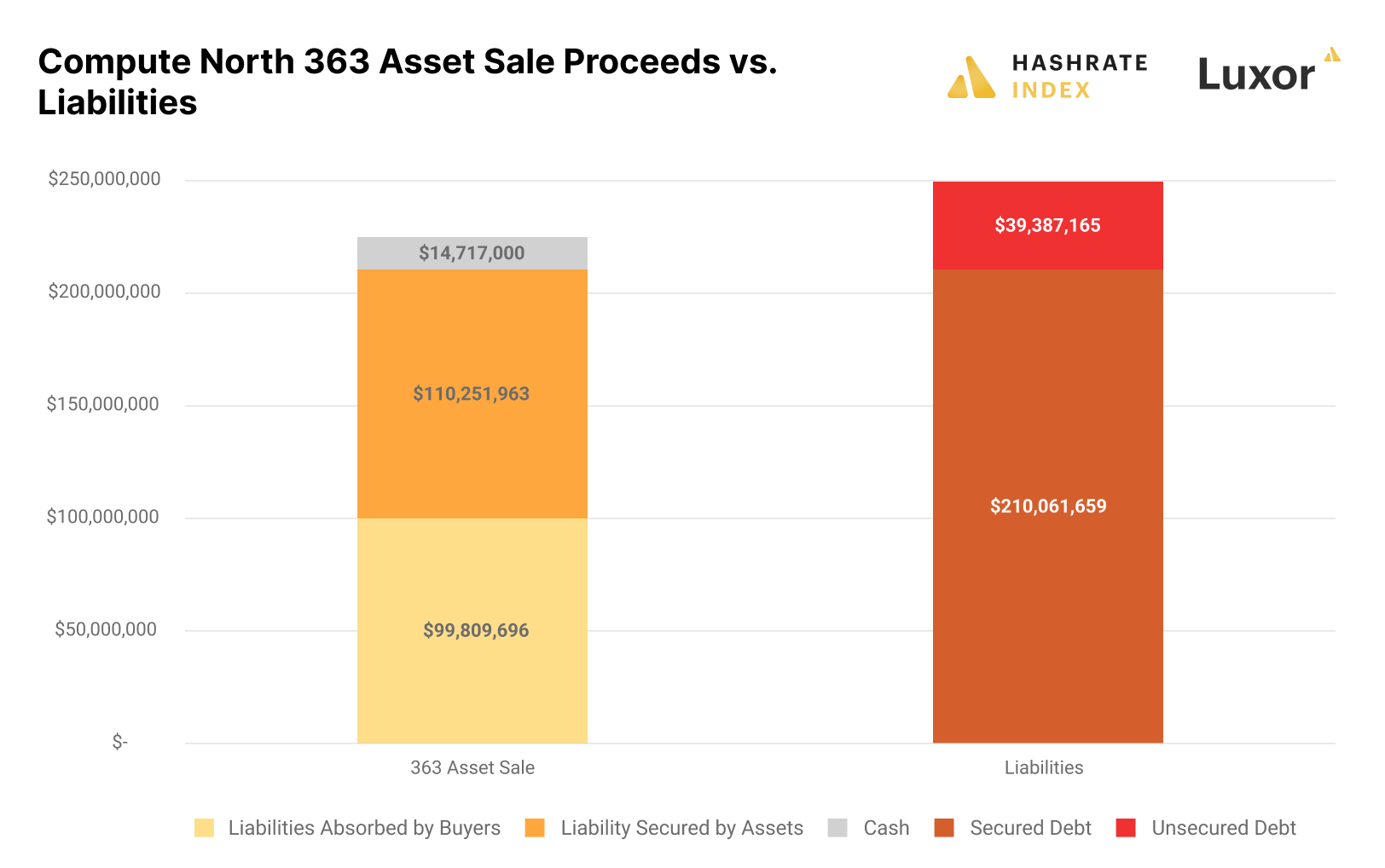 Compute North was operating five facilities when it went bust. Three of these were fully operational, two were partially operational, and it had two more in development. All of the operational facilities are under new management as a result of the auction; Foundry has the rights to purchase one of Compute North's in-development facilities (but it's not obligated to), but noone bid on the hosting provider's other in-development facility in Corpus Christi, Texas.
That's the meat and potatoes of the sale. Now let's take a look at the bones of each individual sale and breakdown who bought what assets and how much they paid for it.
Generate Capital Assumes Control of Kearney, Wolf Hollow, and Purchases $5M of Assets

Under the name of its subsidiary, GC Data Center Equity Holdings LLC, Generate Capital purchased assets residing in Compute North's Wolf Hollow, Texas and Kerney, Nebraska facilities for $5 million. Generate Capital proffered the only bid for these assets.
Before Compute North went kablooey, Generate Capital was the hosting provider's primary lender. Compute North still owed Generate Capital some $101 million when the bankruptcy proceedings kicked off, and in accordance with the loan agreement, the lender assumed control over Compute North's Wolf Hollow and Kearney mining farms when Compute North defaulted. In essence, this puts Generate's purchasing price at $106 million.
Generate Capitals acquisition gives it a 100% equity stake in CN Pledgor, CN Borrower, the subsidiaries that Compute North established to oversee the Wolf Hollow and Kearney mining farms.
US Data Group Assumes $99M NextEra Note, King Mountain Facility

The largest bid in the bunch comes from US Data Group, a firm with ties to the mining company US Bitcoin Corp (Asher Genoot, who signed the Notice of Successful Bidder filing for US Bitcoin Corp is also a co-founder of US Bitcoin Corp, and US Bitcoin Corp itself is a creditor in Compute North's bankruptcy).
Per the filing, US Data Group, which is listed as US Data King Mountain LLC in the court document, is purchasing Compute North's stake in a joint-venture (JV) with power provider NextEra for $10 million. The JV is structured under the subsidiary TZRC LLC, of which Compute North owns 50% and NextEra owns 50%, and the JV operates Compute North's King Mountain Bitcoin mining farm.
With its $10 million bid, US Data Group now owns Compute North's 50% stake in the venture, and it also assumes the $99,809,696 senior secured promissory note that Compute North owes to NextEra as part of the JV. Upon payment, $7 million from US Data Group's purchase will be applied immediately to pay down a portion of this loan; the other $3 million will go directly to Compute North.
Crusoe Purchases Bitcoin Mining Containers

Flair-gas Bitcoin miner Crusoe Energy has been on a buying spree this year, and they capitalized on Compute North's bankruptcy auction to scoop up some Bitcoin mining containers for bargain-bin prices.
Crusoe bought 11 Bitcoin mining containers for $1,547,000, according to a court filing (the filing states that Crusoe is paying roughly $140,363 a pop for each container). Compute North purchased these containers from RK Mission Critical. Given what we know about Crusoe's purchase price per container and the typical price of RK Mission Critical's containers, Crusoe scored anywhere from a 30-to-44% discount on this equipment.
Foundry Eats Its Equipment Loan to Compute North, Buys Big Spring and North Sioux City Sites

DCG's Bitcoin mining arm, Foundry, definitively purchased 2 of Compute North's facilities (and tentatively a third) for $5,170,000.
According to a court filing, Foundry bought Compute North's 11 MW facility in Big Springs, Texas and its 6 MW facility in North Sioux City, South Dakota for $4,000,000. That places the price-per-MW of this deal at $235,294 (we did not calculate the price-per-MW of other bids since we don't know the exact number of MWs energized at partially-operational facilities).
Additionally, Foundry also has the right to purchase Compute North's partially completed facility in Minden, Nebraska for $1,170,000 (per the agreement, Foundry may acquire the Minden facility but can back out of the acquisition). These acquisitions come complete with all of Compute North's bitcoin miners, bitcoin mining containers, transformers, and other miscellaneous equipment, as well as rights to Compute North's proprietary ASIC monitoring software, MinerSentry.
Foundry also put down a credit bid for $8,969,845 in an outstanding loan that Compute North owes to – you betcha – Foundry. Compute North took on this debt in December of 2020, and with its credit bid, Foundry acquired all of the collateral associated with the loan.
Foundry is eating the cost of a loan it originated, so effectively, Foundry's purchase price of Compute North's assets comes in at $14,139,845.
Loose Ends and Unsecured Claims
The majority of Compute North's debt is covered as a result of the 363 asset sale, but there are still nearly $40 million worth of unsecured loans waiting for settlement.
Compute North will cover some of these claims with the $14.7 million it raised from the asset sale, though some of this sum may also go to court fees and operational expenses. At the time of the bankruptcy filing, Compute North had $8.7 million in unencumbered cash, but we don't know how much of this sum is left after paying for operations and other expenses.
Marathon Digital is the largest unsecured creditor in the case with a $21 million claim. The public miner also has $40 million in hosting deposits with Compute North.
The bankruptcy court will settle how much remuneration these unsecured creditors will receive from Compute North's unencumbered cash holdings.
Hashrate Index Newsletter
Join the newsletter to receive the latest updates in your inbox.
---