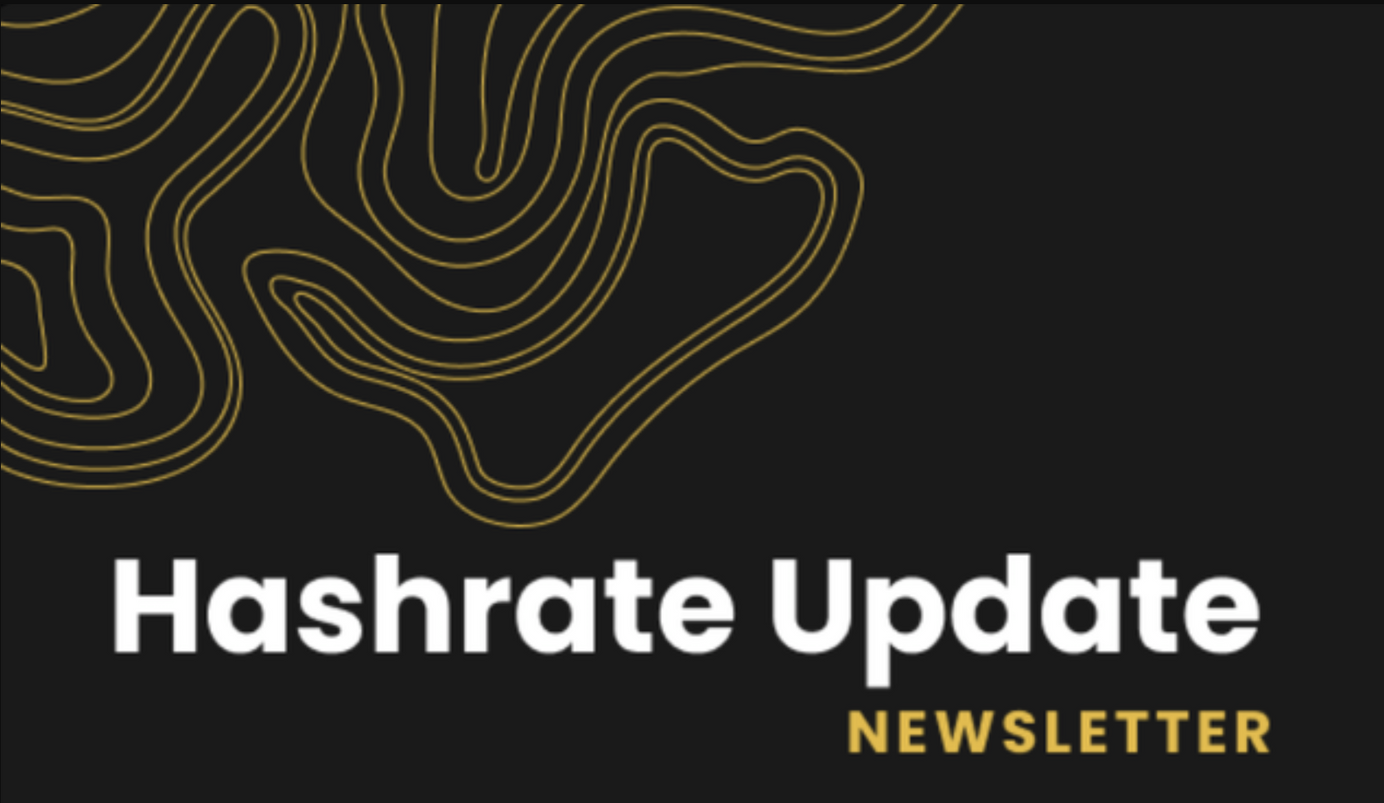 Hashrate Index Roundup 3/13/22
Bitcoin's price is slightly down, ASIC prices are hemorrhaging value, and the EU is seriously considering a Bitcoin mining ban. Here's your week-end roundup.
Happy Sunday, y'all!
Orange coin surged to $42k earlier in the week before retracing with a classic Bart pattern. Currently, bitcoin is hovering just under $40k this morning and is down by 2/10th of a percent over the week.
It feels like everyone on our side of the block has the same basic questions in mind Are we in bear mode right now? Or has Bitcoin been in a range-bound consolidation over the past few month? Is the price just winding tighter and tighter until it springs upward or slumps downward?
The answer to these questions largely hinge on how much (if at all) the Federal Reserve decides to hike interest rates. The Fed is meeting on Tuesday and Wednesday of this week to deliberate on these rate hikes, so the waiting and uncertainty will likely clear up in the coming days.
---
Sponsored by BlockFi

---
Hashprice Index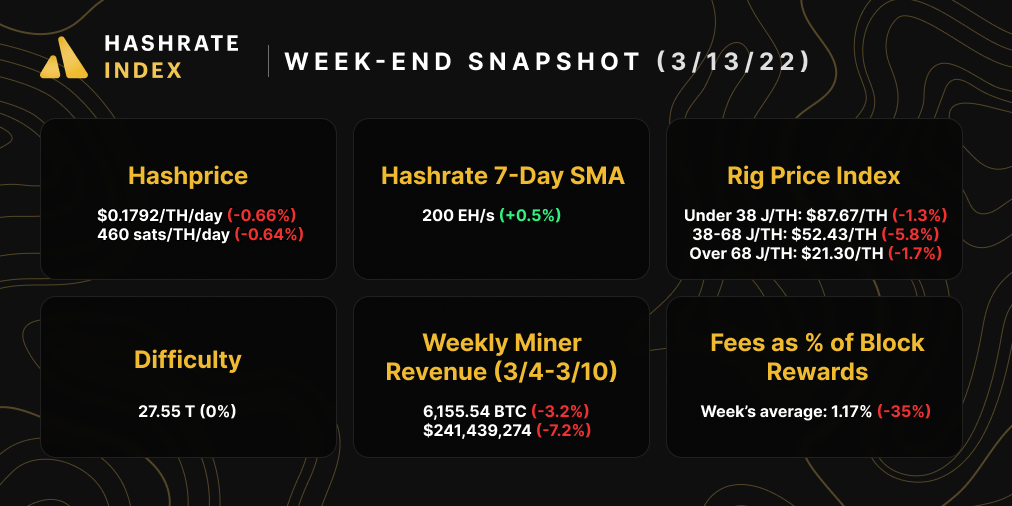 Bitcoin's hashprice is down less than a percent over the week to $0.1792 TH/day. Bitcoin's price volatility slung hashprice up and down throughout the week, with hashprice nearly touching $0.20/TH/day during the price swings.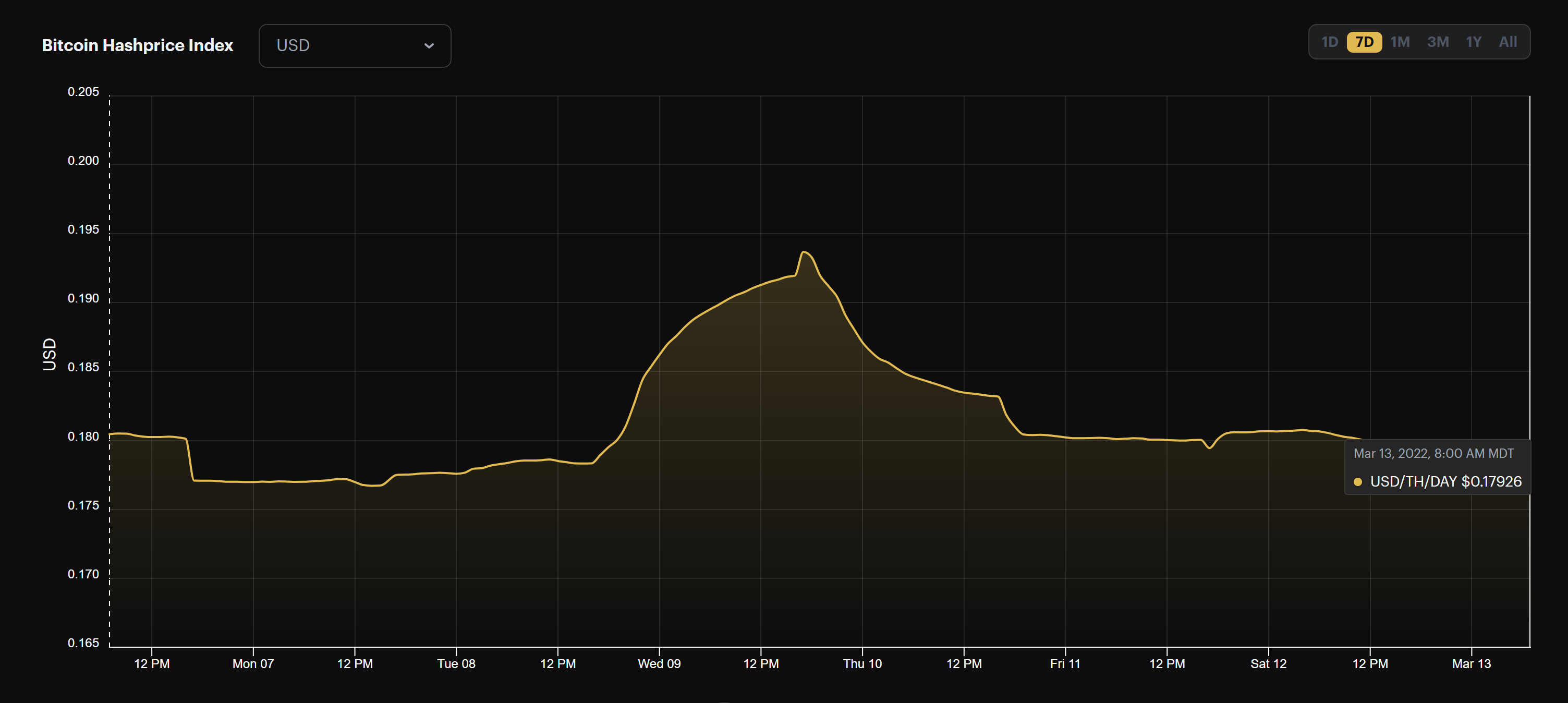 Bitcoin's difficulty has another adjustment coming up this week, and estimates for it have may have been leading all of us miners on...
What I mean to say is, many forecasts figured that the next difficulty adjustment would be negative, but with Bitcoin's hashrate swelling in the last 24 hours by 7 EH/s for its 7-day average, this week's adjustment could be to the upside.
It's still too early to tell exactly whether or not this adjustment will be positive or negative (Hashrate Index's estimate and Mempool.space's estimates, for e.g., still read negative, while BTC.com estimates a ~1% positive adjustment). But it'll be close, and whether up or down, the coming adjustment will be a smaller percentage change than not.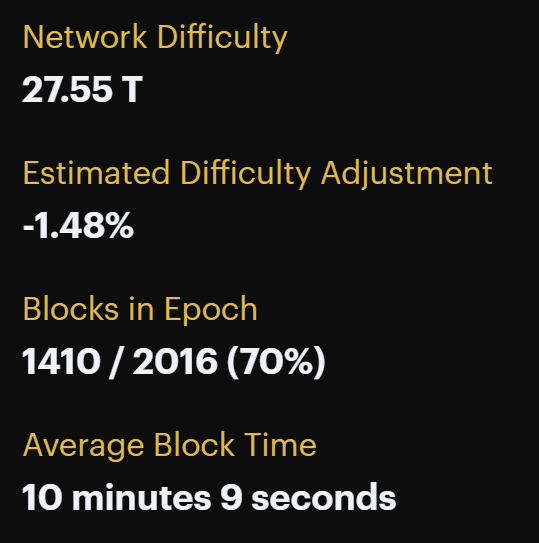 💸
BITCOIN TRANSACTION FEES
Two weeks ago, the mempool had an unusually crowded week which resulted in heartier fee revenue for Bitcoin miners. On the 1st of March, fees nearly constituted 3.5% of block rewards, the highest daily average since China's crypto mining ban took full effect last year.
Transaction activity last week still kept fees (relatively) elevated, but to a lesser extent than the beginning of the month. Over the last week, transaction fees constituted 1.17% of block rewards, compared to 1.79% the week prior.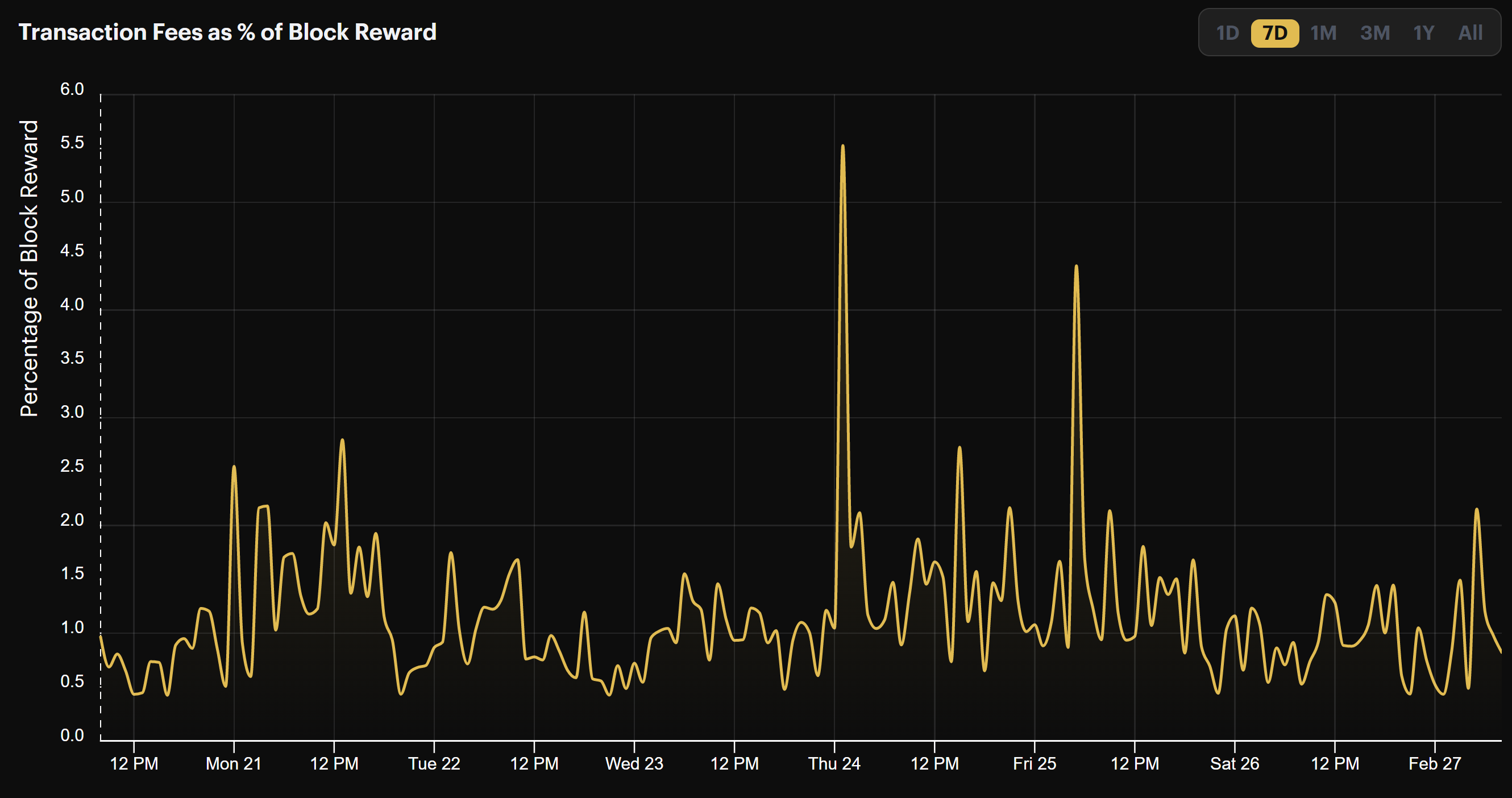 ---
Bitcoin ASIC Index
Rig prices declined for the seventh week in a row last week.
Will we continue to see prices slowly creep downwards or see a swift capitulation in the coming months? Maybe both?
We'll be watching and waiting with dry powder in case prices fall farther still.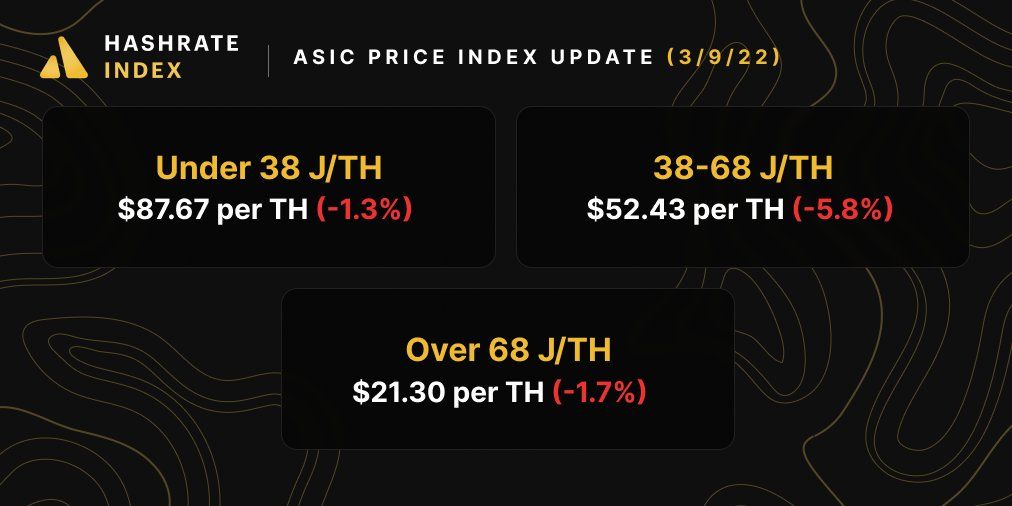 💰
PROFITABILITY OF POPULAR BITCOIN ASICs
Bitcoin's hashprice is down, so the per-day reward potential for popular bitcoin mining ASICs fell over the week, as well.
Antminer S19 Pro: $19.70
Antminer S19: $17.00
Whatsminer M30s++: $20.10
Whatsminer M30s: $15.40
Antminer S17: $10.00
Whatsminer M20s: $12.20
Antminer S9: $2.40
---
Sponsored by Luxor

---
Crypto Mining Stock Index
Our stock index rose last week, gaining 1.4% to 4,138.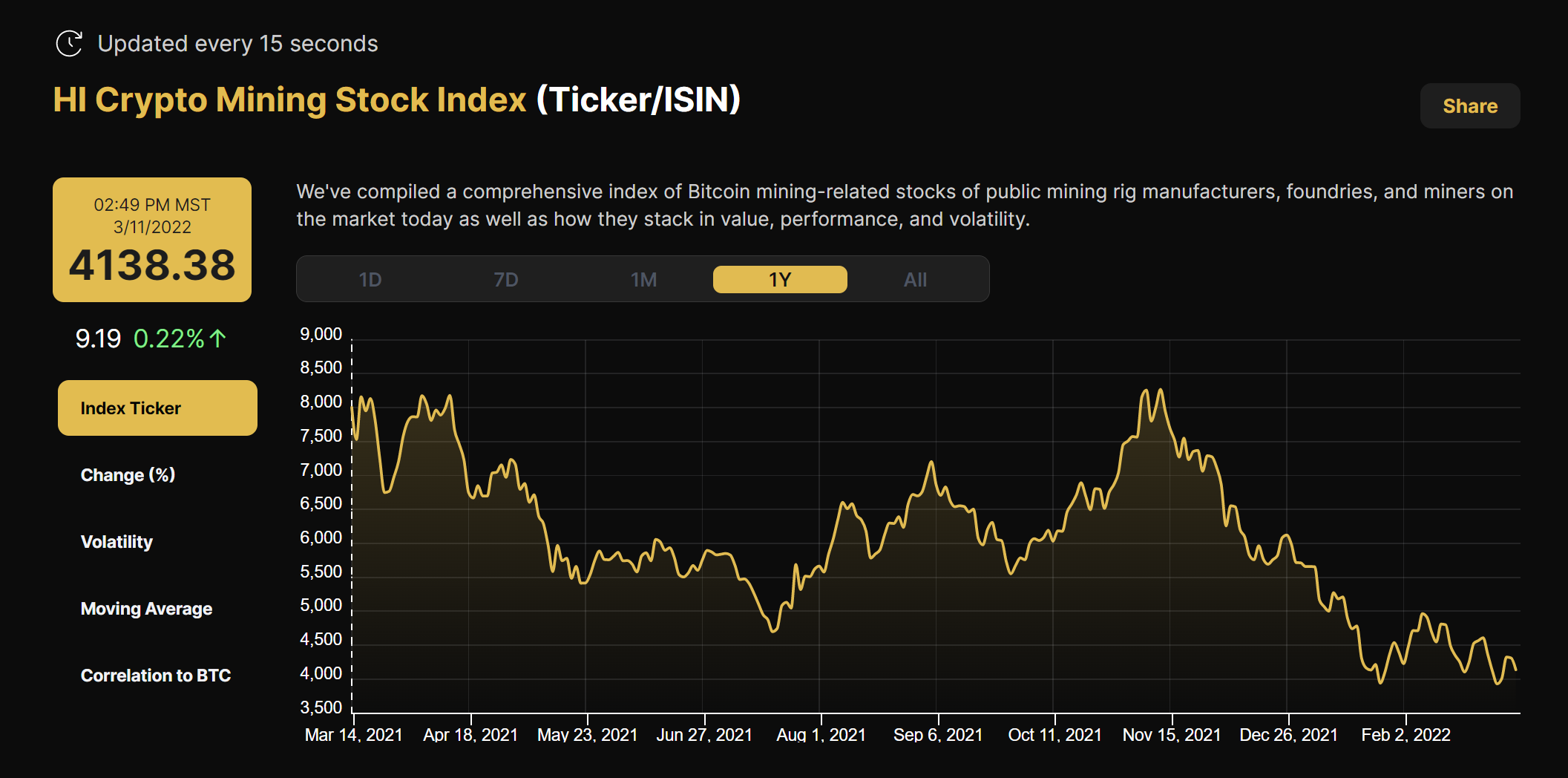 Plenty of big moves this week for bitcoin mining stocks. Some players announced expansion plans, while the wider industry digested news that the EU may seriously consider banning proof-of-work and that the Biden Administration is drafting an executive order to regulate cryptocurrencies.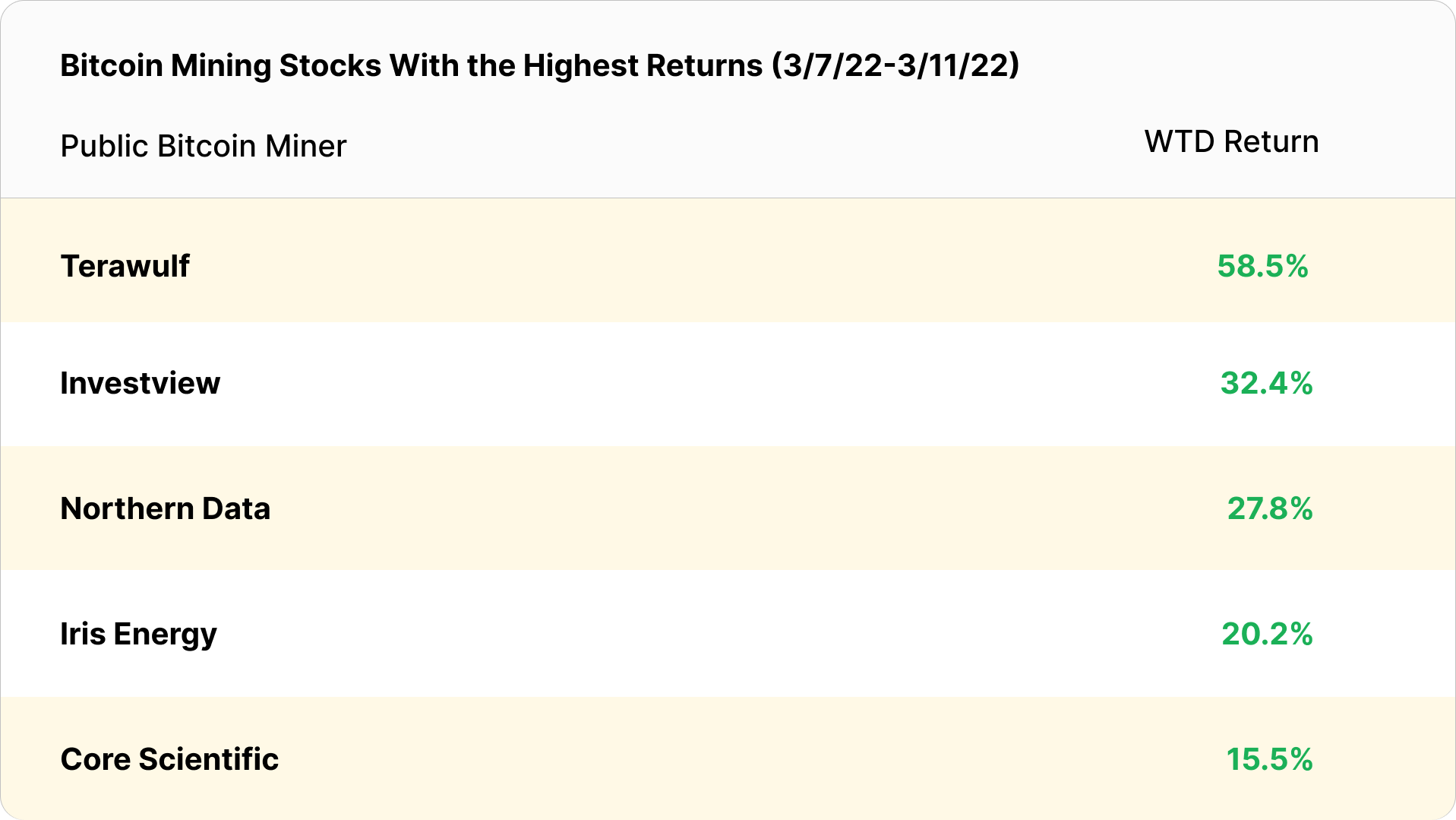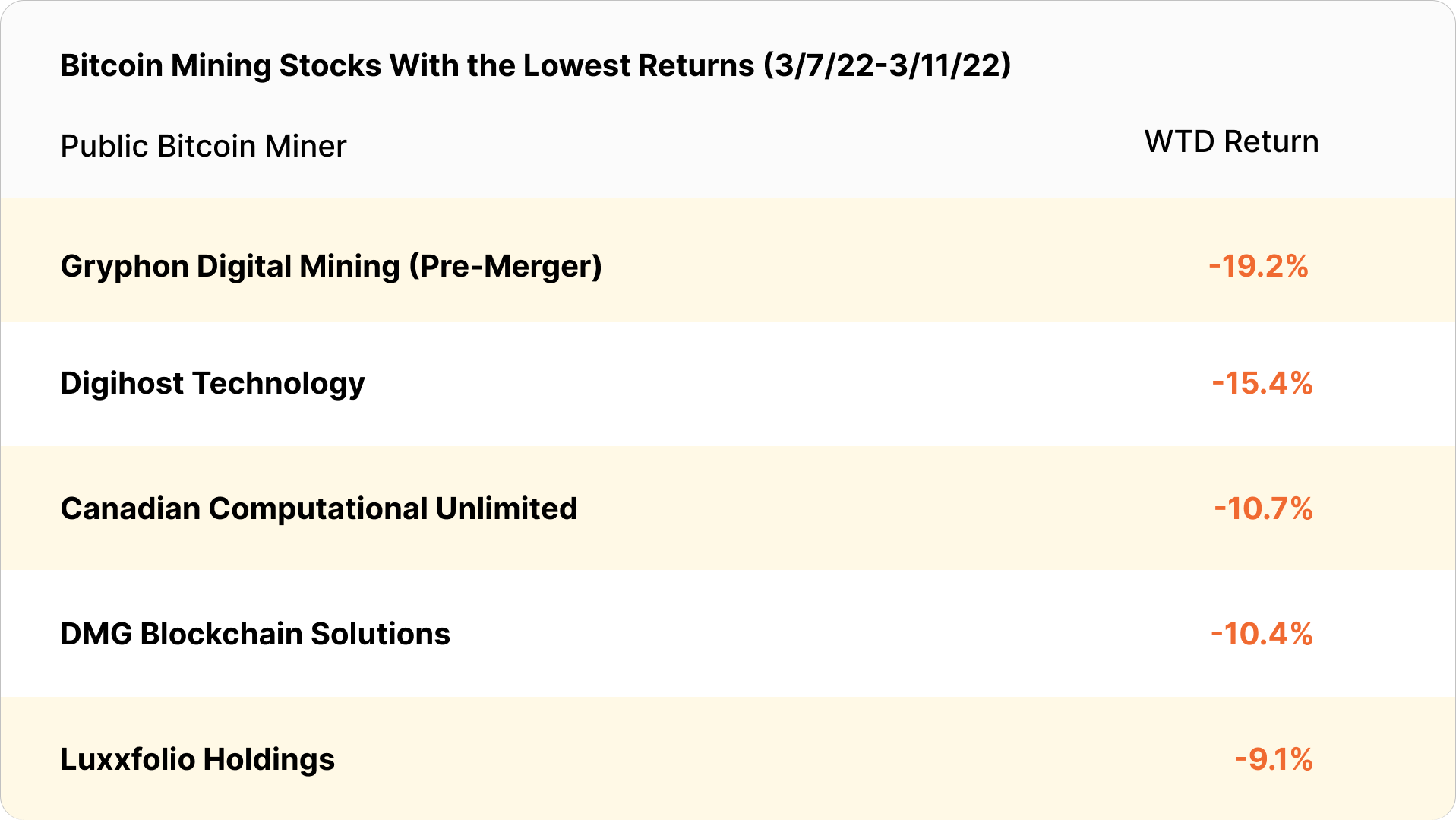 ---
New From the Hashrate Index Blog
What's Going on With Bitcoin Miner Prices?
In case you missed our week-day newsletter in the first week in March, we take a look at Bitcoin ASIC prices and analyze why their valuations have been slowly bleeding over the past few months.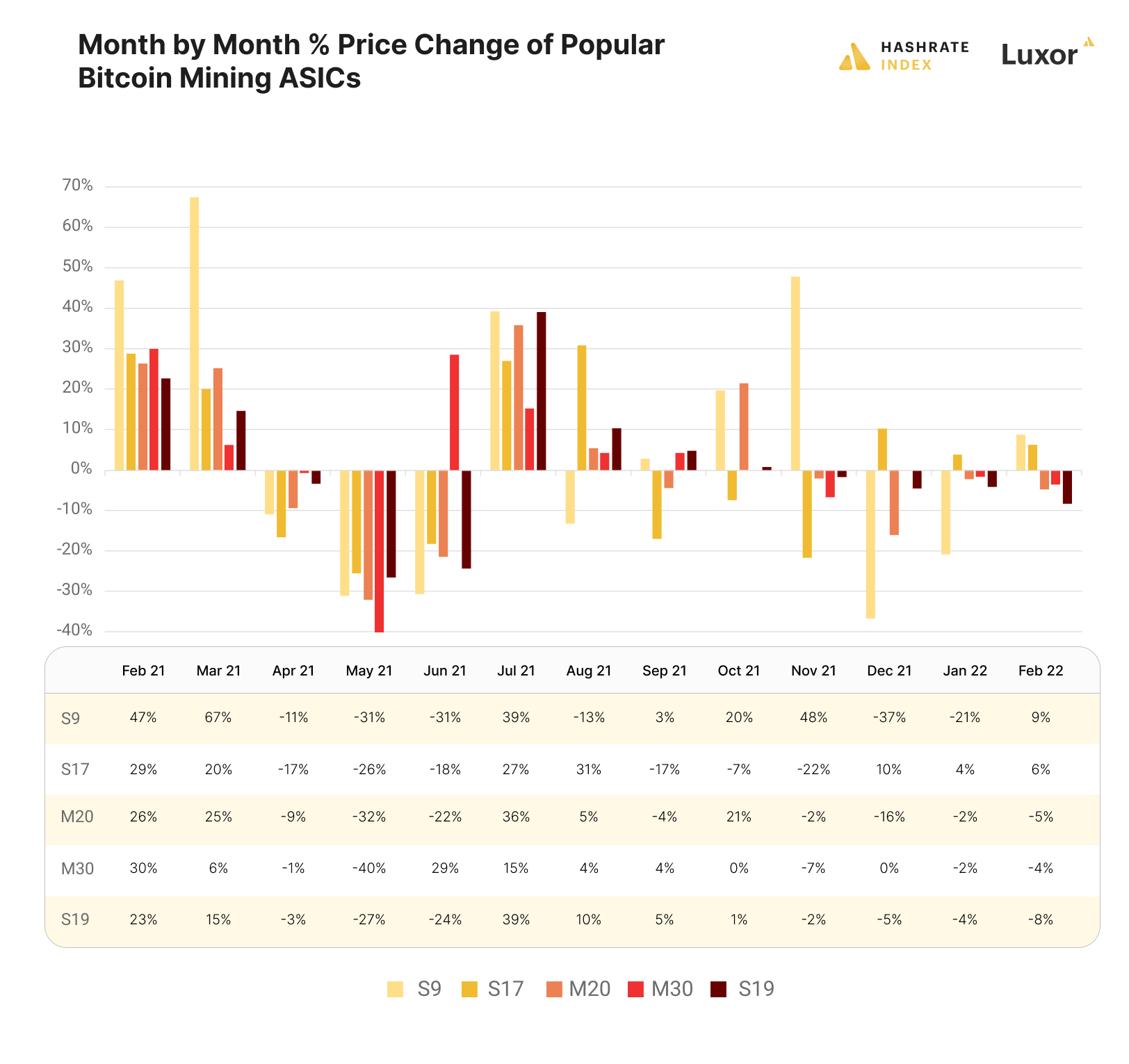 Public Bitcoin Miners Earned Fewer Bitcoin in February 2022 Than January
Most of the leading public Bitcoin miners released their February production updates over the last two weeks, so for last week's newsletter, we ran the numbers. This update has more metrics than just hashrate and monthly BTC production; we also take a look at marketcap-to-hashrate ratios, hashrate productivity (how many BTC each miner mined per unit of hashrate), and more.

How to Estimate Public Bitcoin Miner Values Using the Price-to-ASIC-Value Ratio
In this article, we introduce a novel methodology for estimating the total value of a public Bitcoin miner's ASIC fleet. Introducing, the price-to-asic-value ratio.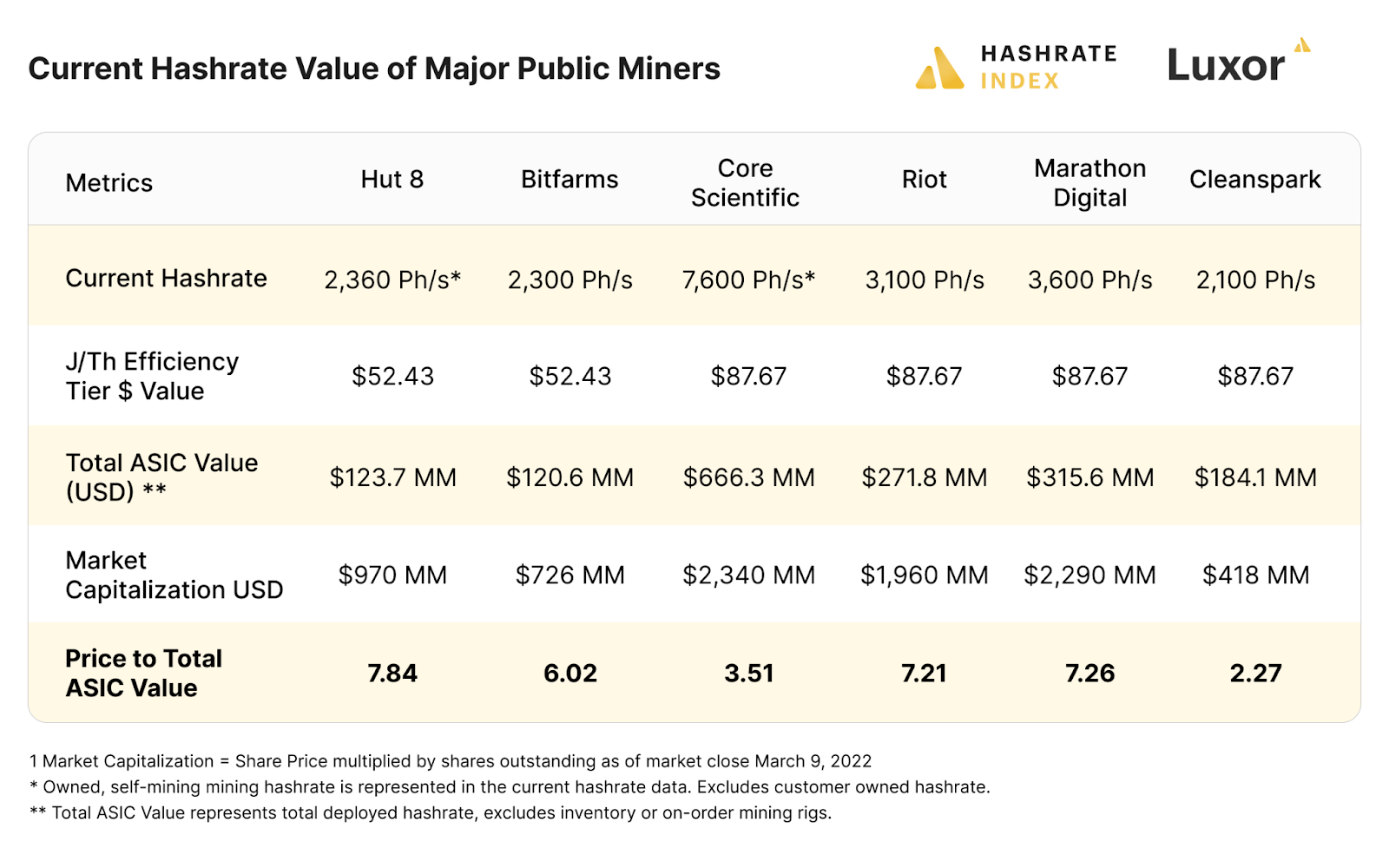 What is Bitcoin's Hashrtae and What is Bitcoin's Difficulty?
For two of our latest Bitcoin Mining 101 guides, we explain what Bitcoin's hashrate is and we run through what Bitcoin's difficulty is (and how it is calculated).
Bitcoin Mining News Roundup
Have a great week, and Happy Hashing!
-CMH
Hashrate Index Newsletter
Join the newsletter to receive the latest updates in your inbox.
---