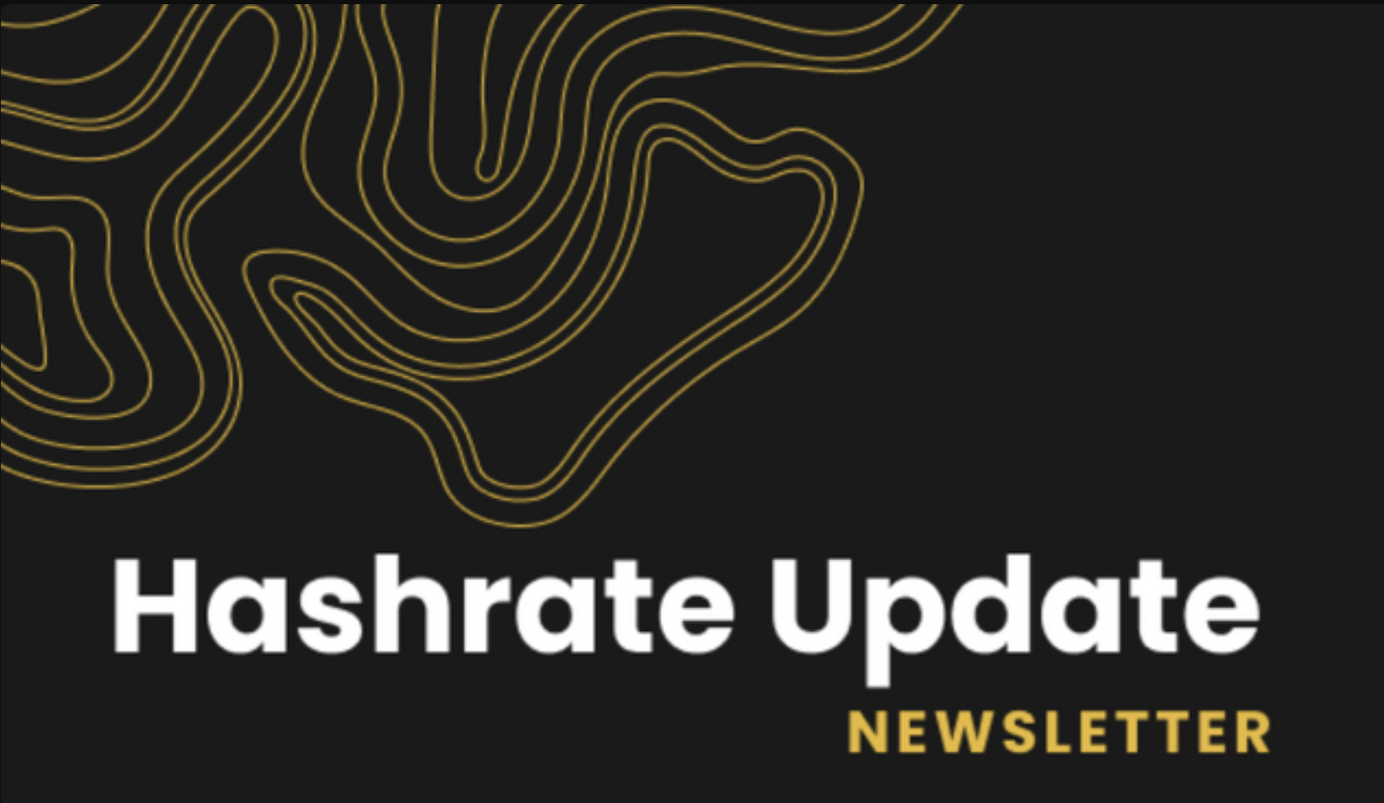 Hashrate Index Roundup 2/27/2022
Bitcoin's price is slightly up on the week, but hashprice is still down. Bitcoin mining ASIC prices fell again this week, as well.
Happy Sunday, y'all!
Bitcoin's price undulated substantially this week, with an incipient war in Ukraine as its backdrop.
On the onset of the Russia's invasion into its neighboring country, Bitcoin's price tanked some 9%, only to make a swift U-shaped recovery the same day. At the time of writing, Bitcoin is up 2.43% over the week and is just a few bucks shy of $40k.
Amazingly, for the first time since we've been doing the Hashrate Index Roundup, Bitcoin's hashprices this week (both USD and BTC denominated) are practically at the same levels as last week's update.
And with that, let's break into the data.
---
Sponsored by BlockFi

---
Hashprice Index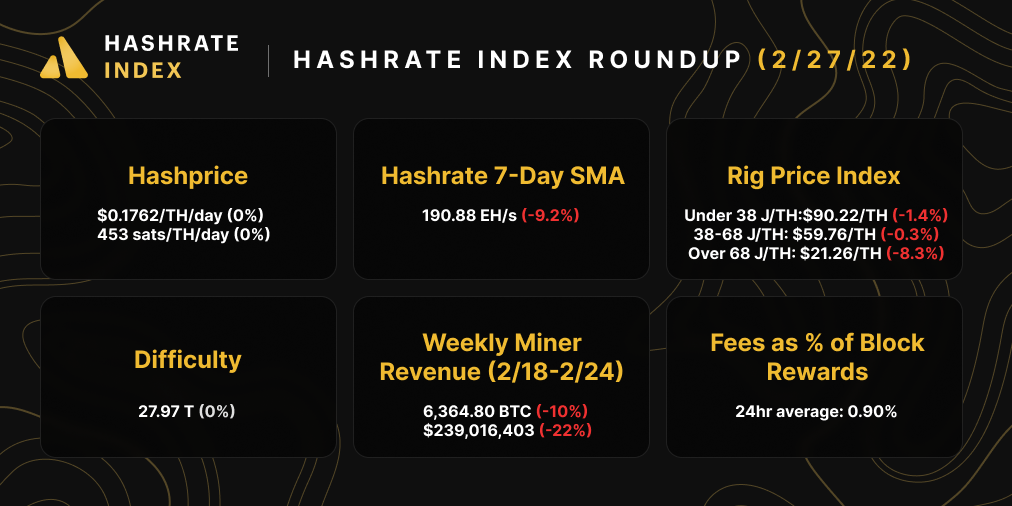 Bitcoin's hashprice hit a yearly low this last week, bottoming out at $0.1615/TH/day before recovering alongside Bitcoin's price.
Hashprice is currently just under $0.18/TH/day after a 4.6% drop over the week.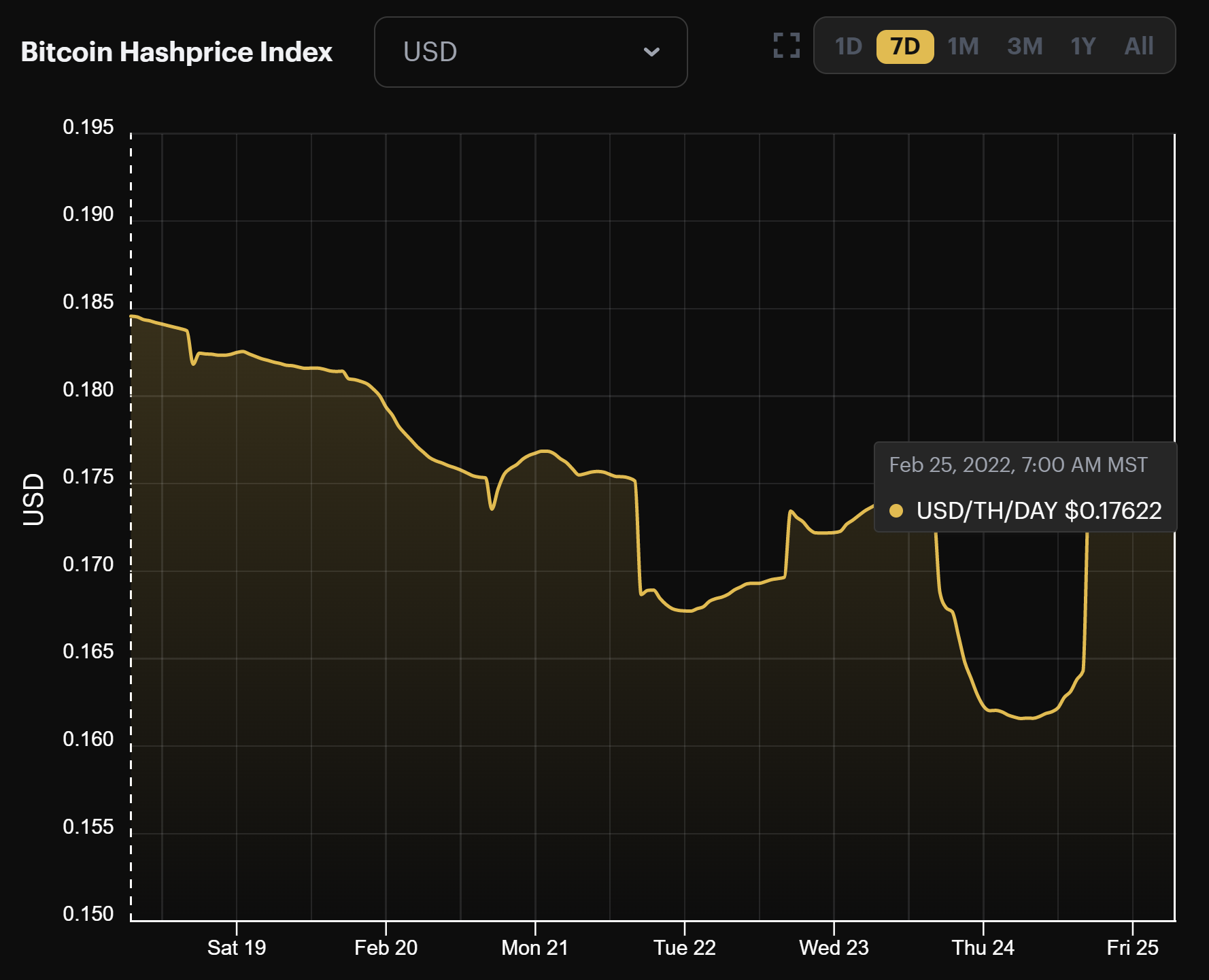 Bitcoin's difficulty is due for an adjustment this week, and it's looking like it will likely be a downward change. With T-minus 4.5 days until the next adjustment, current estimates gauge that Bitcoin's difficulty may decrease anywhere from 1-4%.
Hashrate is ramping up and hashprice is trending down, so miners will be pleased to see any adjustment that makes it easier to mine bitcoin, be it big or small.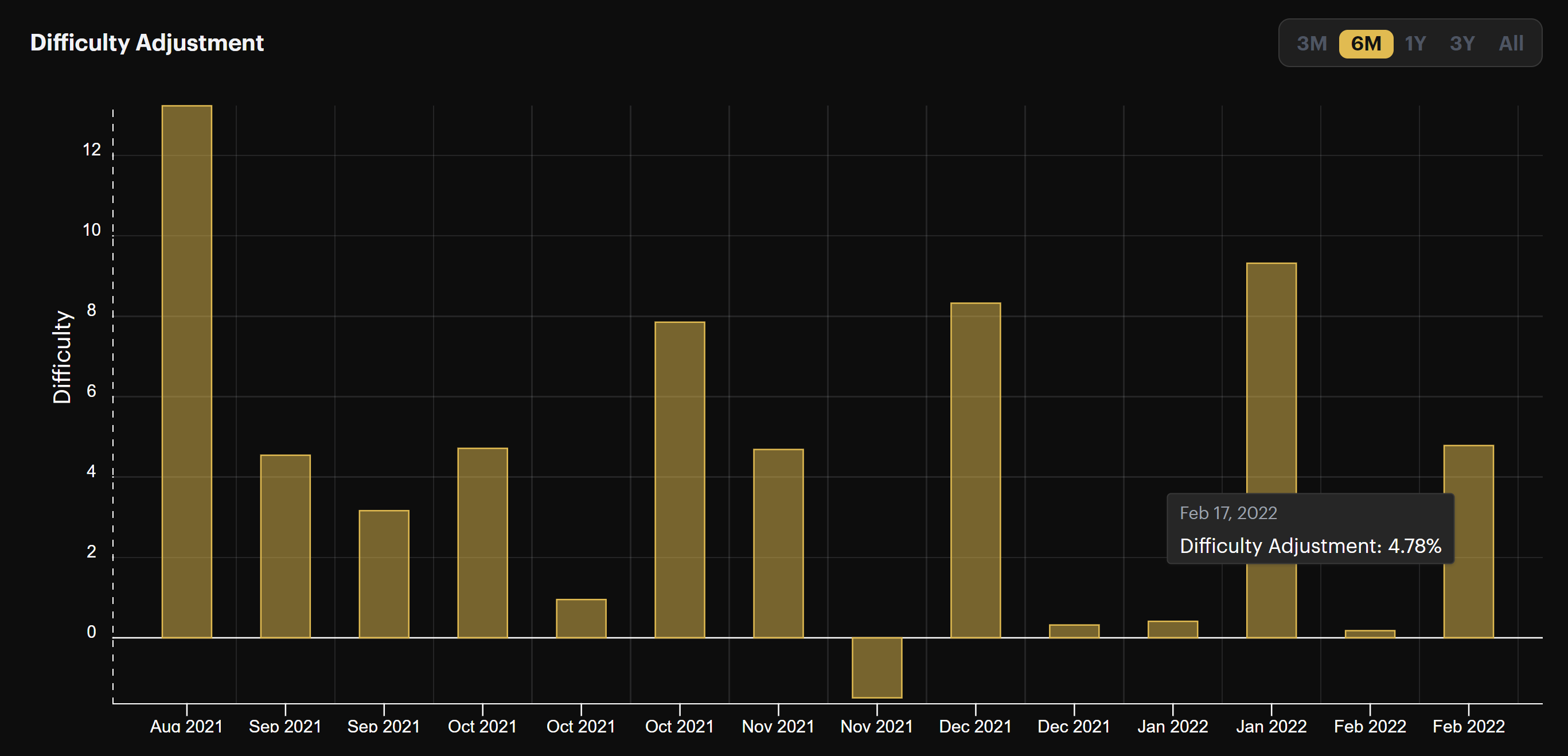 💸
BITCOIN TRANSACTION FEES
Why do we include this section when, week-in and week-out, it says more or less the same thing?
Because one day (one glorious day), Bitcoin's fee market will be healthy and active again and we'll be able to report that transaction fees are higher than 1-2%.
But until that time, we'll continue with the Sisyphean task of reminding you that miner revenue is in the pits once again this week, accounting for 1-2% of block rewards on average.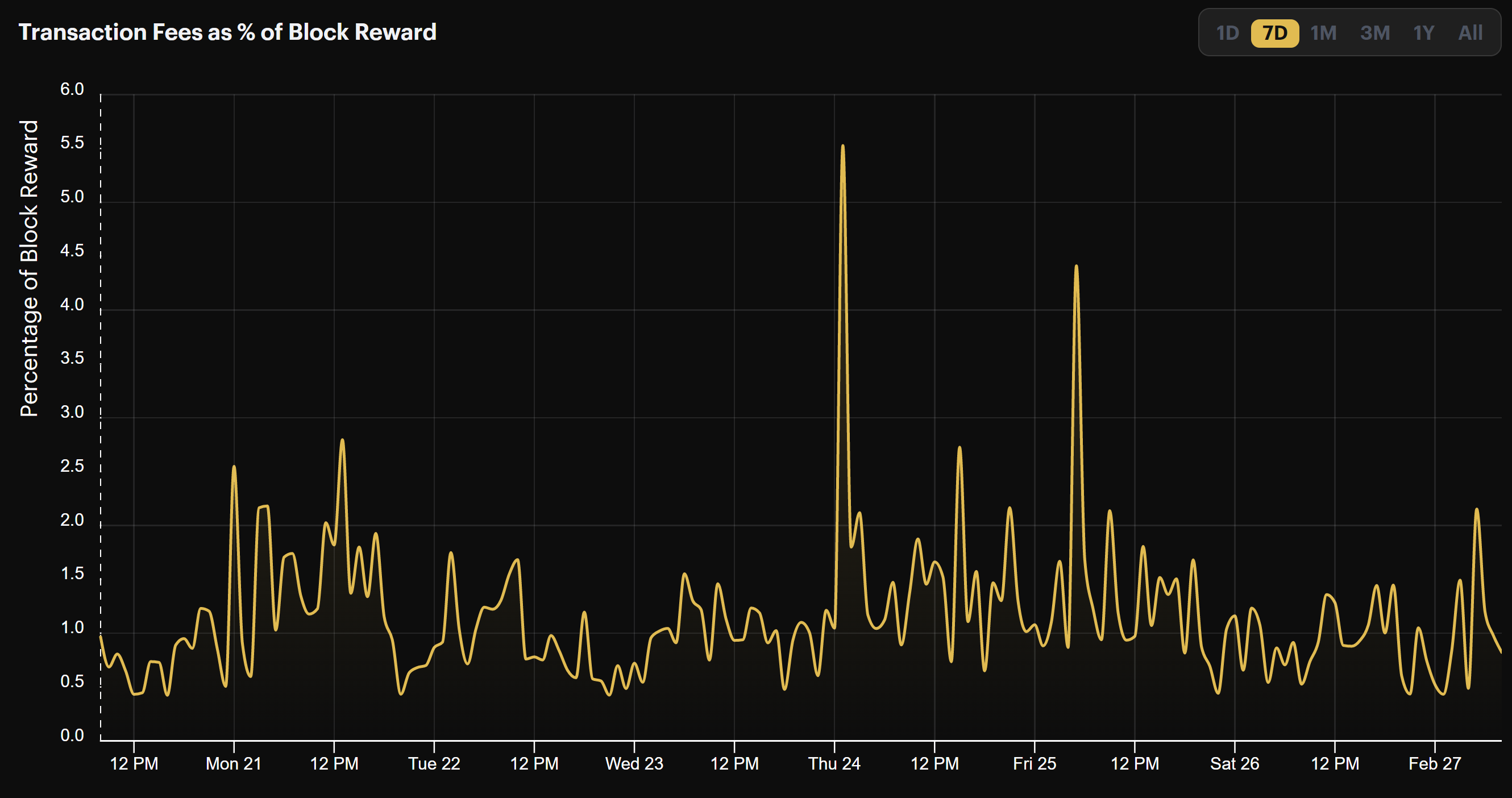 ---
Bitcoin ASIC Index
Rig prices declined for the fifth week in a row last week. That said, selling cooled down for new-gen and mid-gen ASICs, while old-gen machines experienced their steepest sell-off of the year, the worst since Bitmain announced the S19 XP last November.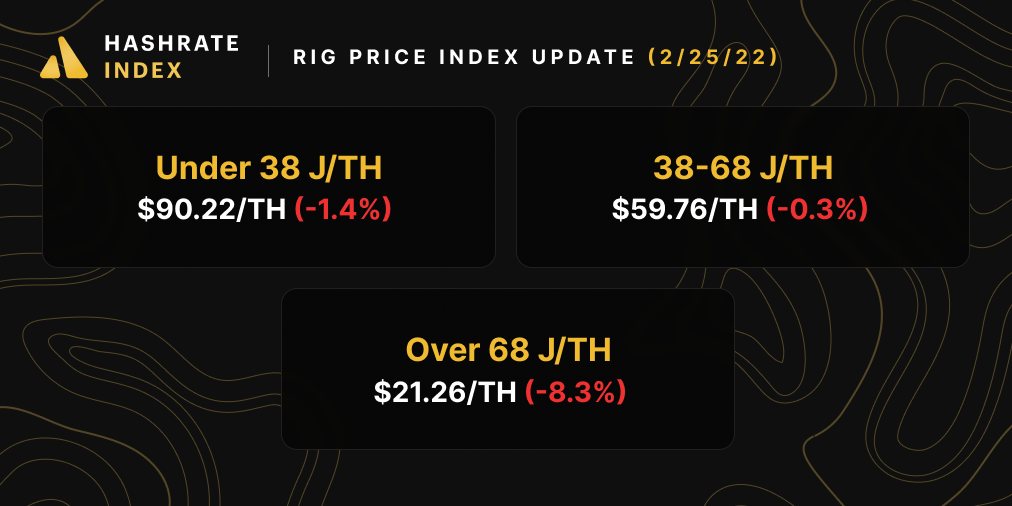 💰
PROFITABILITY OF POPULAR BITCOIN ASICs
Bitcoin's price is up and hashprice is down, and the per-day reward potential for popular bitcoin mining ASICs barely budged over the week. Most ASICs rose by a factor of a cent/cents over the week (a handful didn't move at all):
Antminer S19 Pro: $19.40
Antminer S19: $16.75
Whatsminer M30s++: $19.75
Whatsminer M30s: $15.17
Antminer S17: $9.87
Whatsminer M20s: $11.99
Antminer S9: $2.29
---
Sponsored by Luxor

---
Crypto Mining Stock Index
Our stock index fell last week, losing 2.2% to 4,252.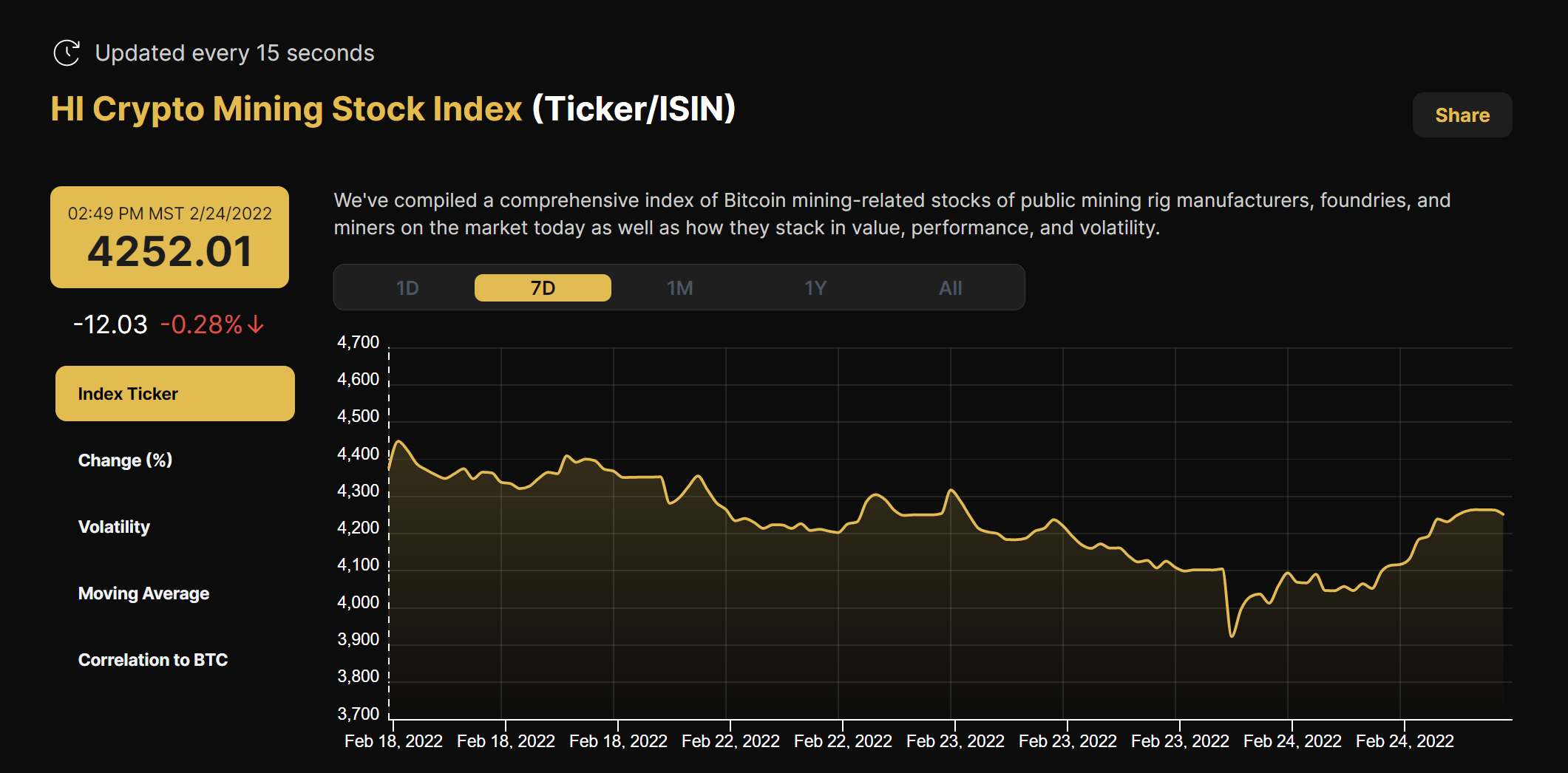 In this week's bitcoin mining stock update, bitcoin mining stock returns were mixed, but the leaders of this week had larger positive moves than last week's crop.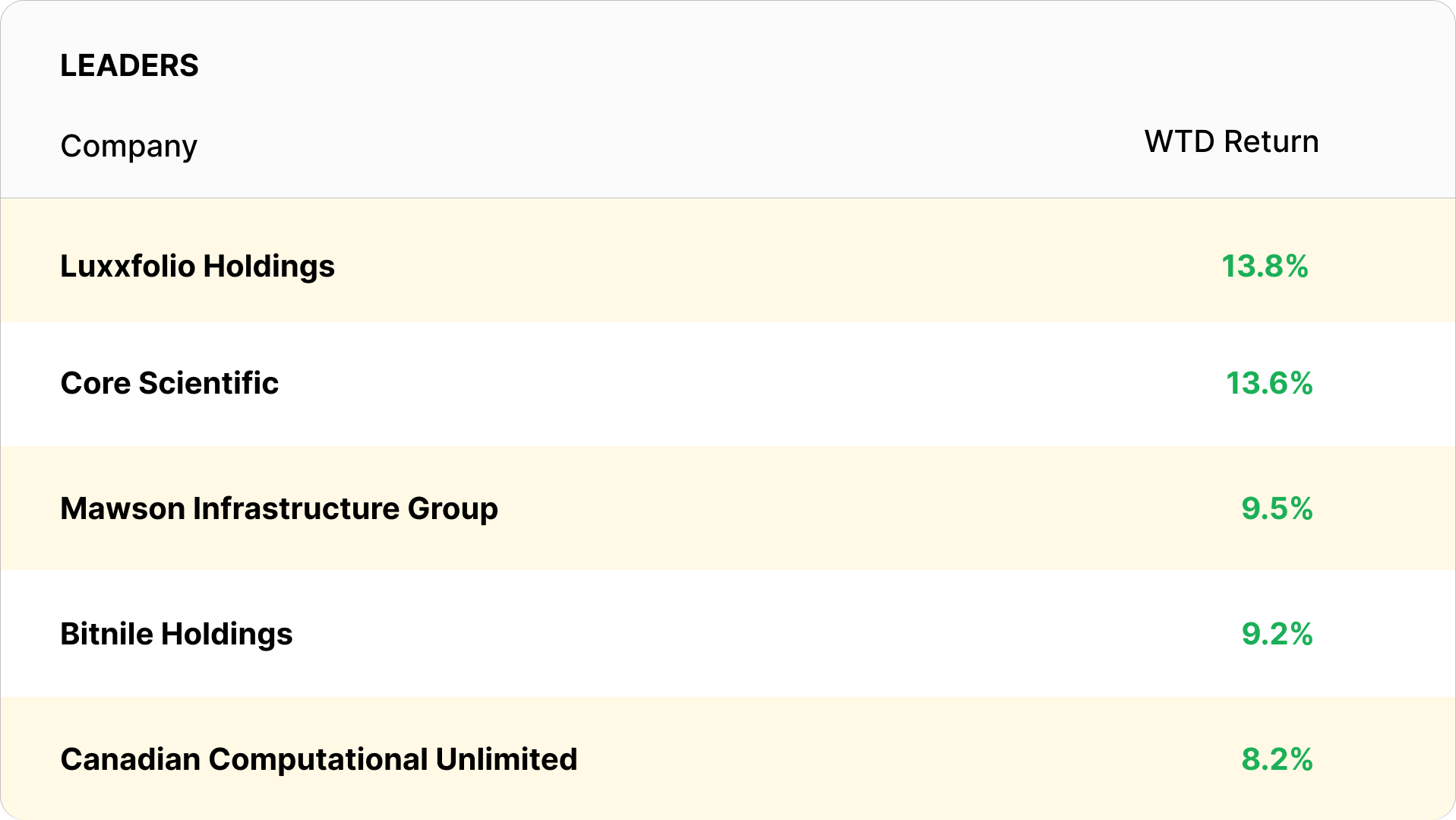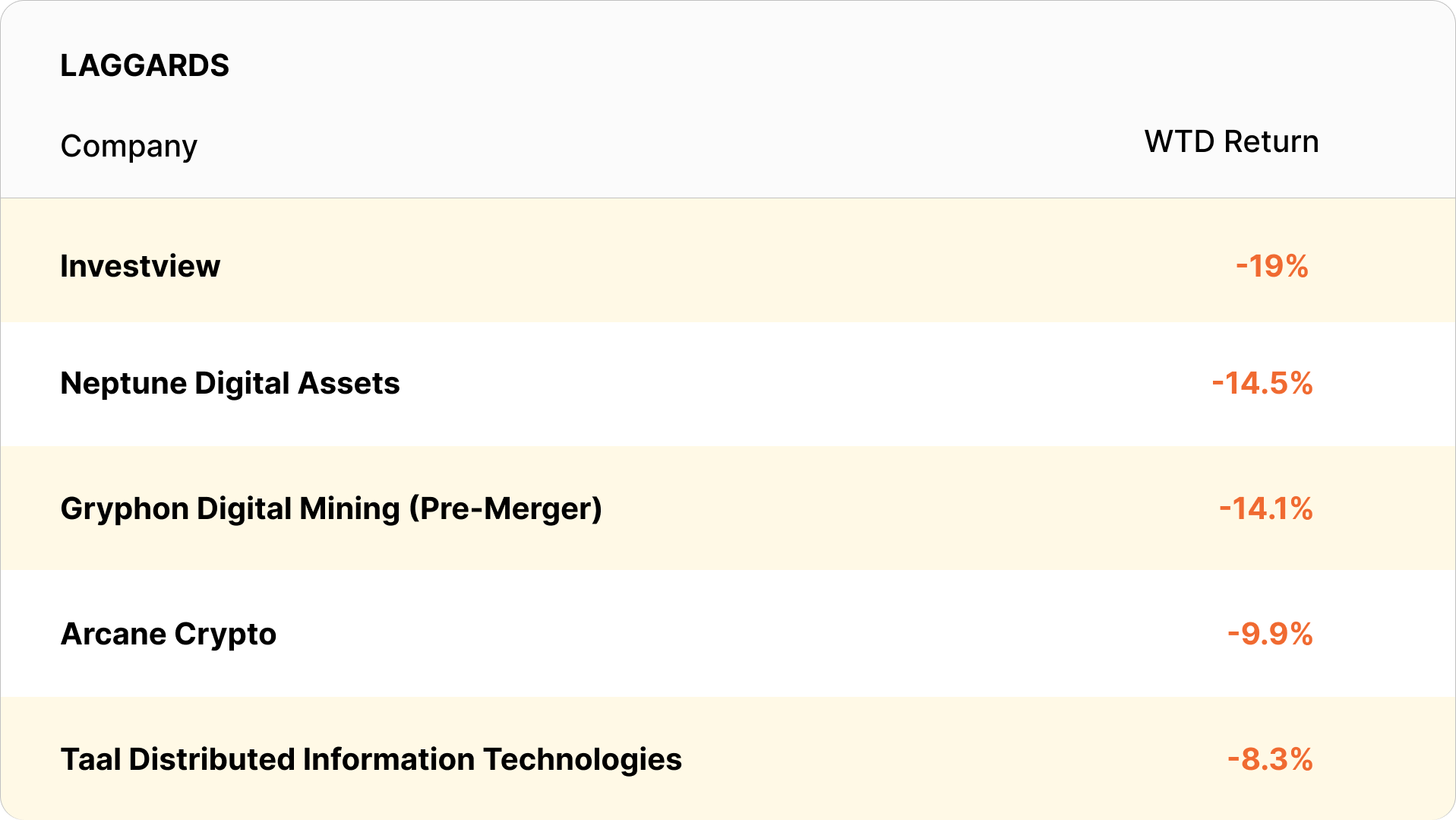 ---
New From the Hashrate Index Blog
Let's Talk About Intel's Bitcoin Miner, the Bonanza Mine ASIC
For last week's Thursday newsletter, we covered Intel's bitcoin miner, the Bonanza Mine.
We wrote the post in an effort to scuff out the scuttlebutt circulating on social media that said the miner was about as efficient as an Antminer T17. If public filings from one of Intel's bitcoin mining clients is accurate, the Bonanza Mine would be second only to the Antminer S19 XP in terms of performance and efficiency (we're excluding the Antminer S19 Pro Hydro, whose 200 TH/s rating isn't fit for comparison to "normal" ASICs that don't have an added feature like liquid cooling).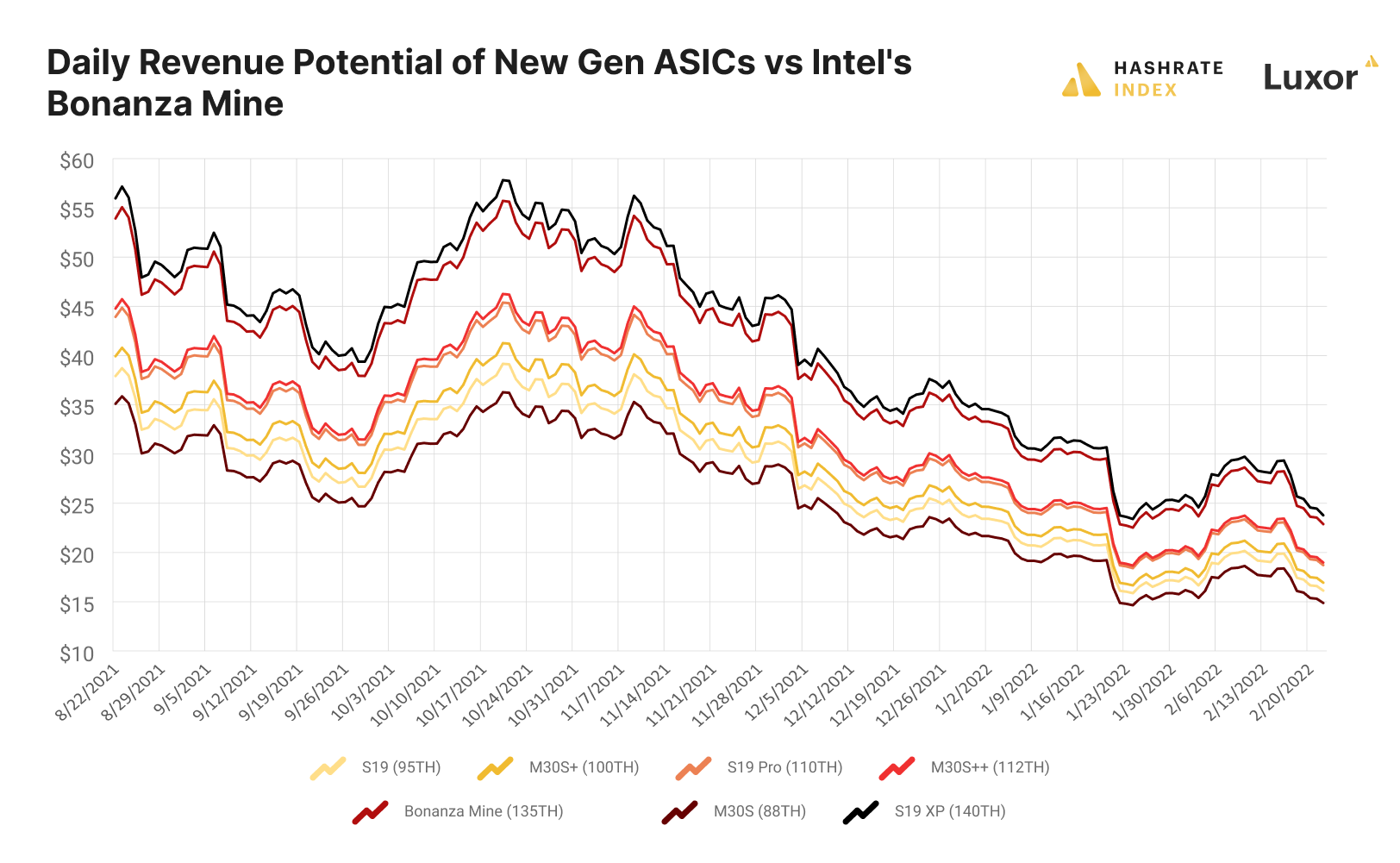 A Bitcoin Miner's Guide to Bitcoin Upgrades
Luxor is committed to liaising between Bitcoin miners and core developers so that our miners can better understand the ins-and-outs of future upgrades and a Bitcoin miner's role, if any, in bringing them to fruition.
In one of our latest posts this week, we propose the gameplan we will employ for future Bitcoin upgrades to make sure our miners are up-to-speed. We want to open up review and dialogue to ensure that ALL miners, not just mining pool operators, have a place at the table when the community is coming to a consensus on protocol changes.
Bitcoin Mining in Oklahoma: How the Sooner State Could Soon Be A Bitcoin Hashrate Leader
Oklahoma has been largely left out of the hashrate conversation regarding the US's blossoming Bitcoin mining industry. The state harbors significant energy resources, a well-established oil and gas industry, and cheap electricity, and it features local governments eagerly looking to attract investment and jobs.
These characteristics and others could position Oklahoma to become a bitcoin mining hotbed in 2022 and beyond.
How to Join a Bitcoin Mining Pool, a Step-By-Step Guide
For our latest Bitcoin mining 101 guide, we cover the ins-and-outs of joining a Bitcoin mining pool, including procuring an ASIC, accessing the ASIC's dashboard, finding your pool's stratum, and more.
Bitcoin Mining News Roundup
Have a great week, and Happy Hashing!
Hashrate Index Newsletter
Join the newsletter to receive the latest updates in your inbox.
---