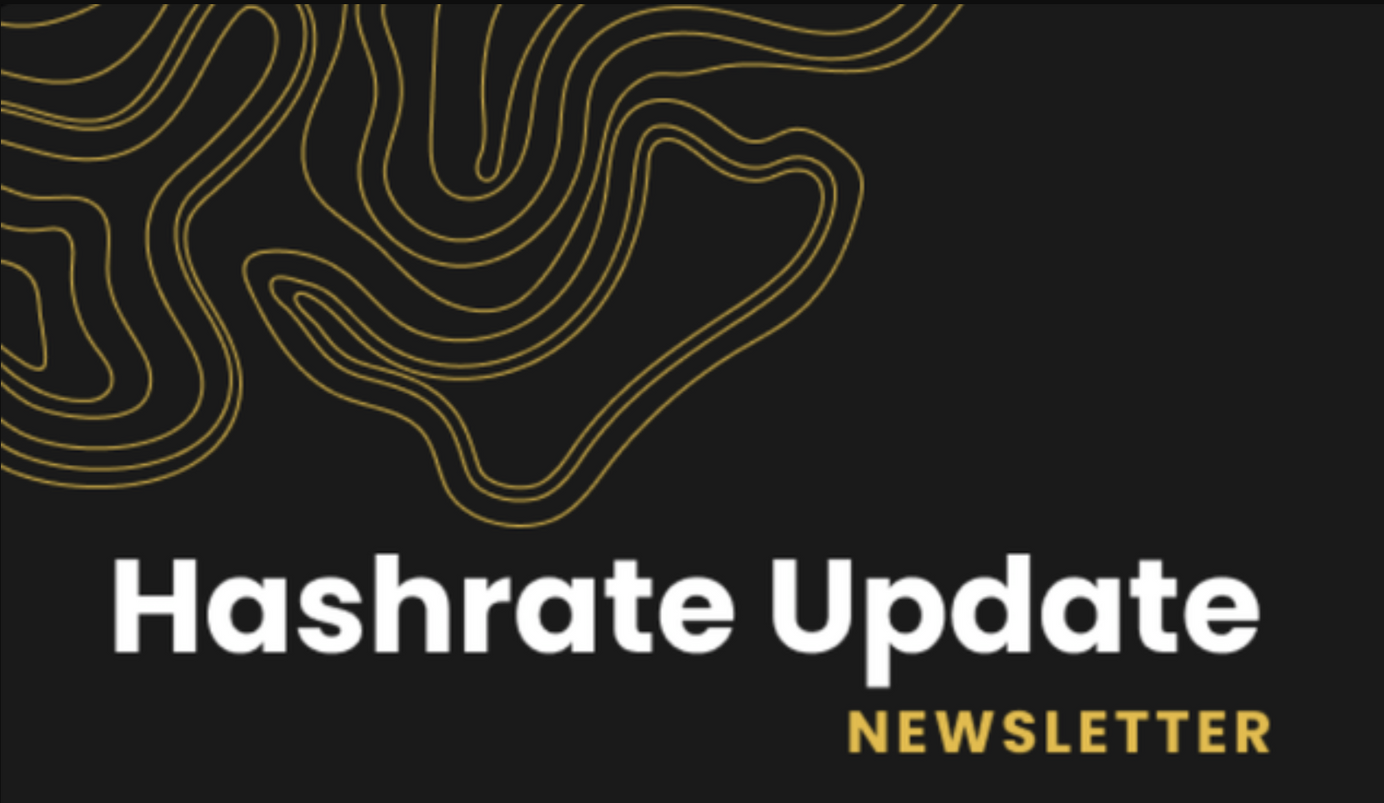 Let's Talk About Intel's Bitcoin Miner, the Bonanza Mine ASIC
Intel's Bonanza Mine Bitcoin ASIC will be out and hashing this year. Here's how it compares to other new-gen Bitcoin miners.
Intel's Bitcoin mining ASIC, the Bonanza Mine (BZM for short), made headlines last week. A Tom's Hardware article reported on the company's presentation for its forthcoming ASIC at ISSCC, and soon enough social media was atwitter with chatter about the miner's specifications.
And the specs as reported by Tom's Hardware were, to say it nicely, underwhelming. But those specifications were for an early prototype for Intel's Bonanza Mine ASIC, so they do not reflect the model Intel plans to release later this year. (The Tom's Hardware writer acknowledges this at the end of the article, but this was still lost on many who shared it via social).
As an Intel representative put it over email, there's "a lot of wrong information being reported." So we'll be taking a look at what we do know, what we kinda know, and we don't know in today's newsletter so that we can set the record straight.
---
Sponsored by BlockFi

---
What We Know About Intel's Bonanza Mine Bitcoin Miner
To start, we know that Argo Blockchain, Block (formerly Square), and GRIID are first in line for preorders of the new miner. We also now know that, according to Intel, the presentation at ISSCC was not for the upcoming Bonanza Mine. It was for a prototype.
"The SHA-256 ASIC referred to in the paper being presented at ISSCC was our first generation product exploration from 2018. We will share more details about the upcoming blockchain accelerator at a later time," Intel's Nicolas Mijuskovic told Hashrate Index via email.
The 2018 Bonanza Mine model showcased at ISSCC sported the following specs:
40.4 TH/s
2293 Watts
56.97 J/TH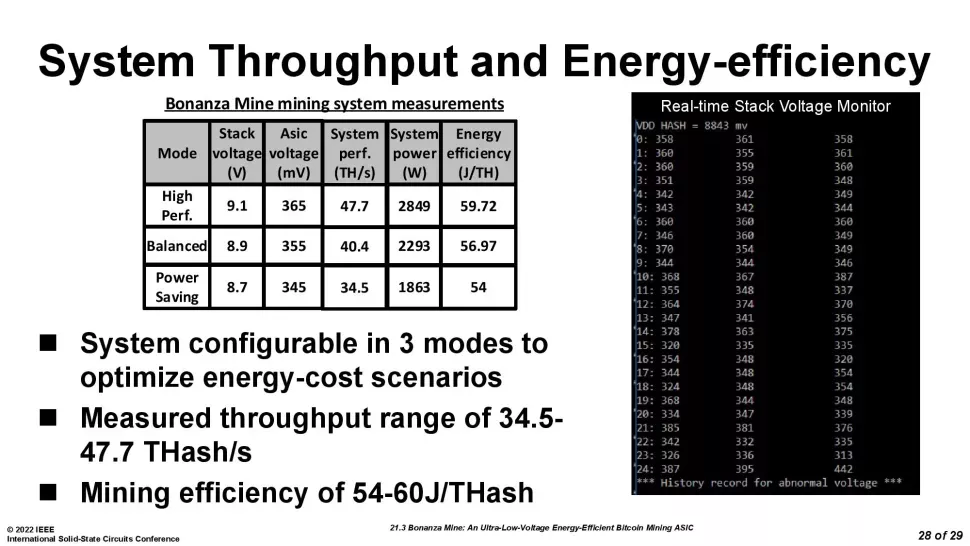 The ratings for Intel's first iteration of the Bonanza Mine are comparable in performance to the Antminer T17, a model that is nearly 3 years old. If these were the Bonanza Mine's actual specs on launch (they're not), that would not be a good look for America's premier chip maker, particularly considering Intel has advertised the miner as having class-leading efficiency.
For the curious, here's how the older Bonanza Mine model stacks up to current hardware.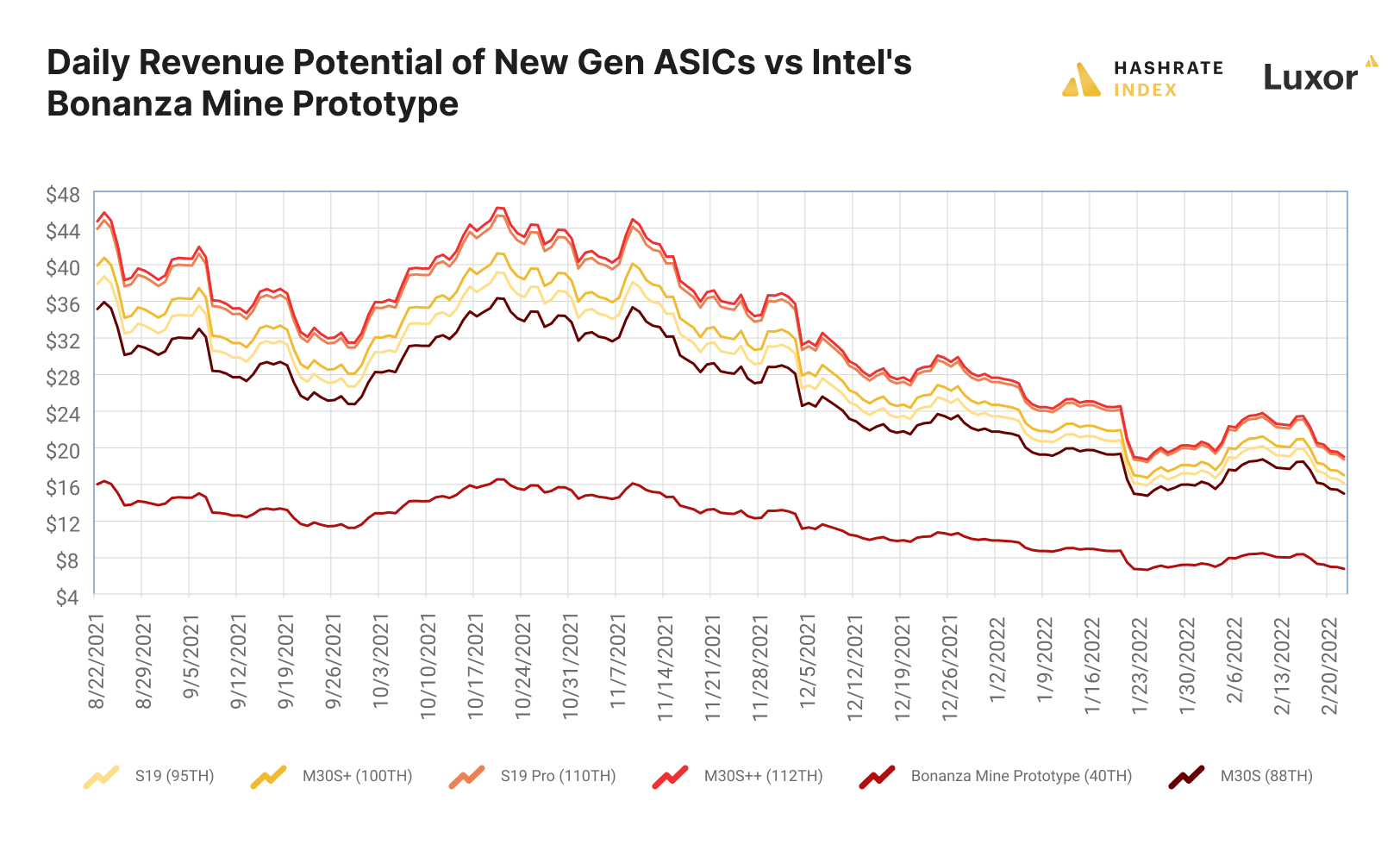 What We (Kinda) Know About Intel's Bonanza Mine Bitcoin Miner
We have good reason to believe that the Bonanza Mine will have class-leading performance, even if Intel hasn't publicly disclosed the stats for its latest Bonanza Mine model.
If, for instance, numbers from one of GRIID's publicly filed investor presentation is on the mark, the Bonanza Mine will be in a class with the Antminer S19 series.
The presentation mentions a "supply agreement with a leading U.S. based chip designer" (Intel is the only semiconductor company in the US creating ASICs), and it lists the following specs:
135 TH/s
3,510 Watts
26 J/TH
Assuming these specs are correct and the ASIC in question is Intel's miner, the Bonanza mine would be second only to the S19 XP in terms of hashrate performance and energy efficiency (I'm excluding the S19 Pro Hydro, because who has time to fiddle with liquid-cooled hardware anyway?).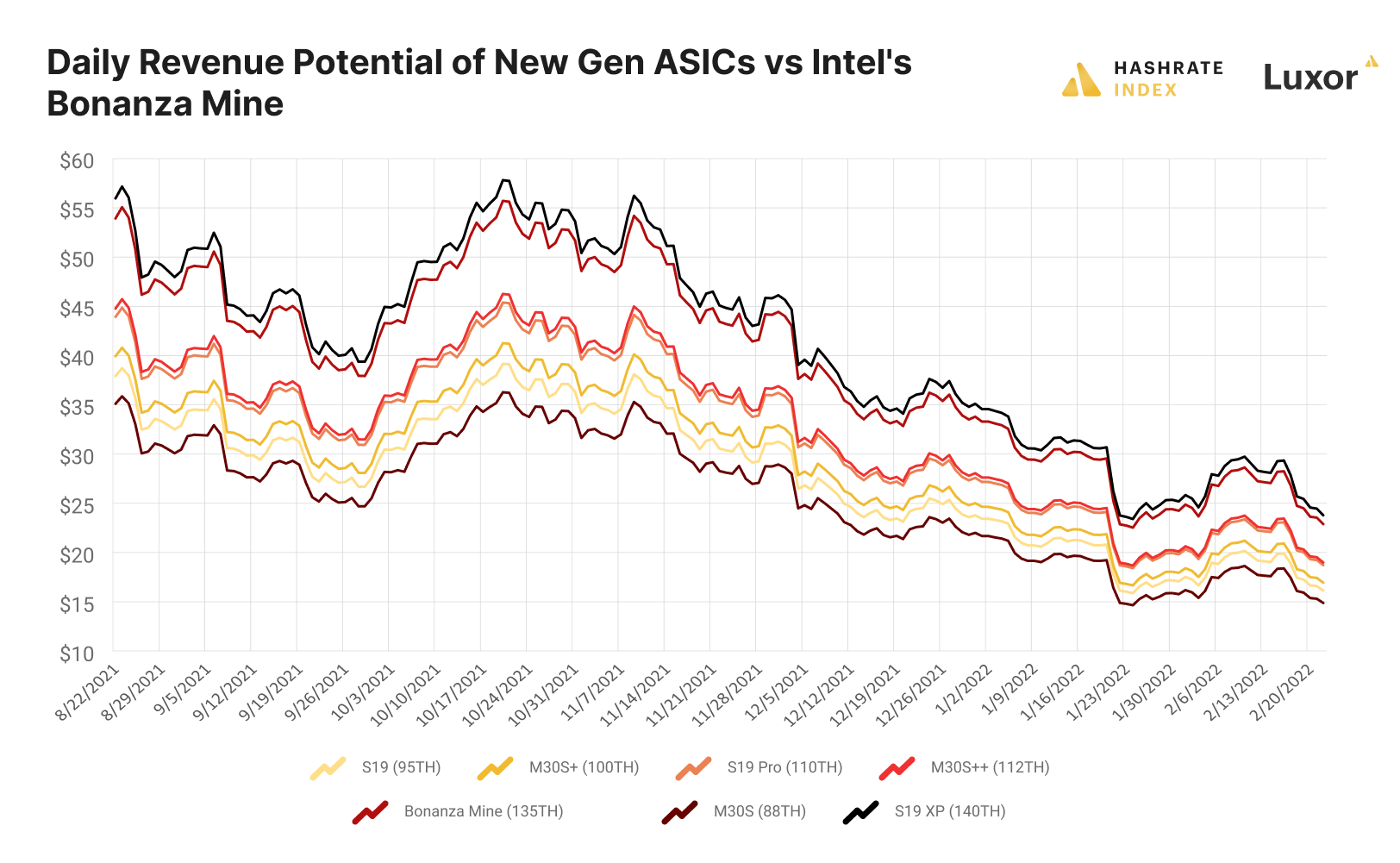 Per GRIID's presentation, the company paid $5,625 per unit for the Bonanza Mine (or $41.60 per TH); compare this with the S19 XP, which Bitmain sold for $10,500 a head in its first round of orders for the ASIC in November 2021 ($75 per TH).
What We Don't Know About Intel's Bonanza Mine Bitcoin Miner
So we know that the ISSCC Bonanza Mine is an outdated model and that the new version should be competitive. We don't know for sure that this new version will match up with the specs in GRIID's presentation, but it's a pretty good bet.  
What we for sure don't know is when Intel will publicly disclose the Bonanza Mine's specs themselves, or when they will begin shipping units of the Bitcoin miner this year. Speaking of logistics, we also don't know how many of these machines Intel plans to produce in the first round (GRIID said it purchased 25% of the first order supply in its presentation), or how many rounds of orders they will ship for their flagship Bitcoin ASIC.
Hopefully, Intel will clear up some of these questions soon. Until then, breadcrumbs from public filings will have to keep us satisfied.
Enjoy the rest of your week, and Happy Hashing!
-Luxor Team
Hashrate Index Newsletter
Join the newsletter to receive the latest updates in your inbox.
---