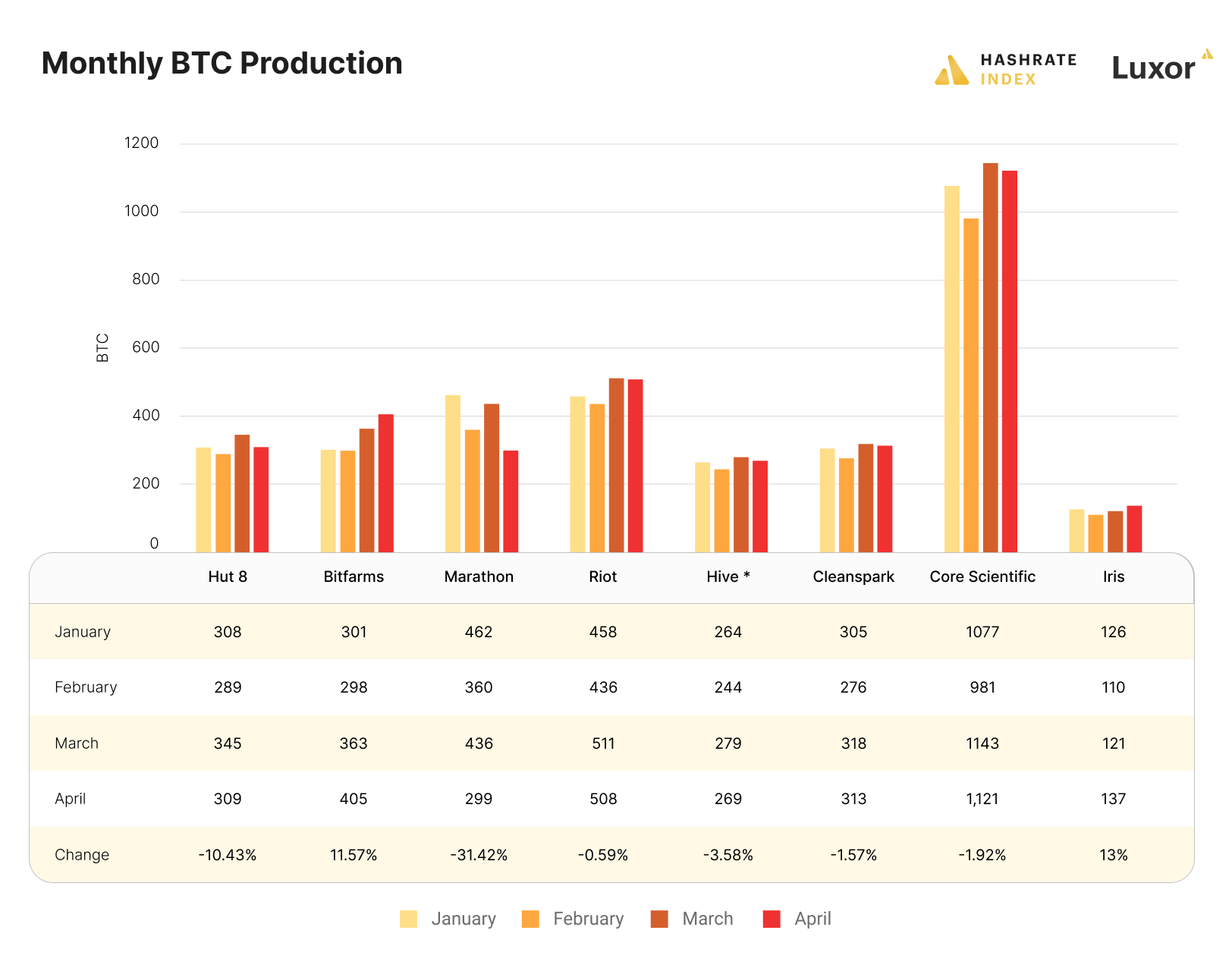 Bitcoin Mining Stock Production and Operations Update (April, 2022)
Bitcoin rewards are becoming harder to come by--even for the big guys.
The largest public bitcoin miners released their April production numbers and operations updates this week. By the looks of it, most of these juggernauts are finally getting machines racked and plugged-in. But even though their hashrate capacities are growing, most public miners mined fewer bitcoin in April than March.
Competition is revving up. Miners are hashing against all-time high difficulty, and with hashprice dropping, margins are getting squeezed.
Indeed, Bitcoin mining stocks have been trending downward since 2022 began. Here are the year-to-date change of all the miners in our update:
Bitfarms (-46%)
Marathon (-55%)
Riot (-58%)
Hive (-47%)
Hut 8 (-56%)
Core Scientific (-50%)
Cleanspark (-32%)
Iris Energy (-36%)
Bitcoin Mining Stocks April, 2022 Bitcoin Production

As stated above, few public miners minted more bitcoin in April than they did in March. Out of the miners we pulled for this article, only Bitfarms and Iris plugged in enough hashrate to stay ahead. That said, almost every miner in the cohort mined more BTC in April than they did in January or February.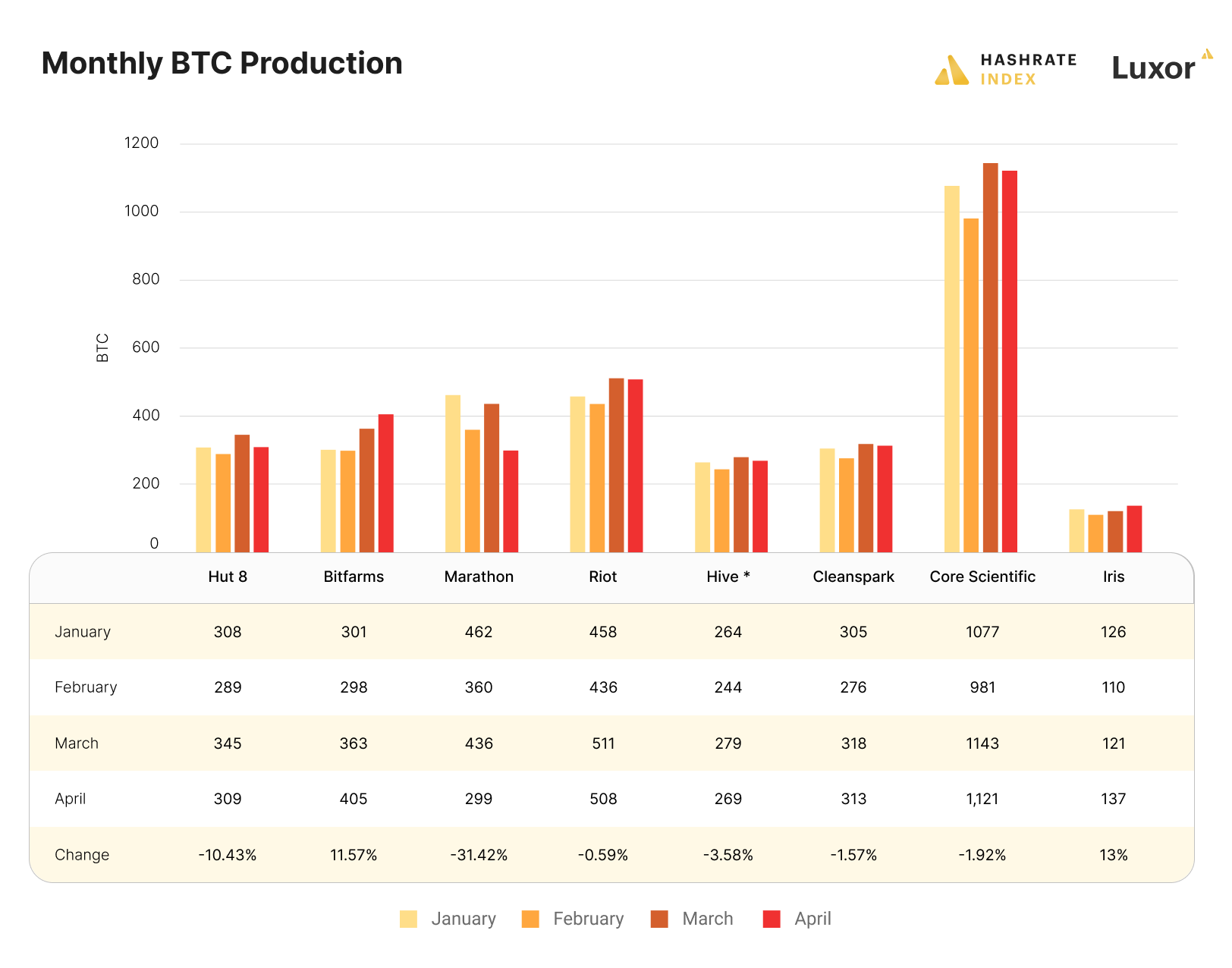 Many miners continue to add Bitcoin onto their balance sheets. Some of these miners may sell portions of their stash over the coming months as we look down the barrel of a bear market and rates continue to rise.
Riot, for example, sold 250 bitcoin for roughly $10M over April. As with the 2018-2020 bear market, we expect other miners may sell as other financing and fundraising options dry up.
Additionally, assuming a bear market is in motion, we anticipate that those miners with a higher price-to-hodl ratio will see heavier drawdowns when Bitcoin takes a hit.
What is price-to-hodl? This ratio takes a miner's marketcap and divides it by the total BTC they hold on their balance sheet. With this metric, investors can see how much they are paying in share price for exposure to the BTC on a miner's balance sheet.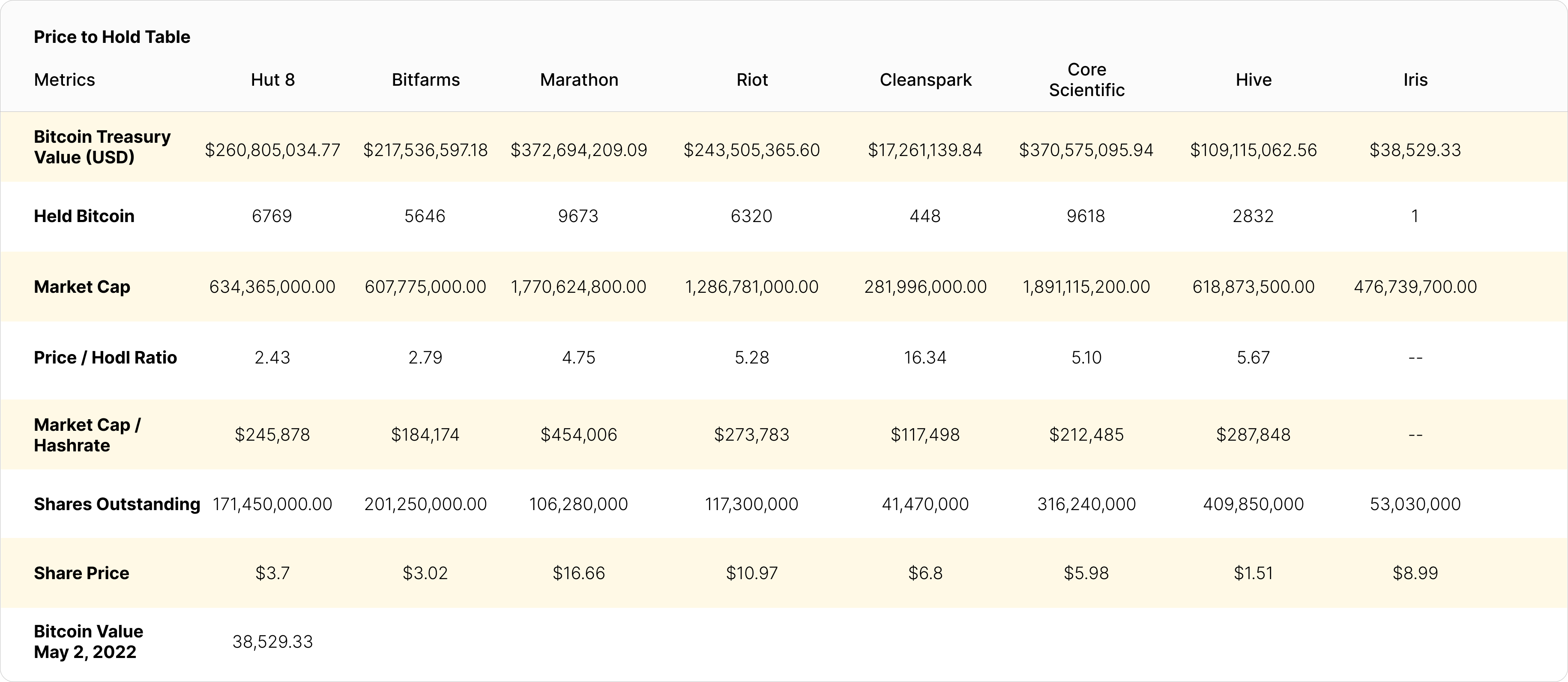 Bitcoin Mining Stock Hashrate and ASIC Updates April, 2022
Bitcoin's hashrate increased 10% over April, from 204 EH/s on April 1st to 225 EH/s on May 1st, resulting in an all-time high difficulty of 29.79 T. We can see the tole this competition is taking on the public miners, each of which mined fewer BTC per EH/s of hashrate in April than March.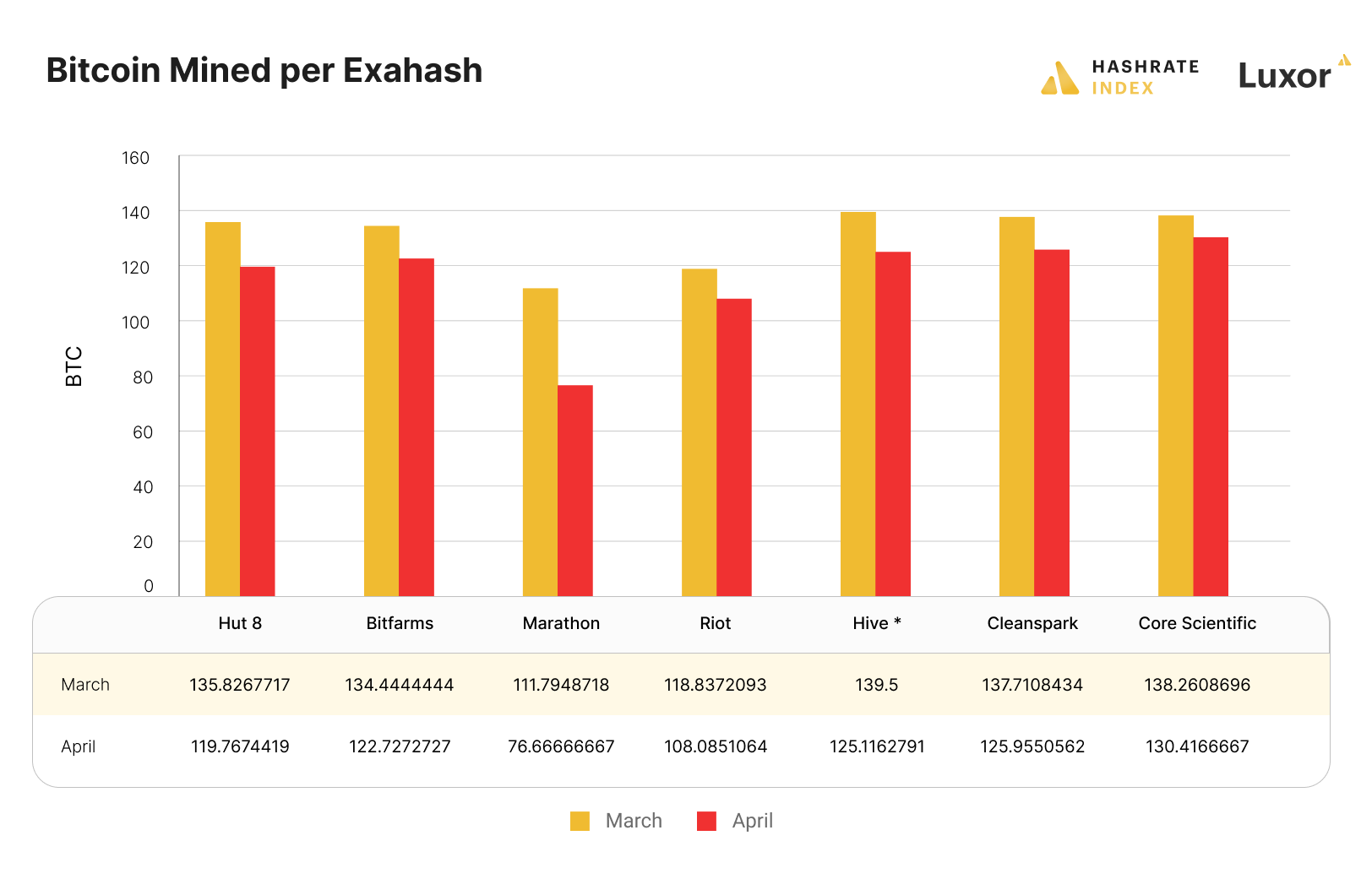 By looking at marketcap vs. the marketcap/hashrate ratio, we can parse out how much investors are paying per unit of hashrate for each bitcoin mining stock. A higher ratio means that investors are paying more per unit of hashrate, while a lower ratio means that they are paying less.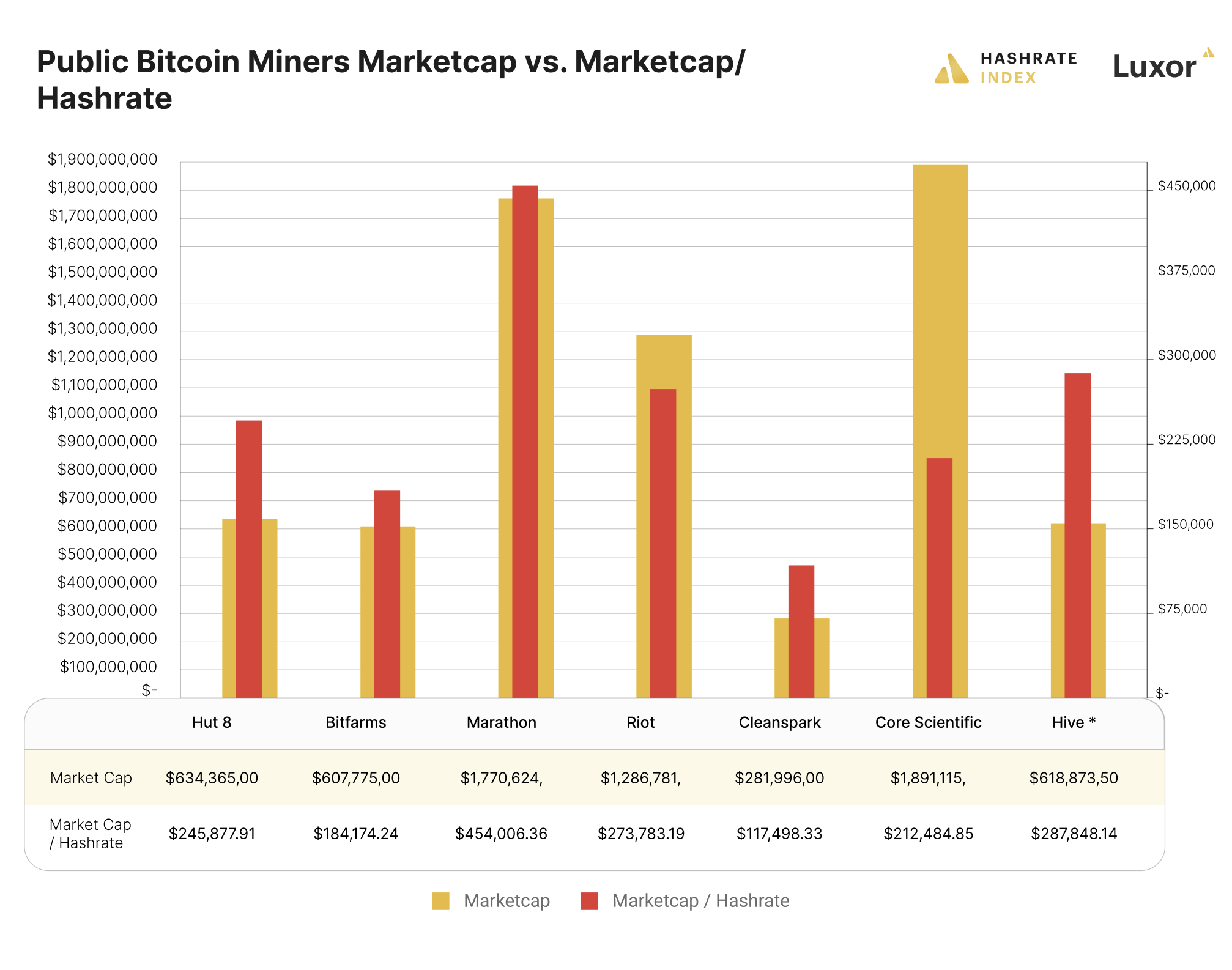 Price-to-ASIC value is a ratio that allows investors to quantify how much they are paying in share price for the value of ASICs on a miner's balance sheet.
Like price-to-hodl, typically the lower the ratio, the better. But also like price-to-hodl, it should be taken into perspective with other metrics and information (Iris Energy, for example, has a high ASIC value and price-to-hodl ratio; its marketcap is high in relation to its actual ASIC fleet, but investors have given it such a high valuation because the company owns its energy sources).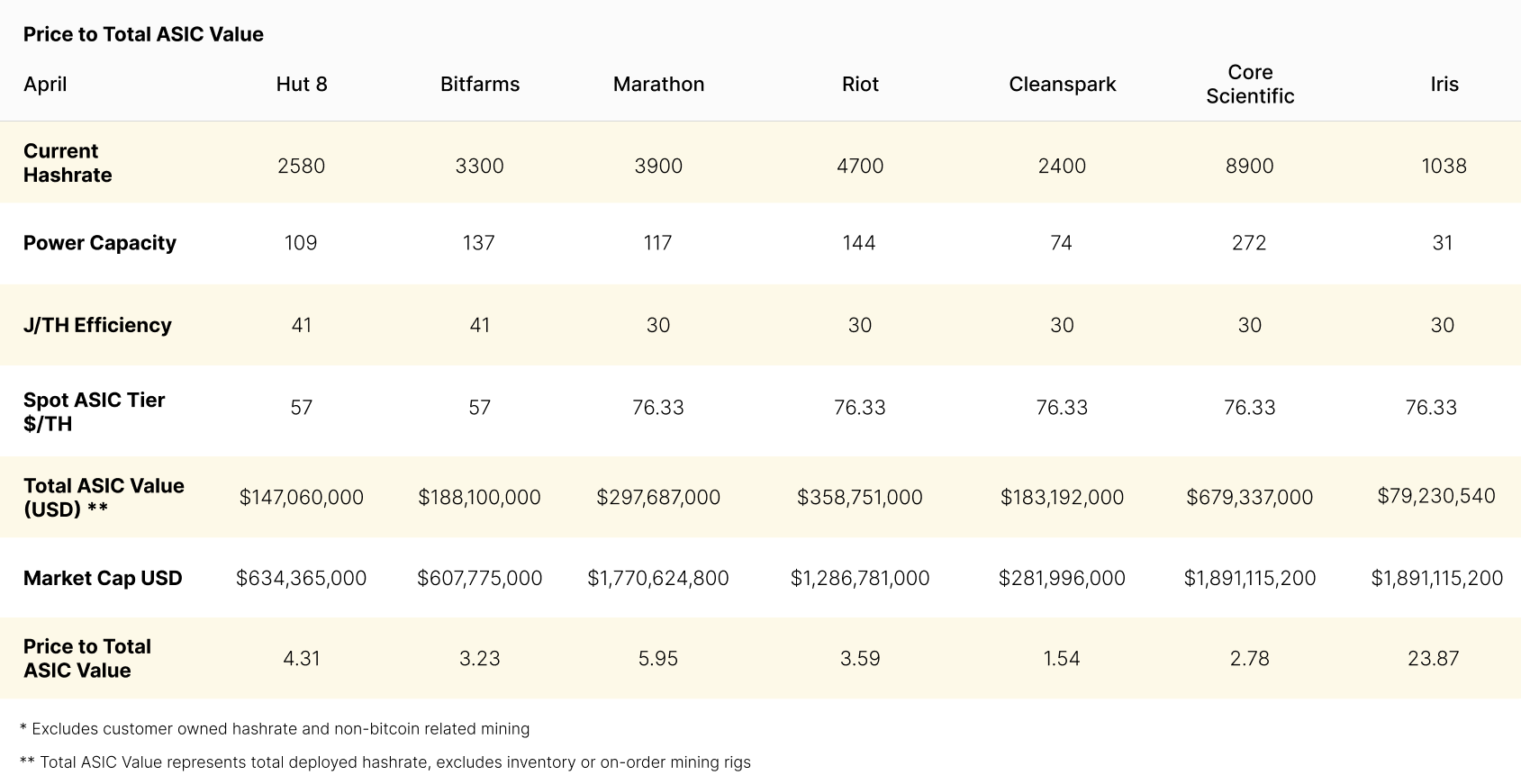 Hashrate Index Newsletter
Join the newsletter to receive the latest updates in your inbox.
---