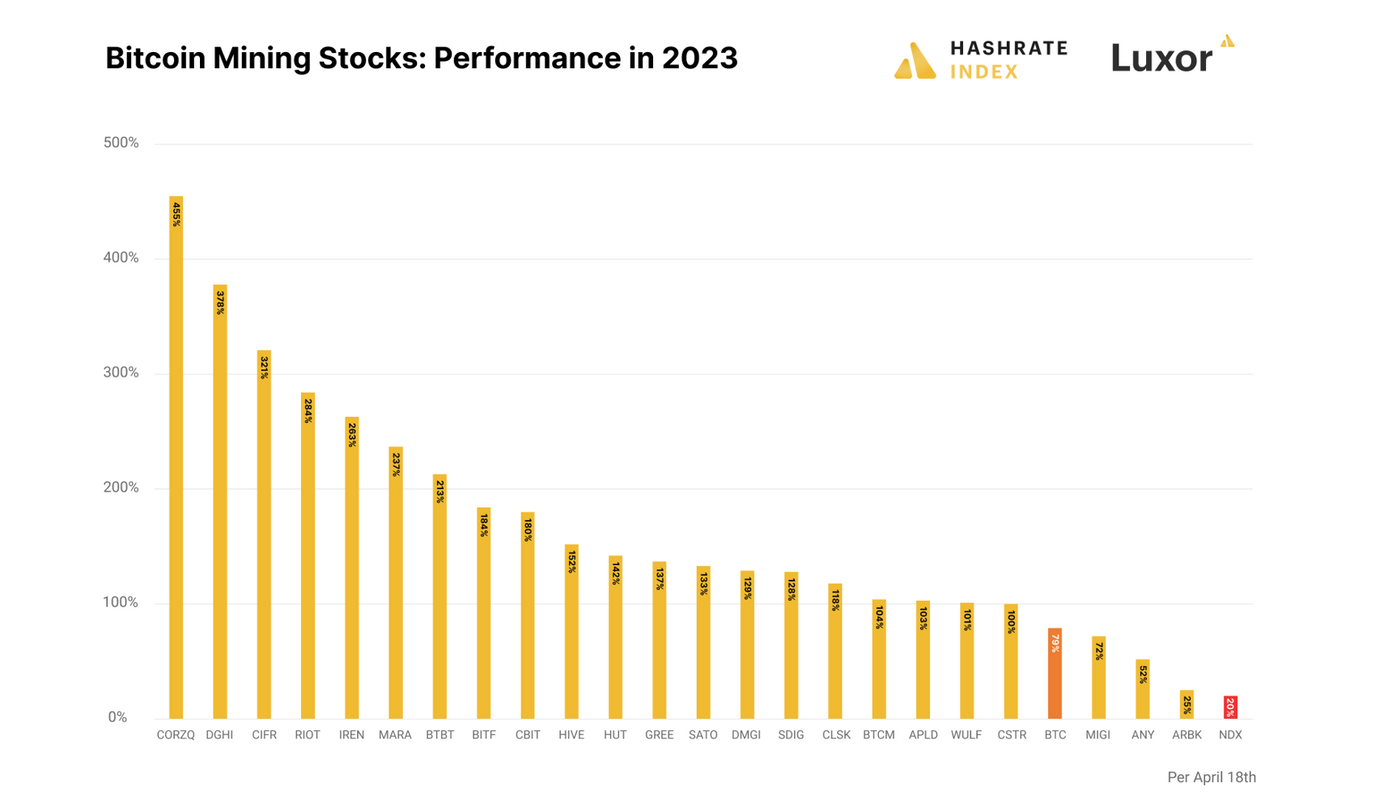 Bitcoin mining stocks are crushing it so far in 2023
Bitcoin mining stocks are seeing massive gains in 2023. Who are the best performers?
Blood was flowing heavily in the public bitcoin sector when we started this year. Many companies struggled to generate sufficient cash flows to service their debts in a sub-$20k bitcoin environment. The biggest public miner by hashrate, Core Scientific, was already bankrupt, and market observers were anticipating a cascade of bankruptcies to follow.
Luckily, Bitcoin's ever-schizophrenic price suddenly decided to go for a mini bull run this quarter, giving bankruptcy-threatened public miners some desperately needed breathing room. The rally has injected a sense of careful optimism into the sector, leading to massive gains for most bitcoin mining stocks.
This article discusses the performance of mining stocks so far this year and predicts how they will perform during the remainder of the year.
This article is an excerpt from our Q1 report, which we will publish this week. Stay tuned.
Long-awaited gains for mining stock investors
Last year, most bitcoin mining stocks plummeted by 80-90%, making this sector one of the worst performers in 2022. However, things change quickly, and bitcoin mining stocks suddenly rallied alongside bitcoin as we rang in the new year, giving wound-licking mining stock investors the opportunity to regain some of their massive losses.
With Bitcoin's price up 79% year-to-date, it is no surprise that mining stocks are soaring. These stocks are heavily correlated with Bitcoin, albeit with significantly higher volatility. Traders are taking advantage of this feature by using these stocks as high-beta, leveraged bets on Bitcoin's price.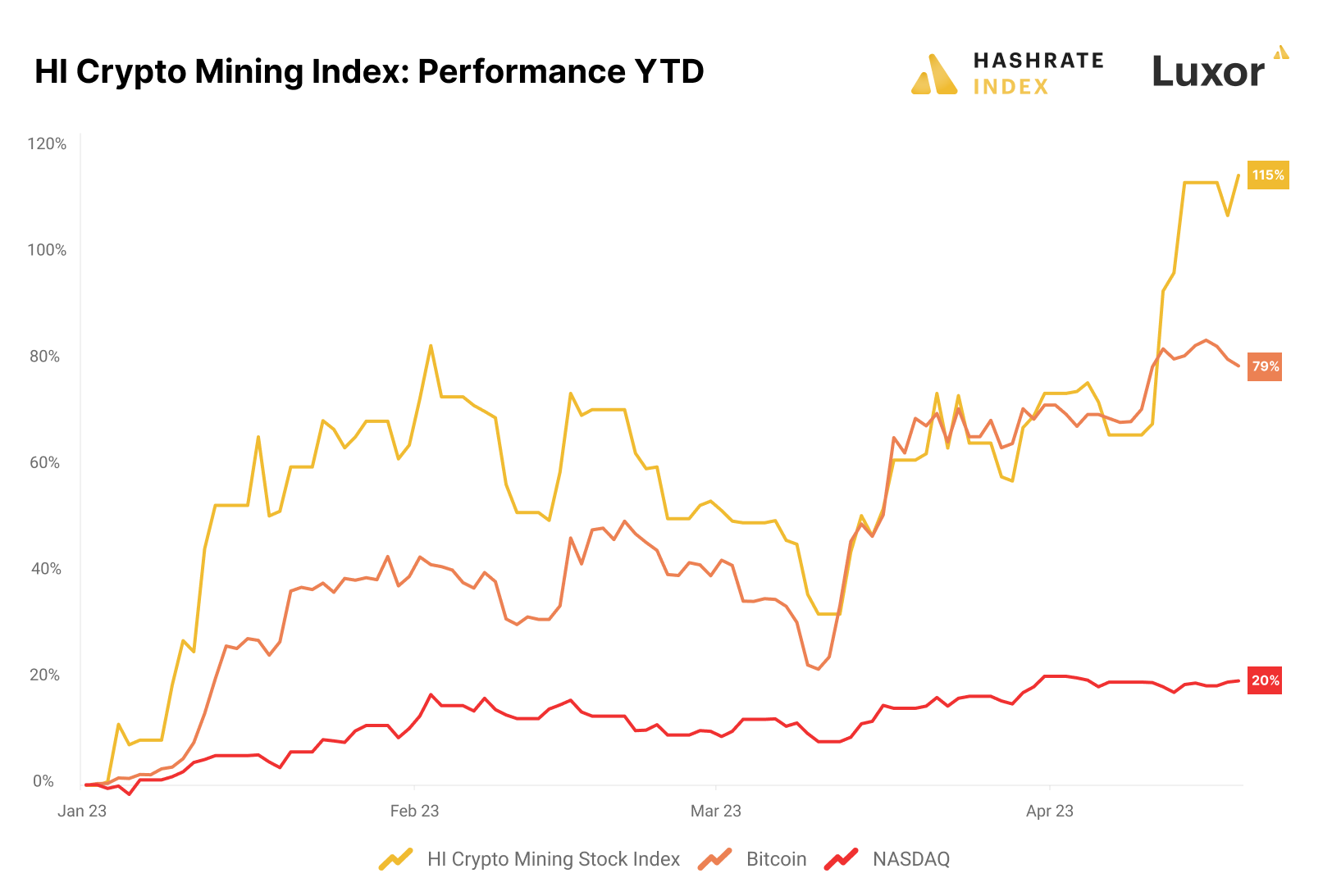 The HI Crypto Mining Stock Index has gained 115% so far in 2023, significantly above bitcoin's 79% increase. Simultaneously, Nasdaq is up by 20% - a microscopic gain for risk-loving bitcoin mining stock investors, but still considered a massive quarterly increase in traditional finance.
While the bitcoin mining sector has performed terrifically year-to-date, there are substantial performance differences between individual stocks. What is common for them is that they are all ahead of Nasdaq's meager 20% increase. At the same time, 20 of 23 mining stocks outperformed bitcoin. Let's look at who are the best performers.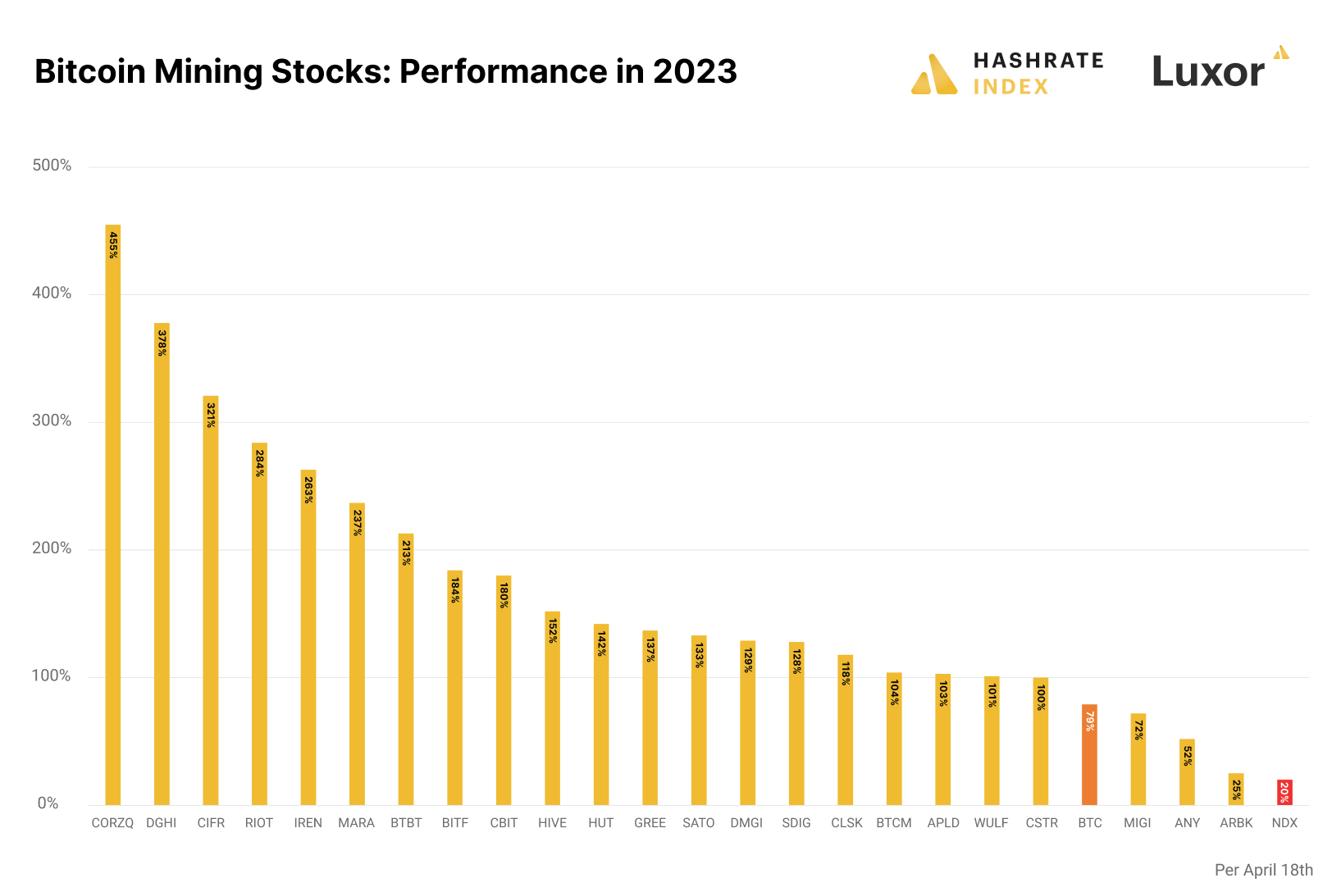 Core Scientific is the best performer so far in 2023 after gaining 455%. Its massive debt has given its equity a boost during the up-only market environment so far in 2023. Its cash flows relative to equity have been positively affected (but disproportionately so) by the improvements in mining economics.
Other solid performers include Digihost, Cipher, Riot, Iris Energy, and Marathon. Interestingly, most of these companies have relatively low debt levels relative to equity and are thus significantly less financially leveraged than Core Scientific. The outperformance of these stocks is likely caused by company-specific factors, as they have all delivered solid monthly operational updates exceeding expectations this quarter.
While the bitcoin mining sector has performed terrifically so far in 2023, it is critical that investors understand the importance of diversifying their mining stock exposure. The massive performance differences between these stocks in 2023 prove that simply buying one or two mining stocks and hoping for them to deliver leveraged bitcoin exposure is not an optimal strategy. If you solely held stocks like Argo, Sphere 3D, or Mawson, you would not even have beat the bitcoin price this quarter. Therefore, investors using mining stocks as a leveraged bitcoin upside play should own a diversified basket of a minimum of three of these stocks. You can learn more about getting financial exposure to bitcoin mining in this article.
How could bitcoin mining stocks perform during the remainder of 2023?
So far, we have only been looking at past performances, which is fun, particularly when everything is going up. Still, the real alpha is only gained by projecting the future, bringing us to the million-dollar question: How will bitcoin mining stocks perform during the rest of 2023?
The boring answer is that it all depends on the bitcoin price action and the general risk sentiment of the financial markets. If Nasdaq and Bitcoin keep rallying, bitcoin mining stocks will keep outperforming. The author of this analysis is bullish on the bitcoin price in the short term and thus optimistic about continuous upward price action for bitcoin mining stocks as well. He believes bitcoin's mini bull cycle of 2019 is repeating, where bitcoin increased by 260% from bottom to top. If this cycle repeats, bitcoin would top out at $42k sometime this year. Therefore, he is ready to gradually reduce his mining stock exposure as bitcoin ticks toward $40k.
If the bitcoin price was to increase by an additional 40% to reach $42k this year, most mining stocks would rise by more than 50% from today's level, while the four-to-five biggest gainers would soar by more than 150%. The author holds a semi-diversified portfolio of the three bitcoin mining stocks he believes will be the most positively impacted by a continuous bitcoin price increase.
Hashrate Index Newsletter
Join the newsletter to receive the latest updates in your inbox.
---