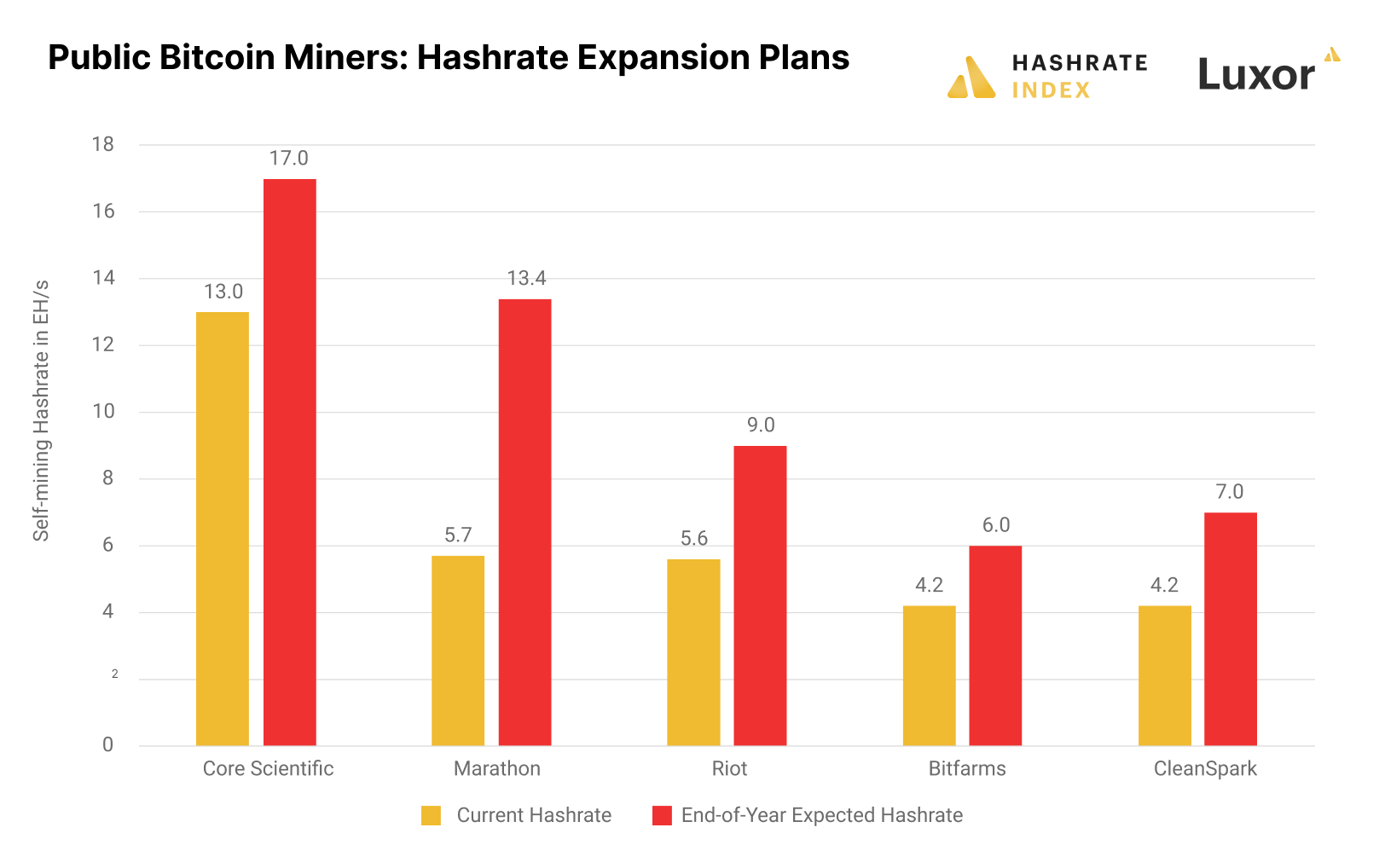 How Much Hashrate Will Public Bitcoin Miners Add in Q4-2022?
The public bitcoin miners are not letting the bear market get in their way of expanding operations, with some planning to more than double hashrate over the coming months. This article gives an overview of the public miners' expansion plans and discusses how realistic these goals are.
The seemingly never-ending bear market keeps ravaging the bitcoin mining industry, with the hashprice – the daily revenue per TH/s – sitting at all-time lows. Even though mining economics are currently at rock bottom, public miners are expanding their mining capacity like never before. They can do this by raising equity, which has significantly diluted existing shareholders.
During the year-long bull market of 2021, most public miners scrambled to increase capacity as fast as possible, making enormous forward machine orders and infrastructure development plans. These machines now get delivered, giving the miners no choice but to make the best out of the situation and plug them in as quickly as possible. Also, the public miners are still optimistic about the industry's future and want to increase their bitcoin production capabilities now to be well prepared for the next bull market.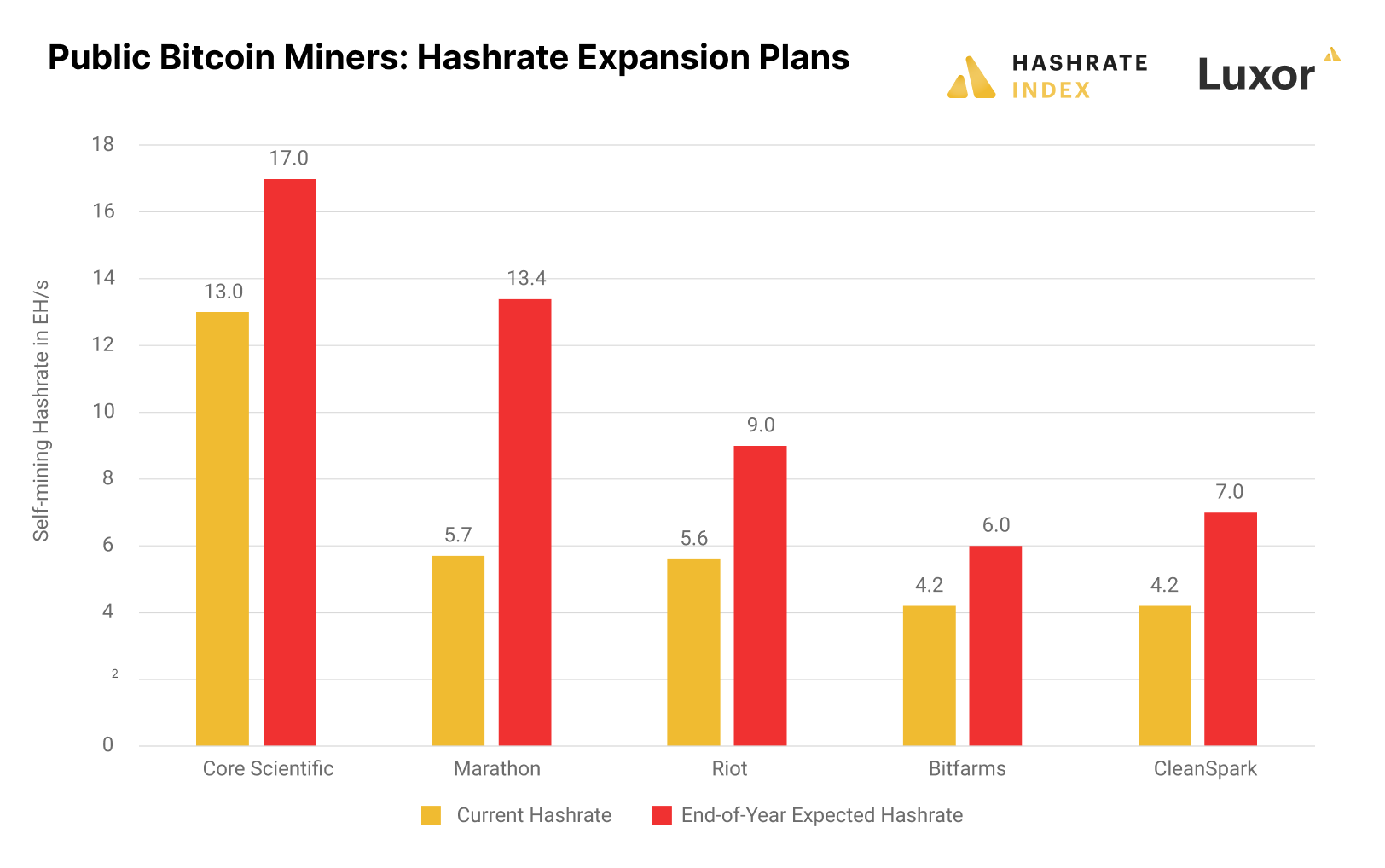 As we see on the chart above, the five biggest public bitcoin miners by hashrate all plan to add significant hashrate towards the end of this year. Marathon has the most extensive plans, aiming to more than double its hashrate from 5.7 EH/s to 13.4 EH/s, but as I will explain in this article, its goals are unrealistic.
This article focuses on the public bitcoin miners' stated hashrate expansion goals, with some estimates baked into the analysis. If you are looking for a more granular analysis of their upcoming machine deliveries, I recommend you read this article.
Now let's go through the expansion plans of the five biggest public miners by hashrate, starting with Core Scientific, followed by Marathon, Riot, Bitfarms, and lastly, CleanSpark.
Core Scientific will keep its position as the biggest public miner by hashrate
Core Scientific is by a wide margin the world's biggest public miner by hashrate. It has a self-mining capacity of 13 EH/s and 9.5 EH/s of hosting, totaling 22.5 EH/s. The company operates close to full capacity in Georgia, Kentucky, North Carolina, and North Dakota but keeps expanding its three Texas data centers.
The bitcoin mining behemoth plans to keep its leading position, aiming to operate a total hashrate of 31 EH/s by year-end. The company doesn't explicitly state how much of this capacity it will dedicate to self-mining, except that it expects to deploy 38,000 additional self-mining machines before the end of the year. These machines should equal around 4 EH/s of capacity, giving the company a self-mining hashrate of 17 EH/s by year-end.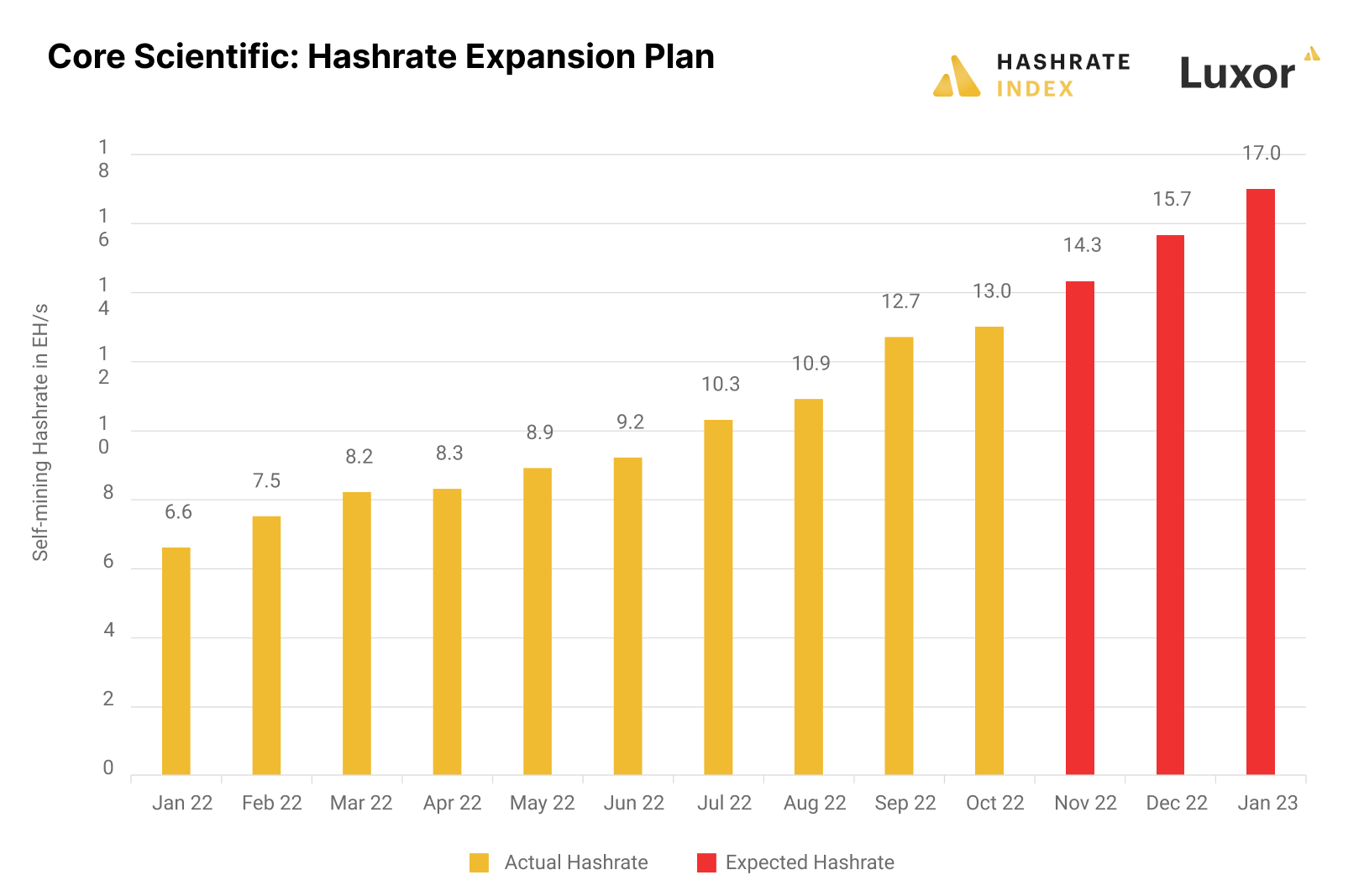 I have little doubt about Core Scientific's ability to add 4 EH/s of self-mining capacity in three months, as it has historically been very good at getting hashrate up and running. The company's main challenge is not the operations part but its weak financial condition. Core Scientific has tremendous amounts of debt relative to its equity and will likely have to raise equity before the end of the year. Its liquidity position is also not the strongest, with only 1,051 bitcoin and $29.5 million in cash, corresponding to total liquidity of only $50 million. Nevertheless, I still believe the company will be able to come close to its end-of-the-year goal and keep its position as the biggest miner by hashrate.
Marathon's expansion plan is dependent on forces outside of its control
Marathon stated in January 2022 that it expected 13.3 EH/s to be hashing in mid-2022 and 23 EH/s by early 2023. Fast forward to May 2022, and the company had only managed to plug in 3.9 EH/s. This operating capacity plummeted to only 0.5 EH/s in August 2022 due to problems at the Montana power plant that powered most of its machines and energization delays at its Compute North hosting facility.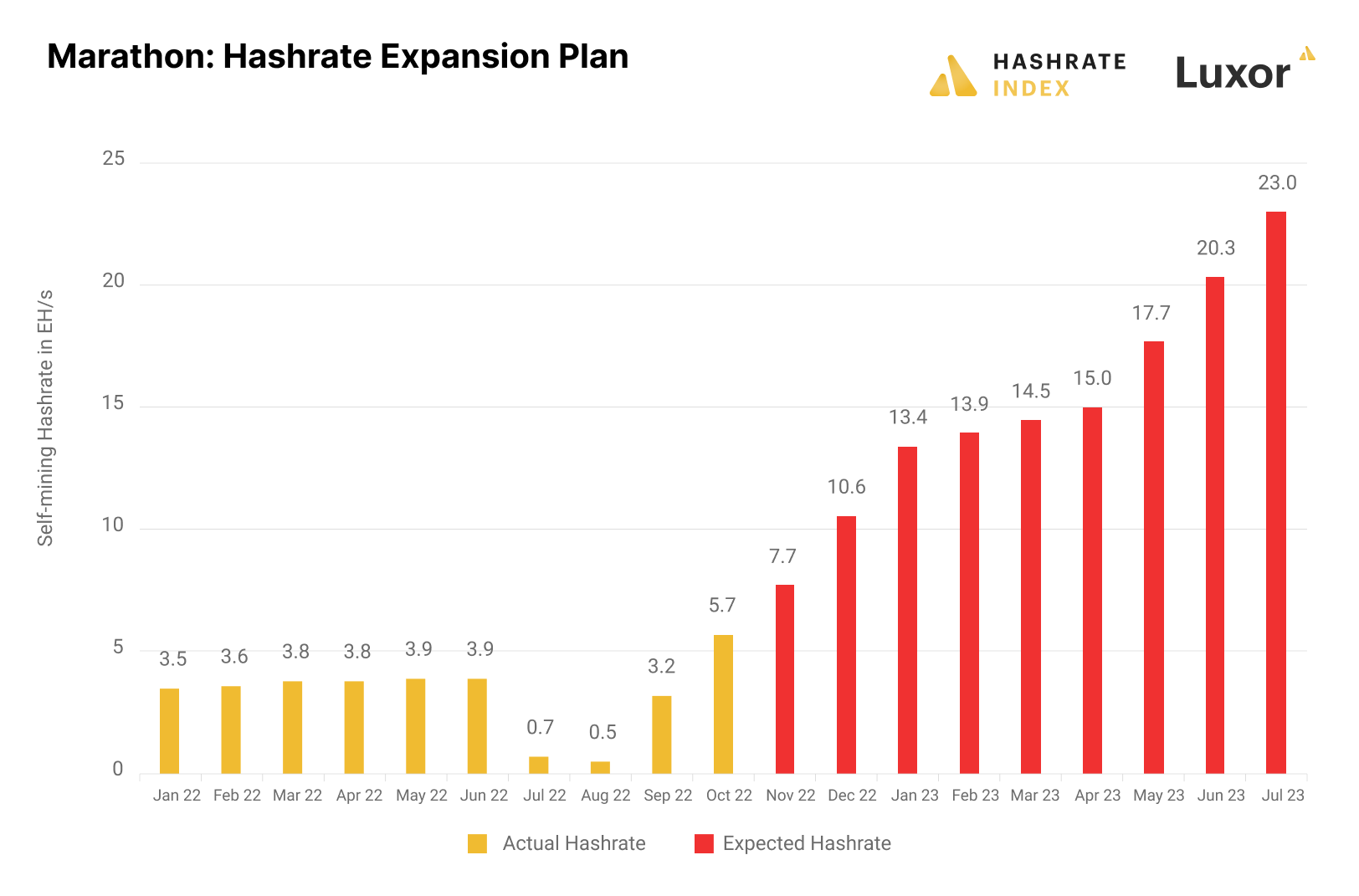 After a tumultuous start to the year, the wind has finally started to blow in Marathon's favor, and it now has 5.7 EH/s of capacity up and running. The company has transitioned its machines from the defunct Montana power plant and begun energizing them at Compute North in Texas. In addition, it has diversified its hosting partnerships by signing a 12.2 EH/s hosting agreement with Applied Blockchain. Its current operating hashrate may be far below the initial expectations, but it is still a massive improvement from the latest months.
Although things are improving for Marathon, they have a significant risk factor in its expansion schedule because it solely depends on third parties. Historically, Marathon's challenges in getting machines up and running have been caused by unforeseen issues with hosting partners. It is naïve to think such problems may not arise going forward, particularly considering that Compute North, which will provide Marathon with 10.5 EH/s of hosting capacity, just went bankrupt. Marathon stated that it doesn't anticipate the bankruptcy to impact its current operations or expansions, but I still have doubts about that.
Also, Marathon has a history of constantly changing its expansion targets when it cannot reach them. The 23 EH/s target was originally for "early 2023", but Marathon later changed it to the vague "mid-2023". Therefore, I take its expansion targets with a big grain of salt and expect it to only reach around 15 EH/s by mid-2023, not 23 EH/s as stated.
Riot has all the infrastructure it needs for its future capacity
Riot currently hashes at 5.5 EH/s. Although the company has steadily increased its capacity this year, it has gone slower than initially planned. Riot first planned to increase its hashrate to 12.5 EH/s by year-end but has pushed this goal to the first quarter of 2023. By year-end, it aims to hash at 9 EH/s.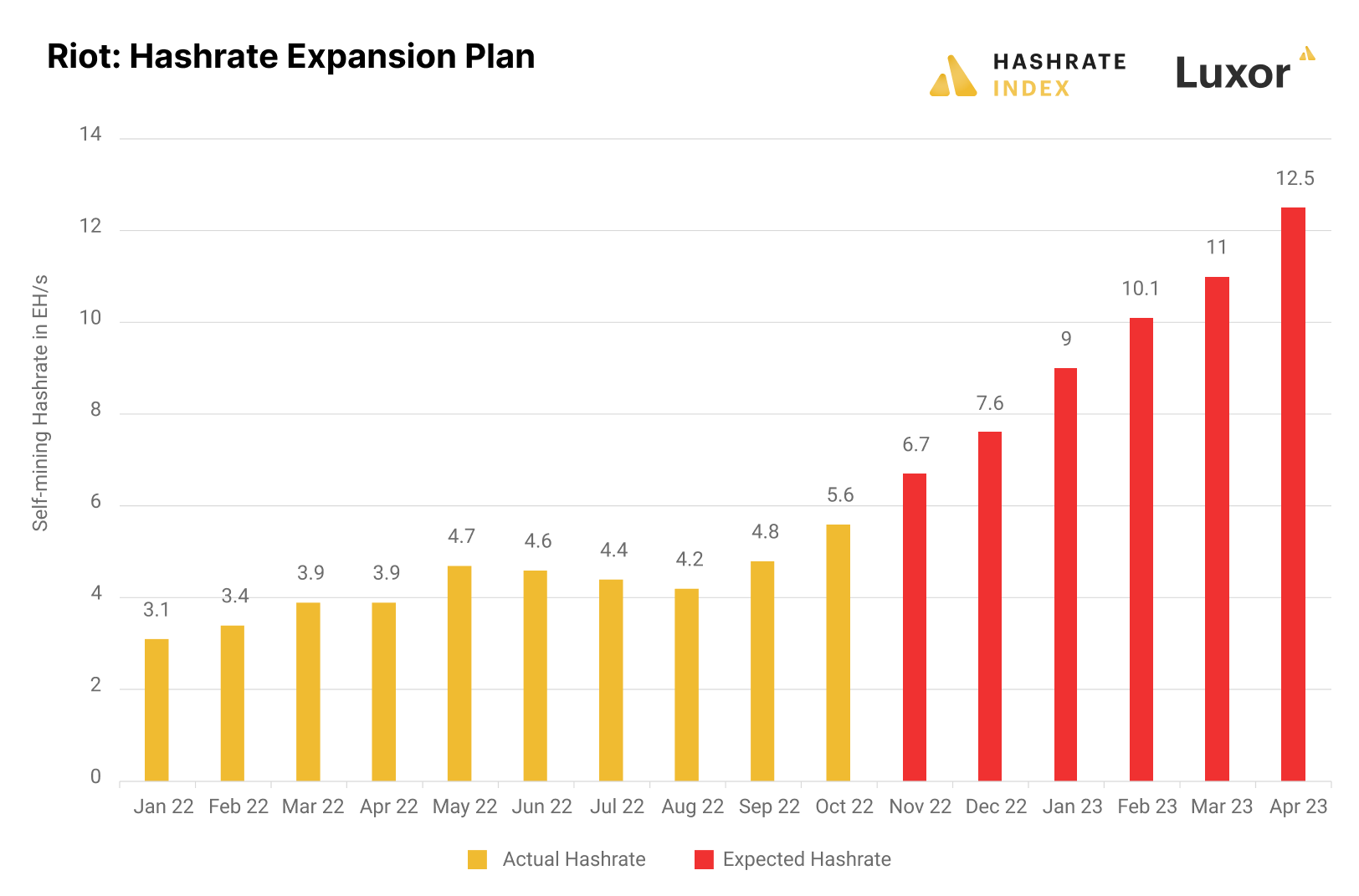 Riot has all the infrastructure it needs to meet its future capacity. While Marathon follows an "asset-light" model dependent on hosting partners, Riot does as much as possible in-house, seeking to minimize its reliance on third parties. This vertical integration means that Riot has fewer things outside of its control that can stop its hashrate expansion.
Riot keeps expanding its Rockdale, Texas, facility. It now has a 400 MW capacity for self-mining and hosting that it plans to expand to 750 MW. Looking further into the future, Riot also develops a 1 GW facility in Corsicana, Texas, that will be the world's biggest. 1 GW could potentially power more than 45 EH/s of the most energy-efficient machines on the market, giving Riot plenty of room for expansion in the next few years.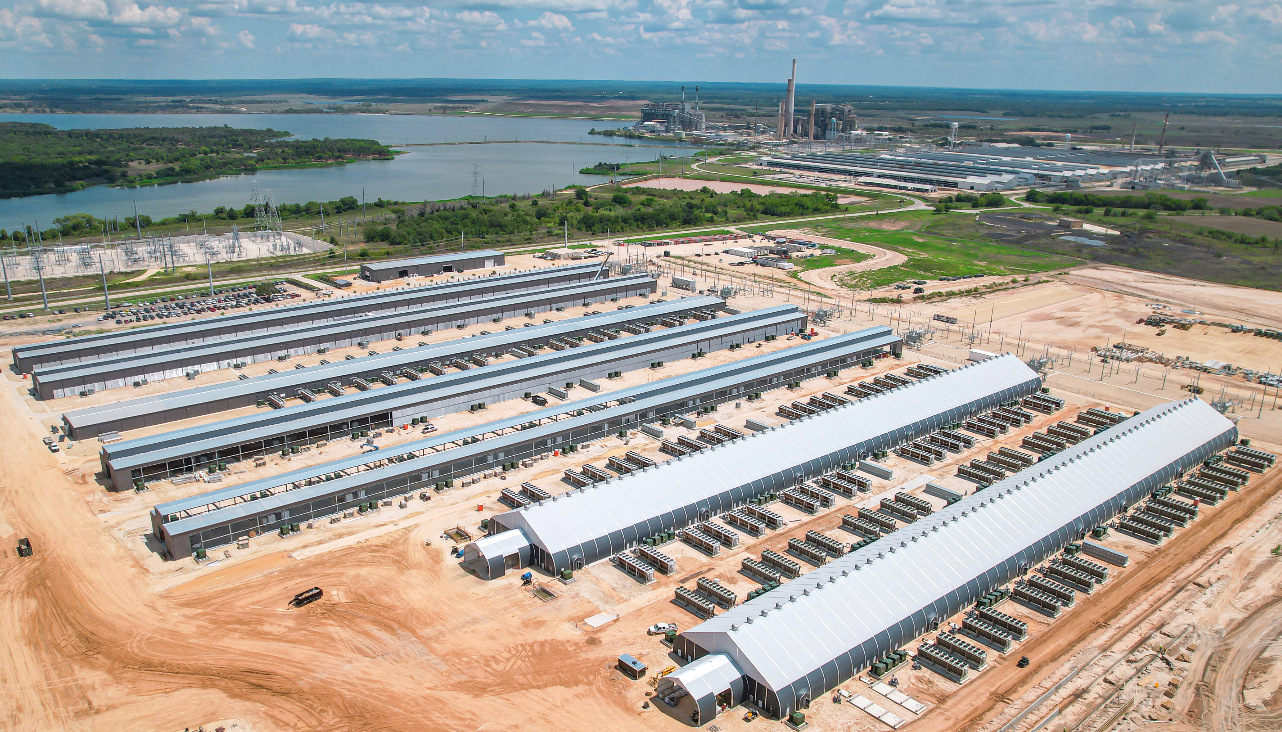 I'm relatively confident that Riot will be able to reach its hashrate goal. 12.5 EH/s goal by April 2023 represents only a 6.9 EH/s increase from today's level and is not too far-fetched. In addition, the company will also benefit from the 200 MW immersion-cooling hashrate boost.
Bitfarms will keep steadily adding hashrate
Bitfarms' current operating hashrate is 4.2 EH/s. The company is similar to Riot in that it strives for vertical integration. It currently operates 10 data centers, several of which are still under development. Its biggest facility under development is in Argentina, now running at 10 MW but is expected to be finished during Q2 2023 with 100 MW. The company also continues expanding one of its Quebec facilities.
While most miners provide expansion plans denominated in hashrate, Bitfarms likes to think in terms of megawatts. Bitfarms currently operates 176 MW but expects to employ 229 MW by year-end. The company will fill up its Argentina facility with the Whatsminer M30s++, which has an energy efficiency of 31 j/TH. The Argentine deployment should give Bitfarms 1.8 EH/s extra worth of capacity this year, bringing its total capacity at year-end to 6 EH/s.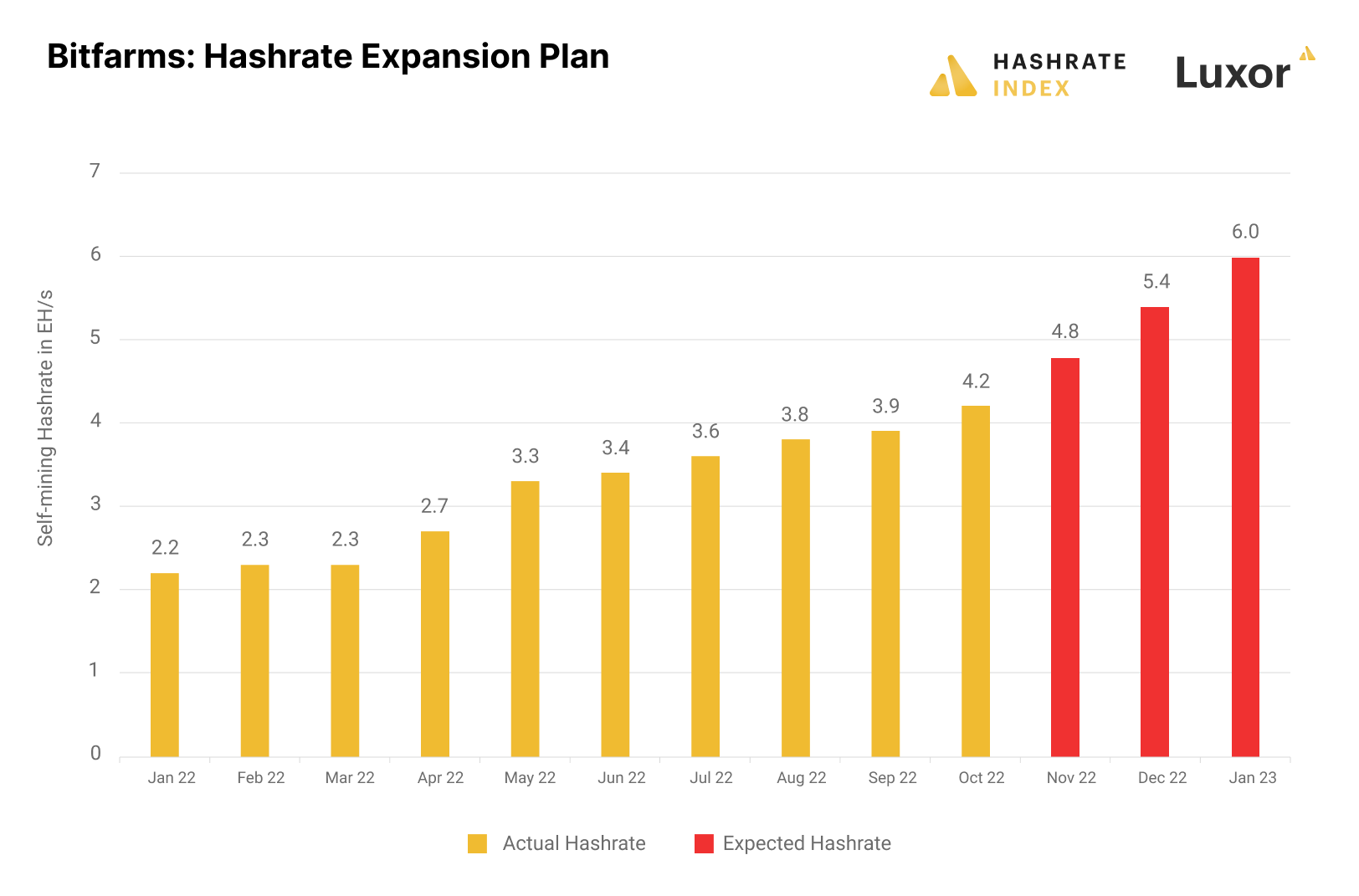 Bitfarms is much more conservative in its estimates than most public miners and has historically been good at reaching its expansion targets. Constructing is coming along nicely in Argentina, and I'm therefore reasonably confident that Bitfarms will reach its year-end expansion target.
If CleanSpark keeps up its momentum, it could become the fourth-biggest public miner by hashrate
CleanSpark currently operates 4.2 EH/s. The miner has grown extremely fast after acquiring Mawson's and Waha Technologies' Georgia facilities and picking up some mining rigs on fire sale from distressed mining companies. Mawson's facility immediately added 0.6 EH/s to CleanSpark's hashrate, and CleanSpark plans to expand it by an additional 1 EH/s by year-end.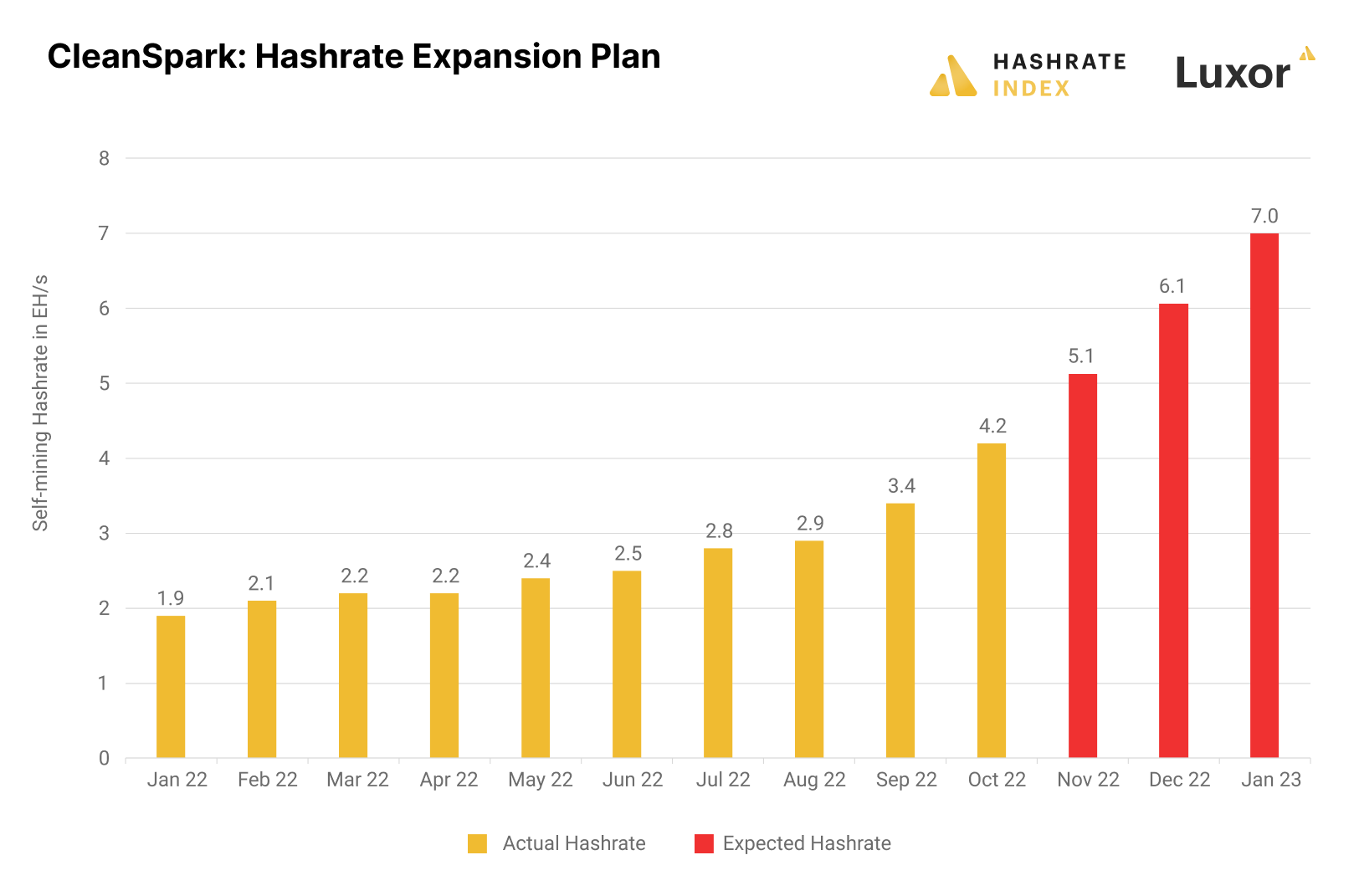 The company plans a total capacity of 7 EH/s by year-end, utilizing 230 MW of energy. In addition, the company has a co-location agreement with Lancium in West Texas that is expected to start hashing in mid-2023. The company provides a longer-term hashrate guidance than most other miners, with an expectation of 22.4 EH/s by the end of 2023. This estimate is based on a 300 MW option the company has with hosting provider Lancium in West Texas.
CleanSpark has surprised this year. It has quickly gone from a relatively small miner to one of the biggest in terms of developed hashrate, growing its hashrate by 121% this year. I believe CleanSpark will keep up its momentum and get close to its 7 EH/s target by year-end.
Conclusion
The public bitcoin miners refuse to let the bear market put spokes in the wheels of their expansion efforts, with most planning to add many EH/s of capacity during the following months. These companies made massive expansion plans during the bull market of 2021 and are now realizing these plans.
Not all expansion plans are realistic, though. Some companies aim to increase their capacity faster than ever achieved, and some wholly rely on third parties for hosting, which could create unforeseen delays. In addition, several public miners have histories of pushing hashrate goals forward due to not reaching them, meaning we should take these targets with a grain of salt.
I particularly expect those miners relying on third parties for hosting to struggle with getting hashrate online. Currently, the biggest constraint in mining is hosting space, so miners who develop their own infrastructure are the most likely to reach their hashrate expansion targets. I believe Bitfarms has the most realistic expansion plans, while Marathon is the least likely to reach its hashrate goals.
Hashrate Index Newsletter
Join the newsletter to receive the latest updates in your inbox.
---