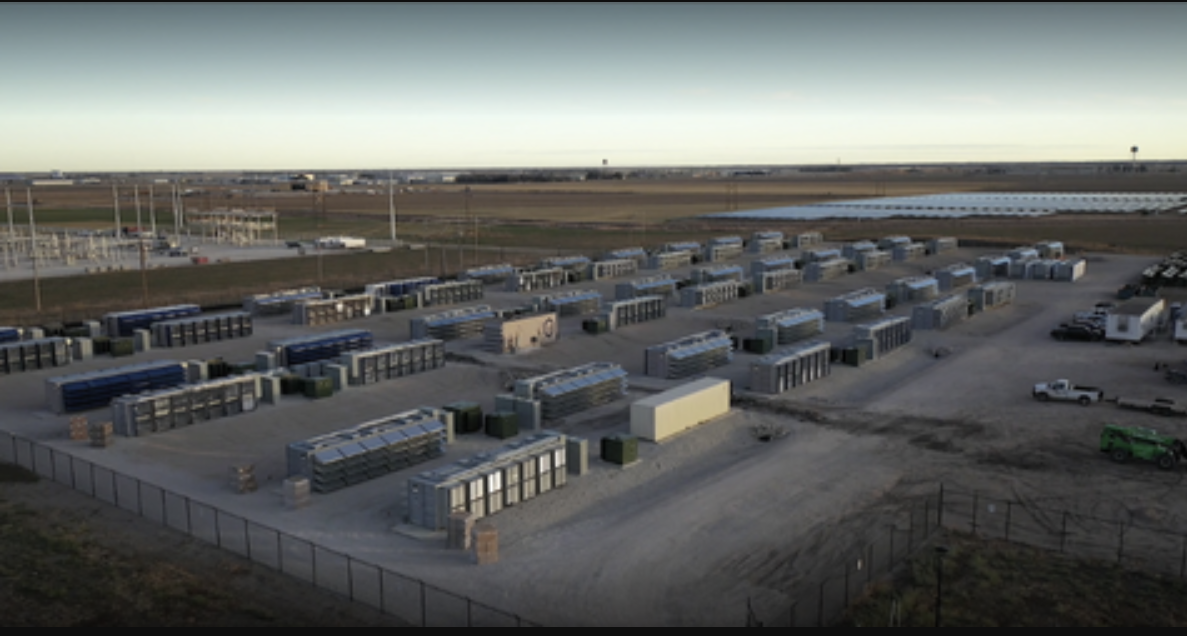 Compute North Files For Chapter 11 Bankruptcy and 363 Asset Sale
As Compute North gears up to liquidate assets, the bankruptcy will indelibly alter the US mining sector's hosting landscape.
The first major casualty of the Bitcoin bear market cropped up last week: Compute North, one of the largest Bitcoin mining hosting sites in the US, filed for chapter 11 bankruptcy.
Filing with the US Bankruptcy Court of the Southern District of Texas, Compute North's bankruptcy implicates all of the hosting provider's entities, and the company is planning to dig its way out of some $266 million in debt via a 363 asset sale.
Chapter 11 bankruptcies are often referred to as a reorganization bankruptcy, meaning that the debtor proposes a plan to keep the business running and pay back creditors over time. "Keeping the business running" is key here; during a Chapter 11, the business should continue operating, and as long as the reorganization goes smoothly, the company's hosting centers and other assets should remain intact, even if they change hands.
It's going to be long, tough slog for Compute North, and while the company as it exists today might not exist by the end of the process, it's not a death march for Compute North's clients (at least, not at this stage).
Still, the bankruptcy and its ensuing asset sale will be a massive opportunity for miners and financiers with sufficient capital on the sidelines. And this landgrab will likely partition Compute North's datacenters among various players, leaving the hosting provider's clients under new management and (probably) altered service agreements.
Plenty of unanswered questions, but before we discuss where this is going, let's start with how Compute North got here in the first place.
Compute North's Business Structure and Debt
Compute North is a stalwart in North America's Bitcoin mining industry. Second only to Core Scientific in size of hosting services in the US, the firm hauled in $34.1 million from hosting services in 2021, $12.1 million from self-mining, and $19.1 million from equipment sales (a total of $65.3 million). Compute North has raised roughly $420 million since 2017, a big chunk of which came in fundraising rounds this year.
The Chapter 11 filing encompasses the entirety of Compute North's intricate web of subsidiaries, which are laid out in the handy graphic below courtesy of Compute North's Chapter 11 filing. These entities include multiple joint ventures: two with Marathon, plainly dubbed Marathon Compute North 1 LLC and Marathon Compute North 2 LLC (of which Compute North owns 40% and 18%, respectively), and one with the public renewable energy company NextEra Energy (TZRC LLC), of which Compute North owns 50%.
These subsidiaries, either in whole by Compute North or in-part via joint-ventures, collectively operate five facilities. Three of these facilities are fully operational, two others are partially operational, and Compute North has two others in development. Across the fully or partially operational facilities, Compute North hosts over $700 million of equipment from roughly 84 clients in over 466 containers.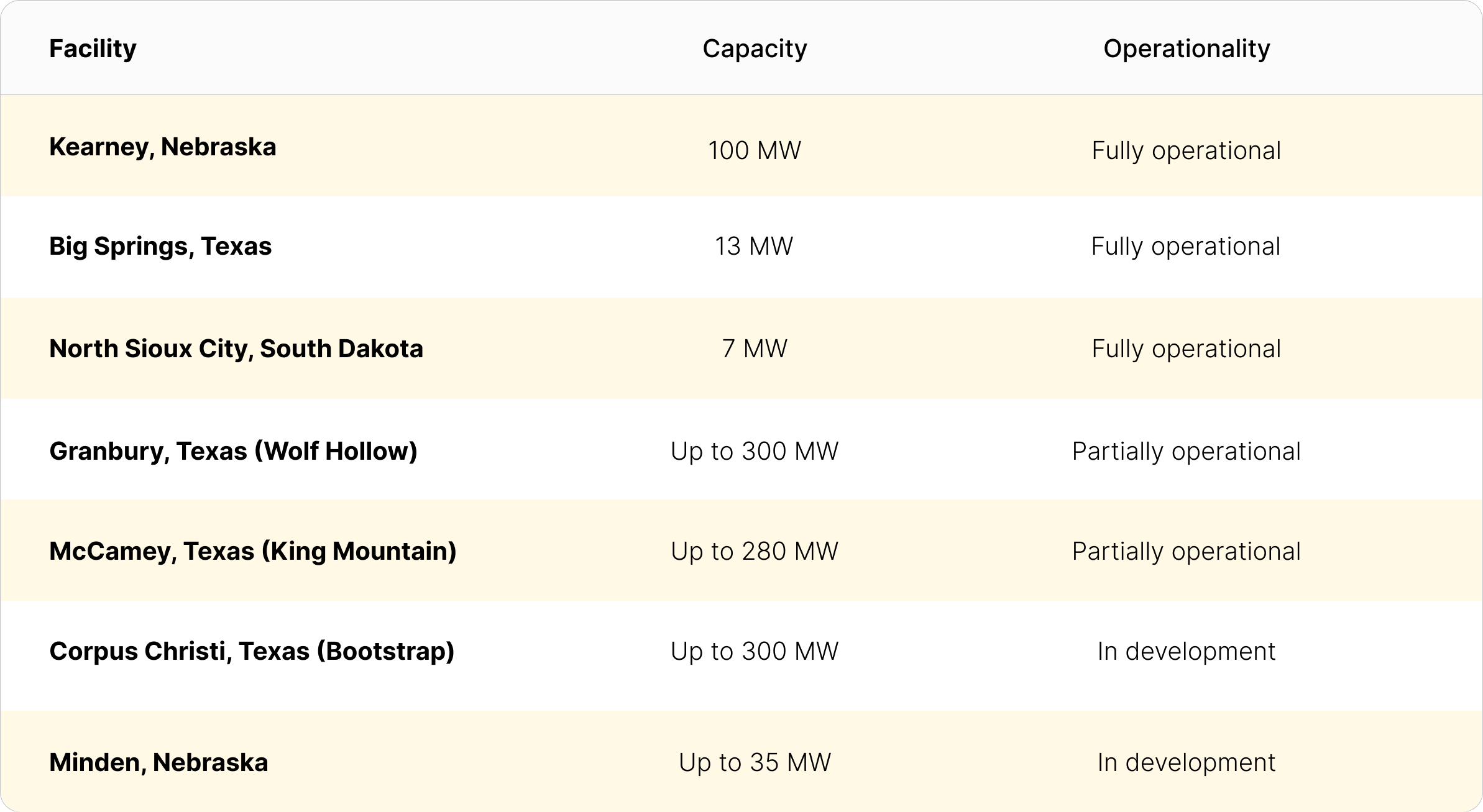 In addition to equity fundraising, Compute North has taken on plenty of debt to finance its business. Its long-term debt obligations include a $99,809,696 secured promissory note to power company NextEra for its joint venture, the wind-powered King Mountain site in McCamey, Texas; a $21,013,027 senior unsecured promissory note to Marathon Digital in relation to its two joint ventures with this public miner; and $7,466,005 in secured debt to Foundry for equipment financing. Additionally, through a subsidiary dubbed CN Borrower, Compute North has $101,282,118 in outstanding debt with Generate Capital, which is guaranteed by its Wolf Hollow and Kearney facilities.
Compute North also has approximately $18,374,138 in other unsecured debt, putting its total outstanding obligations at $146,662,866 (notwithstanding the $101,282,118 owed to Generate Capital, which is guaranteed by the facilities that the loan funded). The hosting provider has roughly $8,721,311.77 in unencumbered cash.
Per the Chapter 11 filing, Compute North Holdings, Inc. has the following stock issued and outstanding as of August 24, 2022: 1,700,000 Class A Voting Common Stock, 1,081,436 Class B Voting Common Stock, 39,014 Series C-1 Convertible Preferred Stock, and 360,465 Series C Convertible Preferred Stock.
Why Did Compute North Go Bankrupt?

In one of its court filings, Compute North cites "a confluence of events" that drove it to bankruptcy, but it places the majority of the blame on its primary lender, Generate Capital, for shutting off its credit pipeline.
In February of this year, the lender agreed to loan Compute North up to $300 million, of which Compute North tapped $101 million (as we detailed above). Per the agreements of the loan, in July 2022, Generate Capital triggered a clause in its contract that asserted Compute North was in technical default. This allowed the lender to subsume a Compute North subsidiary (CN Borrower, LLC), giving it control over the hosting firm's Kearney facility in Nebraska and its Wolf Hollow facility in Texas. Generate Capital also seized a Compute North bank account which holds some $23.6 million in cash.
At the same time as Compute North's capital spigot shut off, its margins were squashed by anemic mining economics and rising energy prices.
As for the first, most of us know that hashprice has been on a steady decline all year in step with Bitcoin's price. For miners with access to cheap power and/or a power purchasing agreement in place, this sucks–but it's not deadly.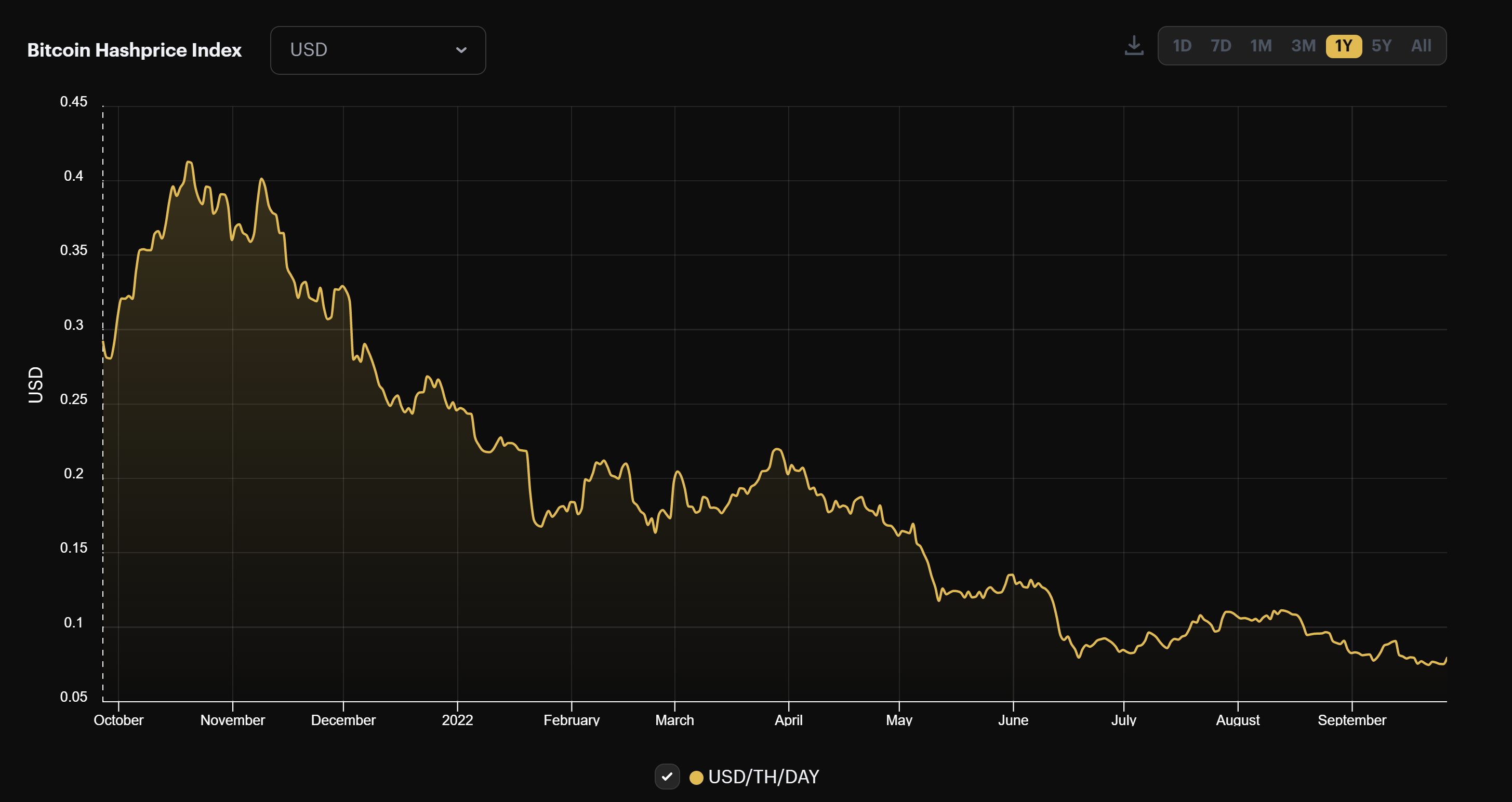 Compute North, though, like many other industrial-scale miners, didn't have long-term PPAs in place. As such, 2022's rise in power prices has been virulent for the hosting provider, not least of all because Compute North's contracts with its hosting clients are locked in, so it can't raise rates with these customers to keep up with the rise in power costs.
Compute North also blames supply chain snags for delaying buildouts for in-progress and partially operational mining sites. Over the last two years, the company poured $72.3 million ($30.9 million in 2021, $41.4 million in 2022) into deposits for raw materials and equipment.
Will the Bankruptcy Affect Compute North's Operations?

A Chapter 11 bankruptcy allows the filing company to continue operations throughout the bankruptcy proceedings and repayment of debt, and Compute North has indicated that its hosting services will continue unabated.
Albeit a small sampling of Compute North's total client base, Compass Mining and Marathon have each tweeted that the bankruptcy will not affect their operations. Still, Marathon recently entered into an agreement with Applied Blockchain for up to 324 MW of hosting capacity, which Marathon claims will support its current and on-order hashrate of 23.3 EH/s.
Compute North Will Liquidate Assets in a 363 Sale
On September 26, Compute North filed a relief request with the bankruptcy court to sell its assets according to Section 363 of the US Bankruptcy Code.
This 363 sale will undergo a court hearing on October 11, 2022; if no aggrieved parties raise reasonable objections to the relief before or during the hearing, then the court will grant Compute North the right to sell and auction assets accordingly.
If the relief is approved, the liquidations will come in two forms: 1) a de minimis asset sale, "including but not limited to computing equipment containers, power transformers, fixtures and equipment, spare parts, and any other miscellaneous assets, with an aggregated selling price equal to or less than $1,000,000," and 2) an auction for any other assets not sold in the de minimis sale.
The de minimis sale will give Compute North quick access to cash, likely to be used for court fees and other operations, but it can only sell up to $1,000,000 worth of assets. As for the rest, that's what the auction is for, and the proceeds from it will go back to satisfying Compute North's creditors (secured creditors first, while the unsecured will get whatever is left over).
Though the court filing doesn't explicitly state this, the auction will no doubt include Compute North's datacenters (except those encumbered by Generate Capital's control, namely Kearney and Wolf Hollow). We're not sure, though, whether or not Compute North owns the land that its centers sit on; if they come with a land lease, that will make the proceedings all the more complicated.
This bidding process would allow Compute North to seek out so-called stalking horse bidders. These bidders enter into asset purchases agreements with Compute North directly to effectively set a floor price for the auctioned assets, ensuring that other bidders won't bid below this purchase price.
Compute North will have until October 18 to designate stalking horse bidders. Other bidders will have until October 27 to submit initial bids, which will also give them a seat at the auction table when the real bidding begins on November 1. The auction will be finalized during a sales hearing on November 8.
Who's Going to Bid? What Happens to Current Hosting Contracts? And Other Burning Questions
Compute North's bankruptcy is easily the biggest story to come out of North America's mining sector this year. Everyone in the mining biz has their eyes on the case, and with the chance to scoop up assets for pennies on the dollar, scores of miners and financial firms will likely take part in the bidding.
NextEra Energy will be a player to keep an eye on. With nearly $100 million worth of loans in limbo AND a 50% stake in its King Mountain joint-venture (JV) with Compute North, the power company may want to take control of this JV to recoup its capital. NextEra is one of the largest publicly traded renewable energy companies in the US, so this move (if it comes to pass) would lend incredible credence to Bitcoin mining's synergy with renewable energy.
If it has the capital for it, Marathon Digital may similarly seek to buyout the remaining equity in its two JVs with Compute North, but this seems less likely given its recent deal with Applied Blockchain. We also have our eyes on Jihan Wu's new $250 million fund, which plans to make investments in distressed Bitcoin mining companies.
Regardless of who buys what, perhaps the most consequential looming question is, what happens to existing hosting contracts if Compute North's datacenters switch hands?
The short answer: nobody on the outside of this process knows. Without access to the specific service agreements of each Compute North client, we can only conjecture. That said, putting on our conjecture caps, it's hard to imagine that bidders would buy up Compute North's hosting apparatuses without the ability to rewrite hosting agreements that are no longer profitable. Of course, these contracts could include protection clauses or grace periods in the event of a bankruptcy.
Assuming they take place, these contract renegotiations will be make-or-break for Compute North's clients and will largely decide whether or not this bankruptcy is contagious for the 84 or so Bitcoin mining entities currently operating at Compute North facilities.
See Compute North's Chapter 11 and 363 Asset Sale Filings Below
Hashrate Index Newsletter
Join the newsletter to receive the latest updates in your inbox.
---