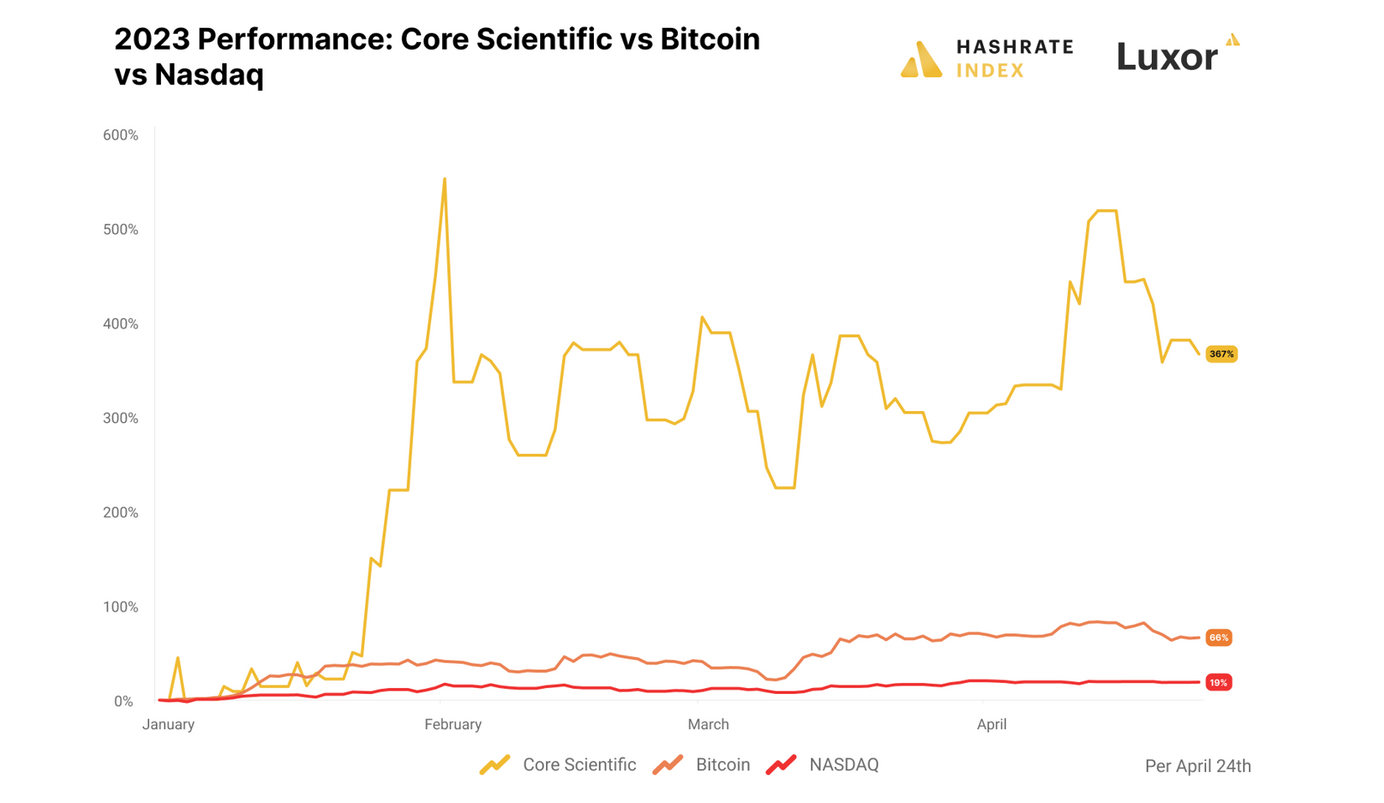 Why has Core Scientific's stock increased by almost 400% in 2023?
Core Scientific is the best performer in the bitcoin mining sector in 2023 after surging by 400%. But why is this bankrupt stock surging?
Core Scientific is outperforming in 2023 after a horrible 2022
The tide is turning for Core Scientific's shareholders, or at least for those who didn't sell at the bottom around the new year. After plummeting by 99% in 2022, it has shocked many that Core Scientific is the best-performing bitcoin mining stock so far in 2023 after increasing by 367%.
During the same period, bitcoin increased by 66%, while the Nasdaq is up by 19%. Surely, in such a risk-on market environment, we expect bitcoin mining stocks to do well. As you can see on the chart below, all these stocks have outperformed the Nasdaq so far in 2023, with 22 out of 24 beating bitcoin.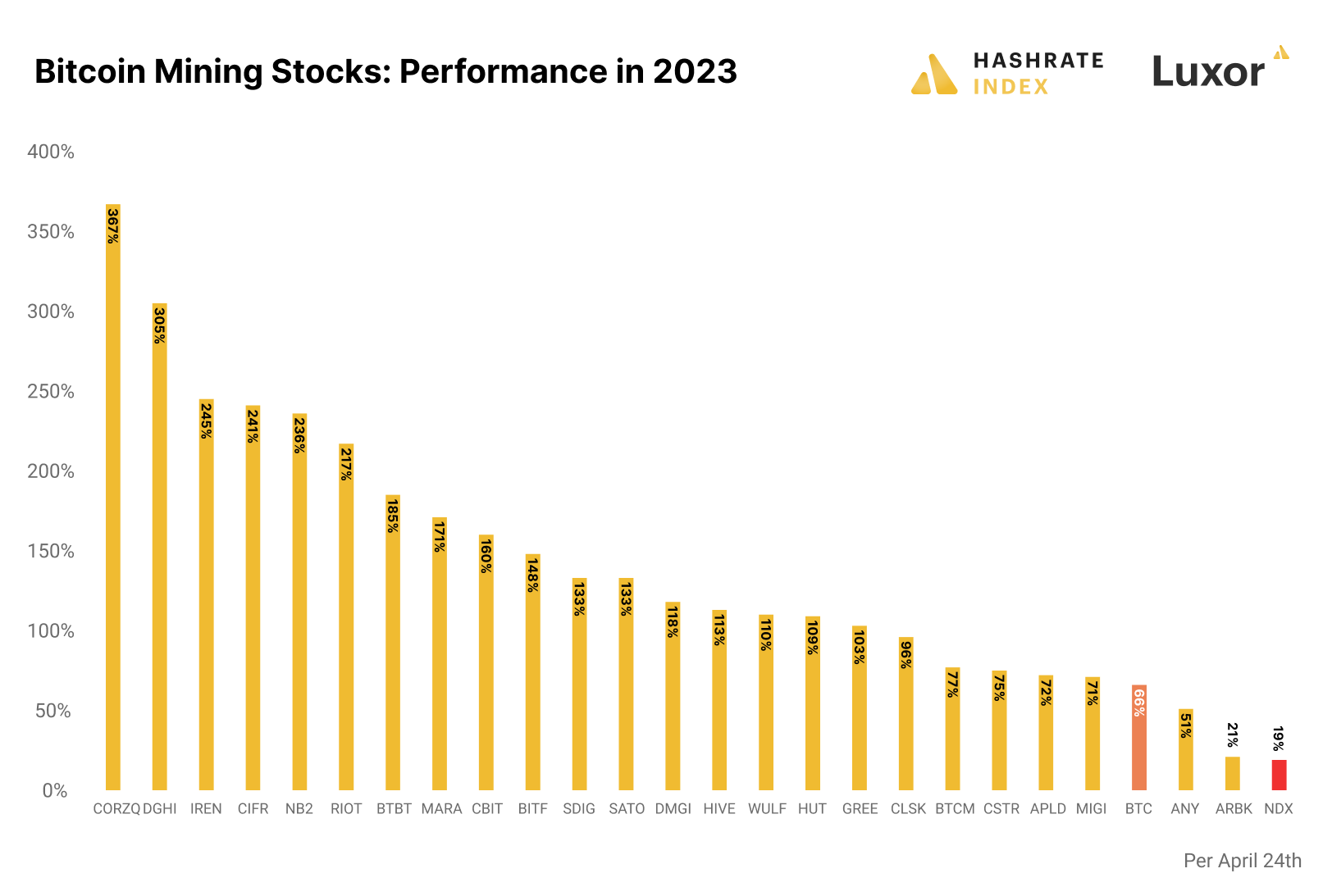 The chart above shows how Core Scientific has outperformed relative to other bitcoin mining stocks in 2023. This massive outperformance relative to its sector indicates that we cannot ascribe its gains solely to the bitcoin price growth. There has to be something happening within the company that has led to this massive increase. Let's find out what.
Core Scientific's shareholders may not lose everything after all
In short, the reason why Core Scientific's stock is surging is that the probability of the bankrupt company pursuing a more shareholder-friendly restructuring is increasing. Let's give some background on the company's complex situation and explain what is happening.
Core Scientific filed for Chapter 11 bankruptcy protection on December 21st, 2022, after collapsing under the weight of its massive debt. Since then, the company has been working on a restructuring plan with the Bankruptcy Court and its shareholders and debt holders. Meanwhile, the giant self-mining and hosting company continues to operate its assets to generate critical cash flow.
It is still uncertain what the restructuring plan will look like, as equity owners and holders of various debt instruments are fighting to secure their interests. A bankruptcy is like a game of musical chairs - there will not be enough assets for everybody, and some creditors will have to book bigger losses than others.
When Core Scientific filed for bankruptcy in late December, it looked like the convertible noteholders would be the only ones to get their money back at the expense of equity owners and other debt holders. During this time, the bitcoin price sat below $17k, electricity prices were still elevated, and Core Scientific barely generated any cash flow.
The convertible noteholders gave Core Scientific a predatory but necessary emergency loan of up to $75 million. This loan came with several contingencies, the most important being that the convertible noteholders could turn their debt into equity and wind up with 97% of the company's total equity. Such a restructuring plan would have severely diluted existing shareholders, and it looked like only a miracle could save them.
Such a miracle unfolded in the middle of January when market conditions improved. Core Scientific's cash flows increased dramatically due to the rising bitcoin price and falling electricity prices. It became increasingly clear to shareholders that their negotiating power in bankruptcy had increased drastically.
B. Riley, an equity owner and major unsecured debt holder, proposed to the Bankruptcy Court to give Core Scientific a new loan to replace the convertible noteholders' emergency loan. On February 2nd, the Bankruptcy Court approved this replacement facility, giving B. Riley control over the company's destiny. It is expected that B. Riley will pursue a more shareholder-friendly restructuring than the noteholders that previously controlled the process.
The increasing likelihood that the company will pursue a shareholder-friendly restructuring has naturally led the company's share price to surge.
Hashrate Index Newsletter
Join the newsletter to receive the latest updates in your inbox.
---