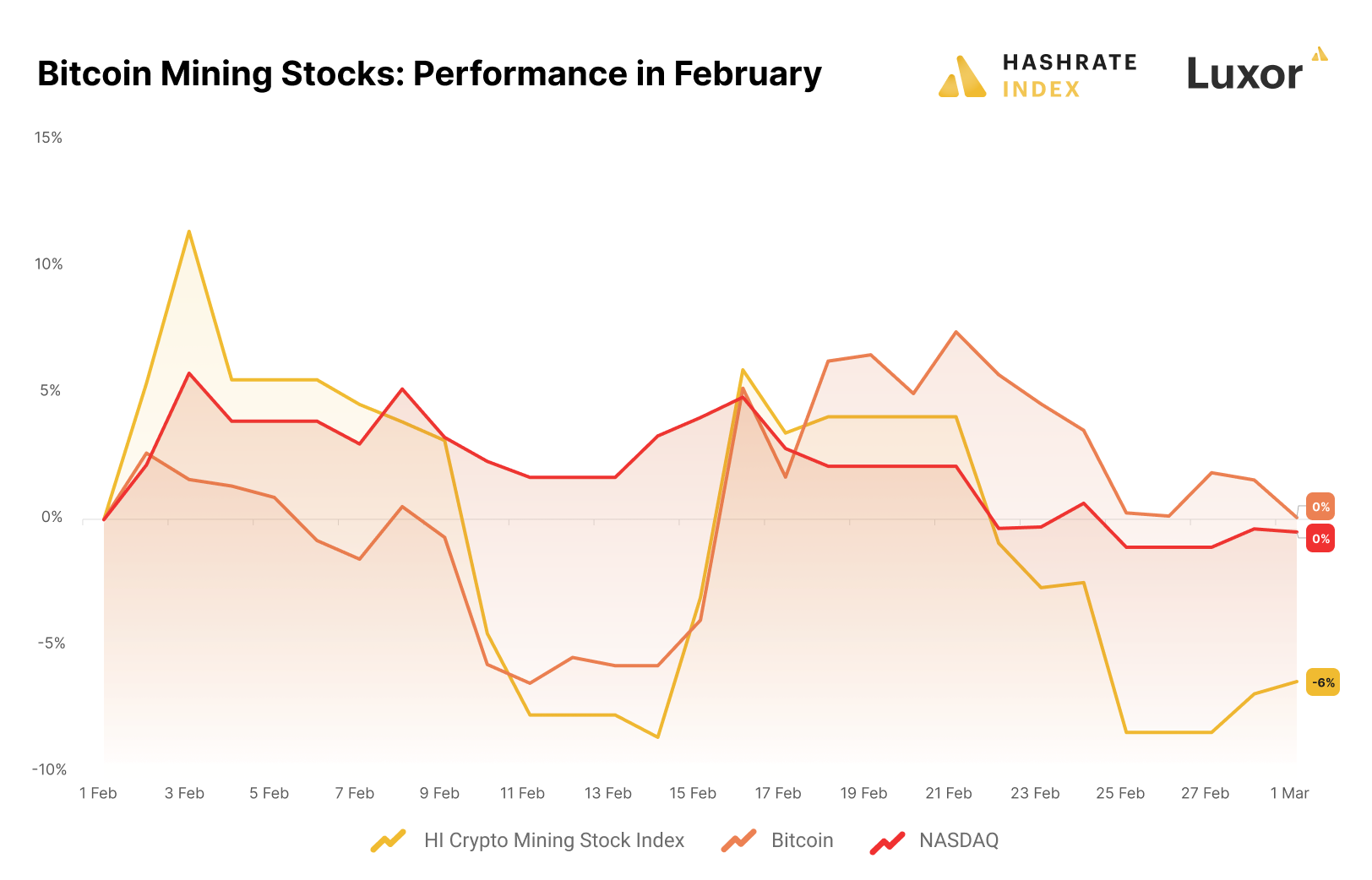 Bitcoin Mining Stocks: February Performance
Bitcoin mining stocks had a lack-luster February.
The bitcoin mining sector met headwinds in February after a roaring January. Carefully optimistic mining stock investors seemed to be positioned for a continuation of the bitcoin uptrend. They thus watched in disappointment as the bitcoin price ended the month where it started at just below $24k.
With bitcoin and Nasdaq flat in February, disappointed mining stock investors slightly reduced their exposure, pushing most bitcoin mining stocks into the red territory. The HI Crypto Mining Stocks Index (ISIN) ended the month with a 6% decline.
Which mining stocks performed the best in February?
The bitcoin price was flat in February, meaning mining stocks lacked a gravitational pull to either side. Therefore, we saw enormous performance differences between individual stocks, with company-specific events being more significant price movement drivers than usual.
Of our 25 bitcoin mining stocks, only five beat bitcoin in February, most falling between 10% and 20%.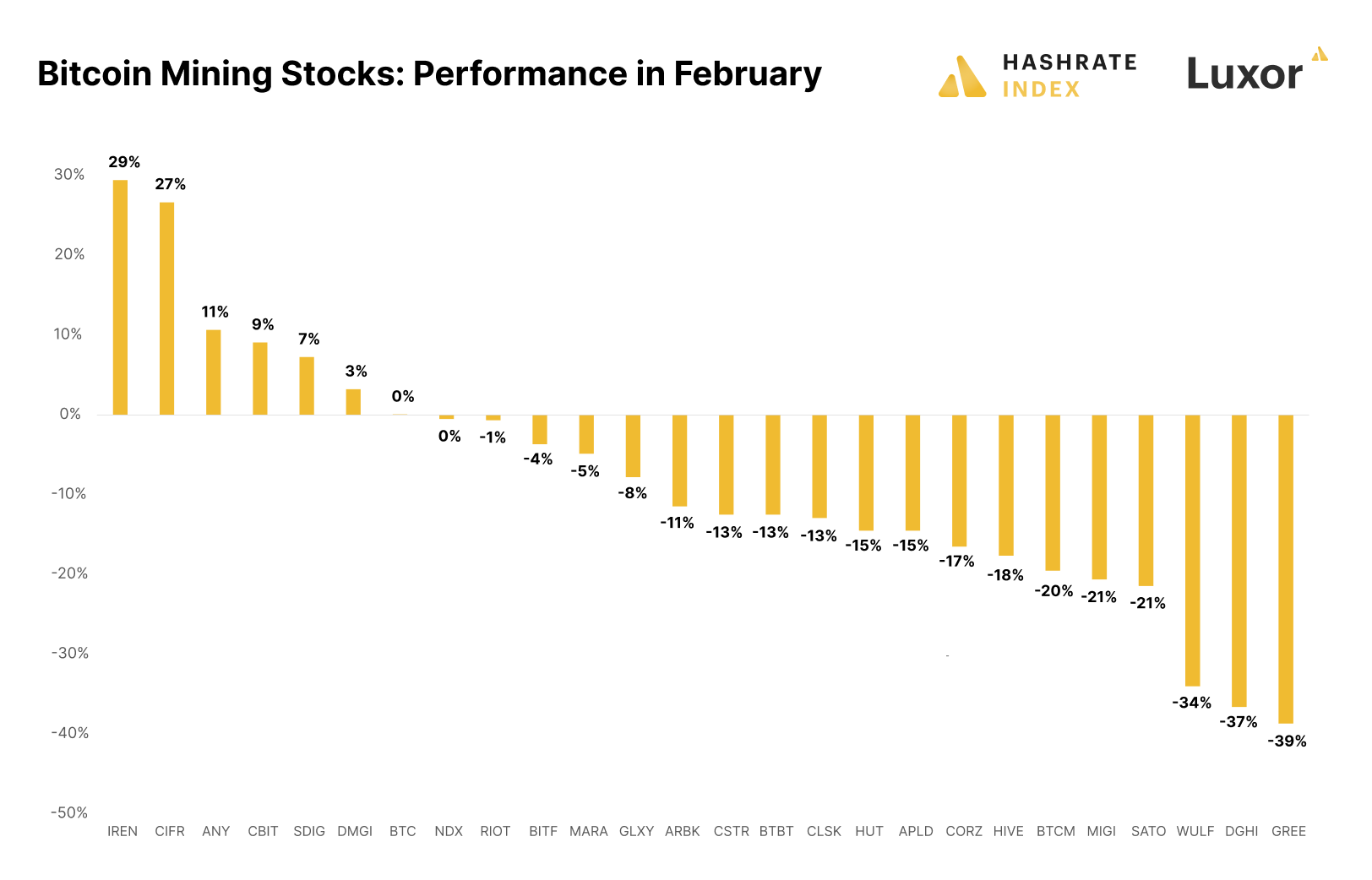 Still, a couple of stocks outperformed due to well-perceived company-specific news. Iris Energy was February's winner after gaining 29%. Most of these gains came around February 13th, when the Australian-registered company announced the purchase of 4.4 EH/s worth of mining rigs from Bitmain without any additional cash outlay. Investors seem content that the company is working through its debt issues.
Cipher Mining was the second-best performer in February after gaining 27%. The Texas mega miner saw massive gains at the start of the month, as investors seemed to be satisfied with the company's January production update that showed rapid expansion and an all-time high in hashrate.
Greenidge was the weakest performer in February, plummeting by 39%. The stock of the natural gas power plant operator turned bitcoin miner has steadily fallen in February, erasing most of its massive gains from January. This was a theme in February - stocks that saw the best performance in January generally fell the most in February.
2023 has started great for bitcoin mining stocks
February might have been a weak month for bitcoin mining stocks, but thanks to January's gains, the sector has been phenomenally in 2023. The mining sector has revealed its high beta relationship with bitcoin, as 20 of 25 mining stocks are ahead of bitcoin's 40% gain year-to-date. Nasdaq is up by 10%, seeing lower gains than 24 of 25 mining stocks.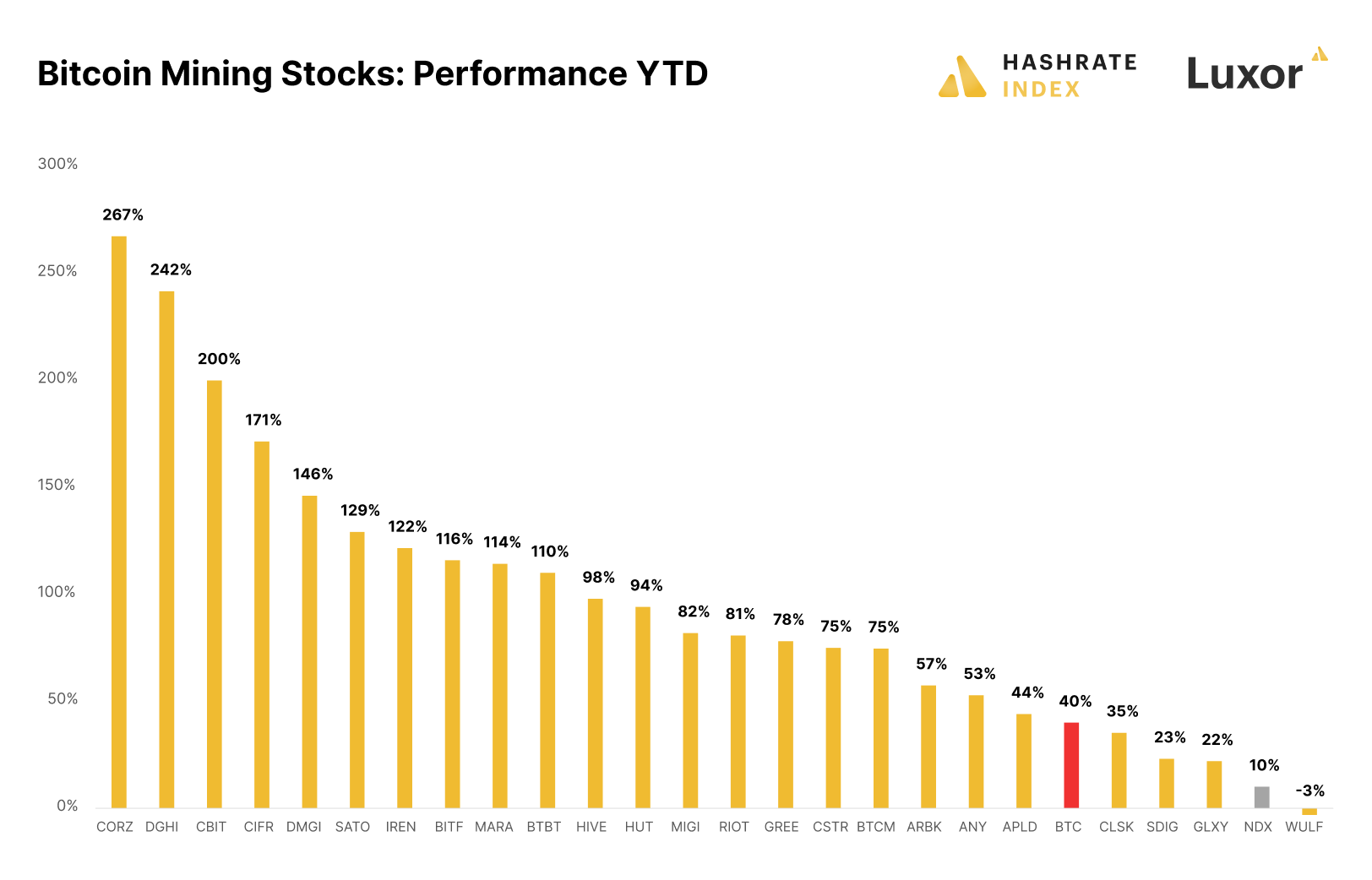 Core Scientific is the best performer year-to-date, surging by 267%. The bitcoin mining giant is restructuring through a chapter 11 bankruptcy process, and its shares have been degraded from the Nasdaq to the OTC Markets under the ticker CORZQ. The company's massive debt load relative to its meager equity has worked in equity holders' favor lately. The bitcoin price rebound has disproportionately improved its cash flows relative to equity, an example of the positive side of the leverage debt gives.
Other strong performers in 2023 include Digihost (+242%), Cathedra (+200%), and Cipher (+171%).
Hashrate Index Newsletter
Join the newsletter to receive the latest updates in your inbox.
---