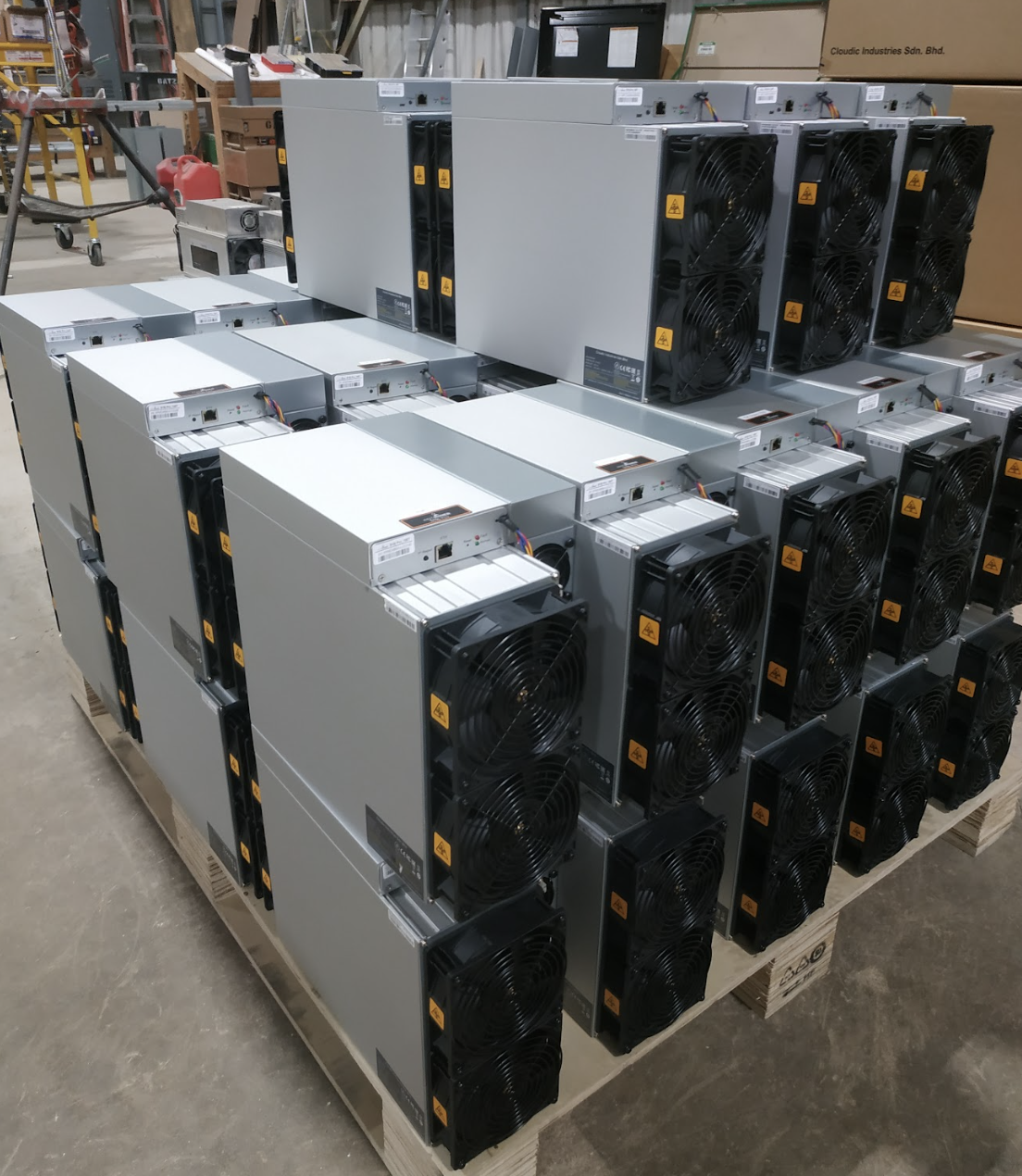 Where to Buy a Bitcoin Miner in 2023
Who are the top ASIC miner brokers? Learn about top Bitcoin miner brokers. Source the right firm to buy an ASIC miner in 2023.
If you're looking to buy a Bitcoin miner and understand the impact that ASIC Miner markets experiencied since the Great Hashrate Migration, this article provides insights into ASIC Miner brokers, and the availability of mining equipment. It's never been easier for a Bitcoin miner outside of China to procure an ASIC miner.
As the old adage goes, "During the gold rush, sell shovels." Following the Great Hashrate Migration – and with the 2021 bull market in full swing – ASIC miner brokers started cropping up around North America, South America, and Europe. These brokers facilitate buying and selling for miners either via reputable vendors or by working directly with manufacturers.
In the following article, we profile some of the top ASIC miners brokers from around the world. Some of them offer more old-school methods of brokering Bitcoin miner hardware by requiring clients to fill out forms and working directly with employees. Others, like Luxor's RFQ, allows buyers and sellers to interact directly through a marketplace.
We highlight some of these key differences between Bitcoin miner brokers in the table below, but if you'd like to learn more about each company and their difference, please read on below.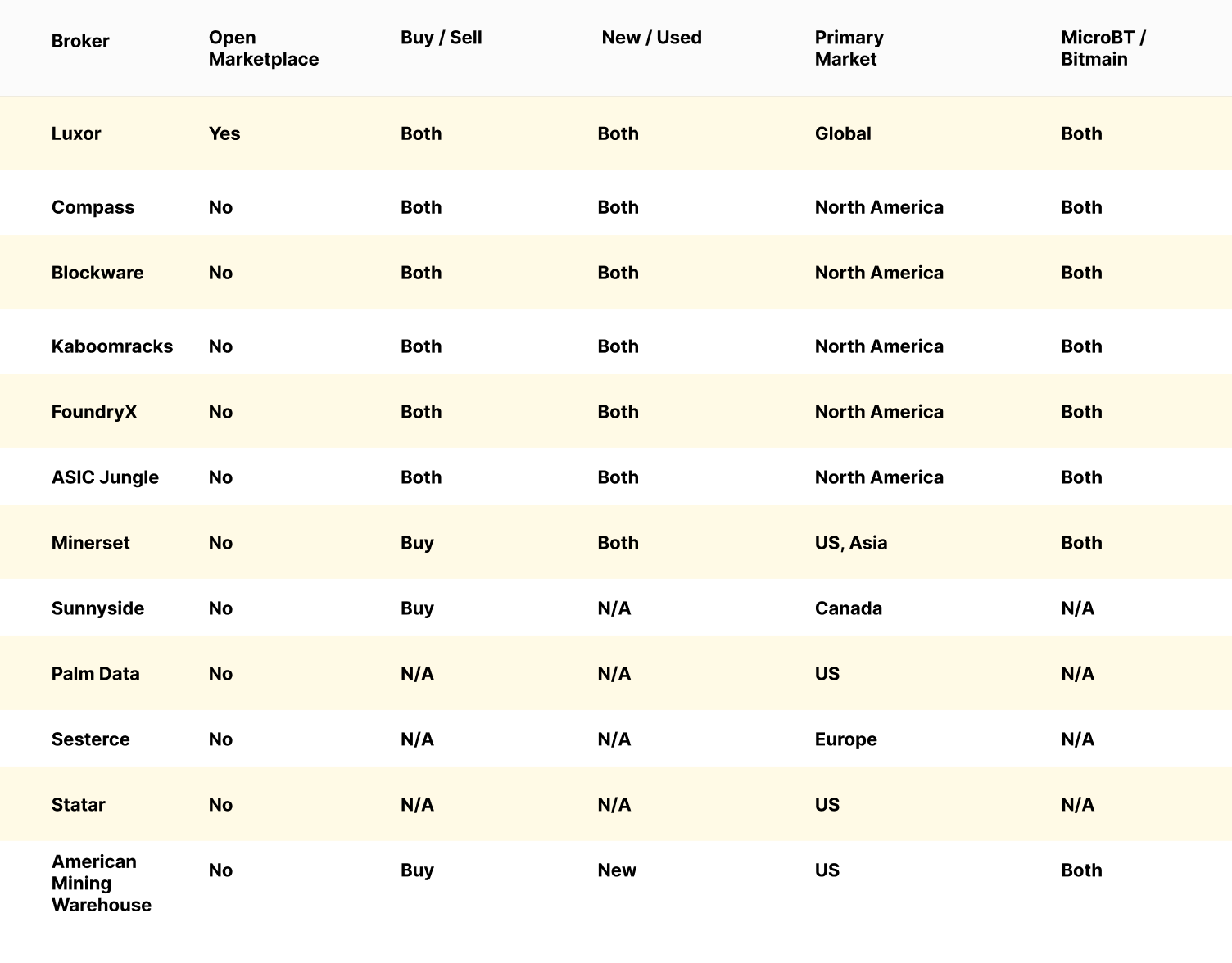 Luxor Technologies
Founded in 2017, Luxor Technologies is a Bitcoin miner software and services company that operates a Bitcoin mining pool, several altcoin mining pools, a Bitcoin mining derivatives desk, software products like ASIC miner firmware, Hashrate Index, and an ASIC Trading Desk.
The core of Luxor's ASIC Trading Desk is Luxor RFQ, an open auction ASIC miner platform where sellers can post listings that buyers can bid on, and buyers can post requests that sellers can bid on. Luxor's RFQ is the first open auction platform of its kind, and the bidding process ensures that buyers and sellers can acquire and liquidate equipment at competitive rates.
Luxor's RFQ has onboarded ASIC miner manufacturers and brokers from around the world, so buyers and sellers participate in the largest pool of global ASIC market liquidity available. Users can choose to ask for or list any Bitcoin mining hardware they want, be it old or new, but the bulk of Luxor's RFQ listings are next and new gen rigs from Bitmain and MicroBT. Because Luxor RFQ's listings are user curated, minimum order quantities for listings can range from 1 to 1,000.
Because of Luxor's relationship with top vendors and ASIC manufacturers, Luxor RFQ users can get access to the newsest generation equipment like the Antminer S19 XP and Whatsminer M50S+.
Luxor RFQ is a global platform, open to countries in every major continent, and Luxor logistics takes care of customs and shipping for Luxor RFQ clients. To begin, users need to set up an account at luxor.tech to view the RFQ dashboard. It has come to be known as "The World's Most Transparent ASIC Marketplace."
Compass Mining: Simplifying ASIC Miner Buying and Hosting Services
Founded in 2020 originally as Hashr8, Compass Mining is an ASIC miner and hosting broker.
Buyers can purchase ASIC Miners from Compass to ship to their own site, or they can purchase rigs to host at one of Compass' partner facilities. Compass' hosting facilities are primarily in the US and Canada. Compass customers can sell their rigs and hosting contracts on Compass marketplace, which provides turn-key options for miners who want to deploy hashrate immediately (these turn-key miners come at a premium, of course).
Unlike Luxor's RFQ, which is an open marketplace, Compass' marketplace is closed, meaning only sellers within the compass ecosystem (i.e., with rigs hosted at a Compass site) may list rigs for sale. The majority of the rigs on Compass' marketplace are new and next generation machines.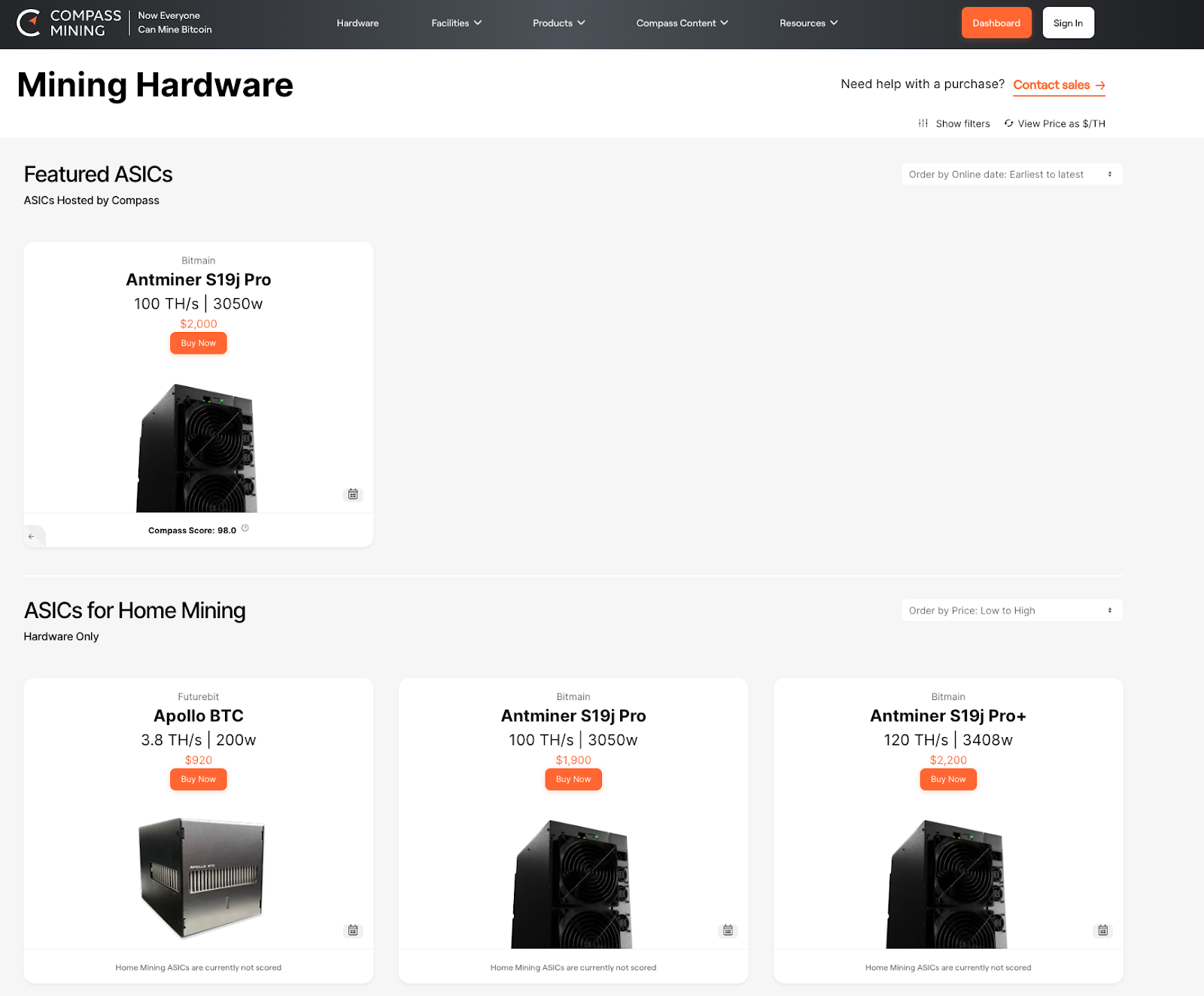 Blockware: North American Bitcoin Mining Services and ASIC Miner Buying and Selling
US Bitcoin mining firm Blockware offers an array of Bitcoin mining services, including hosting and ASIC miner brokerage.
The company has a marketplace with mostly new and next-generation rigs for sale. The listings include machine specs, price, and estimated 30 day revenue. Users can toggle price and revenue stats between USD and BTC.
As with Compass, Blockware customers can buy and host through the company, as well as list their rigs for sale on the marketplace. Blockware primarily serves the North American market.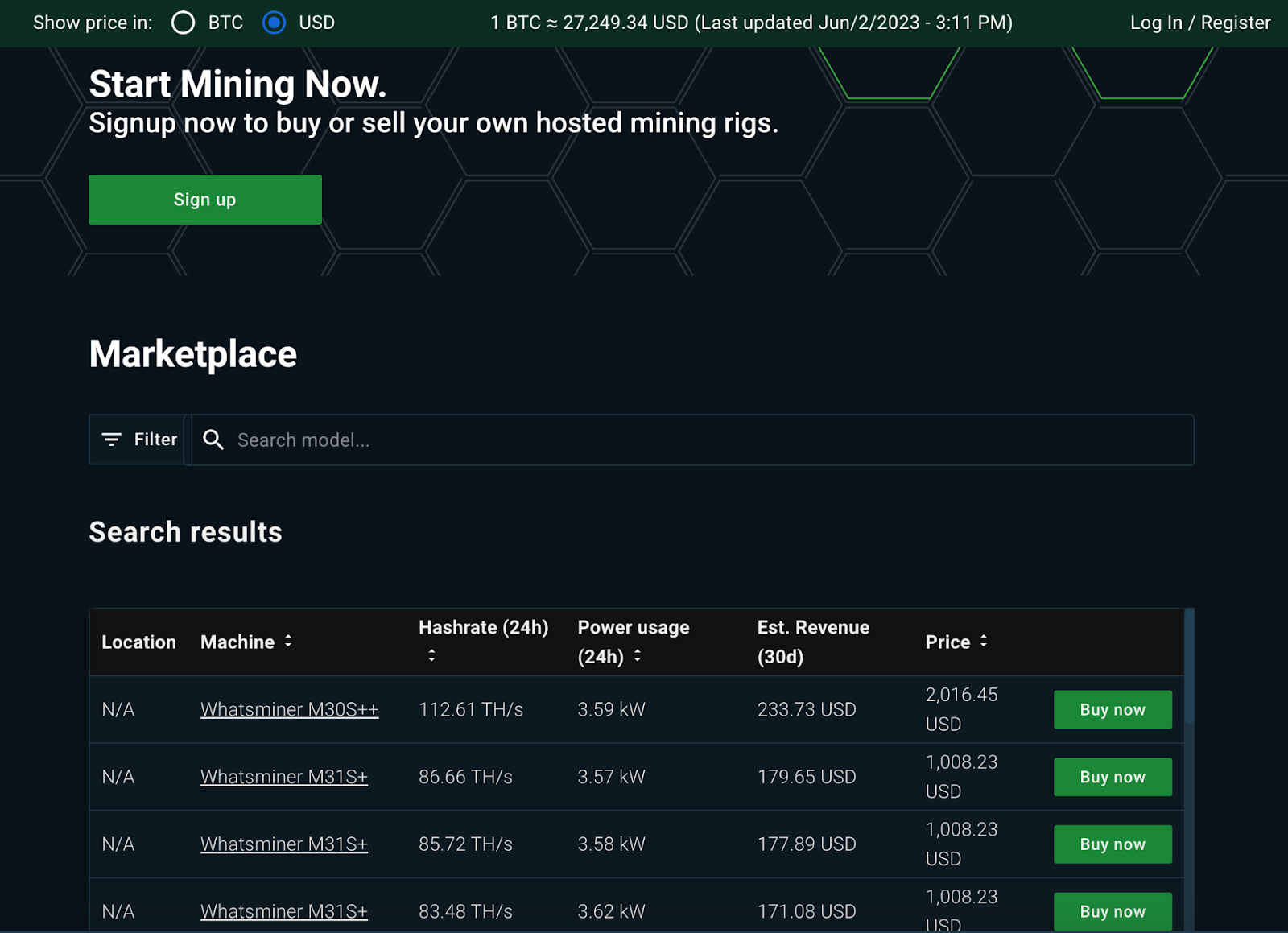 Kaboomracks: Streamlined ASIC Miner Brokerage with via Telegram Messenger
Kaboomracks is one of the older brokers in the North America Bitcoin miner market.
The company was founded in 2019. Back then as now, Kaboomracks lists available units in a telegram group based on model, price, MoQ, location, and shipping timeline. Buyers have to directly message Kaboomracks staff to fill out a form to purchase an ASIC miner.
Kaboomracks lists a mixture of new/used old, mid, new, and next generation machines, mostly Bitmain and MicroBT. Kaboomracks is not an open marketplace – Kaboomracks sells its own inventory, brokers for other sellers, or brokers directly with Bitcoin Miner manufacturers.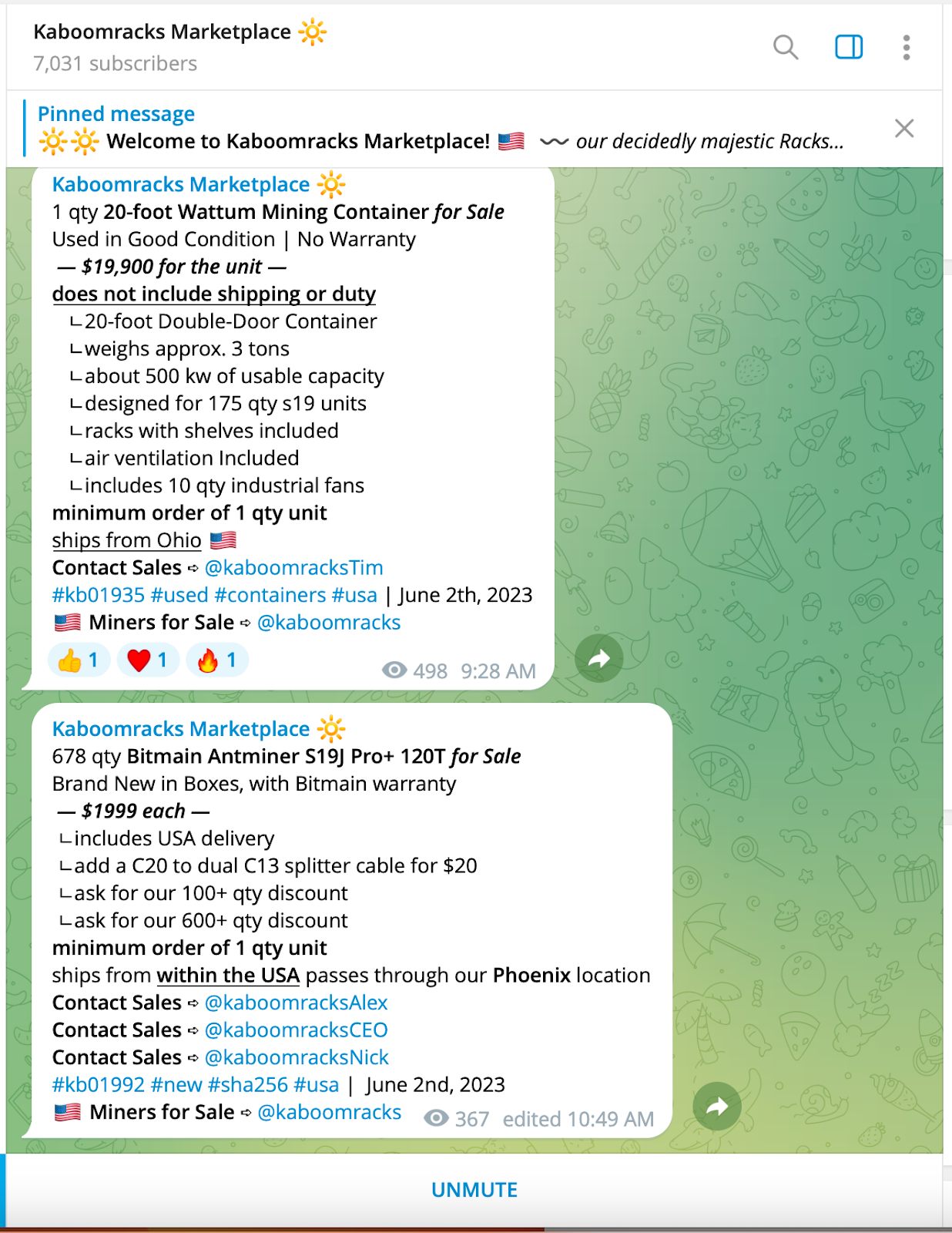 Foundry: A Bitcoin Mining Pool and ASIC Miner Broker Owned by  Digital Currency Group
Digital Currency Group's mining arm, Foundry, runs a Bitcoin mining pool as well as an ASIC Miner brokerage desk.
FoundryX, the company's ASIC Miner desk, accommodates buyers and sellers. Unlike some other brokers, though, they do not have a marketplace. Buyers and sellers have to submit forms with their orders and work with a Foundry employee to complete orders.
Historically, the bitcoin mining company's relationship with DCG allowed it to help miners source credit to purchase ASIC Miners through FoundryX. Miners who financed and purchased rigs through Foundry were required to mine with Foundry's Bitcoin mining pool, but the company no longer offers financing so this arrangement is a thing of the past.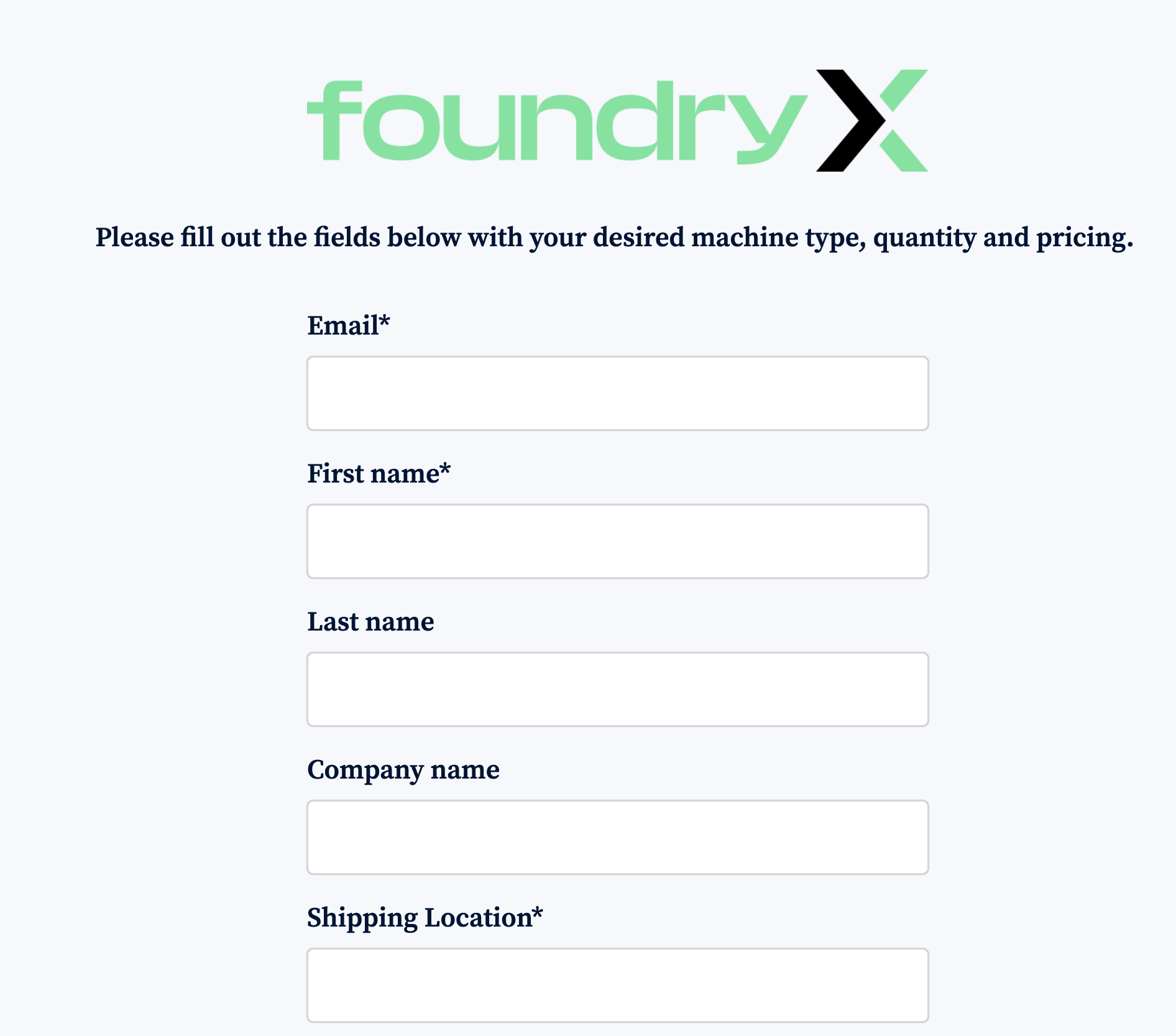 ASIC Jungle: Source New and Used ASIC Miners
Similar to Kaboomracks, ASIC Jungle is primarily an ASIC broker. The company set up shop in 2020 and offers a variety of new and used ASICs of the old, new, and next generation variety.
ASIC Jungle does not operate a marketplace or have listings available on their website. To inquire about sales, buyers and sellers have to fill out a form on ASIC Jungle's website to state their needs and then ASIC Jungle calls them to work on a specific order.
ASIC Jungle operates primarily in the North American market.

Minerset: China's Trusted ASIC Miner Buying and Hosting Solution
Founded in 2017, China-based Minerset is a Bitcoin mining hardware and logistics company that, like Compass and Blockware, focuses on brokerage and hosting. The company is one of the oldest ASIC Miner brokers out there.
A Bitcoin Miner can shop for hardware on Minerset's website to see what open inventory they have. Unlike Compass and Blockware, Minerset's brokerage is not a marketplace. Minerset lists stock from its US and Asia inventories (including futures orders). The broker carries a variety of new and next-gen equipment from Bitmain and MicroBTC, as well as altcoin ASIC Miners for litecoin and zcash mining.
Minerset provides hosting in its own Bitcoin mining facility in South Carolina.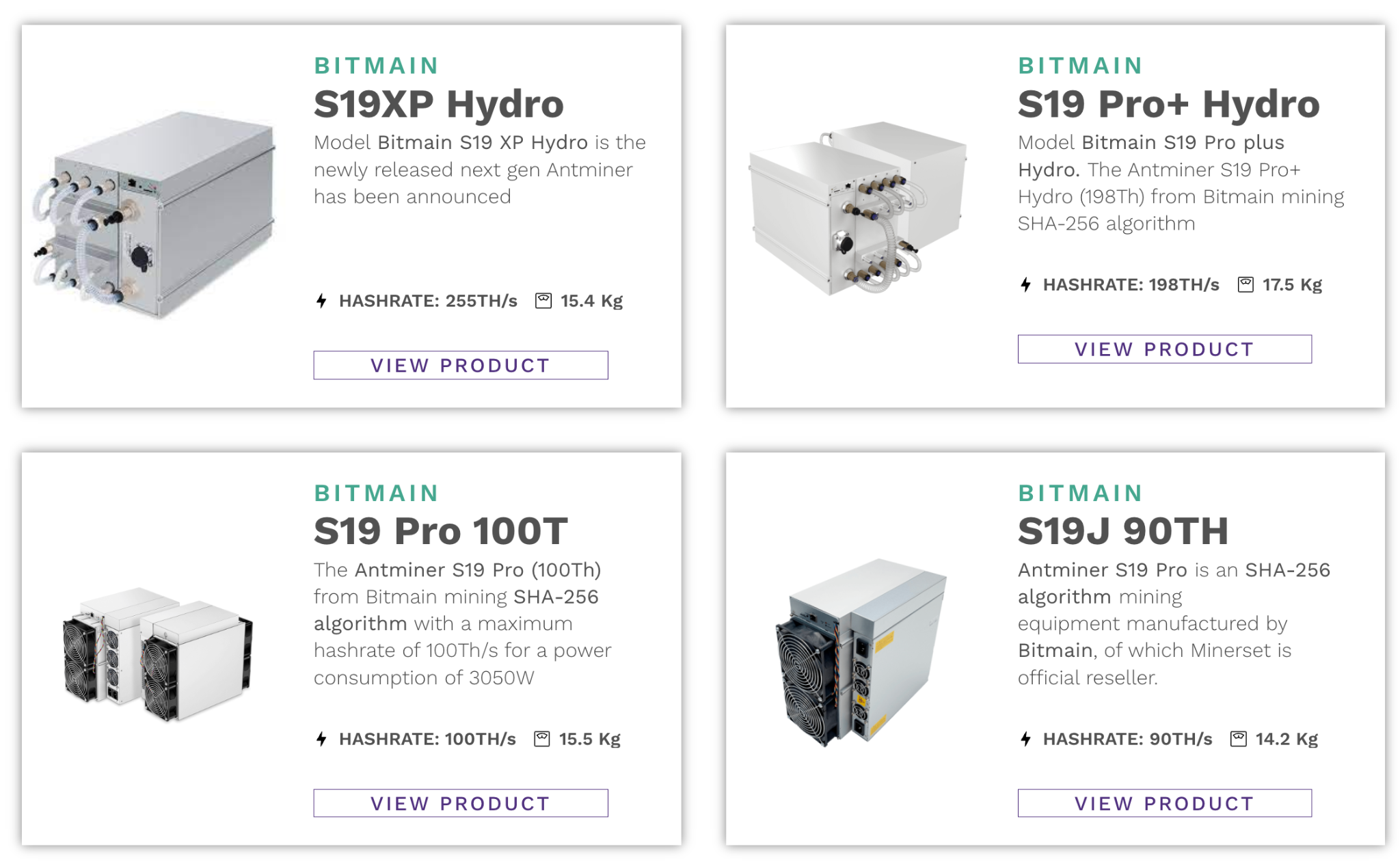 Sunnyside: Wholesale Distribution of Bitcoin Mining Hardware
Founded in 2019, Toronto-based Sunnyside is a Bitcoin mining solutions company that focuses on wholesale distribution of Bitcoin mining hardware and datacenter infrastructure.
Like Kaboomracks, the company lists current inventory in a Telegram channel. Potential clients need to fill out a form and set up a call to finalize orders. Sunnyside typically serves the North American Bitcoin miner market.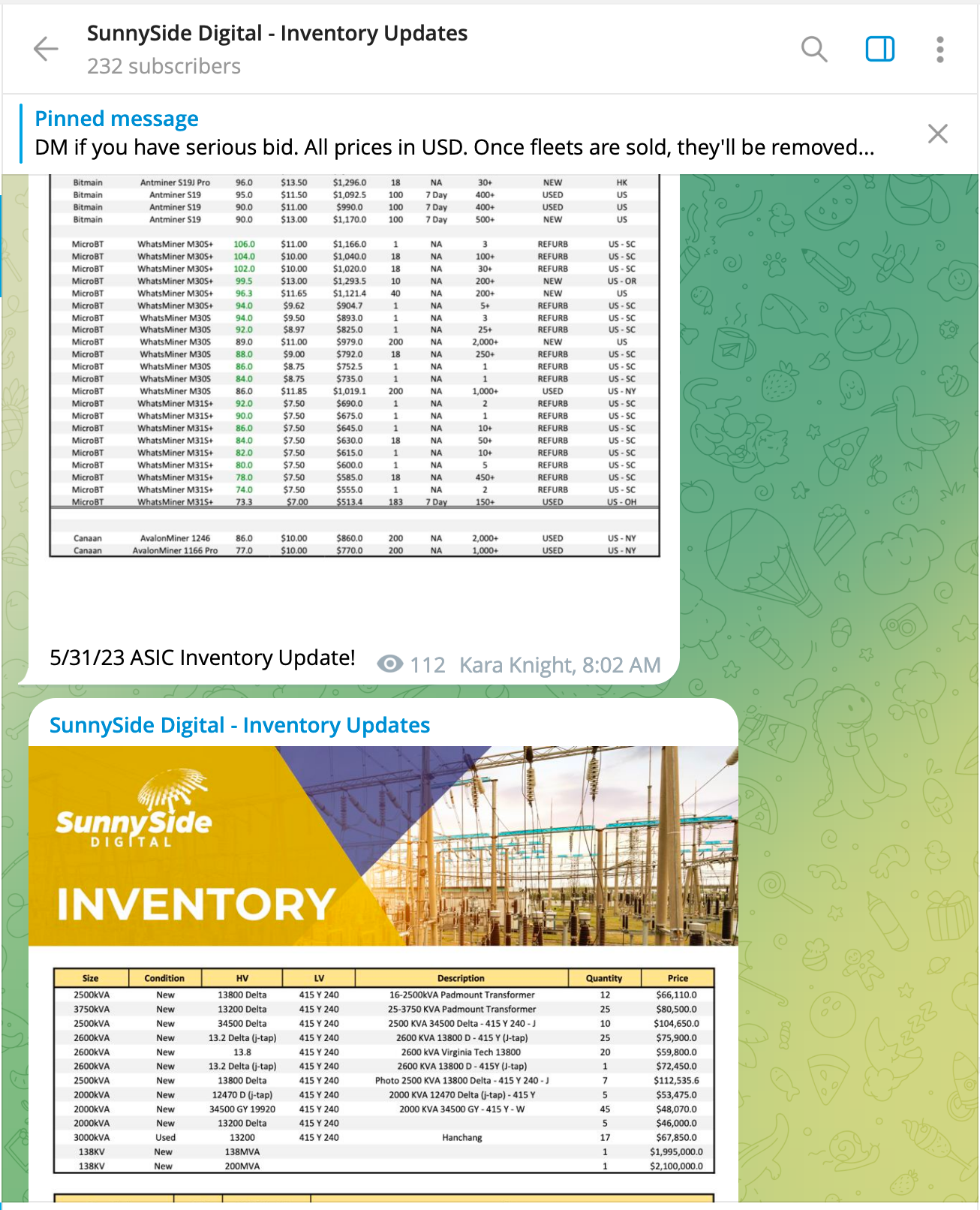 Palm Data: ASIC Miner Brokerage
Palm Data is a newcomer to ASIC Miner brokerage firm.
The Nevada, US company is a lean operation that focuses on providing Bitcoin mining ASIC Miners brokerage services to the US and North American market. The company's website is currently inactive.
American Mining Warehouse: Serving the US Market with Next-Gen ASIC Miners
One of the newest entrants to the Bitcoin mining ASIC Miner brokerage business, American Mining Warehouse was founded in 2022.
The company focuses specifically on ASIC Miner sales, and buyers can choose to purchase from the company's website via listings or by filling out a wholesale form for bulk orders. American Mining Warehouse carries new and next generation hardware from Bitmain and MicroBT and serves the US market primarily.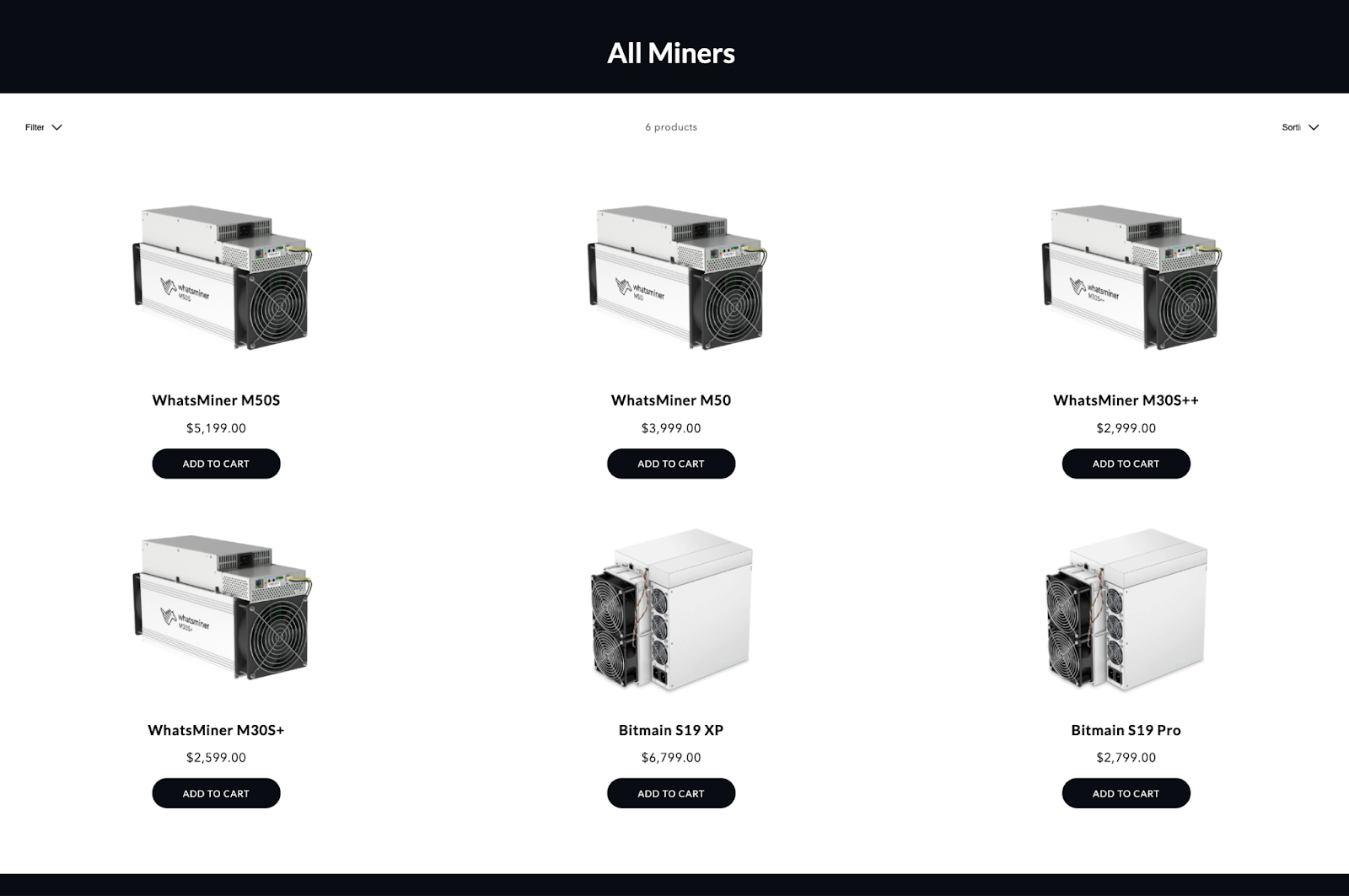 Sesterce: Green Mining and Customized ASIC Miner Services
Founded in 2018, France based Sesterce is a Bitcoin miner services company that focuses on green / alternative energy mining.
The company's primary business line is proprietary bitcoin mining and high performance compute power, but the company also engages in brokerage for its clients and partners on a case-by-case basis.
Statar: Nuclear-Powered Bitcoin Miner Services and ASIC Miner Buying and Selling
Statar mining made headlines early this year when it purchased a nuclear-powered mining site in Lake Parime, Ohio.
There's not much public information about the Bitcoin miner, but we do know what it offers ASIC Miner brokerage services to its select partners and clients.
Buying a Bitcoin Miner in 2023
Any of the above options could help you source an ASIC Miner in 2023, but Luxor's RFQ is the only one that could offer competitive, bid-based pricing from a global pool of buyers and sellers.
If you're in the market for ASIC Miners – or you need to sell Bitcoin Miner equipment – the Luxor team would love to have you try Luxor RFQ. If you're interested, please follow the link below to sign up for an account, and if you have any questions, don't hesitate to get in touch!
Happy Hashing!
Hashrate Index Newsletter
Join the newsletter to receive the latest updates in your inbox.
---