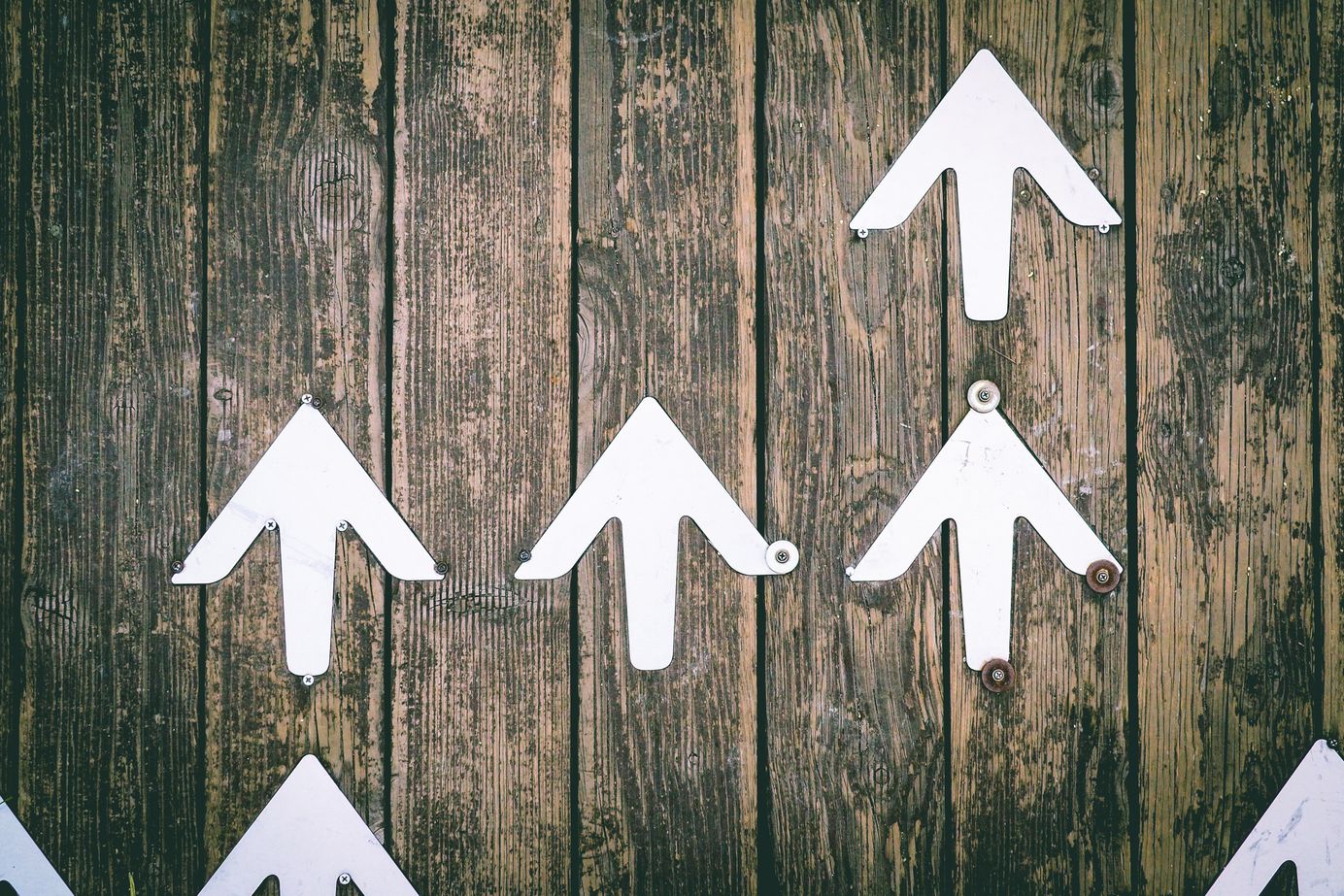 Hashrate Index Roundup (October 31, 2022)
The hashprice takes a break on its way down, giving miners some breathing room.
Happy Monday, y'all!
I'm happy to tell you that the hashprice increased over the past week. It's still sitting dangerously close to an all-time low, but at least it has stopped falling at the heart-wrenching pace we have been forced to get used to this autumn.
Although the difficulty keeps increasing, the bitcoin price saw an 8% increase over the past seven days as it broke above $20k, giving the hashprice a nice 5.9% boost.
The hashprice increase should be highly welcomed by the many miners out there who suffer under low margins, as we highlighted in our Q3-2022 report.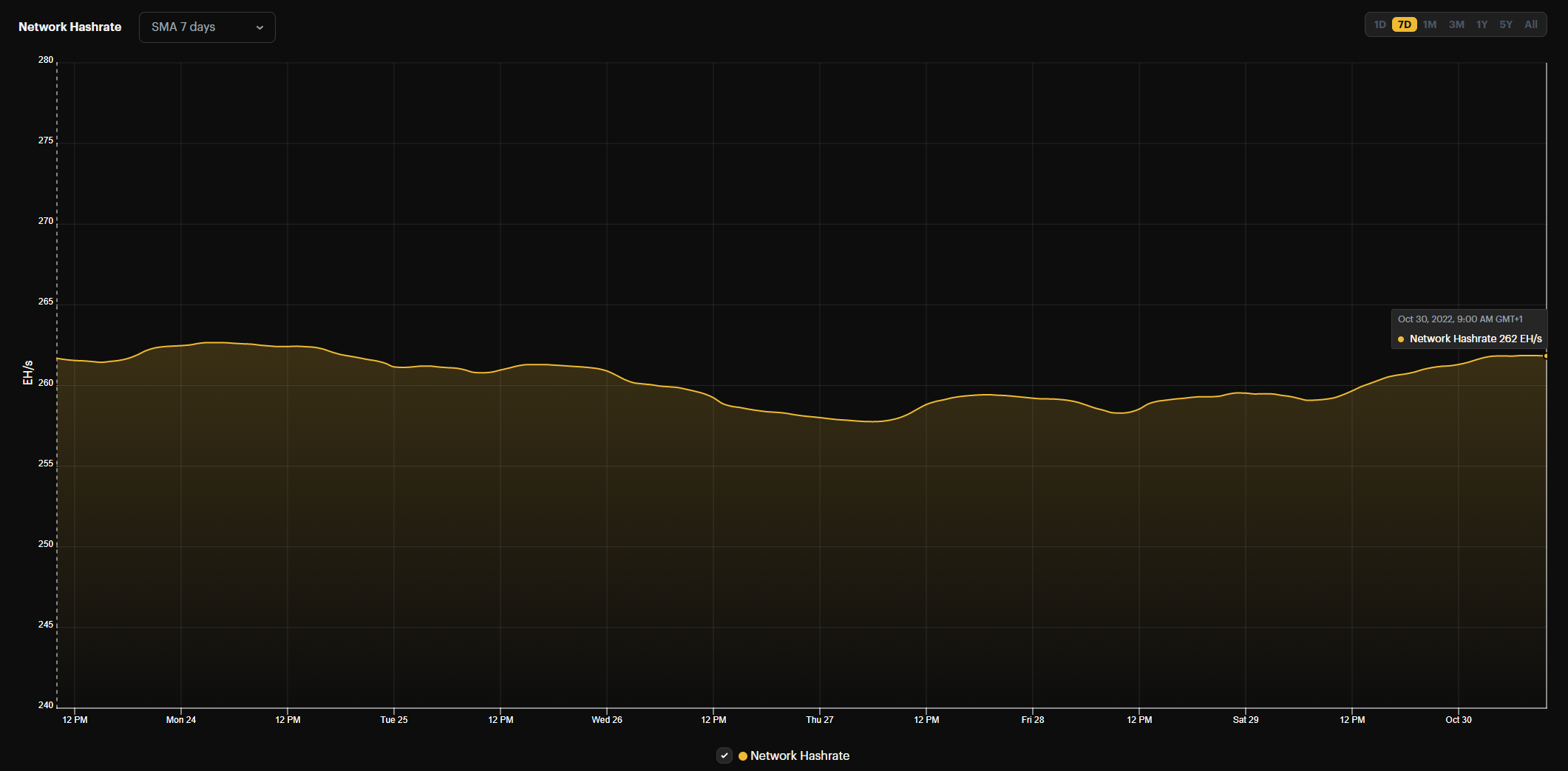 Mining News
Mining Market TLDR
Hashprice: $0.072/TH/day (+5.9%) | 346 sats/TH/day (-2.6%)
Hashrate: 259 EH/s (-1.5%)
Difficulty: 36.84 T (+3.4%)
---
Sponsored by Luxor

Hashprice Index (October 31, 2022)
Bitcoin's USD hashprice was quite volatile during the past week. At first, it looked like it would continue its downward trend, as it bottomed at an all-time low of $0.067 last Monday following Bitcoin's 3.4% difficulty increase.
Then, suddenly the bitcoin price awoke from its $19k slumber and has since stabilized at around $20.5k. This 8% bitcoin price increase naturally led the USD hashprice to grow, and it's now sitting at $0.072 per TH/day, 7.5% above its recent all-time low of $0.067.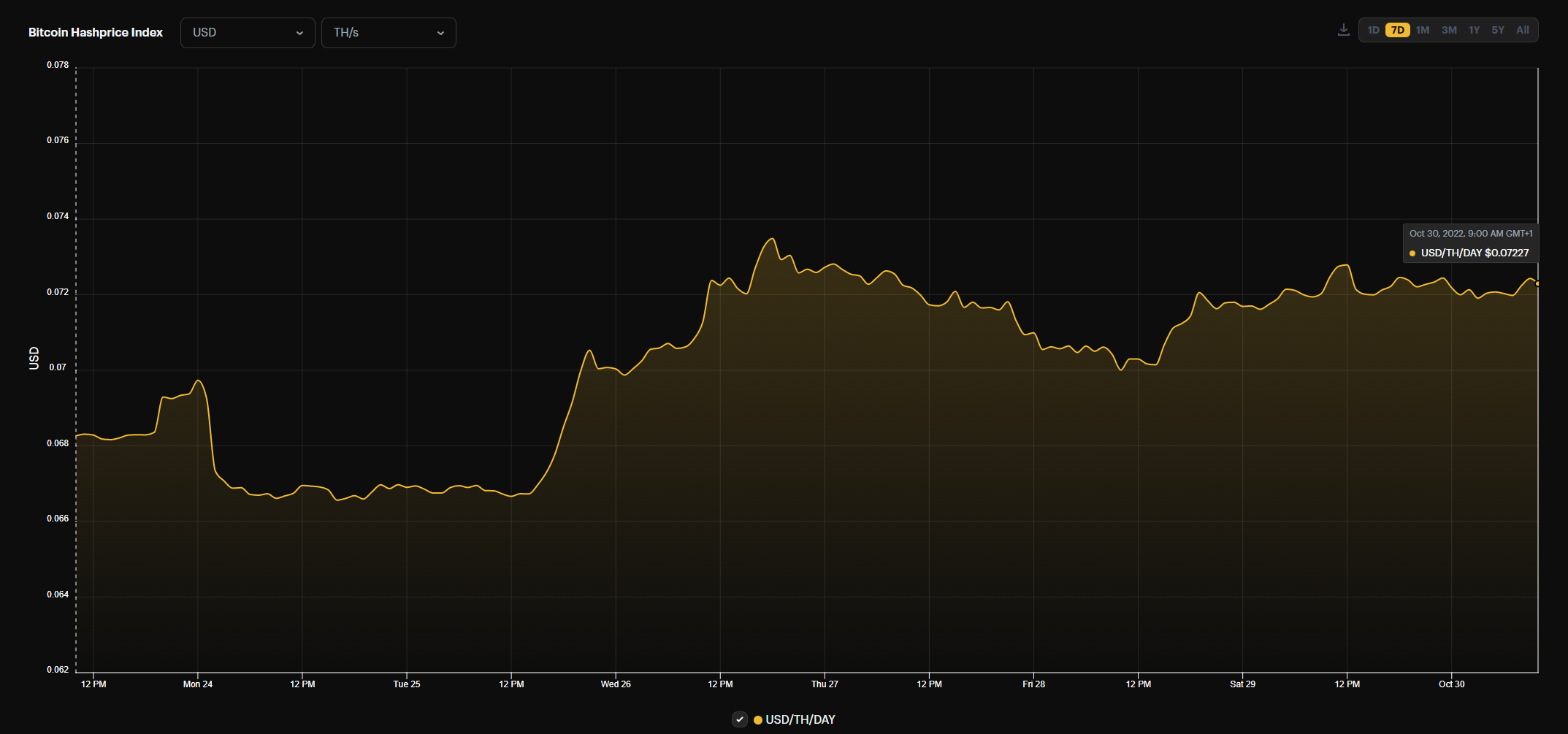 📈
BITCOIN MINING DIFFICULTY
Bitcoin underwent a 3.4% upwards difficulty adjustment last Monday. Although the trend of upwards adjustments continues, it was still a much less significant upwards adjustment than the 13.6% increase on October 10th.
Following this difficulty increase, the hashrate has retracted a bit. Therefore, next week we will likely see a slightly negative difficulty adjustment in the -1% to -2% area. Such a difficulty decline should lead the hashprice to further stabilize just above $0.07.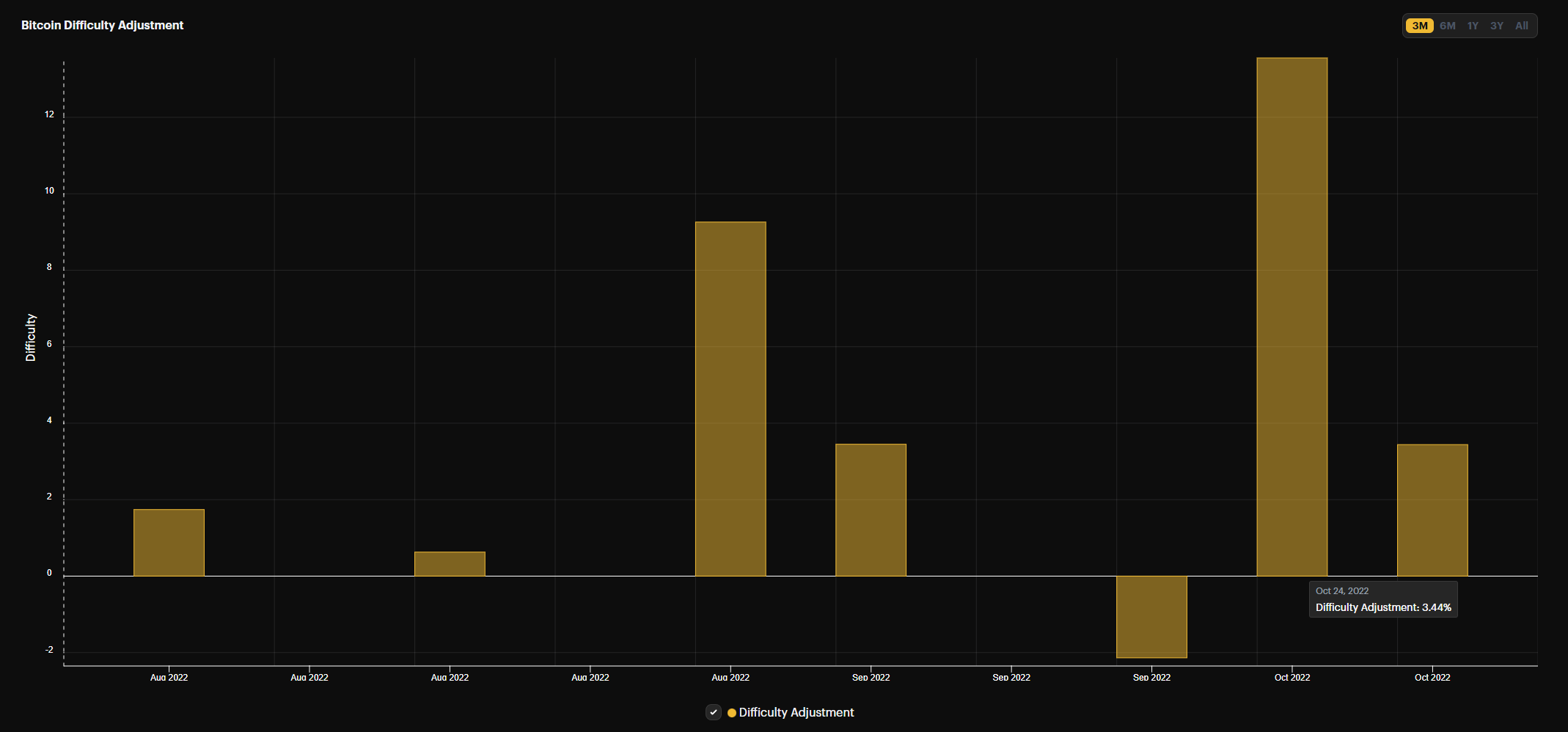 Bitcoin Mining ASIC Price Index (October 31, 2022)
The prices of bitcoin mining ASIC keep falling, particularly for the most efficient models.
New-gen models' prices declined by 5.2% over the past seven days, and have now fallen by 16% in October. The prices of older gen models are more stable nowadays as these models sold off more heavily at the beginning of the mining bear market, and the market for these machines has since been relatively small.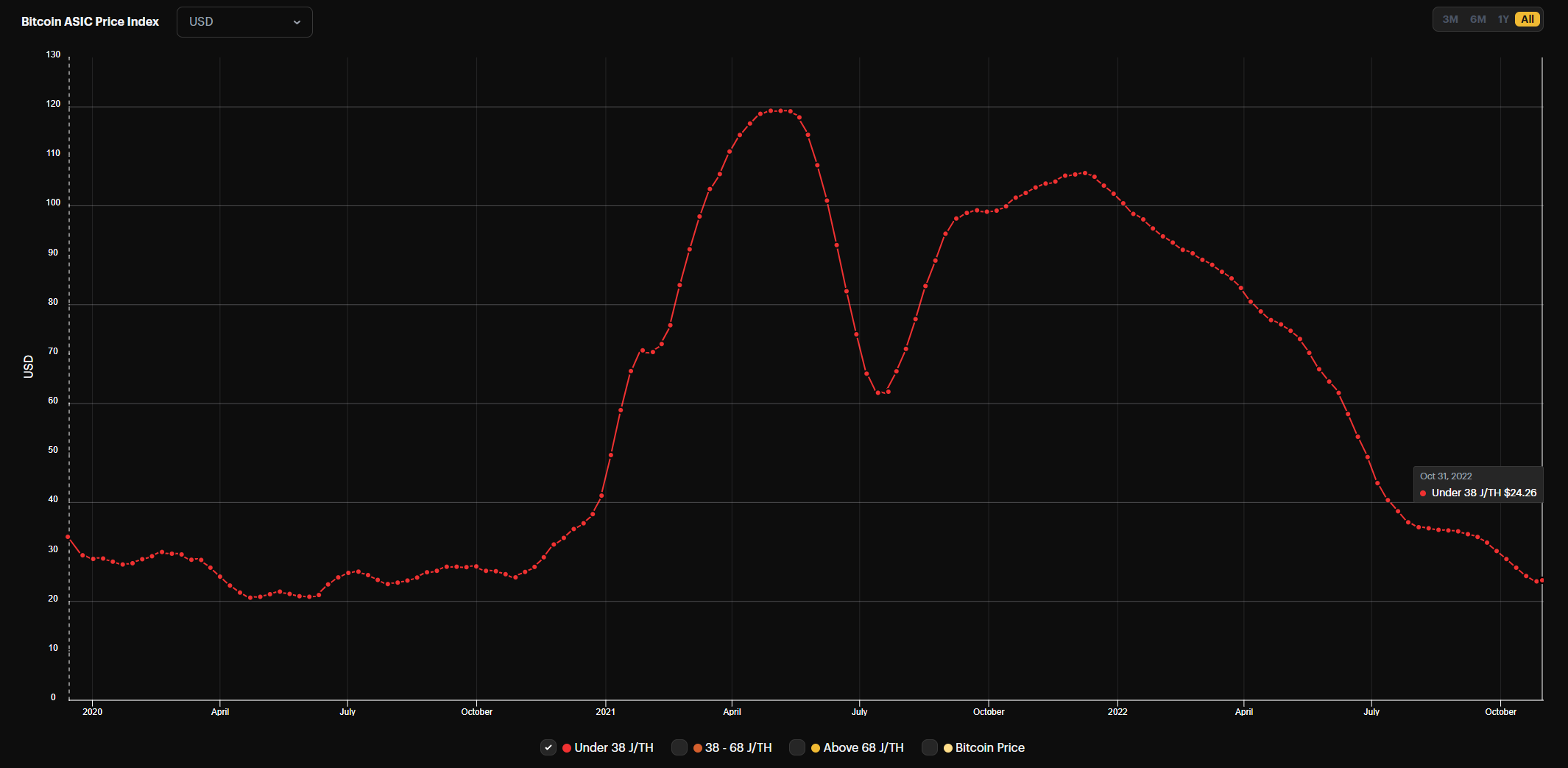 The prices of new-gen ASICs have been falling off a cliff since the middle of 2021, and they have now dipped to their lowest level since August 2020. The hashprice is currently sitting at similar levels as then, but will likely keep dropping over the next months as more hashrate come online. These dynamics will likely lead ASIC prices to keep dropping towards the all-time low from April 2020 of $20.87/TH.
Keep on the lookout for the new efficiency band we're adding to Hashrate Index to accommodate the latest-gen equipment like the S19 XP! Read more on our blog post.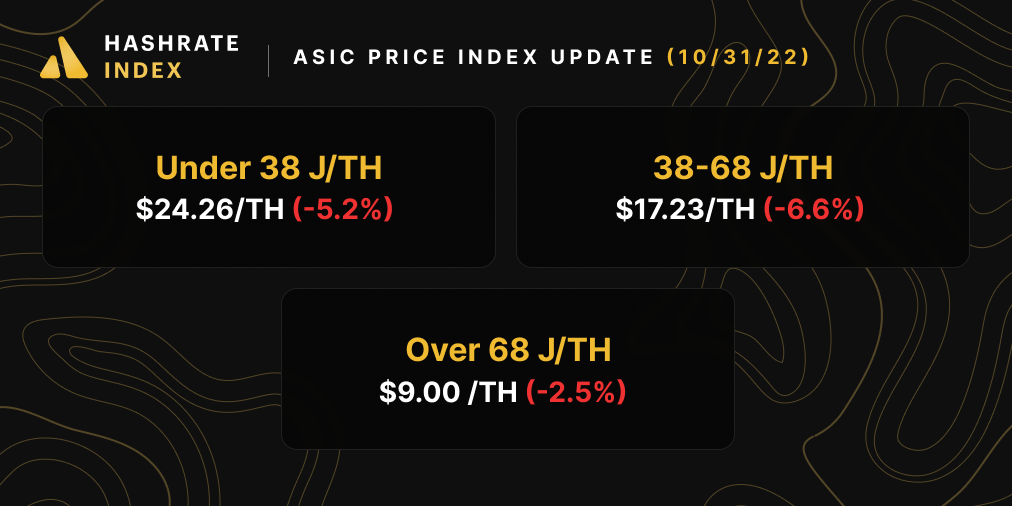 💰
BITCOIN MINING PROFITABILITY
When hashing at $0.07/kWh power cost, here is the current bitcoin mining profitability for popular mining rigs:
Antminer S19 XP (140 TH/s): $4.9
Whatsminer M50 (114 TH/s): $2.6
Whatsminer M30s++ (112 TH/s): $2.1
Antminer S19j Pro (104 TH/s): $2.2
Antminer S19 (95 TH/s): $1.3
Whatsminer M30s (86 TH/s): $0.6
Antminer S17 (56 TH/s): $-0.2
Whatsminer M20s (68 TH/S): $-0.8
Bitcoin Mining Stocks (October 31, 2022)
During the past week, there have been massive differences in the performances of public mining companies.
Companies with weak balance sheets and low gross margins are struggling immensely. Core Scientific, a behemoth of a miner with 13 EH/s of self-mining capacity, announced they might have to seek bankruptcy protection as they struggle to dig themselves out of a mountain of debt. Following this announcement, the stock plummeted by 80%. Argo is also not having the time of its life as it failed to raise equity, and its stock fell by 32% as a result.
The more financially sound mining companies, on the other hand, are benefitting from the recent bitcoin price increase. CleanSpark and Riot are among the best performers over the past week, increasing by 25% and 21%.
New From Hashrate Index
The Search for a Hashprice Floor: A New Model for Hashprice Resistance Levels
With Bitcoin Hashprice sitting close to all-time lows, miners are feeling the pain, investors are searching for bargains, and everyone is looking for the bottom.
This has led the Luxor team to hypothesize about a hashprice floor – a minimum hashprice where declines in Bitcoin's price are offset by reductions in the network difficulty from unprofitable miners turning off their operations.
The Luxor team is excited to share our latest research report: The Search for a Hashprice Floor – or Downside Resistance. This report proposes a new model to forecast hashprice resistance levels.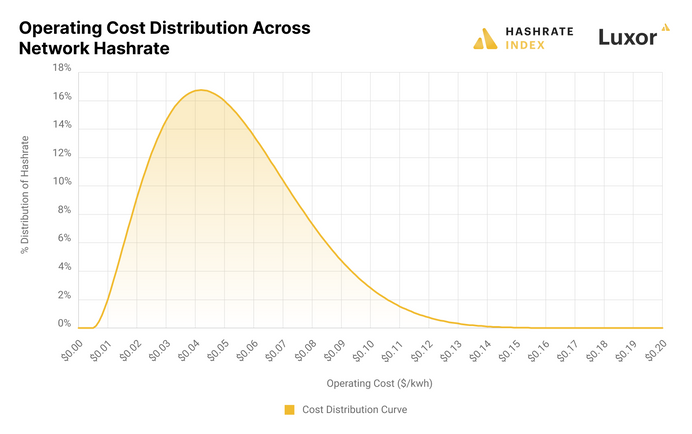 ---
How Much Debt and Equity Have Public Bitcoin Miners Raised in 2022?
Bitcoin mining is a capital-intensive pursuit, with mining companies often turning to capital markets to raise money to build large-scale mining operations. Many investors have questioned the real value publicly traded Bitcoin mining operators return to their shareholders.
In our analysis, we will review historical equity and debt raises for many of the big operators to see if they have generated more shareholder value than they have consumed.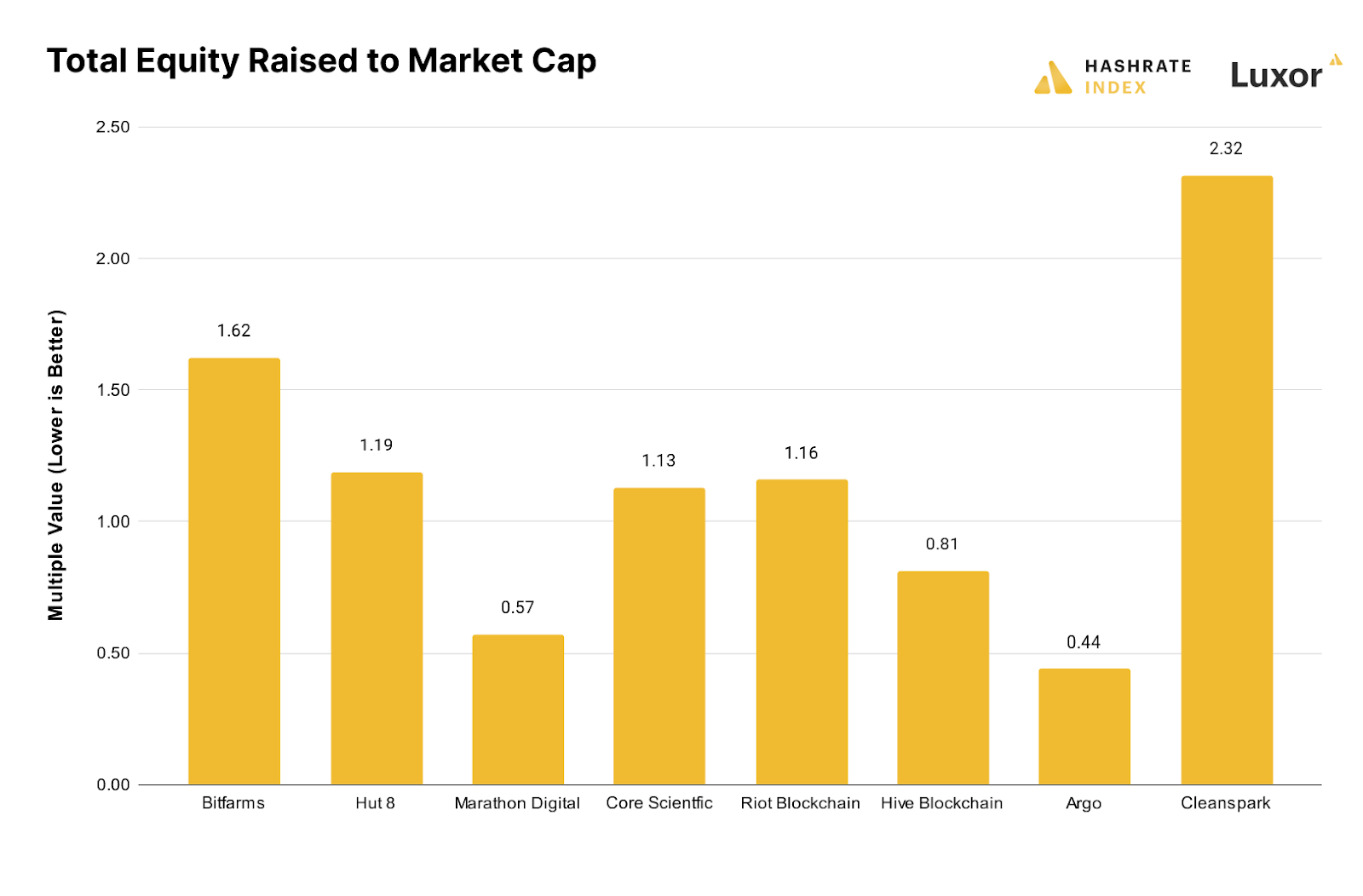 ---
Have a great week, and Happy Hashing!
Hashrate Index Newsletter
Join the newsletter to receive the latest updates in your inbox.
---