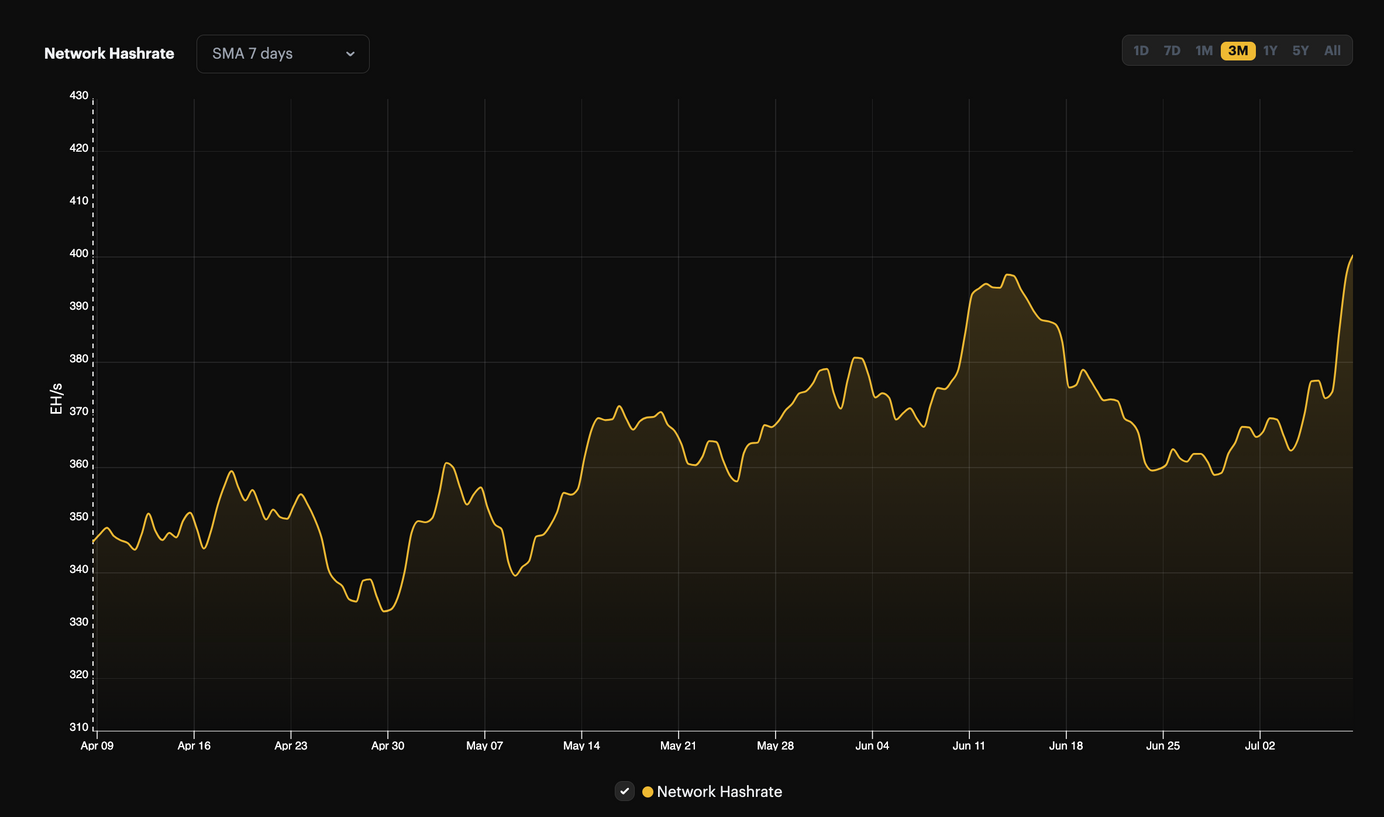 Hashrate Index Roundup (July 9, 2023)
Bitcoin's hashrate hit a new all-time high this weekend of 401 EH/s.
Happy Sunday, y'all!
The heatwaves aren't hitting like they used to...
Or put another way, last week's heatwaves in Texas – the latest in a series of extreme heat events in the USA's bitcoin mining capital – was too weak to cause substantial problems with Texas' grid.
So now hashrate is coming back with a vengeance: Bitcoin's 7-day and 3-day hashrate swelled to all-time highs this weekend. Swelled isn't really the right word, actually – more like exploded
Bitcoin's 7-day average hashrate hit 401 EH/s on Saturday. Week-over-week, the 7-day average has risen 8.5% to 398 EH/s at the time of writing, while the 3-day average has risen a more staggering 18% to 444 EH/s. The amazing thing is, the lions share of this growth (damn near all of it) occurred this weekend.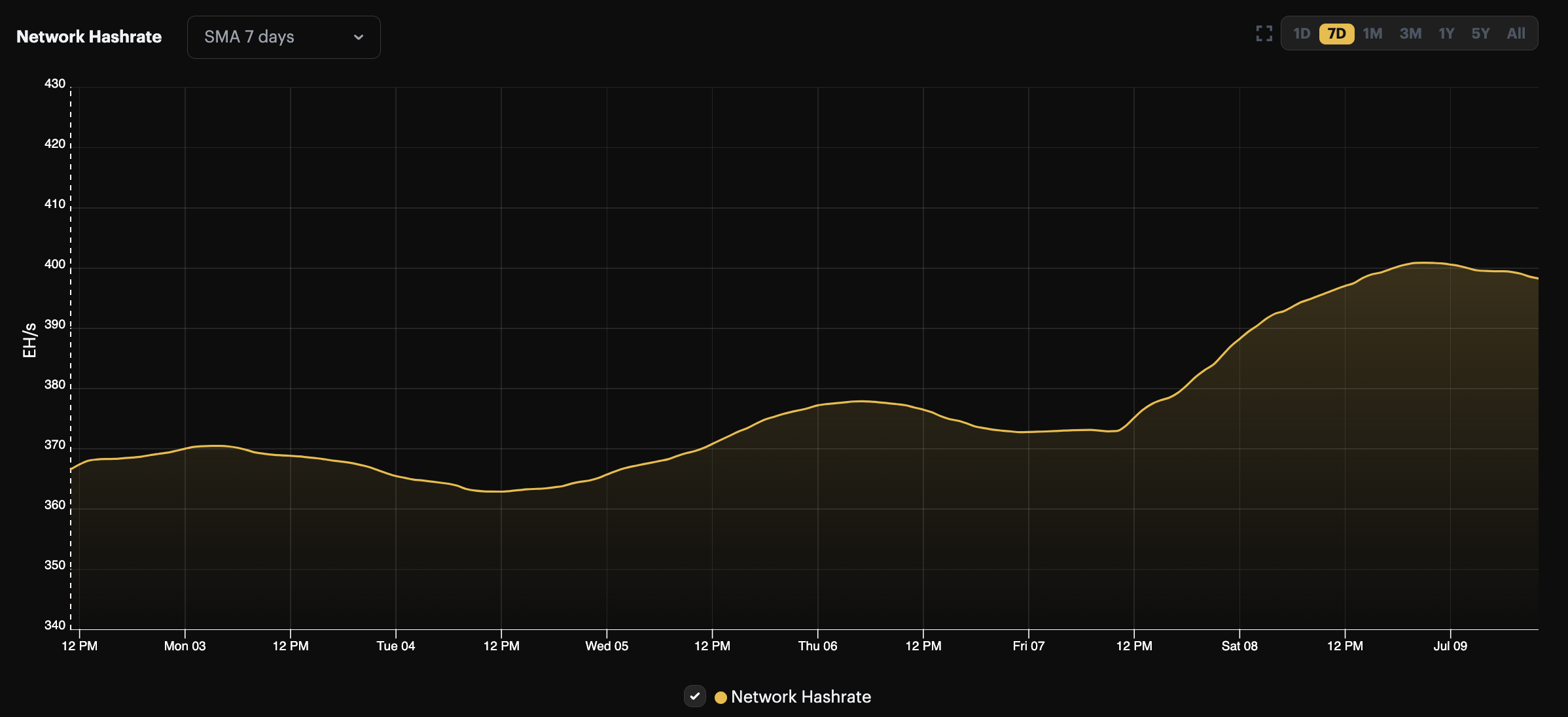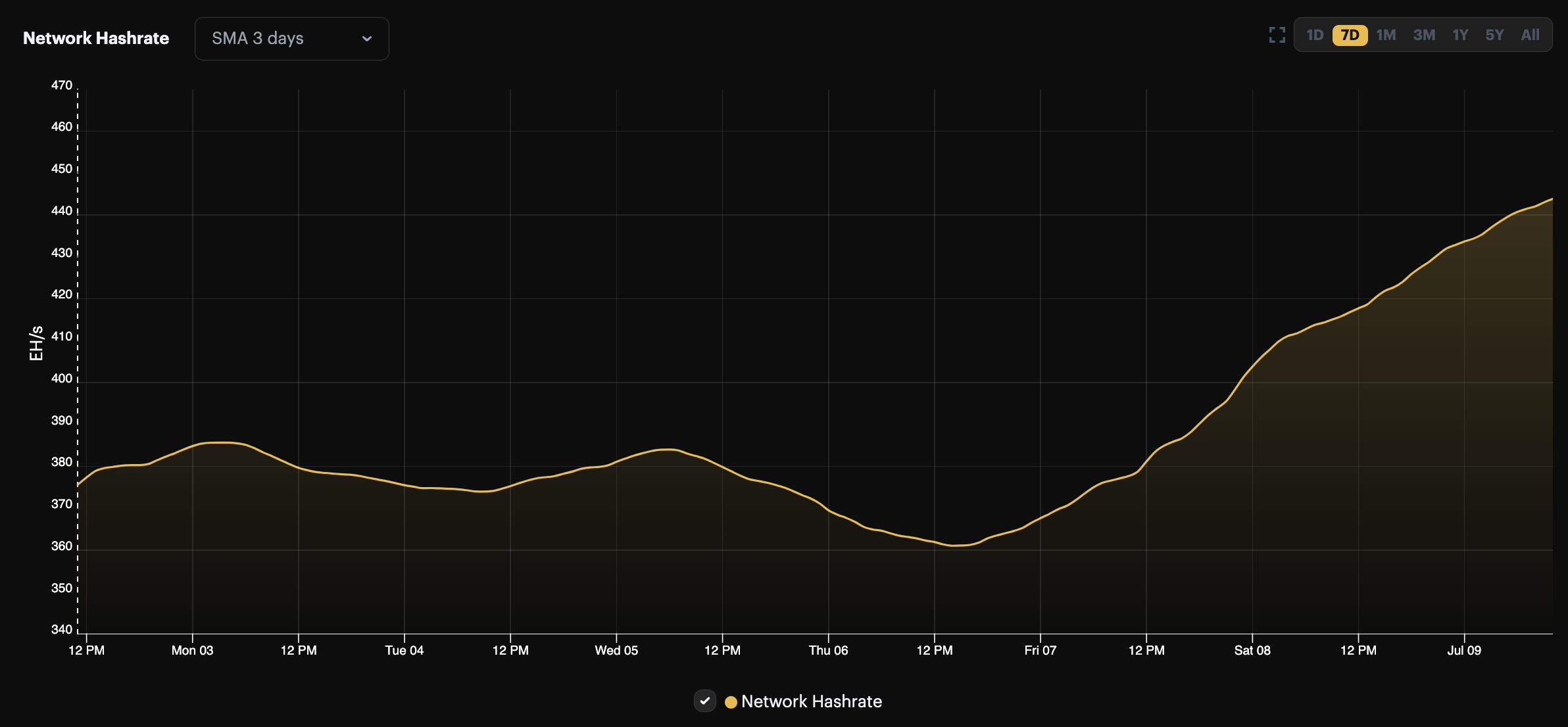 Whether the weather be cold, whether the weather be hot, miners curtail during extreme weather – whether they like it or not. As we've discussed in past newsletters, curtailment from mega-miners in Texas precipitated the last negative difficulty adjustment. Now, those miners are back at full (or near full) capacity, so hashrate is most likely surging again as a result.
Of course, there are thousands of other miners around the world who are expanding capacity when/if they can, so the growth isn't only coming from Texas. Wherever it's coming from, the end result is the same: the next difficulty adjustment is going to be a f****** whopper.
With blocks coming in nearly every 9 minutes and 15 seconds on average, our forecast anticipates an adjustment above 7.5%.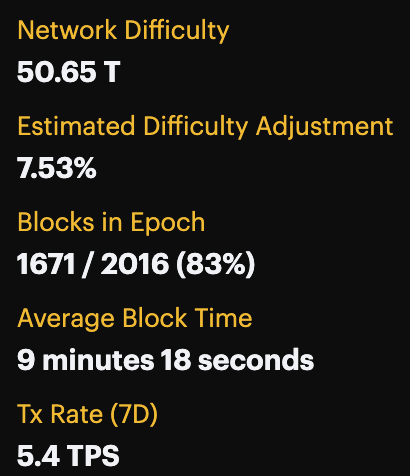 Hope y'all enjoyed those $70-80/PH/day payouts, because unless Bitcoin's price rips even harder in the coming week, miners could be facing down sub-$70/PH/day hashprice when the next adjustment comes (at current hashprice, an 8.5% positive adjustment would drive hashprice down to $70/PH/day).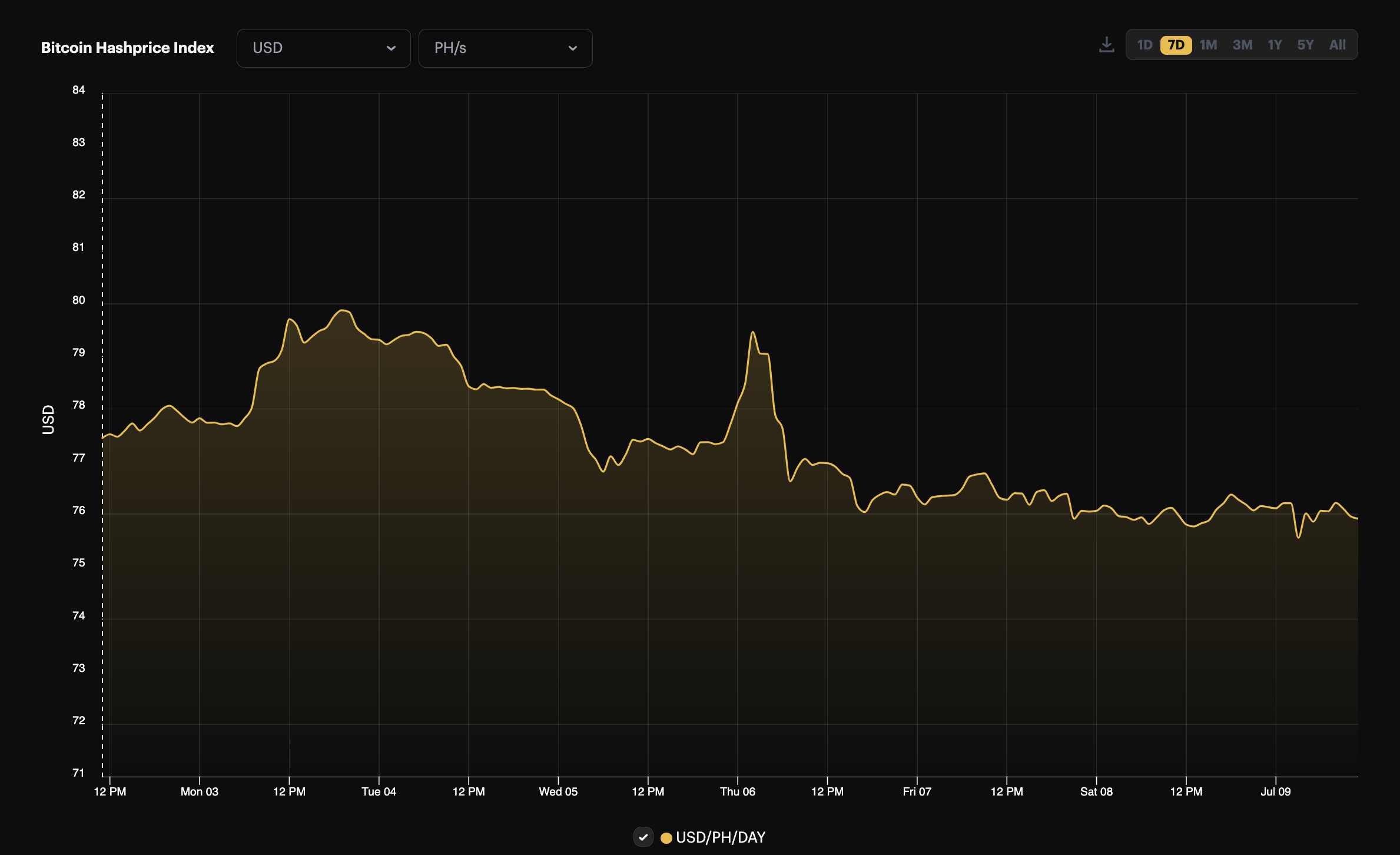 ---
Bitcoin Mining Market Update
Something to note as hashrate surges: hashprice is falling even before the upcoming positive adjustment, but it's not in response to Bitcoin's price. It's mostly in response to a recession of transaction fees.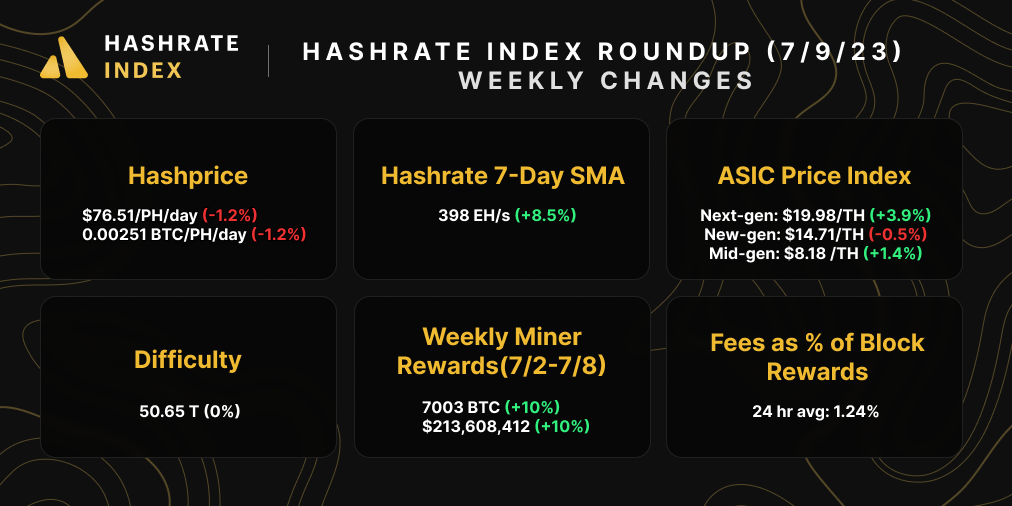 Following months of higher-than-average activity from ordinals / inscriptions, Bitcoin transaction fees are normalizing, and they just hit their lowest level since the BRC-20 mania ignited a frenzy of transaction fee volume in May.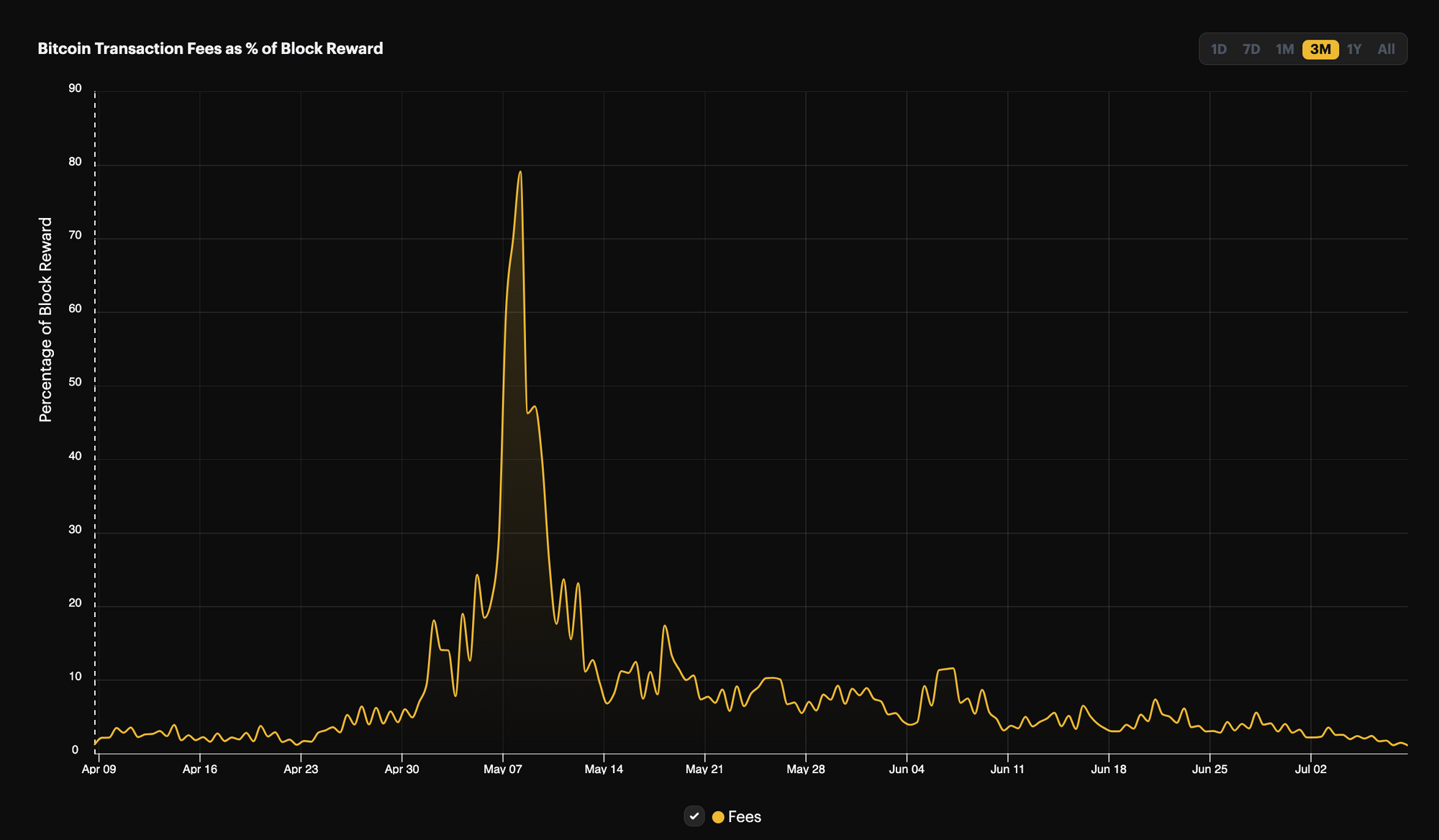 Looking beyond network data, we're seeing further divergence in the premium of next-gen ASICs like the S19 XP to new-gen and mid-gen hardware. As miners prepare for the halving and prioritize these rigs, they are rising in price while other models fall or stagnate.
---
Bitcoin Mining News
Here are last week's top headlines for Bitcoin mining news:
---
Sponsored by Luxor
Luxor's Antminer firmware is here! LuxOS provides all of the finetuning miners have come to love from custom firmware and more, including 45+ API commands to give miners complete control over their mining rigs. Visit Luxor's firmware page to learn more.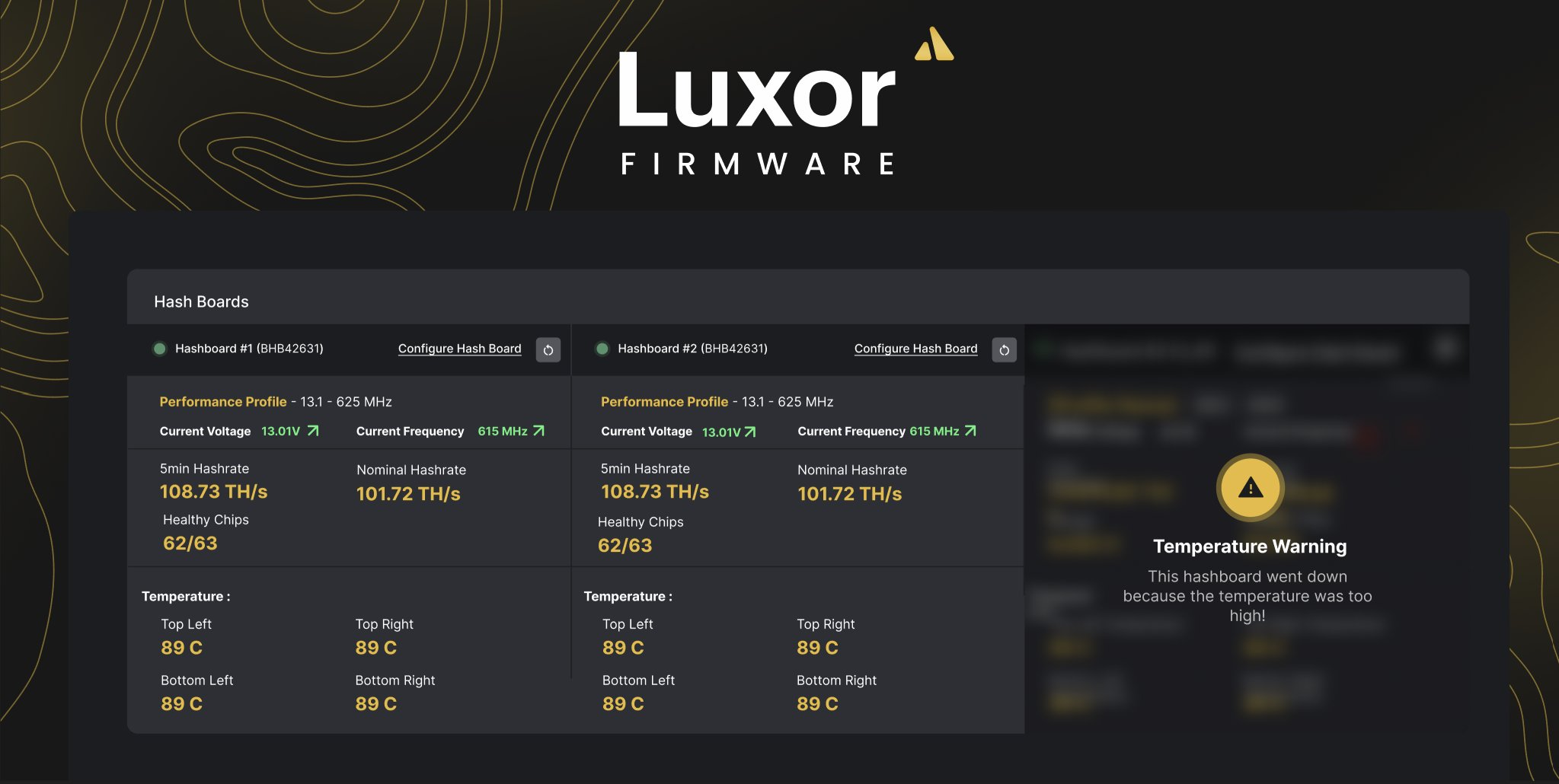 ---
Bitcoin Mining Stocks Update
Bitcoin mining stocks are still juicing hard, with every stock in our update but 2 rising by double digit percentages over the last week. Our Crypto Mining Stock Index rose 10%, the largest jump in some time.
RIOT: $15.48 (+28.36%)
HUT: $3.80 (+12.43%)
BITF: $1.71 (+17.12%)
HIVE: $5.53 (+15.21%)
MARA: $15.67 (+8.52%)
CLSK: $6.00 (+37.30%)
IREN: $6.67 (+9.52%)
WULF: $2.64 (+44.26%)
CIFR: $3.73 (+25.59%)
BTDR: $12.64 (+9.82%)
---
New From Hashrate Index
Bitcoin Mining Around the World: United Arab Emirates
With its political stability, business friendliness, strong capital markets, and abundant energy resources, the UAE is emerging as the prime destination for bitcoin miners in the Middle East.
The Luxor team recently spent some weeks in the UAE and met with local players. In this article, we explain what characterizes bitcoin mining in the UAE and analyze what its future could look like.
This article is the latest in our Bitcoin Mining Around the World series. Our previous articles cover Sweden, Norway, Finland, Iceland, Paraguay, Kyrgyzstan, and Kazakhstan.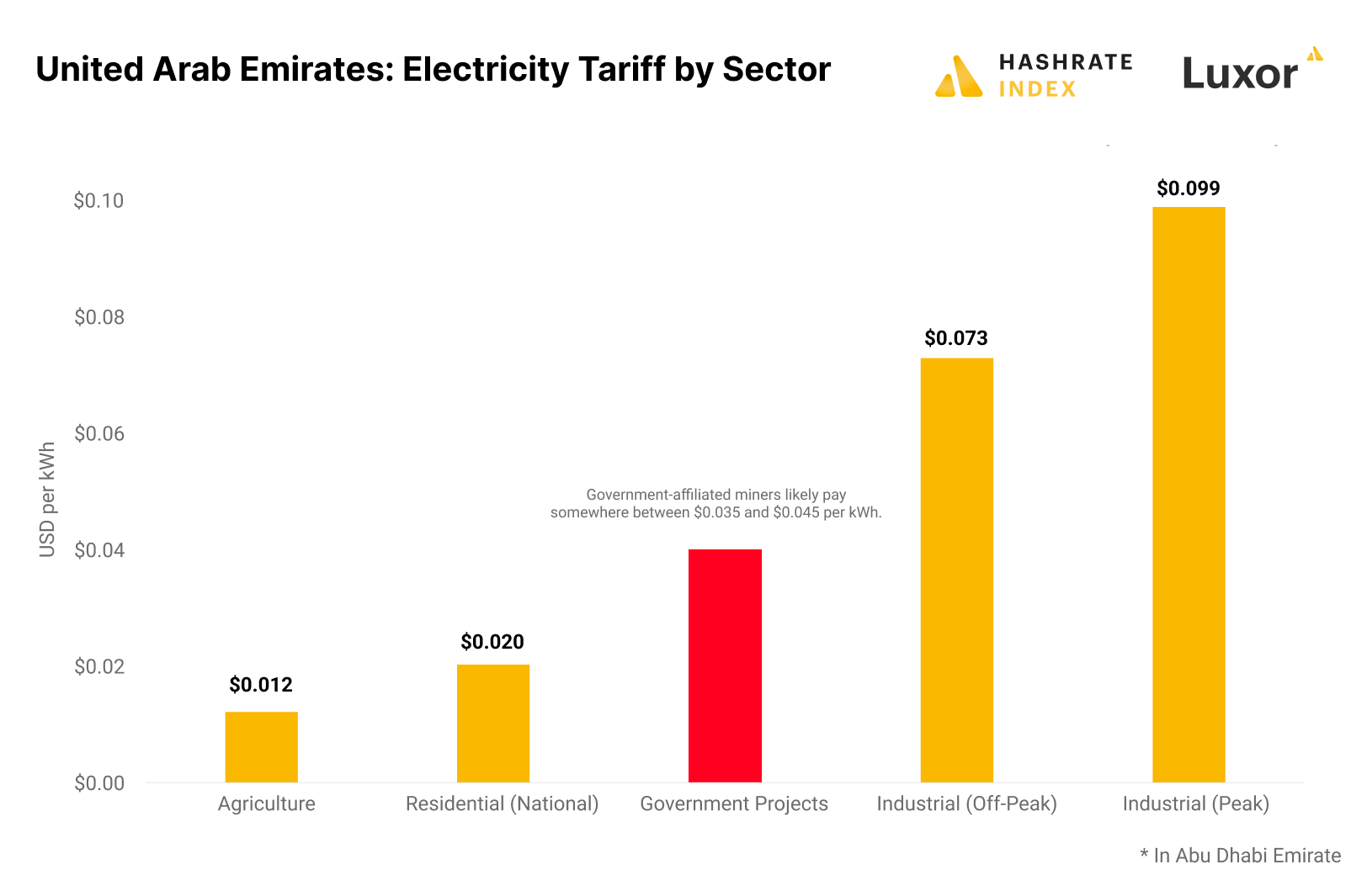 Have a great week, and Happy Hashing!
Hashrate Index Newsletter
Join the newsletter to receive the latest updates in your inbox.
---