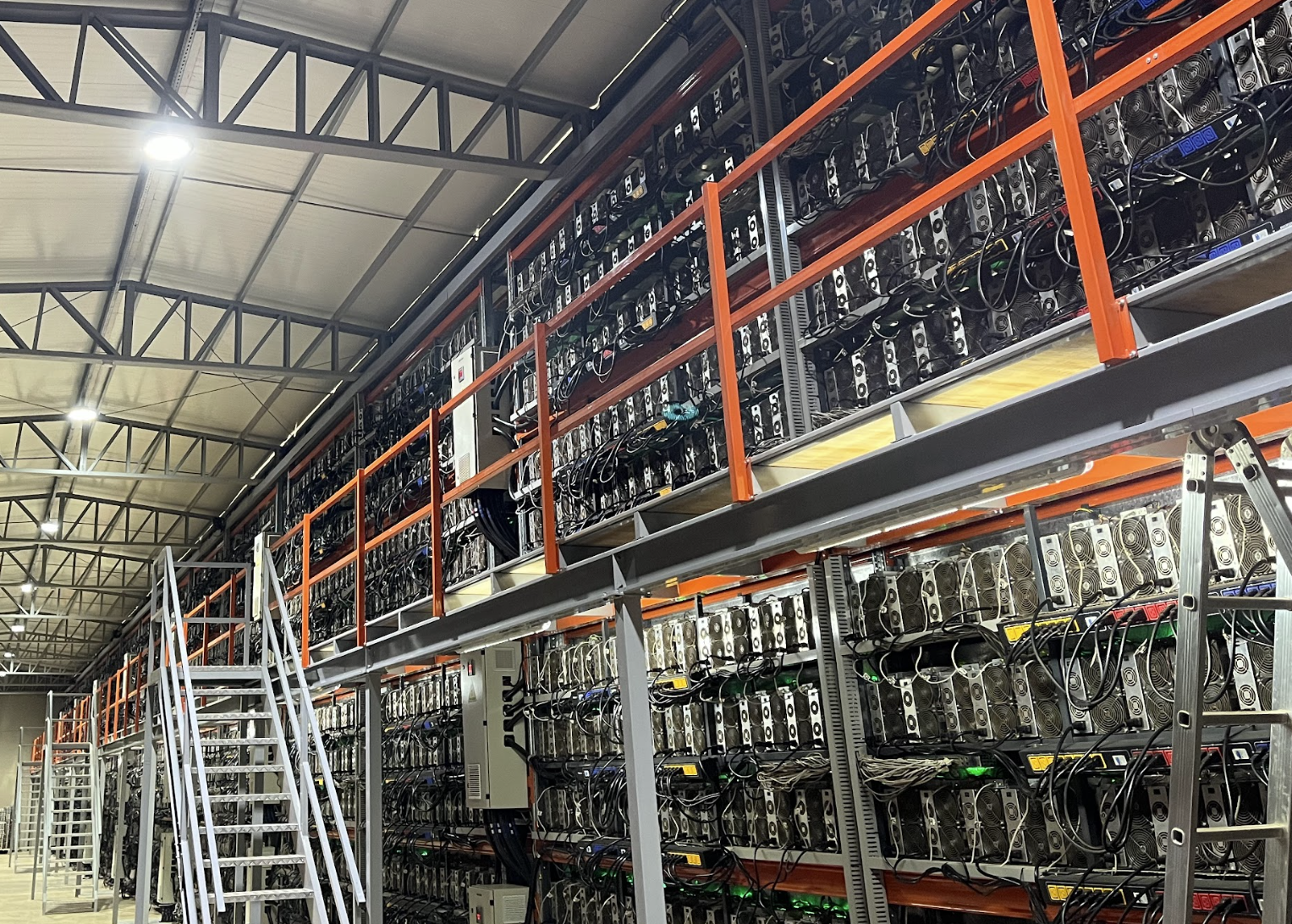 Hashrate Index Roundup (April 2, 2023)
Bitcoin's hashrate is cooling off after a historic Q1, and we've got some improvements to the ASIC Price Index to share.
Bitcoin's hashrate is sorta-kinda coming back to earth after going ballistic last week. On March 28, Bitcoin's hashrate hit an all-time high of 357 EH/s on the 7-day average, but it fell over the latter half of the week and is currently down 4% since last Sunday. That 4% isn't much though considering that Bitcoin's hashrate grew 31% over Q1.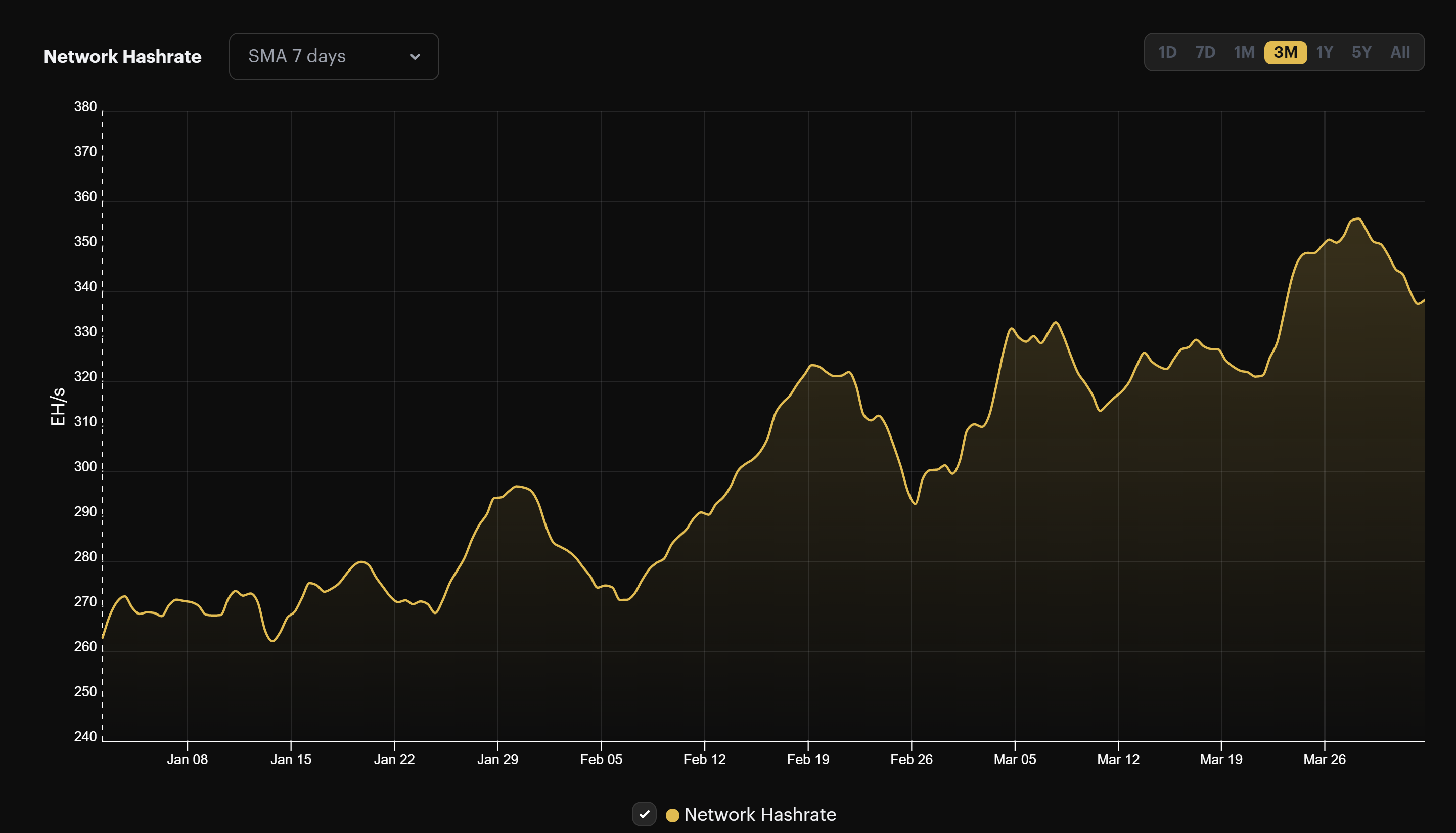 Maybe March 23's difficulty adjustment knocked off some miners with higher costs, or maybe some bigger miners are shuffling around some hashrate. Either way, the recent hashrate dip has improved the odds that the next difficulty adjustment won't be as blistering as the last.
Miners are finding blocks ever 9 minutes and 49 seconds on average and we're over 71% of the way through the current epoch, so our difficulty forecast is estimating a ~1.5-1.8% increase in 4 days.
Even though it's a positive adjustment, it would still be better than the 10.26%, 9.95%, 7.56%, and even the 4.68% upward adjustments that occurred this year in response to Bitcoin's hashrate growth. Anything to keep hashprice (which rose a smidge last week but is still below $80/PH/day) afloat for a little while longer.
---
ASIC Price Index Update
One more thing before we get into other data and news: we've added an under 25 J/TH efficiency tier to the ASIC Price Index!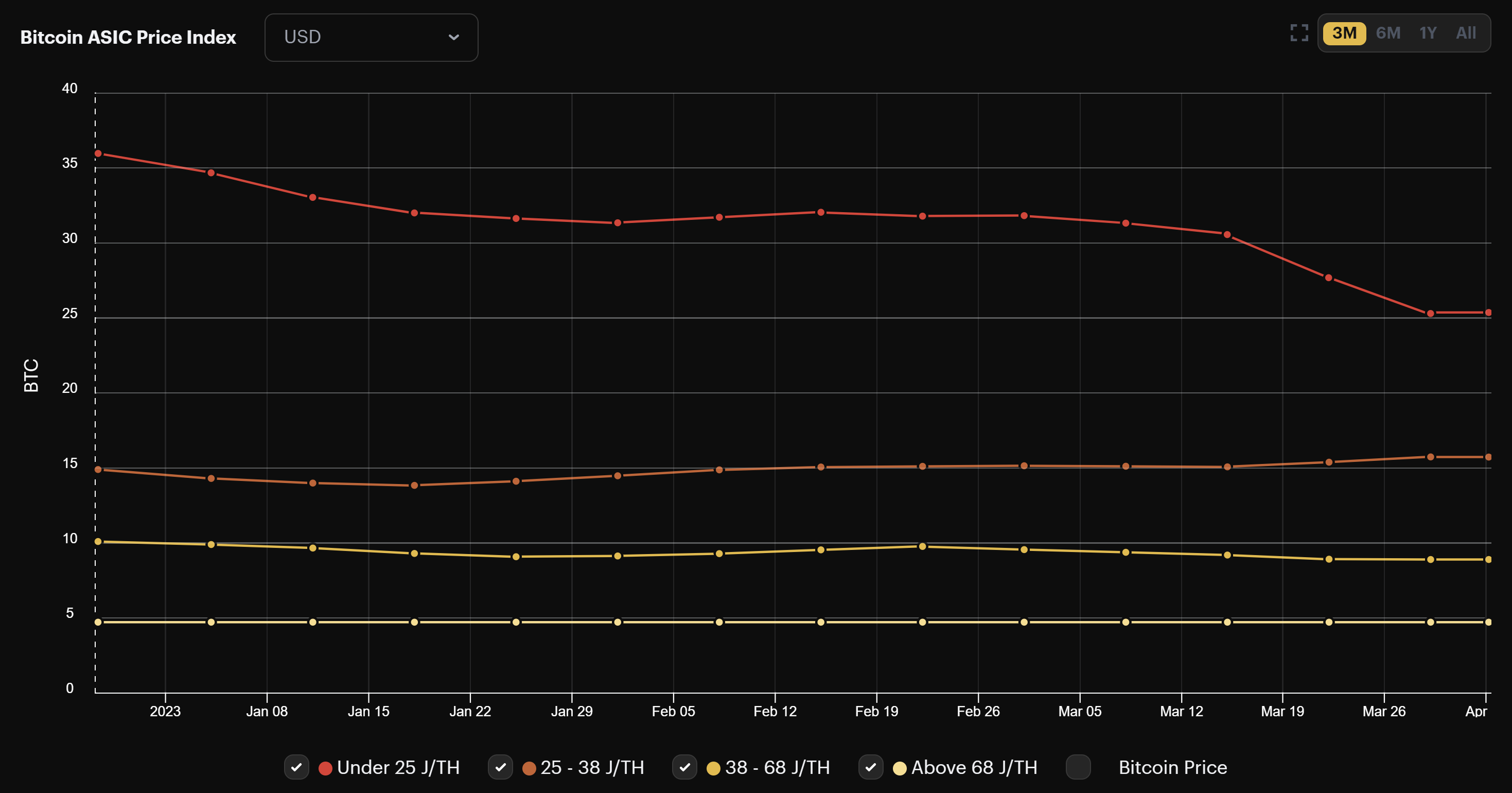 This means that an average for secondary market listing prices for next-generation rigs like the Antminer S19 XP and Whatsminer M50S+ are now reflected on our ASIC Price Index chart.
Looking at this data, over Q1-2023, the listing price of next-generation machines fell by 29%. Compare this to new-generation machines (25-38 J/TH), which rose 5.8%, or mid-generation machines (38-68 J/TH), which fell 11.8%.
Next-generation price premiums fell over Q1 as additional next-generation hardware came to the secondary market and hashprice rose 25%. We'll have more analysis on next-gen ASIC price changes and premiums in this week's newsletter on Wednesday, so stay tuned!
---
Mining Market Update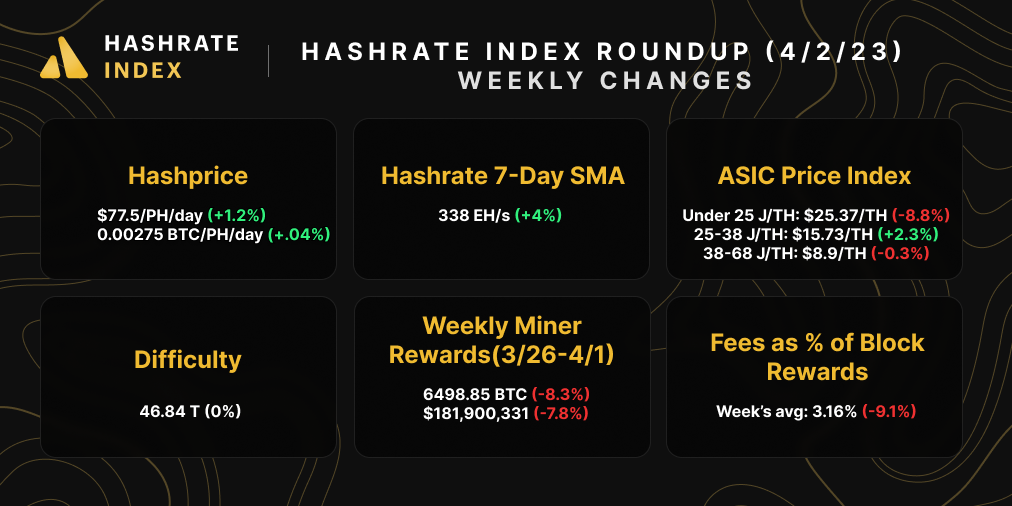 ---
Bitcoin Mining News
---
Sponsored by Luxor
Luxor's Antminer firmware is here! LuxOS provides all of the finetuning miners have come to love from custom firmware and more, including 45+ API commands to give miners complete control over their mining rigs. Visit Luxor's firmware page to learn more.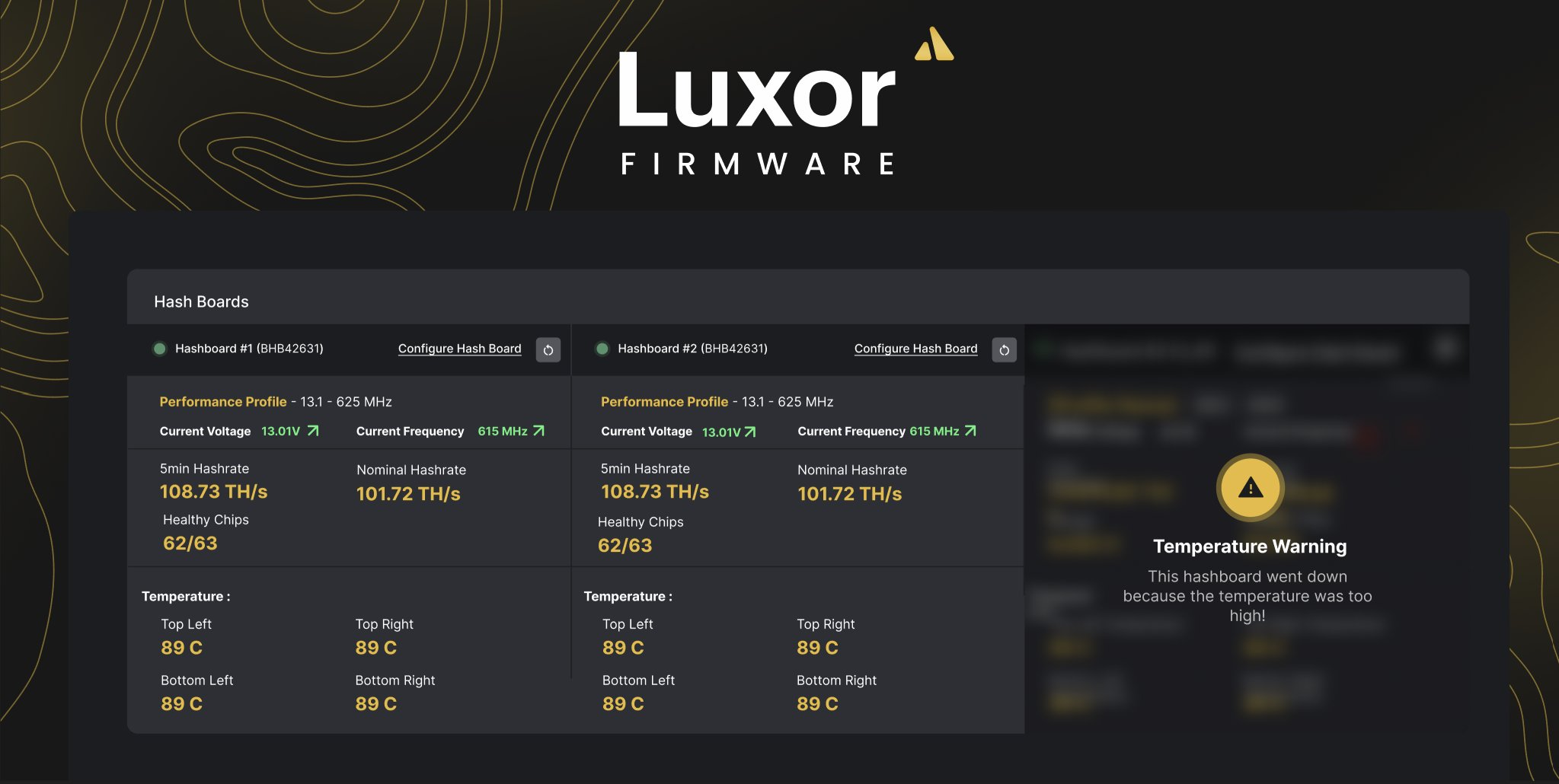 ---
Bitcoin Mining Stocks Update
Bitcoin mining stocks bounced back last week from a sell-off the week prior. Many stocks saw substantial gains over the week, and Hashrate Index's Crypto Mining Stock Index rose 7.1%.
Here's last week's close for popular Bitcoin mining stocks:
RIOT: $9.99 (+14.30%)
HUT: $1.85 (+5.71%)
BITF: $0.97 (+6.36%)
HIVE: $3.29(+5.11%)
MARA: $8.72 (+7.92%)
CLSK: $2.78 (+4.12%)
ARBK: $1.67 (3.73%)
IREN: $3.06 (+0.66%)
---
New From Hashrate Index
Buying and Selling Bitcoin Mining ASICs and Automating Trade With RFQ
Bitcoin mining ASICs are the core hardware component of Bitcoin mining, so technological advancement in the ASIC industry significantly impacts the entire Bitcoin mining sector.
In our latest article on Hashrate Index, we cover the history of ASIC trading and how miners can use Request-for-Quotation (RFQ) marketplaces like Luxor's RFQ to ease the ASIC trading process.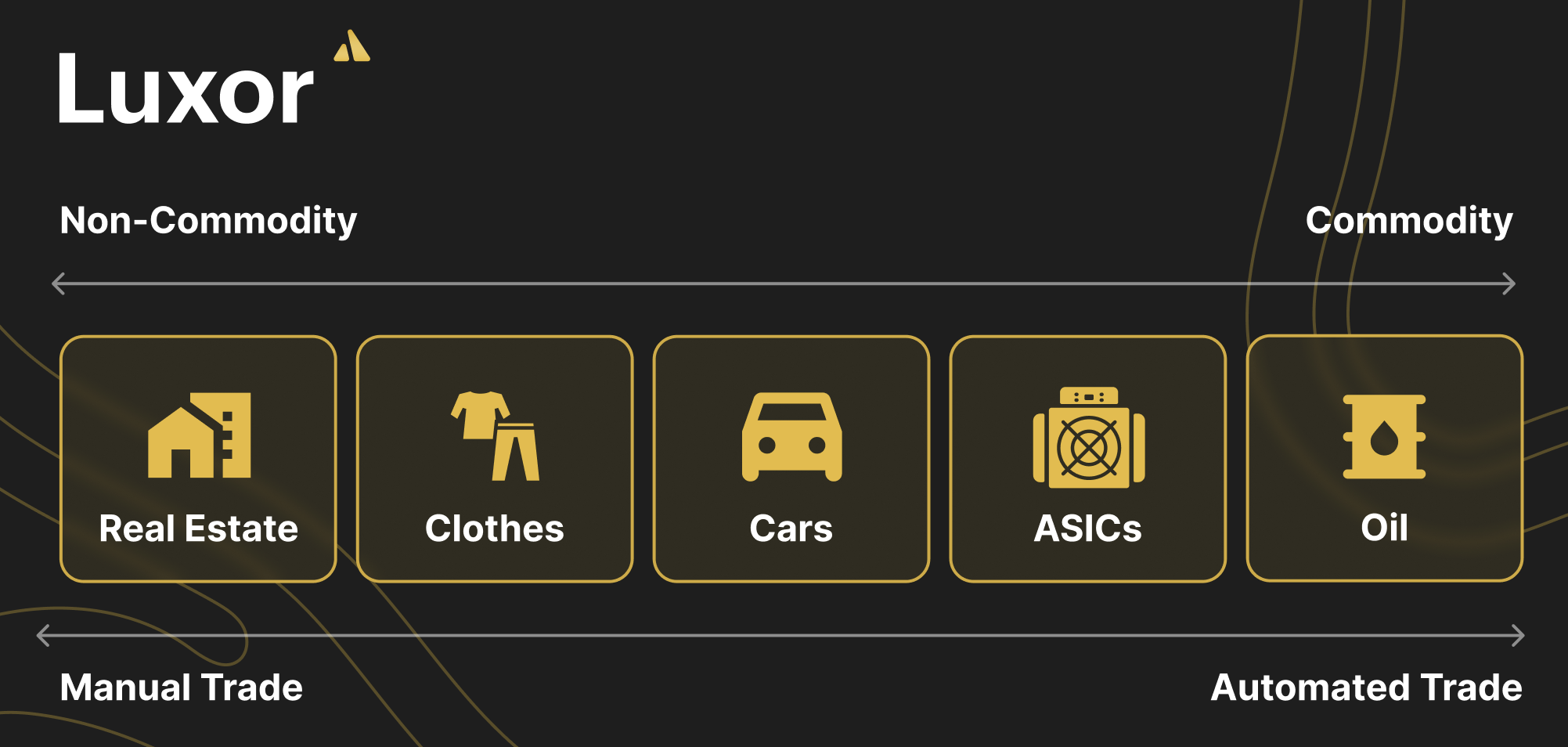 ---
Have a great week, and Happy Hashing!
Hashrate Index Newsletter
Join the newsletter to receive the latest updates in your inbox.
---