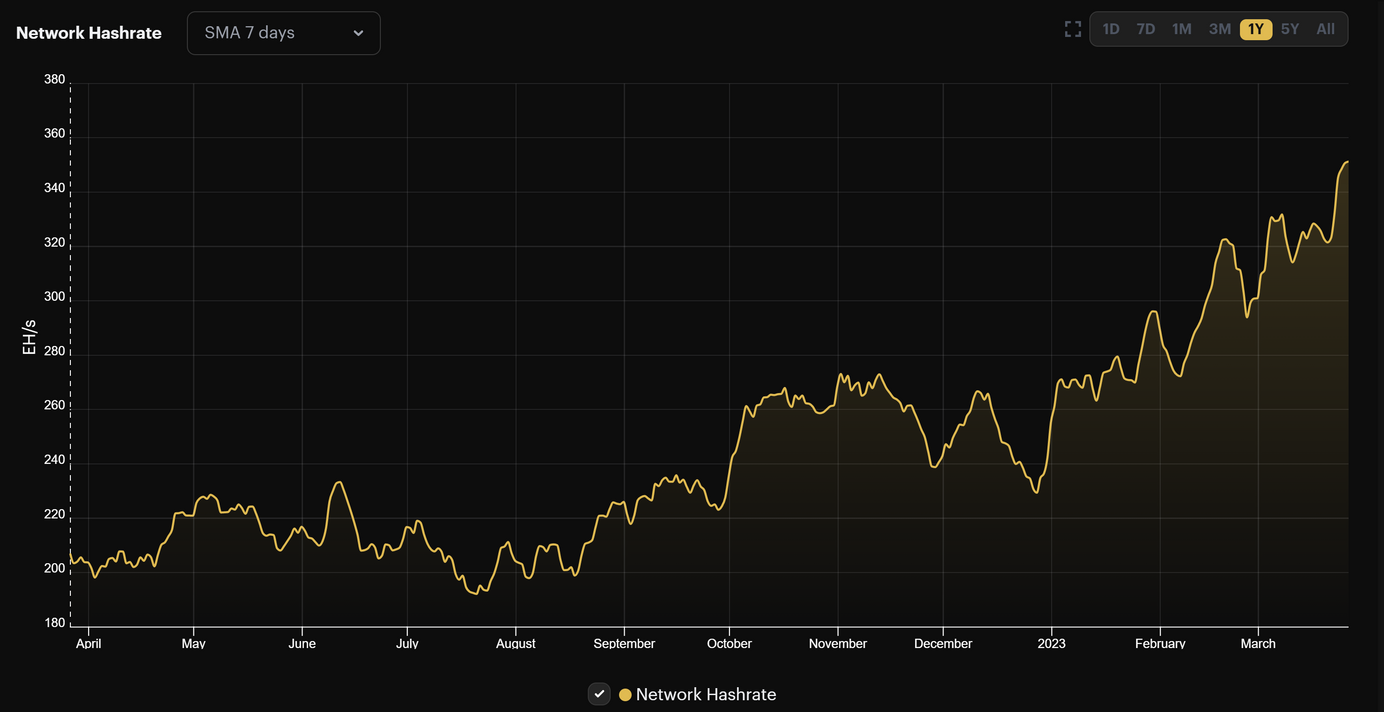 Hashrate Index Roundup (March 27, 2023)
Hashrate is at an all-time high and this is spoiling Q1's hashprice rally.
Happy Monday, y'all!
Last week's difficulty adjustment put a damper on Q1's hashprice rally, and given that hashrate is at an all-time high, the damper could just be a sampling of what's to come.
Bitcoin's difficulty rose 7.56% last Thursday, and hashprice immediately reacted by dropping below $80/PH/day. With Bitcoin itself down ~2% over the last week as well, hashprice is now back below $75/PH/day.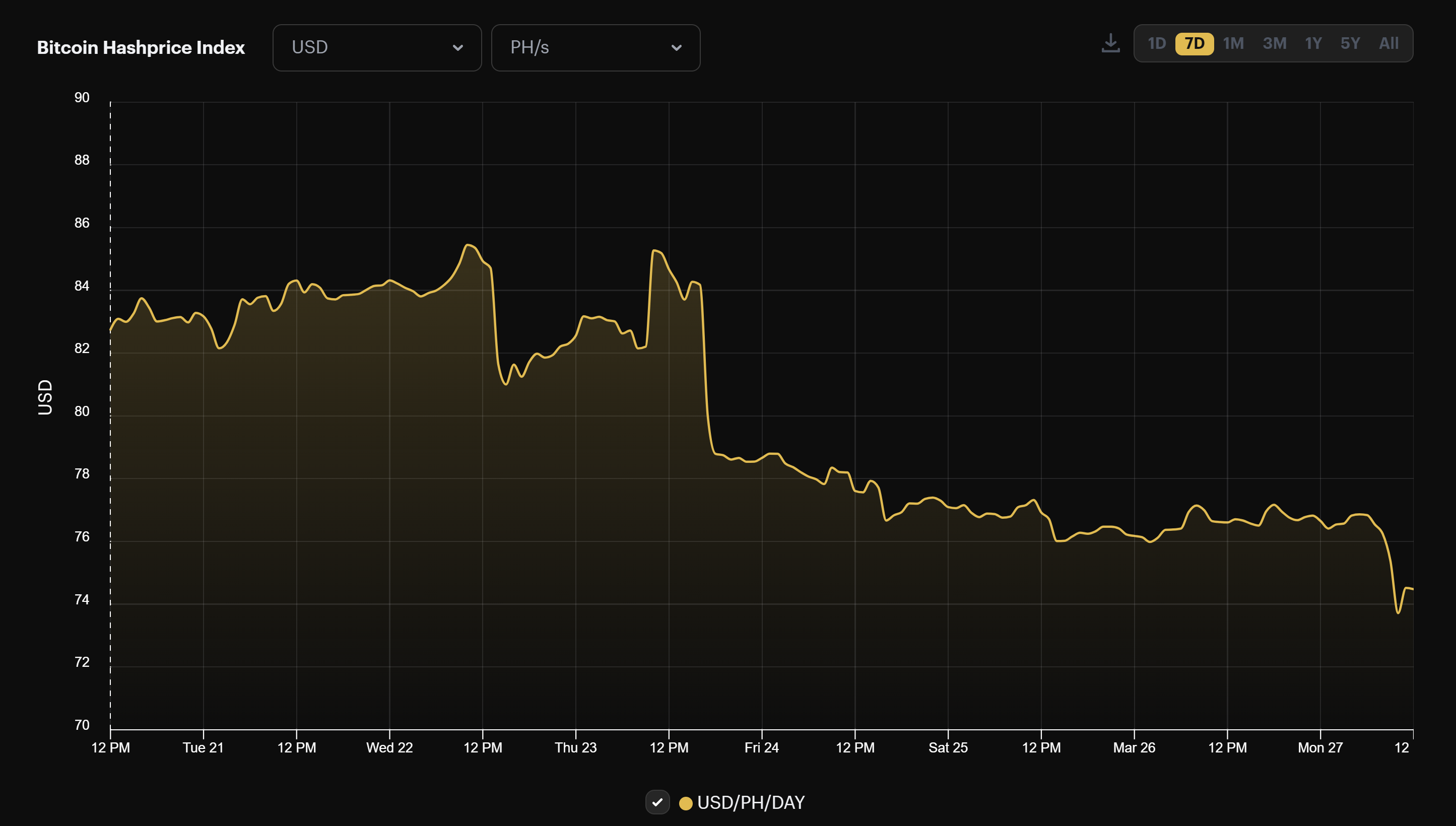 Even as difficulty chips away hashprice, Bitcoin's hashrate has never been higher. Sitting at an all-time high of 353 EH/s, Bitcoin's 7-day average hashrate grew by 31 EH/s in the last week alone.
That's roughly 4,852 tons of equipment. For perspective, 31 EH/s is the equivalent of:
227,941 S19 XPs
310,000 S19j Pros
584,905 S17s
2,384,615 S9s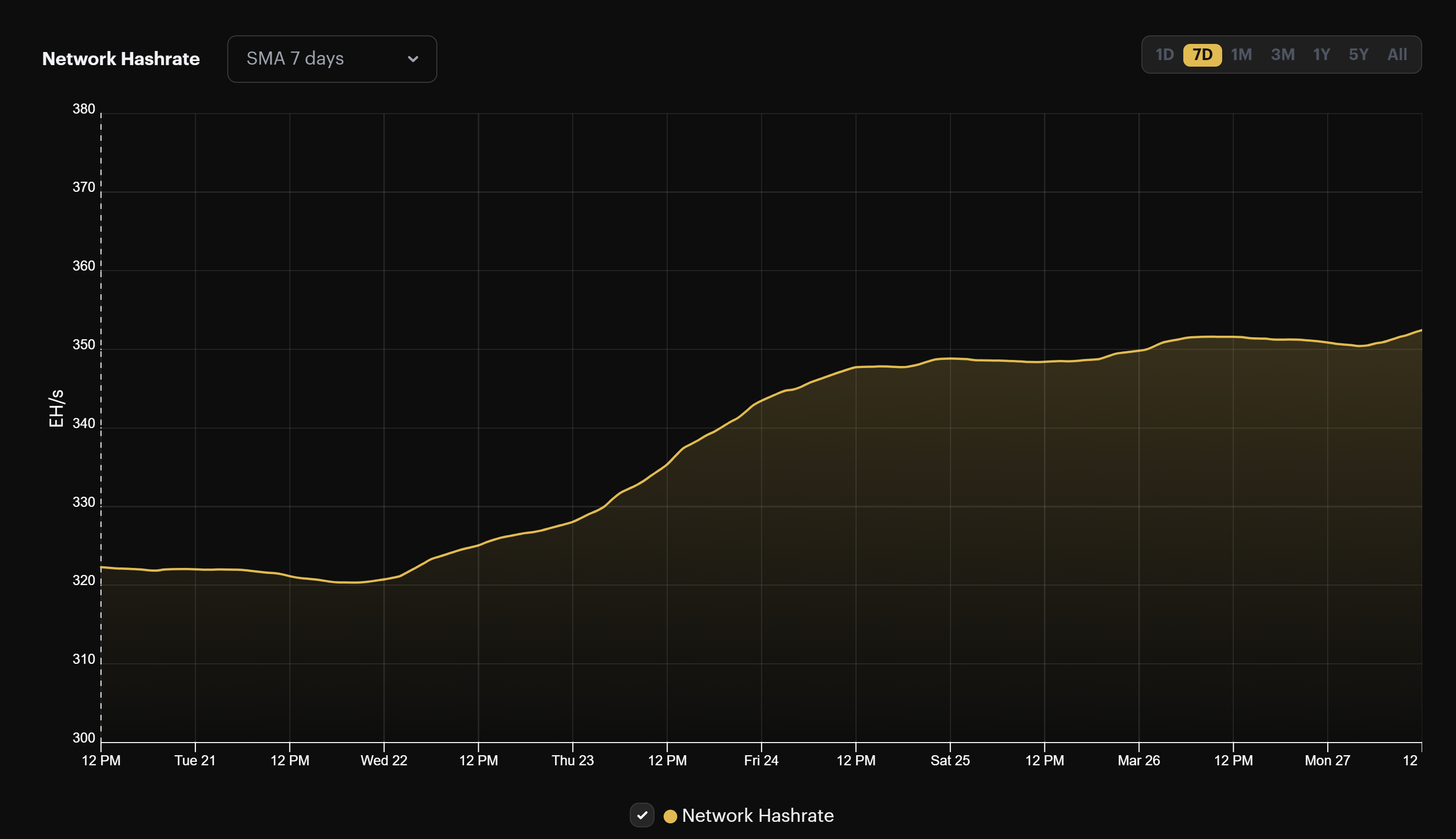 All of this hashrate growth almost guarantees that the next adjustment will be to the upside, so Bitcoin's price needs to keep up with this growth if we don't want hashprice to shrink back to Q4-2022 levels soon.
Hope y'all enjoyed those $80/PH/days, because they could be behind us for a while...
---
Mining Market Update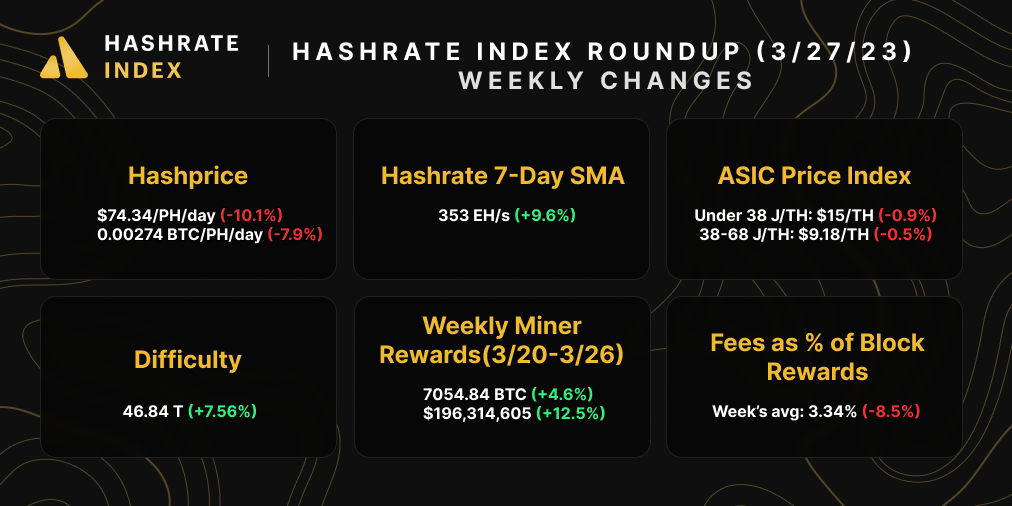 ---
Bitcoin Mining News
---
Sponsored by Luxor
Luxor's Antminer firmware is here! LuxOS provides all of the finetuning miners have come to love from custom firmware and more, including 45+ API commands to give miners complete control over their mining rigs. Visit Luxor's firmware page to learn more.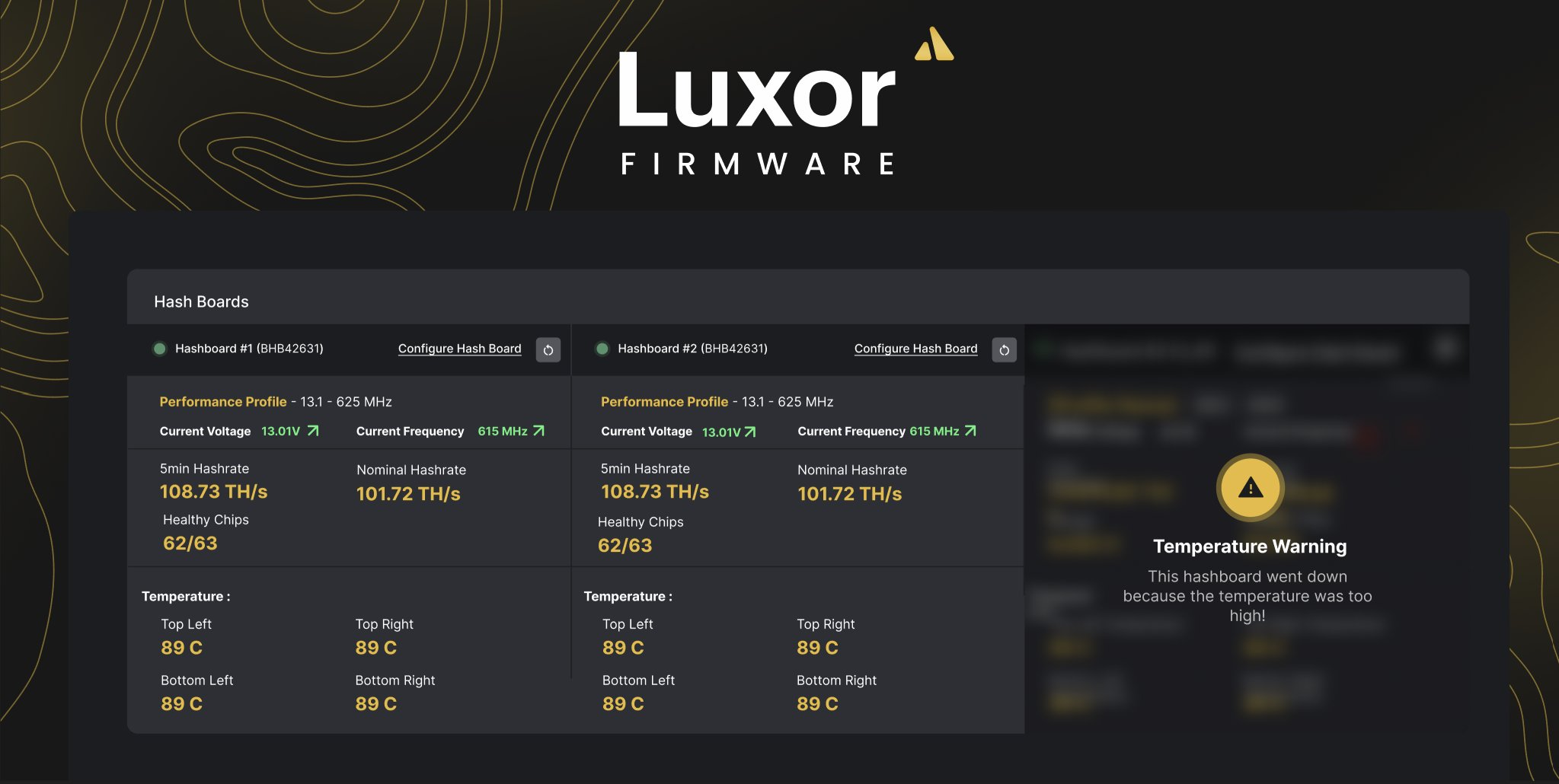 ---
Bitcoin Mining Stocks Update
Bicoin's own price is wavering, so it's not surprising to see Bitcoin mining stocks selling off to start the week. Week-over-week returns have been mixed, with most stocks falling while some are flat over the week (Hashrate Index's Crypto Mining Stock Index was flat over the week as well).
Here's the week-over-week performance of popular Bitcoin mining stocks:
RIOT: $8.32 (-1.70%)
HUT: $1.66 (-10.75%)
BITF: $0.91 (-0.85%)
HIVE: $2.94 (-4.85%)
MARA: $7.32 (-6.85%)
CLSK: $2.60 (-0.77%)
ARBK: $1.53 (-17.30%)
IREN: $2.81 (-8.47%)
---
New From Hashrate Index
Hashprice is Up 42% This Year, But How Long Will the Rally Last?
Bitcoin is enjoying a meteoric and historic Q1 so far in 2023. Its price rose more than any other Q1 in the coin's short histor, and the positive price action has revived Bitcoin miners who were previously on life support.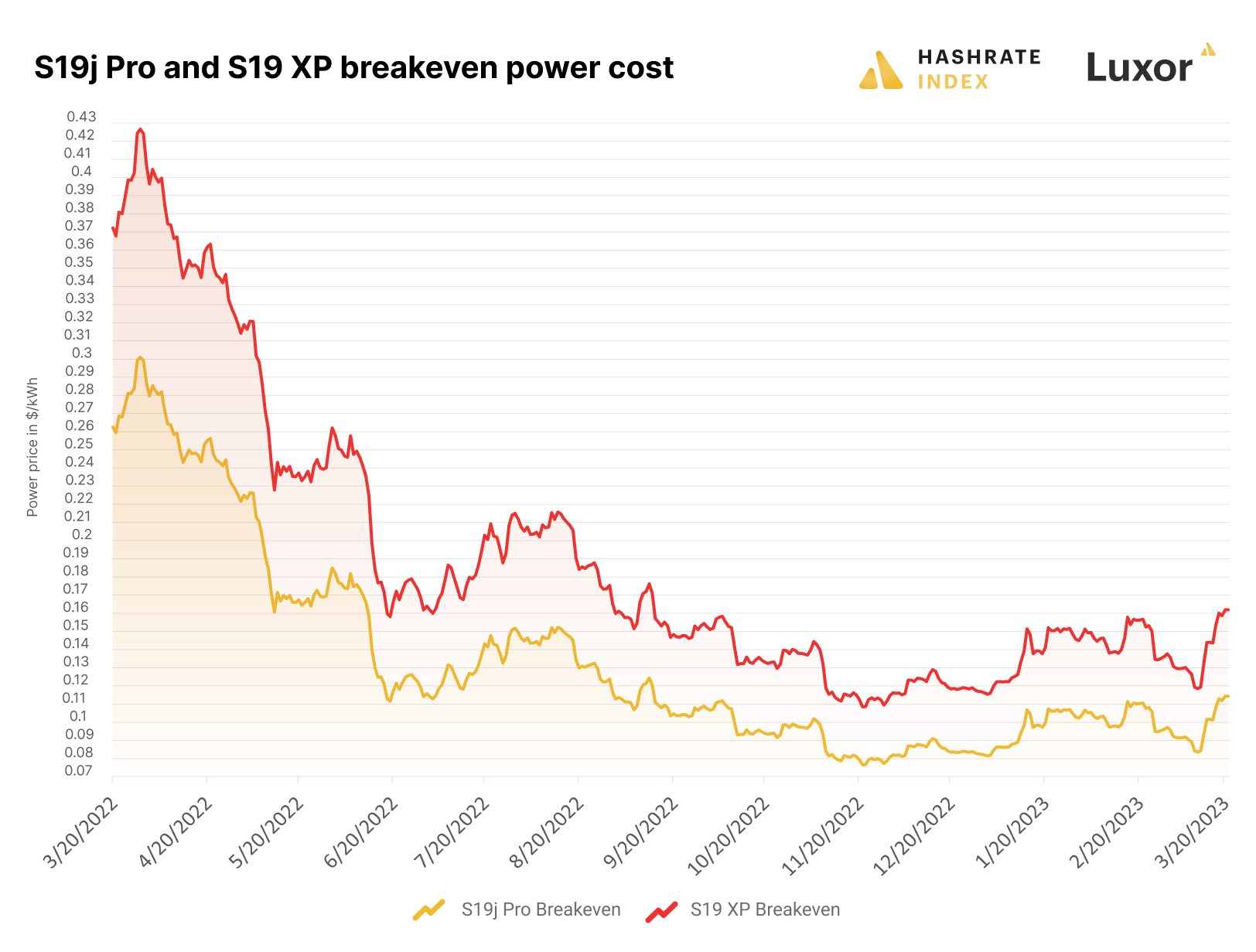 7 Ways to Get Financial Exposure to Bitcoin Mining
Investors seeking financial exposure to bitcoin mining can choose between several options, each with its advantages and disadvantages.
It's critical to be aware of the fundamentals of these investment structures, as they possess wildly different characteristics in complexity, liquidity, transaction fees, financial risk, and potential return. This article analyzes 7 bitcoin mining investment structures and discusses their suitability for various investors.
---
Have a great week, and Happy Hashing!
Hashrate Index Newsletter
Join the newsletter to receive the latest updates in your inbox.
---