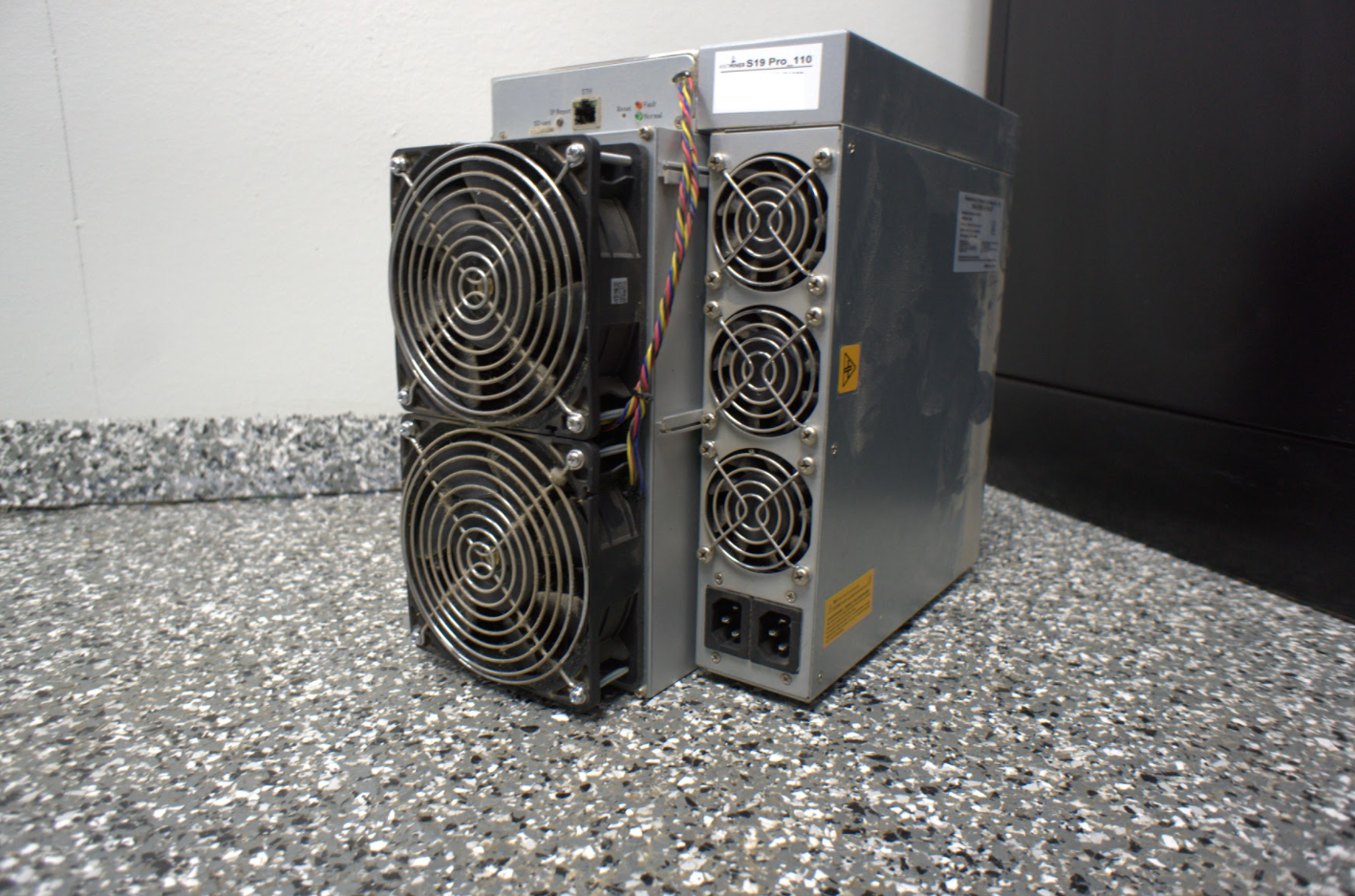 Hashrate Index Roundup (April 16, 2023).
Bitcoin just can't stop, which means hashrate and difficulty won't let up either.
Happy Sunday, y'all!
Bitcoin's back above $30,000 after rising 8.6% this week, continuing the king's historic 82% run since we rang in the New Year. This price movement bounced hashprice from $74/PH/day back above $80/PH/day over the week, and Bitcoin mining stocks absolutely mooned thanks to Bitcoin's price move as well (more on that later).
If Bitcoin stays elevated, hashprice will too obviously. And in turn, this will increases the likelihood that Bitcoin's hashrate continues to grow at the breakneck pace we witnessed in Q1 (and which pushed Bitcoin's 7-day average hashrate up 34% YTD).
Last week, I mentioned that we were unlikely to see a positive difficulty adjustment this week. Well, the recent growth in hashprice no longer has me convinced. And what's more, Hashrate Index's difficulty forecast keeps flip flopping its estimate from a barely positive adjustment to a barely negative one.
We're nearly three quarters of the way through the current epoch, and the estimate says the next adjustment could be in the ballpark of +0.30%.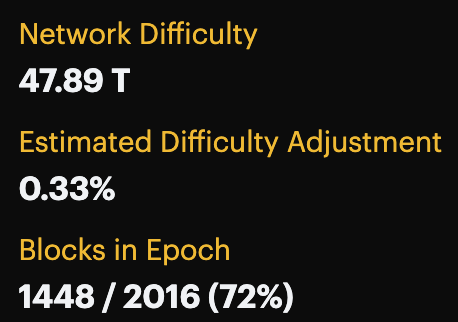 We're getting close enough to the adjustment (it's ~4 days away) that the estimate will soon give us a reading that we can trust. My bet now is that we get yet another positive adjustment, though it will be a very small one. This would make five positive adjustments in a row for the first time since February 2022.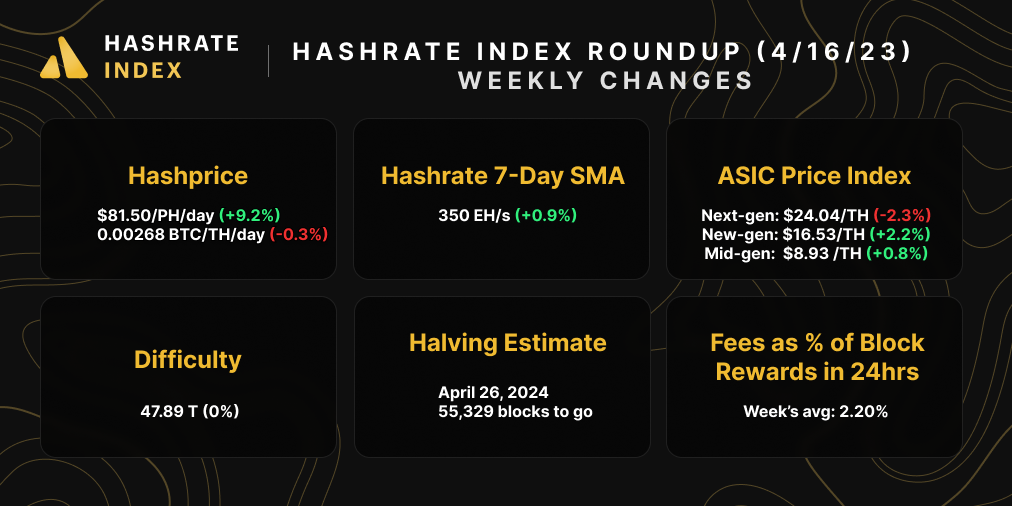 Whether it's Bitcoin's price, hashprice, Bitcoin mining stocks, or hashrate, number just keeps going up – but for how much longer, and how high?
We'll have more outlook for the upcoming quarter as well as analysis of the prior quarter in our Q1-2023 report, which we will release the week of April 17. Keep your eyes on your inbox, Hashrate Index's blog, or our social pages for the release!
---
Bitcoin Mining News
---
Sponsored by Luxor
Luxor's Antminer firmware is here! LuxOS provides all of the finetuning miners have come to love from custom firmware and more, including 45+ API commands to give miners complete control over their mining rigs. Visit Luxor's firmware page to learn more.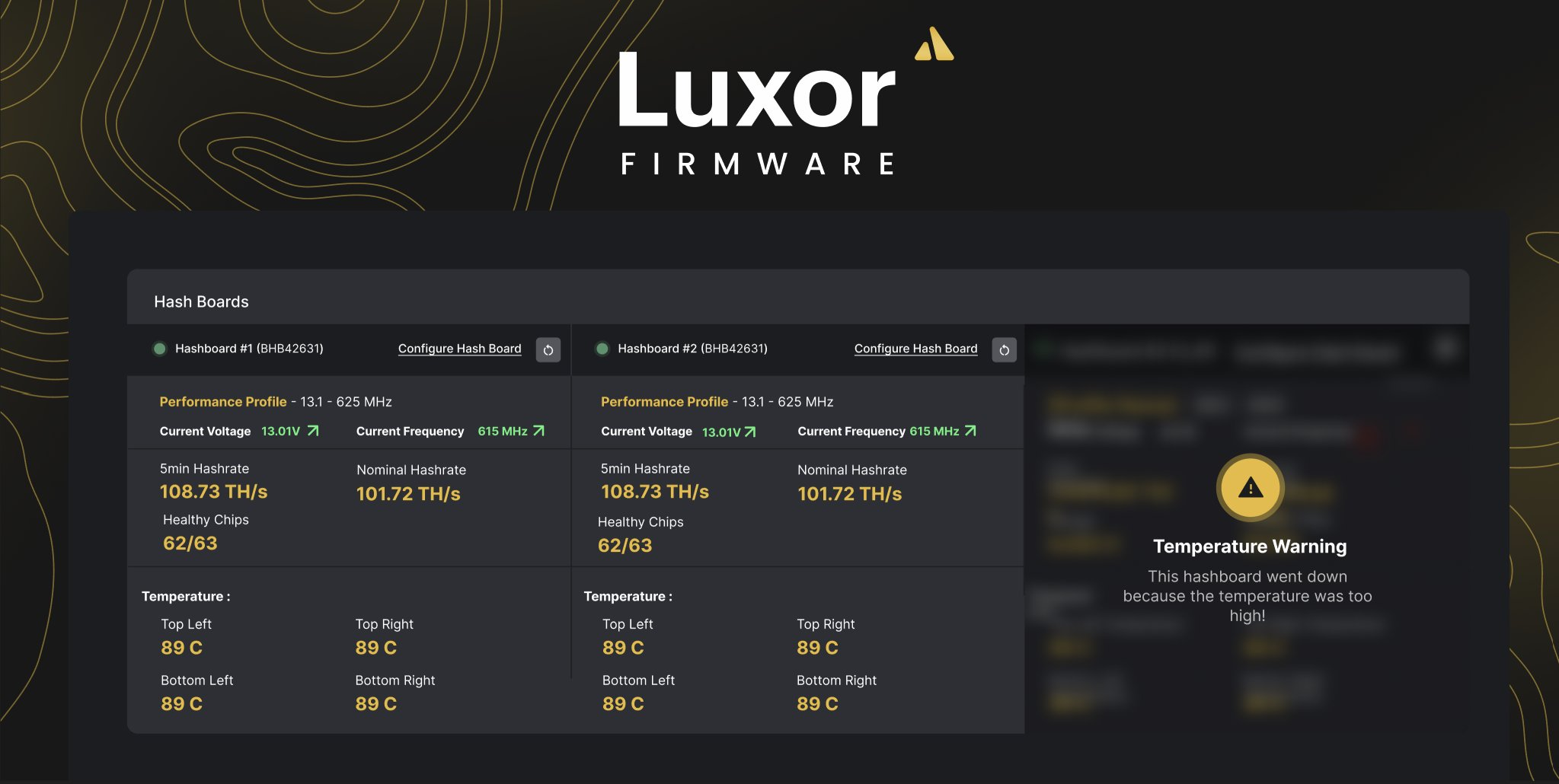 ---
Bitcoin Mining Stocks Update
As is tradition when Bitcoin is pumping, Bitcoin mining stocks ripped and roared last week. And when I say ripped and roared, I mean it: our Crypto Mining Stock Index rose a stupendous 30% over the week.
As evidenced by our index, most Bitcoin mining stocks had eye-popping returns week-over-week.
RIOT: $13.48 (+47%)
HUT: $2.13 (+29.09%)
BITF: $1.25 (+40.47%)
HIVE: $4.05 (+25.39%)
MARA: $11.97 (+50.33%)
CLSK: $4.13 (+67.89%)
ARBK: $1.50 (+0.67%)
IREN: $4.52 (+54.27%)
---
New From Hashrate Index
2022 Was a Record Year for Energy Price Inflation. 2023 Could Be Better
The vice-grip economics of 2022's inflated power costs and shrinking mining revenue put plenty of miners on the brink of breakeven last year. Q1-2023 though, has blessed miners with a complete reversal of fortune. Bitcoin is up 83% year-to-date, and hashprice up 38% with it. The bitcoin mining profitability boost means much more comfortable margins – and it's bought time for miners who were previously on life support.
What's more, natural gas prices are falling and energy price forecasts are favorable for 2023, so there's even more light ahead of what was (at the end of December, 2022) looking like a bleak year.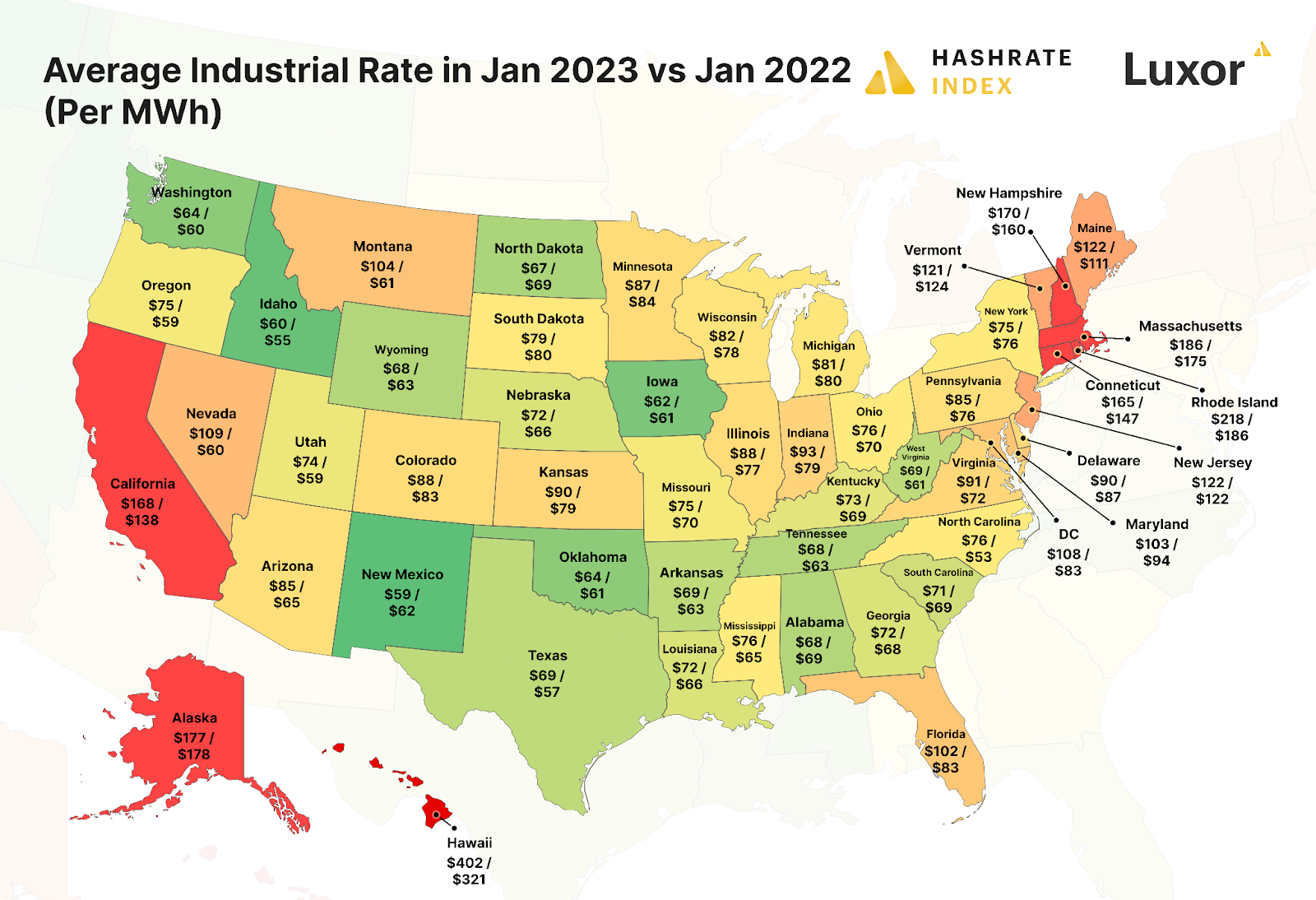 ---
Have a great week, and Happy Hashing!
Hashrate Index Newsletter
Join the newsletter to receive the latest updates in your inbox.
---