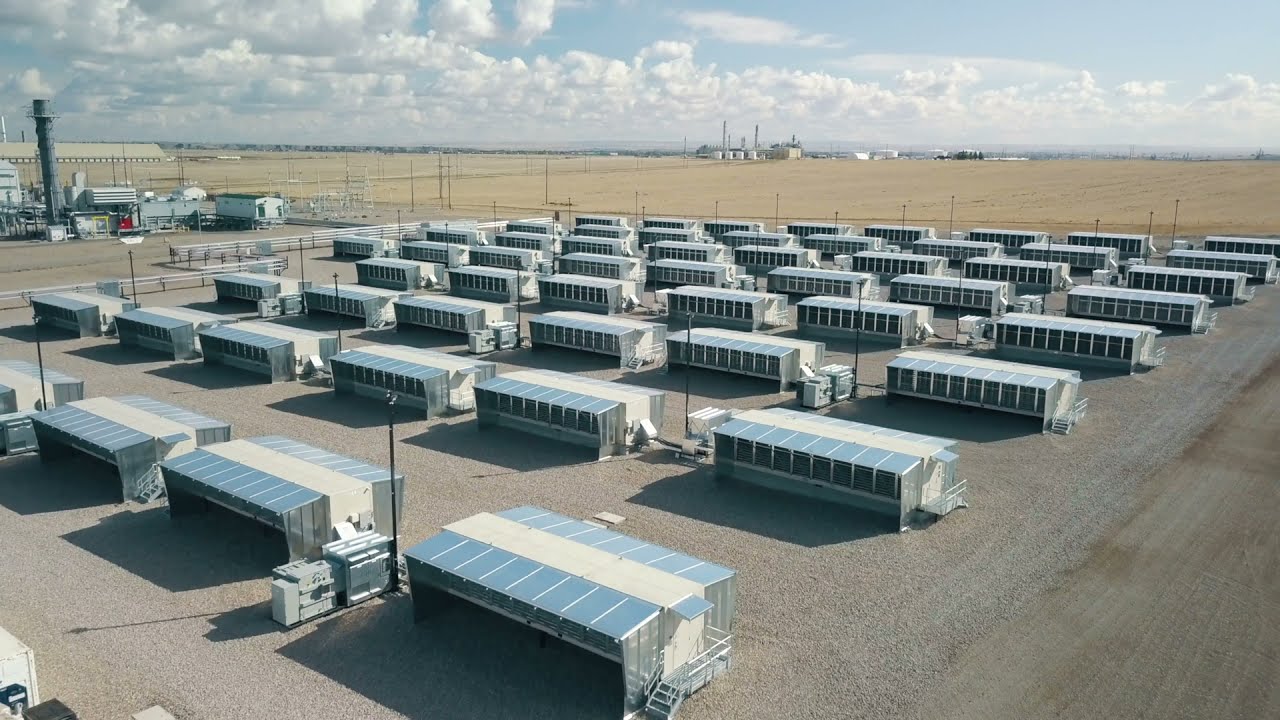 Public Bitcoin Miners Share January Bitcoin Production Updates
All of the top crypto mining stocks fell in January, but these miners added hashrate and bitcoin to their balance sheets over the month.
Some of the largest public Bitcoin miners shared updates for their January operations over the past two weeks.
Most of these miners increased their production from the previous month as well as increased their hashrate from the start of the new year. All of the miners in our update are holding some or all of the bitcoin they mine, and each of them added to the total bitcoin on their balance sheet this January.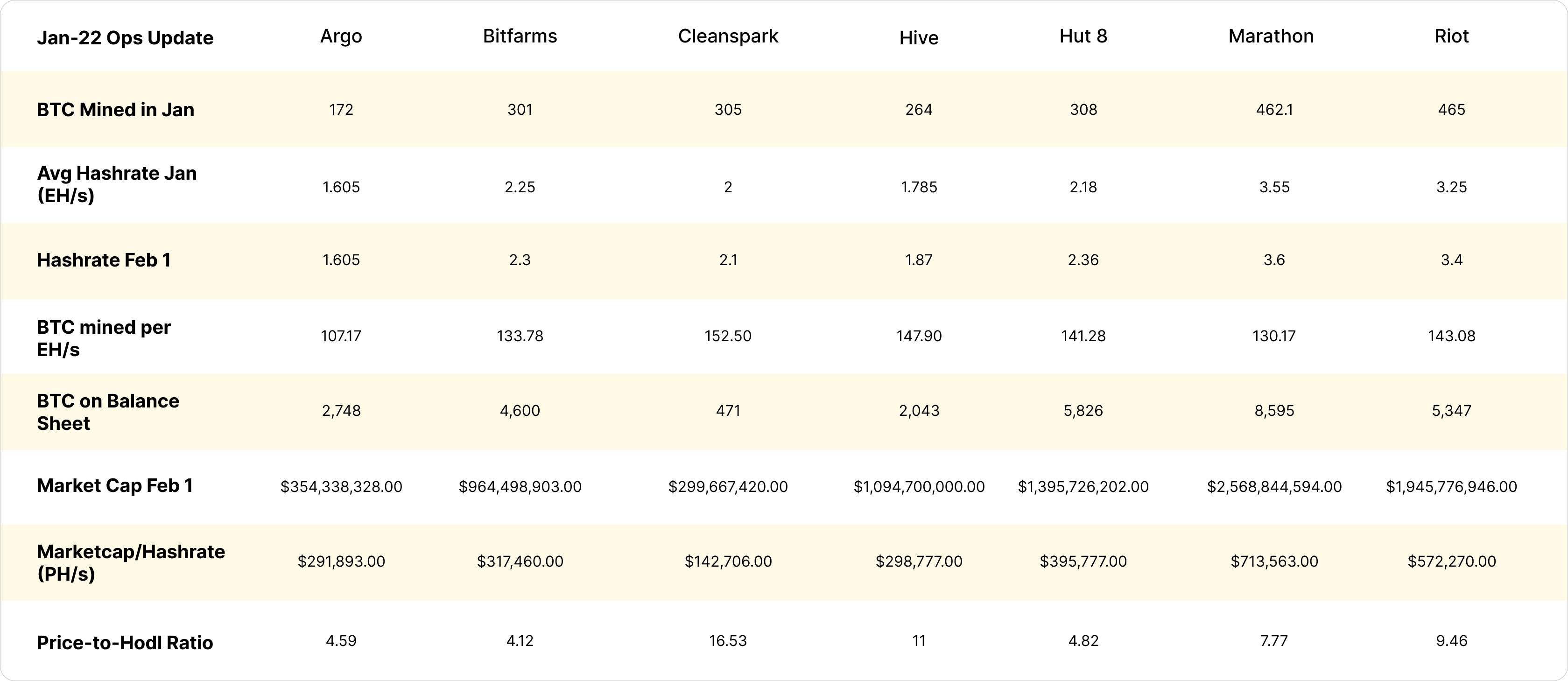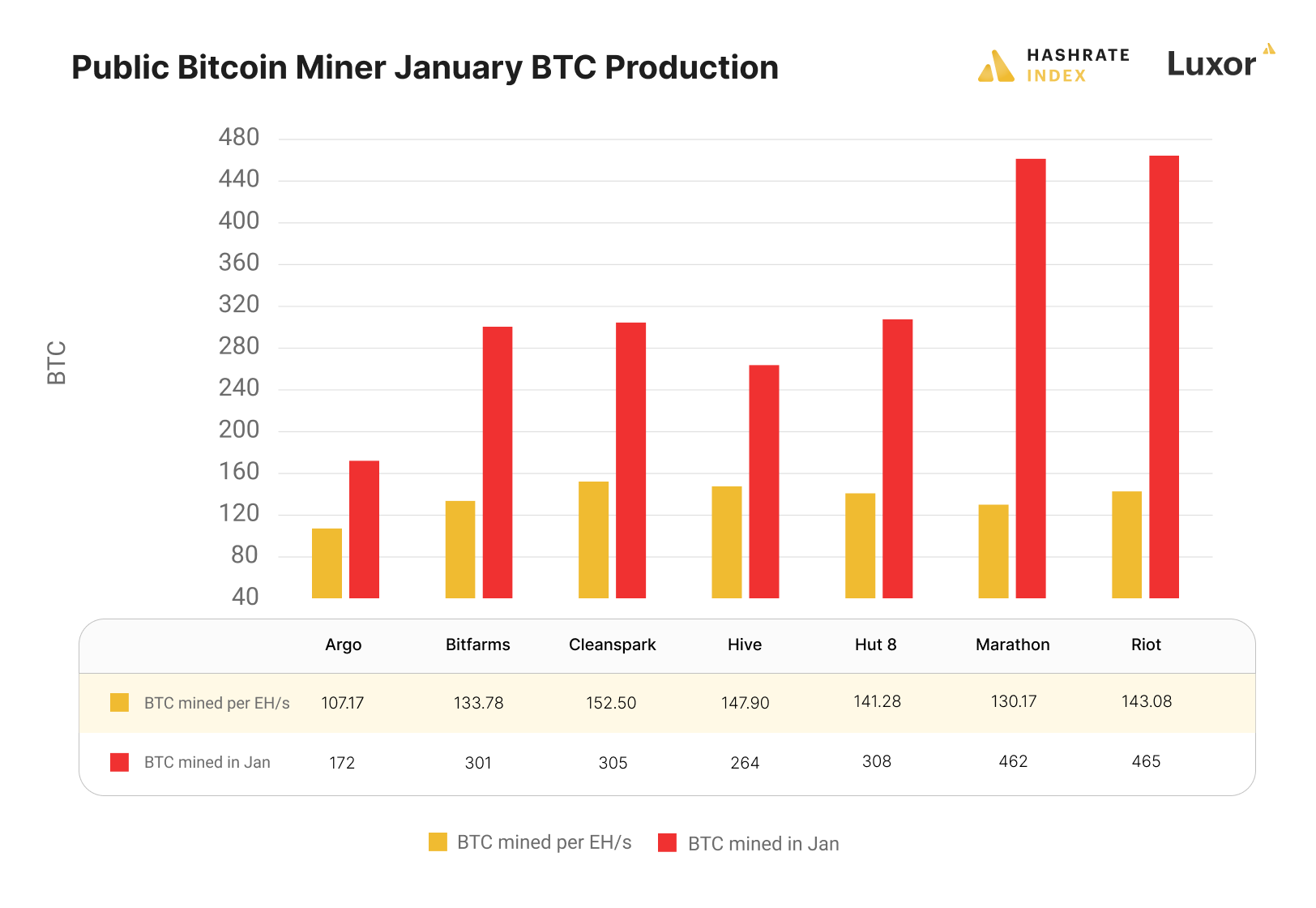 ** Note: Some companies include altcoins converted to BTC in their mined BTC figures, including Argo, Hive, and Hut 8**
Bitcoin Mining Stocks Price-to-Hodl Ratio for January 2022

Price-to-Hodl allows us to see how effective miners are at retaining and accumulating bitcoin on the balance sheet over time. We calculate the ratio by dividing the market capitalization of a public miner by the total number of bitcoin on the miner's balance sheet.
Miners that have the low ratio present greater value to investors, as you are paying less to own exposure to the bitcoin on their balance sheet. A miner with a higher ratio is considered more overvalued as you are paying more for exposure to their hodled bitcoin. Keep in mind, companies that have a high price-to-hodl may not hold all of their mined bitcoin or may have large contracted hashrate growth in the pipeline.
Let's look at the following chart to compare relative value in their operations using the price-to-hodl ratio.
** Note: Companies like Marathon and Bitfarms purchased thousands of BTC for their balance sheets, while other companies only hold what they have mined**
Cleanspark's price/hodl ratio of 16 is the highest amongst all seven pure play mining companies in our comparison. Cleanspark is using its mining revenue to fund expansion, which partly explains why the ratio is so high. Cleanspark holds far less bitcoin than its peers because it began holding very recently, as well.
If we look at the companies that are historical hodlers, we can see those companies typically have relatively low ratios. Bitfarms, Hut 8 and Argo Blockchain have the lowest price/hodl ratio. (Bitfarms only recently started hodling, but the company purchased a sizeable allocation of BTC to make up for lost time).
Riot Blockchain and Marathon Digital Holdings have higher ratios, as the market is pricing higher value for their future hashrate expansions. Investors are willing to pay more for the promise of substantial hashrate growth in the near-to-mid-term future.
Bitcoin Mining Stock Hashrate to Market Capitalization Comparison

Hashrate Index uses the current hashrate of each miner to determine that relative value investors are willing to pay for each company's hashrate capacity. A lower value means investors are willing to pay less per unit of hashrate, while higher value investors are willing to pay more per unit.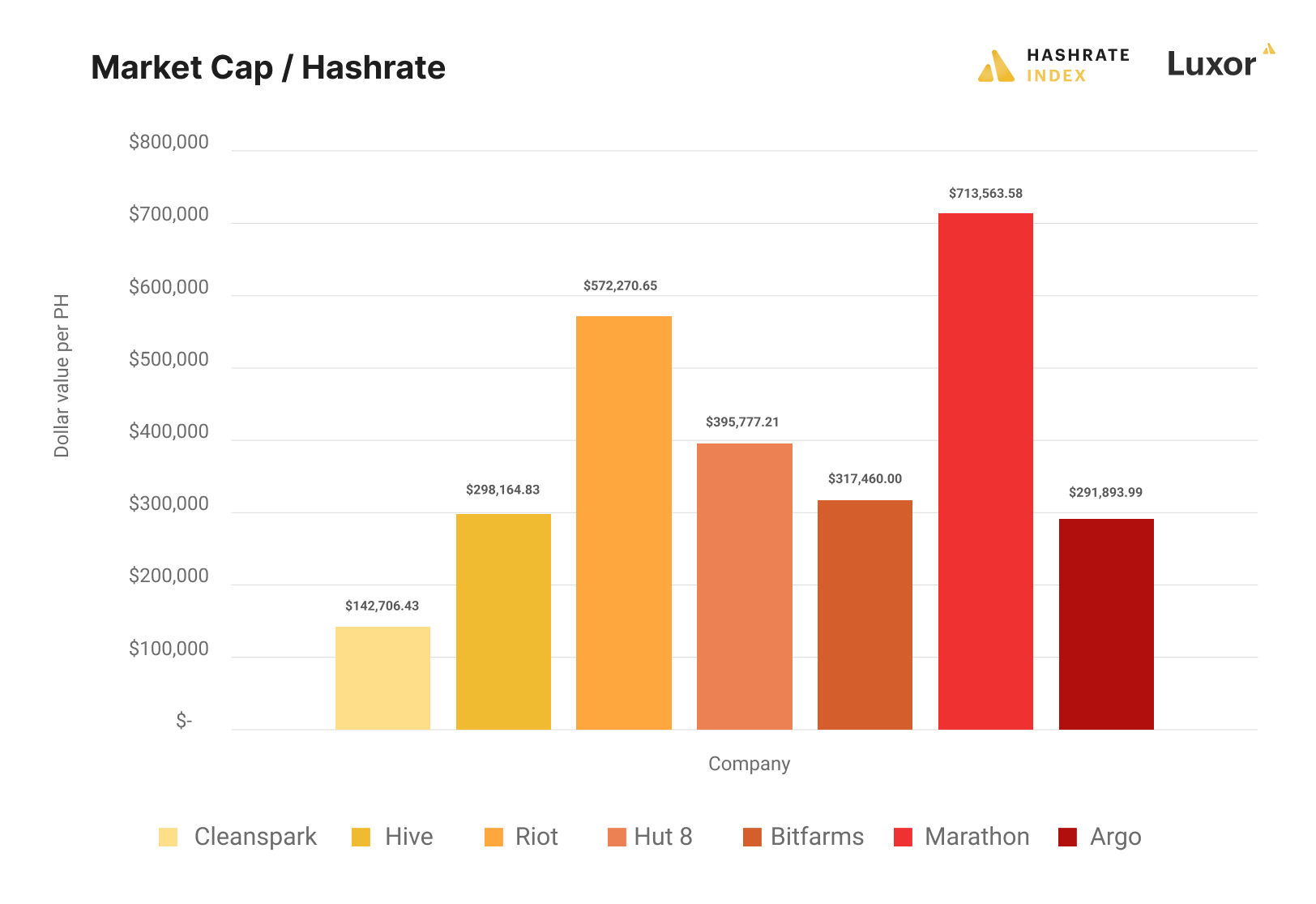 ** Note: Some companies had higher BTC hash rates due to adding in their equivalent altcoin production: Hive: 1030 PH from ETH mining ; Hut 8: 360 PH from ETH mining ; Argo: 58 PH from Equihash**
Based on production updates for January, Cleanspark is the clear winner for hashrate value amongst our list of miners. Marathon ranked the highest, as investors are willing to bet that their large expansion will yield great value to future mining operations. Most of the other miners are within the $300,000 per PH range.
What the Metrics Tell Us About These Bitcoin Mining Stocks
Cleanspark may not have the best price/hodl ratio, but they have the lowest cost per PH in our list of miners. If they continue expanding their current hashrate, and accumulating more Bitcoin, Cleanspark may be the most undervalued miner on the list.
Judging by these metrics, Marathon Digital is the most overvalued miners among its peers. The market is paying a premium for Marathon's stock now for scheduled increases in hashrate this year. Marathon has purchased billions of dollars worth of the latest generation bitcoin miners in the past year, and a good deal of this hashrate is sitting in warehouses waiting to be deployed.
Bitfarms, Hive, Argo Blockchain and Hut 8 all show similar price valuations based on their Bitcoin treasury holdings and current hashrate.

This article is not financial advice.
Hashrate Index Newsletter
Join the newsletter to receive the latest updates in your inbox.
---