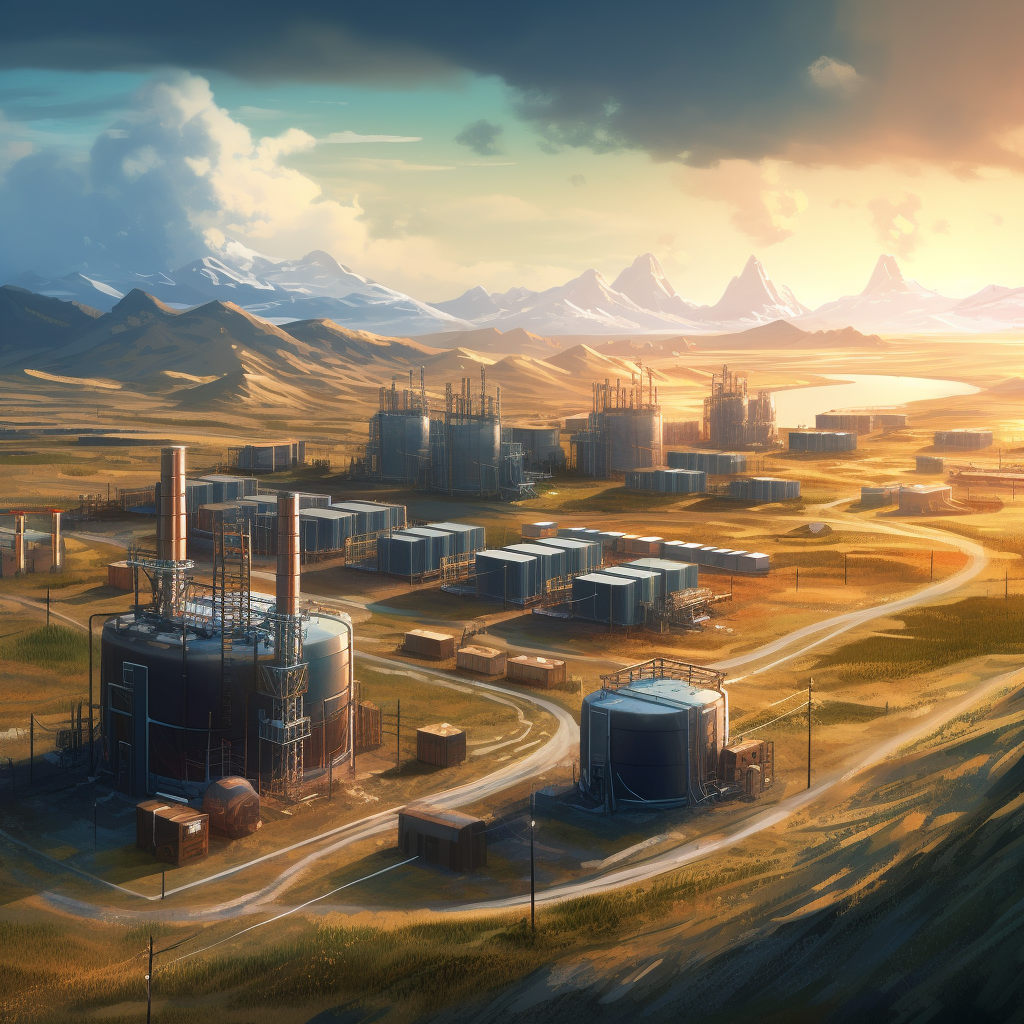 What is the EMCD Bitcoin Mining Pool?
EMCD is a Bitcoin mining pool that serves Russia and Eastern Europe.
Over the last month, EMCD, a Bitcoin mining pool primarily serving Russia and Eastern Europe, drew eyeballs from the Bitcoin mining community. The pool seemed to rise out of nowhere to claim a top 10 spot in the Bitcoin mining pool leaderboards.
Only EMCD didn't come out of nowhere – it's been around since 2017, and its Bitcoin mining pool has been operational since at least Q4 2020. EMCD publicly states that it is headquartered in Hong Kong and operates a full pay per share
(FPPS) Bitcoin mining pool. According to Crunchbase, the pool's website nets 98% of its traffic from Russia. In addition to Bitcoin, EMCD provides crypto mining pools for Litecoin, DASH, Ethereum Classic, Dogecoin, and Bitcoin Cash.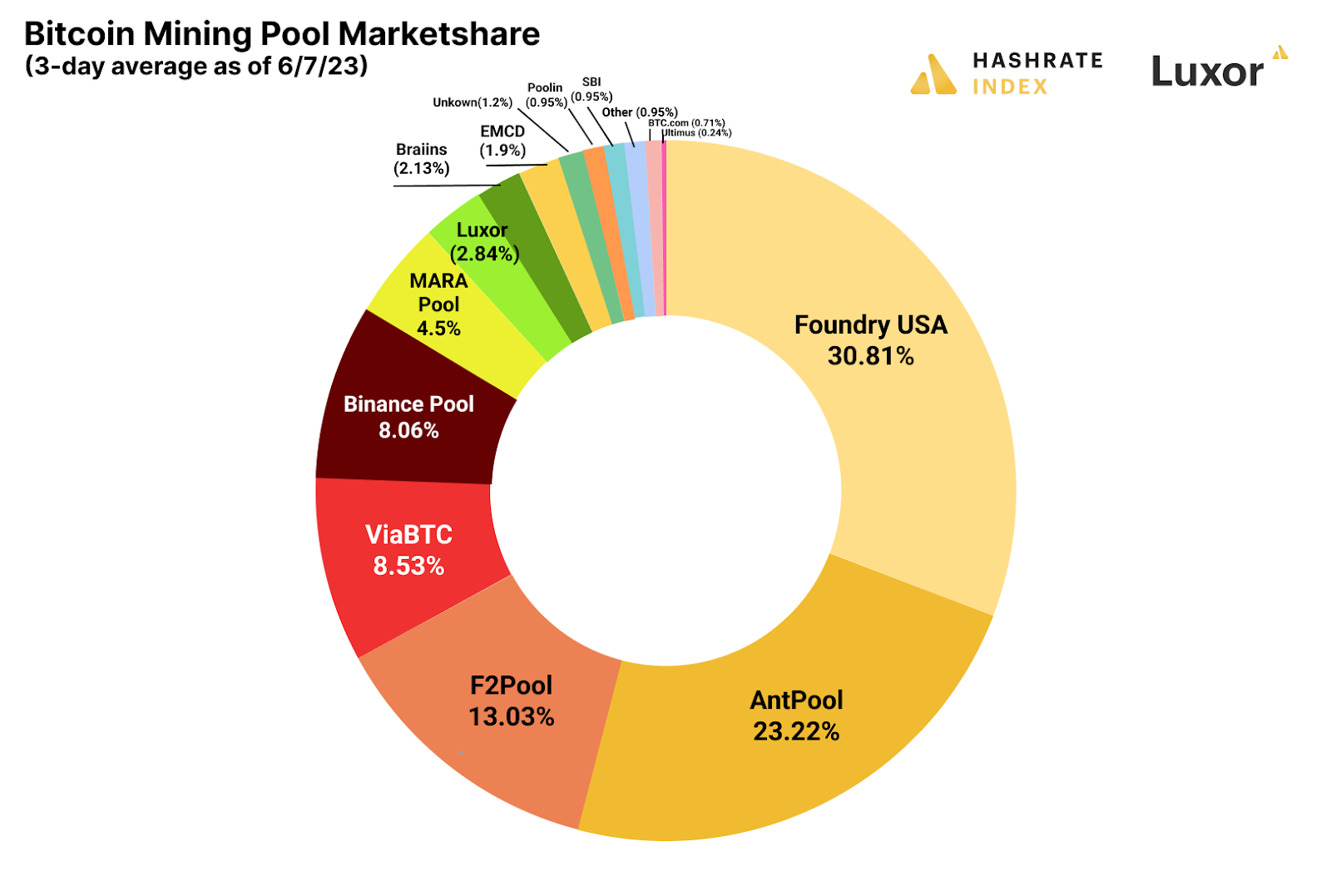 The pool stopped signing its own blocks last year and only recently started signing its own blocks again, hence why it just popped back up on the leaderboards.
How Bitcoin Mining Pools Sell Hashrate

In July 2022, EMCD's average monthly hashrate peaked at 3.4 EH/s, but the pool stopped mining its own blocks shortly after in August of the same year. At this point, EMCD most likely started selling its hashrate to another pool. Based on monthly changes to Bitcoin mining pool hashrate levels, this pool could have been Antpool, but we don't know this for sure.

This scenario underscores the intricacies of mining pool market dynamics. Bitcoin mining pools often buy and sell hashrate with each other. In fact, some pools may sell portions of their hashrate to multiple pools to hedge mining and transaction fee luck – just like other commodity producers who may buy from or sell to competitors depending on market conditions and individual needs.
Hashrate liquidation strategies like these can help FPPS mining pools ensure consistent liquidity to meet miner payouts. Mining pools can augment these strategies with true hedging strategies like hashprice derivatives to ensure liquidity needs as well.
Is Russia Mining Bitcoin?

One of the more scintillating bits of scuttlebutt to surface in the Bitcoin community over the past year or so has been the insinuation that the Russian government is mining Bitcoin.
The war in Ukraine accelerated these rumors, with Bitcoiners postulating that the Russian government would mine Bitcoin as 1) an extra revenue source to fund the war and 2) a way to generate a neutral reserve asset that it might use to pay for oil and other goods in the face of Western sanctions.
I'm not going to outright say that these are far-fetched scenarios, but there's no hard evidence that this is happening. Now, first principles thinking would indicate that a government/country cut off from SWIFT – not to mention one with gobs of domestic oil production – would probably benefit from mining Bitcoin. But for now, who knows?
At the very least, we do know that plenty of mining activity is occurring in Russia currently. As it turns out, Russia's oil affluence is one piece of the country's mining boom, but the war in Ukraine is another: as the war presses Russian financial markets, investors are looking for alternative investments to generate returns.
Given its abundance of oil and the surge in interest in mining in the country over the last year, we expect Russia to host a fair share of global hashrate for the foreseeable future. In our end of year report for 2022, we estimated that Russia housed roughly 14% of Bitcoin's hashrate at the turn of 2023. Today, it's probably a little bit higher – 15% or just over.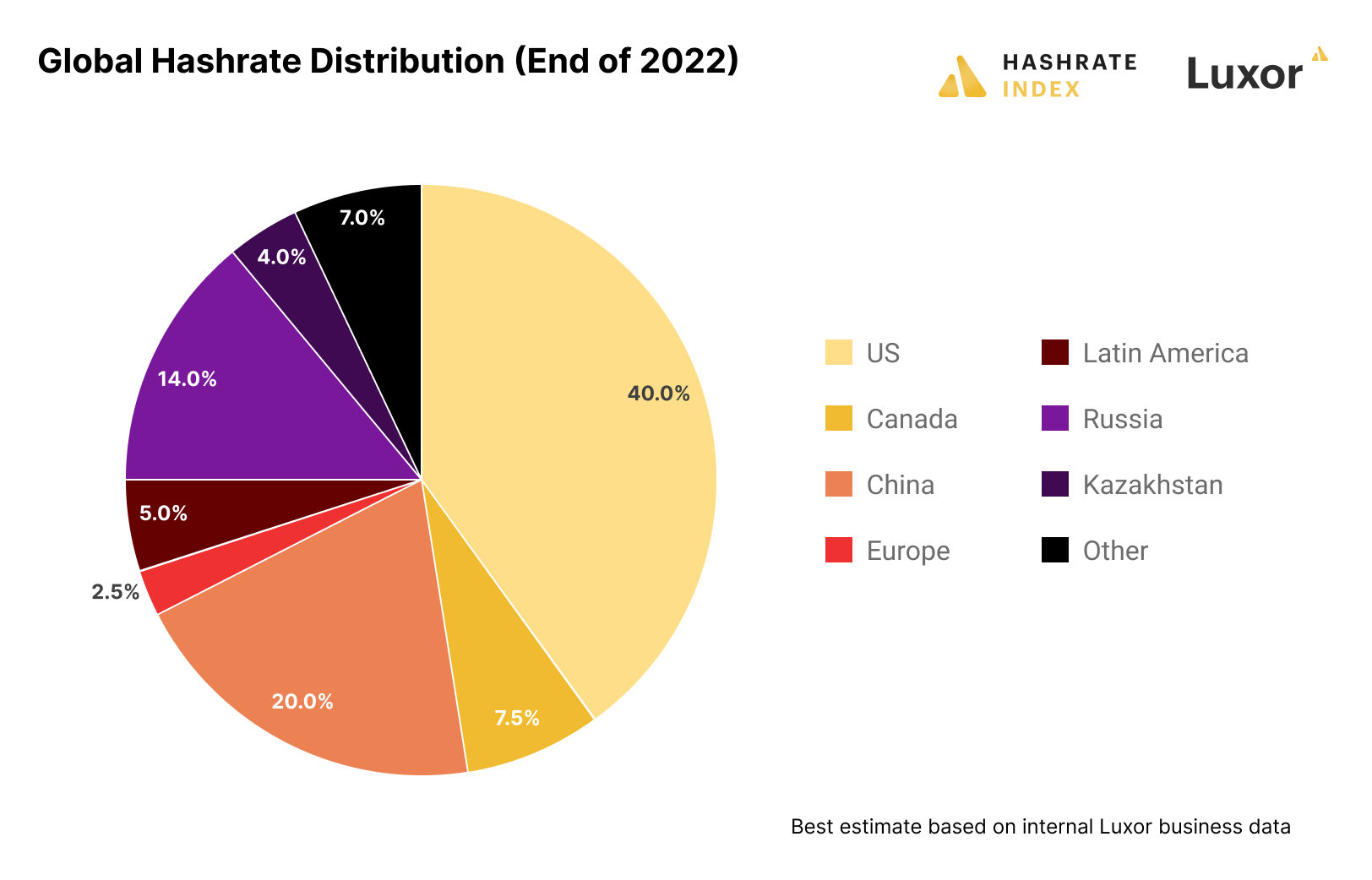 The growth of hashrate in Eastern markets like Russia, China, and Kazakhstan will be a key trend to watch for the rest of 2023 and into 2024, particularly given the fact that some regulators and lawmakers in the US and Canada are starting to set their sights on Bitcoin mining (and not in a good way).
Just as China's half-hearted Bitcoin mining ban pushed more business to North America, a North American crackdown would flush hashrate back eastward or to other jurisdictions like Latin America.
In our view, better to let all of this hashrate compete in disparate jurisdictions without government overreach. So my unsolicited advice to regulators / lawmakers would be (in the words of Coach Herman Boone from Remember the Titans): "Let the boys play ref...let 'em play!"
Hashrate Index Newsletter
Join the newsletter to receive the latest updates in your inbox.
---