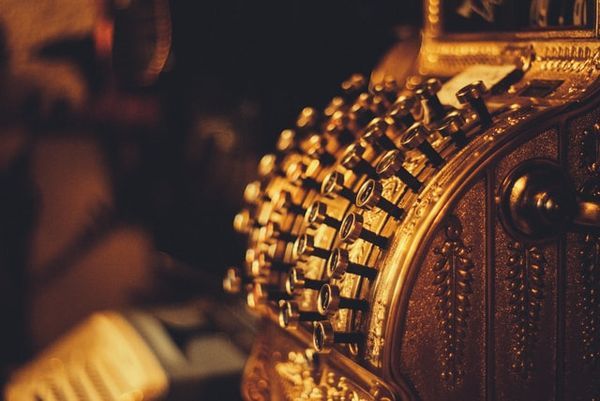 Public Miners in North America See Record-Setting Q3
In the wake of China's hashrate blackout, North American bitcoin miners are mining more bitcoin than ever.
Public miners in North America are securing the bag in the aftermath of China's mining ban.
With competition still softened, these miners collectively mined more bitcoin in Q3 than in any other quarter since their inceptions.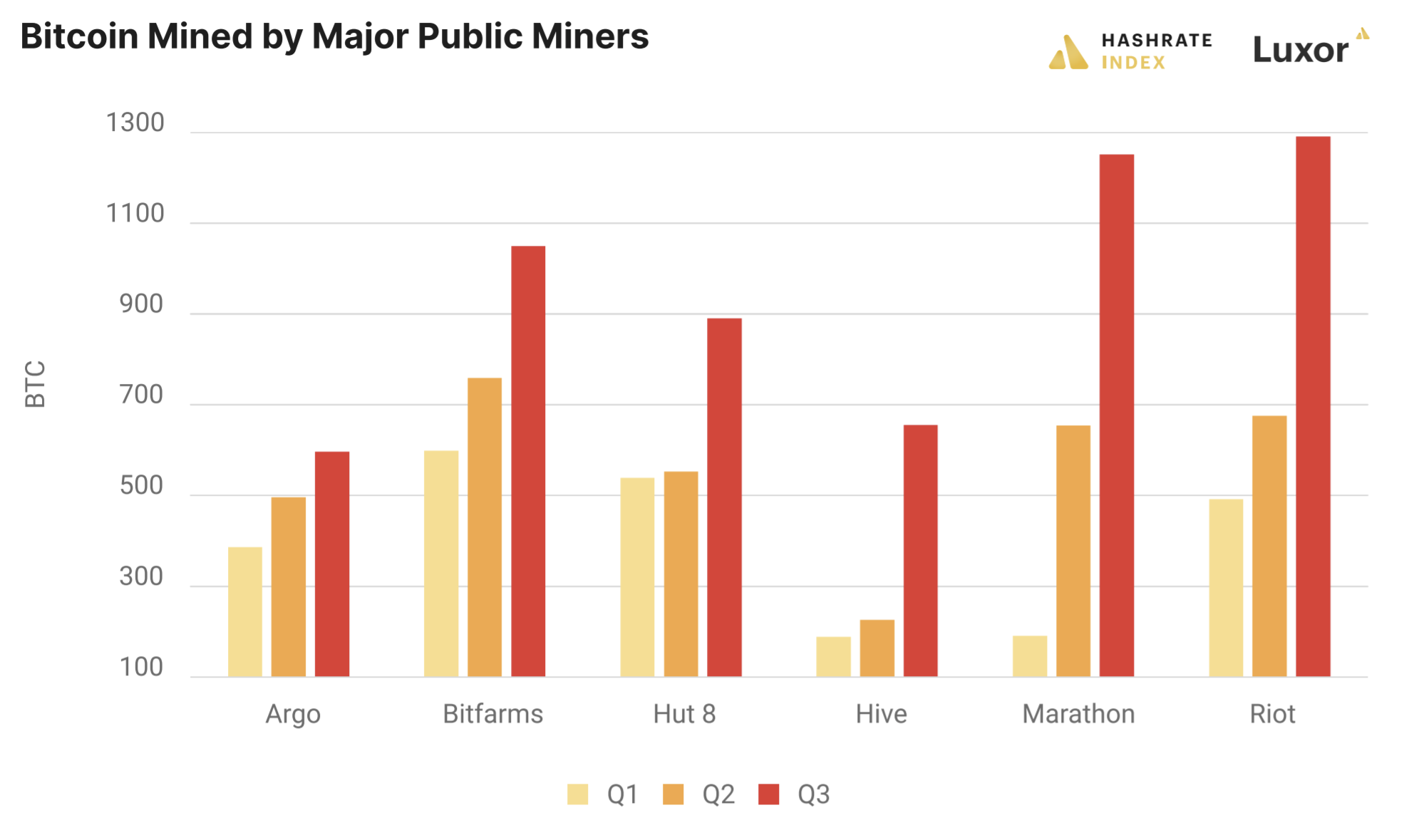 Collectively in Q3, public North American miners mined 79% more bitcoin than they did in Q2 and 155% more than they mined in Q1.
With competition clipped by China's mining ban, these mega-miners are producing more blocks than they otherwise would have if China's mining industry, which represented anywhere between 50-60% of the network's hashrate before the ban, were at full capacity. In addition to having their competition reduced, these miners also added new machines to their fleets over the quarter to bolster their hashrate.
Public Bitcoin Miner Hashrate Capacity
Each of these miners have expanded their hashrate significantly this year, and with preordered rigs waiting in the wings for power and rack space (and more ASICs on track for delivery at the end of the year and into next), each anticipates to at least double or even triple their hashrate by next year.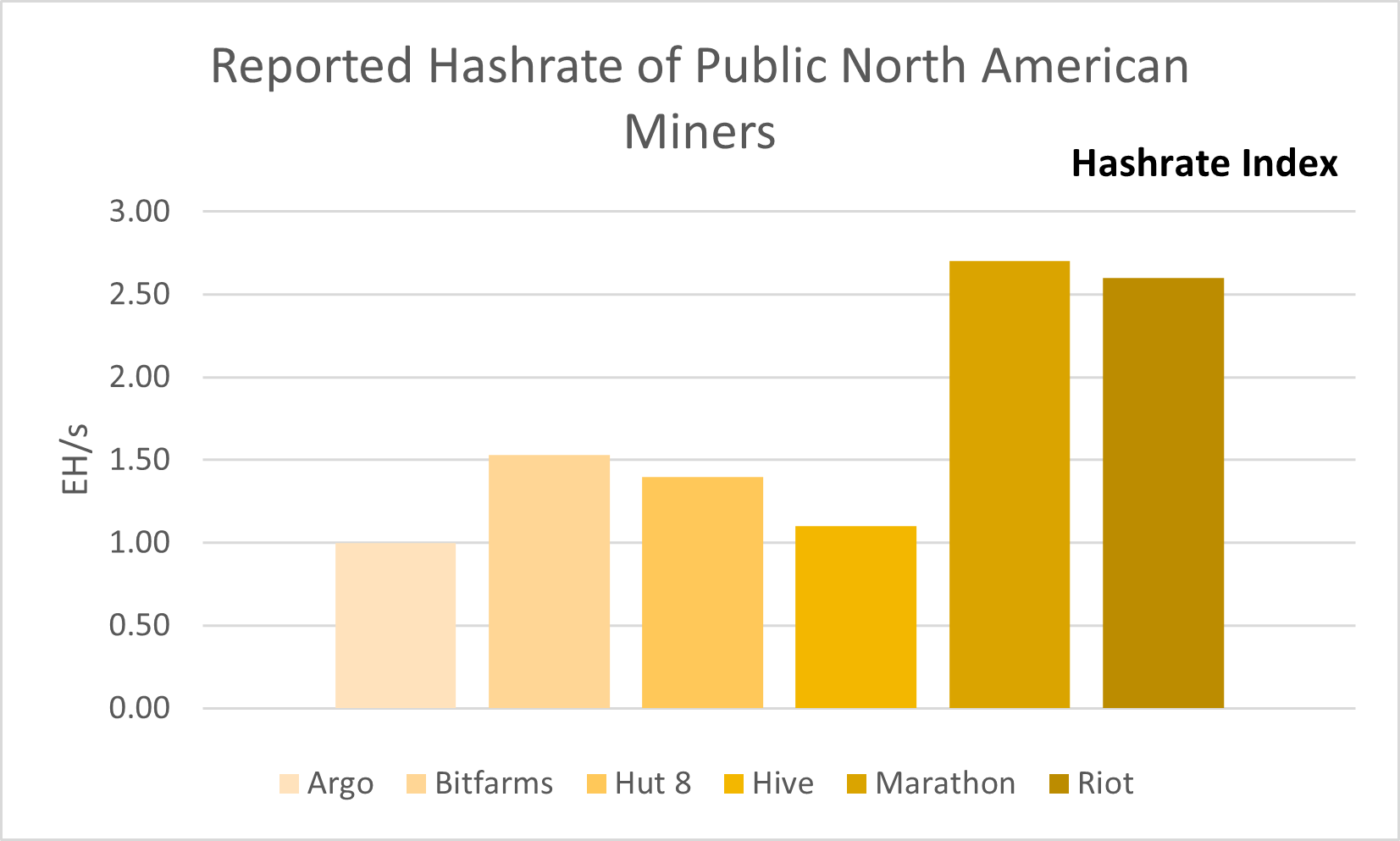 If their forecasts for 2022 are accurate, these miners will collectively add just over 30 EH to their operations next year. When this anticipated hashrate comes online (and China's mining industry migrates to knew homes and adds to the computing load), Bitcoin's hashrate is going to pump—hard. We anticipate that the network's hashrate will exit 2021 in the ballpark of 180 EH, and with the tidal wave of hashrate that is expected to come online in 2022, we will esily see 250 EH and beyond next year.
It's all dependent on bitcoin's price, of course, but all of this fresh computing power will put an end to the golden profitability window miners have enjoyed in the immediate fallout of China's mining ban as mining difficulty ramps up to match hashrate.
Hashrate Index Newsletter
Join the newsletter to receive the latest updates in your inbox.
---