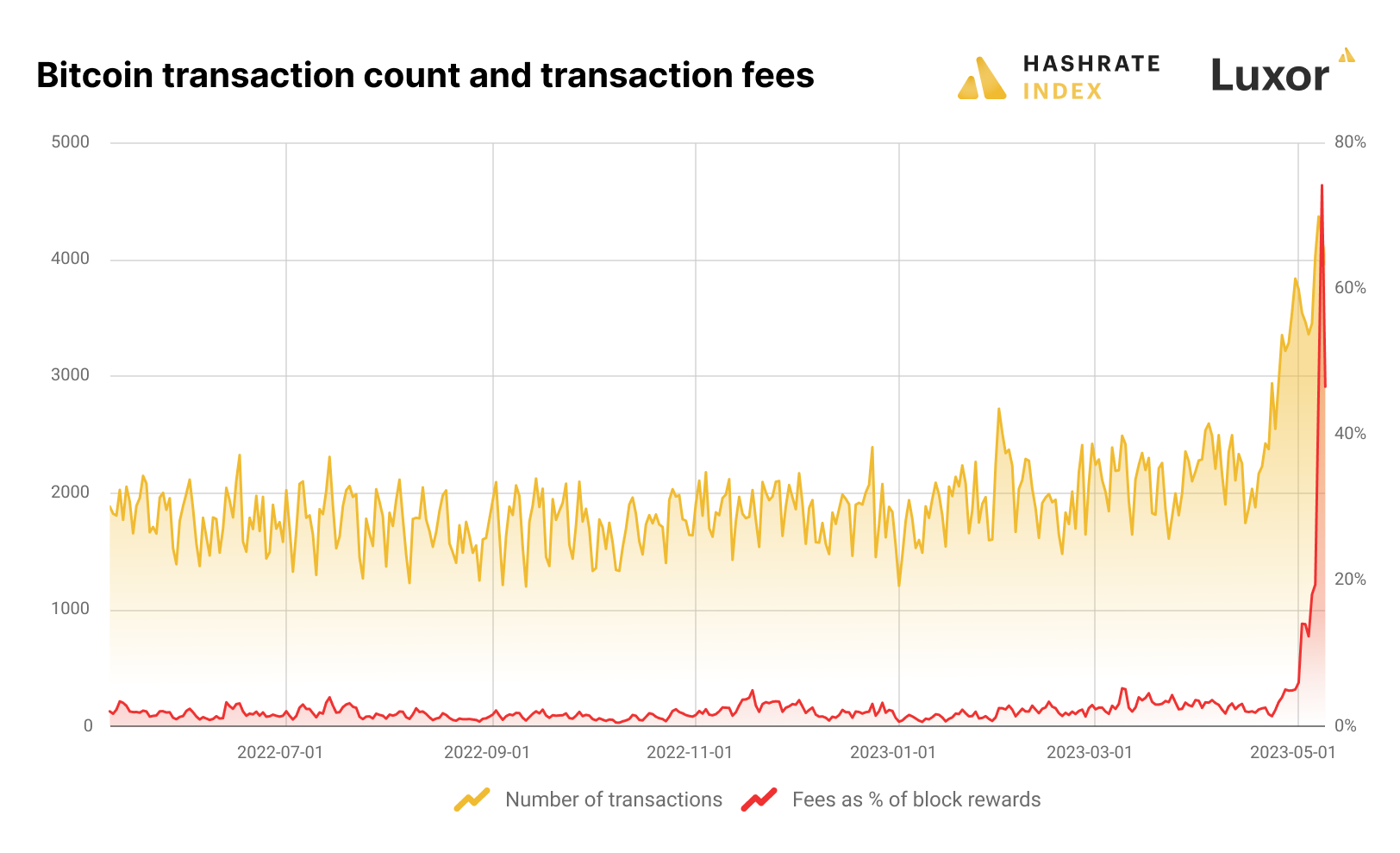 Hashrate Index Roundup (May 14, 2023)
Bitcoin miners made over 2,000 BTC in fees last week, and Bitcoin hashrate is at an all-time high.
Happy Mother's Day, y'all!
Last weekend, we wrote that transaction fees were picking up some serious steam after they hit their highest levels since June 2021. Well, by Monday and Tuesday, fees went off the rails and miners started earning more revenue from transaction fees than they had since 2017.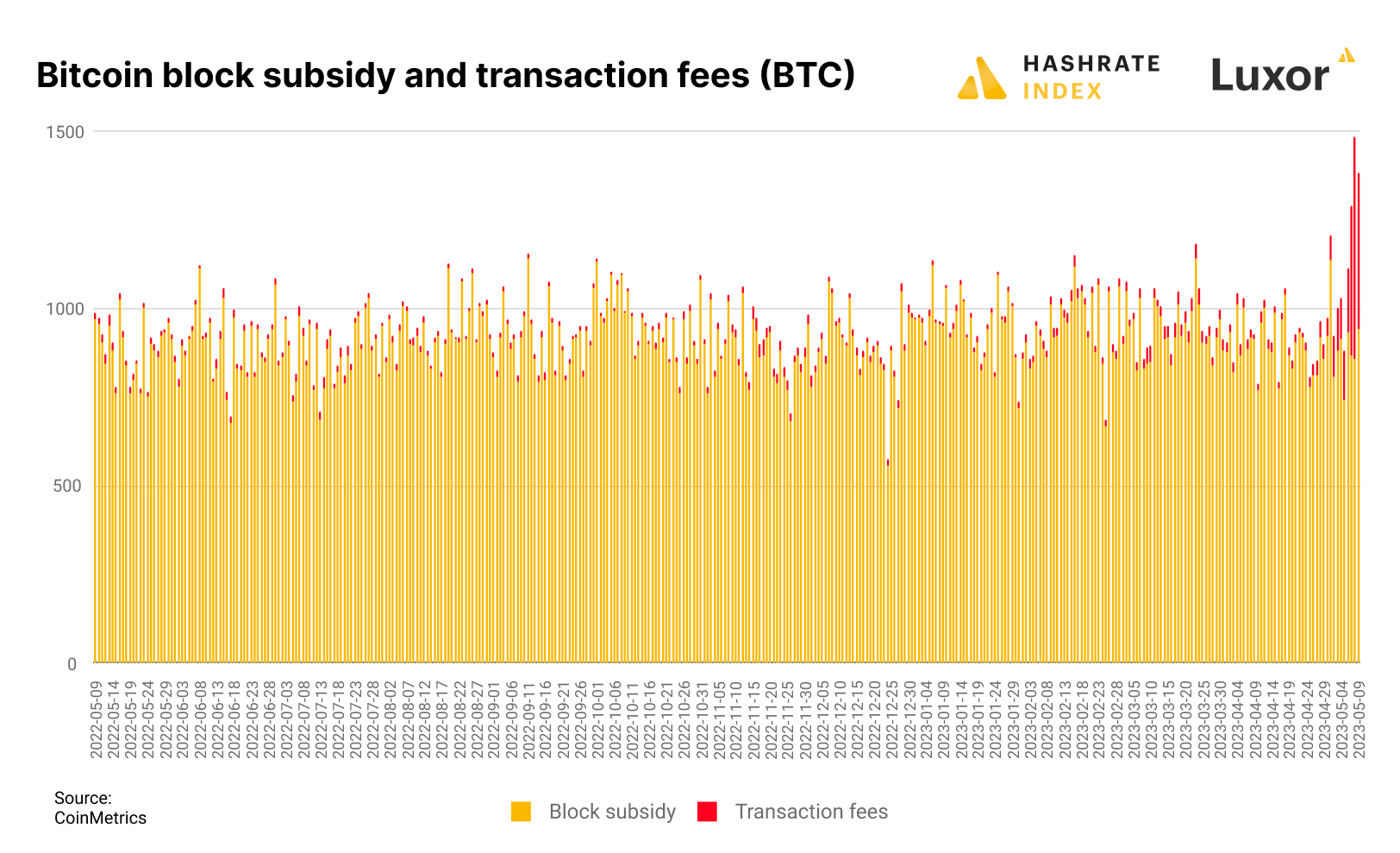 The whole transaction fee revival precipitated from the new BRC-20 token standard for minting ordinals/inscriptions on Bitcoin. The resulting volume also boosted hashprice to its highest level since June of 2022.
The following data points really convey how crazy last week's fee volume was:
Miners pulled in 328 BTC (~$8.9 million) each day on average last week, which also means that 36% of mining rewards came from transaction fees on average last week.
Miners made a total of 2,294 BTC (~$62 million) in fees last week.
The average USD hashprice last week was $98.29/PH/day, and the average BTC hashprice was 0.00355 BTC/PH/day, versus $83.57/PH/day and 0.00289 BTC/PH/day (a 17.6% and 23% increase, respectively).
This profitability boost was short lived, though. As transaction fee volume receded and Bitcoin's price slipped from $29,000 to $27,000, hashprice's meteoric rise cratered into a meteoric decline over the course of the week. Even so, transaction fee volumes are still MUCH higher than they were last year, or even in February and March when the inscriptions mania kicked off; over the last 24 hours, for example, fees constituted 9.46% of block rewards.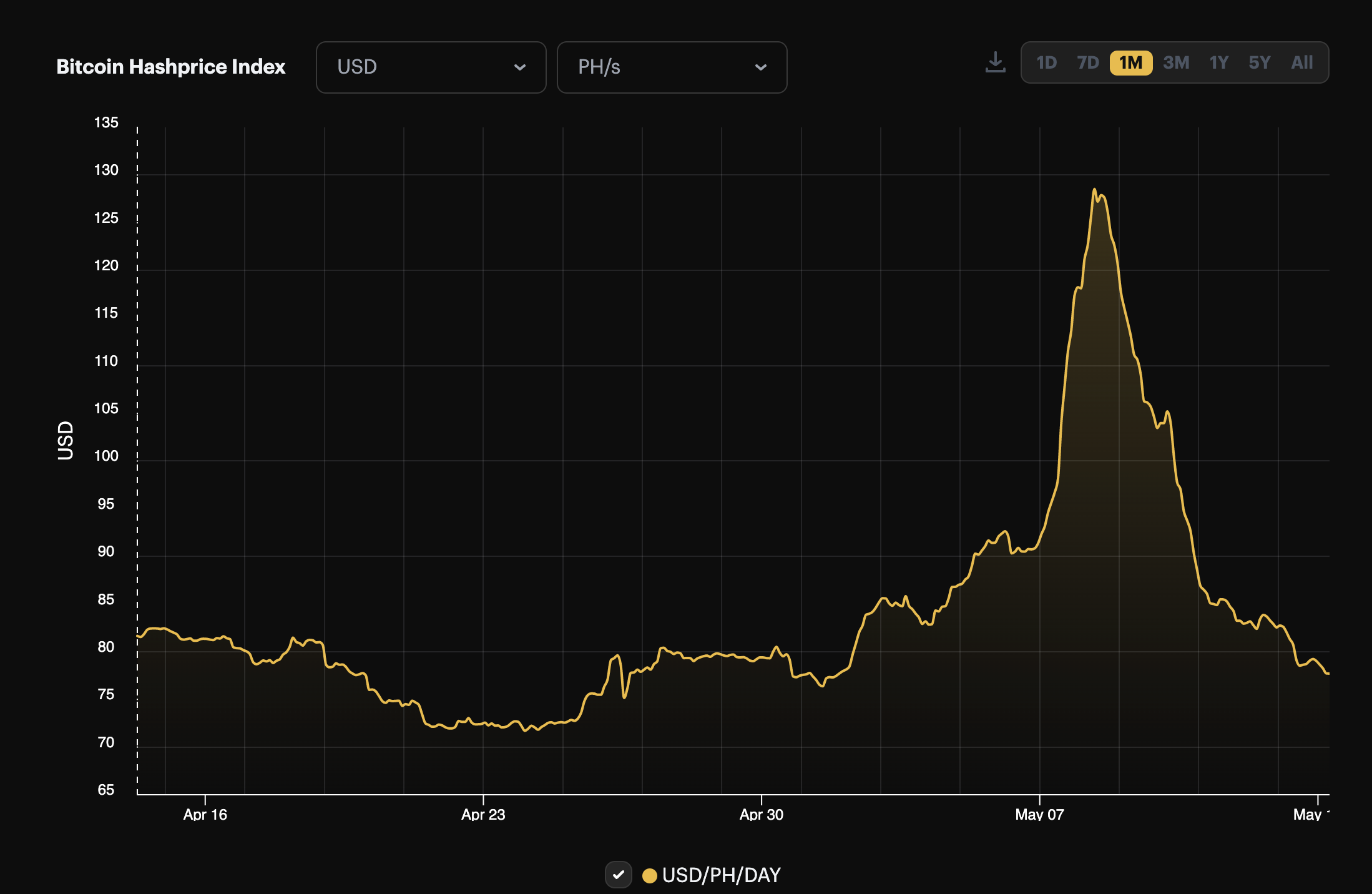 Beyond mining fees and mining profitability, perhaps another side-effect of the BRC-20 bonanza: hashrate is picking back up.
Now, this could just be miners in literal hot-spots (like Texas) powering back on following curtailment during high heat. But it also stands to reason that, after a significant increase in hashprice, miners are plugging in formerly unprofitable machines.
Whatever the reason, Bitcoin's 7-day average hashrate quietly set a new all-time high today in the wake of all the fee excitement. On average, blocks are coming in 11 seconds faster than 10 minutes, so our forecast estimates that the next difficulty adjustment could be 1-2% to the upside.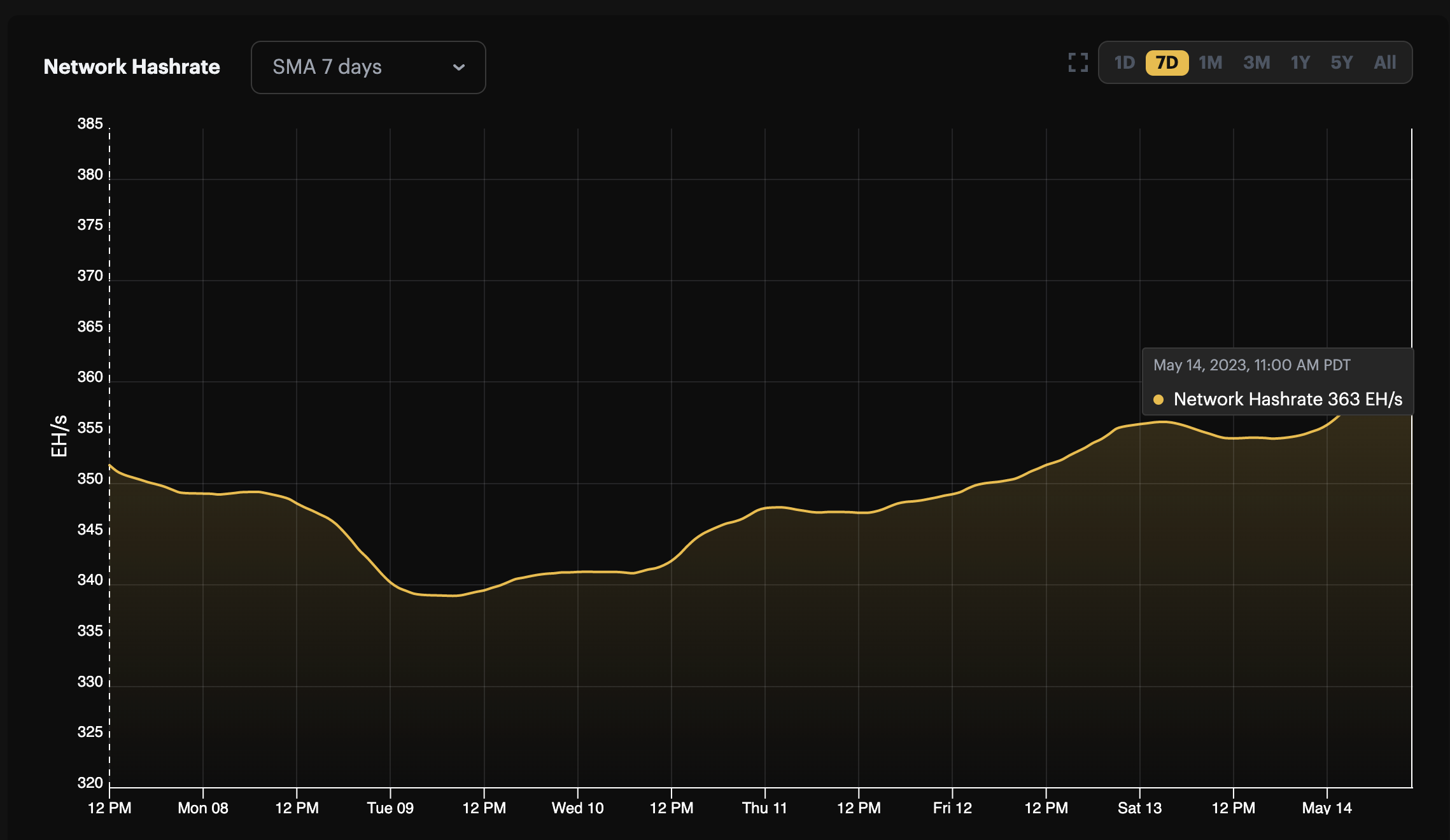 So we hope y'all enjoyed that fleeting all-you-can-fee buffet while it lasted, because hashprice has already retraced the historic BRC-20 rally of May 2023. And assuming the next difficulty adjustment will set a new difficulty all-time high (and Bitcoin's price stays flat or falls), hashprice will be flirting with a $70/PH/day level soon enough.
---
Bitcoin Mining Market Update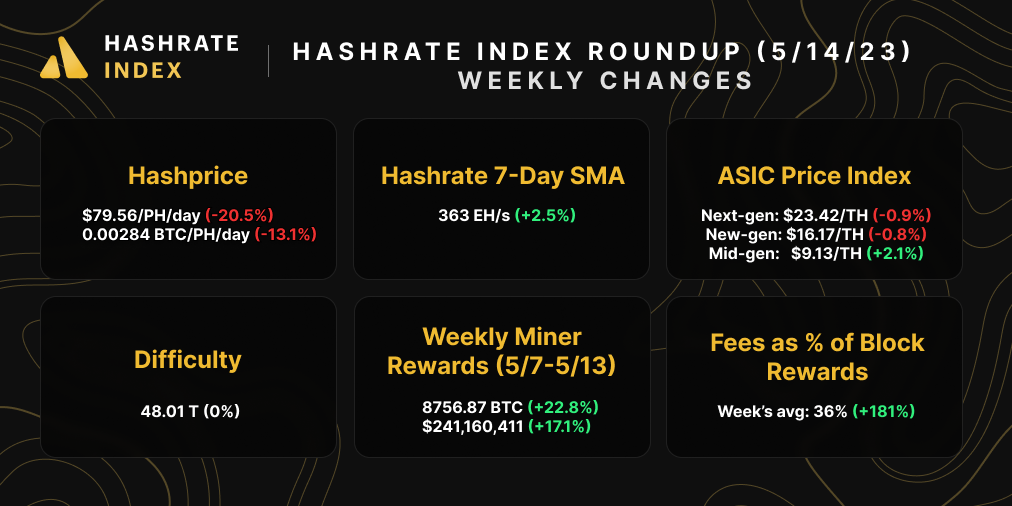 ---
Bitcoin Mining News
For better or worse, last week was a big news week for Bitcoin mining. Here are the top headlines for Bitcoin mining news last week:
---
Sponsored by Luxor
Luxor's Antminer firmware is here! LuxOS provides all of the finetuning miners have come to love from custom firmware and more, including 45+ API commands to give miners complete control over their mining rigs. Visit Luxor's firmware page to learn more.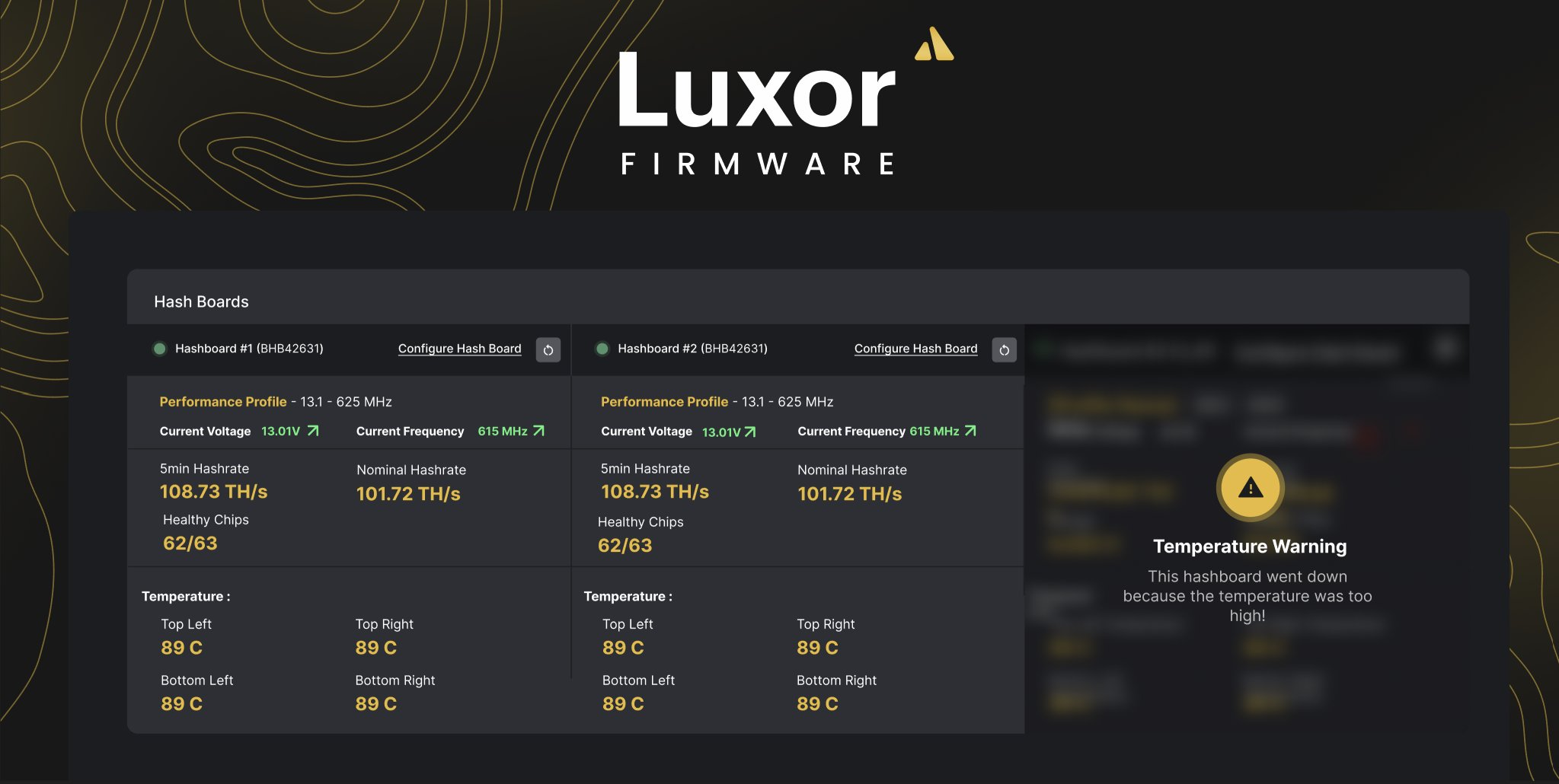 ---
Bitcoin Mining Stocks Update
Bitcoin mining stocks saw mixed returns last week, though most stocks declined alongside Bitcoin's price throughout the week. Our Crypto Mining Stock Index fell 3.6%.
The price action is a good reminder that mining revenue can double over night (like we saw on Sunday and Monday), but the market will still only value Bitcoin mining stocks according to what Bitcoin's own price action.
RIOT: $10.61 (-1.49%)
HUT: $1.74 (-2.79%)
BITF: $0.98 (-10.91%)
HIVE: $2.87 (-7.42%)
MARA: $8.92 (-10.26%)
CLSK: $4.28 (+4.28%)
ARBK: $1.32 (-5.71%)
IREN: $3.69 (+5.43%)
WULF: $1.60 (-10.61%)
---
New From Hashrate Index
How BRC-20 inscriptions sent BTC transaction fees to 5-year highs
Every time you think Bitcoin gets boring, or that you have it figured out, the market proves you wrong. The market for inscriptions did the proving last weekend. Or more rightly, a new inscription token standard, BRC-20, did when it drove Bitcoin transaction fees to their highest levels since 2017.
The BRC-20 bonanza started bubbling up on Sunday and peaked on Monday. Bidding wars were so intense that some block rewards were over 12.5 BTC – last halving epoch's block subsidy. It was the first time we saw transaction fee rewards eclipse the block subsidy this halving epoch, and hashprice topped out at $129/PH/day on Monday from the fee action, a 72% increase from the prior week.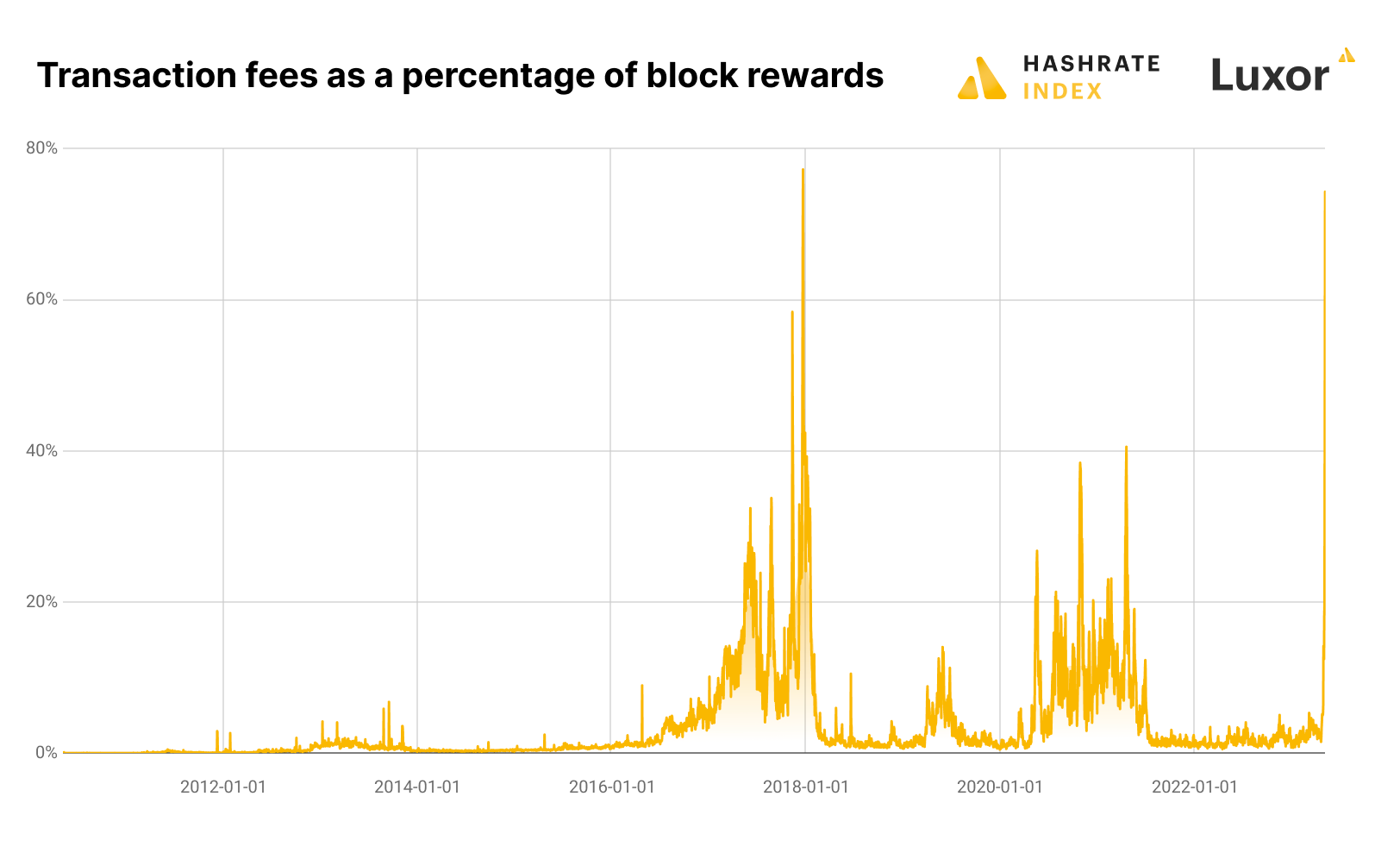 Mining or buying bitcoin - what is the most profitable?
You have two choices for getting ahold of the precious orange coin - you can buy it or mine it. While most prefer the simplicity and safety of just purchasing it, some risk-tolerant investors are willing to embark on the adventurous journey of mining in the hope of accumulating even more bitcoin than if they simply bought it.
Facing this dilemma, in this article, we analyze the current viability of mining as a bitcoin stacking mechanism by estimating the five-year bitcoin-denominated returns of investments in the Antminer S19j Pro and the Antminer S19 XP under six market and electricity price scenarios.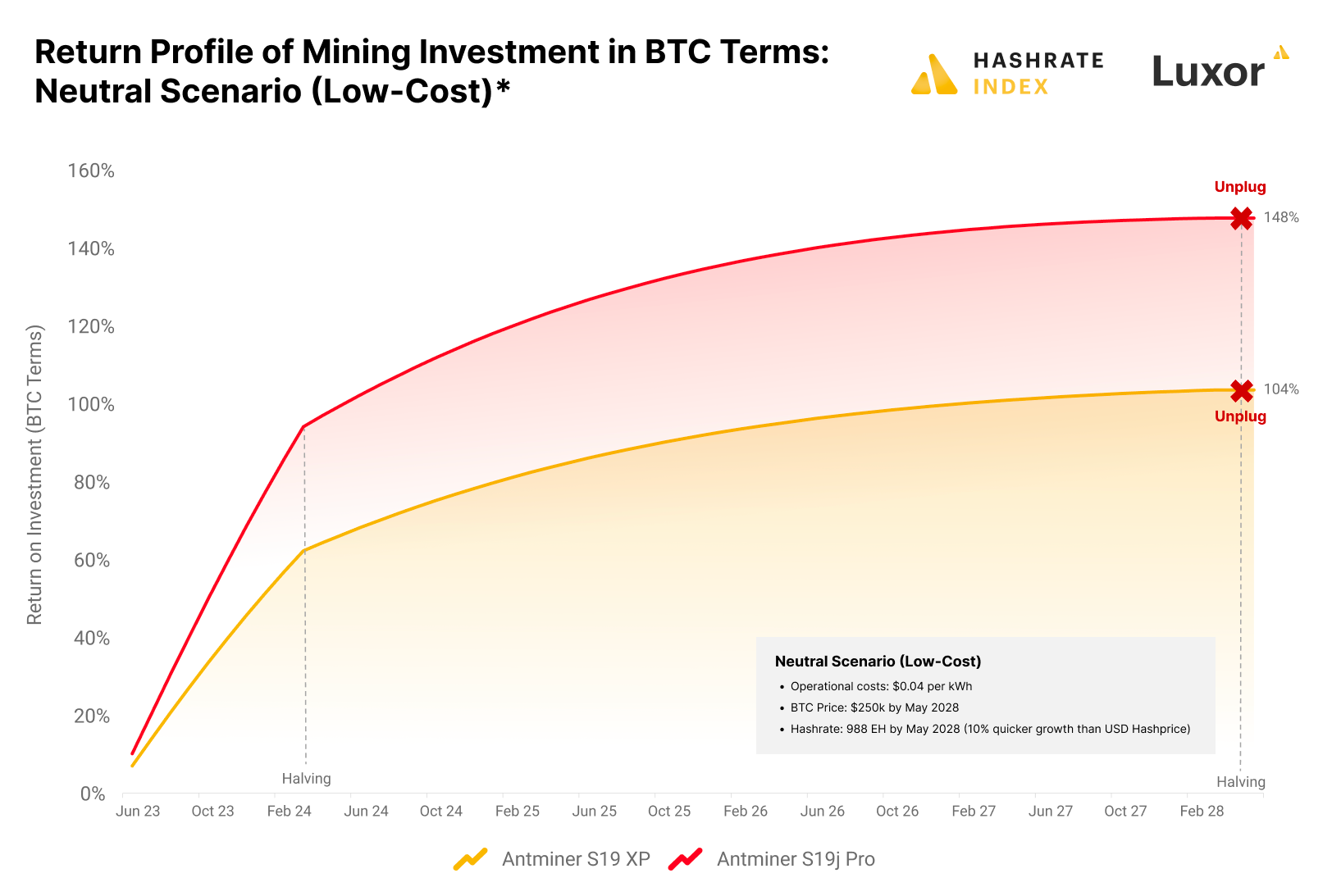 ---
Have a great week, and Happy Hashing!
Hashrate Index Newsletter
Join the newsletter to receive the latest updates in your inbox.
---