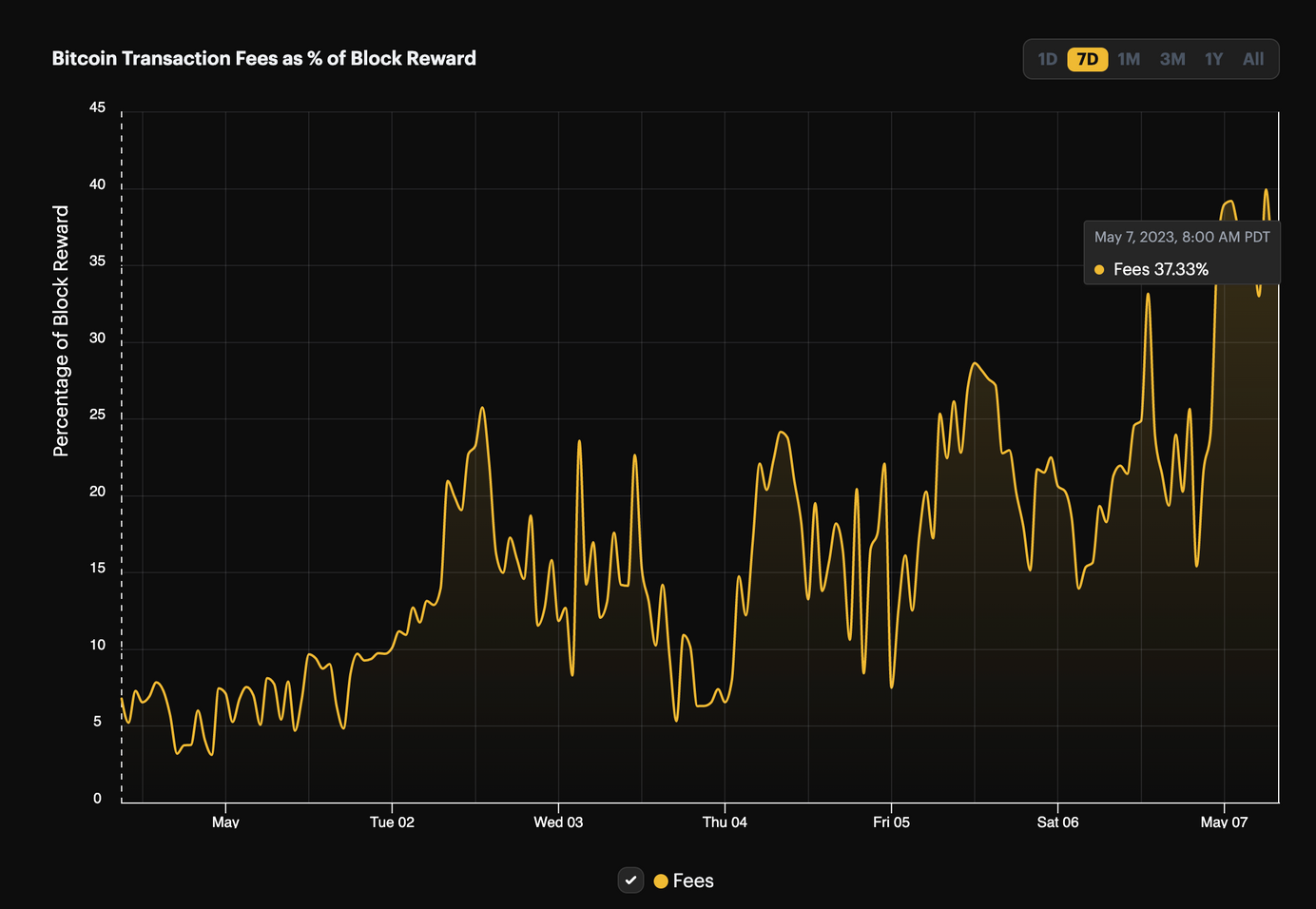 Hashrate Index Roundup: BTC Transaction Fees Gone Wild Edition
Bitcoin transaction fees are at their highest level since June 2021.
Bitcoin transaction fees are MOONING right now, and it's all thanks to NFTs inscription/ordinal degens.
Or more accurately, it's thanks to a new minting standard. The BRC-20 token standard (whose name borrows from the Ethereum token standard, ERC-20) ignited an all-new inscriptions frenzy last week, and the end result was all-time high volumes for inscription transactions – and by extension, the highest transaction fee volume for Bitcoin since the 2021 China Bitcoin Mining Ban.
To illustrate this with the chart below, the largest inscription volume to-date occurred on May 1 and the second largest volume occurred on May 5.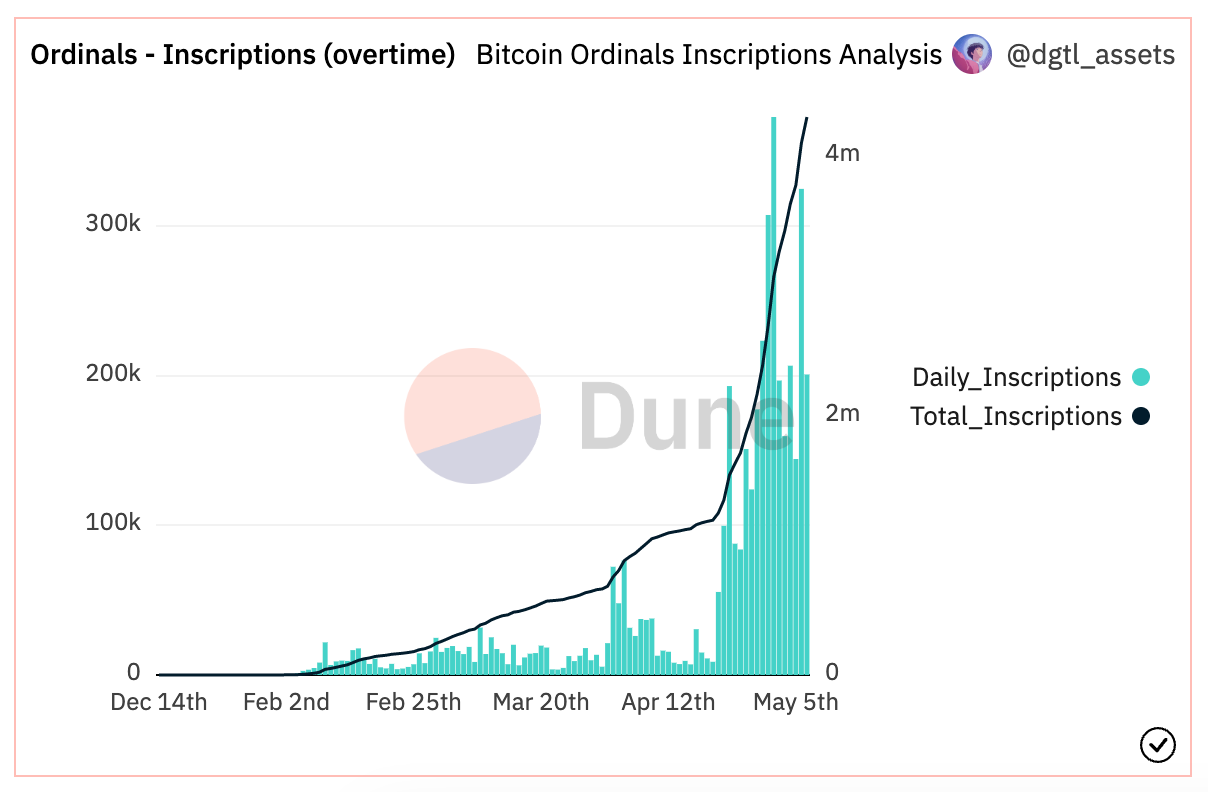 Looking at this volume's effect on Bitcoin's blockspace market, transaction fees were a meaty 12.8% of block rewards on average last week, a 238% increase from the 3.78% average the week before. There were 3,637 transactions on average per block last week, a 16.4% increase from the prior week's 3,124 average.
Now, the thing is, the 3.78% fee rate the week before last was still very good when we compare it to fee averages over the last two years. (Those of you who have been reading long enough probably remember how many of these updates had weekly fee averages between 1-2% – if not under 1% – for basically the entirety of 2022).
The transaction fee volume has done wonders for hashprice, single handedly boosting it by ~20% over the week to $95/PH/day (0.00327 BTC/PH/day).
To put all of this into perspective, transaction fees haven't been this high since June 2021, a time when most Chinese miners were packing up and shipping out of the country following the CCP's Bitcoin mining ban.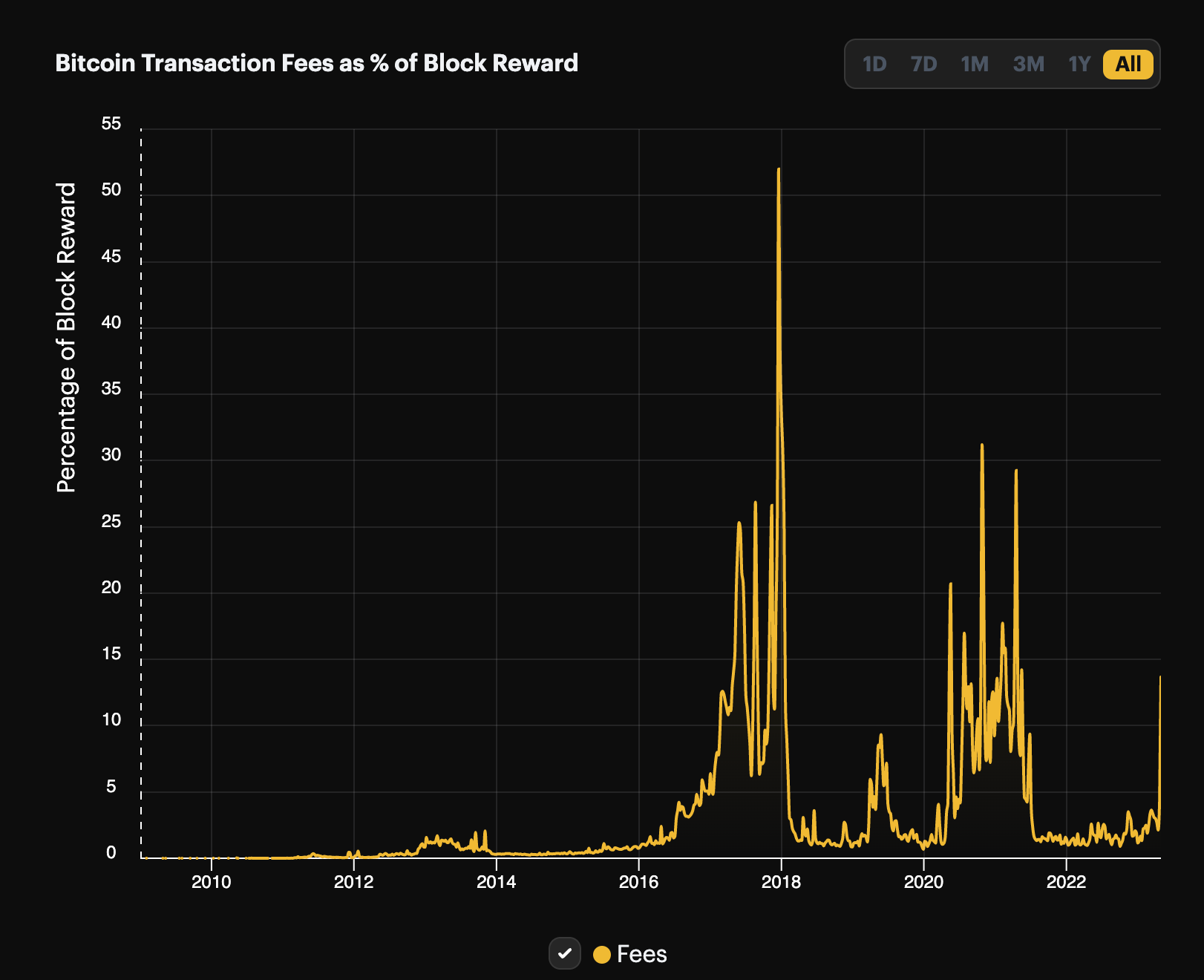 One more thing to note: transaction fees wouldn't be these high if slower-than-average block times weren't exacerbating transaction congestion. The average block time for the current epoch is 11 minutes and 4 seconds.
Why the slower block times? If we look at Bitcoin's 3-day simple moving average, which is better for discerning short-term volatility in hashrate, it has fallen 2% week-over-week to 333 EH/s. Summer is fast approaching, so seasonality is likely the culprit here; last week, a series of hot days (with a peak of 101 degrees Fahrenheit on May 5) and their concomitant grid-stress drove up power prices in West Texas. Miners either curtailed in response to high prices or shut-off to avoid operational issues in the high heat and humidity, so Bitcoin's hashrate is tapering a bit as a result.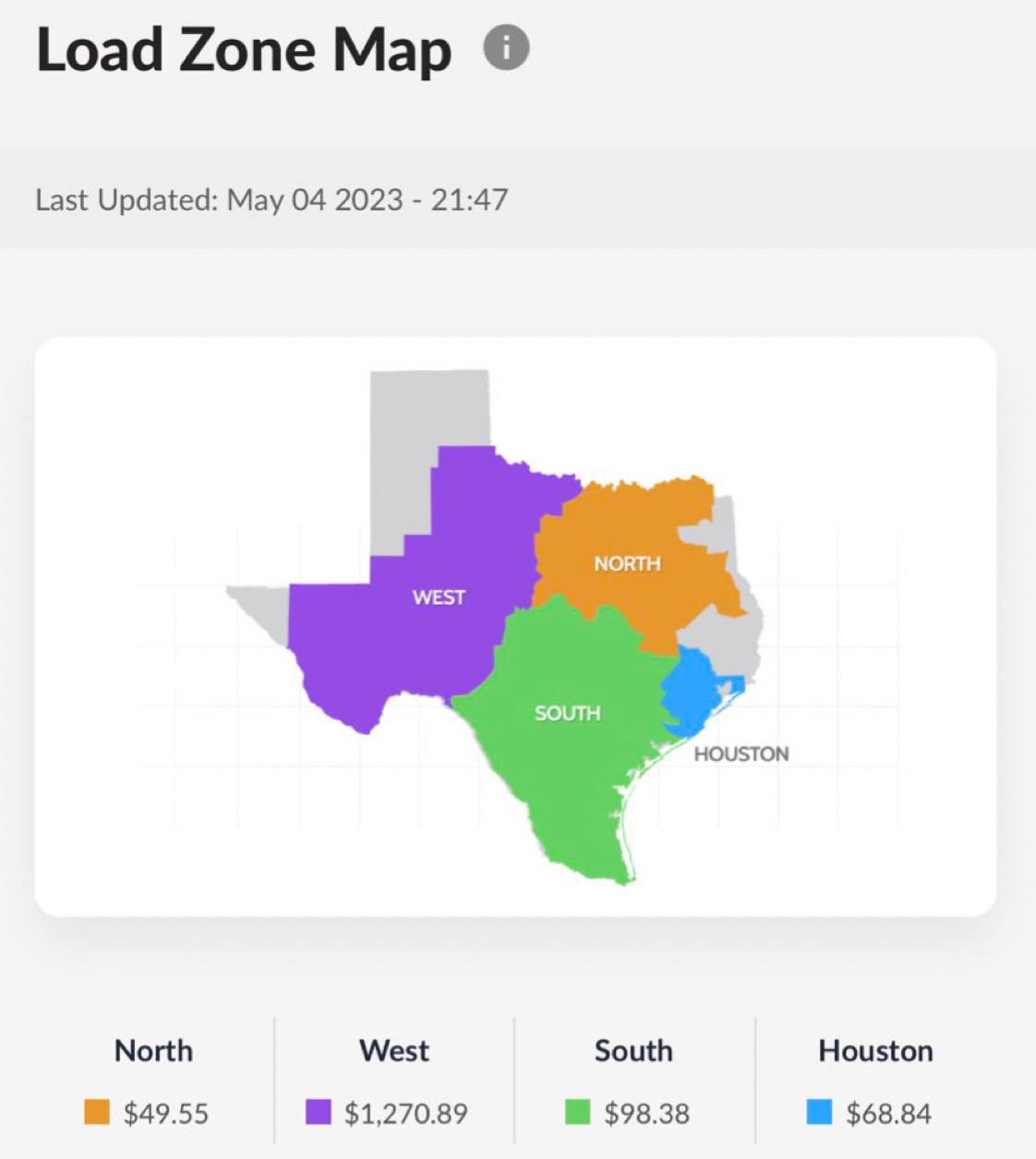 As the summer progresses, we'll be keeping an eye on hashrate seasonality as hot-spots in the USA heat up in June, July, and August.
---
Bitcoin Mining Market Update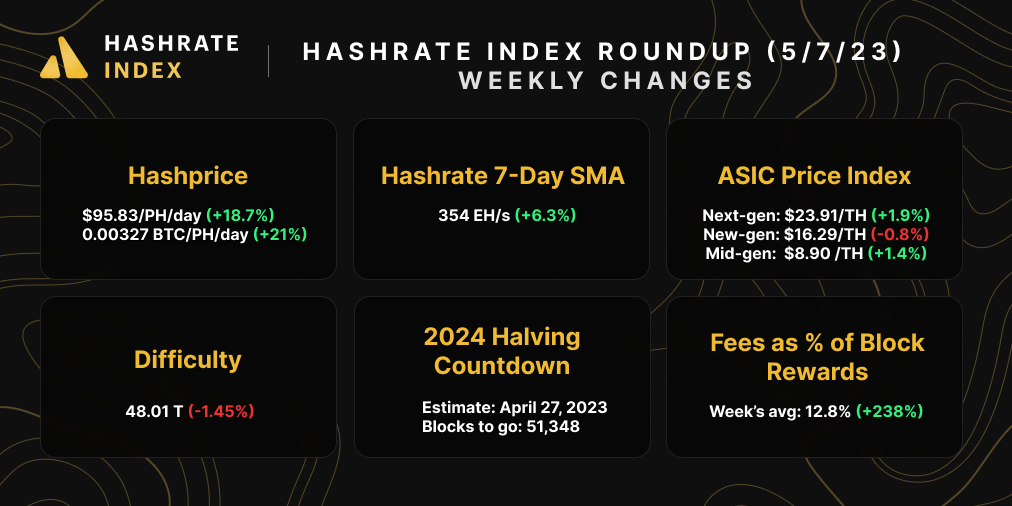 ---
Bitcoin Mining News
Here are some of the top headlines for Bitcoin mining news this week:
---
Sponsored by Luxor
Luxor's Antminer firmware is here! LuxOS provides all of the finetuning miners have come to love from custom firmware and more, including 45+ API commands to give miners complete control over their mining rigs. Visit Luxor's firmware page to learn more.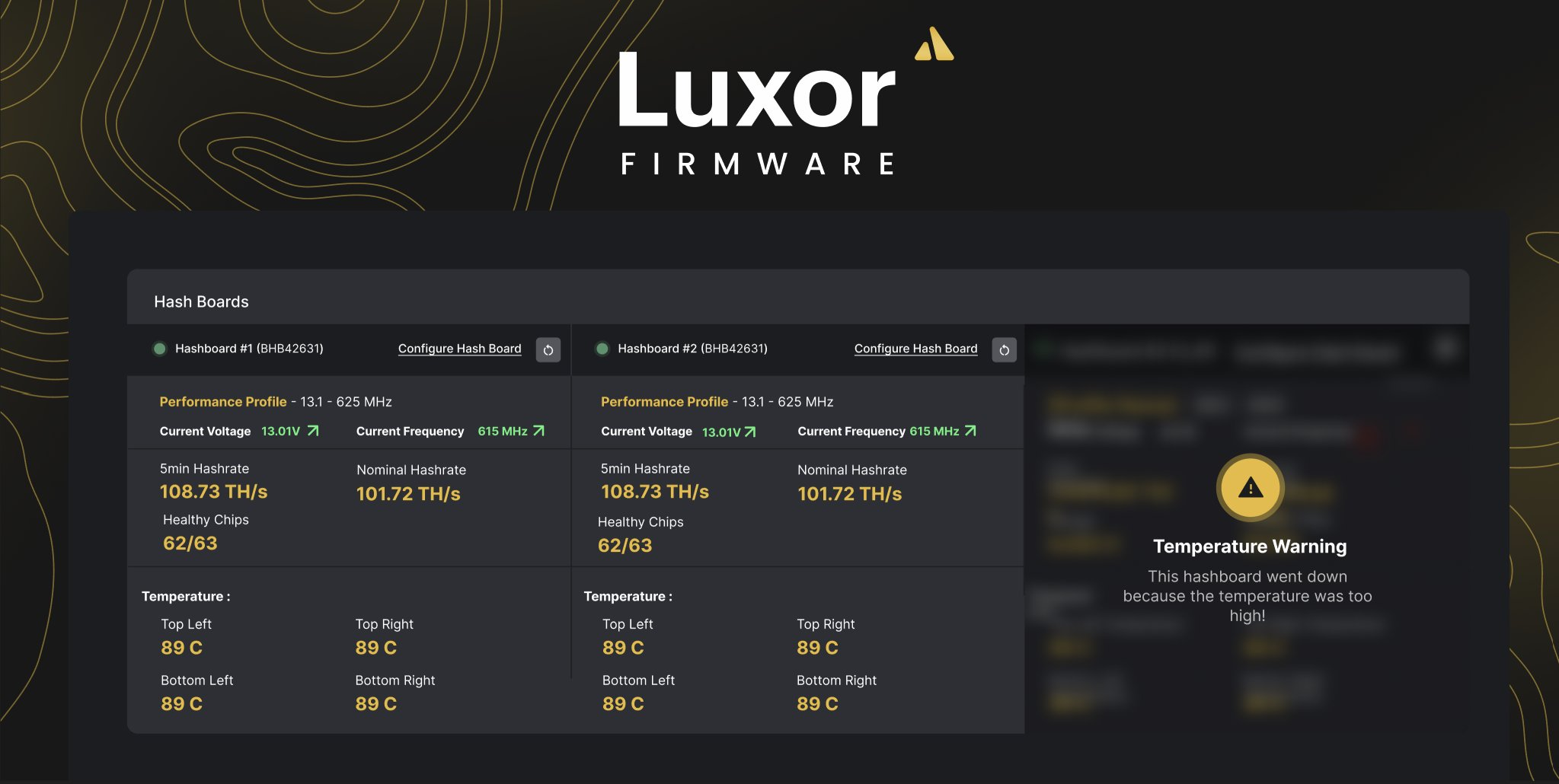 ---
Bitcoin Mining Stocks Update
Bitcoin mining stocks saw mixed returns last week. Our Crypto Mining Stock Index rose 1.9%, making for two positive weeks of growth in a row.
This week, the Bitcoin mining stocks in our update had mixed returns.
RIOT: $11.54 (-0.43%)
HUT: $1.88 (+7.43%)
BITF: $1.16 (+0.87%)
HIVE: $3.19 (-0.93%)
MARA: $10.49 (+7.15%)
CLSK: $4.20 (+11.08%)
ARBK: $1.42 (-2.07%)
IREN: $3.73 (-7.44%)
WULF: $1.84 (+7.69%)
---
New From Hashrate Index
Bitcoin Mining Around the World: Kazakhstan
Kazakhstan rapidly climbed to second place globally in bitcoin mining in 2021. But the country's seemingly invincible bitcoin mining industry soon found itself in a horrifying situation of electricity rationing. As a result, the country's share of the global hashrate plummeted from a peak of 18% in October 2021 to only 4% in May 2023.
Kazakh bitcoin miners now stand at a crossroads as a new bitcoin mining law is being implemented. In this article, we explain what characterizes bitcoin mining in Kazakhstan and analyze how the new regulation could affect the industry.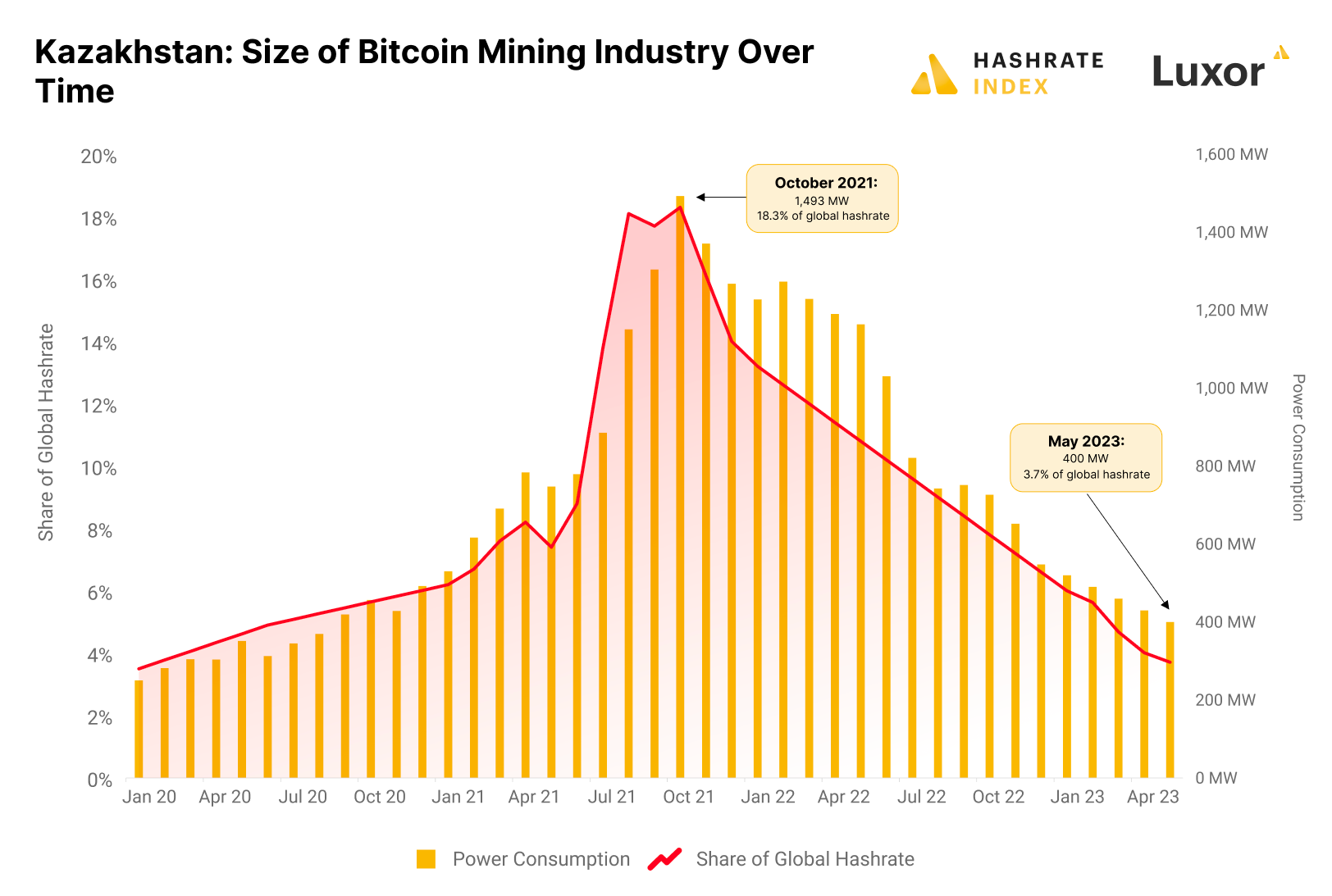 The Bitcoin ASIC market is (mostly) recovering: Luxor RFQ April Insights
In our first Luxor RFQ monthly insights report, we take a look at our favorite ASIC topic: Antminer S19 XP premiums to other Bitcoin mining ASICs! These reports look at monthly closing prices on Luxor's RFQ to analyze trends in the ASIC market. Check out the article for more data and alpha like the table below.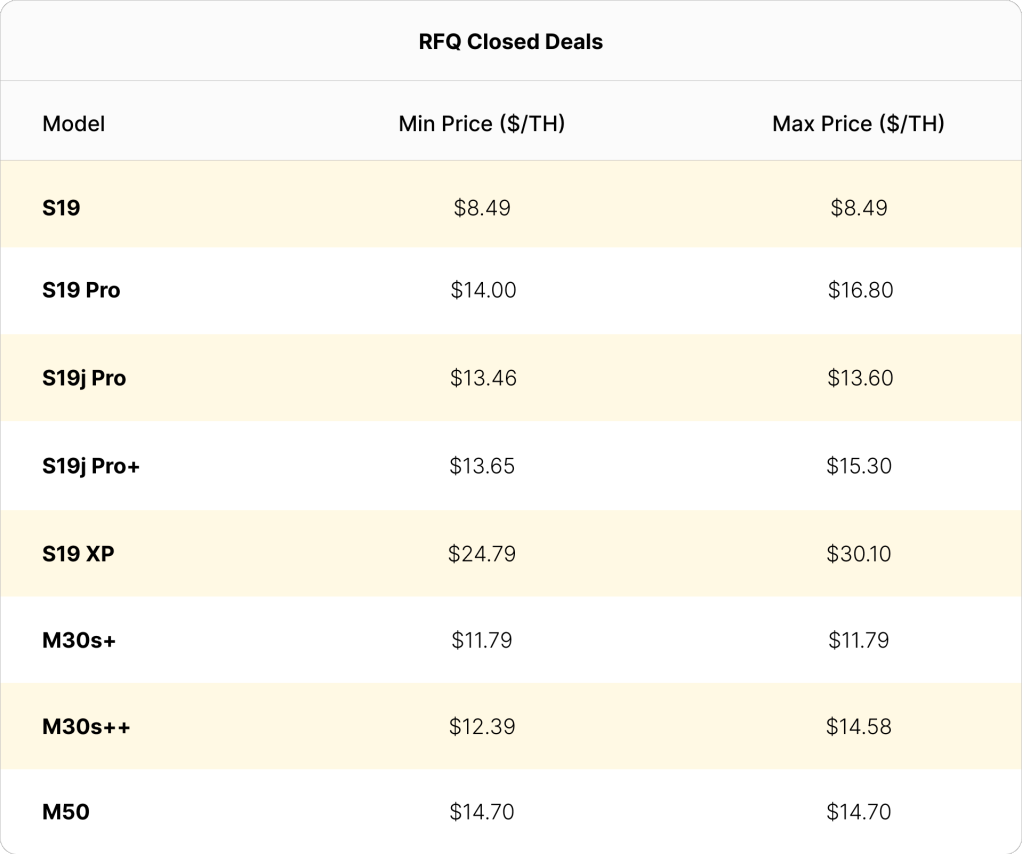 ---
Have a great week, and Happy Hashing!
Hashrate Index Newsletter
Join the newsletter to receive the latest updates in your inbox.
---