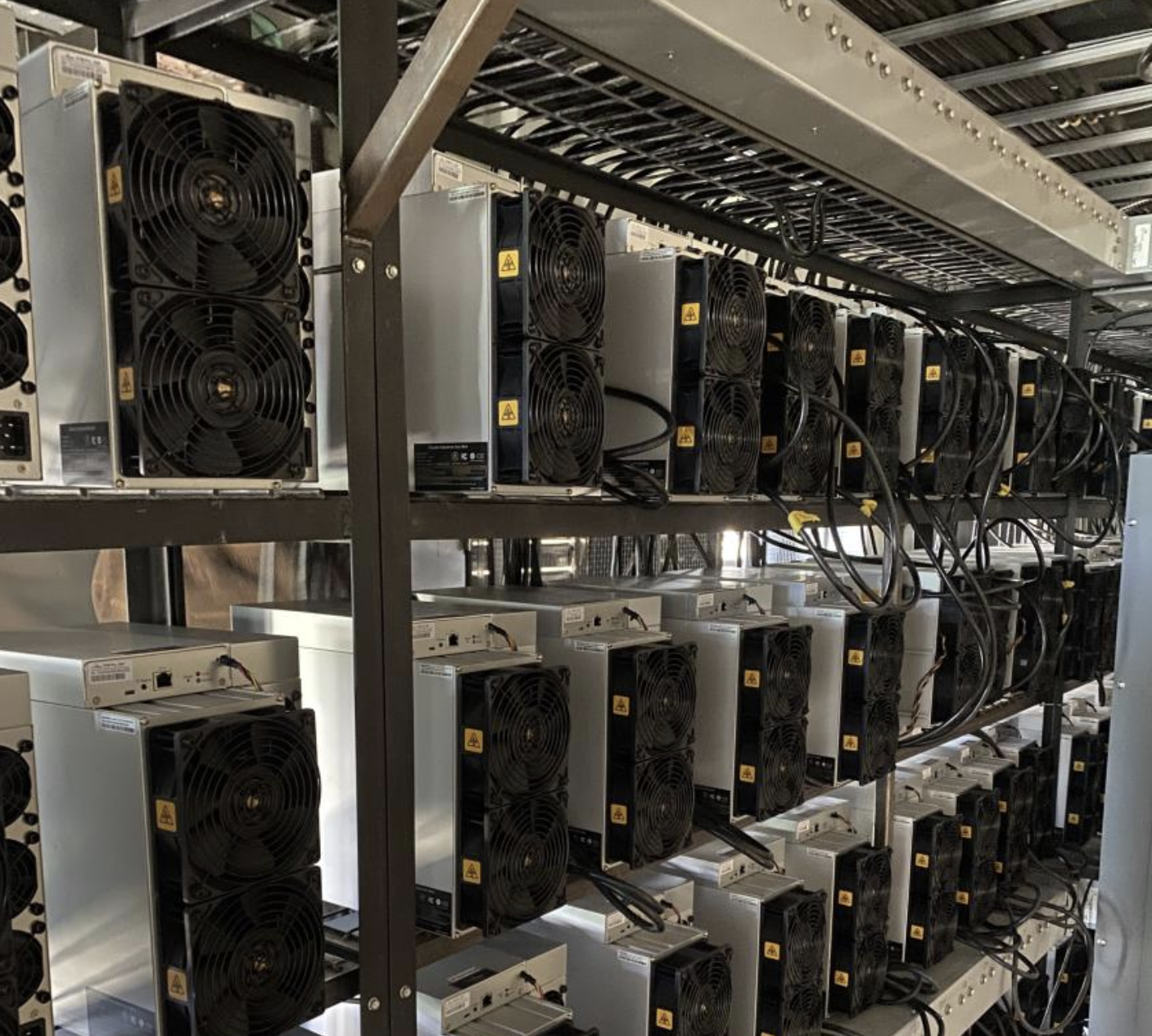 Hashrate Index Roundup (March 5, 2023)
Bitcoin's 7-day average hashrate hit a new all-time high today.
Happy Sunday, y'all!
Hashrate hit an all-time high of 332 EH/s today on the 7-day average. The all-time high was the culmination of 40 EH/s that were added to the Bitcoin network over the week.
With hashrate surging, blocks are coming in every 9 minutes and 39 seconds on average. If this growth is sustained, we'll be due for another positive difficulty adjustment this week, the fourth such of the year.
As hashprice recedes, miners unplugging unprofitable hardware may stanch the growth in hashrate, though it's unlikely that these unplugged units would match the amount of hashrate scheduled to come online in the coming month.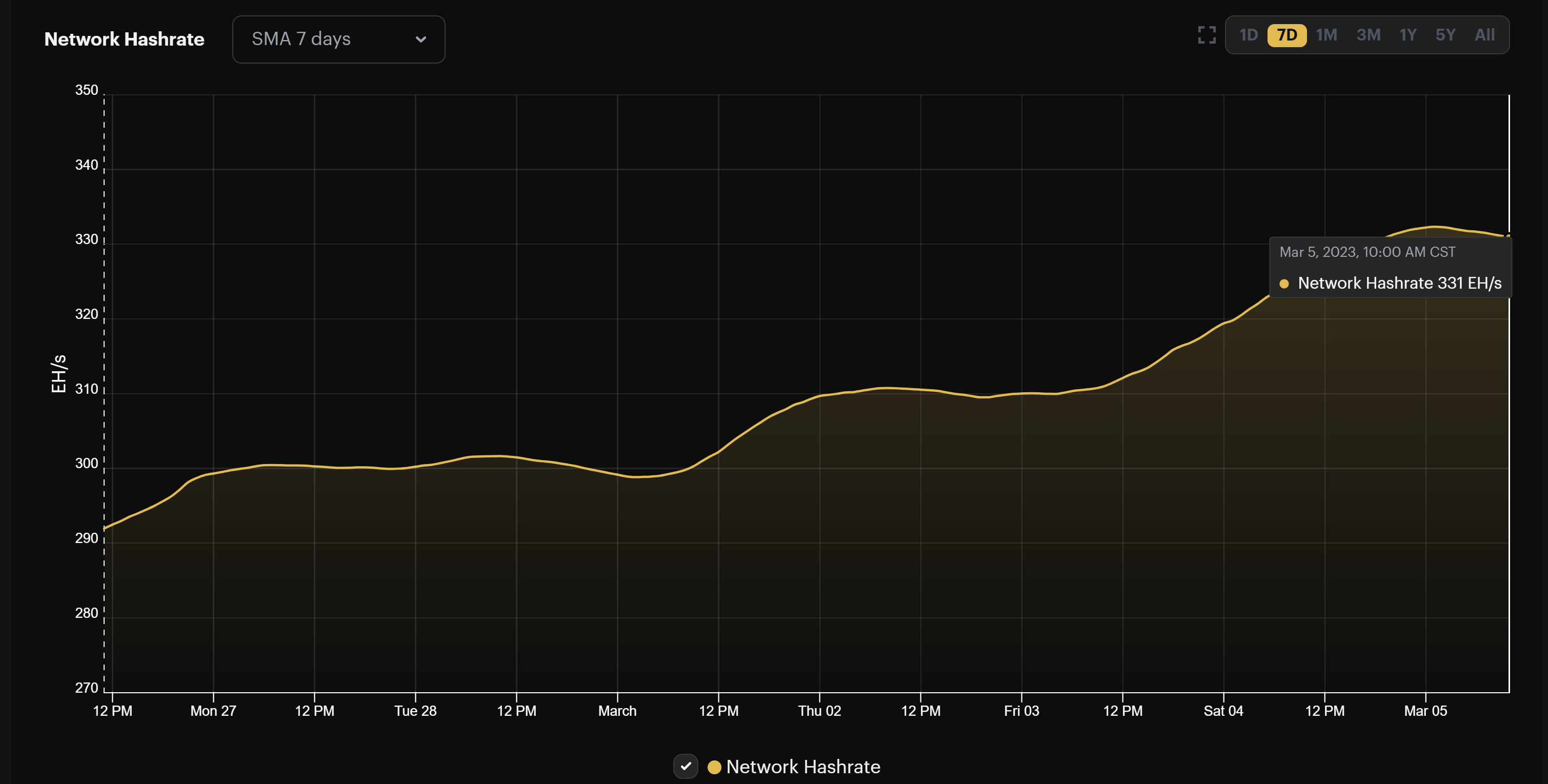 Bitcoin Mining News
Mining Market TLDR (Change from Prior Week)
Hashprice: $66.72/PH/day (-3.12%) | 0.00297386 BTC/PH/day (-0.15%)
Hashrate: 330 EH/s (+13%)
Difficulty: 43.05 T (0%)
---
Sponsored by Luxor
Luxor's Antminer firmware is nearly here. LuxOS provides all of the finetuning miners have come to love from custom firmware and more. Want to test it? You can join the waitlist here.
Hashprice Index (March 5, 2023)
As Bitcoin's price continues to slip, hashprice is inching closer and closer to $65/PH/day.
If hashrate stays elevated (and Bitcoin's price stays depressed), then we'll see USD hashprice fall below $65/PH/day when the next difficulty adjustment comes around.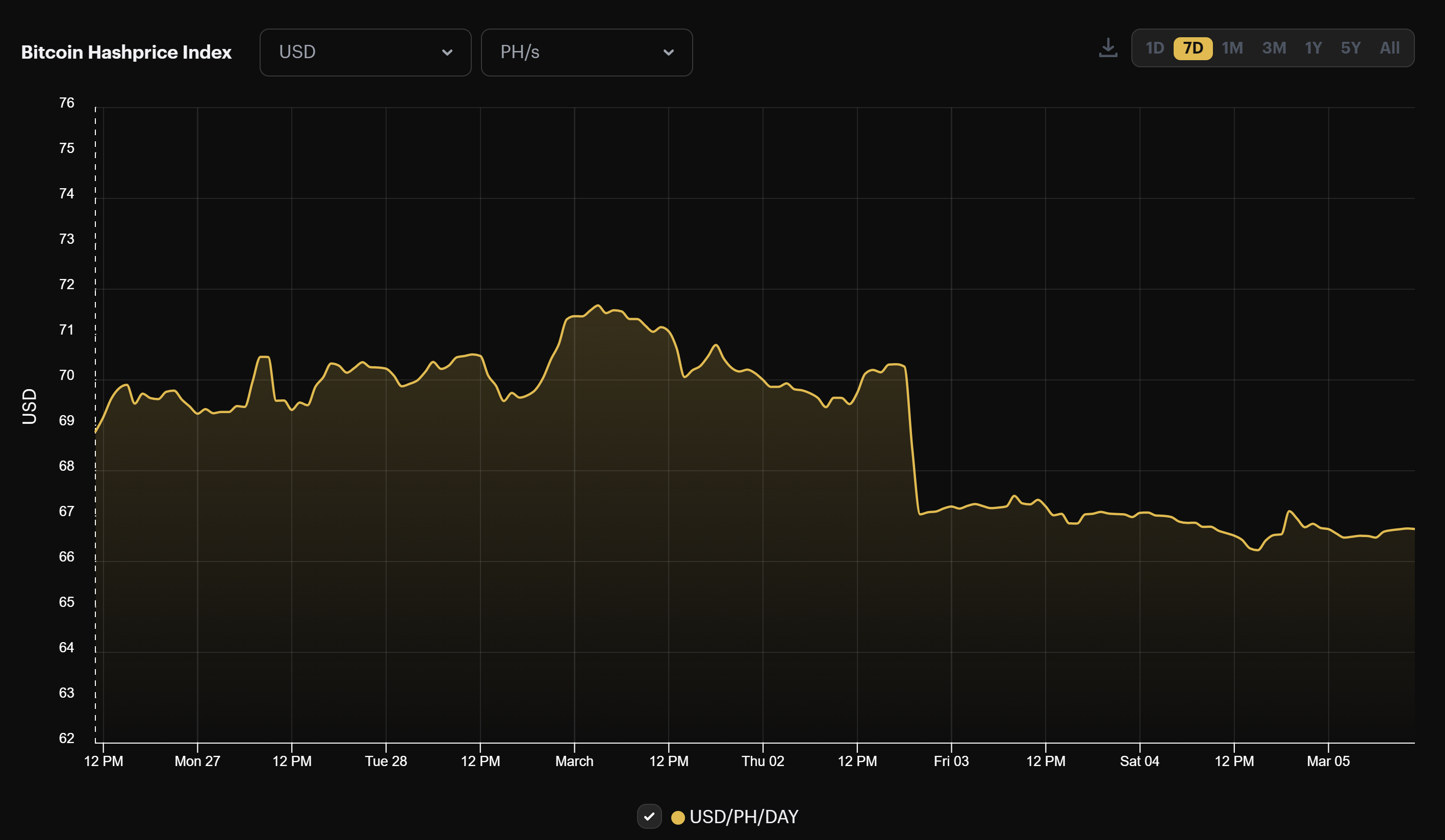 Bitcoin Mining ASIC Price Index (March 5, 2023)
ASIC prices continue to recover. New-gen rig prices rose for the 6th straight week, while mid-gen rigs fell for the first time in a month.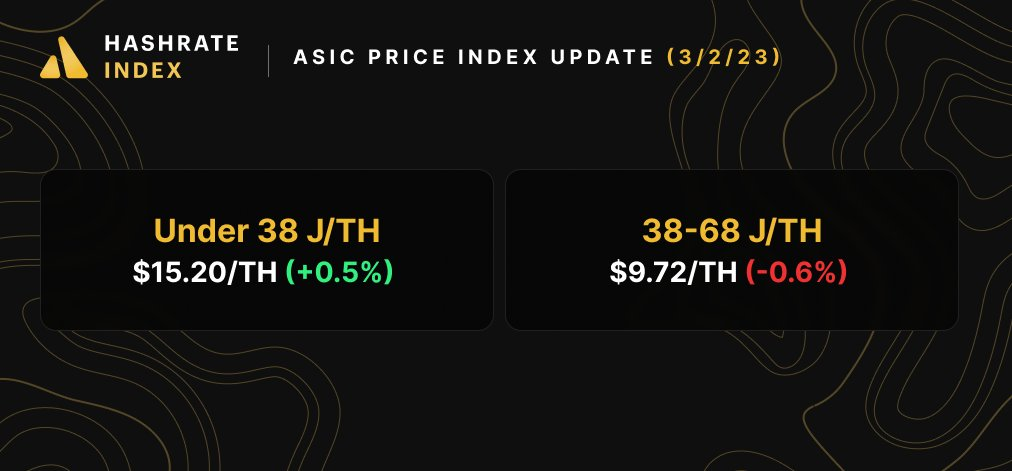 Bitcoin Mining Stocks (March 5, 2023)
Public miner stocks fell again this week, continuing a downtrend that ended the early-year surge in bitcoin mining stock prices. Hashrate Index's Crypto Mining Stock Index declined by 3.4% over the week.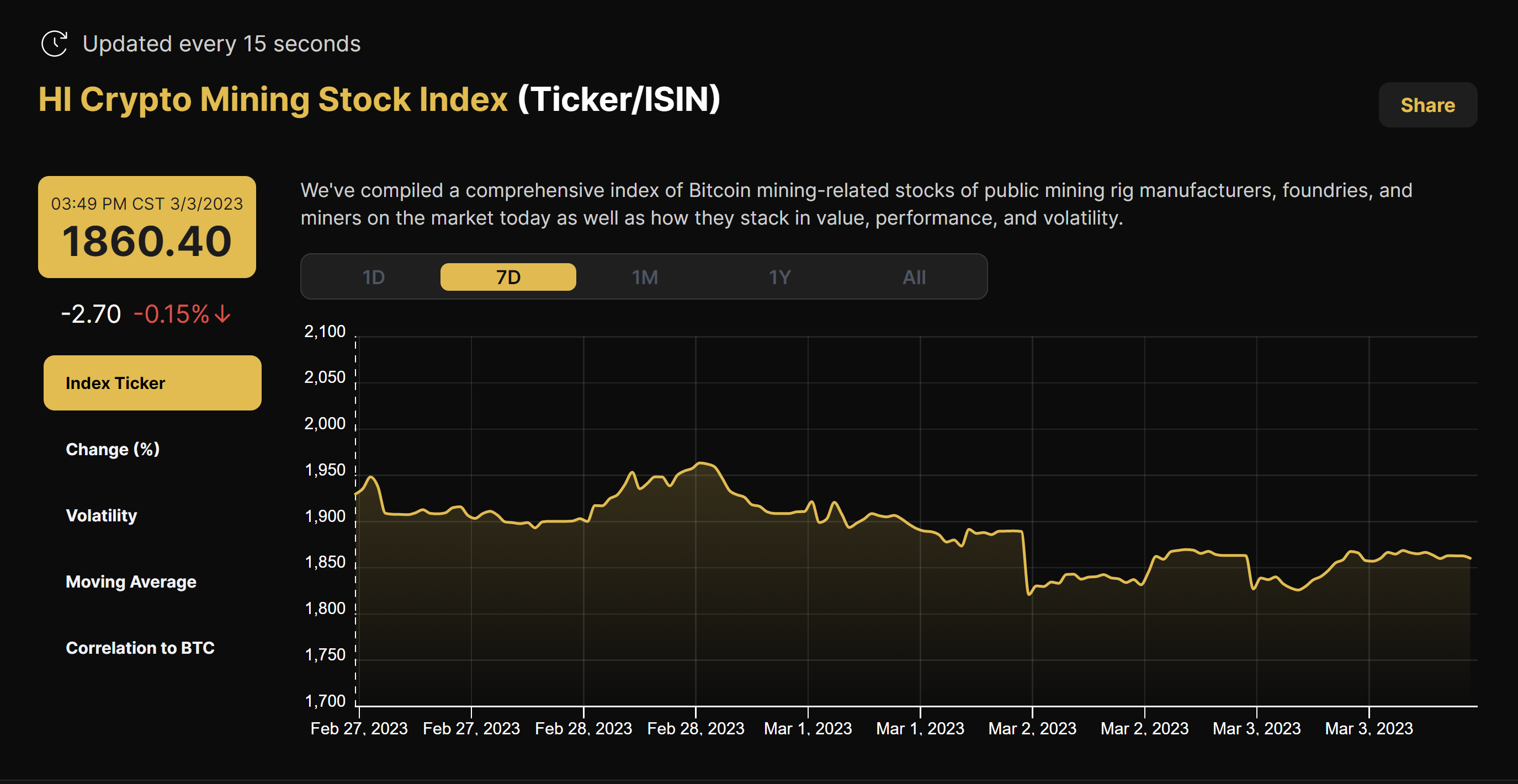 Week-over-week performance of popular Bitcoin mining stocks:
RIOT $6.34 (+4.62%)
HUT $1.56 (-7.69%)
BITF $0.88 (-8.39%)
HIVE $2.75 (-2.14%)
MARA$6.38 (-8.46%)
CLSK $2.55 (-11.15%)
ARBK $1.63 (+1.24%)
IREN $2.62 (-10.45%)
New From Hashrate Index
Bitcoin Mining Stocks: February Performance
The bitcoin mining sector met headwinds in February after a roaring January. Carefully optimistic mining stock investors seemed to be positioned for a continuation of the bitcoin uptrend. They thus watched in disappointment as the bitcoin price ended the month where it started at just below $24k.
With bitcoin and Nasdaq flat in February, disappointed mining stock investors slightly reduced their exposure, pushing most bitcoin mining stocks into the red territory. The HI Crypto Mining Stocks Index (ISIN) ended the month with a 6% decline.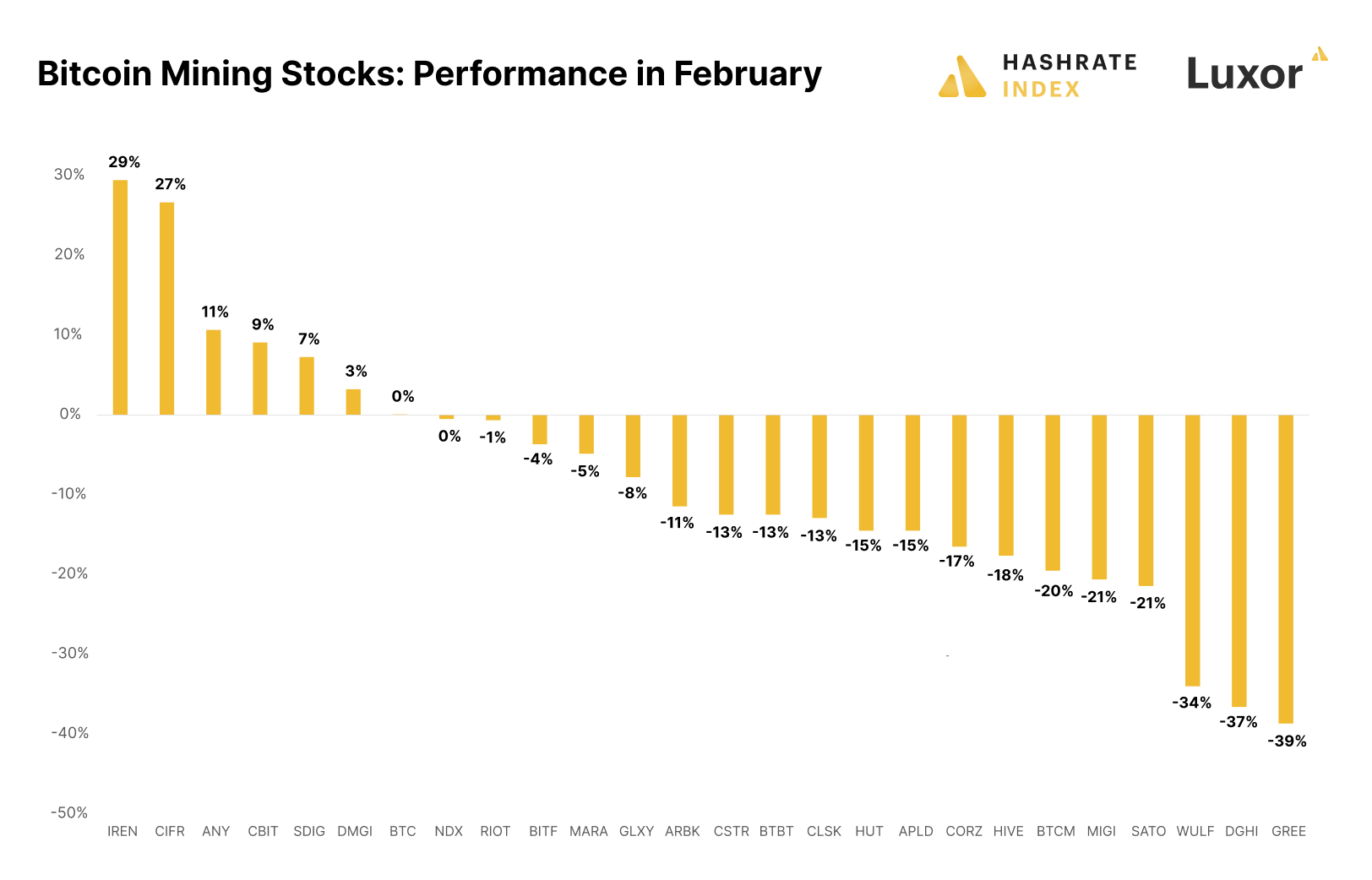 Inside the Itaipú Dam, Paraguay and Brazil's Hydro Colossus
An in-depth look into the bowels of the Itaipú Dam, the world's second-largest hydroelectric dam.
Last December, the Luxor team had the privilege to visit the Itaipú Dam, which is responsible for powering the entire nation of Paraguay. It also produces most of the power consumed in one of the most populated cities in the world: São Paulo, Brazil.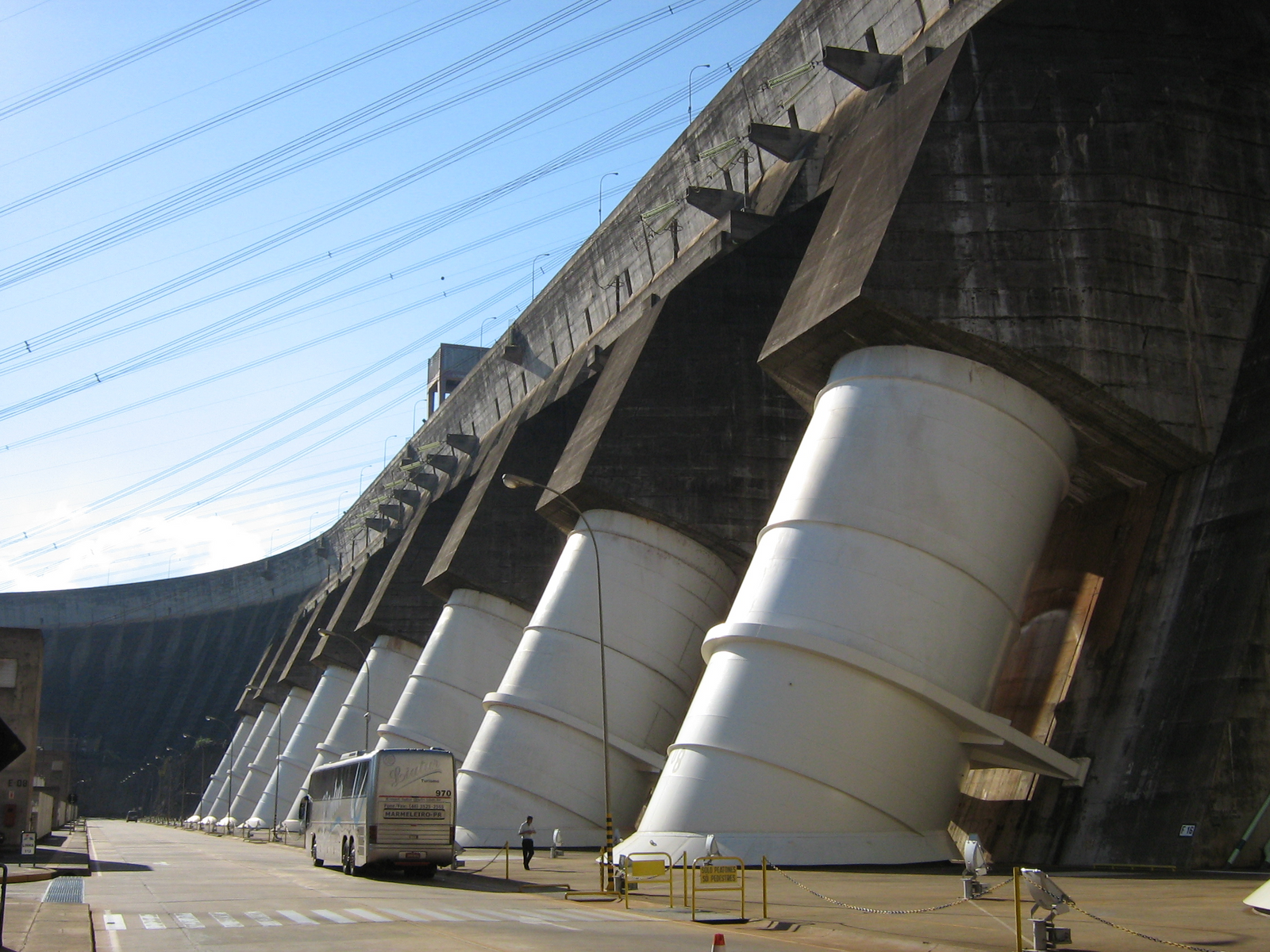 How to Design Optimal Airflow for a Bitcoin Mining Facility
This post is focused on airflow management related design aspects of bitcoin mining farms. Dielectric immersion cooling and water cooling are also gaining popularity, but are out of scope for this post. This is a guest post from Aviral Shukla of Altair Bitcoin Mining Solutions, which was syndicated from Altair's blog. You can find the original post here.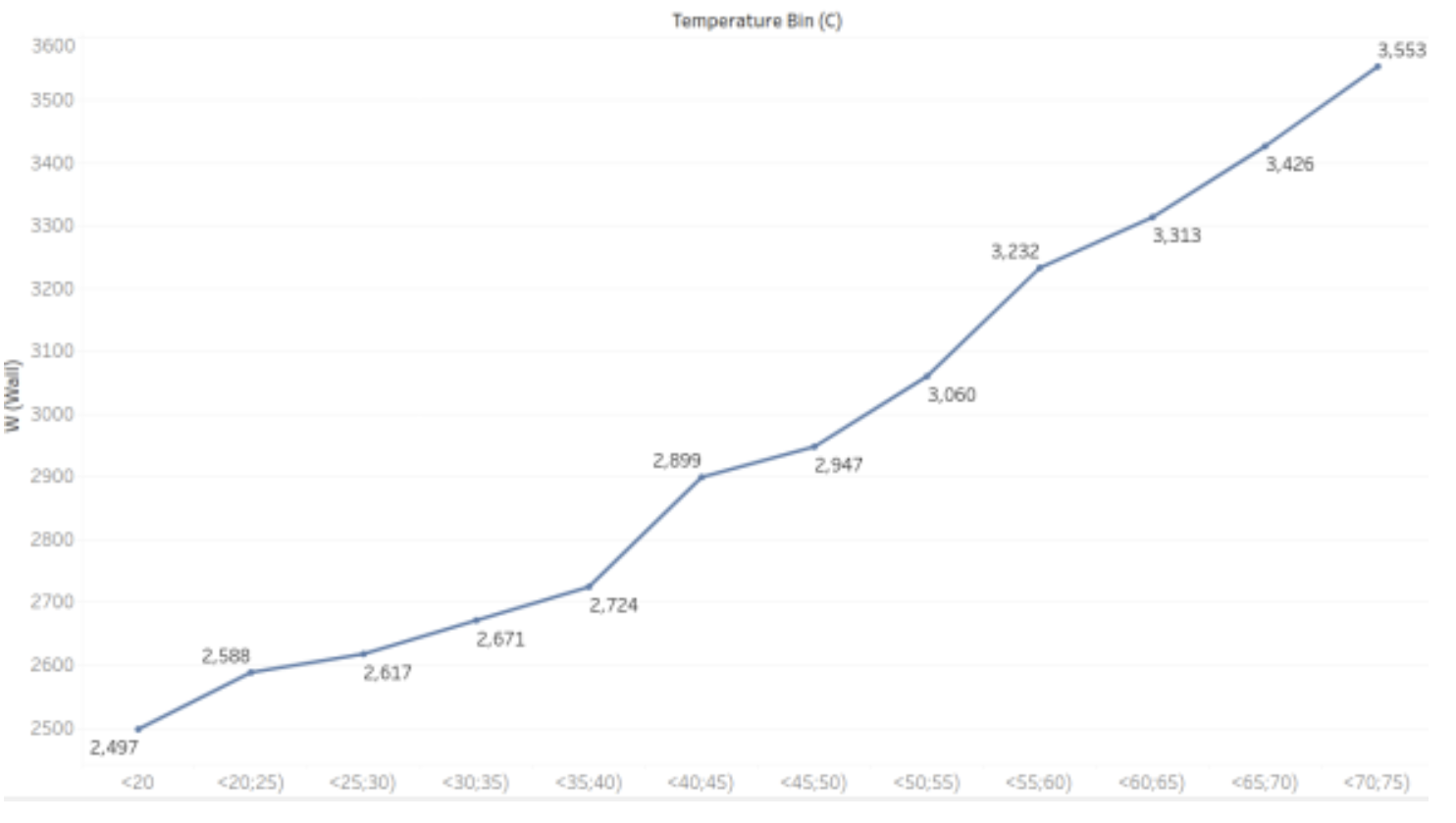 ---
Have a great week, and Happy Hashing!
Hashrate Index Newsletter
Join the newsletter to receive the latest updates in your inbox.
---