Hashrate Index Roundup (August 20, 2023)
It's all-time high season for Bitcoin's hashrate and difficulty -- the last thing miners want to see.
In last week's roundup, we wondered when Bitcoin / hashprice would snap out of a period of uncharacteristically low volatility.
We got an (unfortunate) answer this past Wednesday when Bitcoin broke below $29,000. During the multi-day selloff, Bitcoin hit $25,500 before stabilizing around $26,000 this weekend.
Bitcoin's price is down 11% over the week, and that means that hashprice has fallen in lockstep. Hashprice is $63.66/PH/Day at the time of writing, a level miners last saw in mid-June, right before Bitcoin began its summer run to $30k.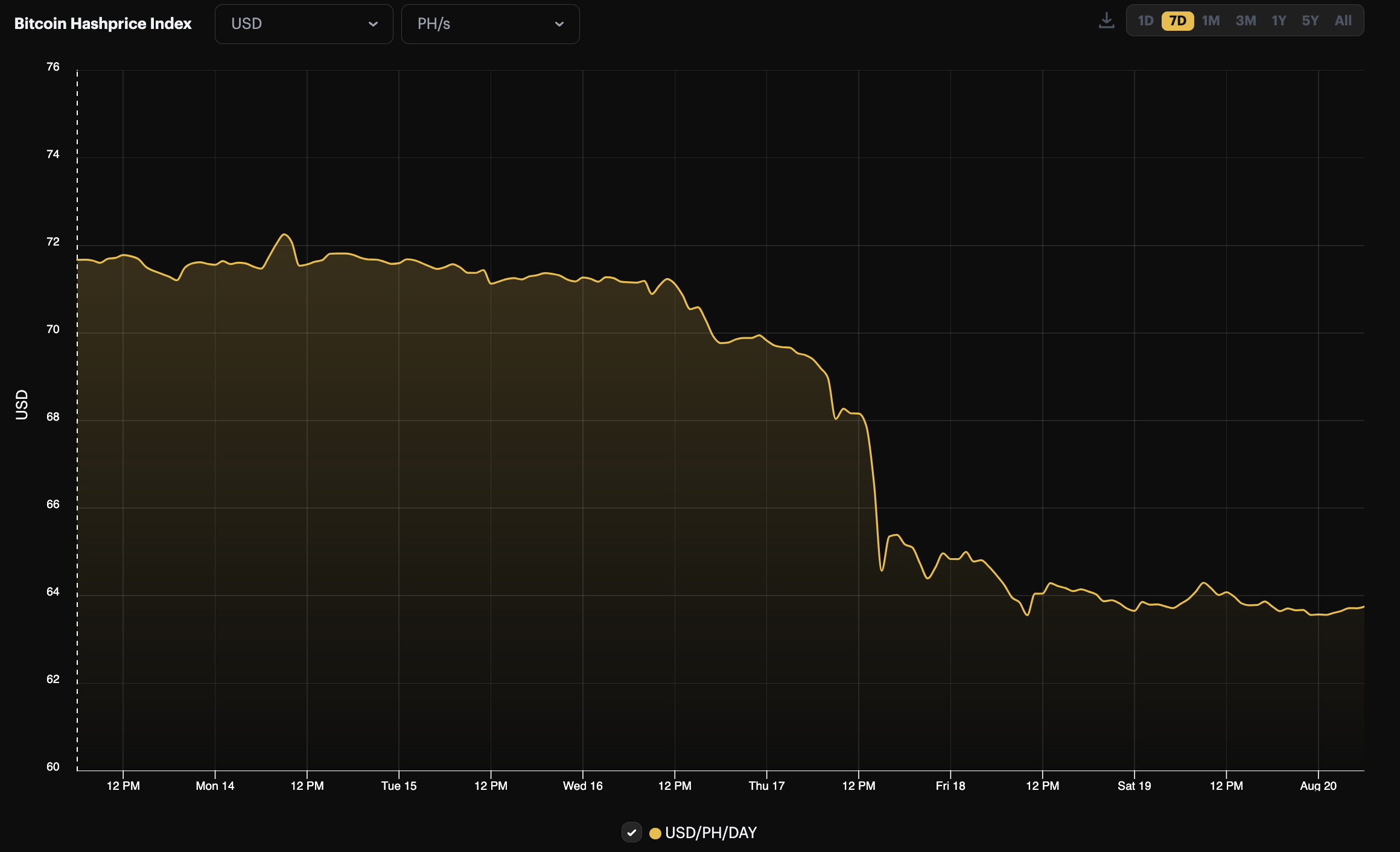 All of this hashprice pressure could knock higher cost miners off the network, especially if Bitcoin retraces lower. And it serves as a reminder that the 4th Halving Epoch will be extremely cutthroat. If we were already in a 3.125 BTC block subsidy world, hashprice would be ~$31.80/PH/Day under current Bitcoin price, transaction fee, and difficulty conditions.
For any hashrate that does come offline though, it's unlikely to offset the waves of fresh hashrate that are coming online around the world.
Case and point: we've got a positive difficulty adjustment coming up in two days – and it's going to be a big'un. Our forecast says the adjustment could be as high as a 6.76% increase, but we've still got 15% of the current difficulty epoch to go, so this will no doubt shift up or down accordingly.
Still, we'll get an all-time high for Bitcoin's mining difficulty on Tuesday, so at this point, it's just a matter of how hard the slap to the face will be. With Bitcoin's price deflating, the timing for this difficulty adjustment couldn't be much worse as it will squeeze hashprice even harder (and could throw it below $60/PH/day, inching us closer to all-time low territory).
It's getting dicey out there, y'all, and we expect more volatility to come as we enter the final months of 2023.
---
Bitcoin Mining Market Update
Bitcoin's price tanked on Wednesday, and the following day, Bitcoin's hashrate hit an all-time high on the 7-day average of 417 EH/s. This all-time high (and the soon-to-follow all-time high for Bitcoin's difficulty) coinciding with Bitcoin's price dump again conveys the predicament miners find themselves in as we approach autumn.
Transaction fees continue to retract as ordinals/inscriptions activity calms down.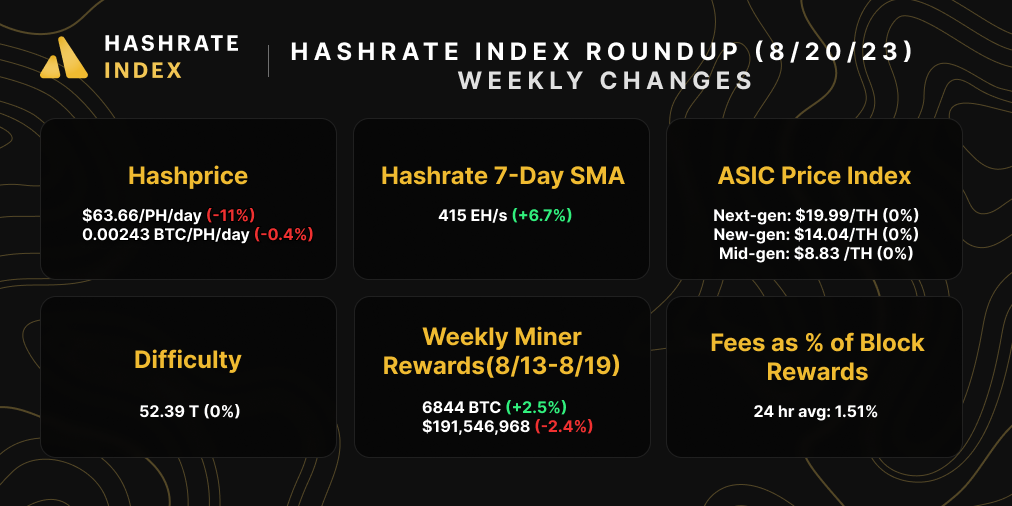 ---
Bitcoin Mining News
Here are last week's top headlines for Bitcoin mining news:
---
Sponsored by Luxor
Luxor's Antminer firmware is here! LuxOS provides all of the fine-tuning miners have come to love from custom firmware and more, including 45+ API commands to give miners complete control over their mining rigs. Visit Luxor's firmware page to learn more.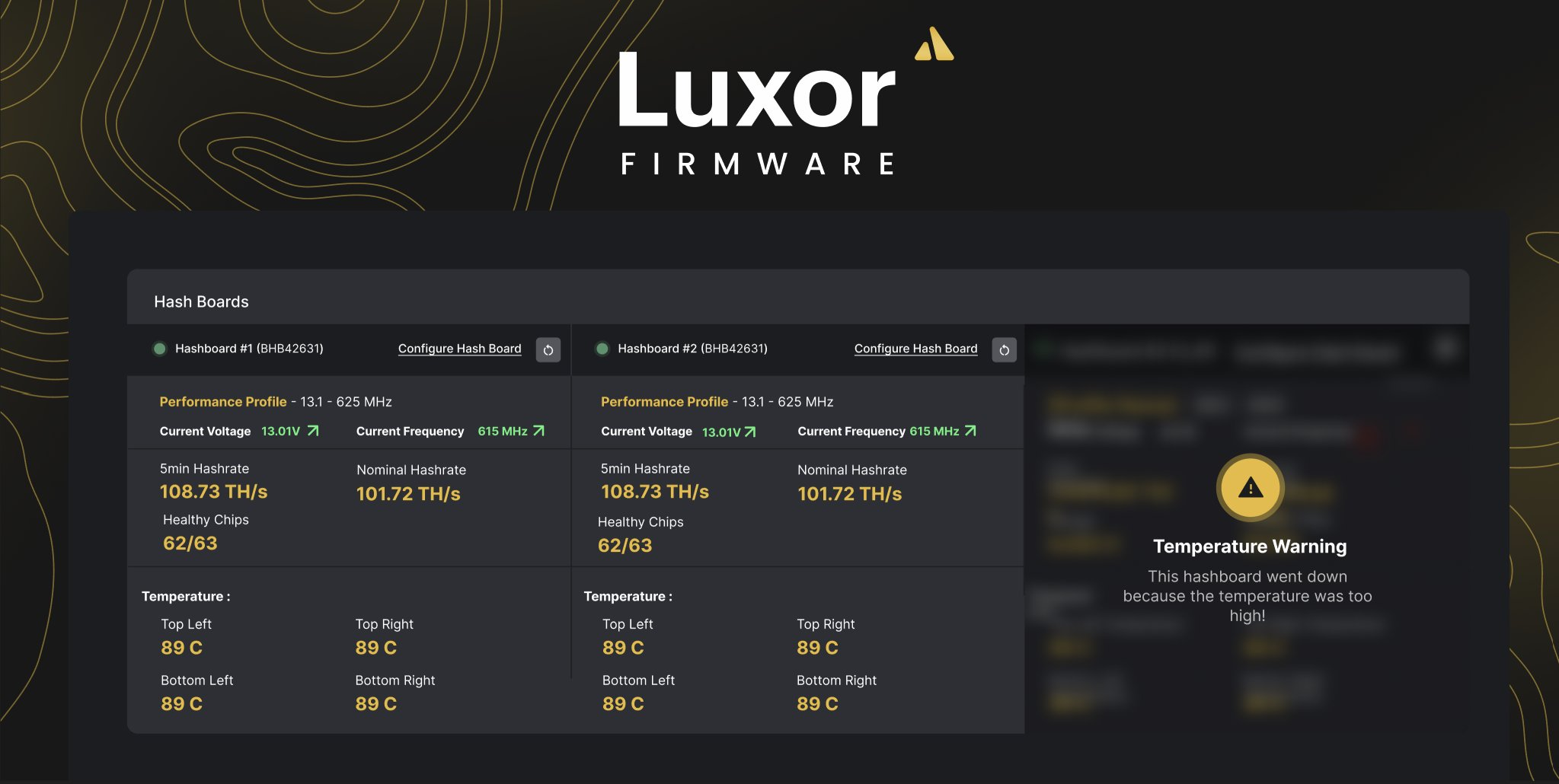 ---
Bitcoin Mining Stocks Update
Nothing but red this week for our Bitcoin mining stocks (with the exception of Bitdeer, which is trading against the tide, probably because it is still newly listed). Mining stocks can't get a break this month; they were already retracting from their increase with Bitcoin's price this summer, and then Bitcoin tanked on Wednesday and exacerbated their declines. Our Crypto Mining Stock Index fell a steep 11.1%.
Weekly changes to Bitcoin mining stocks:
RIOT: $11.07 (-26.35%)
HUT: $2.40 (-15.04%)
BITF: $1.34 (-13.55%)
HIVE: $4.67 (-3.53%)
MARA: $11.28 (-22.90%)
CLSK: $5.20 (-21.21%)
IREN: $4.41 (-20.97%)
WULF: $1.97 (-20.24%)
CIFR: $3.14 (-14.58%)
BTDR: $13.29 (+9.11%)
SDIG: $5.33 (-29.87%)
---
New From Hashrate Index
Luxor RFQ July 2023 Insights: Rigs Are on the Cheap - Especially Used Ones
Bitcoin mining ASIC prices continue to hover near all-time lows with fewer than eight months to go until the 2024 Bitcoin halving. Although we've seen a slowdown in Bitcoin hashrate growth this summer, we expect to see it pick up in the latter half of Q3 as summer ends and temperatures cool down.
Used models have retraced to extremely attractive prices as miners discount their old equipment in order to cycle into newer machines. This presents a unique opportunity for operators to get additional hashrate online with reasonable ROI timeframes. This strategy makes sense for miners who are operating at low electricity costs. One downside to this approach, though, is that used rigs are more likely to need repairs.

Have a great week, and Happy Hashing!
Hashrate Index Newsletter
Join the newsletter to receive the latest updates in your inbox.
---