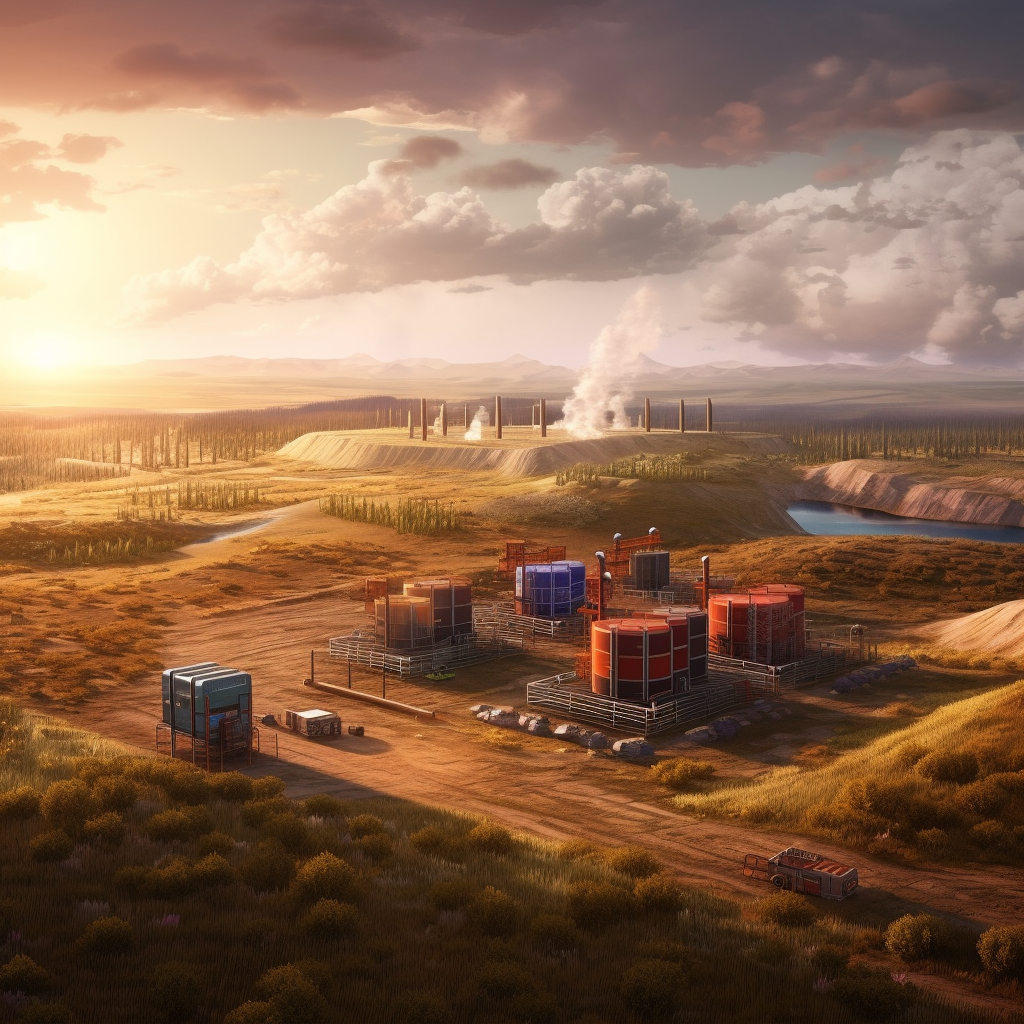 Hashrate Index Roundup (August 13, 2023)
Hashprice and Bitcoin price volatility are at multi-year lows -- but for how much longer?
Happy Sunday, y'all!
Bitcoin's difficulty rose this week, but Bitcoin miners ducked the worst because the increase was a meager 0.12%. Hashprice is still up over the week despite the increase, because Bitcoin's price is up 1.15%.
Hashprice has stayed tightly range bound for the past month, and the current spot rate of ~$71.75/PH/day isn't too far off from the 30 day average ($71.90/PH/day).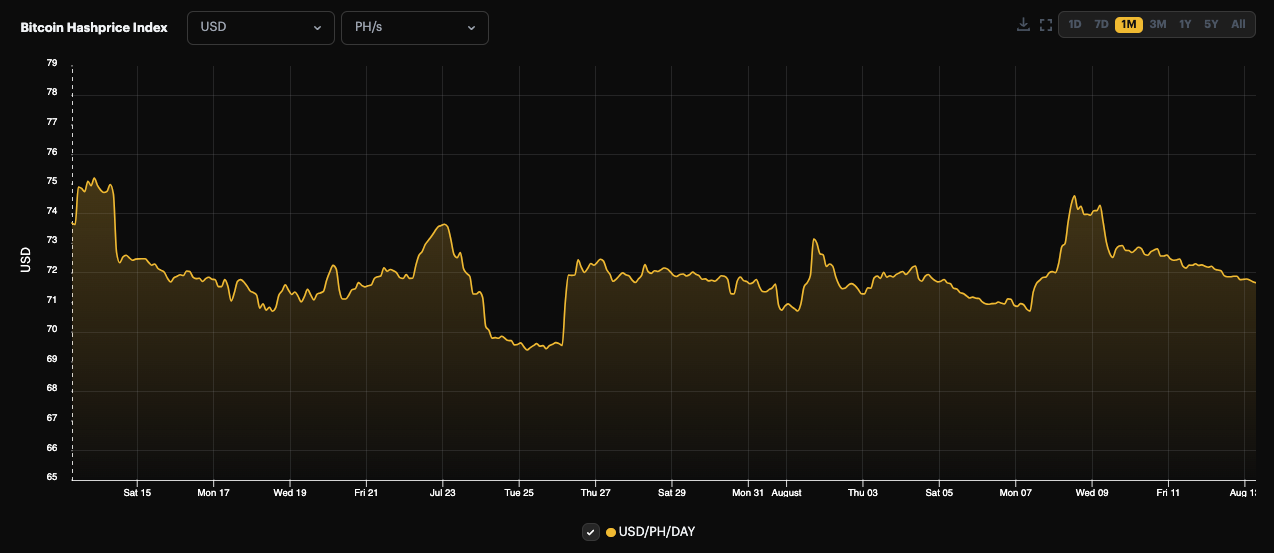 In fact, hashprice volatility is at its lowest point in over a year, as Bitcoin's own price is experiencing its lowest volatility in years.

This suppressed volatility will come to end eventually, and Bitcoin's price (and hashprice) will pop up or down accordingly. So far this summer, miners have been spared from too much hashprice carnage with Bitcoin hovering around $30k and with summer heatwaves suppressing hashrate (Bitcoin's difficulty is only up 5.7% in three months).
As we round out the final month of summer and enter autumn, we could see a drastic change to hashprice as the heat subsides and Bitcoin's price commits to a direction. As ever, multiple Bitcoin ETF applications are in limbo and the lingering hope for their approval (which is more likely than ever, despite the SEC delaying its decision on one) has teased investors all summer.
A Bitcoin ETF approval would no doubt be a bullish catalyst for Bitcoin, and it would potentially be a major windfall for miners who are inching closer and closer to 2024 Bitcoin Halving's profitability cliff. Come September, we'll no for sure whether the SEC will approve (or delay decisions for) a number of outstanding Bitcoin ETF applications, but we may have to wait until 2024 for one depending on how the SEC plays this out.
---
Bitcoin Mining Market Update
This week, transaction fees volumes were a little bit higher than the prior week's levels. In the ASIC market, next and new-gen rigs lost fractions of value over the week, while mid-gen machines fell significantly as miners continue to retire these older, less efficient models.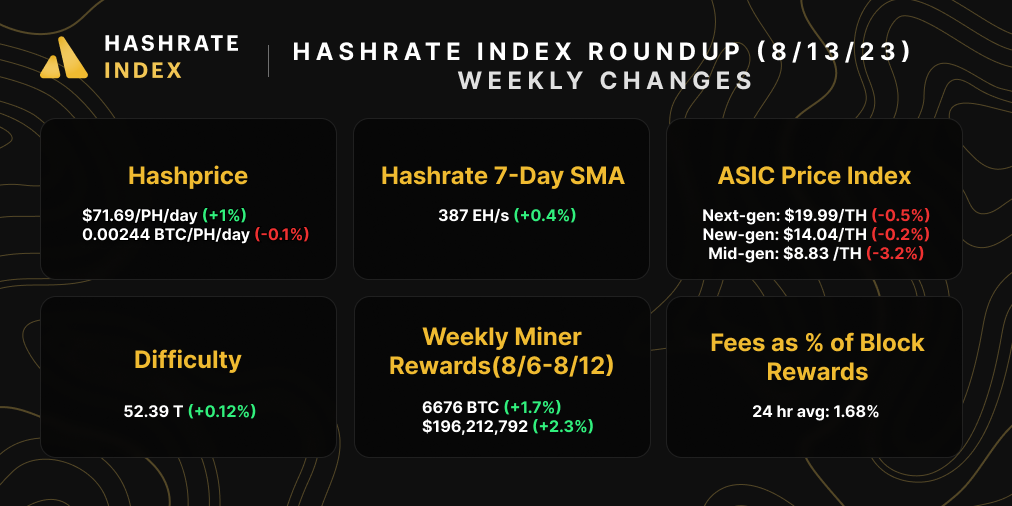 ---
Bitcoin Mining News
Here are last week's top headlines for Bitcoin mining news:
---
Sponsored by Luxor
Luxor's Antminer firmware is here! LuxOS provides all of the fine-tuning miners have come to love from custom firmware and more, including 45+ API commands to give miners complete control over their mining rigs. Visit Luxor's firmware page to learn more.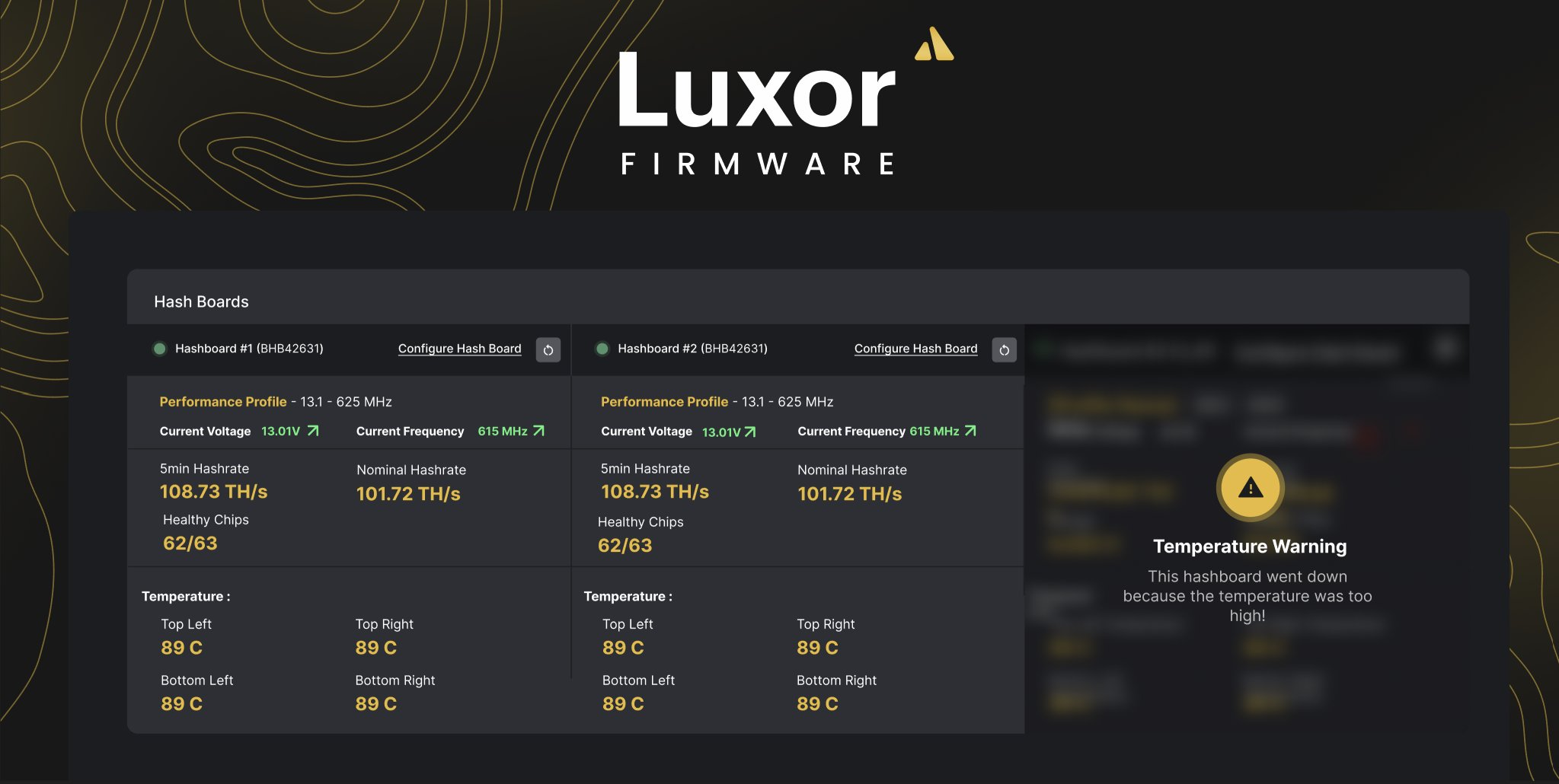 ---
Bitcoin Mining Stocks Update
What goes up must come down. Bitcoin mining stocks have been on a tear all year, but most of the stocks in our update have been retracing since prices peaked in mid-July. Half of the stocks in our update continued this decline last week, while the other half had positive returns (with a select few seeing double digit gains). Our Crypto Mining Stock Index fell 2.7%.
Weekly changes to Bitcoin mining stocks:
RIOT: $15.23 (-10.41%)
HUT: $2.97 (-9.34%)
BITF: $1.58 (+1.28%)
HIVE: $4.67 (-3.53%)
MARA: $14.88 (-6.18%)
CLSK: $6.52 (+22.10%)
IREN: $5.66 (+2.54%)
WULF: $2.55 (-1.24%)
CIFR: $3.67 (+5.76%)
BTDR: $12.58 (+36.59%)
SDIG: $7.51 (+7.75%)
---
New From Hashrate Index
Hashrate Index Q2-2023 Report: A Bridge Over Troubled Water
The Hashrate Index team is thrilled to present our Q2-2023 on the Bitcoin mining industry. You can download the free report below, while the premium report is available to Hashrate Index Premium Silver, Gold, and Platinum subscribers.
As we enter the second half of 2023, the Bitcoin mining industry is undergoing yet another massive transformation. As new interest and capital perk up, traditional finance is subsuming more of the industry than ever before. The network is growing and now hashrate is more evenly distributed across the globe, and mining operational strategies are becoming more complex for everything from demand response/curtailment to ASIC procurement.
We cover all of the above and much more in the report, so please give it a download, a read, and a share – and let us know what you think!
Have a great week, and Happy Hashing!
Hashrate Index Newsletter
Join the newsletter to receive the latest updates in your inbox.
---