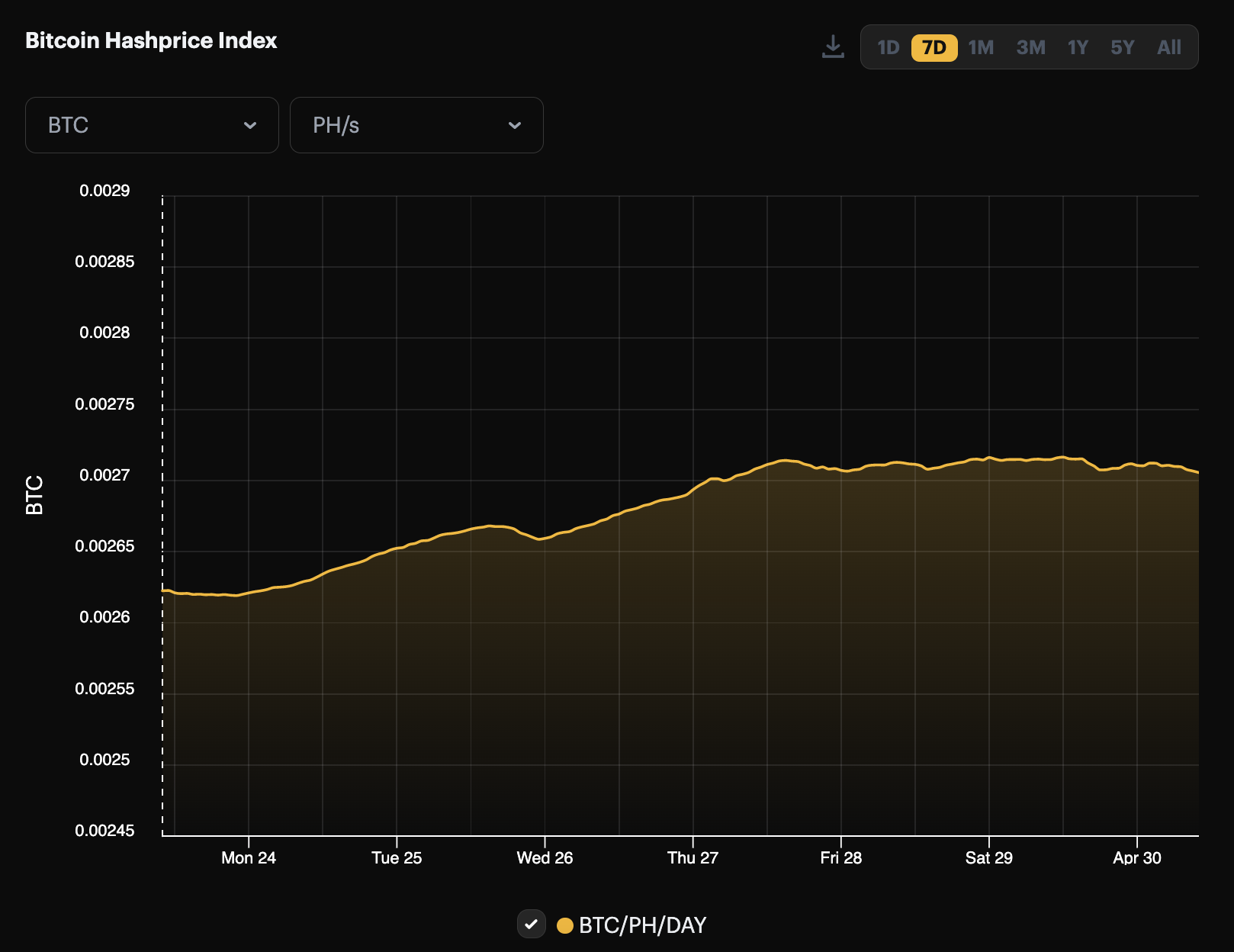 Hashrate Index Roundup (April 30, 2023)
Hashprice is ripping, hashrate is dipping, and we have a negative adjustment on the horizon.
Hashprice is back at $80/PH/day baby!
Following Bitcoin's own rally (and a BIG bump to transaction fees), Bitcoin's USD hashprice gained more than 10% over the week. This price action, of course, comes after a difficulty adjustment over a week ago that placed Bitcoin's difficulty at an all-time high, and which in turn drove hashprice to it's April low of ~$72/PH/day.
See-saw economics, y'all. Bitcoin's volatility and the tremendous growth in Bitcoin's hashrate have made 2023 a choppy one for hashprice, and in no month was this ebb and flow more clearly demonstrated than in April. Bitcoin's hashprice stayed range-bound between $70-80/PH/day for the majority of the month, jostled up and down by leaps and dumps to both Bitcoin's price and hashrate.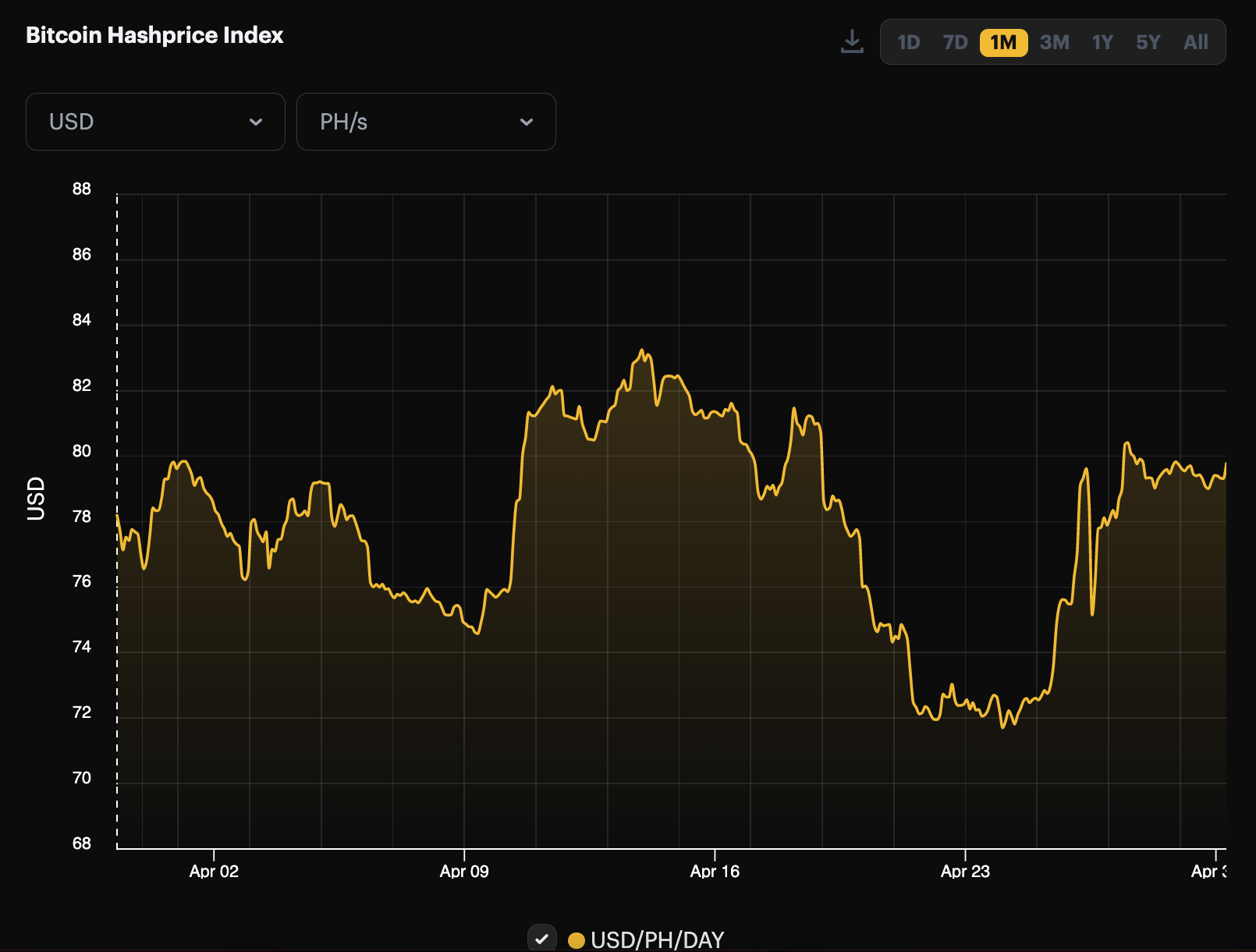 The recent rise in hashprice has been driven by Bitcoin's price, but perhaps more importantly, a a drop in Bitcoin's hashrate which has helped to boost transaction. Over the last week, Bitcoin's 7-day average hashrate has fallen 20 EH/s (-5.6%). That's a big drop, one that has manifested in a 10 minute and 23 second average block time for this epoch – and one that means the next difficulty adjustment will be downward.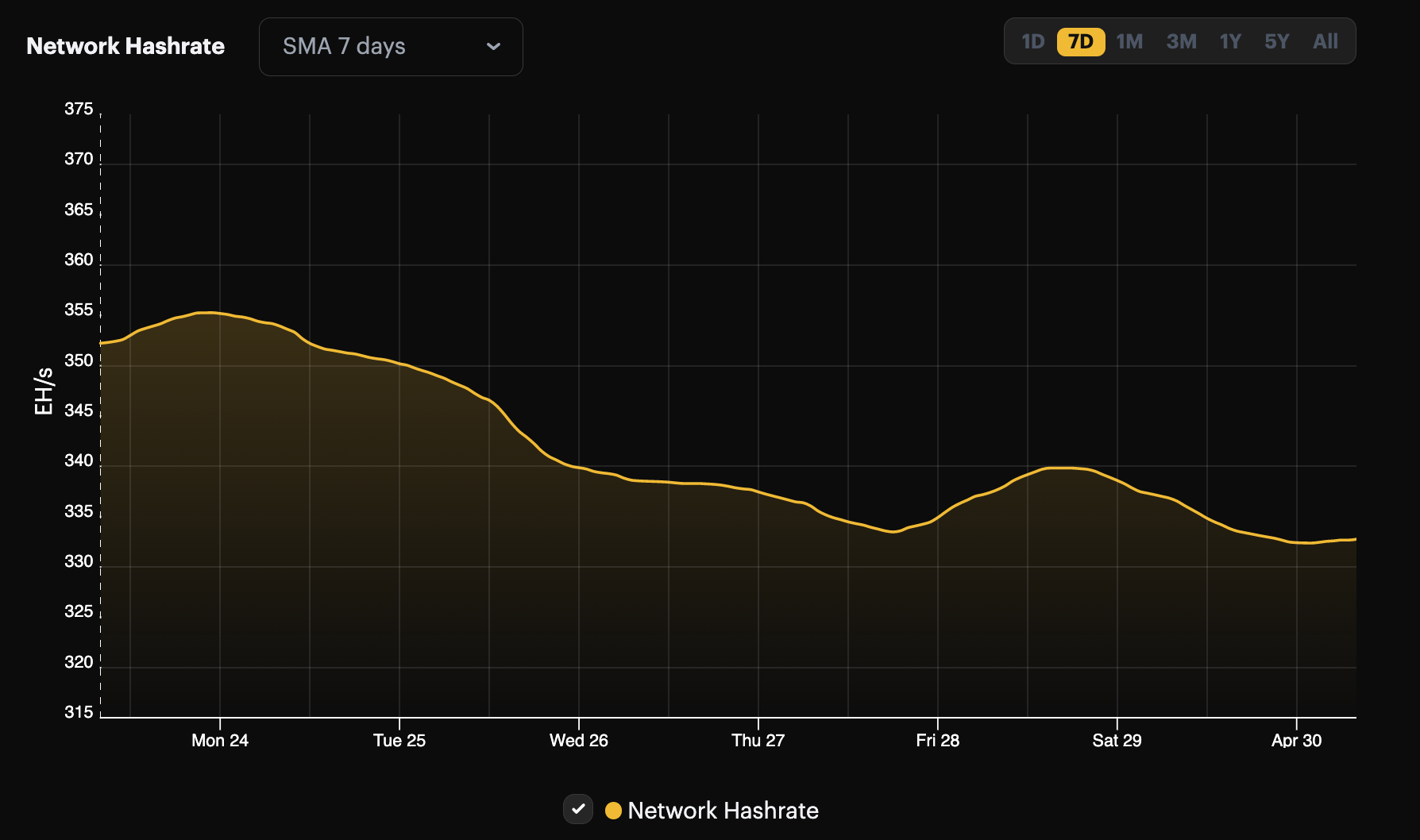 Slower block times means fewer average transactions per hour, so this week's sluggish block times meant a fatter pay day for miners in terms of transaction fees (fees made up 3.78% rewards last week). As block times slowed, Bitcoin users had to bid up fees for priority inclusion in the next block, and these ordinary transactions were also competing with A LOT of inscriptions transactions last week (April 29, for e.g., was an all-time high day for inscription transaction volume, and the third largest daily volume to-date occurred on April 28).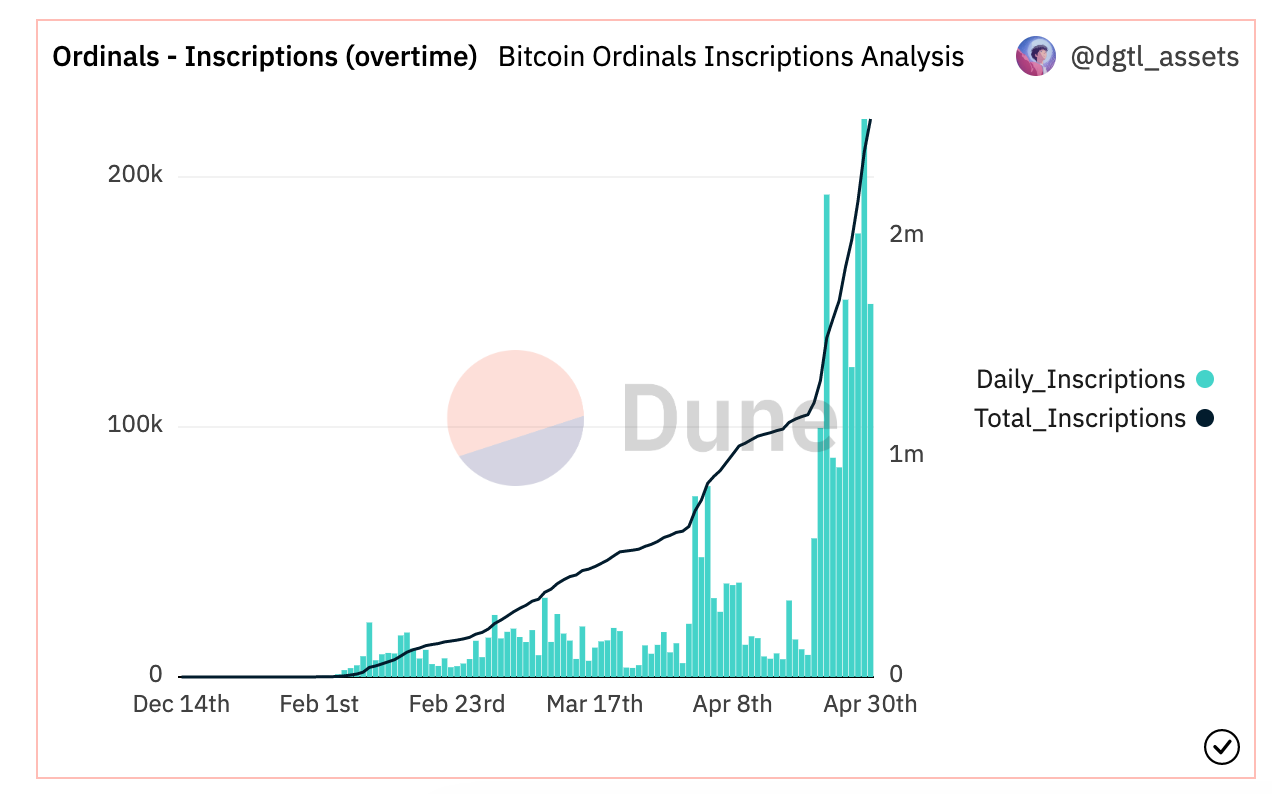 As we fully welcome Spring, last week was a salient reminder that this is a time of year for rebirth and new beginnings. And that, sometimes, things get better before they get worse – let's just hope that the worse part stays at bay for a little while longer if it comes at all.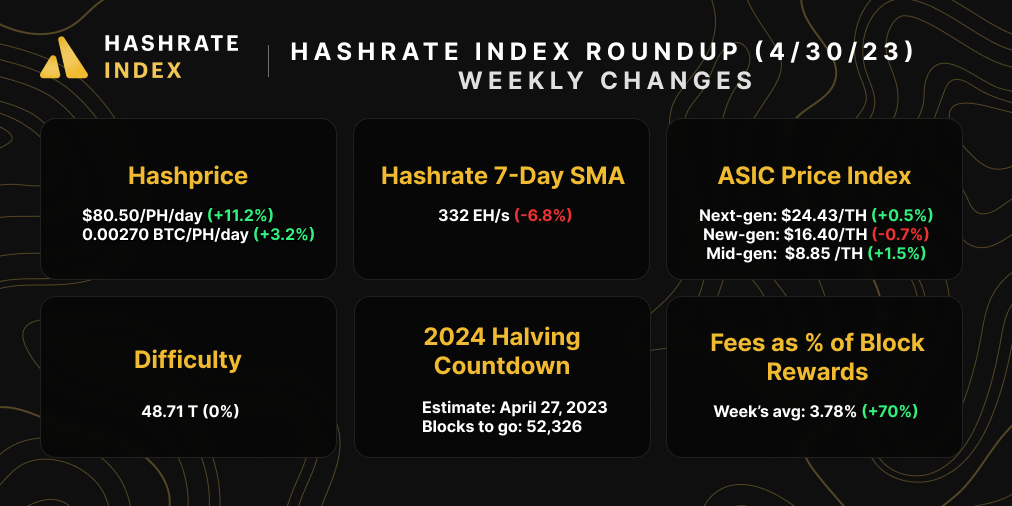 ---
Bitcoin Mining News
Here are some of the top headlines for Bitcoin mining news this week:
---
Sponsored by Luxor
Luxor's Antminer firmware is here! LuxOS provides all of the finetuning miners have come to love from custom firmware and more, including 45+ API commands to give miners complete control over their mining rigs. Visit Luxor's firmware page to learn more.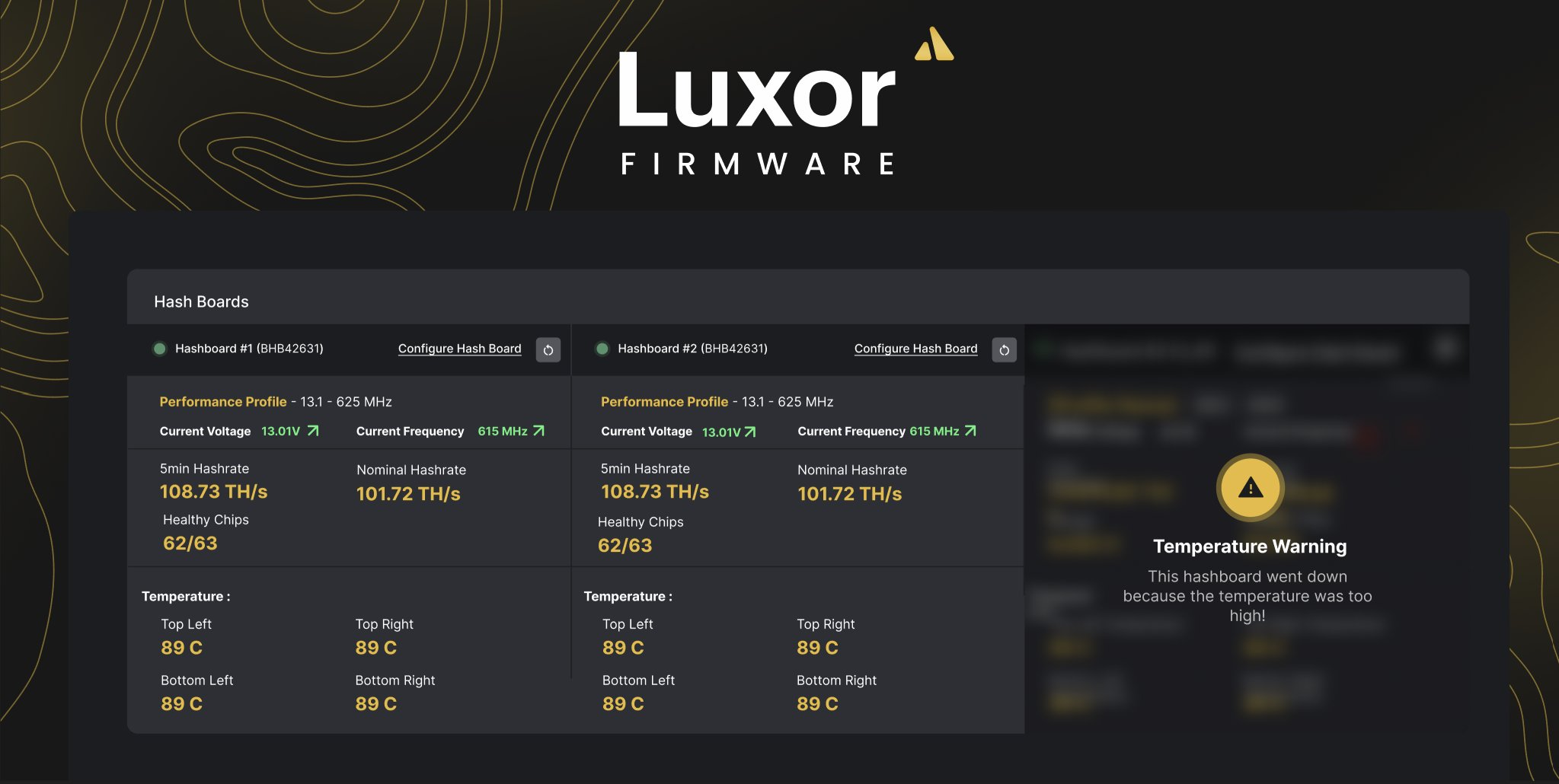 ---
Bitcoin Mining Stocks Update
Per usual,Bitcoin mining stocks rebounded this week with Bitcoin and hashprice. Our Crypto Mining Stock Index rose 3.8% last week after declining the week before.
This week, every stock in our recap rose in value.
RIOT: $11.96 (+14.45%)
HUT: $1.79 (+4.68%)
BITF: $1.16 (+9.43%)
HIVE: $3.24 (+0.93%)
MARA: $10.07 (+11.89%)
CLSK: $3.91 (+0.26%)
ARBK: $1.44 (+0.71%)
IREN: $4.00 (+1.27%)
---
New From Hashrate Index
Difficulty Forecasting 101 for Bitcoin Miners, Hosters, Lenders and Hashrate Traders
Bitcoin's network difficulty is at an all time high. This has Bitcoin miners, hosting providers, lenders, financiers, and hashrate forward traders all wondering what comes next. Will Bitcoin's price keep up with hashrate and difficulty growth? Can investors with Bitcoin mining exposure use difficulty trends to plan for the future?
To tackle these questions, we're pleased to introduce our latest report: "Forecasting Bitcoin Difficulty: Difficulty Forecasting 101 for Bitcoin Miners, Hosters, Lenders, and Hashrate Traders."
The report addresses the questions we presented above to help market participants navigate and anticipate volatility for Bitcoin's difficulty and hashprice. You can download the report in the blog post linked above.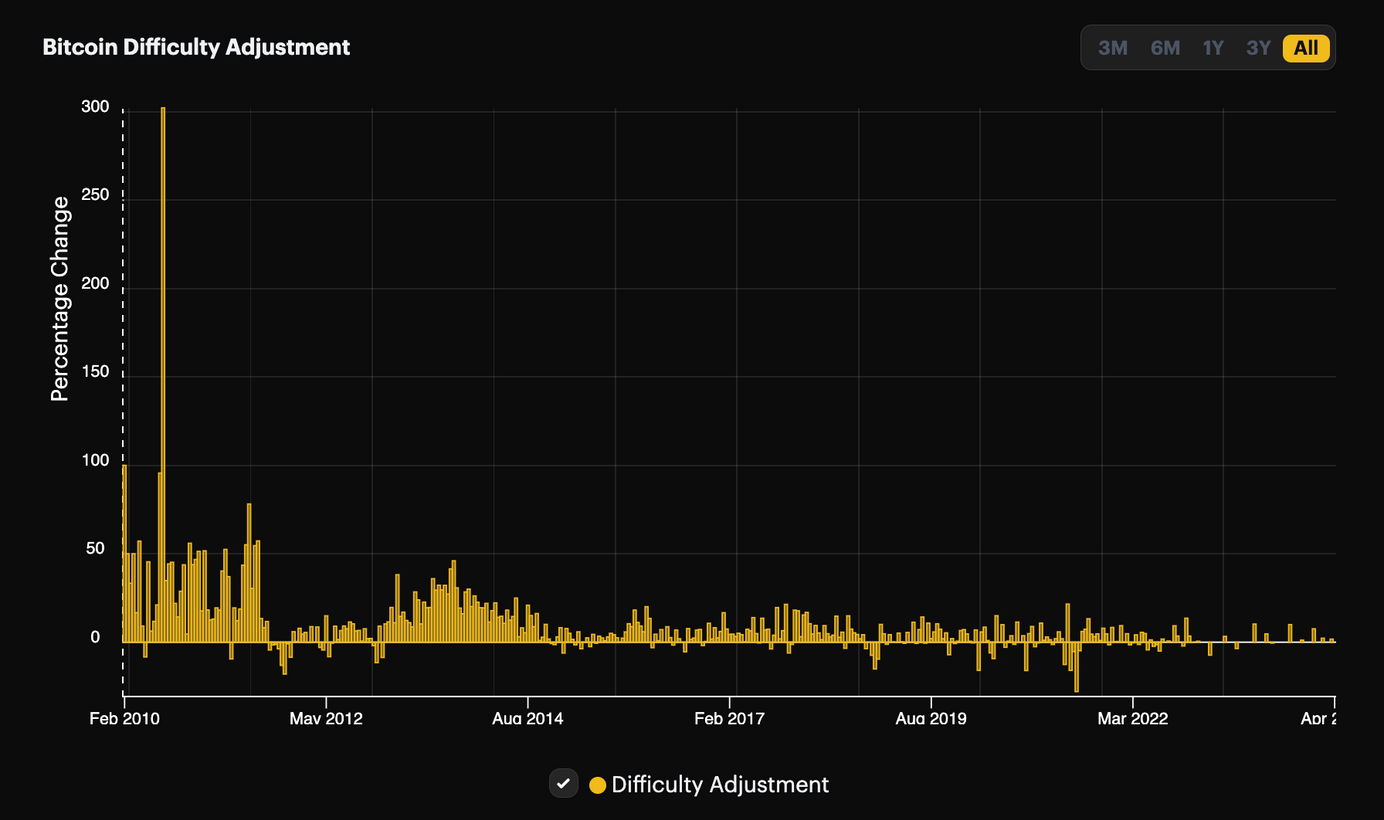 Why has Core Scientific's stock increased by almost 400% in 2023?
Even with this week's sell-off, 2023 has been a great year for Bitcoin mining stocks. While the bitcoin mining sector has performed terrifically year-to-date, there are substantial performance differences between individual stocks. What is common for them is that they are all ahead of Nasdaq's meager 20% increase. At the same time, 20 of 23 mining stocks outperformed bitcoin. Let's look at who are the best performers.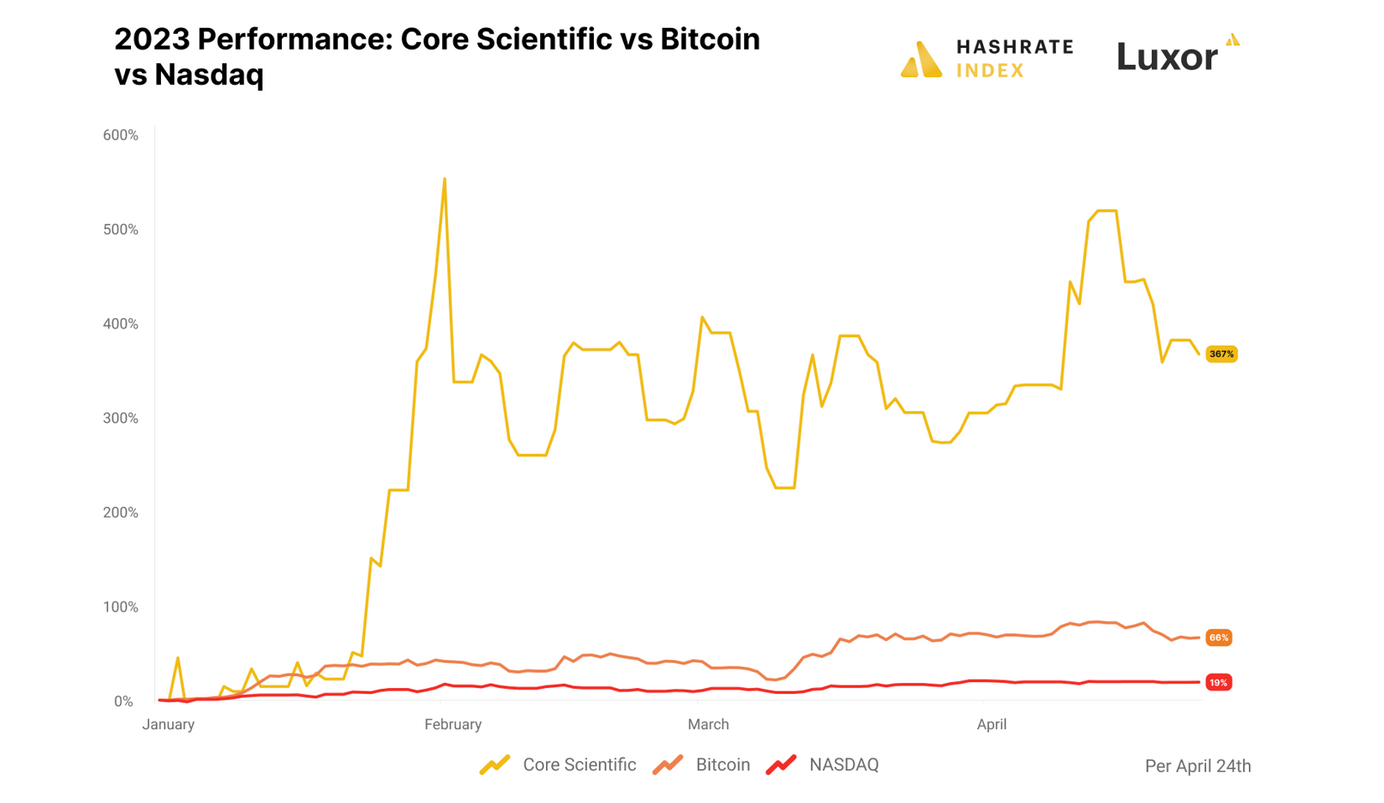 ---
Have a great week, and Happy Hashing!
Hashrate Index Newsletter
Join the newsletter to receive the latest updates in your inbox.
---