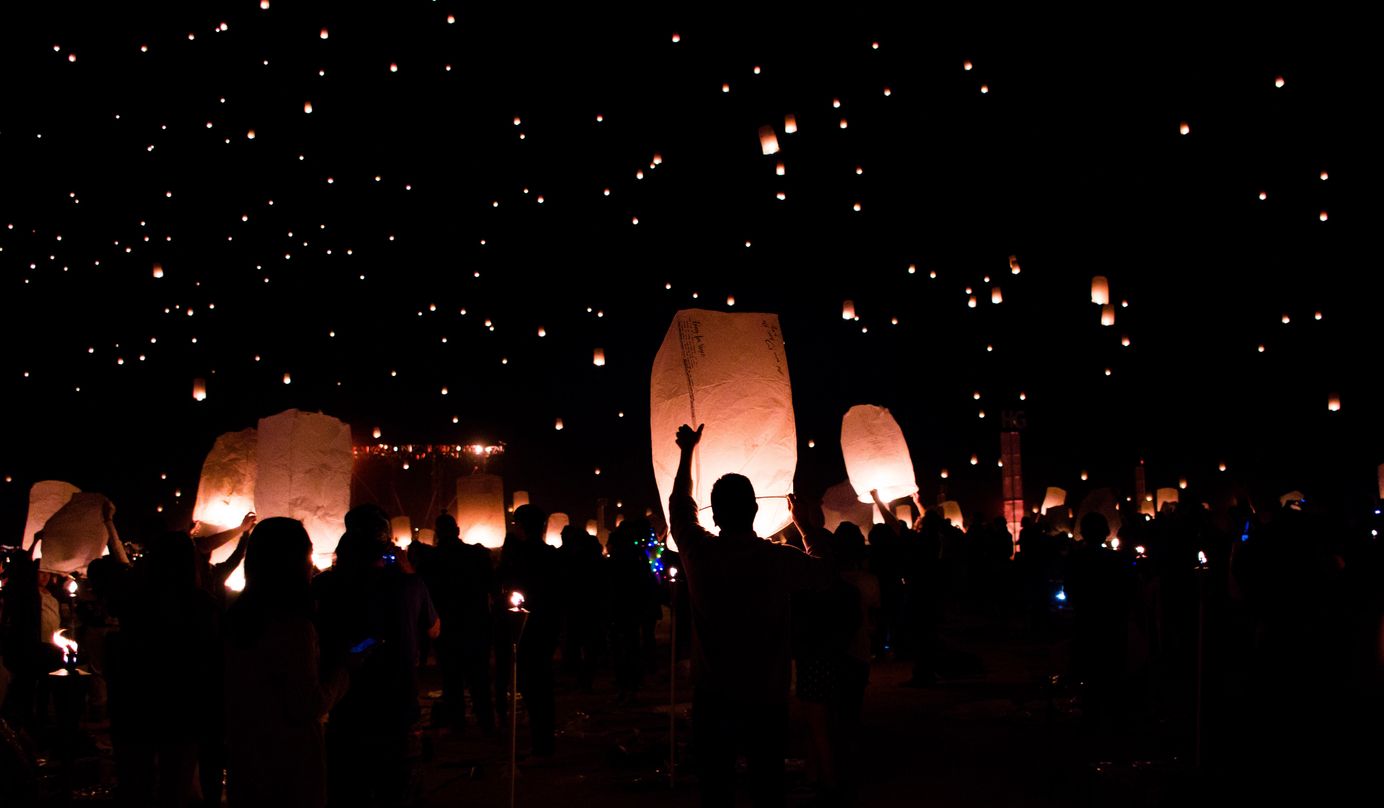 Hashrate Index Roundup (8/14/2022)
Things flipped on a dime from last week's update, with BTC price down and hashrate ramping back up.
Happy Sunday, miners!
Bitcoin's price is up this week, and as a result, hashprice hit its highest point this weekend since Bitcoin tumbled in June. Hashrate is starting to taper back down, as well, meaning that this week's upcoming difficulty adjustment will likely be less drastic than previously forecasted.
In the news this week, most public bitcoin miners reported on their Q2 financials. Some of these reports also came with special operational updates – we highlight some of these below.
PUBLIC MINERS SOLD MORE BTC IN JULY THAN THEY MINED
On the blog this week, we covered public Bitcoin miner July production and operations updates. They continued the summer trend of shedding BTC from their treasuries, with every miner in our update except for Marathon and Hut 8 selling BTC. Collectively, the public miners in our update sold more BTC than they mined last month (5,767.9 BTC sold vs. 3,478 BTC mined).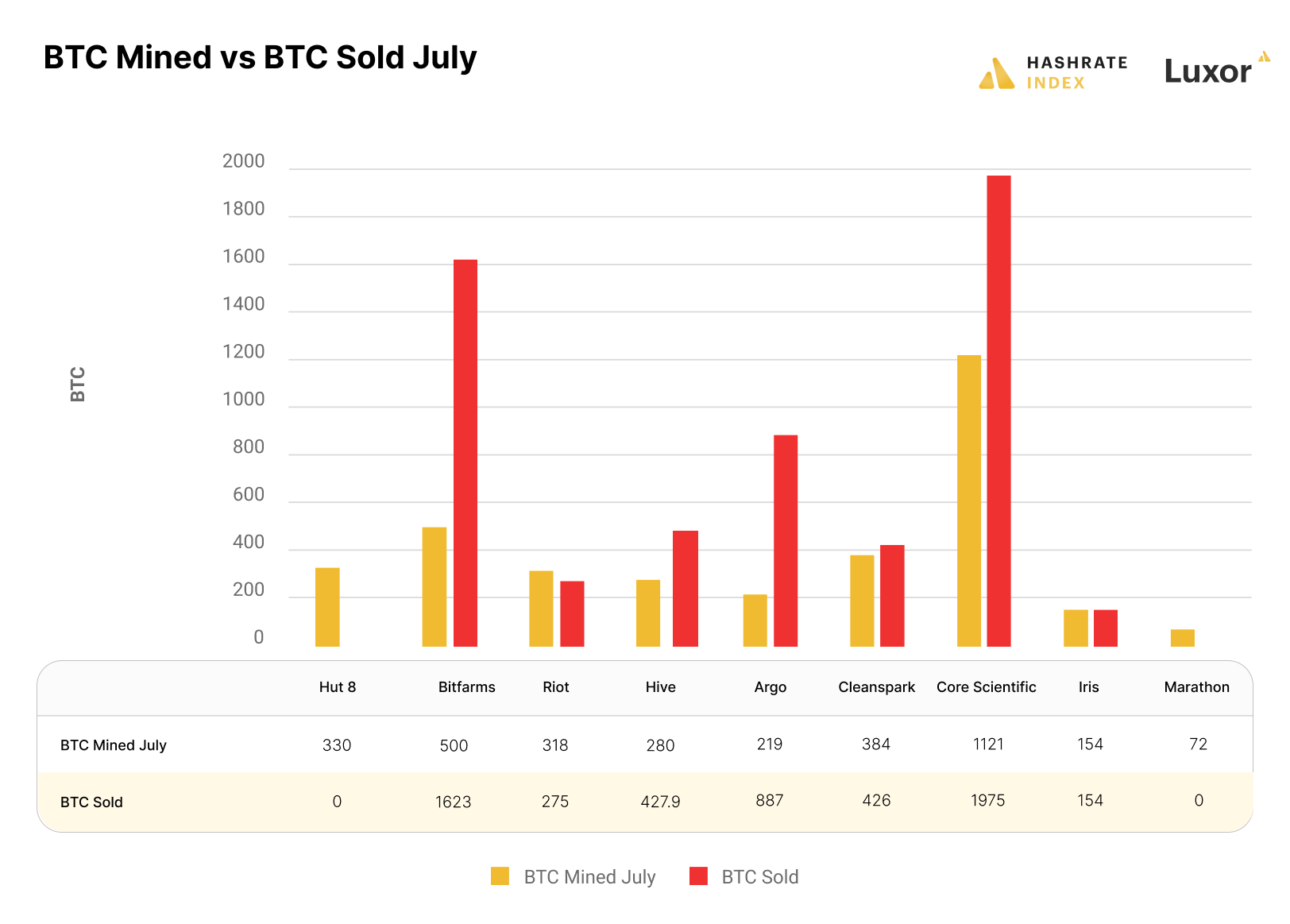 CORRECTION: In last week's newsletter, we incorrectly reported that Bitfarms and Hive did not sell BTC last month. The error has been corrected on the blog version of the newsletter.
---
Sponsored by Luxor

---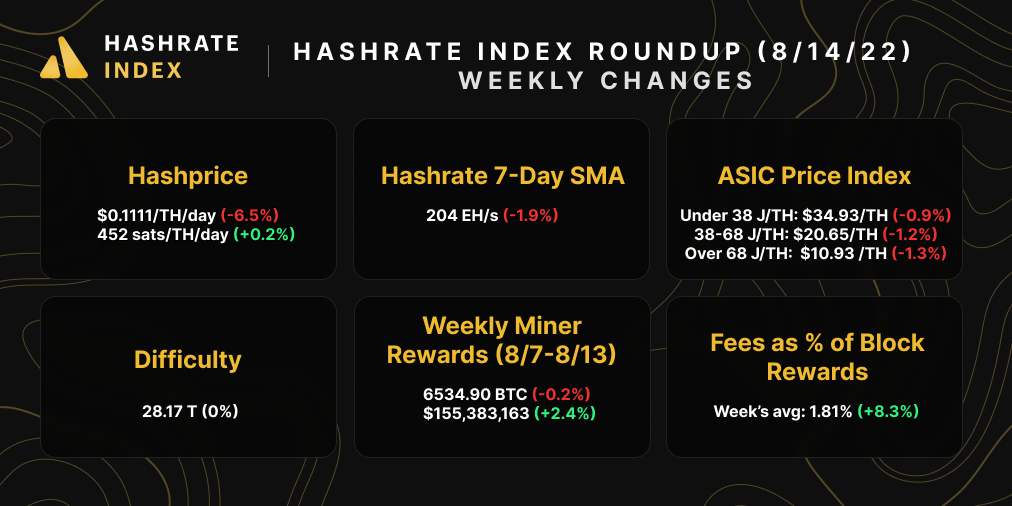 Hashprice Index (August 14, 2022)
Bitcoin's price juiced last week, so Bitcoin's hashprice is back above $0.11/TH/day!
We shouldn't celebrate too prematurely, though, because we've likely got a positive difficulty adjustment coming down the pipes this week. That said, hashrate fell pretty substantially over the week, which slowed block times and will put a damper on the upcoming difficulty adjustment.
That adjustment should hit late Wednesday night / early Thursday morning and looks like it could be in the ballpark of 1-1.5%.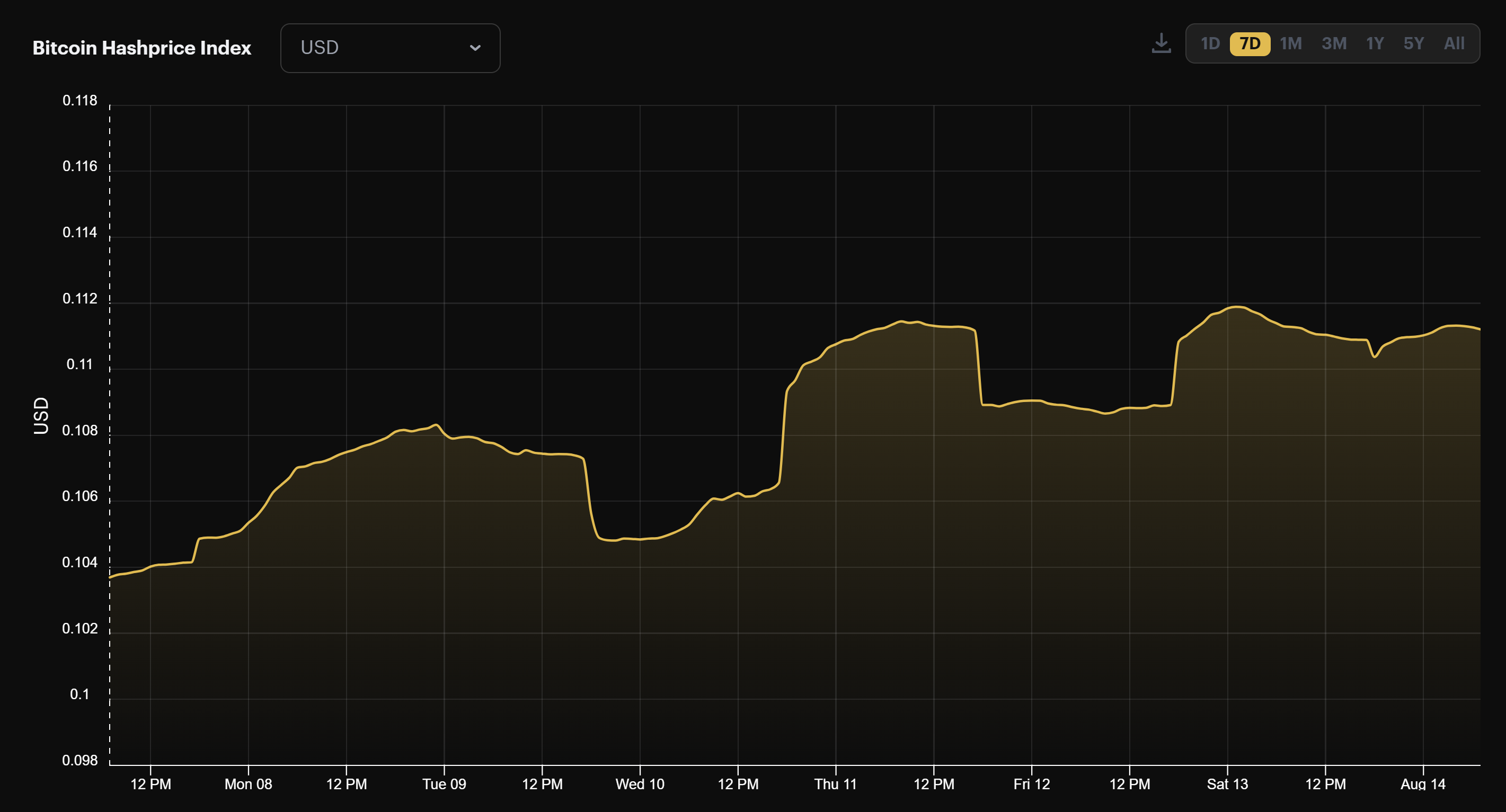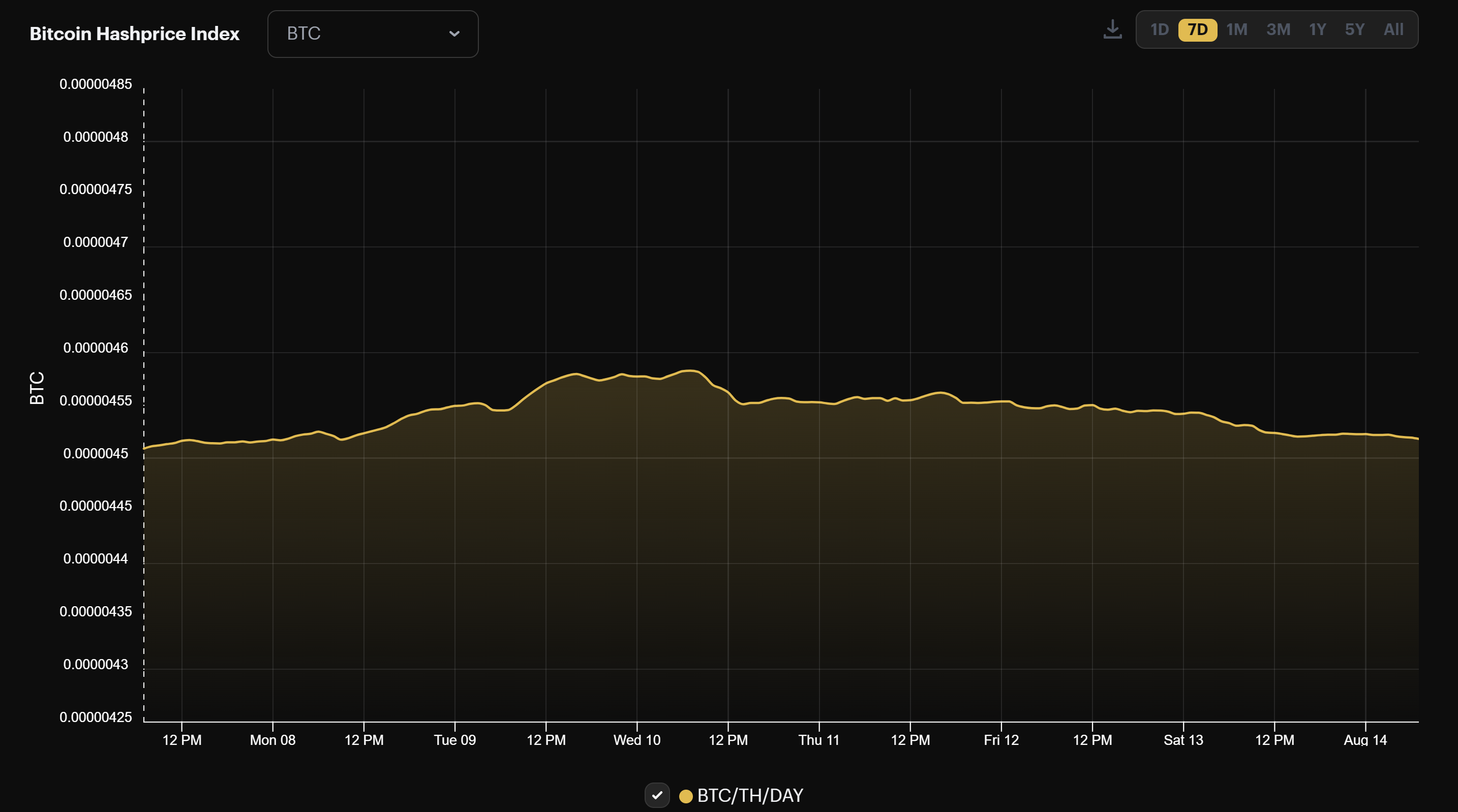 💸
BITCOIN TRANSACTION FEES
Bitcoin's transaction fees rose over the week, but they are still lower than we'd like.
Last week, transaction fees made up 1.81% of block rewards – little bit better than last week but not by much.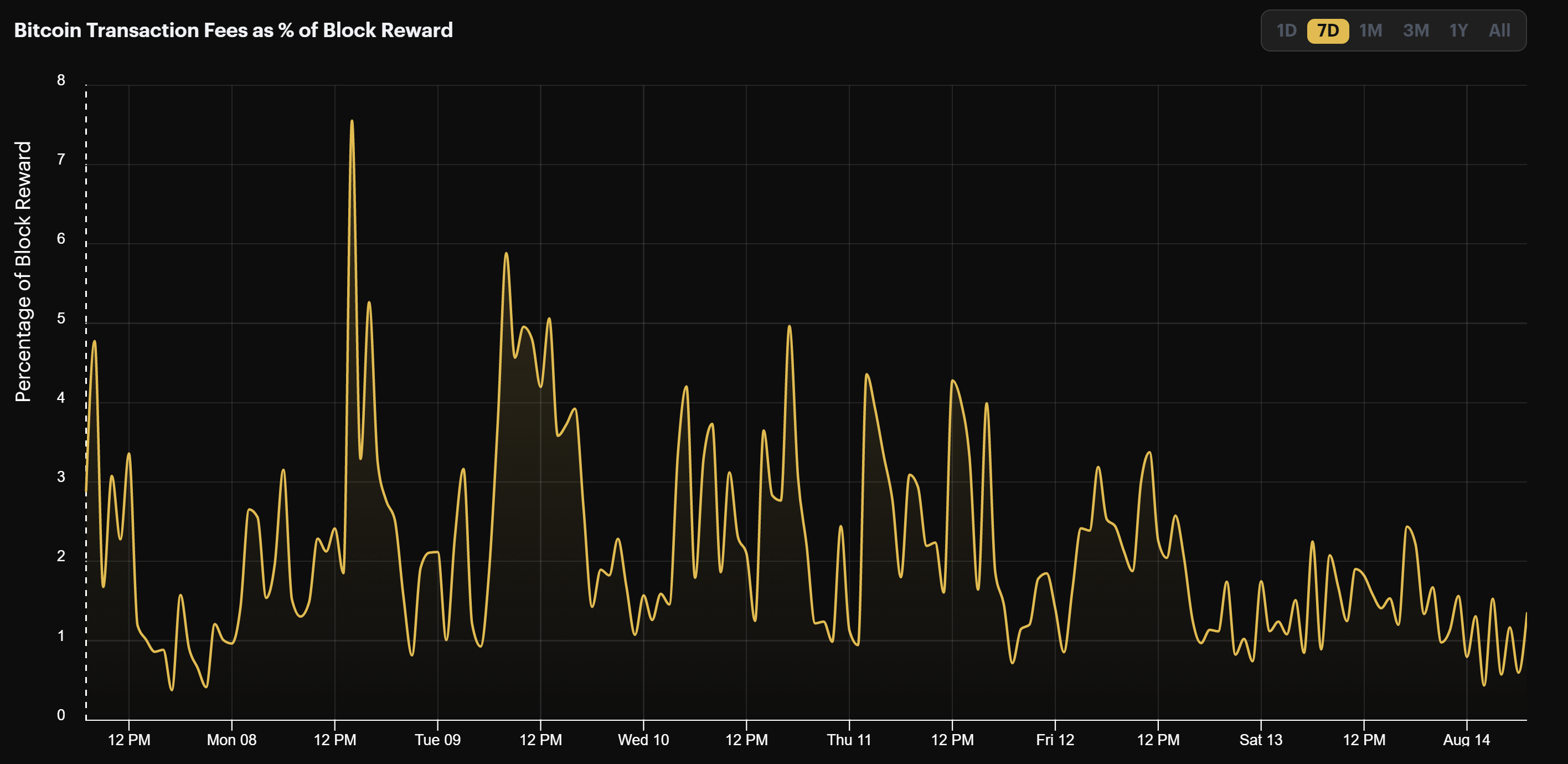 ---
Bitcoin Mining ASIC Price Index  (August 14, 2022)
Bitcoin mining ASICs are finally showing some signs of stabilizing.
Sure, they fell again, but new and mid gen efficiency machines experienced their smallest percentage drawdowns of the year last week.
💰
BITCOIN MINING PROFITABILITY
Bitcoin mining profitability rose over the week. Here are the current daily revenue potentials for popular rigs:
Antminer S19 XP (140 TH/s): $15.60
Whatsminer M50 (114 TH/s): $12.7
Whatsminer M30s++ (112 TH/s): $12.50
Antminer S19j Pro (104 TH/s): $11.60
Antminer S19 (95 TH/s): $10.60
Whatsminer M30s (86 TH/s): $9.60
Whatsminer M20s (68 TH/S): $7.60
Antminer S17 (56 TH/s): $6.20
Antminer S9 (13 TH/s): $1.40
Bitcoin Mining Stocks (August 14, 2022)
Bitcoin mining stocks rallied hard last week, and as a result, our Crypto Mining Stock Index rose 17%.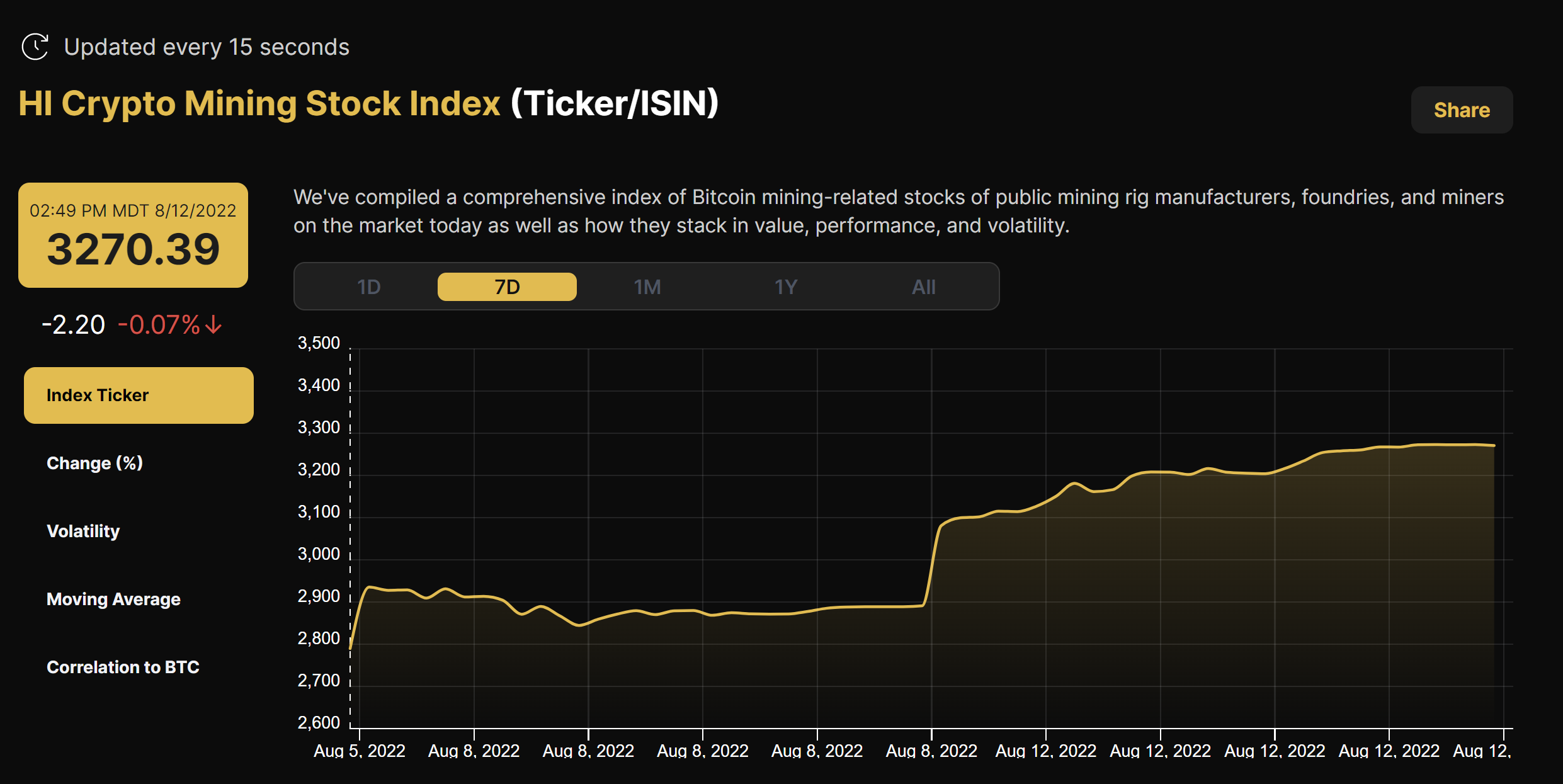 New From Hashrate Index
Public Bitcoin Miners Sold More Bitcoin Than They Mined in July 2022
We already covered this news in the first section of the newsletter, but we also want to highlight a couple of other charts from the report.
The first chart shows just how much certain public Bitcoin miners have been selling this year; the second shows how difficult it has been for some of these miners to grow hashrate under current market conditions.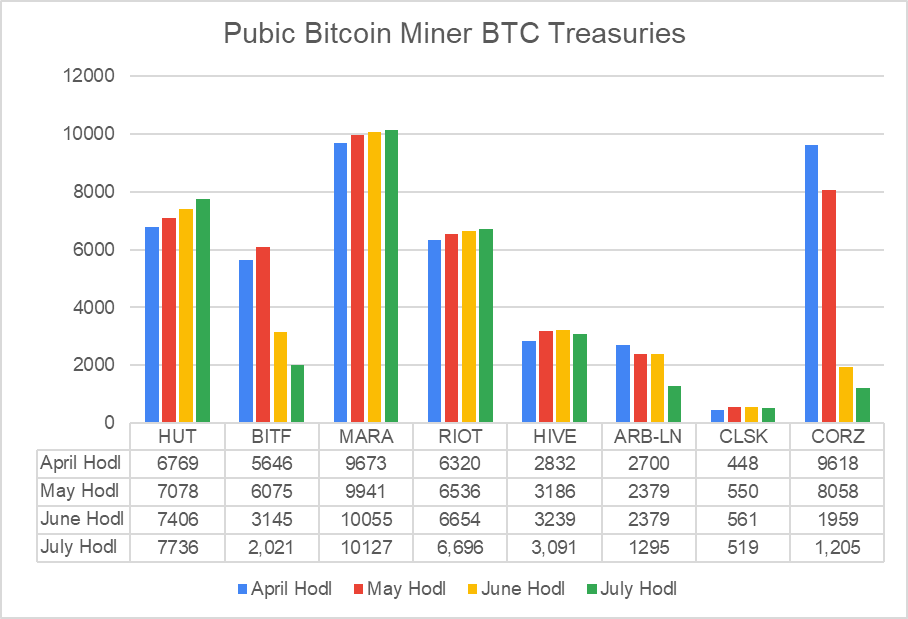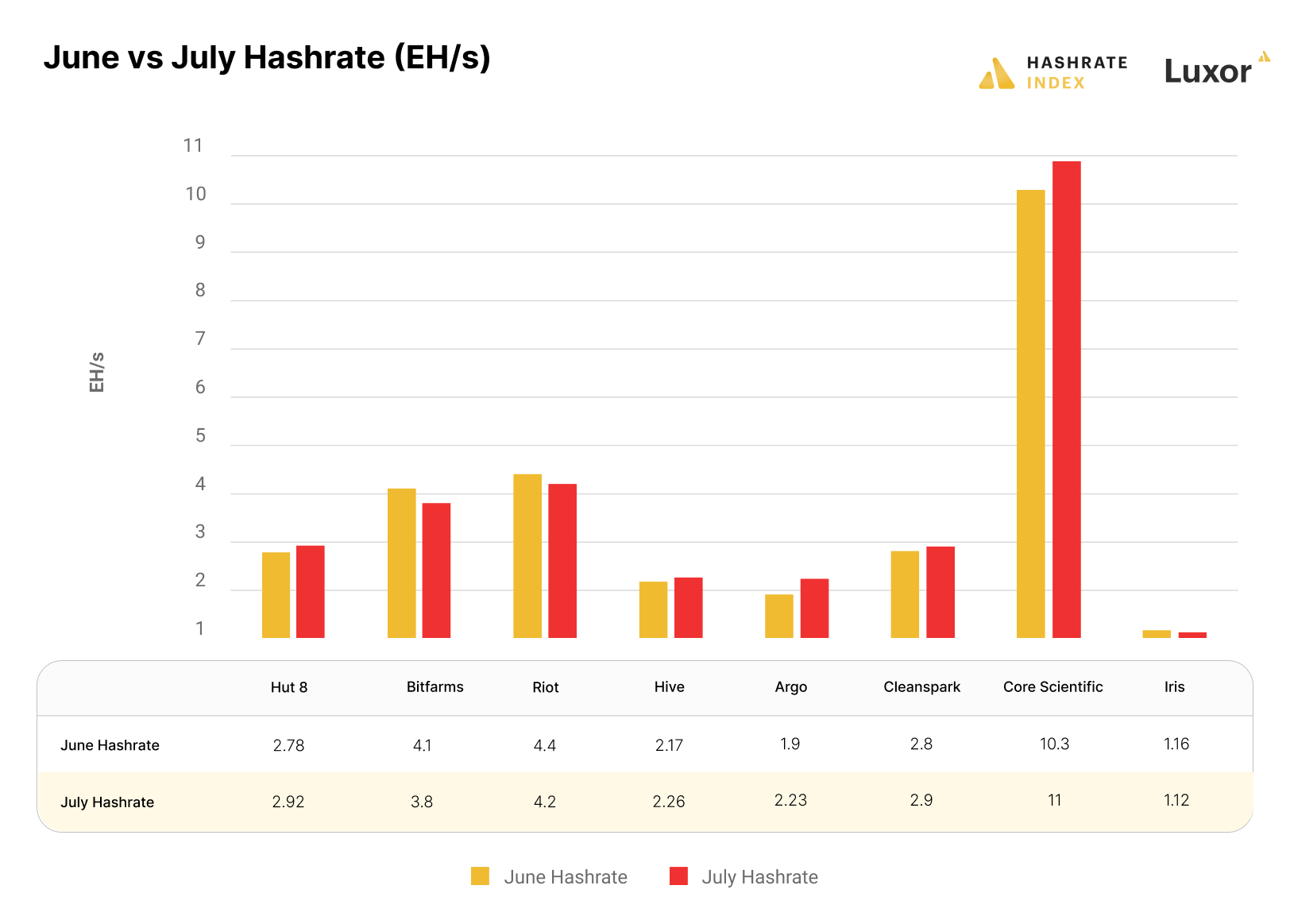 Have a great week, and Happy Hashing!
Hashrate Index Newsletter
Join the newsletter to receive the latest updates in your inbox.
---