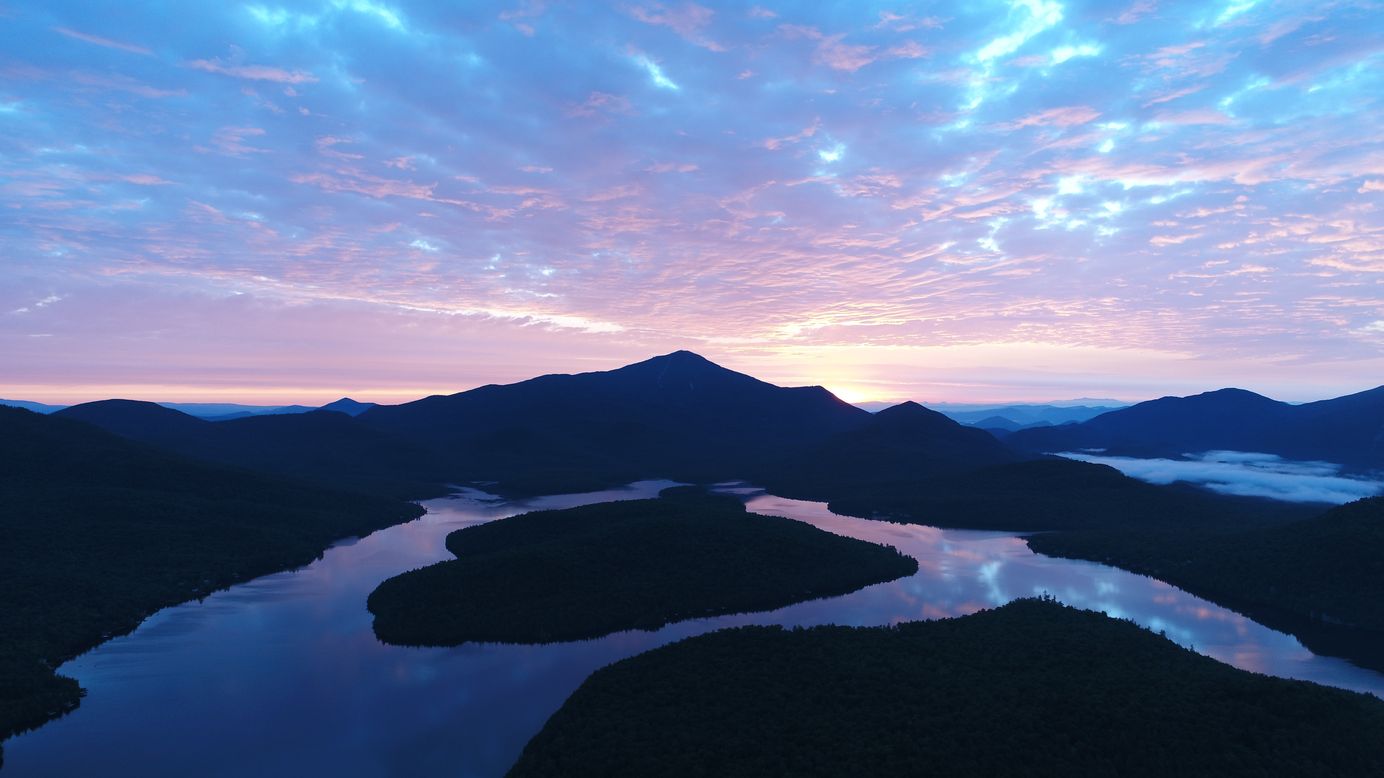 Hashrate Index Roundup (8/7/2022)
Hashprice is down, difficulty and hashrate are up, and Antminer S19 XPs are starting to come online.
Happy Sunday, miners!
It was something of a quiet week last week, punctuated by a slow, slight downtrend for both Bitcoin's price and hashprice.
Mining difficulty rose after falling for three consecutive adjustments, and it's likely that the next adjustment will be upward, as well. At least, Bitcoin's 7-day average hashrate would indicate as much after jumping 4.5% overnight this weekend from 199 EH/s yesterday to 208 EH/s this morning.
Perhaps we're starting to see some new machines (namely, the S19 XP) join the hash race, in addition to US miners getting their fleets back online after shutting down during July's brutal succession of heatwaves.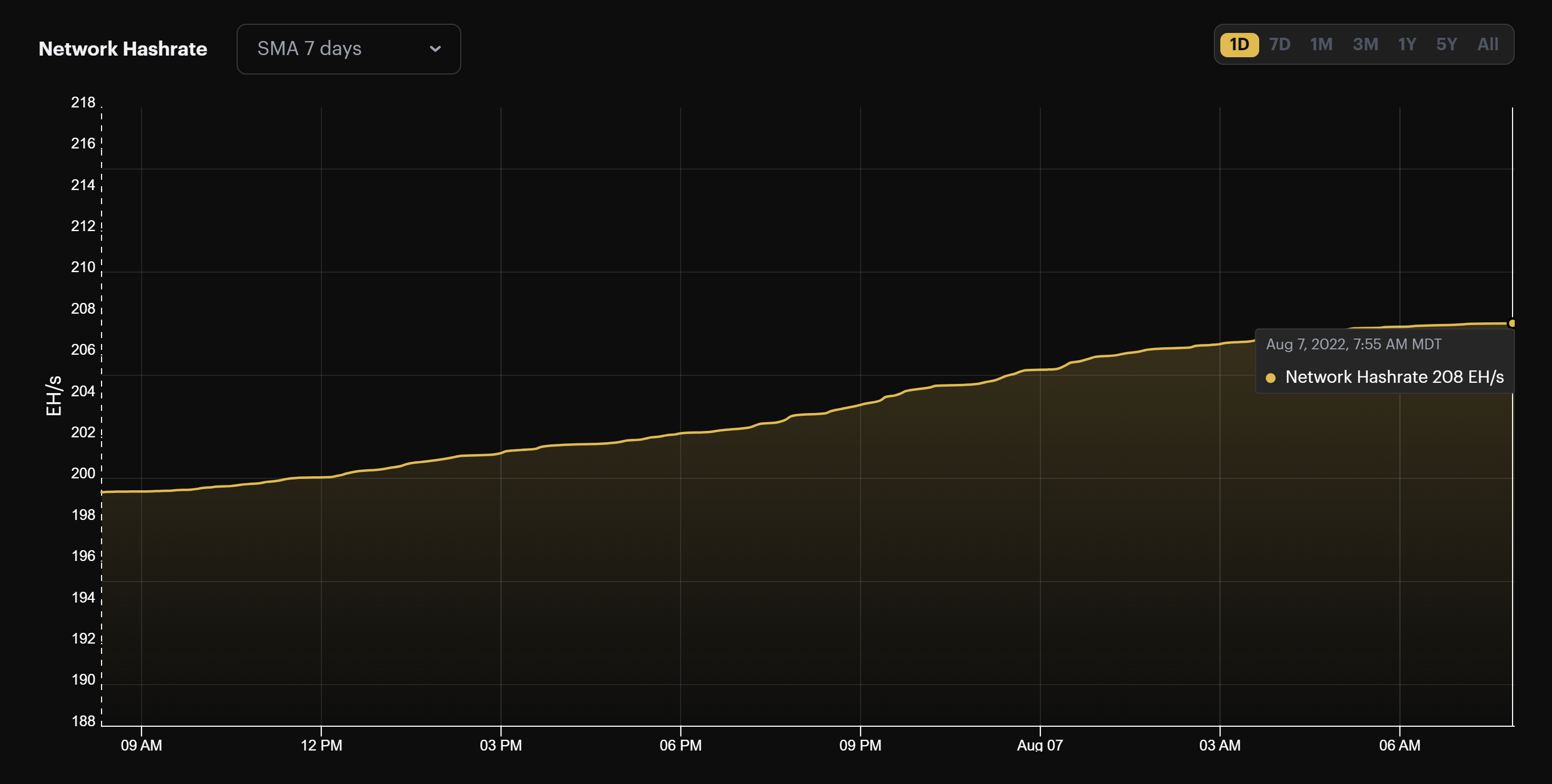 PUBLIC MINERS CONTINUE TO SELL, EXPAND HASHRATE
*An earlier version of this post said that Riot mined 500 BTC in July. We have since revised the post to show that Riot mined 318 BTC in July.*
A handful of public Bitcoin miners released their July production and operations updates last week. Notably, the majority of miners in the updates we highlight below sold BTC last month. We'll have an article that digs into these updates more fully next week, but here are the tallies so far:
Argo: 2.23 EH/s | 219 BTC mined | 887 BTC sold
Bitfarms: 3.8 EH/s | 500 BTC mined
Cleanspark: 2.9 EH/s | 384 BTC mined | 426 BTC sold
Core Scientific: 10.9 EH/s | 1,221 BTC mined | 1,975 BTC sold
Hive: 2.26 EH/s | 280 BTC mined
Hut 8: 2.92 EH/s | 330 BTC mined
Riot: 4.2 EH/s | 318 BTC mined | 275 BTC sold
POLONIEX ANNOUNCES SUPPORT FOR ETH POW FORK; HUOBI MAY FOLLOW SUIT
Ethereum's merge to Proof-of-Stake is coming soon™. At least, the Ethereum Foundation is more confident than ever, and in the light of this confidence, a group of ETH miners led by Chandler Guo is saying that they will fork Ethereum to stay Proof-of-Work.
Poloniex officially announced support for the forked asset under the ticker ETHW. In a more ambiguous post, Huobi said that it will honor Ethereum forks if they meet a few criteria, such as replay protection, clear communication from developers, sufficient testing, etc.
With exchanges announcing (or at the least, entertaining) their support, now, the ETH fork camp just needs support from DeFi projects/developer. If developers say that they will migrate these applications to the PoW fork, that's when things will start to get really interesting.
---
Sponsored by Luxor

---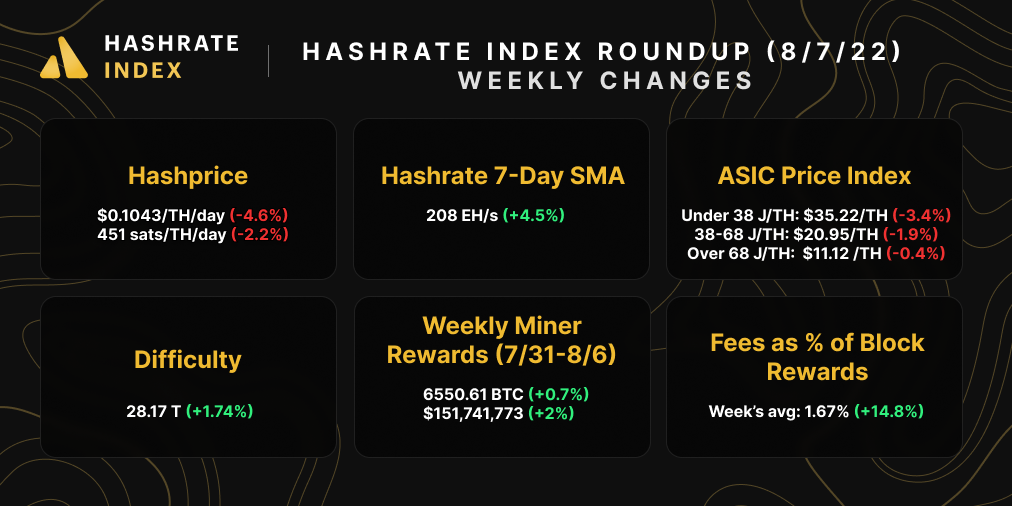 Hashprice Index (August 7, 2022)
Bitcoin's hashprice slipped a bit this week, falling both in response to Bitcoin's positive difficulty adjustment and its slight price decline.
USD hashprice is still just barely above $0.10/TH/day, but unless Bitcoin's price moves up from here, we'll be below $0.10/TH/day again after the next difficulty adjustment in roughly 10 days.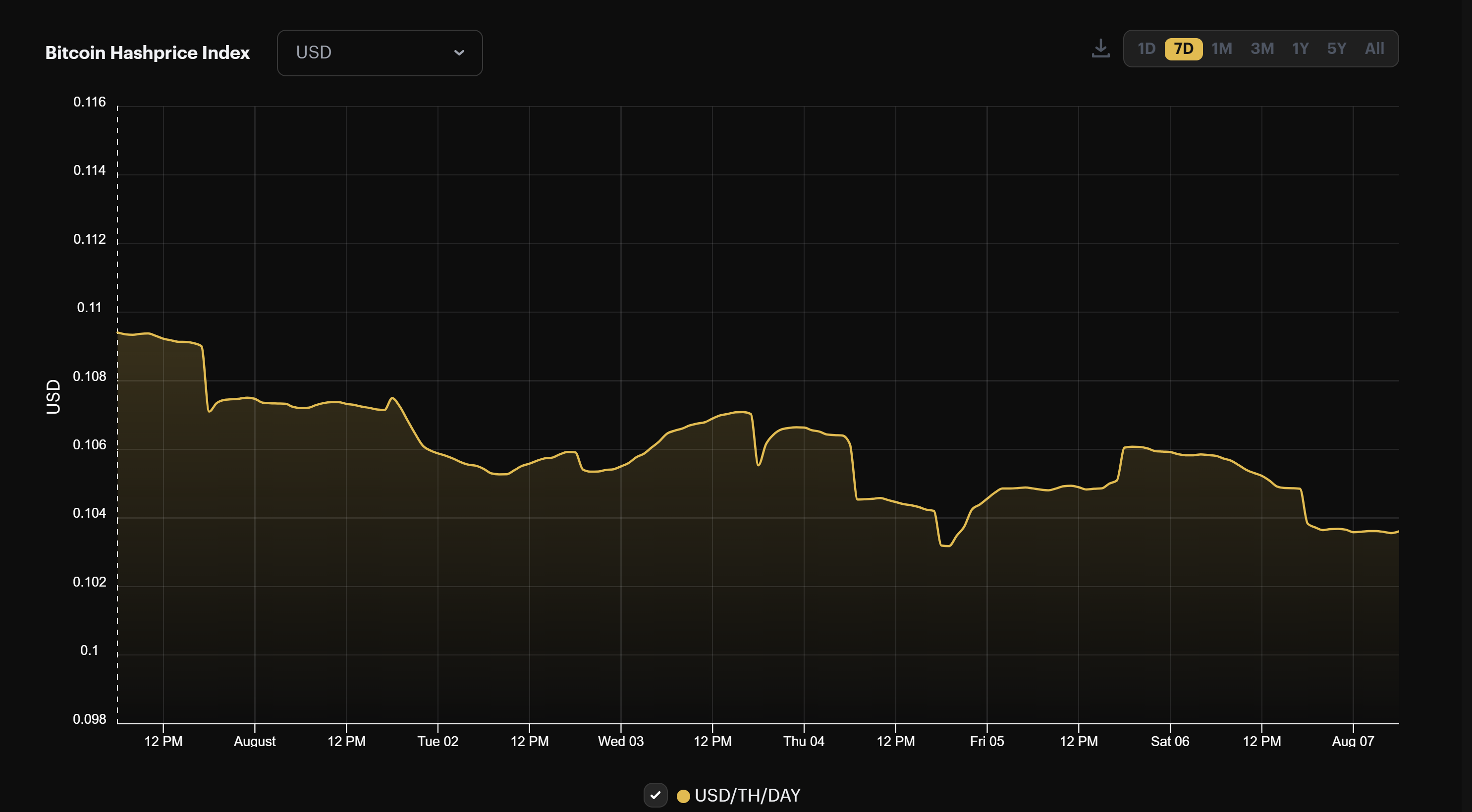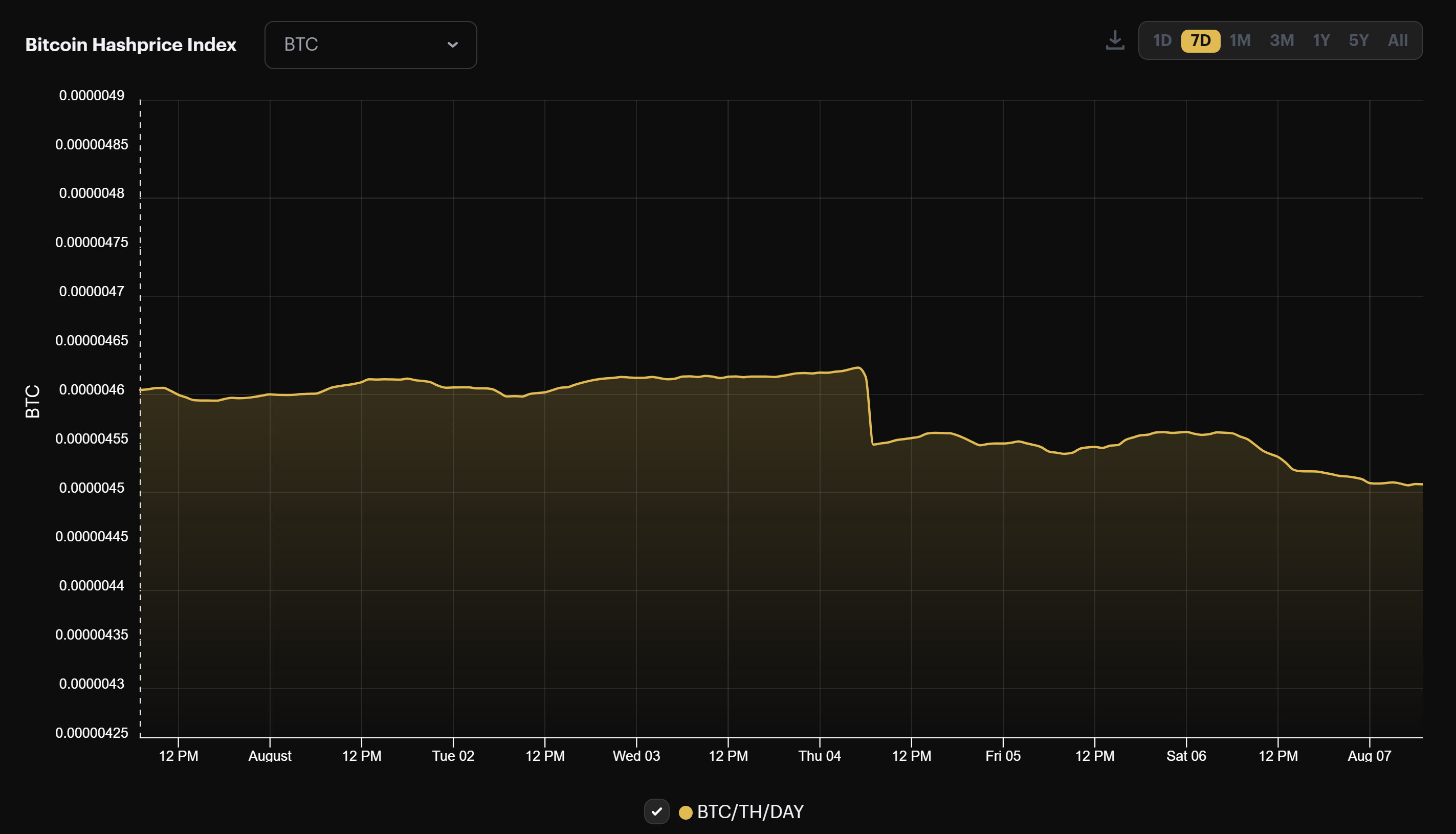 📈
BITCOIN MINING DIFFICULTY
Speaking of Bitcoin's mining difficulty...
Difficulty rose a smidge last week by 1.74% to 28.17 T. It's not too much, but it broke a succession of three downward adjustments, the longest streak since the aftermath of China's mining ban last summer
It's too early to say to what degree the next adjustment will be, but given the recent spurt in hashrate, there's a good chance that it will be larger than last week's adjustment.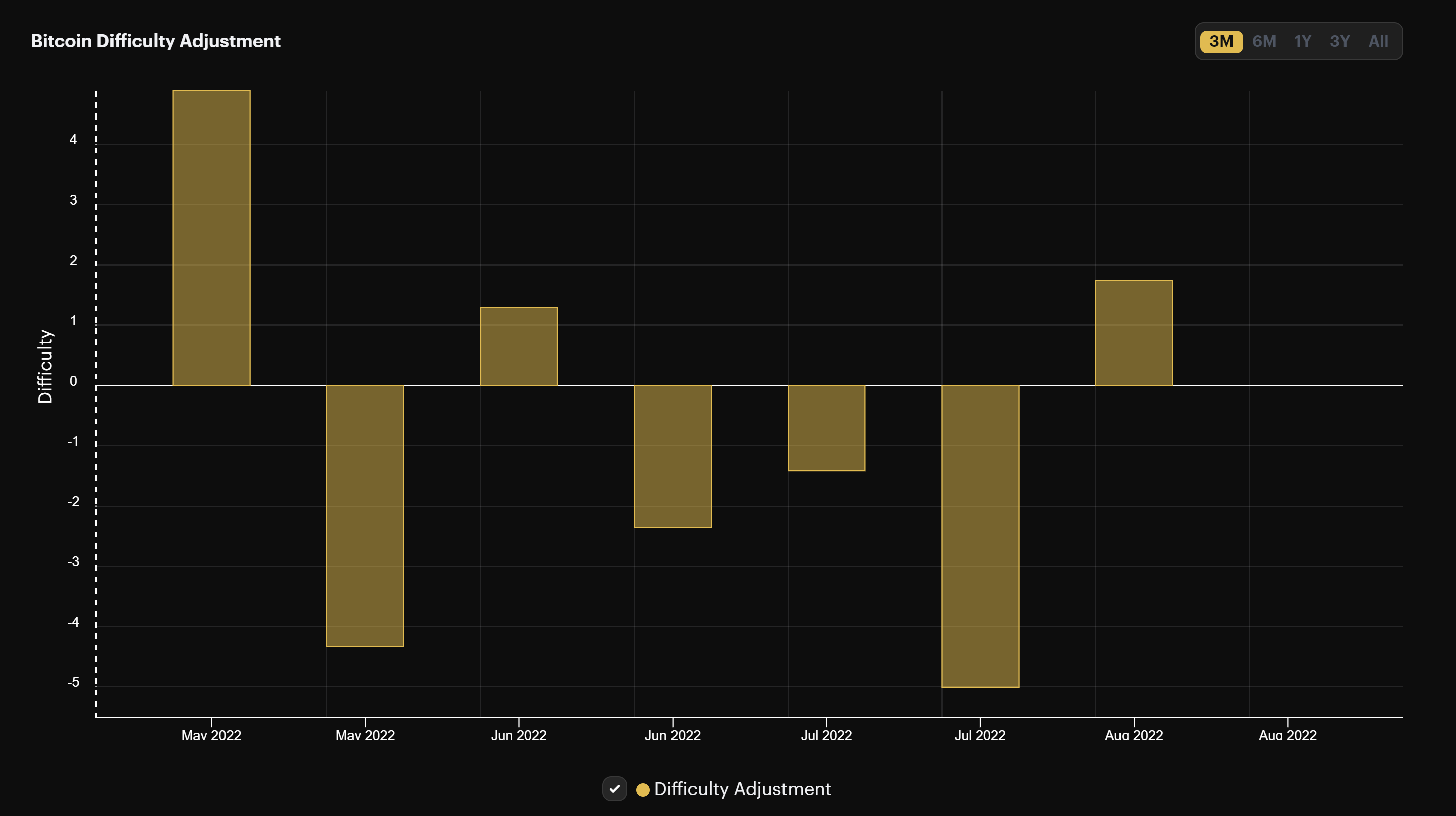 💸
BITCOIN TRANSACTION FEES
Bitcoin's transaction fees are back below 2% of total block rewards after rising to yearly highs in June and July.
Last week, transaction fees made up 1.67% of block rewards, a slight improvement over the prior week's 1.46%.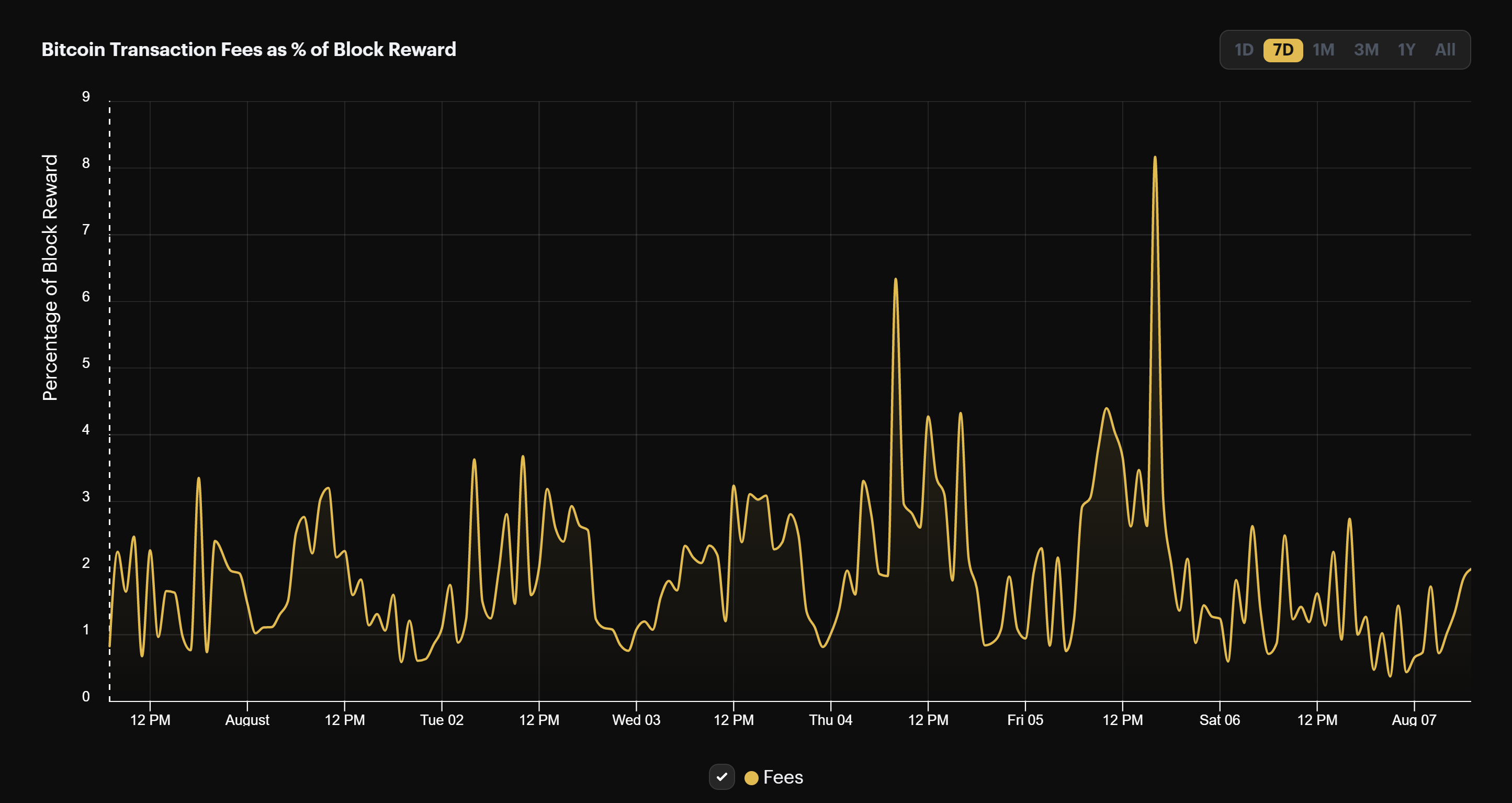 ---
Bitcoin Mining ASIC Price Index  (August 7, 2022)
Bitcoin mining ASICs continue to fall in value. Still, price declines are slowing somewhat as mining economics have stabilized over the past month.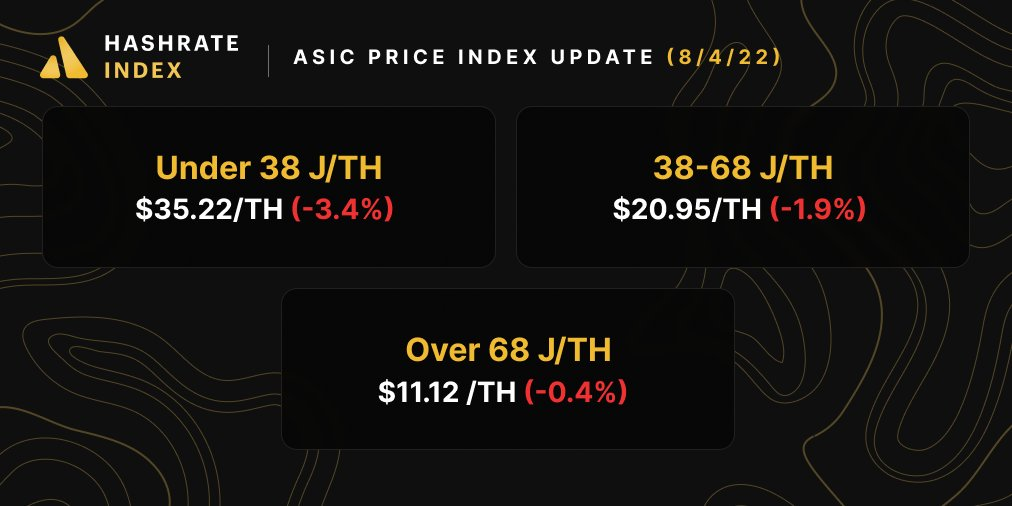 💰
BITCOIN MINING PROFITABILITY
Bitcoin mining profitability rose over the week. Here are the current daily revenue potentials for popular rigs:
Antminer S19 XP (140 TH/s): $14.50
Whatsminer M30s++ (112 TH/s): $11.60
Antminer S19 Pro (110 TH/s): $11.40
Antminer S19 (95 TH/s): $9.90
Whatsminer M30s (86 TH/s): $8.90
Whatsminer M20s (68 TH/S): $7.10
Antminer S17 (56 TH/s): $5.80
Antminer S9 (13 TH/s): $1.40
Bitcoin Mining Stocks (August 7, 2022)
Bitcoin mining stocks across the board continue to recover, so our Crypto Mining Stock Index rose 7.5% over the week.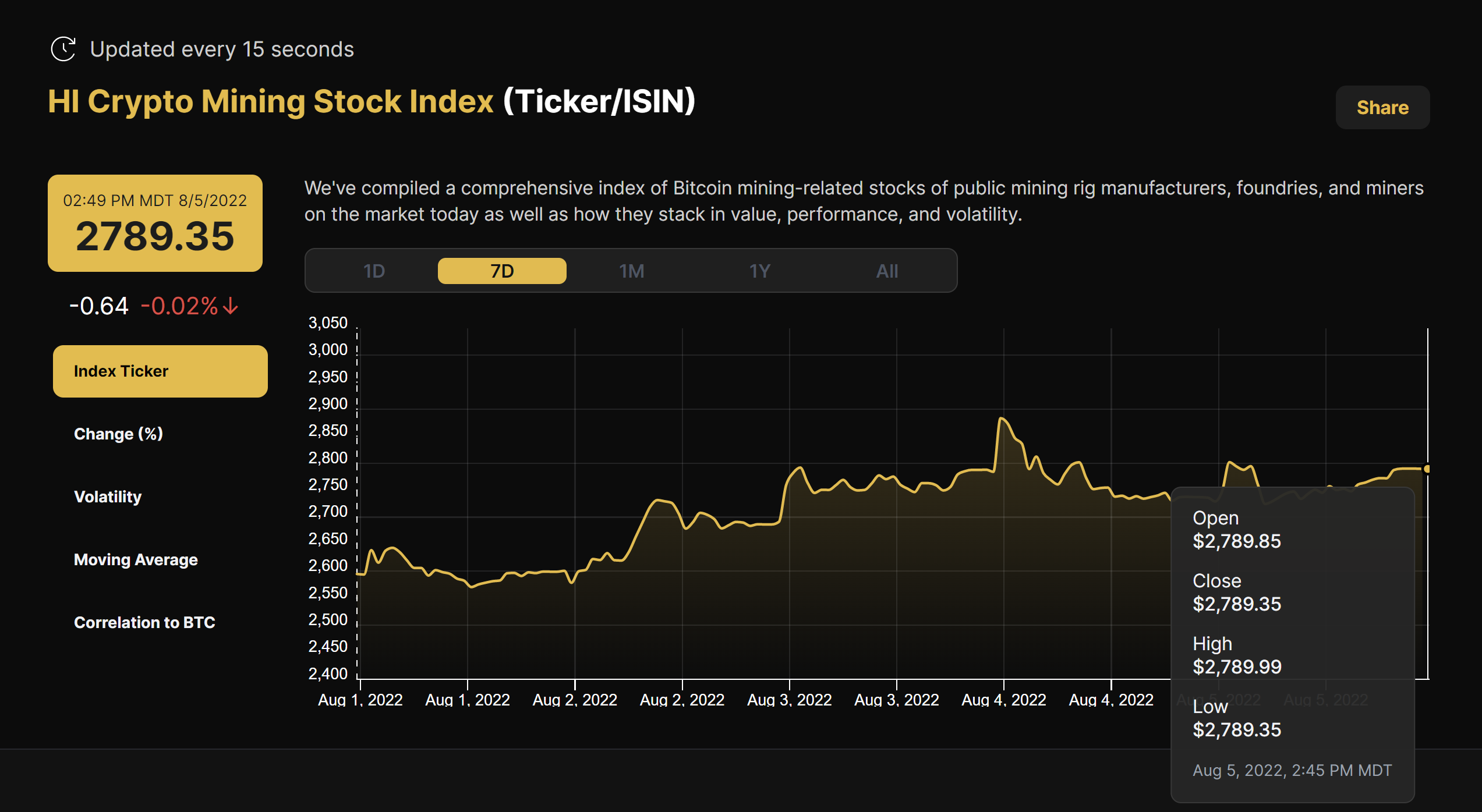 New From Hashrate Index
Bitmain Reprices S19 XP Order: Here's How Much Bitcoin Miners are Saving
Bitmain has started to reprice orders for its Antminer S19 XP, starting with shipments delivered in July and August.
For miners like Marathon, which ordered tens of thousands of these machines last year, this has culminated in $100 million worth of savings. Other miners who have these machines on preorder are reaping savings too, and secondary market prices are finally starting to come down as a result of the repricing.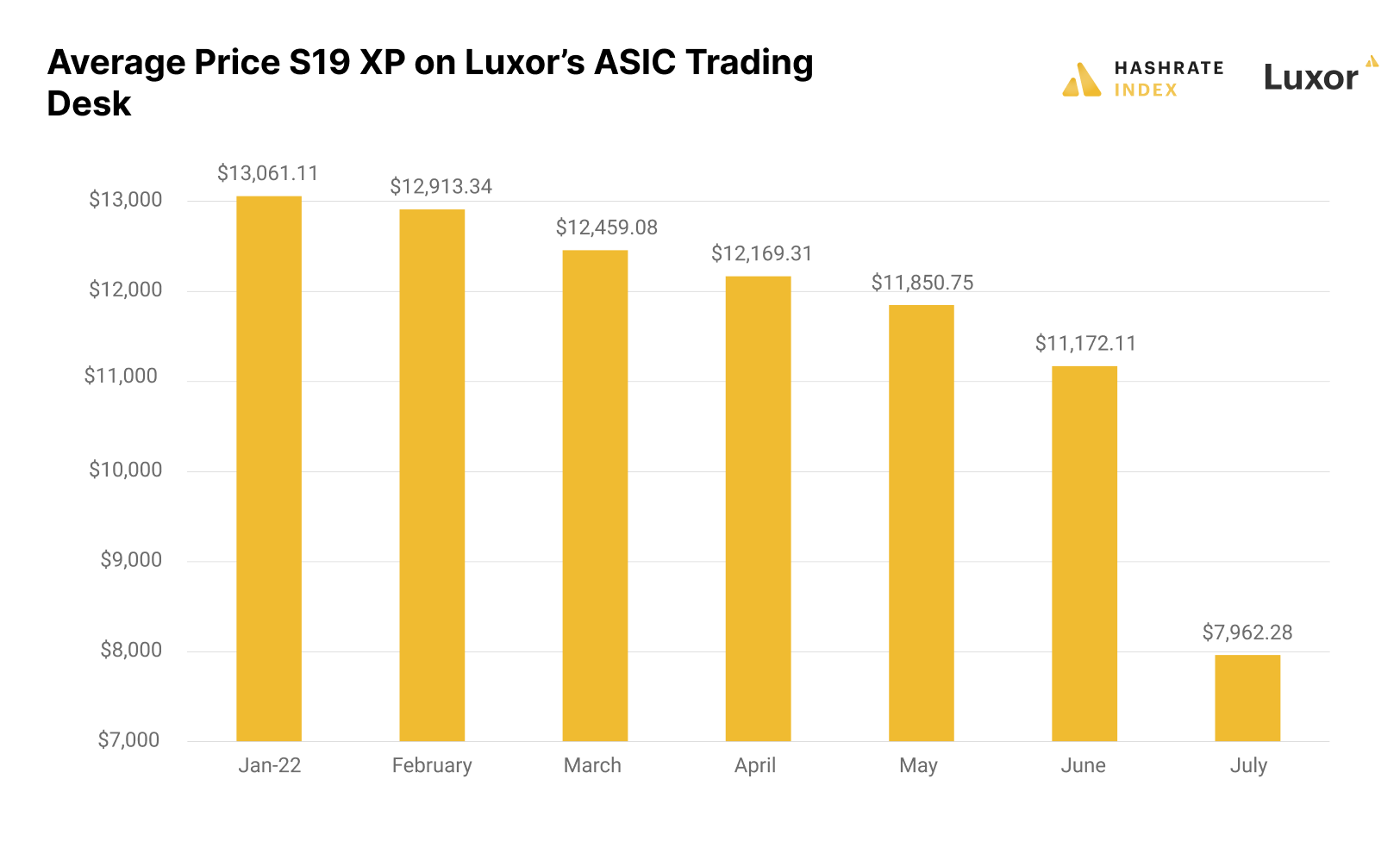 Have a great week, and Happy Hashing!
Hashrate Index Newsletter
Join the newsletter to receive the latest updates in your inbox.
---