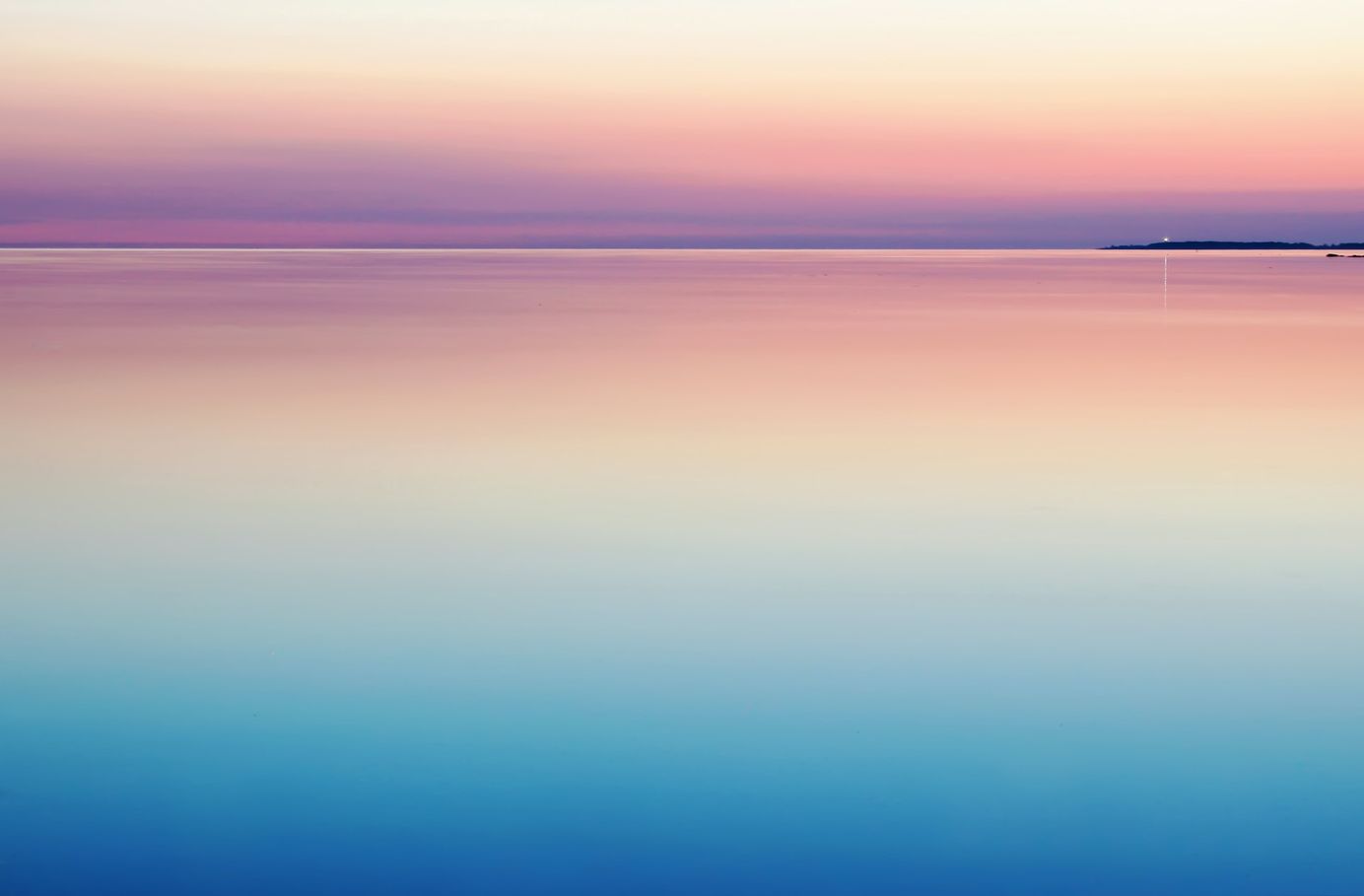 Hashrate Index Roundup (June 26, 2022)
It ain't too much, but Bitcoin mining markets felt some reprieve last week.
Happy Sunday, miners!
Last week was a recovery week for Bitcoin's mining market.
Bitcoin rose 10% and is currently floating above $21,000 after puking to as low as $17,000 on June 18th. Hashprice is perking up from Bitcoin's price rise, with a little help from a downward adjustment, as well.
And the wider market is holding its breath to see if the forced liquidations are over. Between 3AC, Celsius, and BlockFi, a tremendous amount of wealth has evaporated over the last couple of weeks, so most of us are probably sitting around wondering, "Is the worst over?"
WAS 3 ARROWS CAPITAL A MASSIVE PONZI SCHEME?
Ok it's not mining news, but...
The biggest story of this bear market (so far at least) is the implosion of 3 Arrows Capital, the hedge-fund-not-hedge-fund which, in the rear view, is looking like a massive ponzi scheme a la Bernie Madoff. We still don't know how many in outstanding obligations 3AC has (it's somewhere in the realm of $1.5-2.5 billion, according to coverage from The Block). Just about every big firm or player in Bitcoin had exposure, including publicly traded Voyager Digital, who has 3AC on the hook for $650 million (lawsuit incoming).
SOLAR POWERED MINER ASPEN CREEK DIGITAL LAUNCHES IN CO
A new mining firm is now active in West Colorado with 10 MW of solar arrays under management. Aspen Creek Digital's solar Bitcoin mine is now up and running. Galaxy Digital Mining is using the site to host some of its self-mining operation.
---
Sponsored by Luxor

---
Hashprice Index (June 26, 2022)
Bitcoin's hashprice rebounded last week on the backs of Bitcoin's own price rise and a downward difficulty adjustment.
At $0.09/TH/day, it ain't much, but it's honest work. And we'll take this over the sub $0.08/TH/day hashprice we saw in the pits of last week's sell-off, because (unless BTC bounces hard from here), we haven't seen the hashprice bottom for this bear market yet.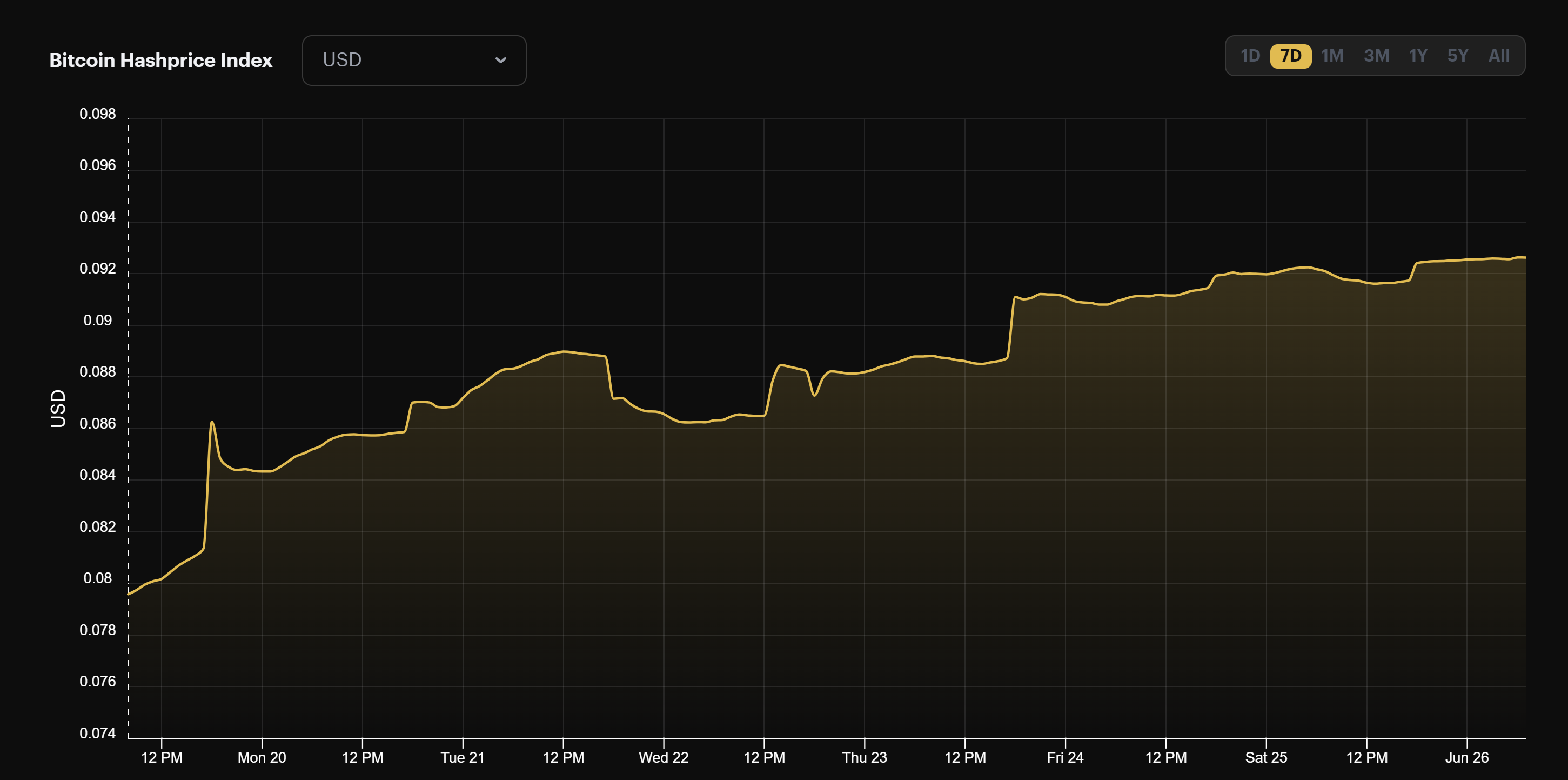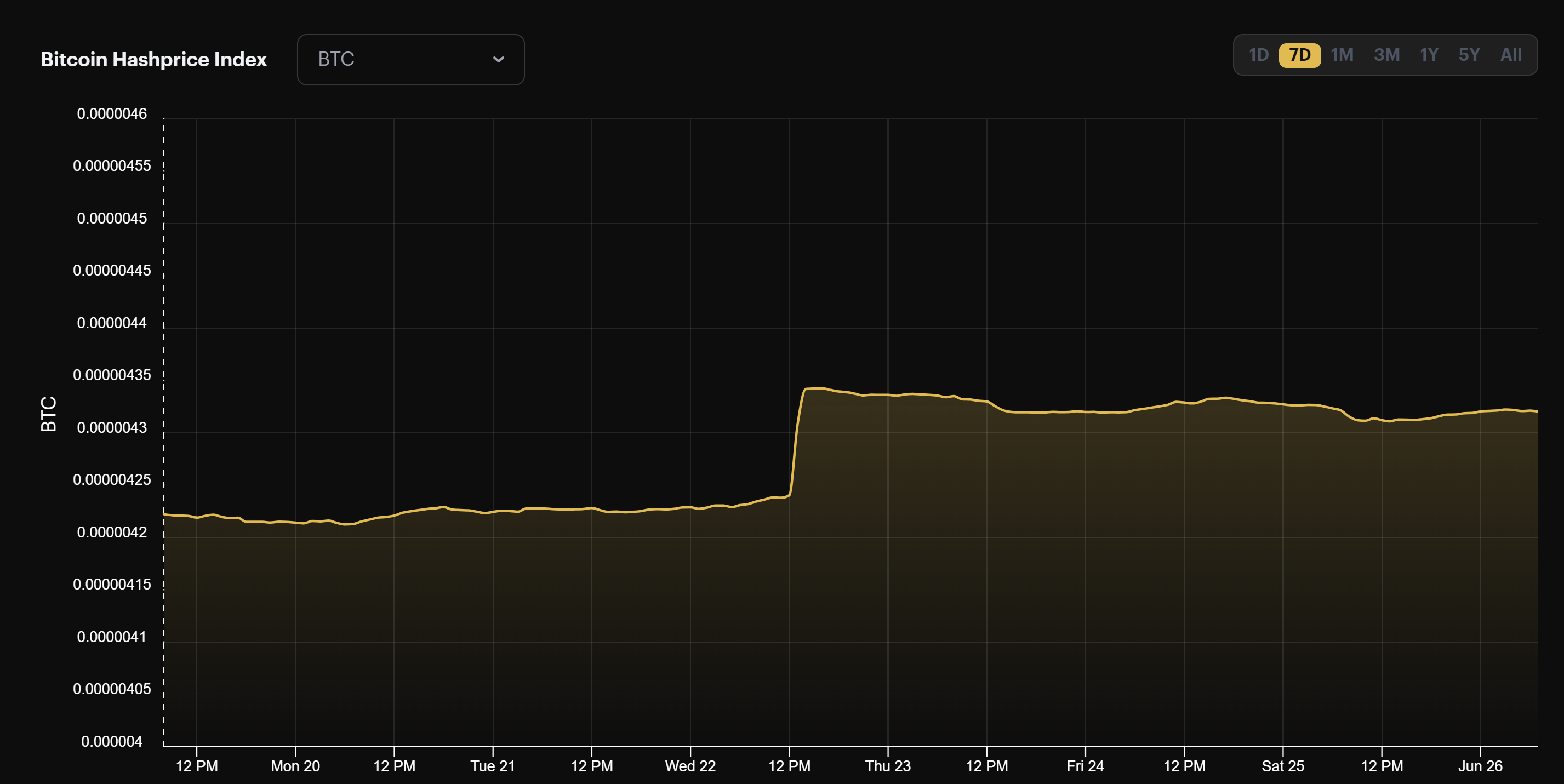 To look on the bright side of all the market carnage: hashrate is growing more slowly than most of us anticipated, so we've been graced with 5 downward difficulty adjustments since the beginning of March.
One of those negative adjustments came last week, and Bitcoin's difficulty fell a welcomed 2.35% to 29.57 T.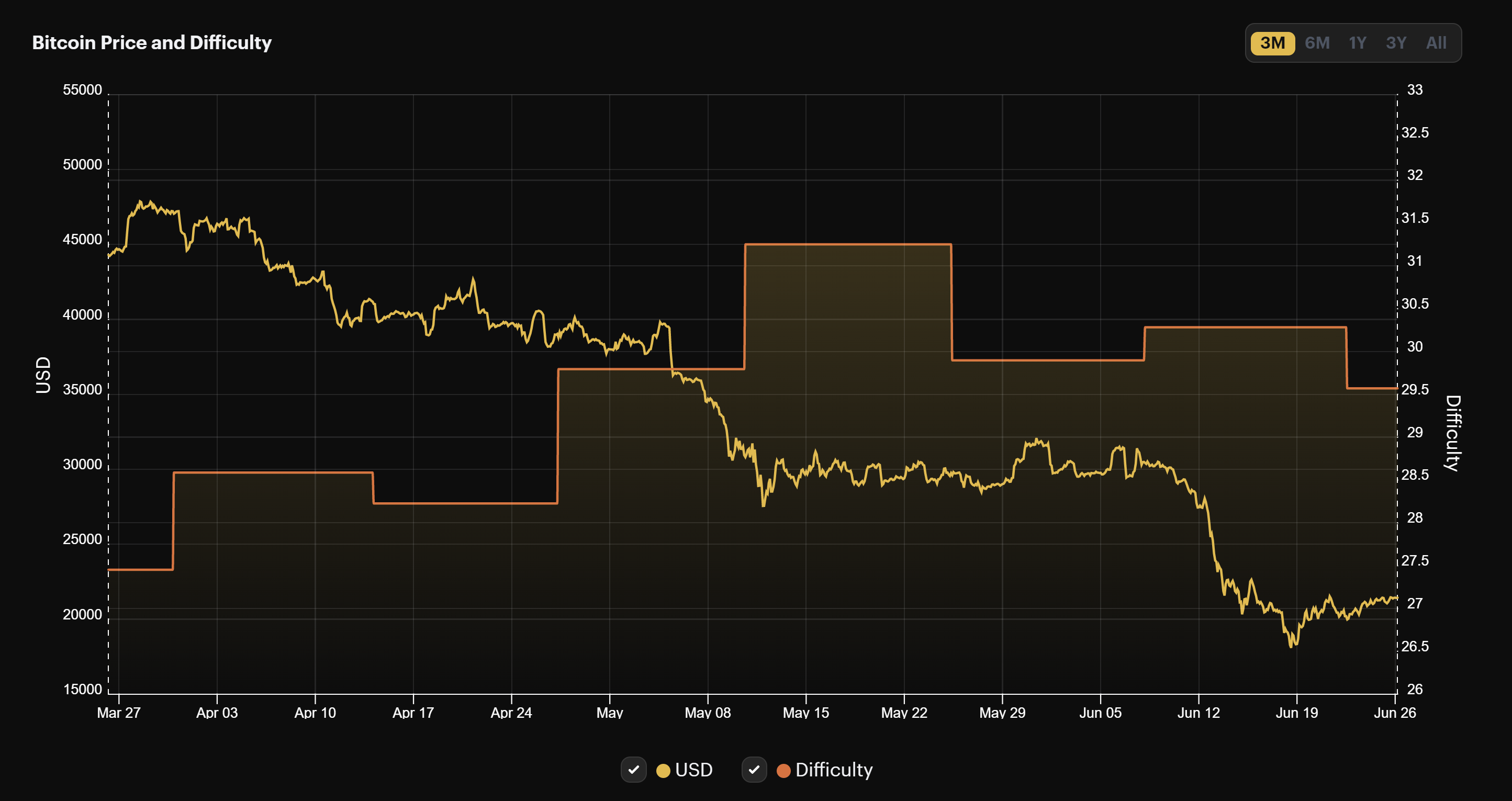 💸
BITCOIN TRANSACTION FEES
Transaction fees are still relatively elevated from all of the on-chain activity that panic selling brings, but they fell compared to last week.. On average, transaction fees made up 1.74% of block rewards last week.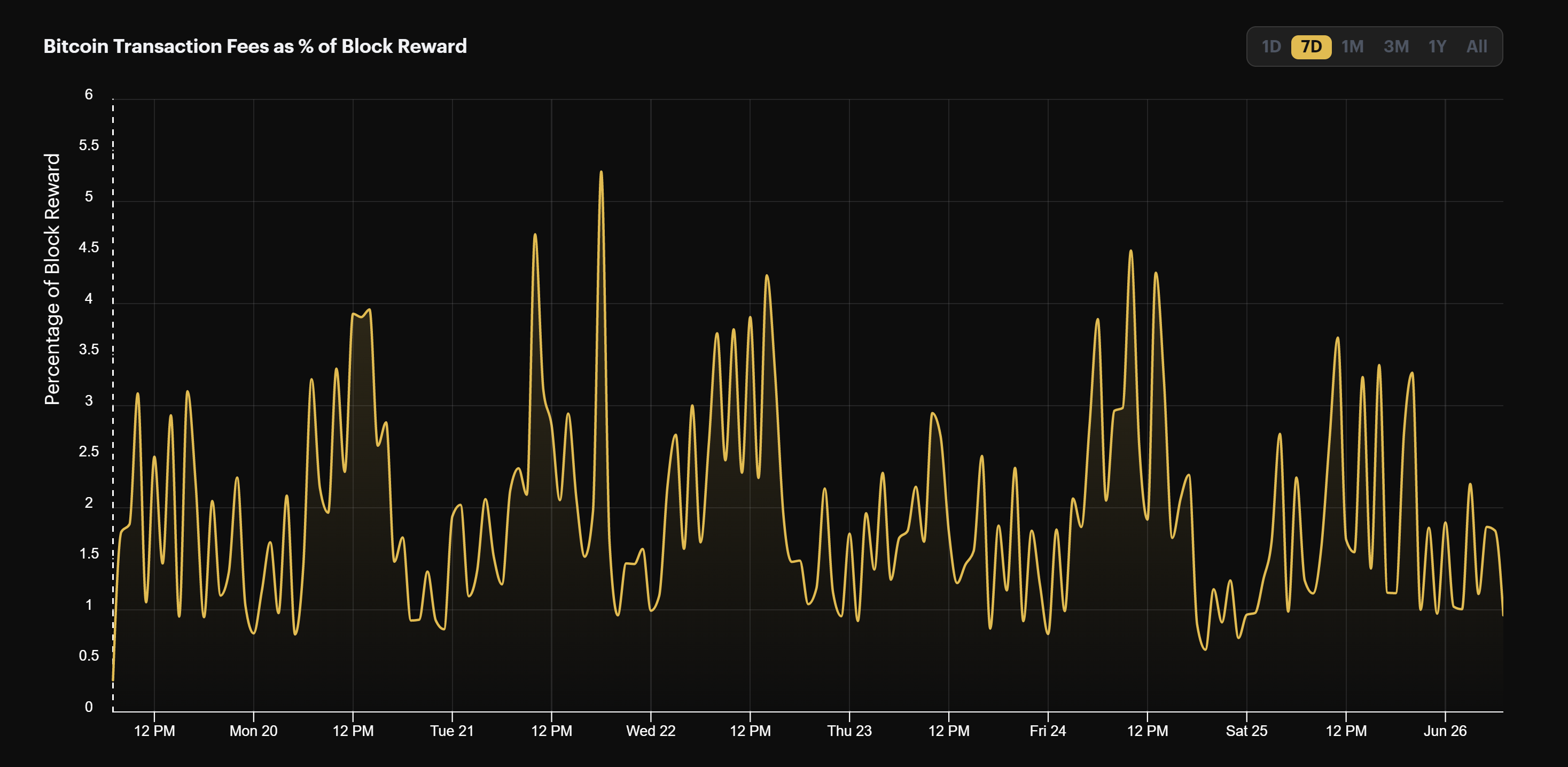 ---
Bitcoin ASIC Index  (June 26, 2022)
The firesales have begun in the Bitcoin mining ASIC market, as rigs continue to fall below last year's lows.
I wanted to post an update this past week with some in-depth analysis on the trends we're seeing in the ASIC primary and secondary markets, but life and work got a bit too heavy, so that update will come this week. So keep your eye on your inbox early this week for a meaty newsletter on ASIC market dynamics.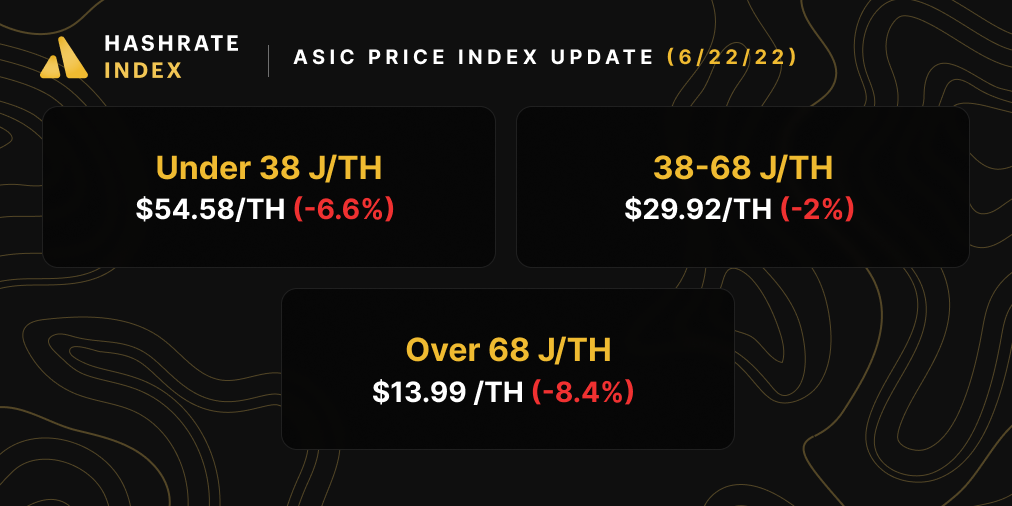 💰
BITCOIN MINING PROFITABILITY
Bitcoin mining profitability rose over the week thanks to the 16% hashprice boost.
Whatsminer M30s++ (112 TH/s): $10.40
Antminer S19 Pro (110 TH/s): $10.20
Antminer S19 (95 TH/s): $8.80
Whatsminer M30s (86 TH/s): $8.00
Whatsminer M20s (68 TH/S): $6.30
Antminer S17 (56 TH/s): $5.20
Antminer S9 (13 TH/s): $1.20
Bitcoin Mining Stocks  (June 26, 2022)
Bitcoin mining stocks rebounded with everything else last week, and our Crypto Mining Stock Index rose 4.6% over the week.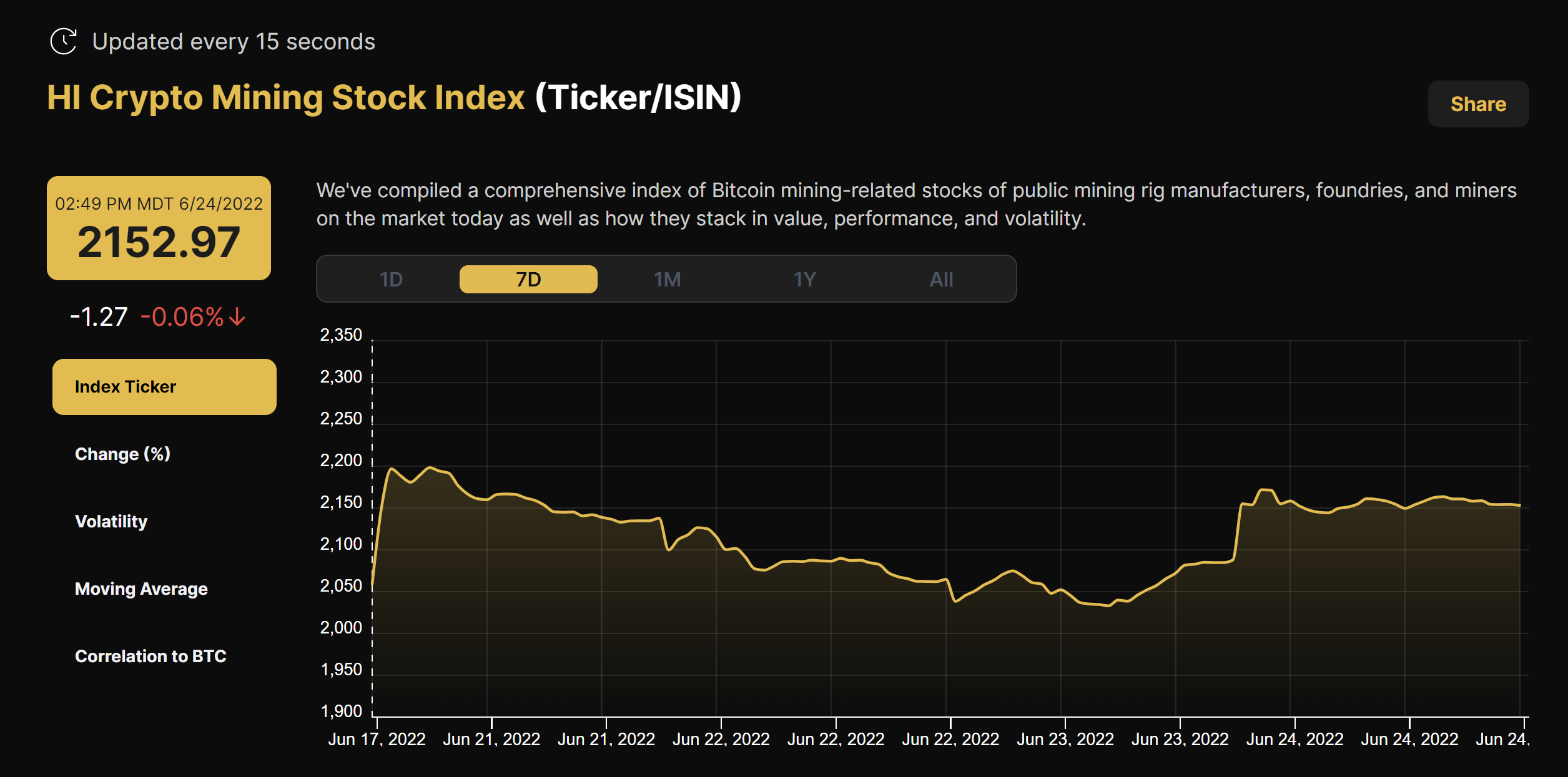 New From Hashrate Index
Introducing Our New and Improved Bitcoin Mining Profitability Calculator
In partnership with Galaxy Digital Mining, Hashrate Index is thrilled to introduce our new Bitcoin Mining Profitability calculator!
Just in time for the bear market, you can use our Bitcoin mining profitability calculator to estimate the payback time on a Bitcoin mining operation. The calculator allows you to factor in all the variables Bitcoin miners need to consider, including ASIC prices, hashprice, difficulty adjustments, power costs/operational costs, and more.
Evaluating Bitcoin Mining Stocks with Enterprise Value / ASIC Value Ratio
How can investors use active mining fleet values and total debt balance on sheet debt to compare risk?
In our latest blog post, we introudce the Enterprise Value vs. ASIC Value ratio (EV / ASIC Value ratio). This metric measures the value of a public bitcoin miner's active rig fleet compared to that company's enterprise value. The benefit of using a public miner's enterprise value (instead of just the miner's marketcap) is that it adjusts cash and total debt from the total market capitalization value of the company.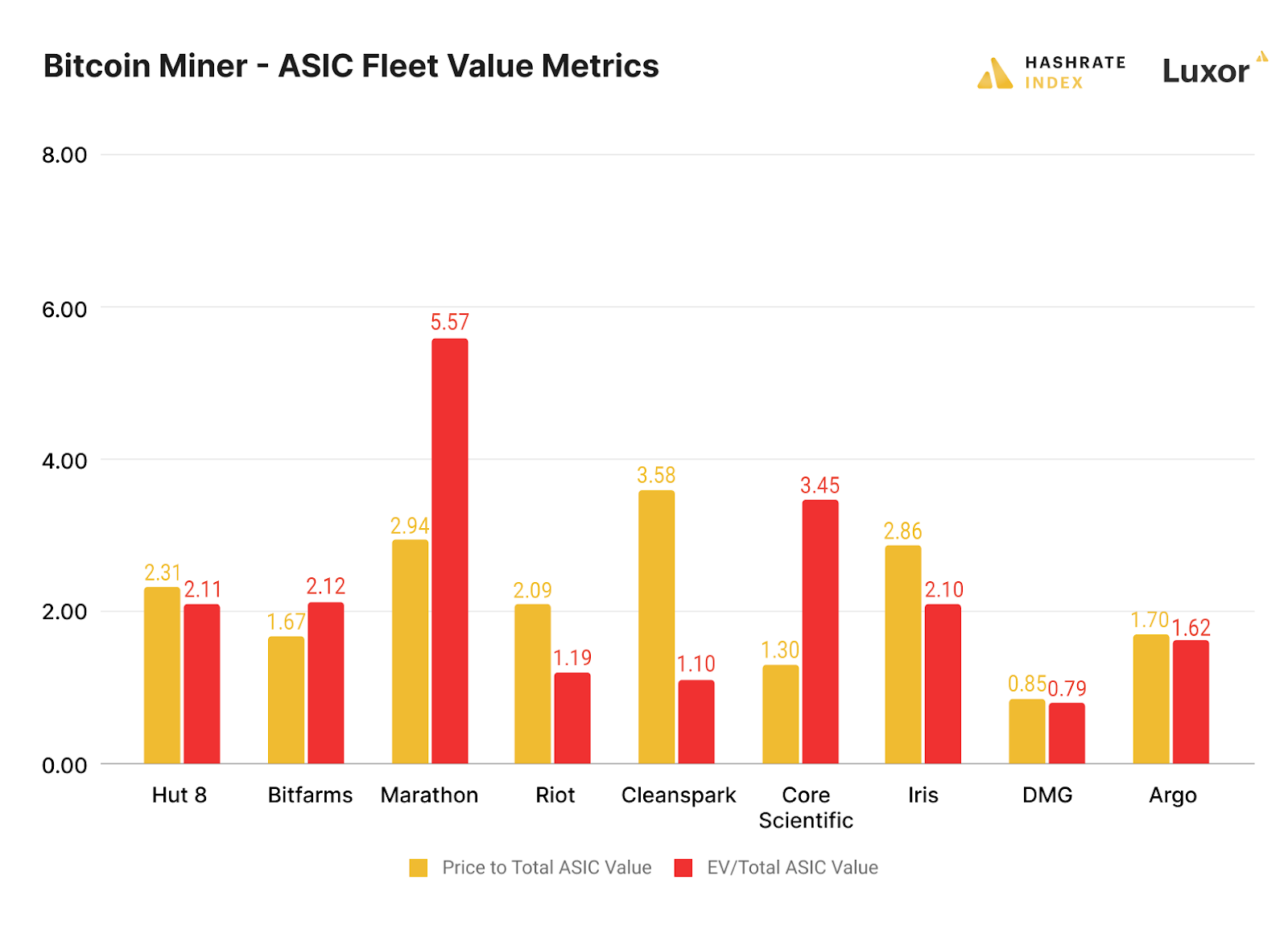 Happy Hashing, and have a great week!
Hashrate Index Newsletter
Join the newsletter to receive the latest updates in your inbox.
---