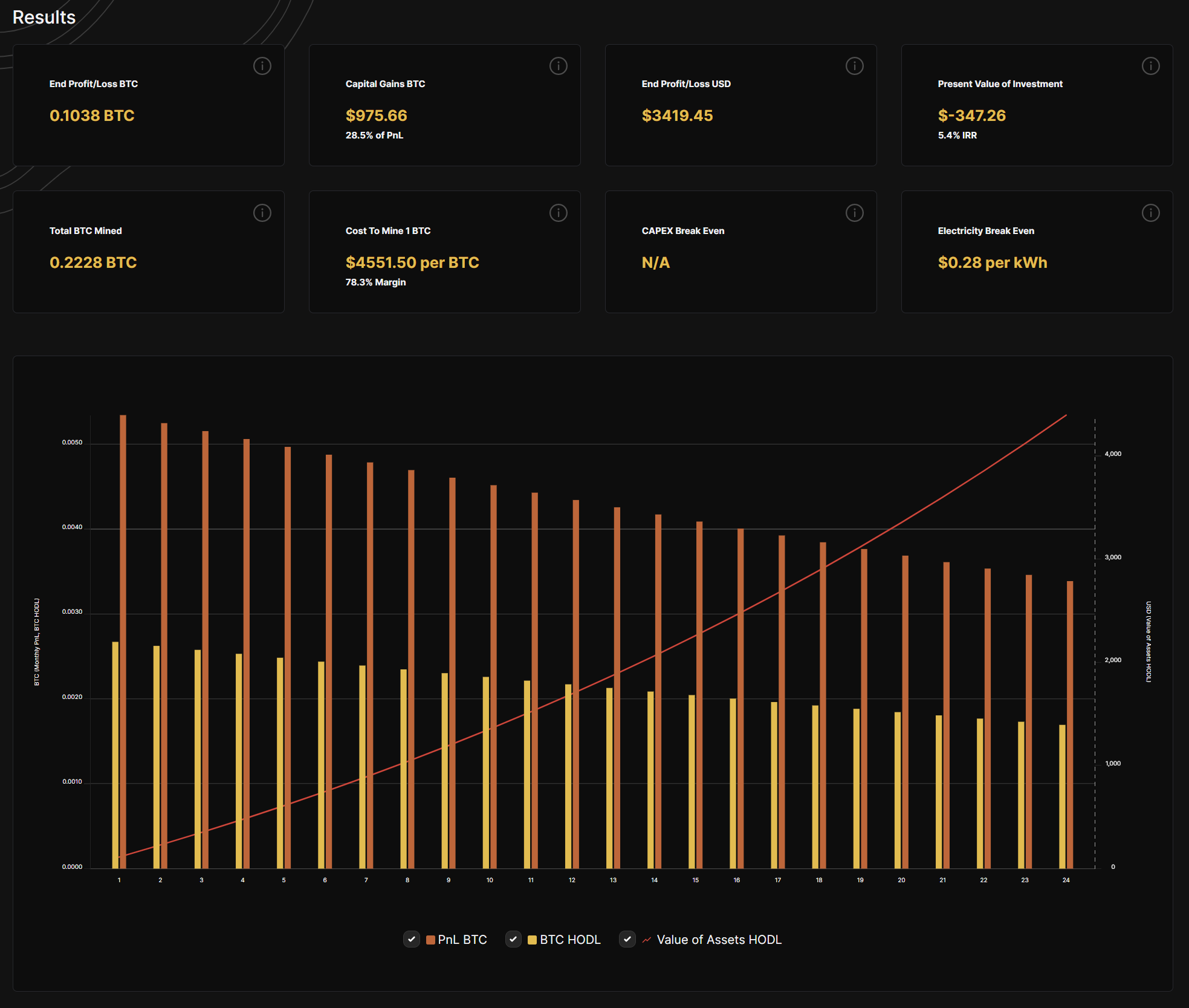 Hashrate Index and Galaxy Digital Bitcoin Mining Profitability Calculator
Run the numbers before you deploy a mining operation with our bitcoin mining profitability calculator.
Hashrate Index and Galaxy Digital Mining are thrilled to introduce our new Bitcoin Mining Profitability calculator!
Just in time for the bear market, you can use our Bitcoin mining profitability calculator to estimate the payback time on a Bitcoin mining operation. The calculator allows you to factor in all the variables Bitcoin miners need to consider, including ASIC prices, hashprice, difficulty adjustments, power costs/operational costs, and more.
Our Bitcoin mining profitability calculator has both simple and advanced functions. The simple bitcoin mining calculator is limited to 6 variables: hashrate, power consumption, machine cost, power cost, current hashprice, and monthly percentage change to hashprice.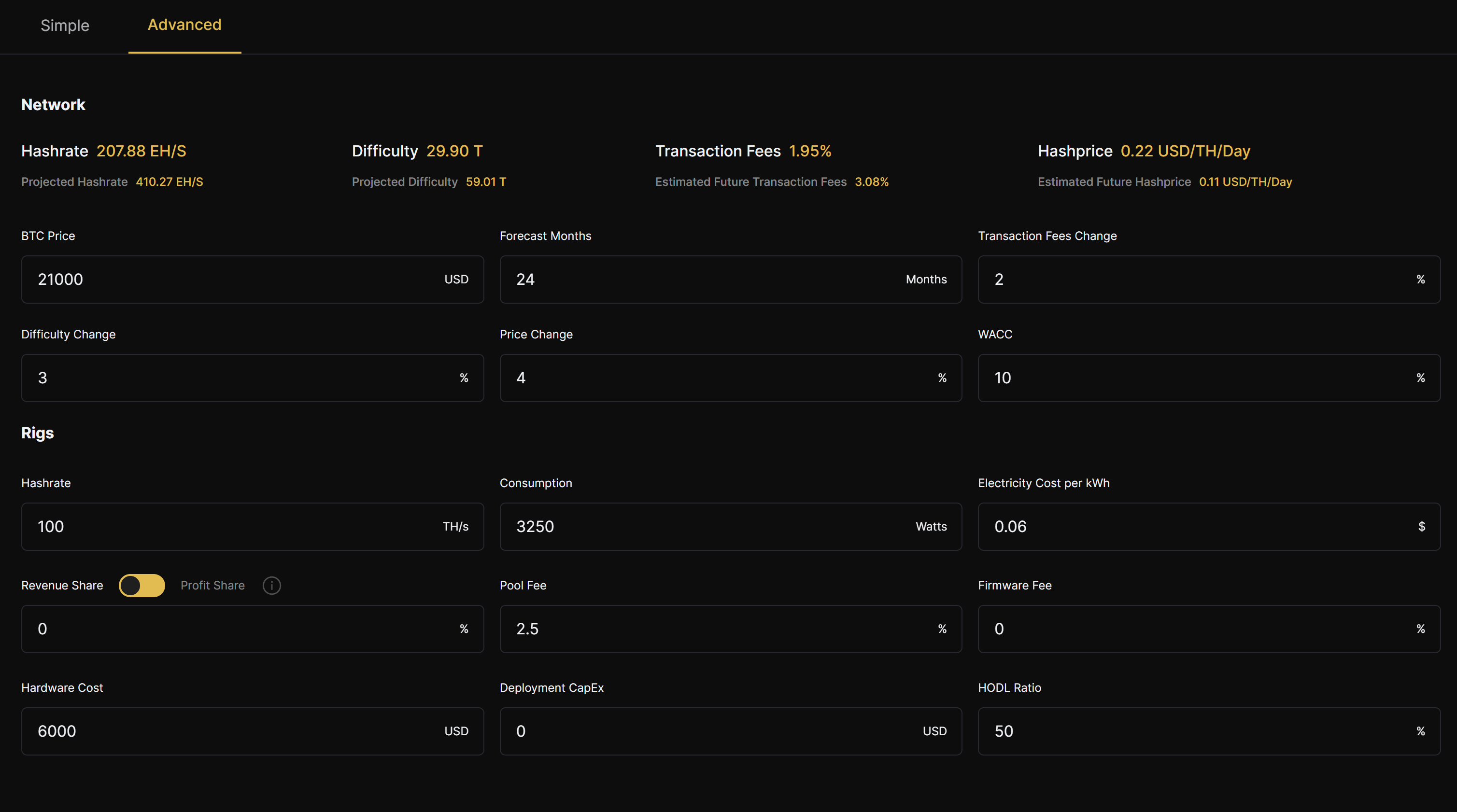 The advanced bitcoin mining profitability calculator gives seasoned bitcoin miners more inputs to consider, and it produces a chart and data table to help you visualize your operation's vital stats.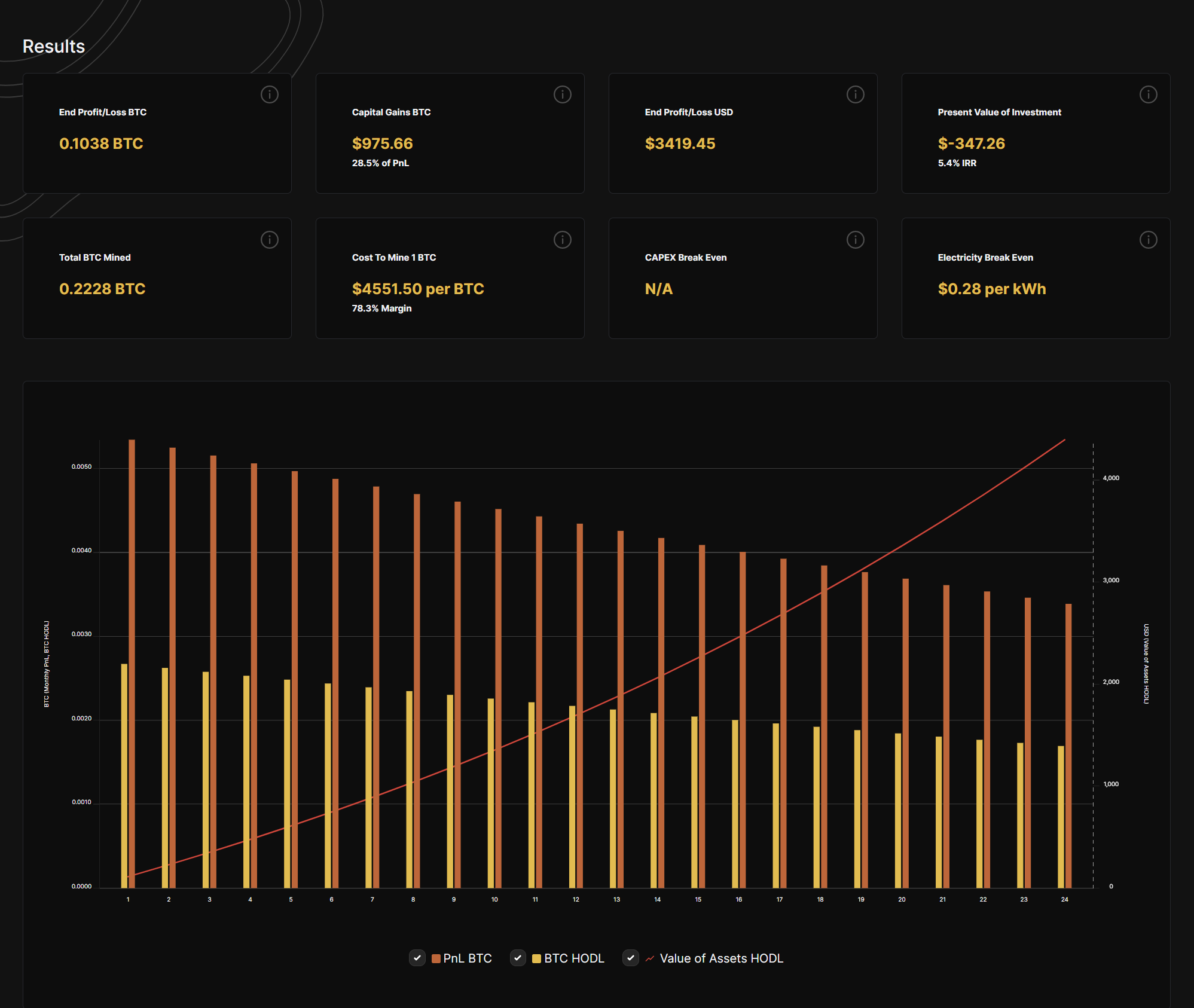 If you have any questions about the calculator, give us a shout!
Happy Hashing!
Disclaimer:
This calculator (the "Calculator") doesn't represent investment advice or guidance. No representation is being made as to whether the Calculator correctly calculates the actual profitability of a Bitcoin mining operation. The Calculator might not include variables that drive the actual profitability of a mining operation. The Calculator is based on certain assumptions and models. To the extent these assumptions or models are not correct or circumstances change, the actual performance of any individual Bitcoin mining operation might differ and vary substantially from what is calculated using the Calculator. None of Galaxy Digital Mining ("Galaxy") nor any of their respective affiliates, shareholders, partners, members, directors, officers, management, employees or representatives makes any representation or warranty, express or implied, as to the accuracy or completeness of the Calculator or any other information (whether communicated in written or oral form) transmitted or made available to you.  Each of the aforementioned parties expressly disclaims any and all liability relating to or resulting from the use of the Calculator or such other information. The Calculator is being provided to you solely for discussion purposes and may not be used or relied on for any purpose (including, without limitation, as legal, tax or investment advice) without the express written approval of Galaxy. Except where otherwise indicated, the Calculator is based on matters as they exist as of the date of preparation and not as of any future date and will not be updated or otherwise revised to reflect information that subsequently becomes available, or circumstances existing or changes occurring after the date hereof. Galaxy does not provide tax, accounting or legal advice.
Hashrate Index Newsletter
Join the newsletter to receive the latest updates in your inbox.
---