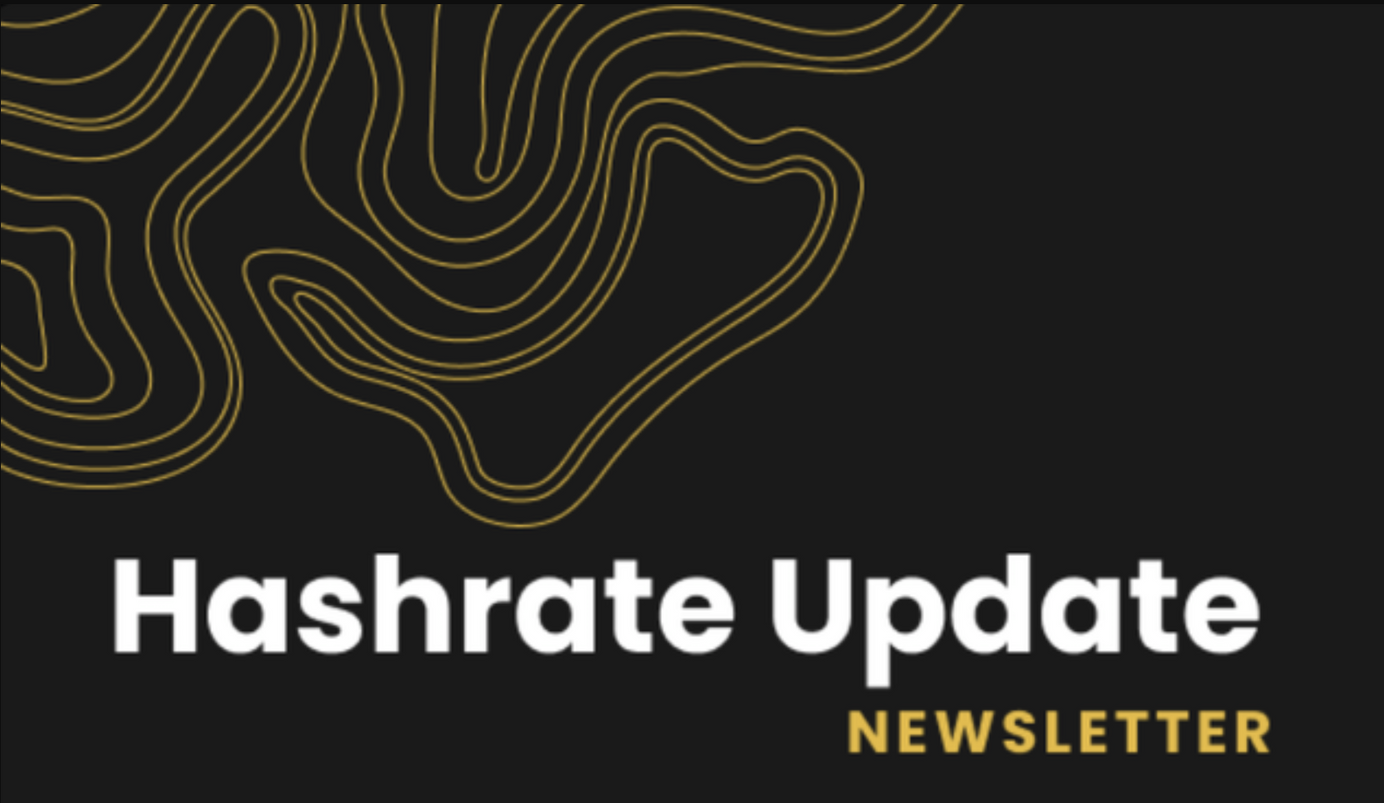 Hashrate Index Roundup 2/13/22
Bitcoin mining stocks are rebounding and Bitcoin mining hashprice has risen slightly over the week.
Happy Sunday, mining faithful!
Bitcoin's still above $40k, which makes for a happier hashprice than we had at the end of January/beginning of February. The week was relatively quite and mining metrics were largely tame, with many of our datasets only experiencing the slightest positive moves last week as bitcoin inched up to $45k and then retraced.
Quiet week as it was in the market, we've been busy pushing some updates for Hashrate Index that we're excited to share with you. The beginning of the newsletter will go over these updates before we get into the dirt of last week's mining data.
And with that, let's get to it.
---
Sponsored by BlockFi

---
Hashrate Index Update
Last week, we added some new charts to Hashrate Index, modified others, and enriched the features and tooling of our ASICs dataset. These changes include:
Modifications to our hashrate chart to include a 3-day, 7-day, and 30-day average of Bitcoin's hashrate
A new hashprice volatility chart to show the 30-day rolling average for hashprice volatility
Added daily revenue, profit, and operating margin for each ASIC on our rigs page, as well as charts for revenue/profitability of each rig with adjustable power cost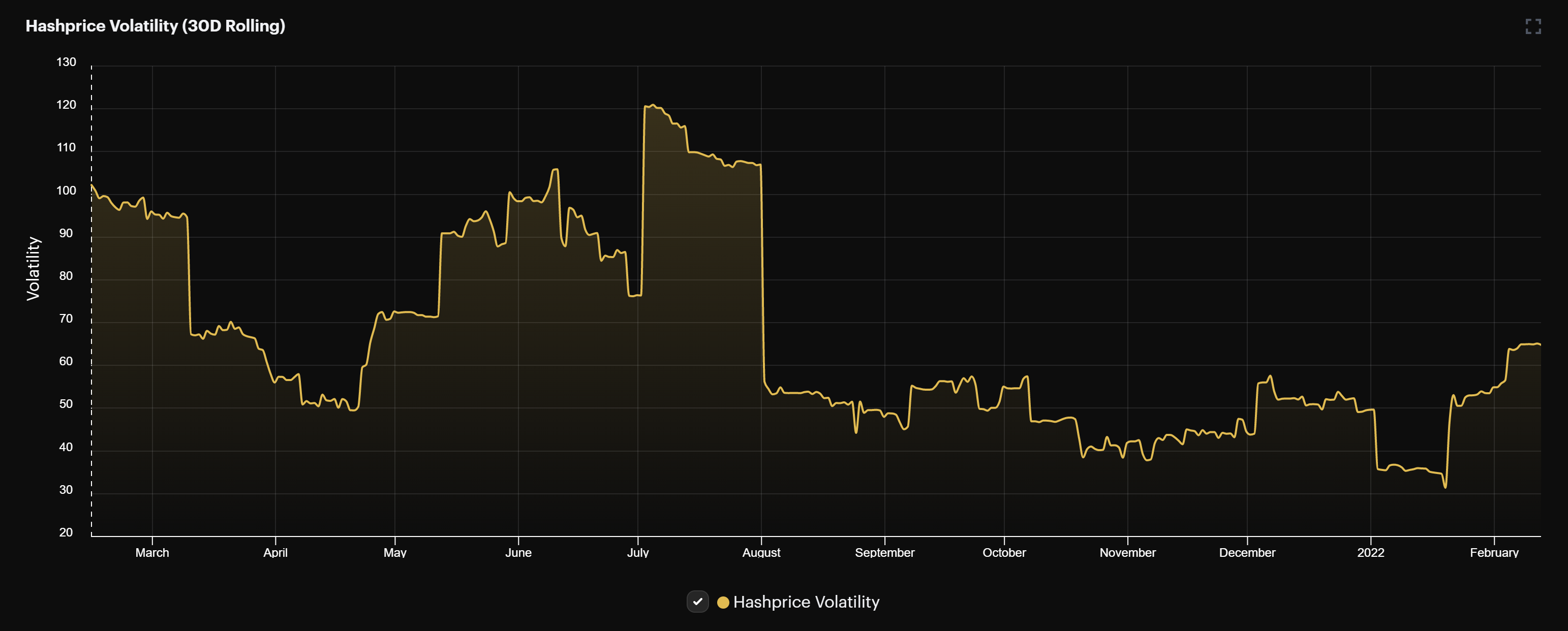 We hope these additions and changes will enhance Hashrate Index for each of you. We're always fine-tuning, so if there's anything you want to see changed or added in the future, please let us know!
Hashprice Index
Bitcoin Price: $42,386 (+1.9%)
Hashprice ($/TH/day): $0.2011 (+1.5%)
Average Fee Percentage per Block (7-Day avg): 1.57% (+2.6%)
Network Hashrate (7-day SMA): 202.19EH/s (+6.4%)
Bitcoin's hashprice added about 0.3 cents over the week and is just a wee bit over $0.20/TH/day.
Hashprice briefly touched $0.21/TH/day last week after Bitcoin bumped up against $45k, only to fall by roughly a cent when Bitcoin's price retraced back down to its current level.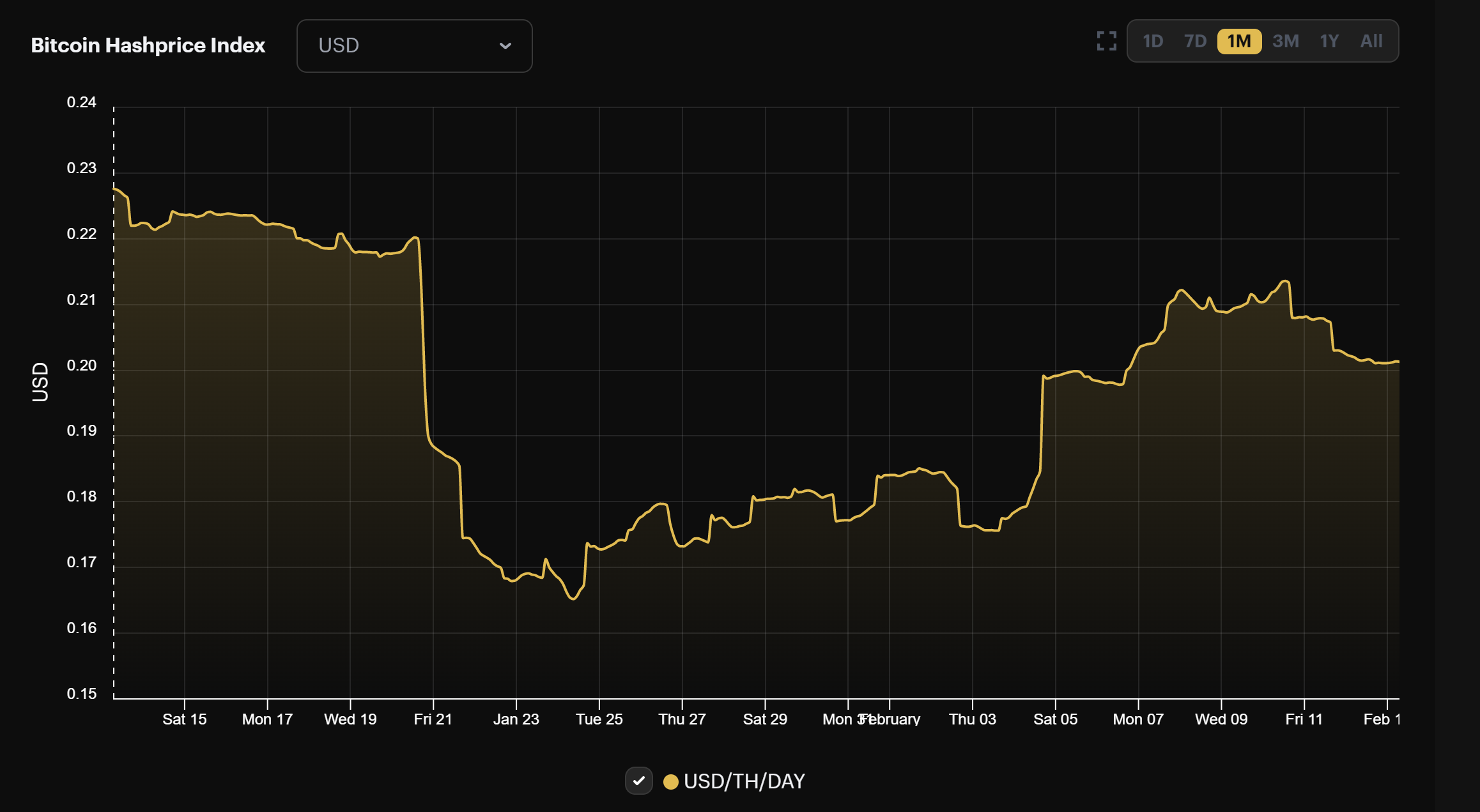 Bitcoin's next difficulty adjustment is in about 4 days, and current estimates place it roughly at 2% to the upside.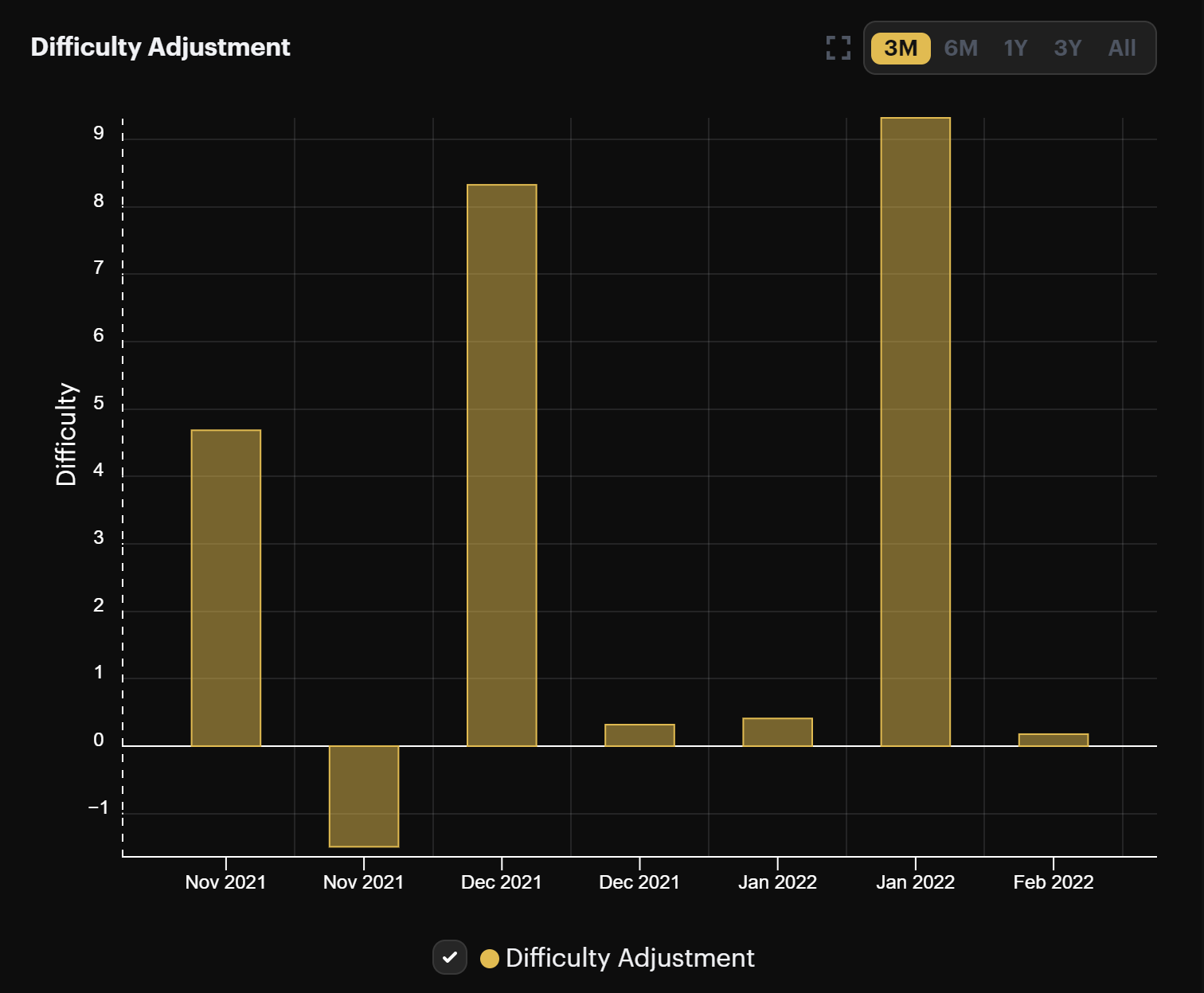 💸
Transaction Fee Percentage
Miners made a little bit more in transaction fees, but that's not saying much because fee revenues are still at lows last seen at the turn of 2019. Last week, transaction fees made up 1.57% of block rewards on average.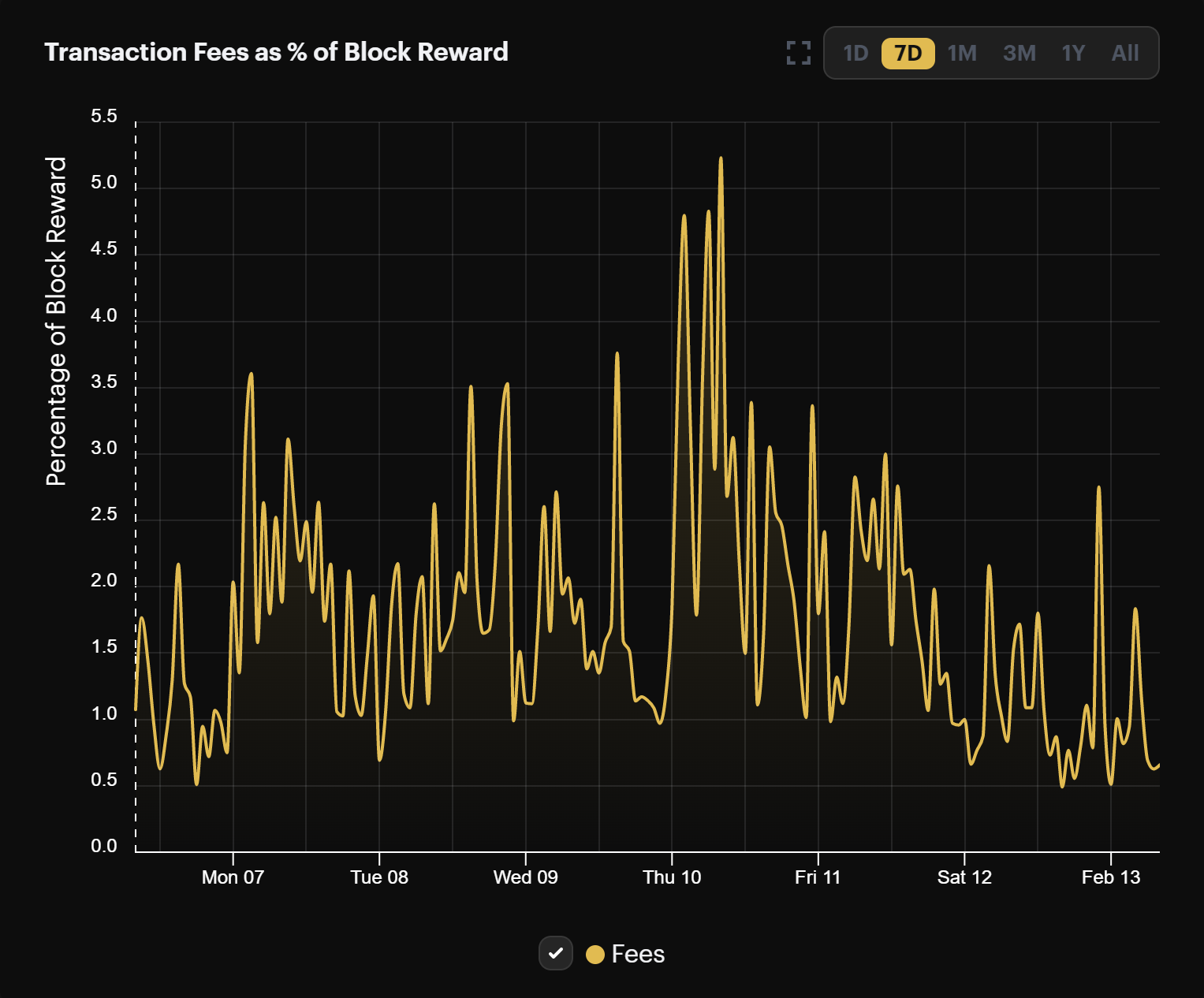 ---
Rig Index
Rig prices fell for the third week in a row last week as the ASIC market is still playing catch up to Bitcoin's New Year selloff. As with last week and the week prior, mid-tier ASICs fell the most in price, while new-gen ASICs and older/less efficient models fell slightly.
If Bitcoin holds $40k, we expect ASIC prices to stay level or rebound over the next week as the market responds to Bitcoin's most recent upward move.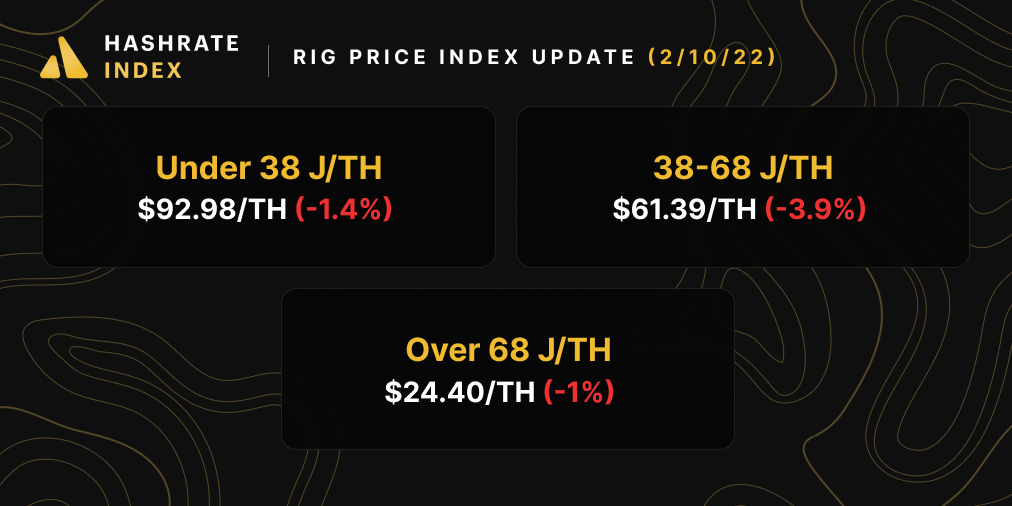 💰
PROFITABILITY OF POPULAR RIGS
Thanks to the rise in Bitcoin's price and hashprice, the per-day reward potential for popular rigs rose slightly over the week:
Antminer S19 Pro: $22.14
Antminer S19: $19.12
Whatsminer M30s++: $22.54
Whatsminer M30s: $17.31
Antminer S17: $10.67
Whatsminer M20s: $13.69
Antminer S9: $2.62
---
Crypto Mining Stock Index
Our stock index rose a decent margin last week, climbing 4.7% to 4,691.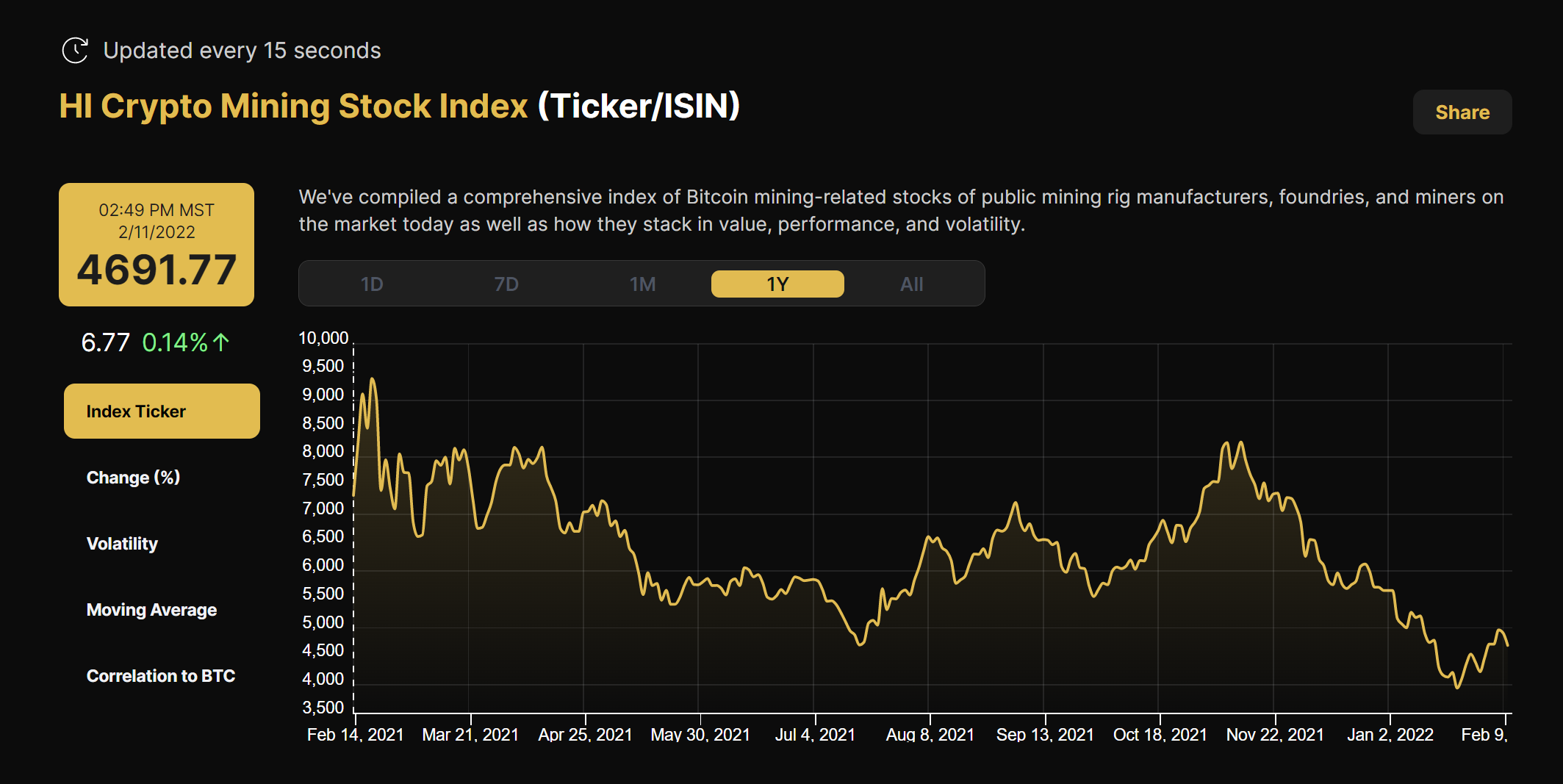 In this week's bitcoin mining stock update, some of the same bitcoin mining stocks that were down last week are also down this week, namely GRIID and Bitdeer. Gryphon, which led the pack last update after gaining 54%, fell the most this week, while Cleanspark rose the most following news that it is selling its flagship energy business to focus solely on Bitcoin mining.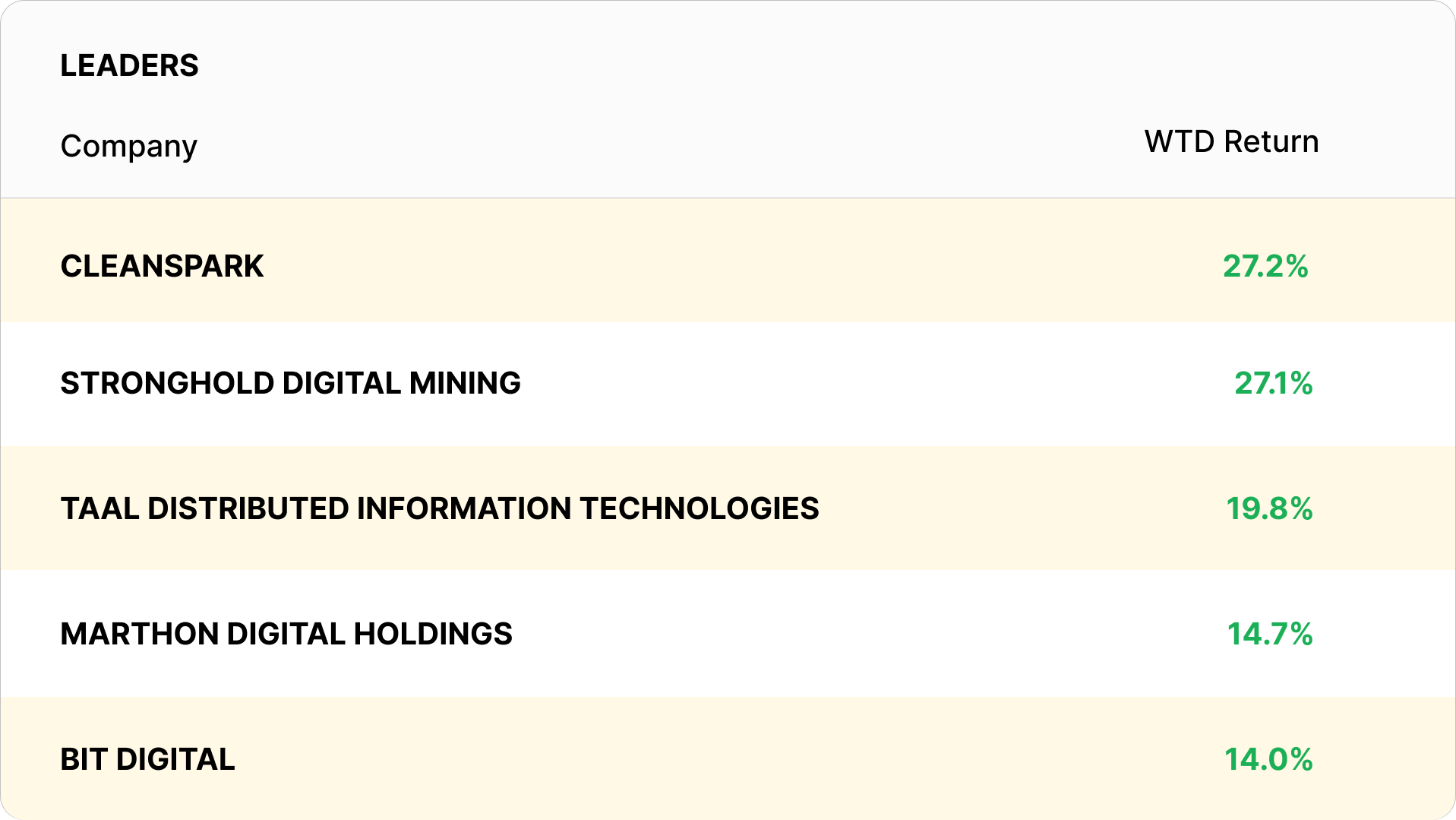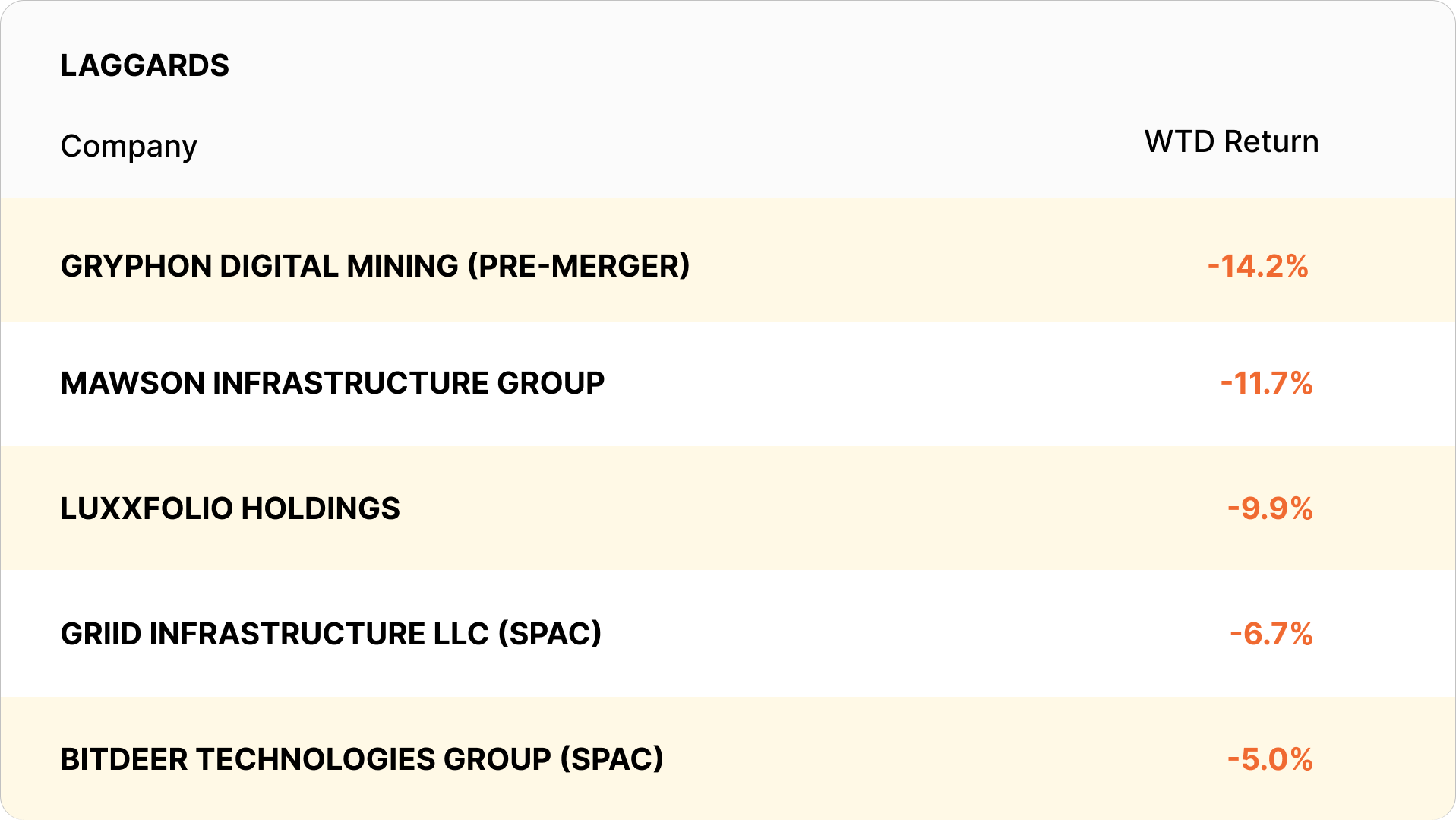 ---
New From the Hashrate Index Blog
Public Bitcoin Miners Share January Bitcoin Production Updates
Over the first two weeks of February, some of the largest public bitcoin miners shared their January bitcoin mining production and operations updates.
Many of these miners minted more bitcoin in January than December, and almost all of them expanded their hashrate over the month, as well.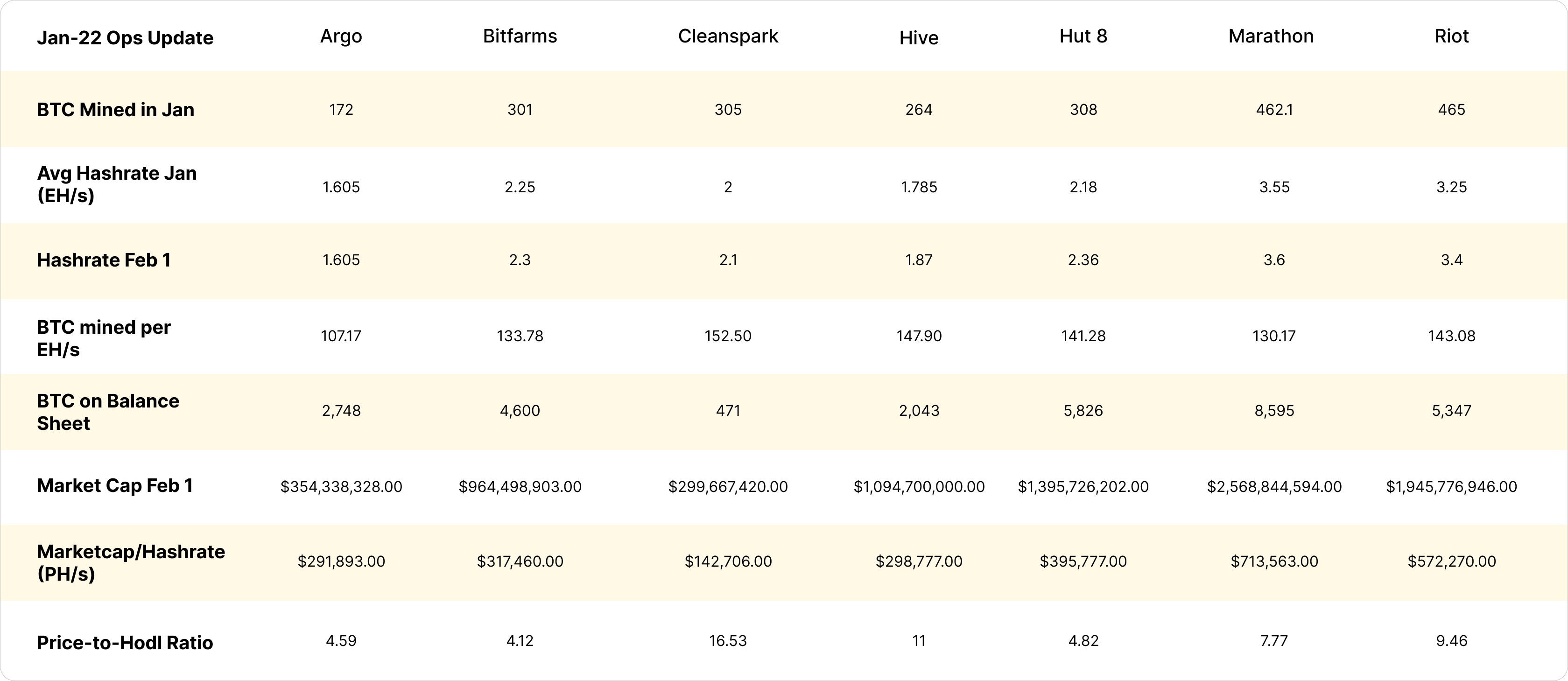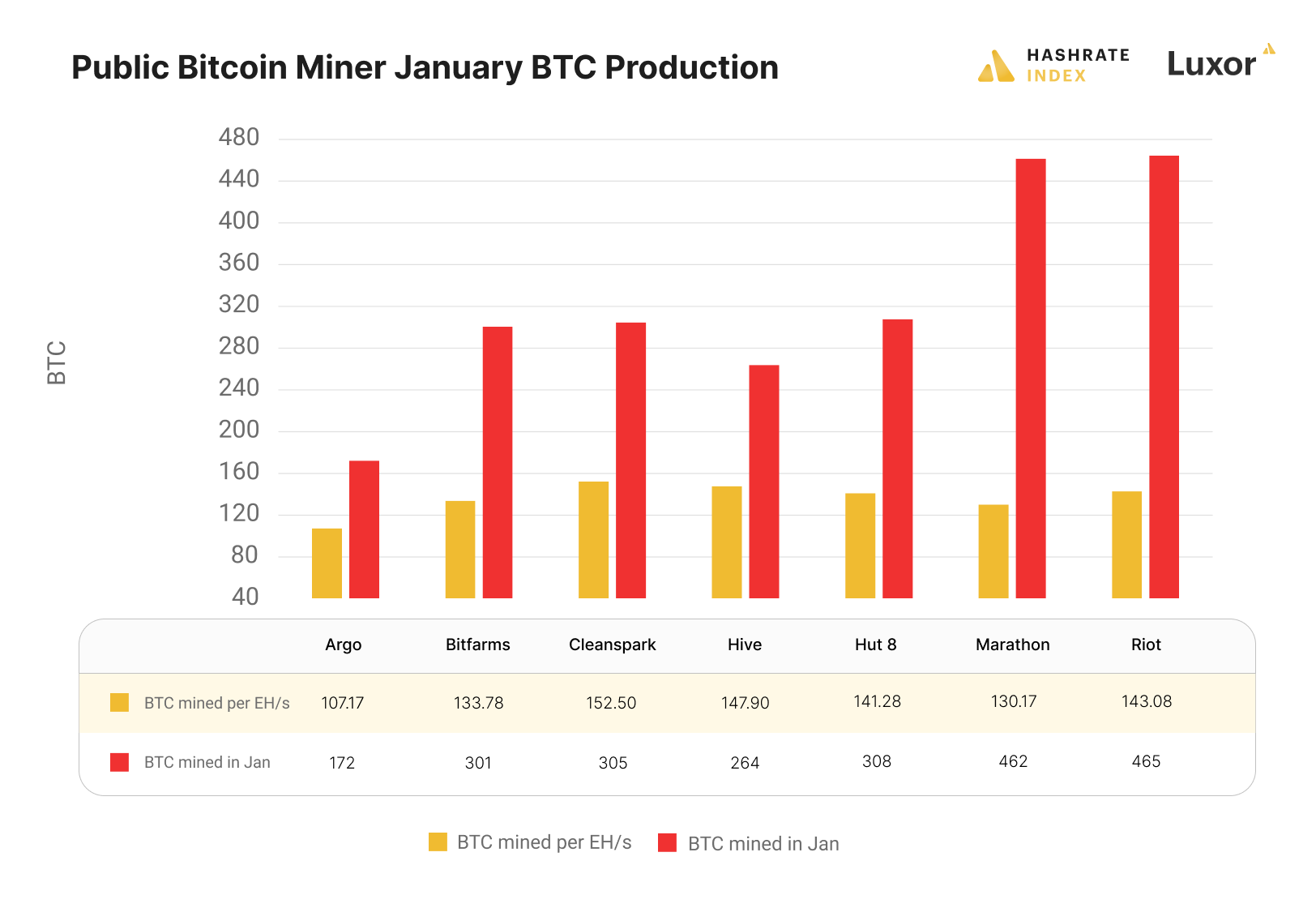 Bitcoin Mining News Roundup
Have a great week, and Happy Hashing!
-Luxor Team
Hashrate Index Newsletter
Join the newsletter to receive the latest updates in your inbox.
---