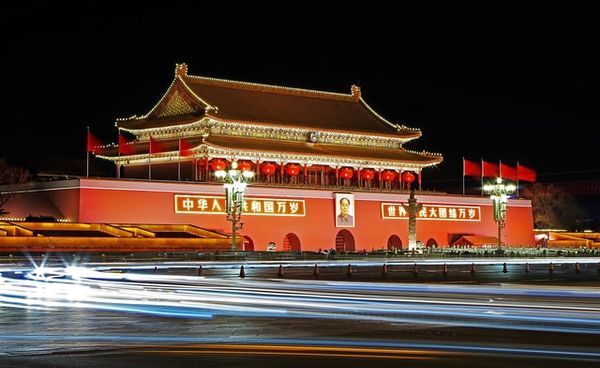 China Bans Bitcoin (Again), Reinforces Bitcoin Mining Ban
The Chinese government just banned bitcoin-related activities for the umpteenth time, only these most recent orders are its most stringent and serious yet.
On September 24, the Chinese government issued perhaps its strictest mandates yet against the cryptocurrency industry, making any crypto-related business, transacting, and trading illegal.
The mandate does not affect ownership, which is still protected under Chinese law.
At the beginning of September, the government also issued new, sweeping orders to clear out the remnants of China's once booming crypto mining industry.
The Chinese government just banned bitcoin-related activities for the umpteenth time, only these most recent orders are its most stringent and serious yet.
Specifically, in a document released internally to the government on September 15 but issued publicly on September 24, the government has made any cryptocurrency related business activity illegal, including transacting in cryptocurrency, offering trading services, launching token sales, and other crypto-related financial services.
In a separate mandate issued September 3, the central government also reinforced its position against bitcoin and crypto mining, adding it to its list of eliminated industries (more on this in the second section).
Per a documentation issued September 24th by the Chinese government, crypto trading and business activities are officially a financial crime:
"Virtual currency-related business activities are illegal financial activities. Carrying out legal currency and virtual currency exchange business, exchange business between virtual currencies, buying and selling virtual currencies as a central counterparty, providing information intermediary and pricing services for virtual currency transactions, token issuance financing, virtual currency derivatives transactions and other virtual currency related Business activities suspected of illegal sale of tokens and tickets, unauthorized public issuance of securities, illegal operation of futures business, illegal fund-raising and other illegal financial activities are strictly prohibited and resolutely banned in accordance with the law. If carrying out relevant illegal financial activities constitutes a crime, criminal responsibility shall be investigated in accordance with the law," an English translation of the government document reads.
In its laundry list of mandates, the government said that it will go after Chinese citizens who work for off-shore exchanges but which service Chinese citizens, specifically targeting domestic Chinese citizens who work for crypto trading and financial firms.
The Chinese Supreme Court, in cooperation with 9 of China's leading regulatory agencies, will be establishing new processes for identifying and prosecuting violators of the new laws.
In other efforts to enforce the new mandates, the government is demanding that internet companies monitor web traffic for cryptocurrency activity (including censoring any crypto-related information and content), while also demanding that financial institutions ramp up their surveillance of cryptocurrency-related inflows and outflows. They are also calling on the country's advertising authority to disallow the use of crypto-related terms in marketing copy.
Additionally, the document explicitly names Tether as one of the currencies of interest alongside Bitcoin and Ethereum. Tether is the lifeblood of China's cryptocurrency ecosystem, considering exchanges aren't allowed to operate in the country and financial institutions have historically blocked yuan payments to crypto-related services like trading venues. With Tether in its sites, the CCP is signaling that it wants to strike at the heart of China's cryptocurrency community.
China Bitcoin Mining Ban
In a separate edict issued on September 3, the Chinese government is also ramping up its crackdown on cryptocurrency mining.
A document jointly-penned by the National Development and Reform Commission, the National Energy Board, the People's Bank, the Ministry of Safety, and other leading agencies plainly states that "Virtual currency mining projects are not allowed to participate in the electricity market," adding that the Chinese government has added cryptocurrency mining to its list of eliminated industries.
Additionally, in the document's sweeping calls for regulation and enforcement, it states that financial institutions cannot provide financial support to mining operations and even demands that they recall any loans already issued to mining operators.
Are These Bans Different from the Others?
Chinese crypto bans are nearly a yearly occurrence, as the government seems to issue new restrictions or "bans" against the bitcoin industry all the time. In the past, they've gone after exchanges; earlier this year, they issued province-by-province restrictions on mining.
These new mandates, however, are some of the most hardline stances we've seen the government take, as they are explicitly labelling crypto-related business activities as illegal and setting up cross-agency taskforces to highlight and prosecute violations of the law. Moreover, they involve cooperation between 10 government departments.
The crux of why this crackdown is more serious stems from the CCP's inclusion of law-enforcement agencies in enforcement. Before, the government left the issue up to its civil agencies, but now it is implicating its most powerful law enforcing bodies, including the Supreme People's Procuratorate, the Public Security Bureau and China's Supreme Court.
Essentially, this has migrated cryptocurrency activity into the criminal realm, making anything involving cryptocurrency something of a financial crime under Chinese law.
Moreover, the Chinese government has Tether in its sights this go-round. Tether's USDT stablecoin has provided financial safe harbor for Chinese business and crypto investors seeking an onramp into cryptocurrency financial services, and it's a popular income instrument and method of payment for Chinese crypto professionals.
The government's all-out stance against mining comes from the top this time, as well; whereas the original bans came from provincial governments, the most recent document was mandated by the central government itself.
Another thing worth taking away from this: how many "bans" will the Chinese government have to throw at Bitcoin before any of them actually neutralize the industry within the country's borders? Will they continue to raise the stakes with each new edict? If so, will they come for private ownership next?
With the rate at which the Chinese government's anti-crypto stance is escalating, anything could be in the works.
Hashrate Index Newsletter
Join the newsletter to receive the latest updates in your inbox.
---