Quebec Doesn't Want Your Hashrate; What About Other Jurisdictions?
What happens when other countries and provinces start rolling out the thick red tape for Bitcoin miners? Plus, updates on North American mining ventures and "carbon negative" blocks.
Happy Tuesday Luxor Mining Fam!
As we enter a post-China mining era, the rest of the world is waking up to Bitcoin mining--or at the very least, paying more attention to it.
Last newsletter we hit on reports that Kazakhstan will be levying new taxes against Bitcoin miners soon as estranged Chinese miners relocate to the Central Asian country. Miners are leaving Quebec, Canada in response to stricter regulations, too, as Bitcoin's energy appetite ostensibly continues to scare officials from both the East and West.
In our forecast for what to expect after China's historic ban, we anticipated that other governments would respond to the incipient hashrate migration with regulations of their own. As Chinese miners pour into new jurisdictions to relocate their operations, we expect more inroads between governments and industry participants in the months to come.
Hashrate Index Data
Hashprice: Bitcoin's hashprice as been staying steadily around or above $0.30/TH since the last difficulty adjustment, though it has been trending slightly downward since its spurt to $0.33 directly following the adjustment. Current hashprice is $0.29.

Hashrate: Bitcoin's hashrate has rebounded since China's bans and the July 3rd difficulty adjustment. The 7-day average is currently 96 EH.
Rig Breakeven Threshold: The difficulty adjustment gave a boost to the breakeven thresholds. Naturally, the threshold for all efficiency buckets is up, and the current breakeven price for a $0.06 kWh setup is 207.77 W/TH.

Mining News
Miners Earned 23K BTC in June, Down 27% From New Year
China's hashrate blackout disrupted miner payouts in June.
Total monthly mining rewards have plummeted since May, with miners earning only 23,302.59 BTC in total for the month of June. Year-over-year, the sum of monthly Coinbase rewards for miners peaked at 32,283.55 BTC in January 2021.
Bitcoin's blocks have been taking longer than usual to mine on account of the hashrate disruption and the lagging difficulty adjustment, so miners have been minting fewer blocks a day than usual. With half of the network's hashrate offline, plugged-in miners were still hashing under the same difficulty as before the ban, leading block emissions to be much slower than the targeted 10 minute average (the last difficulty epoch set a record for the post-ASIC error, taking 19 days versus the targeted 14 days). Couple this with lower transaction fees from less on-chain activity and you have a perfect storm to rattle miner revenue.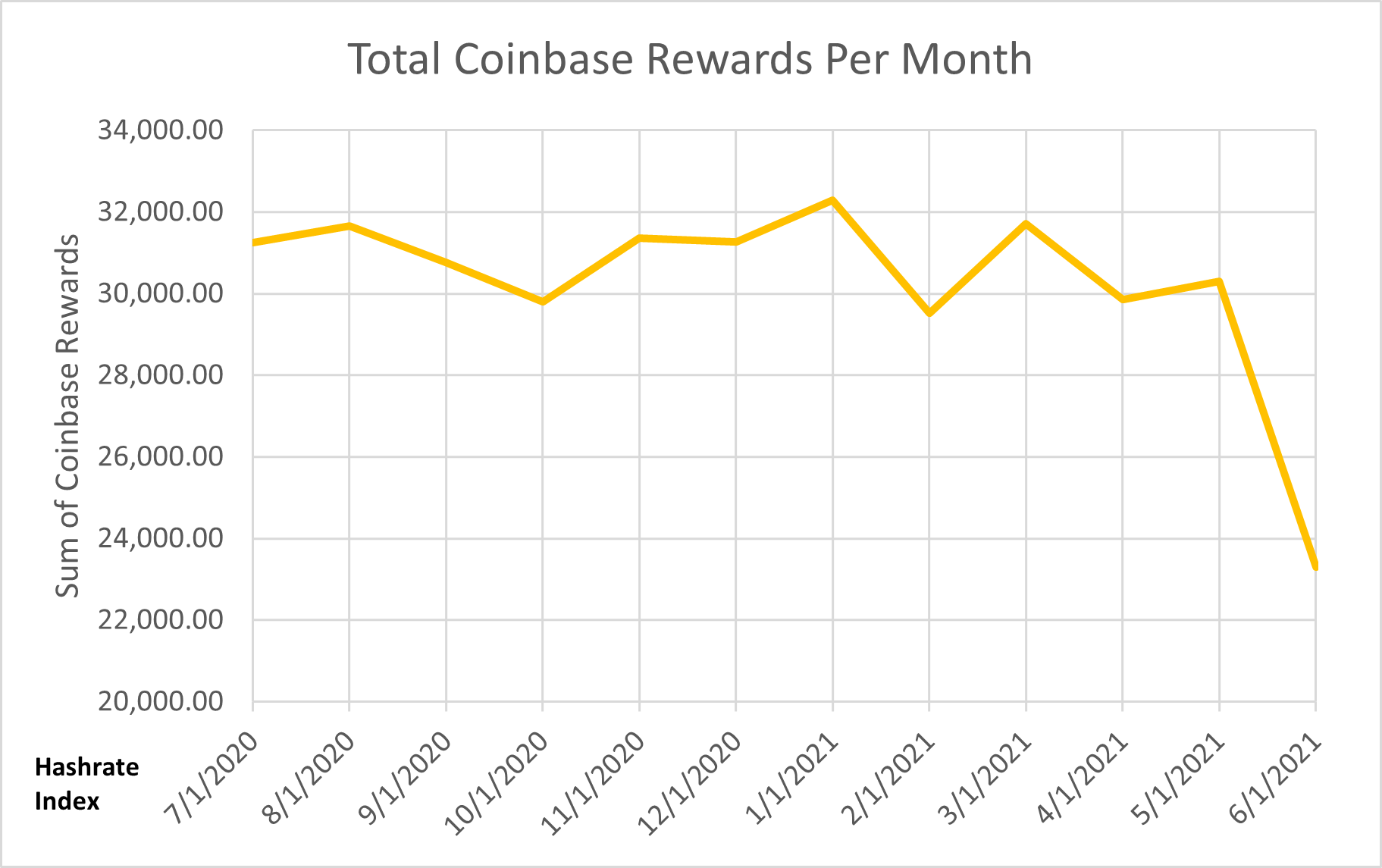 Bitfarms Says Au Revoir to Quebec, Cites Strict Regulations
Bitfarms is quitting Quebec.
The mining venture's entire fleet is in the Canadian province, but regulations, which CoinDesk reports could mandate that miners pay up to $0.15/kWh, are becoming unfavorable, according to Bitfarms Chief Mining Officer, Ben Gagnon.
"Because of the rules and the restrictions that they put in place, [there are] very limited growth opportunities in Quebec, at least as the policies currently are," Gagnon told CoinDesk. Bitfarms plans to migrate its operations to a facility in Argentina that is supposed to come online in 2022.
Hive Acquires 3,000 ASICs, Joins Foundry Pool
Hive Blockchain recently bought 3,016 Whatsminer M30s from Foundry and will be using Foundry's pool for its operations as part of the deal. Additionally, Hive's stock (HVBT) went live on the NASDAQ at the beginning of the month.
Riot, Argo Production and Operations Updates
Riot released a blog post detailing its June mining production and its operational roadmap. TLDR:
Riot mined 243 BTC in June, bringing its 2021 total to 1,167 BTC.
Riot is currently deploying 7,500 S19 Pros it received in June, anticipates 23,946 ASICs online with roughly 2.4 EH of hash rate by end of July.
The company is expanding its Whinstone Texas facility, boasting four new warehouses with 240,000 square feet and rack space for over 100,000 ASICs; Riot hopes to finish the first part of the expansion in Q1 2022 and the rest in Q2 of the same year.
Argo tweeted out its update. TLDR:
Argo mined 167 BTC in June, 883 BTC so far in 2021.
The company is "exploring" a secondary stock listing on the Nasdaq.
Someone is Mining "Carbon Negative" Blocks
A miner with roughly 1 EH of hashrate has been publicizing that their blocks are mined with "carbon negative" energy sources.
The miner has mined 5 such blocks since June 10th, tagging each with an OP-RETURN message that reads, "This block was mined with a carbon negative power source."
As the debate around Bitcoin's energy use heats up, miners will continue to do anything to signal that their operations do not have deleterious effects on the environment.
Mining Disrupt Kicks Off Next Week—Come Say Hullo!
One of the premier mining conferences in North America, Mining Disrupt, is taking place in Miami next week! The full-day conference begins on the 21st with welcoming/satellite events taking place on the 20th.
The Luxor Technologies team will have a booth in the expo area, so if you're around, stop by to say hey and talk mining with us! (We're also throwing a yacht party with Compass on the 20th but space is limited; you can RSVP here).
Happy Hashing, and have a good week!
-Luxor Team
Hashrate Index Newsletter
Join the newsletter to receive the latest updates in your inbox.
---