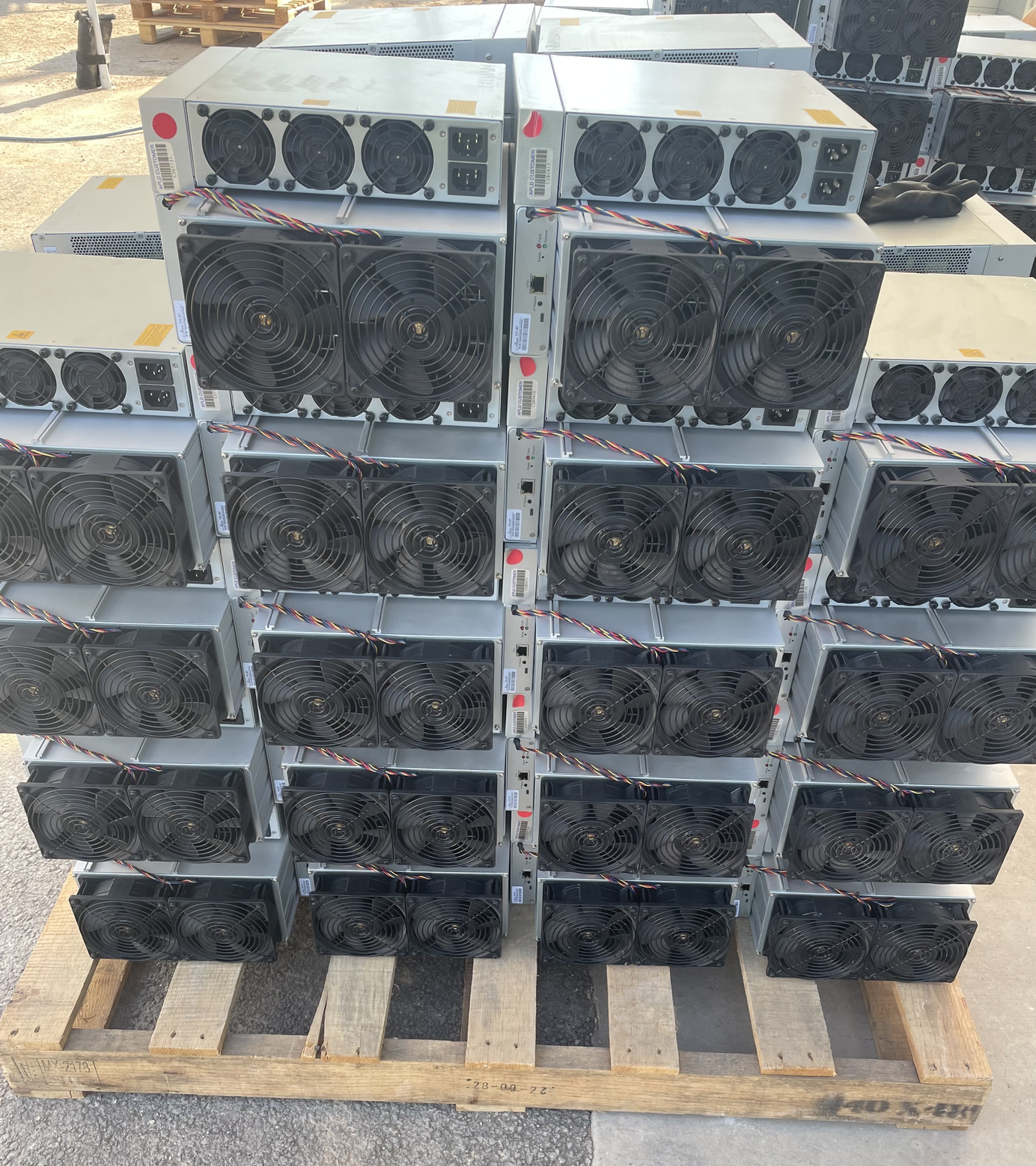 Luxor RFQ September Insights: Antminer S21 Eats Into S19 Prices
With the Antminer S21 on the way, the market is repricing the S19 XP, S19j Pro, and other S19 ASIC miners.
Miners are hungry for hashrate all over the world.
Luxor RFQ's global footprint is a testament to this appetite. Since launch, we have successfully supplied ASICs to more than 28 countries, and we shipped ASICs to 6 new destinations in September: Nigeria, Georgia, UAE, Finland, Kuwait, and South Africa. These efforts not only mark our entry into new markets, but they also represents how Bitcoin's hashrate is becoming more geographically diverse as mining operations crop up all around the world.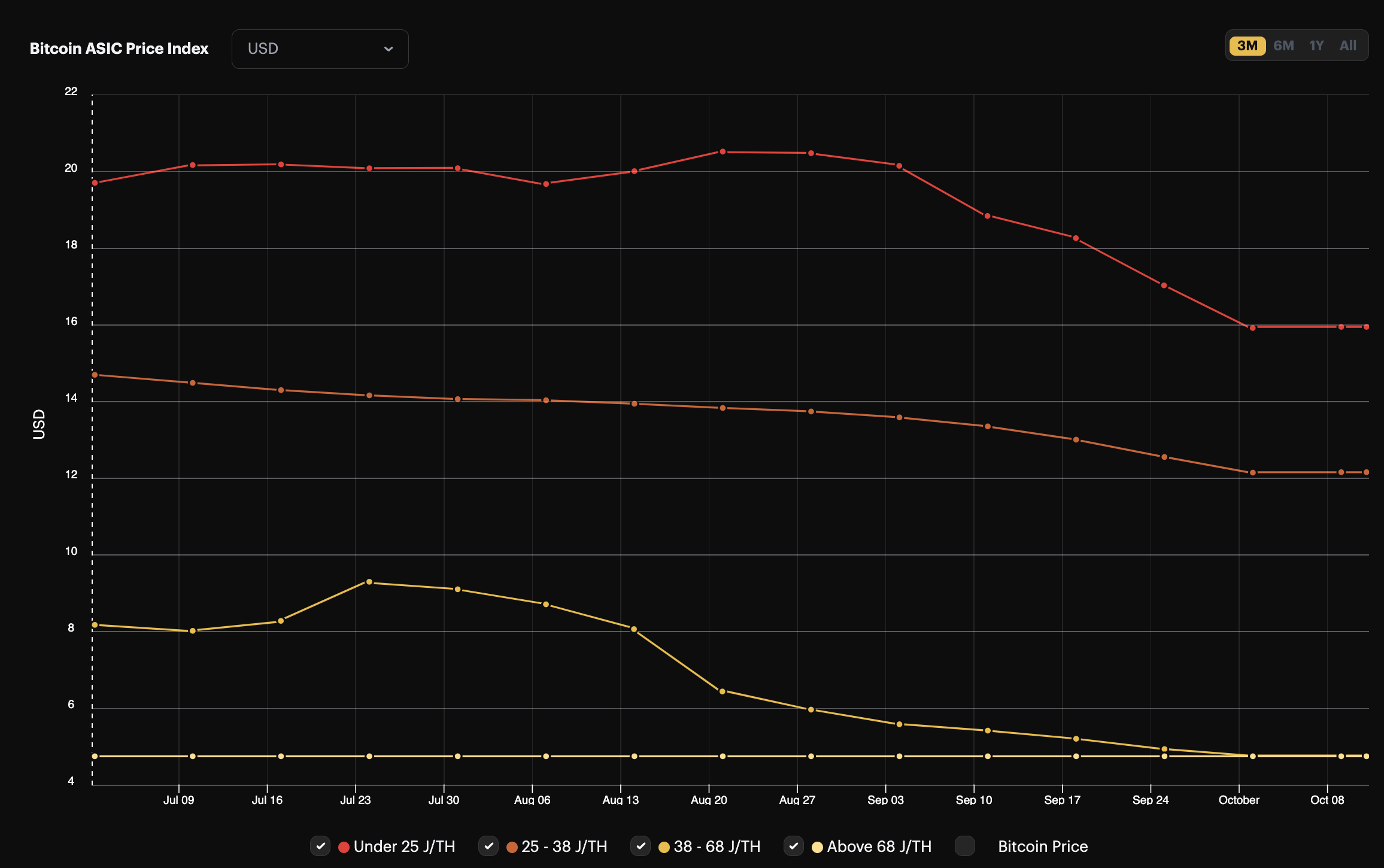 ASIC Miners Hit All-Time Lows as Difficulty Soars to All-time High
The mining industry is no cakewalk. ASIC prices hit the dirt in September, while Bitcoin's mining difficulty blasted off to an all-time high. While lower ASIC prices might be a reason to celebrate for some, it's a not a great feeling for those who bought when ASIC prices were higher earlier this year. Regardless, the demand for ASIC miners shows no signs of slowing down.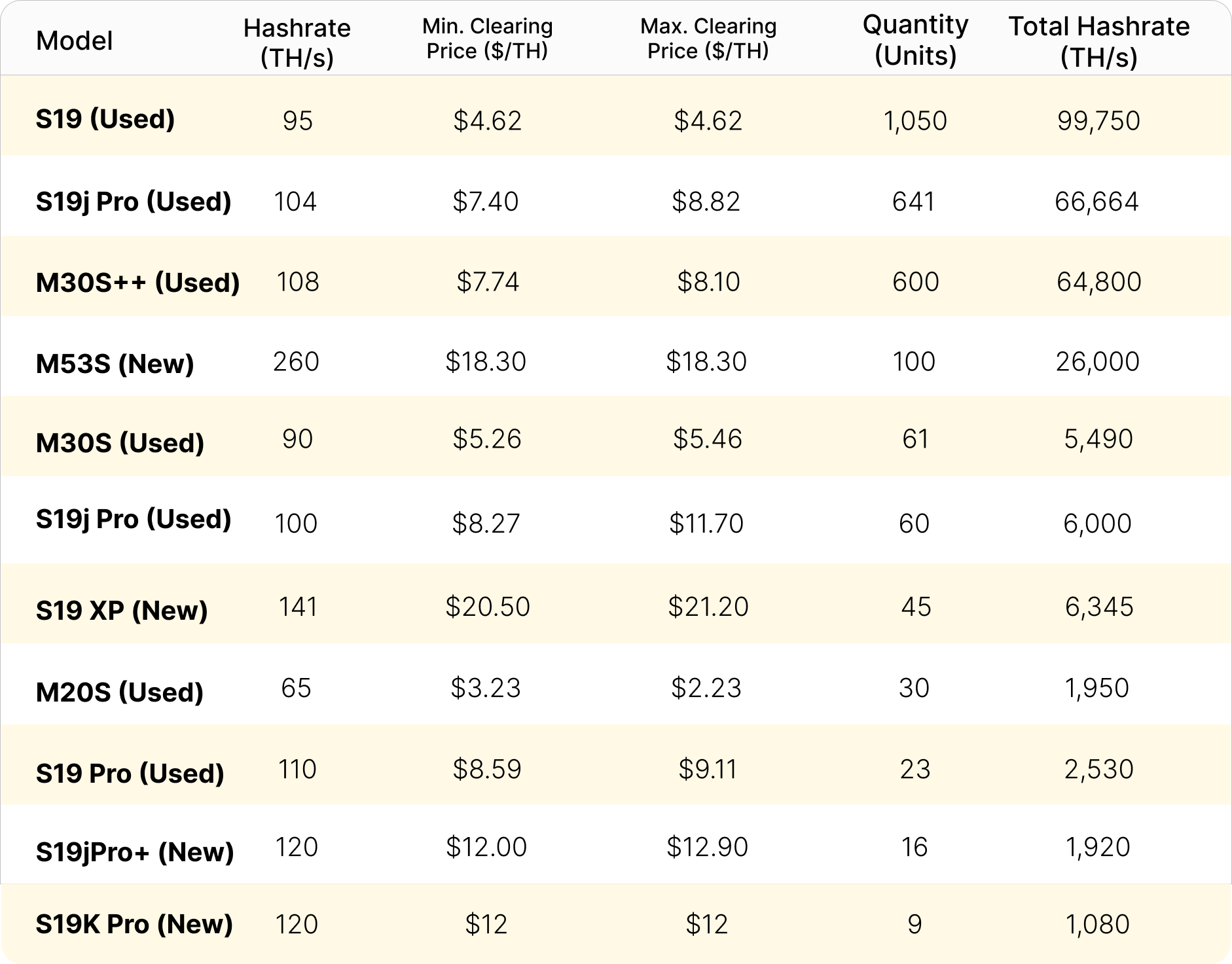 Indeed, despite the challenges, miners are forging ahead and buying up hash. Luxor's RFQ platform in September, for instance, successfully cleared 2,635 Bitcoin Mining ASICs, with a combined hashrate of 282.5 PH/s.
The star of the show in September? None other than the used S19 (95 TH/s), which took center stage last month with 1000+ units finding new homes. Following closely, the S19j Pro emerged as the runner-up, with over 640 units sold.
Combining the data from both the Luxor RFQ and OTC trading desk, we have observed that the gaps between the average monthly bids and asks have widened in comparison to the figures recorded in August.

Among the latest models, the bid -ask gap has increased modestly, while older-generation models have seen a notable expansion in the bid-ask gap. We attribute this trend primarily to two factors:
An increasing number of newer and older-generation machines has entered the market for liquidation, exerting pressure on ASIC pricing as sellers aim for quicker fleet offloading before their inventory gets discounted further.
Additionally, given Bitmain's promotional pricing for the Antminer S21, the market is anticipating this model to sell at significantly discounted prices. Consequently, this expectation has led buyers to believe that older machines should decline in price, while sellers feel the need to lower their prices in order to effectively offload their machines.
As we enter the Q4, our expectation is that the bids and asks for newer-generation models will continue to experience a moderate increase. As secondary sellers get their hands on the new model, the discounted Antminer S21 is becoming available in smaller order sizes than Bitmain's minimum order quantity of 6,000. Despite the ongoing decline in machine prices, it's important to note that, with the holiday season on the horizon, miners seeking to acquire new machines shipped from Asia should be prepared for an approximate $0.3 to $0.6/TH increase in their overall procurement costs in North America. This uptick is primarily due to rising air shipping expenses with an approximately one-week longer lead time for transportation.
Antminer S21 Impacts Prices for S19 Models (and Other Notable Price Trends)
The launch of Bitmain's S21 preorders in September generated a great deal of excitement in the ASIC market. Bitmain introduced the Antminer S21, which boasts a hashrate of 200 TH/s and energy efficiency of 17.5 J/TH, at their World Digital Mining Summit in Hong Kong at the end of the month.
In the days following the Antminer S21's unveiling, the prices of existing S19 models began to decrease. The latest S19 models (S19J Pro+, S19k Pro, and S19 XP) have seen a price significant price reductions since the announcement of the S21.


Despite Headwinds, Demand for ASIC Miners is Strong
Despite Bitcoin's hashrate and difficulty reaching new highs, the demand for new and used ASICs remains strong. Luxor's RFQ volume in September came with aggressive buy-side demand, with open interest for new and used machines reaching 15,865 and 21,343 units, respectively. Based on our data, it is clear that buyers in the market have a strong preference for machines with higher hashrates (over 100 TH/s), as the majority of the demand in September was focused on these machines.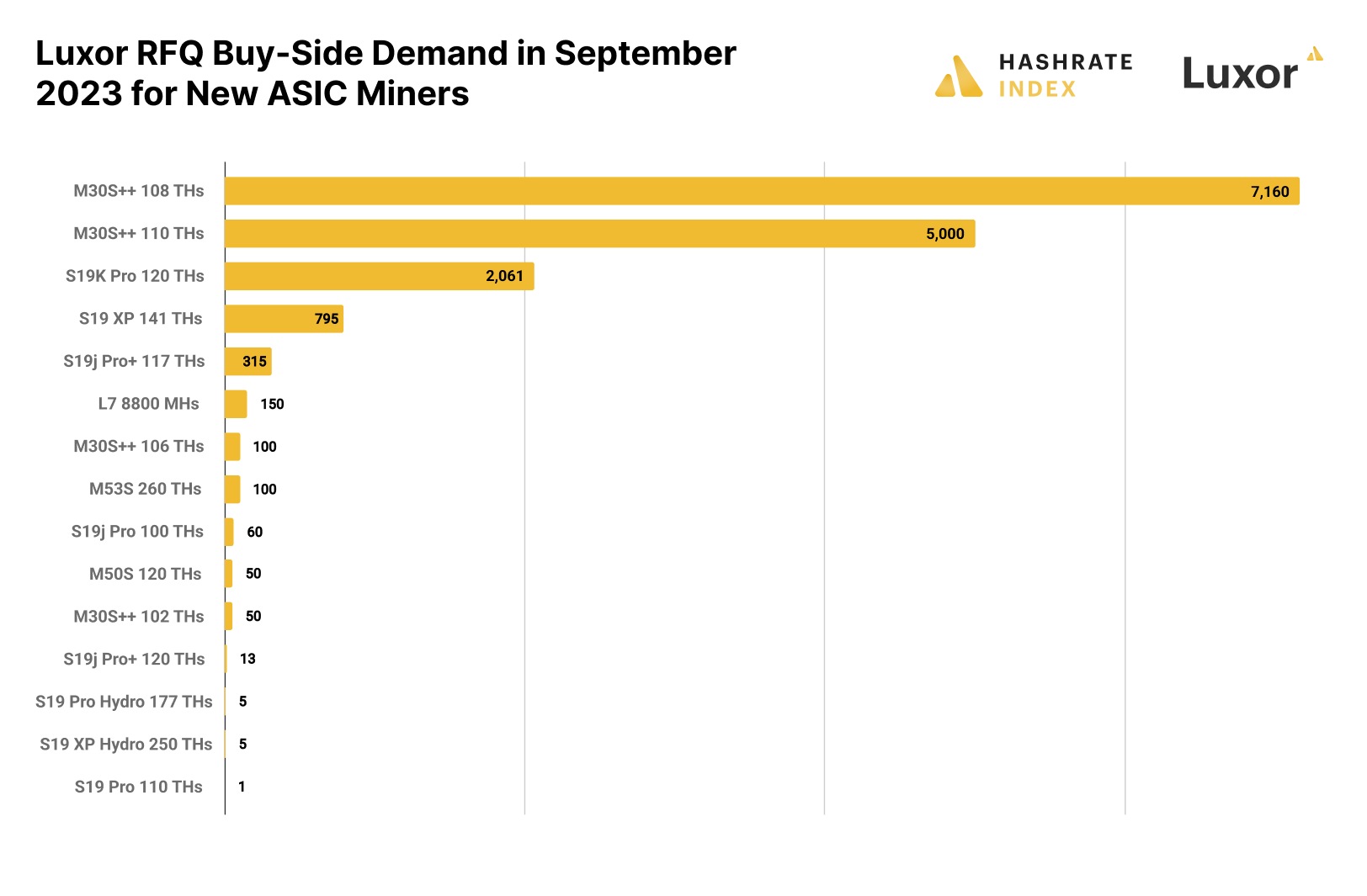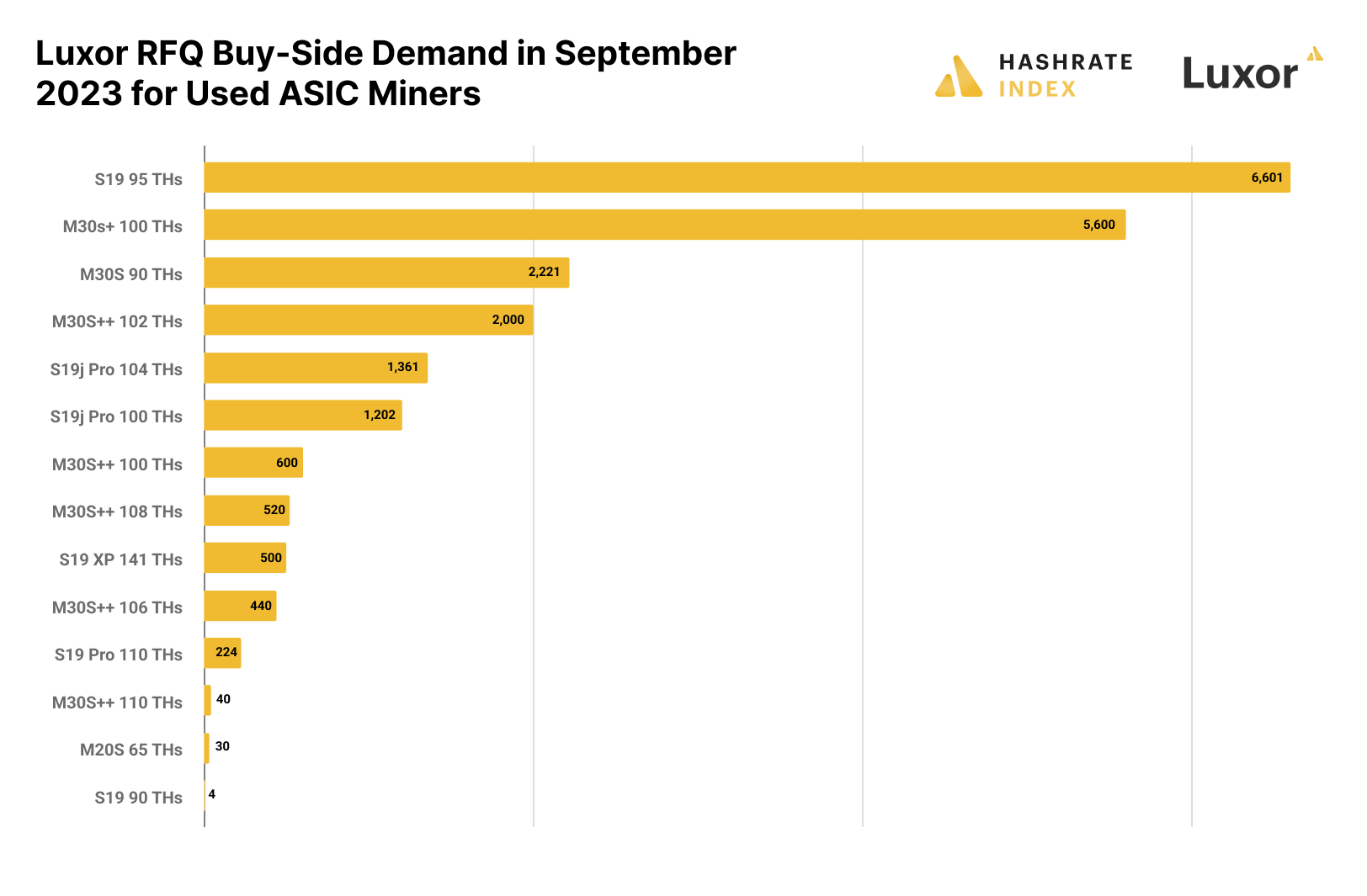 There was strong interest from a single buyer for the Whatsminer M30S++ model this month, with this buyer purchasing 12,160 units of new M30S++ rigs. The demand for used S19j Pro remains the highest across our OTC and traditional brokerage channels, with the S19k Pro (120 TH/s) coming in second for new-condition buy-side demand with over 2,000 units of demand. The Luxor team is impressed with the S19k Pro's thermal and tuning capabilities, and we anticipate strong demand for the S19k Pro throughout Q4.
Used ASIC Miners Drop to Attractive Prices
Used machine demand is ramping up as prices become more attractive. You might be wondering, why the demand for used, lower efficiency machines when there are new, higher efficiency machines (like the Antminer S21) coming to market as we approach the halving?
The answer: firmware optimization. We continue to see miners scooping up vanilla S19s for around $5/TH and underclocking them with firmware like LuxOS to capture efficiency gains. Open interest for all used rigs reached over 21,000 machines in September — bids and asks, however, did not always align. We saw buyers placing below-market bids to really test sellers' bottom lines.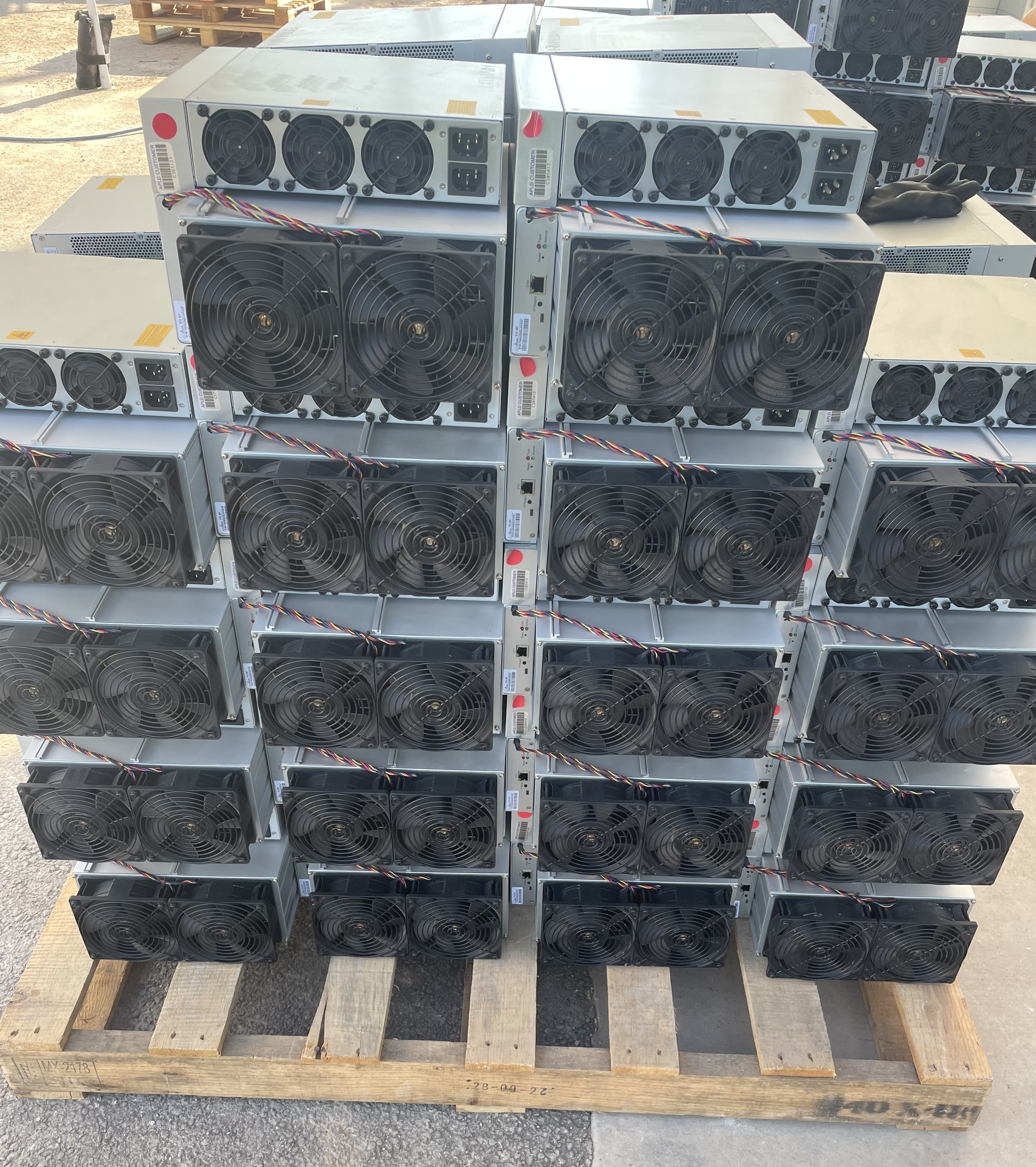 TLDR: Luxor RFQ September 2023 ASIC Miner Trends
Used machine pricing is attracting serious buy-side demand as bargain shoppers attempt to scoop up ASICs at all-time low prices to take advantage of potentially quick ROI timeframes. The launch of the Antminer S21 shook up market pricing for new S19J Pro+, S19K Pro, and S19 XP models, resulting in a ~7% decrease in pricing for these models. Bitcoin's hashrate continues to rip to the upside and ended the month at 421 EH/s.
Hashrate Index Newsletter
Join the newsletter to receive the latest updates in your inbox.
---