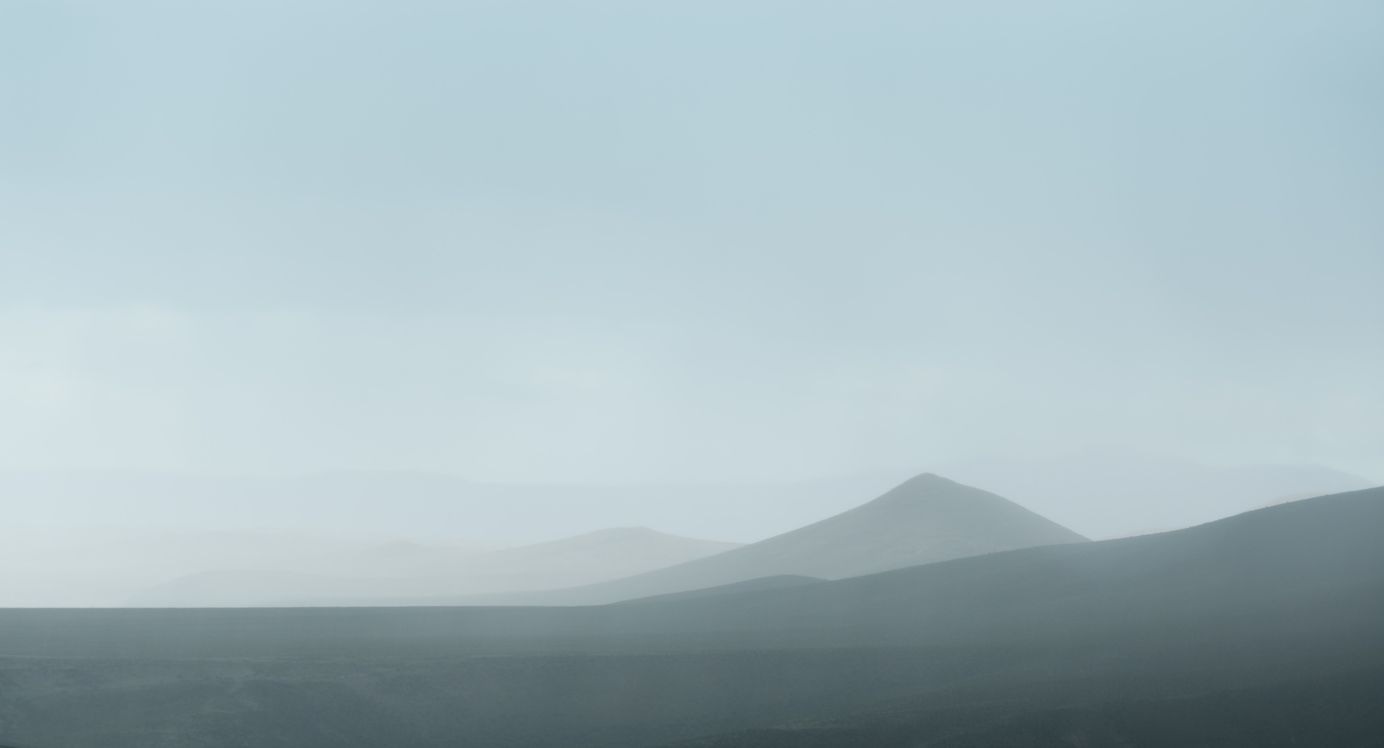 Hashrate Index Roundup (October 2, 2022)
As hashrate surges, hashprice is looking down the barrel of a loaded gun that could blow it to all-time lows.
Happy Sunday, y'all!
It's starting to feel like we're in some sort of limbo. Bitcoin's price is clinging to $19,000 amid an incipient meltdown in world markets. Hashprice is dancing just above $0.07/TH/day. And everyone's waiting for the first major domino to fall in the increasingly turbulent global financial sector (Credit Suisse, hello...)
Everyone's waiting around for "what comes next," but it's starting to look like the What's Next™ for Bitcoin miners is just around the corner – and it takes the form off all-time low hashprice.
That's because Bitcoin's hashrate is absolutely popping off right now, rising some 8% over the week to a new all-time high this morning of 244 EH/s. Block times are coming in at a blistering pace of 8 minutes and 50 seconds, and while there's still plenty of time left in this current epoch, we'll likely be in for a sizable positive difficulty adjustment when this current difficulty period comes to a close.
Things can always change on a dime, but given the network's current trajectory, it's looking like the next difficulty adjustment (or the one after) will drive hashprice to all-time-low territory.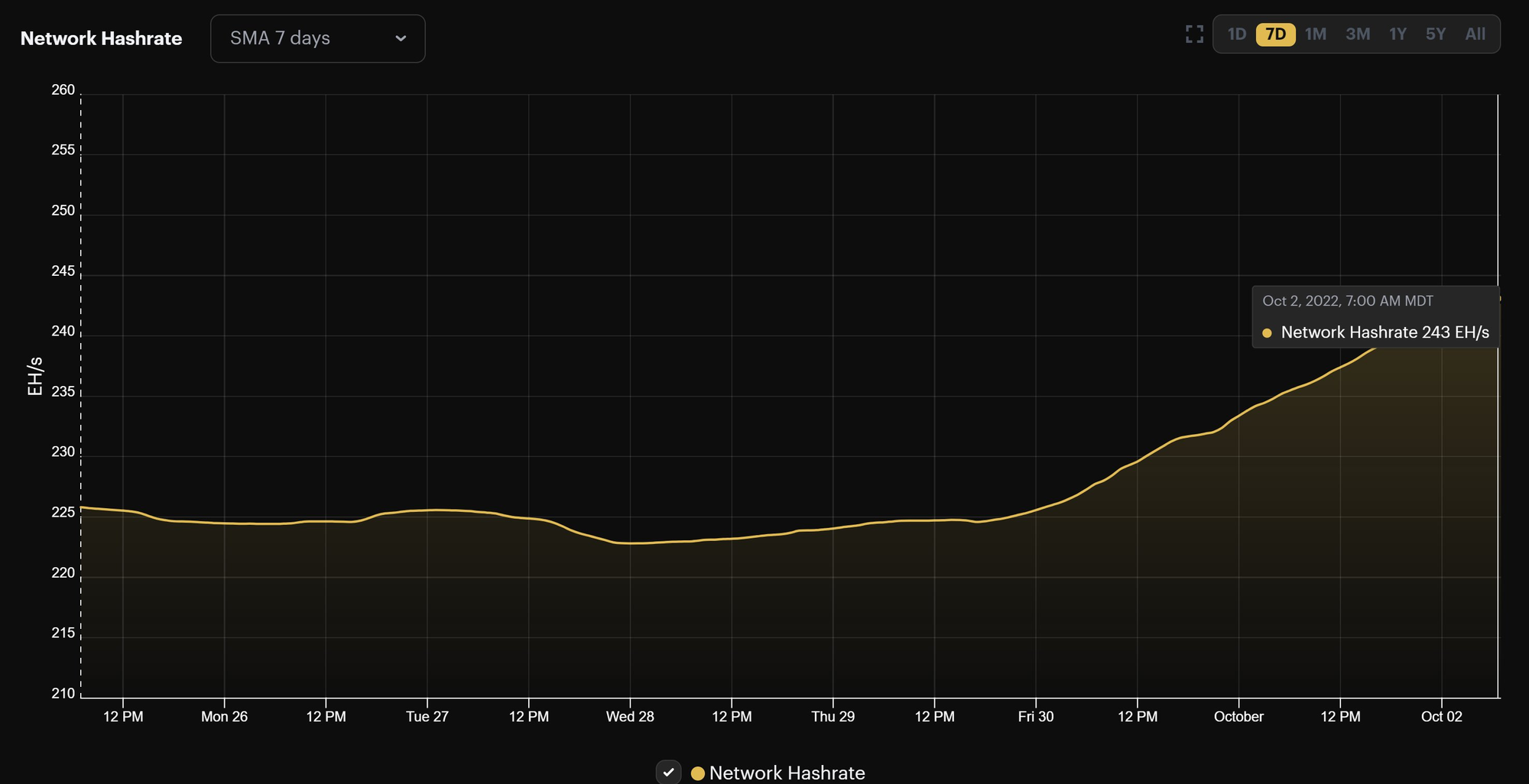 Mining News
Mining Market TLDR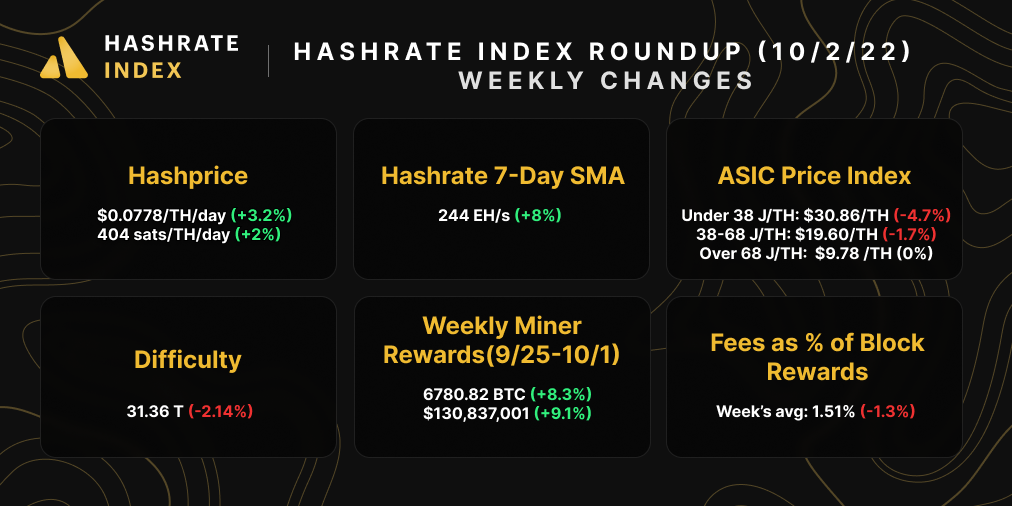 ---
Sponsored by Luxor

---
Hashprice Index (October 2, 2022)
Bitcoin's hashprice is just hanging in there.
Over the week, Bitcoin's price stayed tightly coiled in a $1,000 range between $20,000 and $19,000, and with Bitcoin at ~$19,100 at the time of writing, it's finishing the week roughly where it began.
This price stagnancy, as well as this week's downward difficulty adjustment kept hashprice on the upper end of $0.07/TH/day, but it could easily break below this level if Bitcoin's price sees a violent move downward (or more likely, when we see a new difficulty all-time high).
For BTC hashprice, the difficulty adjustment nudged it back above 400 sats/TH/day.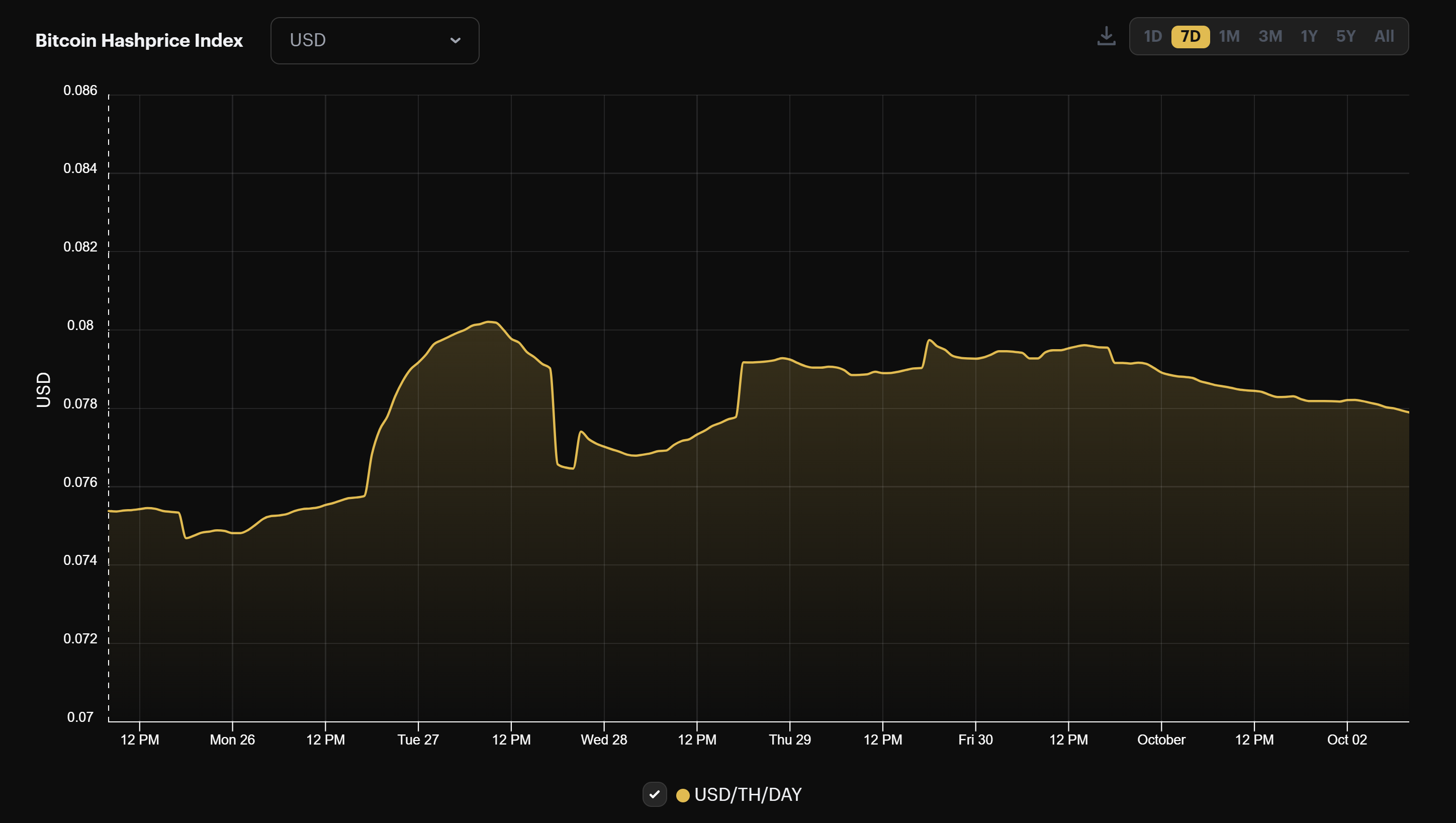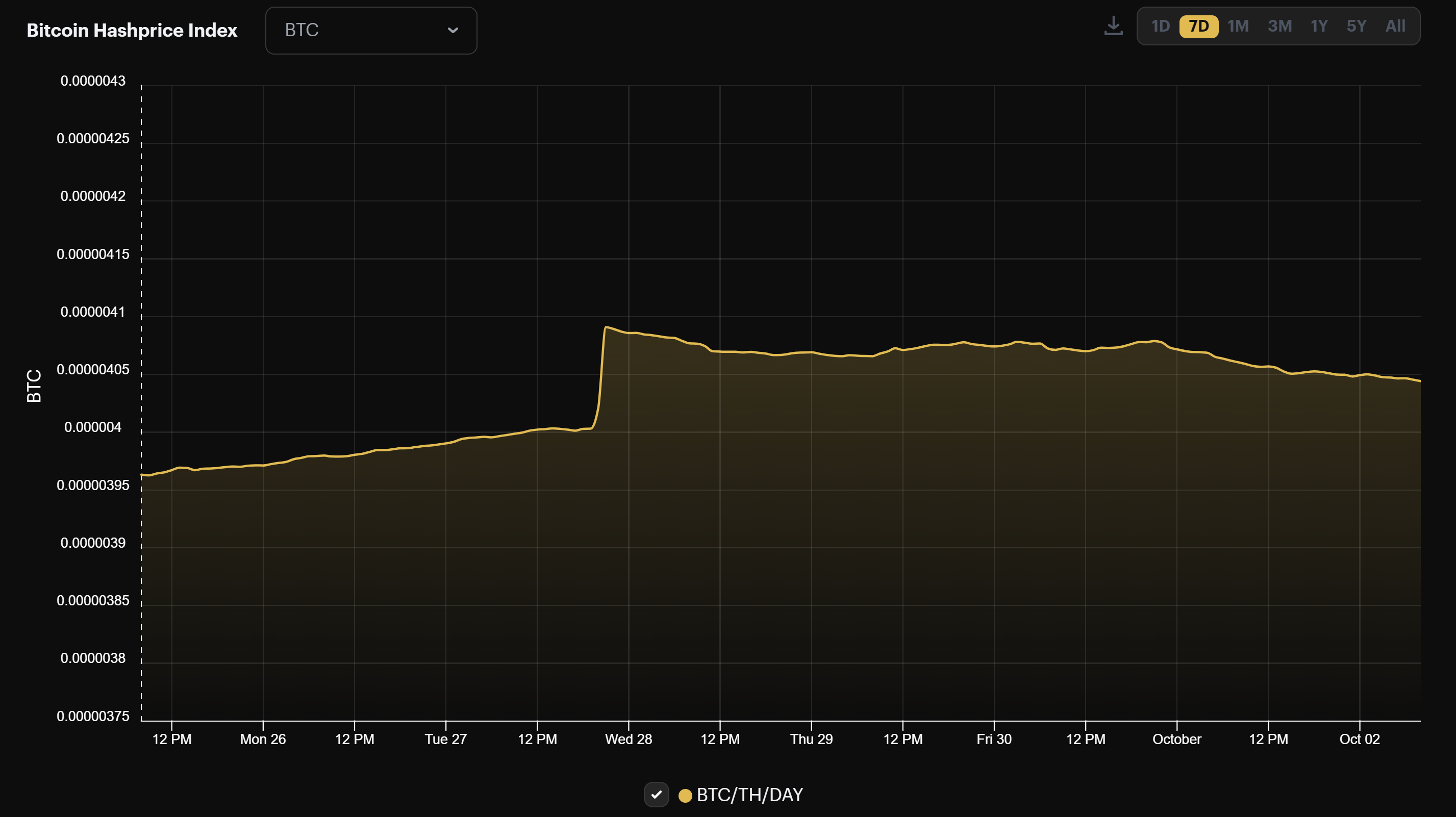 📈
BITCOIN MINING DIFFICULTY
Miners got a reprieve with a slight 2.14% decrease to Bitcoin's mining difficulty this past week.
The move broke a streak of 4 positive adjustments and was the first downward adjustment since July. Given Bitcoin's surging hashrate, though, this breather isn't likely to last very long, so enjoy it while you can, folks.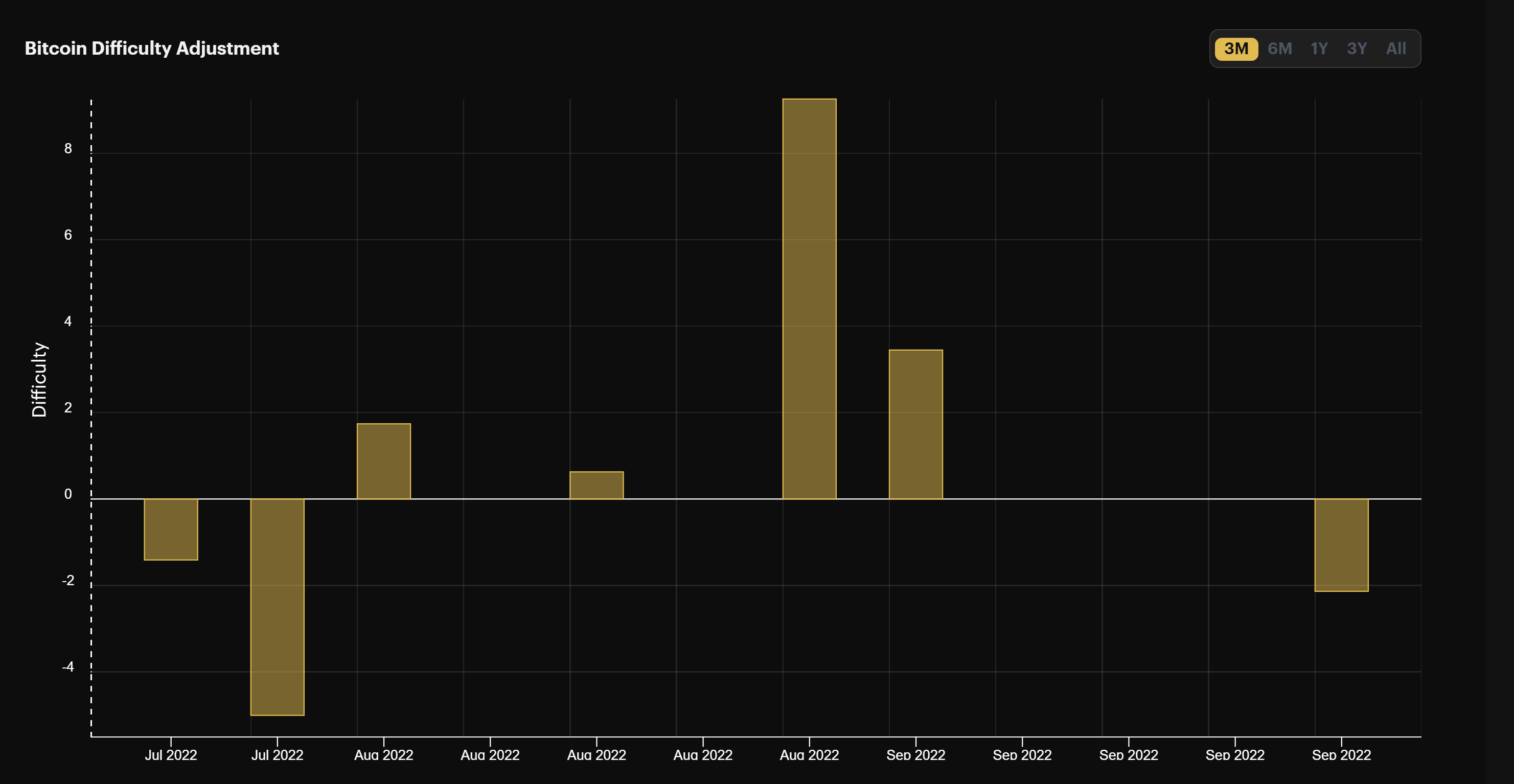 💸
BITCOIN TRANSACTION FEES
The bear market continues to rear its head in terms of transaction fees fee volume.
Transaction fees made up a paltry 1.51% of block rewards last week.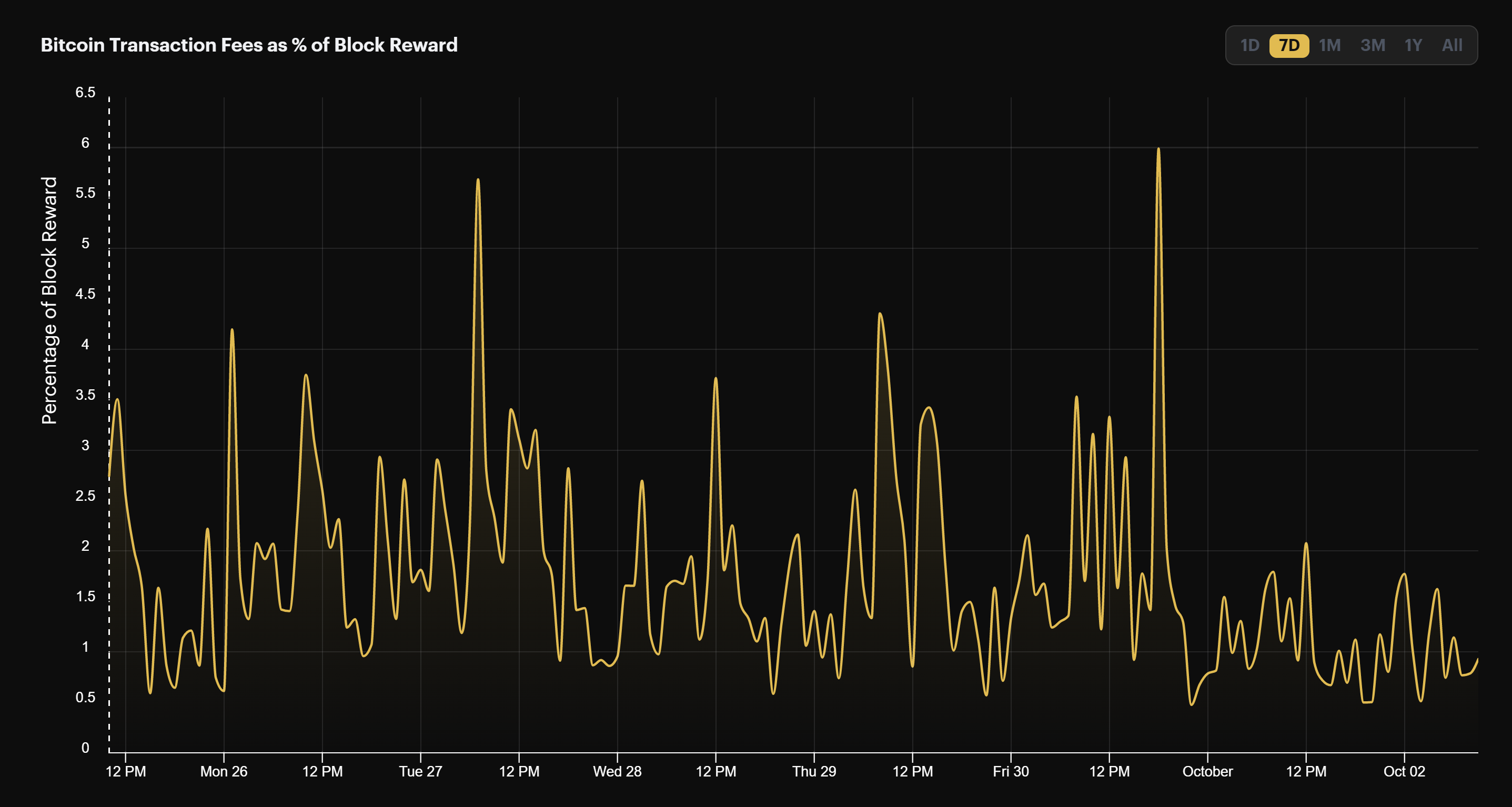 ---
Bitcoin Mining ASIC Price Index (October 2, 2022)
ASIC prices saw larger price declines last week than we've seen in some time.
New-gen rigs, for example, nearly fell 5%, while mid-gen rigs fell nearly 2% (old-gen remained unchanged, as we continue to see fewer and fewer listings of these machines and thus don't have enough data to update the price).
In addition to the negative market conditions which are obviously weighing down prices, the re-pricings aren't surprising given the discounts Bitmain has offered on select machines recently.
Keep an eye out this month for the new efficiency band we're adding to Hashrate Index to accommodate latest gen equipment like the S19 XP! Read more on our blog post.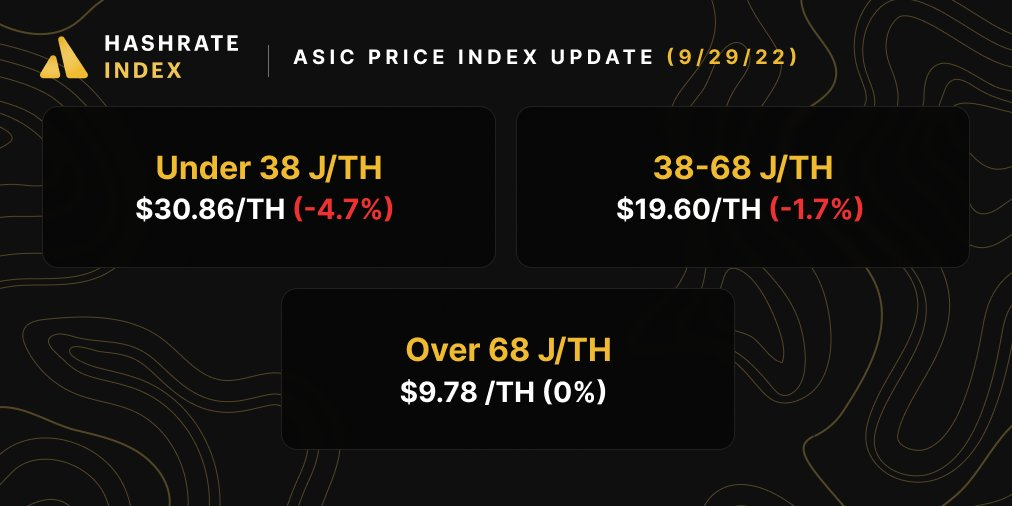 💰
BITCOIN MINING PROFITABILITY
When hashing at $0.06/kWh power cost, here is the current bitcoin mining profitability for popular mining rigs:
Antminer S19 XP (140 TH/s): $6.60
Whatsminer M50 (114 TH/s): $4.10
Whatsminer M30s++ (112 TH/s): $3.70
Antminer S19j Pro (104 TH/s): $3.70
Antminer S19 (95 TH/s): $2.70
Whatsminer M30s (86 TH/s): $2.00
Antminer S17 (56 TH/s): $0.70
Whatsminer M20s (68 TH/S): $0.50
Bitcoin Mining Stocks (October 2, 2022)
Bitcoin mining stocks didn't move much at all this week, so our Crypto Mining Stock Index fell by a sliver, declining 0.3%.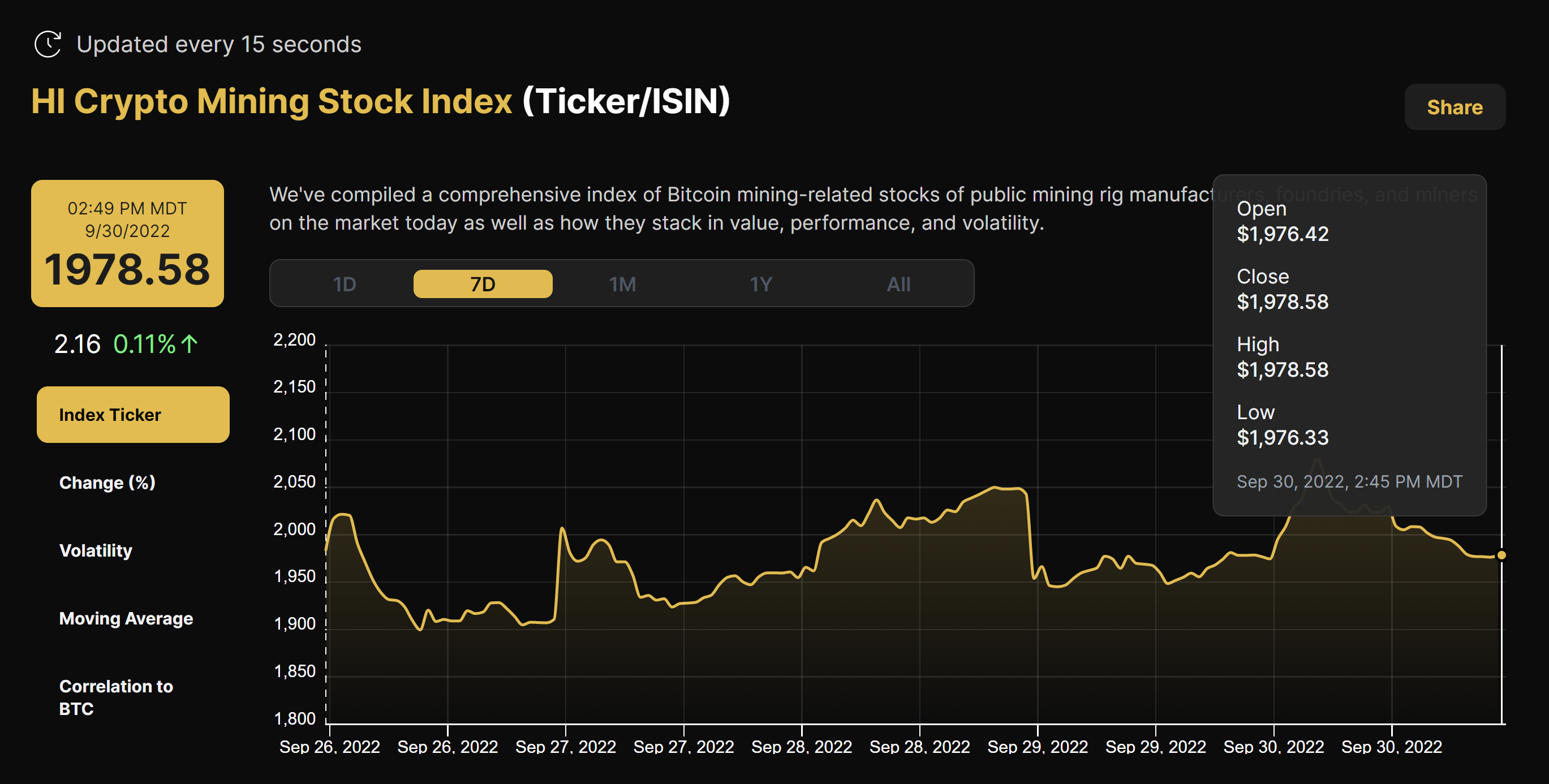 New From Hashrate Index
Compute North Files for Chapter 11 Bankruptcy and 363 Asset Sale – What Now?
As most of y'all know by now, Compute North is undergoing a reorganization bankruptcy. The case entered a new stage last week when the hosting provider filed to auction off assets in a 363 asset sale.
In a newsletter last Wednesday, we covered the bankruptcy details in depth, as well as addressed some of the looming questions regarding what will come of Compute North's datacenters in the asset sale (and more consequently, what will happen to miners who have their rigs at these sites).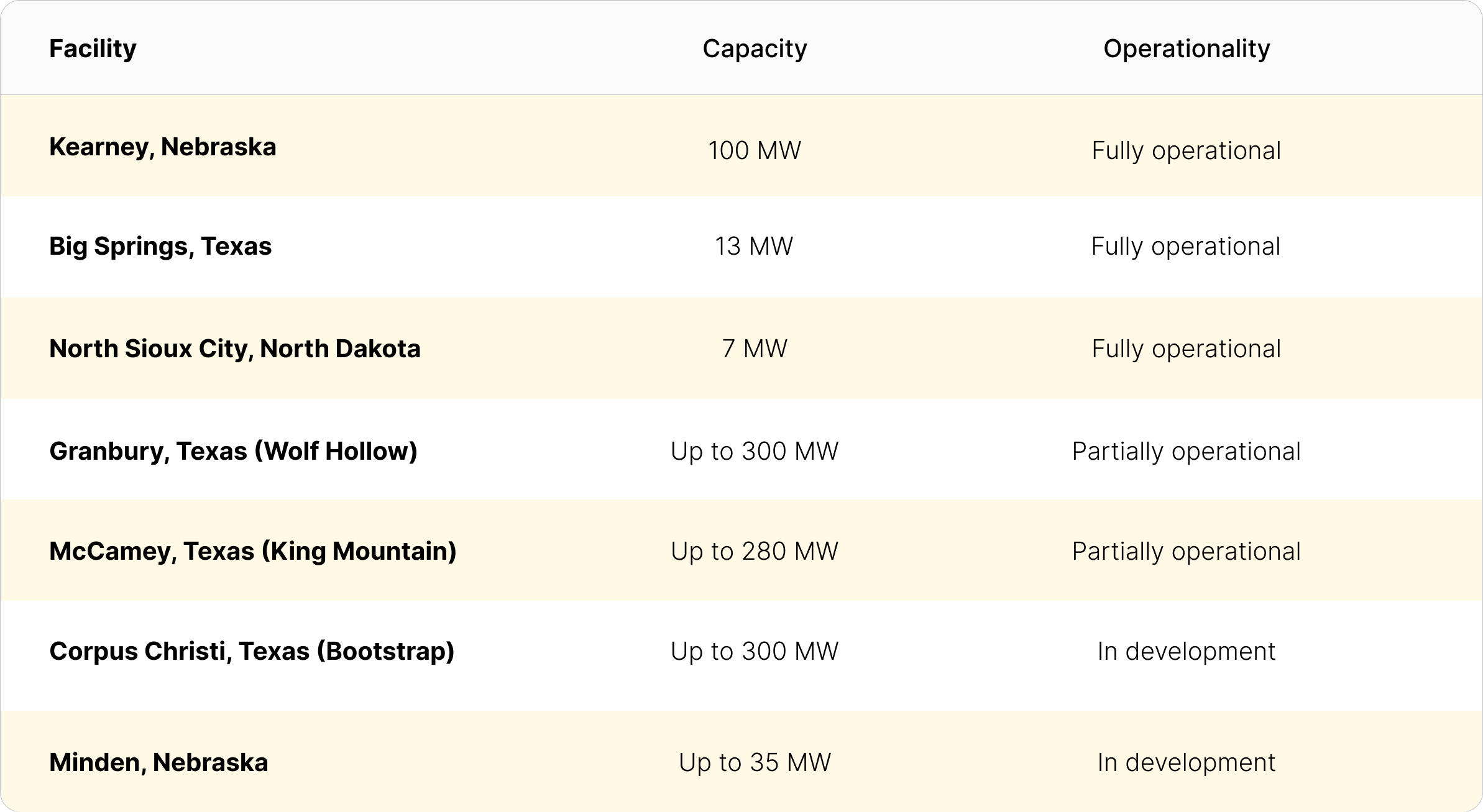 Have a great week, and Happy Hashing!
Hashrate Index Newsletter
Join the newsletter to receive the latest updates in your inbox.
---