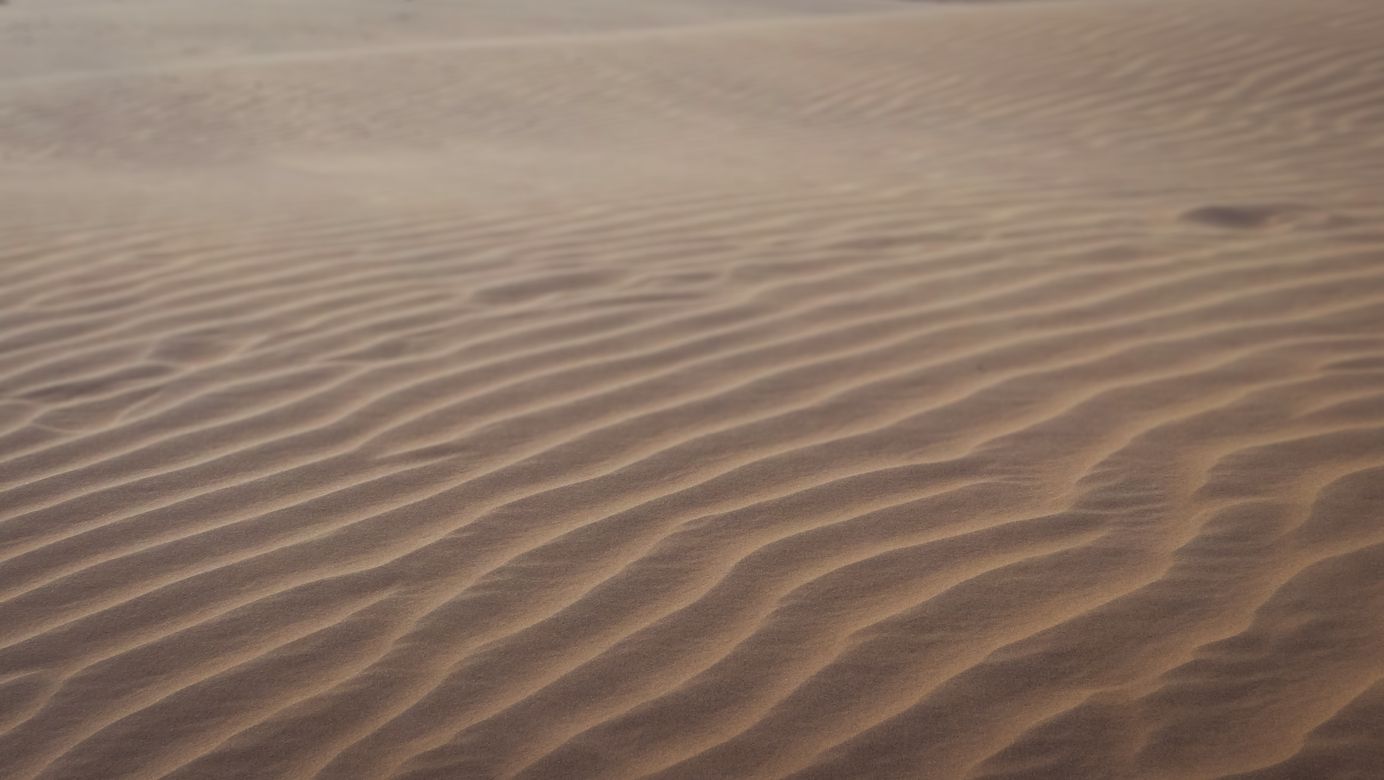 Hashrate Index Roundup (October 9, 2022)
Brace yourselves for all-time low hashprice...
Happy Sunday, y'all!
Last week, I wrote that Bitcoin and its mining market feel like they've been suspended in a kind of limbo. Well, for Bitcoin mining at least, that limbo is about to give way tomorrow to a special kind of hell: a double digit difficulty increase – projected to be the largest of the year – which will likely drive hashprice to all-time lows.
Hashrate continues growing at an inexorable rate, and it rose a relentless 7.8% this past week to yet another all-time high of 262 EH/s. This persistent growth-spurt has pushed block times to a breakneck 8 minute and 46 second average for the current epoch, which itself is going to give way to a whopper of a difficulty adjustment (somewhere in the ballpark of 13-14% based on our projection).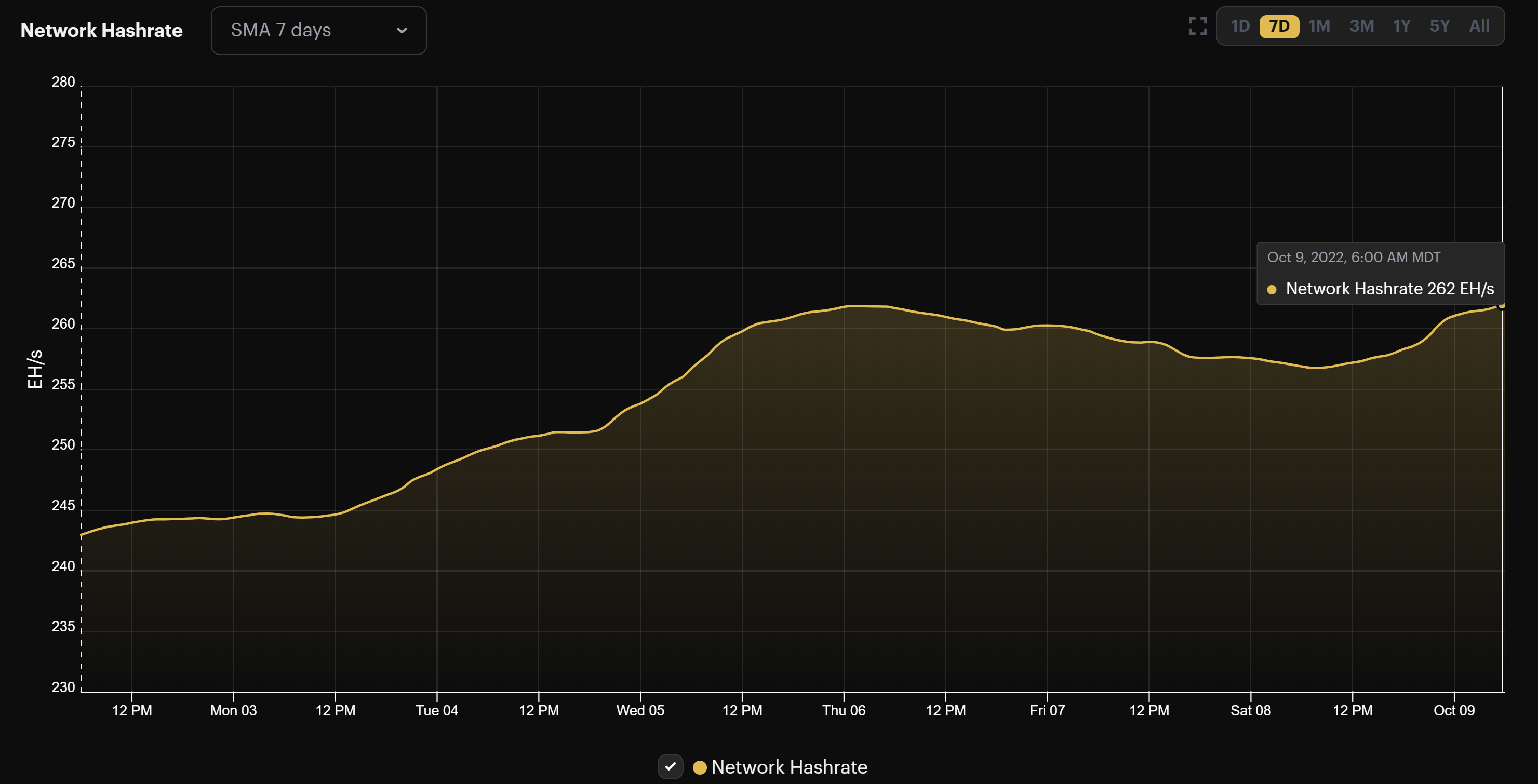 This difficulty adjustment will hit tomorrow sometime around 4:00am CDT, and it's (most likely) going to drive Bitcoin's hashprice to all-time lows. Bitcoin miners are in for a grueling autumn, especially if Bitcoin's price makes another leg downward.
The only bright side is that this will likely shake out high-cost, low-efficiency miners off the network, which could taper hashrate enough to give us a negative adjustment next go round.
Of course, that's cold comfort for those miners who will be shaken out, and the situation still sucks – or is just downright painful – for the all the rest.
Mining News
Mining Market TLDR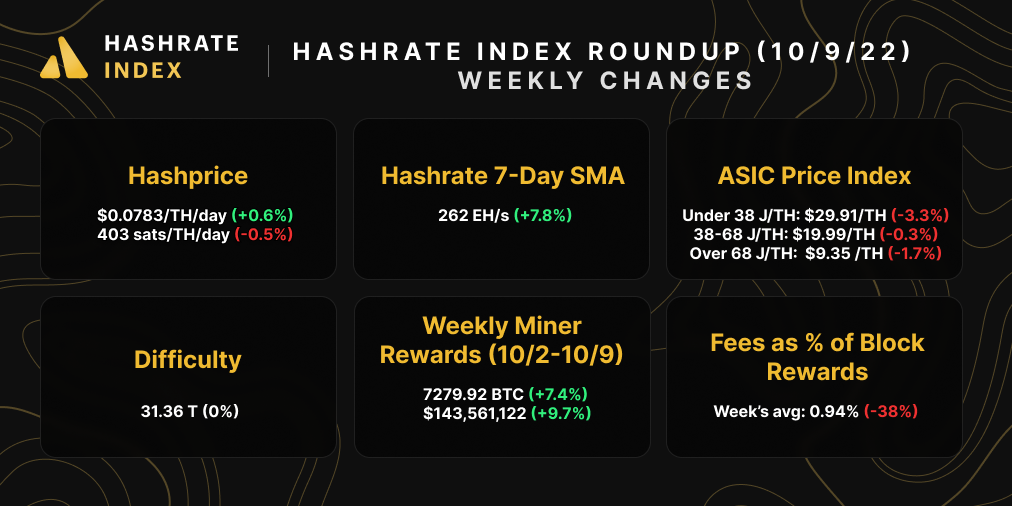 ---
Sponsored by Luxor

---
Hashprice Index (October 9, 2022)
Bitcoin's hashprice is ending the week where it started.
After rising just above $0.08/TH/day on account of Bitcoin's price rally over the week, USD hashprice has settled to roughly $0.0783/TH/day.
Enjoy this hashprice while you can, y'all, because come tomorrow, we're likely to see hashprice drop to (and maybe even below) $0.07/TH/day to all-time low territory.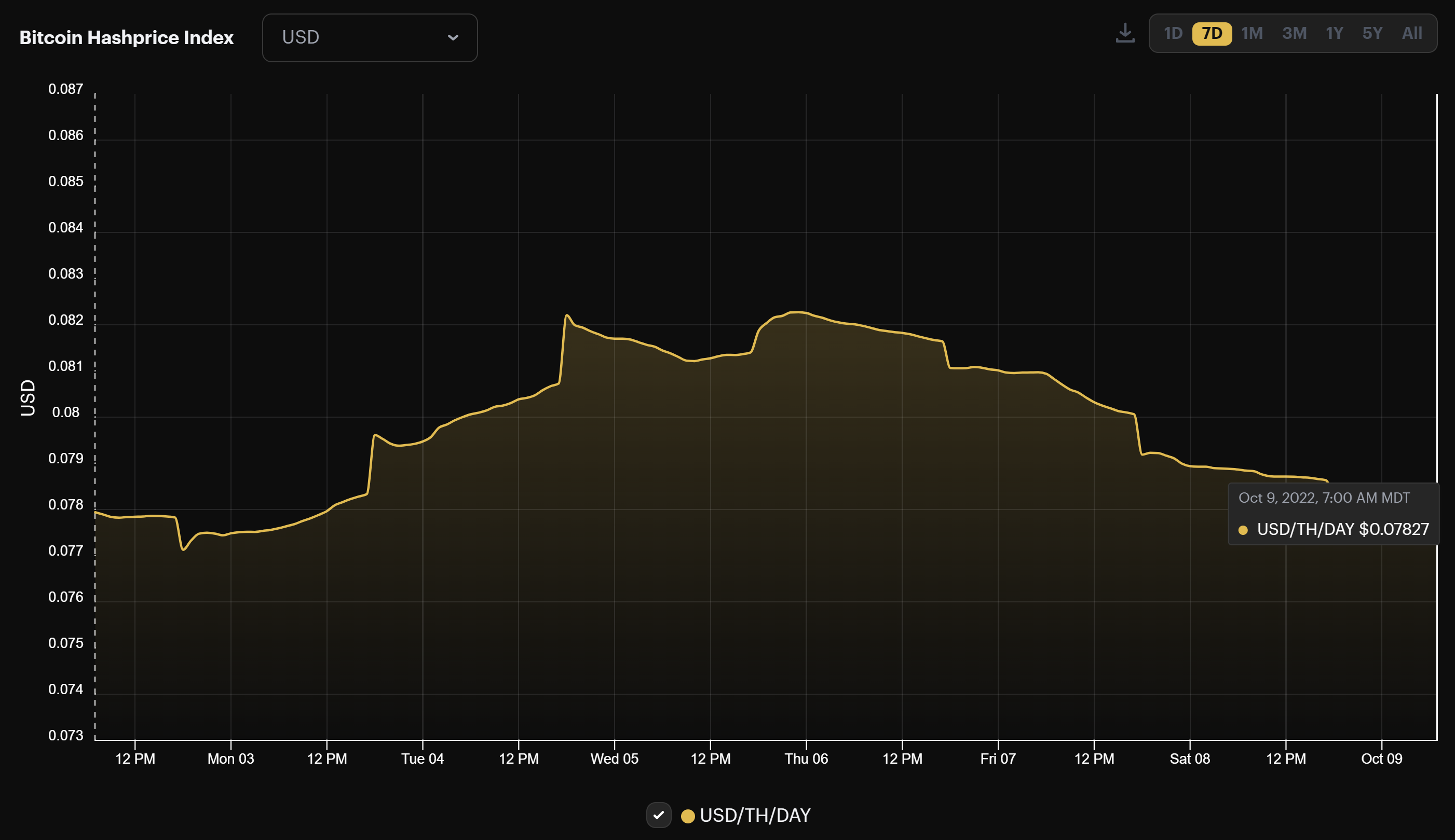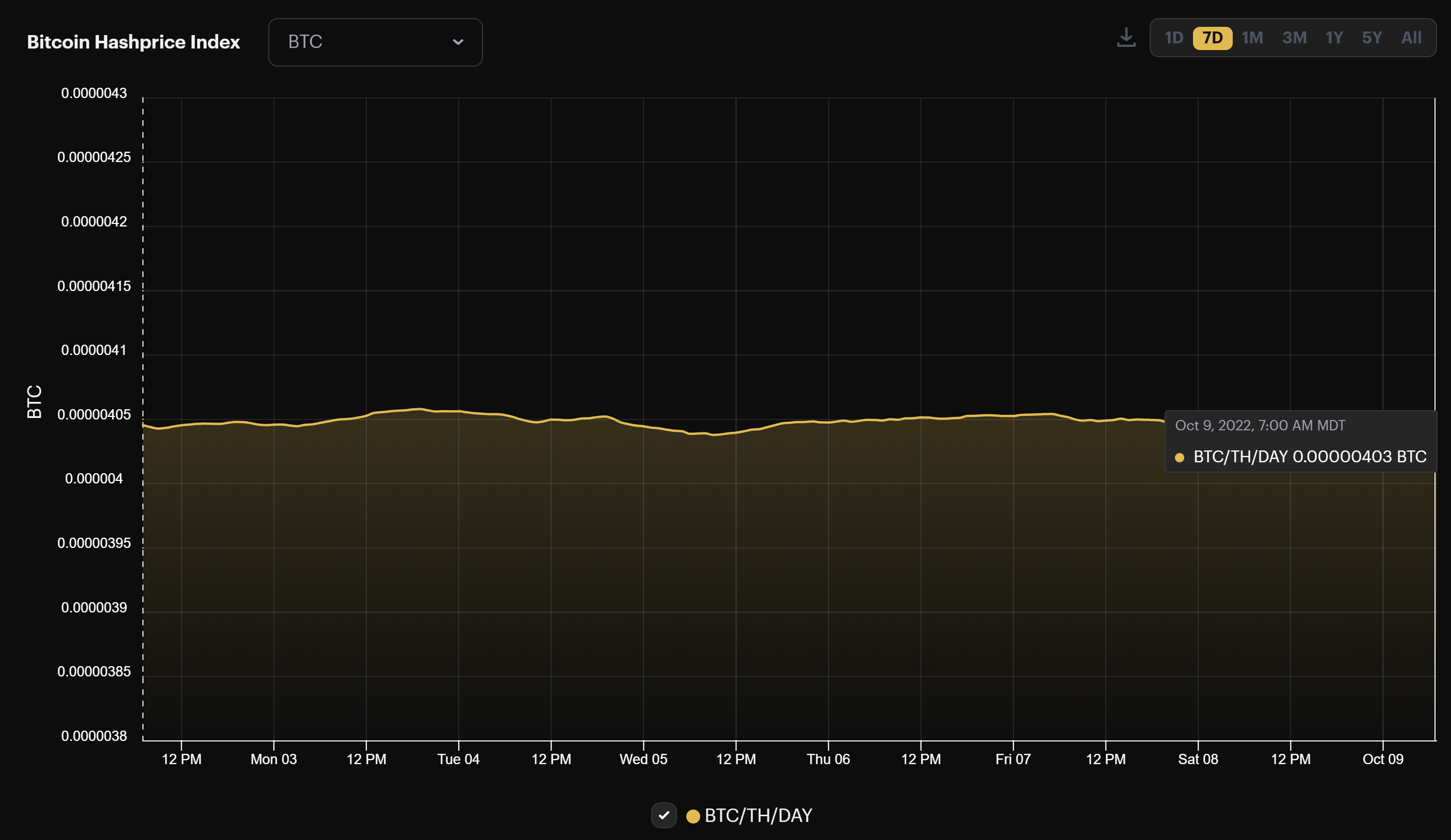 💸
BITCOIN TRANSACTION FEES
Transaction fees fell of a cliff last week, with the week's average coming in below 1% for the first time all year.
In fact, last week's average transaction fee percentage of block rewards set a yearly low at 0.94%. This marks a 38% change from the prior week's average of 1.51%.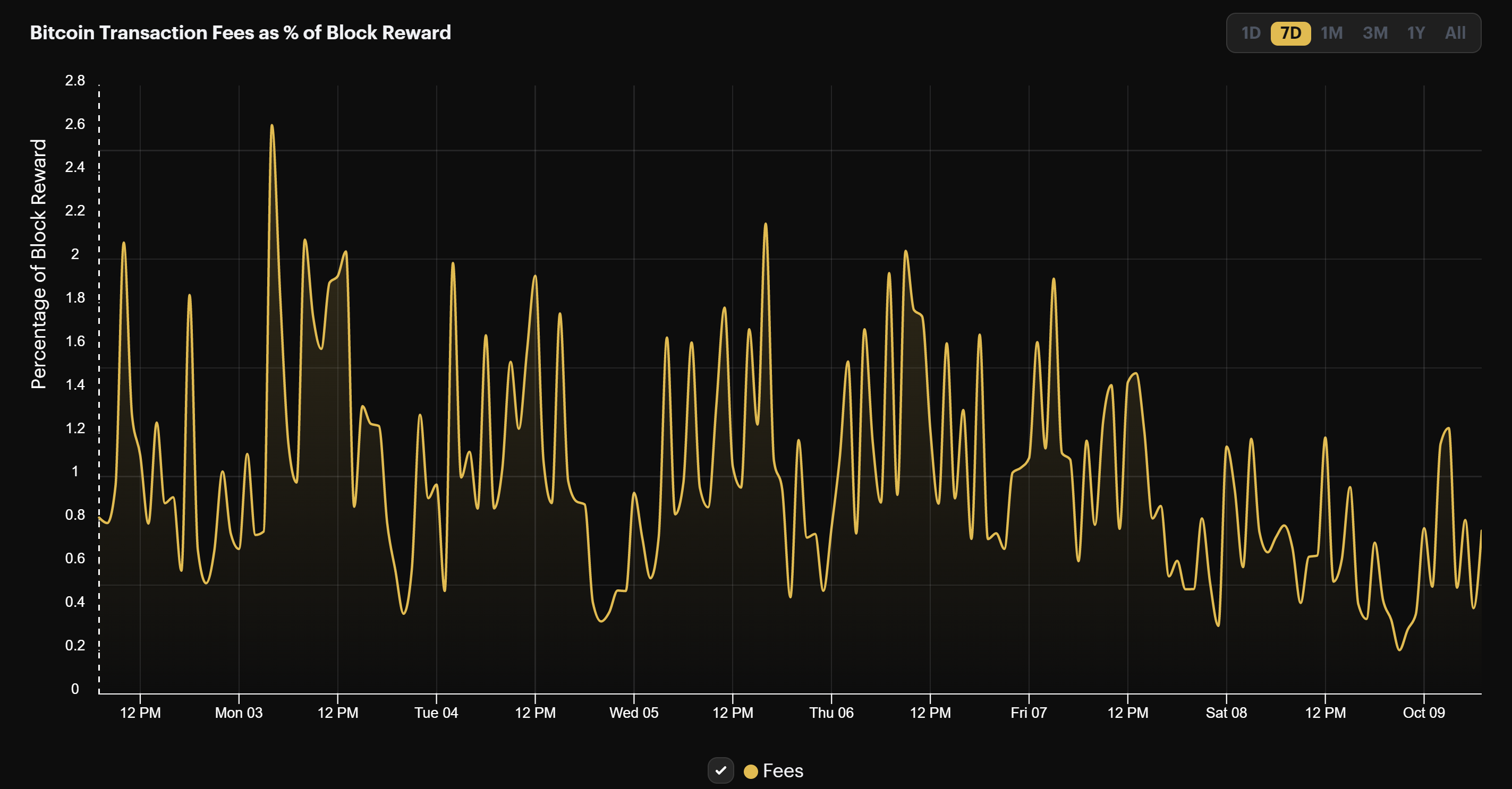 ---
Bitcoin Mining ASIC Price Index (October 9, 2022)
Week-in and week-out this year, it's the same story for ASIC prices, just with slightly different endings.
Rigs of all calibers continue to slide in price in the face of increasingly-difficult mining economics. Last week, the average listing price of new-gen machines fell the most in our ASIC Price Index.
Given the upcoming difficulty adjustment and the all-time low in hashprice it could manifest, we expect Bitcoin mining ASIC prices to keep falling until they visit their own all-time lows.
Keep an eye out this month for the new efficiency band we're adding to Hashrate Index to accommodate latest gen equipment like the S19 XP! Read more on our blog post.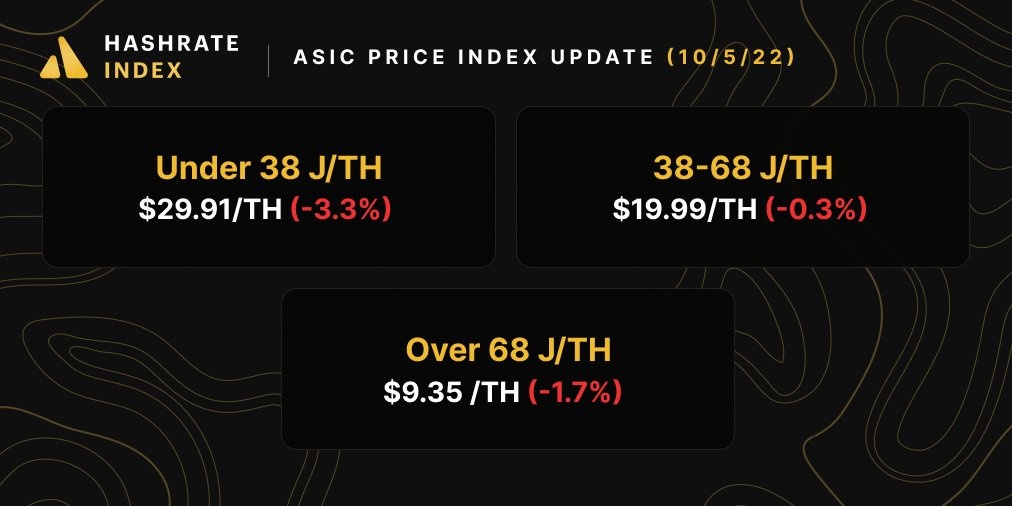 💰
BITCOIN MINING PROFITABILITY
When hashing at $0.06/kWh power cost, here is the current bitcoin mining profitability for popular mining rigs:
Antminer S19 XP (140 TH/s): $6.60
Whatsminer M50 (114 TH/s): $4.20
Whatsminer M30s++ (112 TH/s): $3.80
Antminer S19j Pro (104 TH/s): $3.70
Antminer S19 (95 TH/s): $2.80
Whatsminer M30s (86 TH/s): $2.00
Antminer S17 (56 TH/s): $0.80
Whatsminer M20s (68 TH/S): $0.50
Bitcoin Mining Stocks (October 9, 2022)
Bitcoin rallied (a little bit) last week, so our Crypto Mining Stock Index rallied (a fair bit) in its footsteps.  Over the course of the week, the index rose by 7.4%.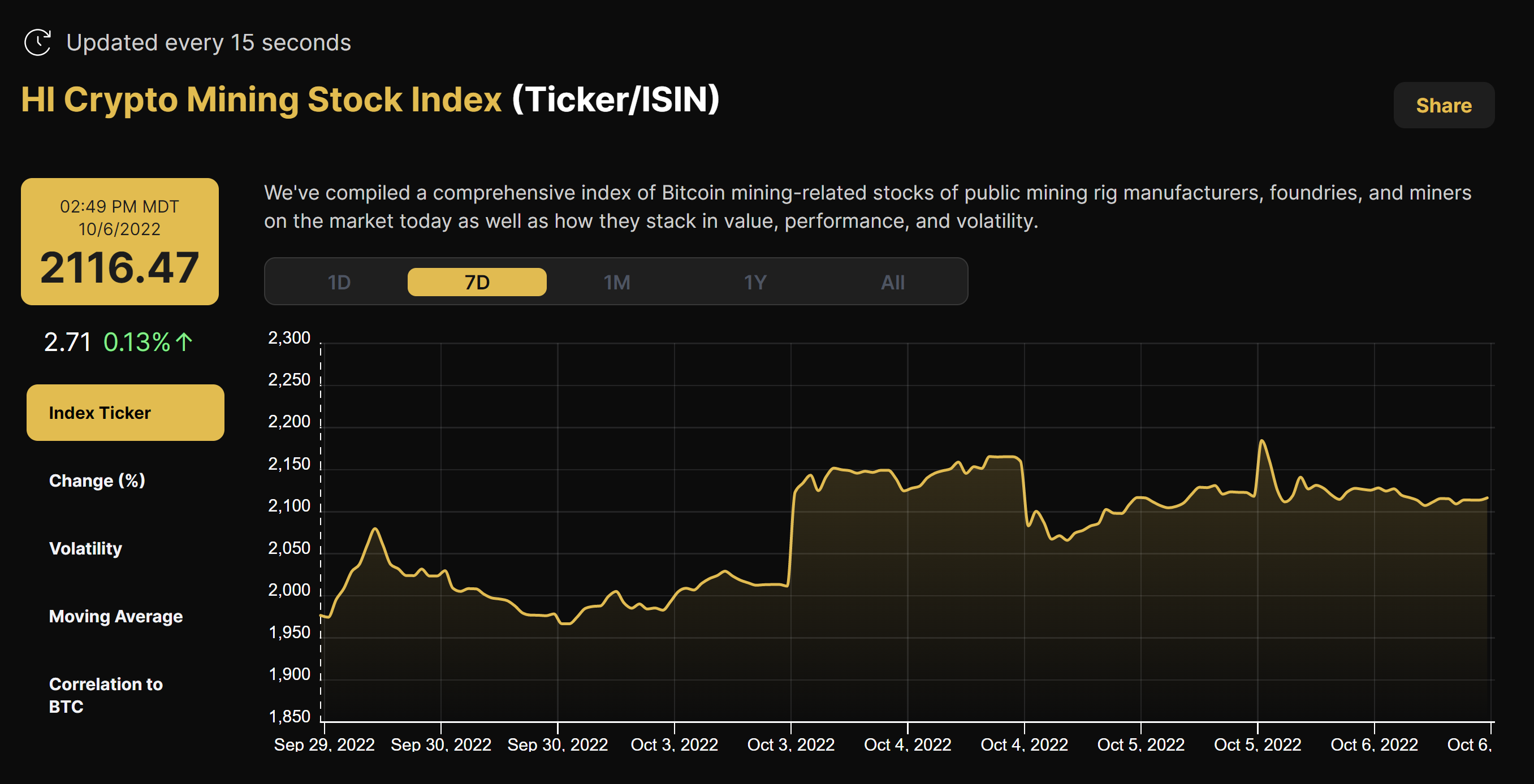 Have a great week, and Happy Hashing!
Hashrate Index Newsletter
Join the newsletter to receive the latest updates in your inbox.
---