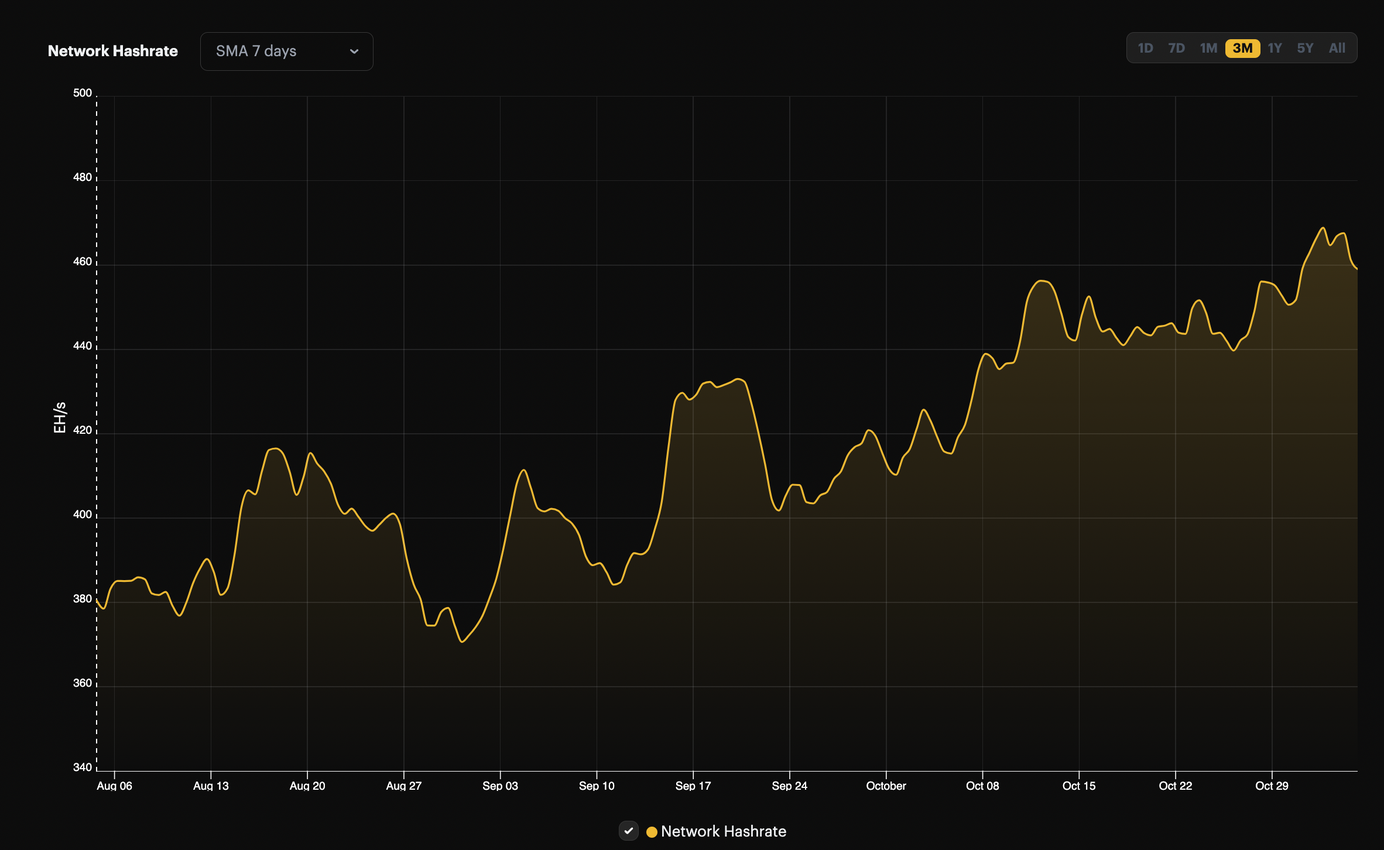 Hashrate Index Roundup (November 4, 2023)
Bitcoin's difficulty and hashrate hit all-time highs this week, while hashprice rose to its highest level since July 2023.
Steak's back on the menu, y'all – well, sort of.
Hashprice is back above $75/PH/day thanks to Bitcoin's recent explosive price action and a rise in transaction fees. Now, $75 hashprice isn't exactly feasting. But when you consider that hashprice was below $60/PH/day just two weeks ago and encroaching on all-time low territory, the rise in revenue has been something of a godsend for profit-starved miners.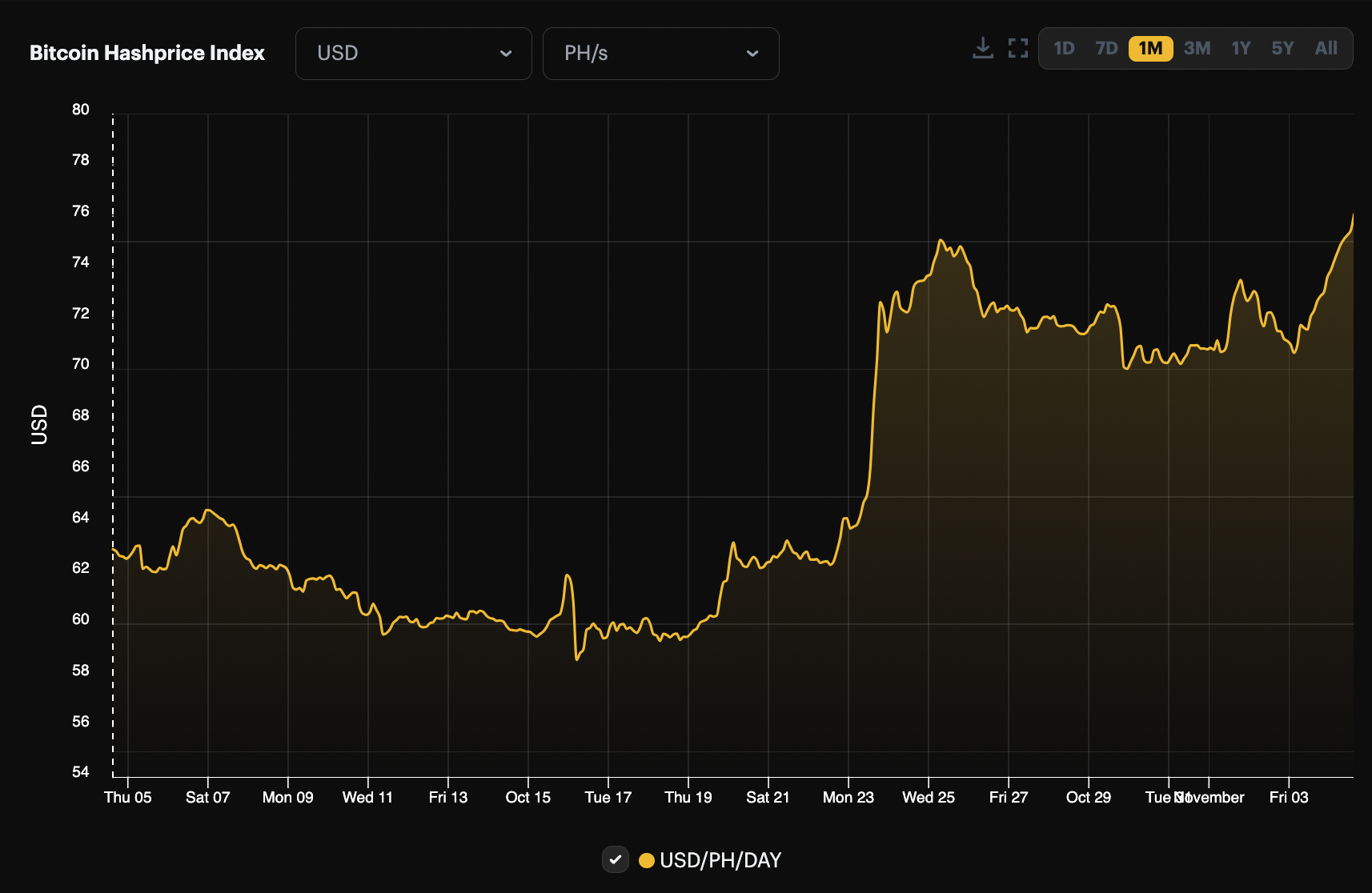 With Bitcoin's price at ~$35,000 and transaction fees accounting for 7.57% of block rewards in the last 24 hours, USD hashprice hit its highest point since July 11, 2023 today, and it's up 21% month-over-month.
Of course, the dark side of this increase is that it will allow more room for hashrate growth at a time when hashrate is already surging. This past week, Bitcoin's hashrate hit an all-time high of 470 EH/s on the 7-day average and 452 EH/s on the 30-day average. And all of this growth is occurring despite the fact that we've been slapped with 4 consecutive positive difficulty adjustments, and it looks like we're due for a 5th one this coming week (our forecast estimates that it could be in the ballpark of 5%).
In the last month alone, miners have added so much hashrate to the network that Bitcoin's 7-day average hashrate has expanded roughly 40 EH/s. Given this rate of growth and Bitcoin's price increase, it's looking like that figure could easily swell to 500 EH/s by the end of the year. If miners want to keep steak on the menu, Bitcoin's price is going to have to stay abreast of this growth.
---
Sponsored by Luxor RFQ
The Antminer S21 is here, and Luxor's ASIC Trading Desk is accepting preorders for this model right now! If you'd like to place a preorder for the Antminer S21, please fill out this form. Secure your order for Bitmain's most efficient and powerful ASIC miner today!

---
Bitcoin Mining Market Update
Transaction fees started moving again this week thanks to renewed BRC-20 activity, rising to just over 3.1% on average last week. ASIC prices continue to slide as manufacturers roll out new hardware and miners face revenue uncertainty with the 2024 Halving fast approaching.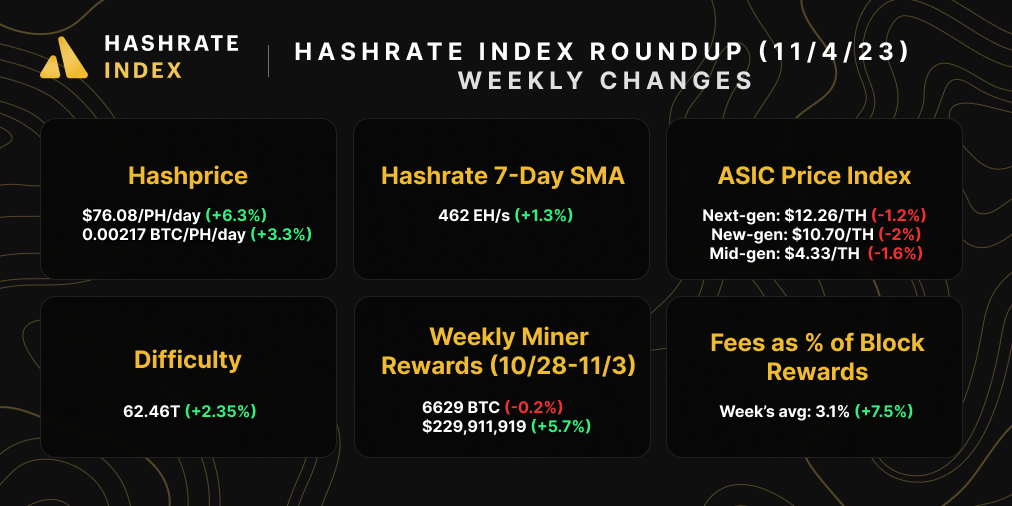 ---
Bitcoin Mining News
Here are last week's top headlines for Bitcoin mining news:
---
Bitcoin Mining Stocks Update
Bitcoin mining stock prices are feeling the love as Bitcoin's own price continues to rise. Our Crypto Mining Stock Index increased 7.2%.
Weekly changes to Bitcoin mining stocks:
RIOT: $11.39 (+14.93%)
HUT: $2.36 (+8.26%)
BITF: $1.17 (+0.86%)
HIVE: $3.31 (+4.87%)
MARA: $9.41 (+2.39%)
CLSK: $4.45 (+2.30%)
IREN: $3.49 (+6.40%)
WULF: $1.15 (0%)
CIFR: $4.10 (+19.19%)
BTDR: $3.99 (0%)
SDIG: $4.53 (+4.14%)
New From Hashrate Index
How Core Scientific Shed Debt and Cut Costs to Emerge From Bankruptcy
This week, Core Scientific revealed that it will emerge from Chapter 11 bankruptcy by the end of the year. The resurrection makes Core Scientific the first – and potentially only – Bitcoin mining company to emerge from 2022's slew of bankruptcy cases (Compute North, for its part, dissolved after its proceedings, while crypto financial services and mining company Celsius is still undergoing restructuring).
A toxic combination of high-debt, unhedged power prices, and abysmal mining economics pushed Core Scientific into bankruptcy in Q4 of last year. Now, after a nearly year-long katabasis into Chapter 11 bankruptcy proceedings, the company's anabasis back into the realm of publicly traded markets is nearly complete. In its ascent out of bankruptcy, Core Scientific is issuing convertible notes and new shares to creditors in exchange for extinguishing debt; these stock options will likely lead to hundred of millions of new shares of CORZ stocks floating around post-bankruptcy. In addition to issuing new shares, Core Scientific also sold off parts of its ASIC fleet and reduced administrative expenses.

Have a great week, and Happy Hashing!
Hashrate Index Newsletter
Join the newsletter to receive the latest updates in your inbox.
---