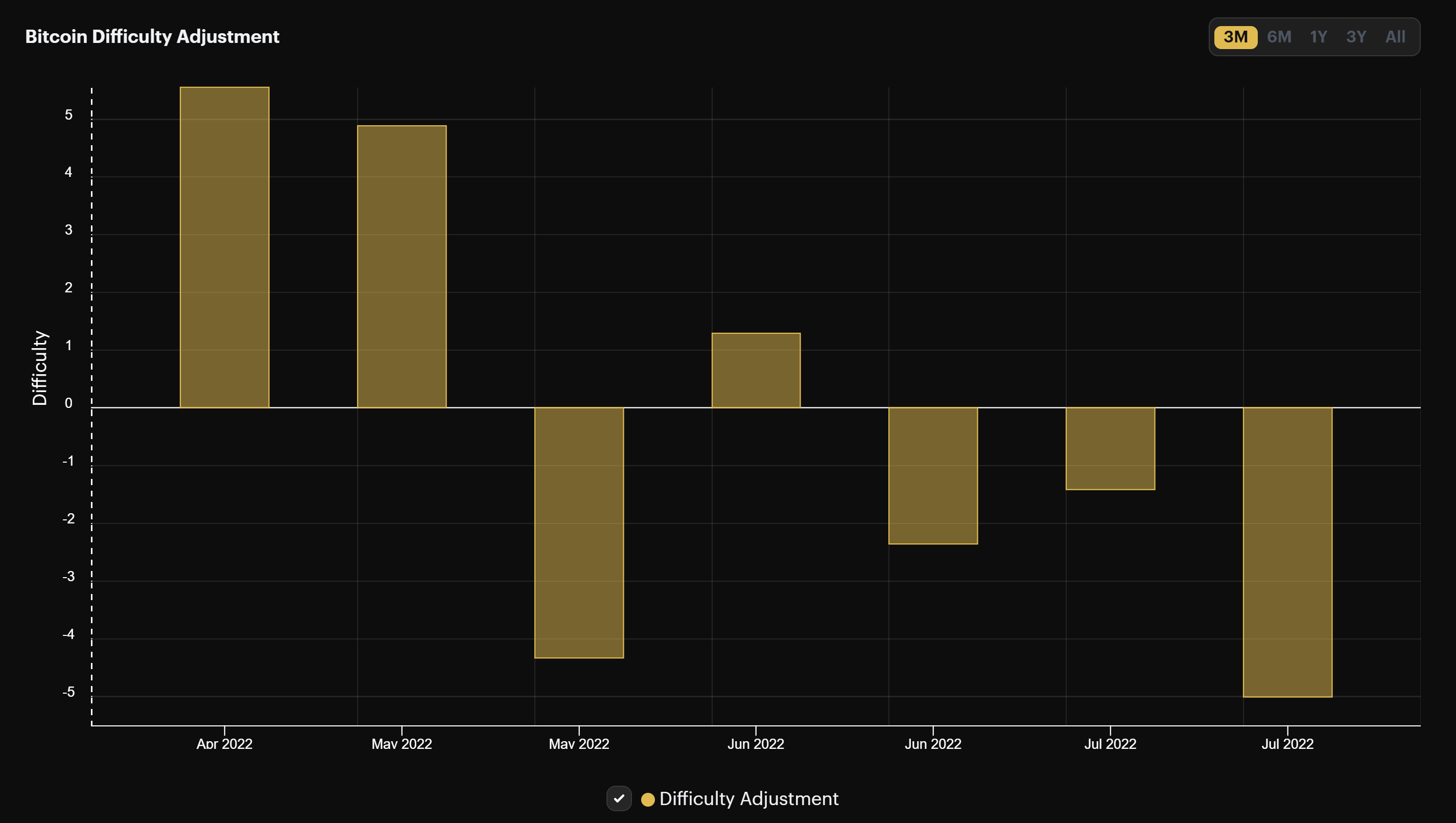 Hashrate Index Roundup (July 25, 2022)
Finally, some positive developments...
Happy Monday, miners!
It's been a minute since we posted a proper roundup, and we finally have some positive developments to report after months of negative market action.
To start, Bitcoin's hashrate is falling, so difficulty is falling, too--the most since the aftermath of China's mining ban last year. At the same time, Bitcoin's price is recovering, and this combination of plummeting difficulty and rising price has rescued miners from the summer's abysmal mining economics (for now, at least).
The cause of the current hashrate dropoff? The summer's piss poor mining economics, in part. But more recently, a brutal heatwave in the US forced many miners to shut off, either to pipe power back to their regional grids or to keep from damaging their machines.
It's too early to say that it's up from here, but at the very least, hashprice is back at $0.10/TH/day and that's got us feeling good (and even cautiously optimistic).
Commons Foundation Signs 100MW Deal for Crypto Mining in Paraguay
The Commons Foundation, a tech startup with a focus on Bitcoin, has signed a 10 year, 100 MW deal with Paraguay's power authority for Bitcoin mining. Rich in hydro power, Paraguay continues to attract miners, a trend the government is fostering with its recent push to regulate the industry and open its borders to miners.
---
Sponsored by Luxor

MINING VITALS WEEKLY CHANGES
Hashrate (7-day): 197 EH/s (+3.2%)
Hashprice: $0.1011/TH/day (+6%) | 459 sats/TH/day (+4.3%)
Difficulty: 27.69 T (-5%)
Transactions as a % of Block Rewards: 2.21% (-18%)
Bitcoin price: $22,016 (-0.5%)
---
Hashprice Index (July 25, 2022)
After a spring and summer of nothing but backsliding, Bitcoin's hashprice is climbing out of the pit.
Bitcoin's recent price recovery, downward difficulty adjustments, and elevated fees have worked together to improve mining economics.
It ain't much considering the fact that hashprice has been plummeting since last November. But even so, Bitcoin's USD hashprice is back to $0.10/TH/day, and Bitcoin's BTC hashprice is at 459 sats/TH/day.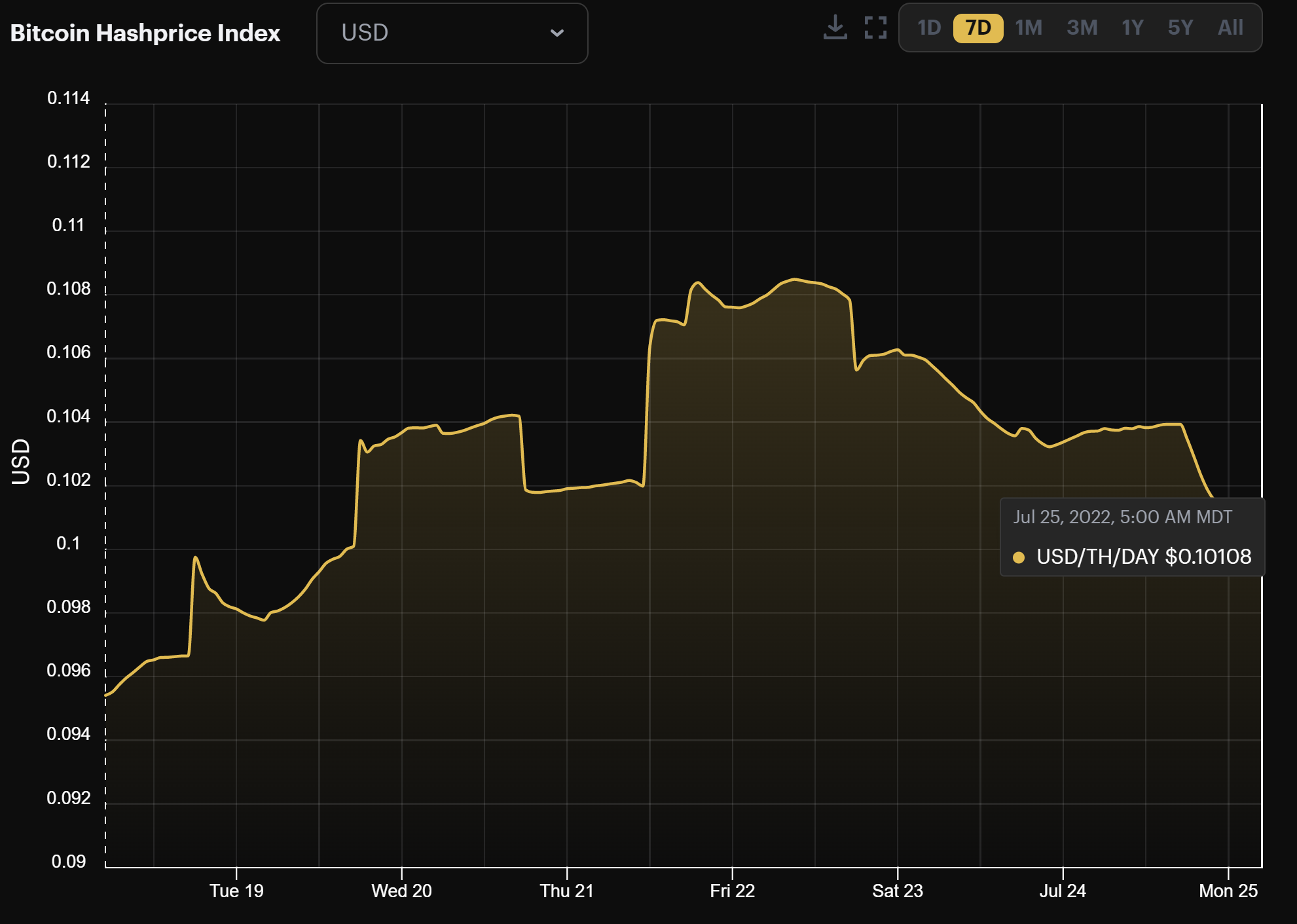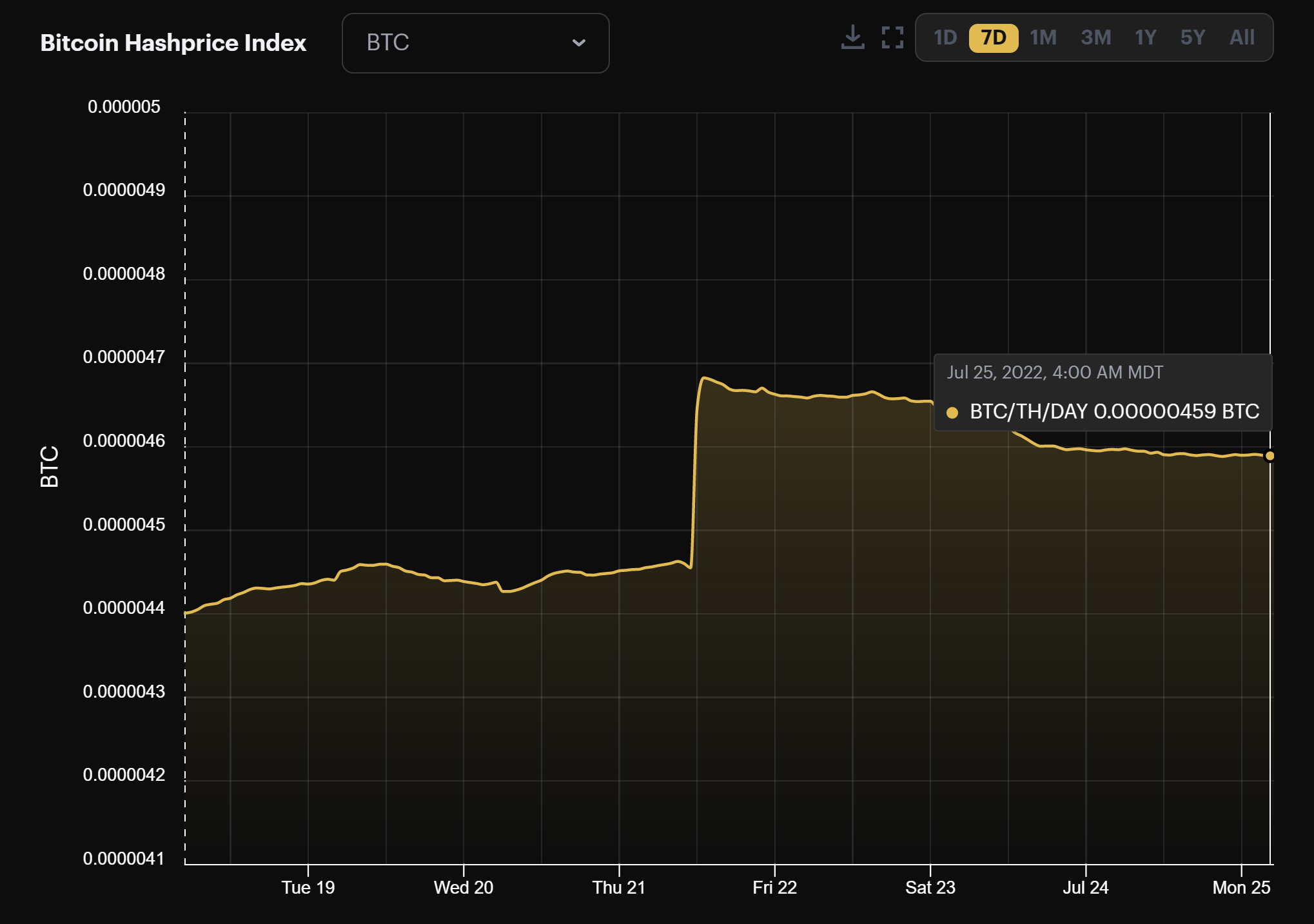 📈
BITCOIN MINING DIFFICULTY
Bitcoin's mining difficulty has been getting pummeled recently, but in a good way.
For the first time since the summer of 2021, Bitcoin's network has experienced 3 downward difficulty adjustments in a row. The last adjustment, a whopping -5%, was the largest since last summer's procession of negative adjustments.
Last year, China's mining ban took more than half of the network's hashrate offline. Now, heatwaves in the US are melting Bitcoin's hashrate (since hitting an all-time high of 234 EH/s in June, Bitcoin hashrate has fallen 16%). Mega-miners (most notably in Texas) are curtailing power draw as regional grids come under stress, while others in the states are turning off to keep from damaging their machines in the heat.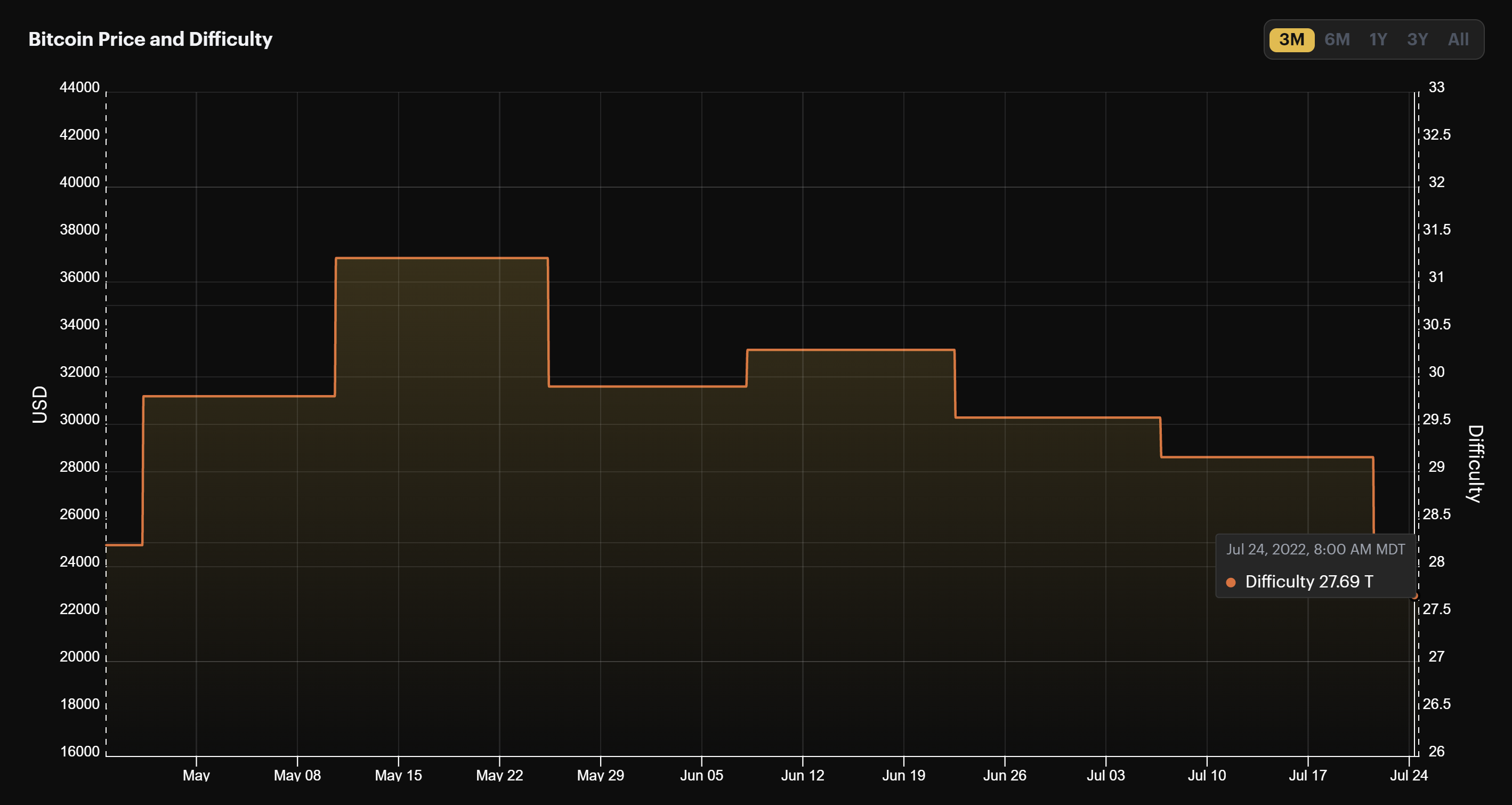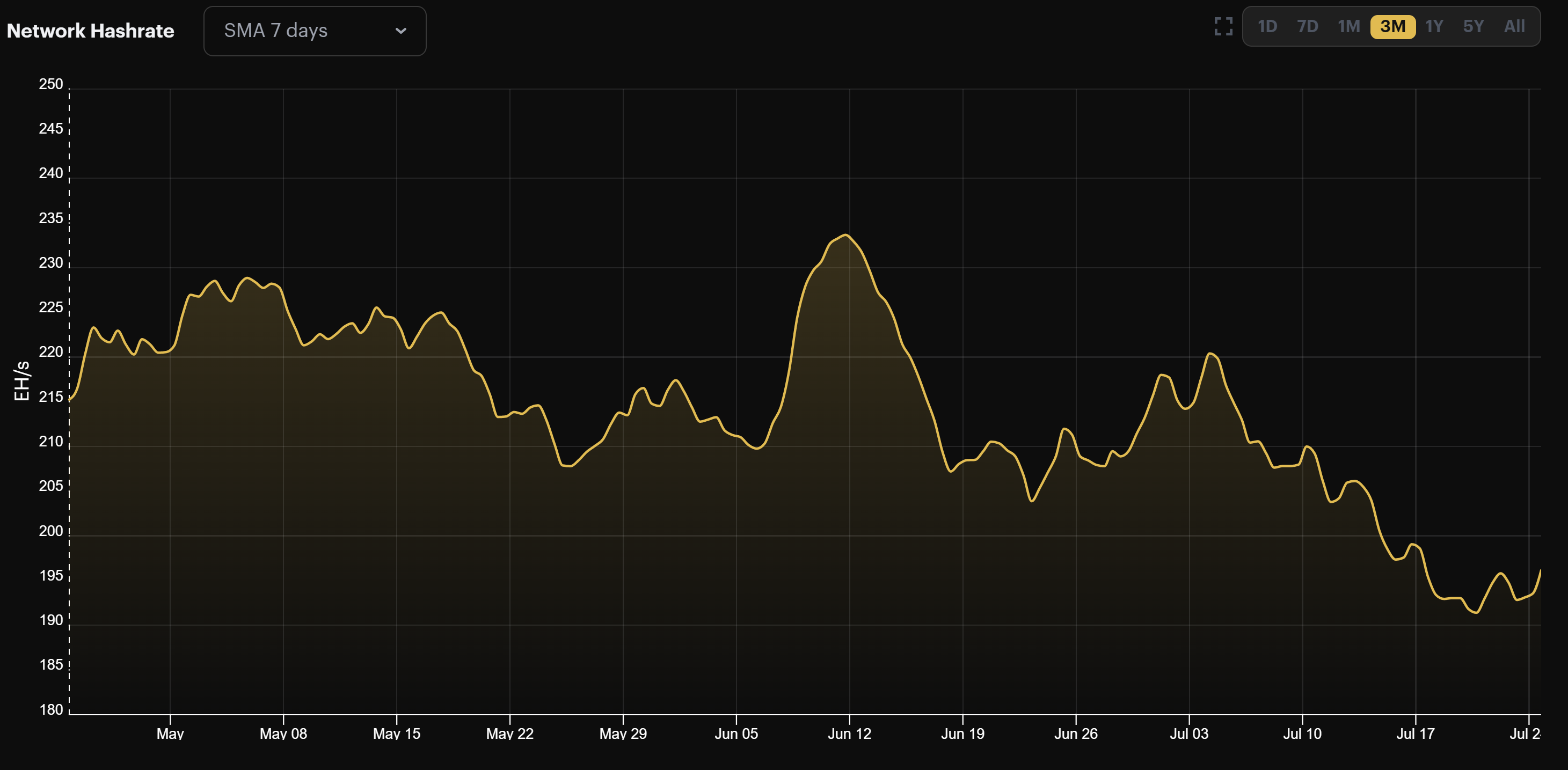 💸
BITCOIN TRANSACTION FEES
Frenzy buying or selling tends to improve transaction fee volume, so recently, Bitcoin's transaction fees have seen a big uptick.
Transaction fees as a percentage of block rewards grew by 17% over July when compared to June. Last week, however, transaction fee revenue fell by 18% when compared to the prior week.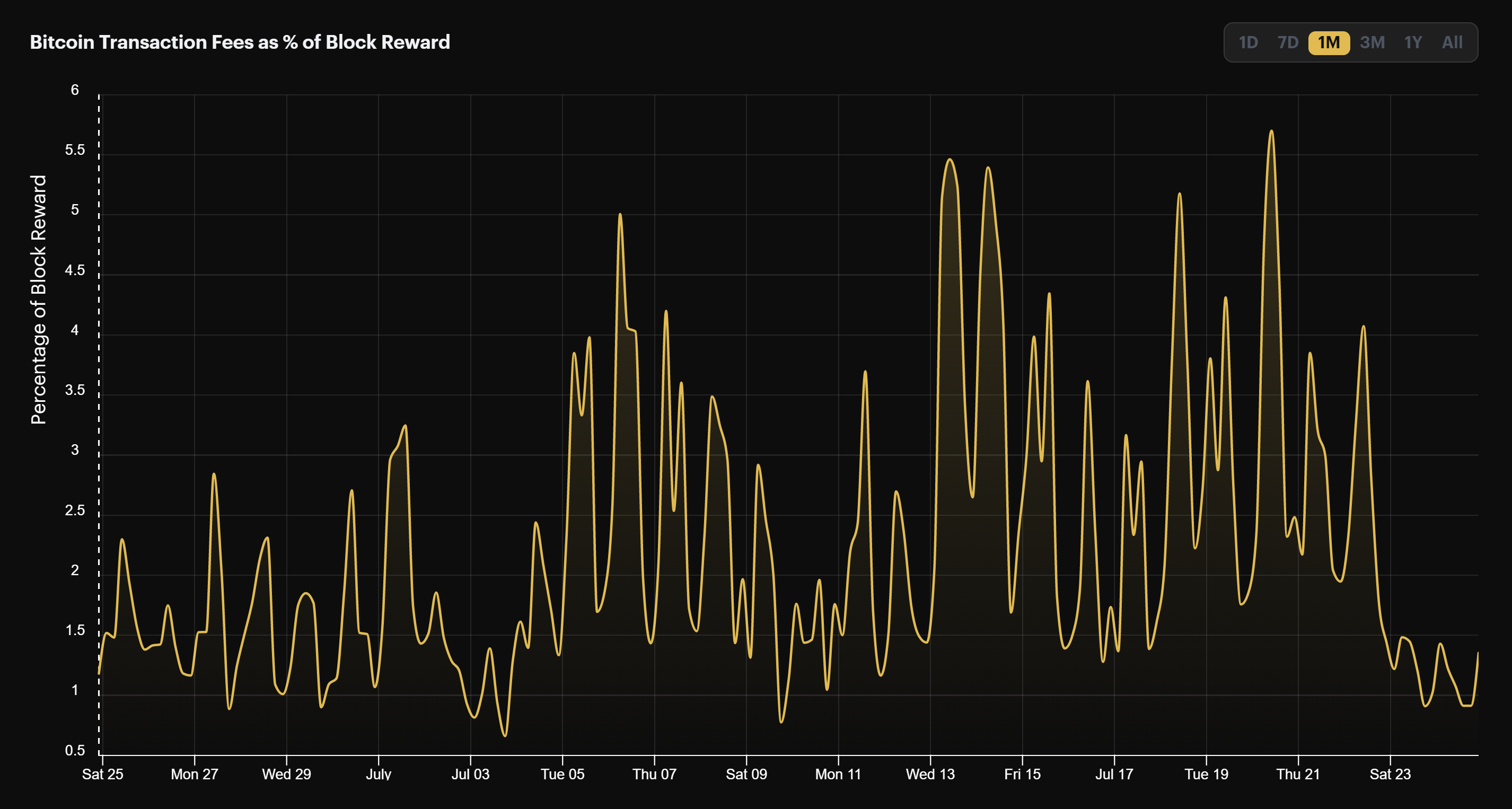 ---
Bitcoin ASIC Index  (July 25, 2022)
The selling in the Bitcoin mining ASIC market is showing signs of slowing. Most notably, the summer's firesales seem to have dampened (for now at least).
That said, rigs of all calibers still fell over the week.
Under 38 J/TH: $38.97 (-5.2%)
38-68 J/TH: $21.54 (-3.1%)
Over 68 J/TH: $10.71 (-1.4%)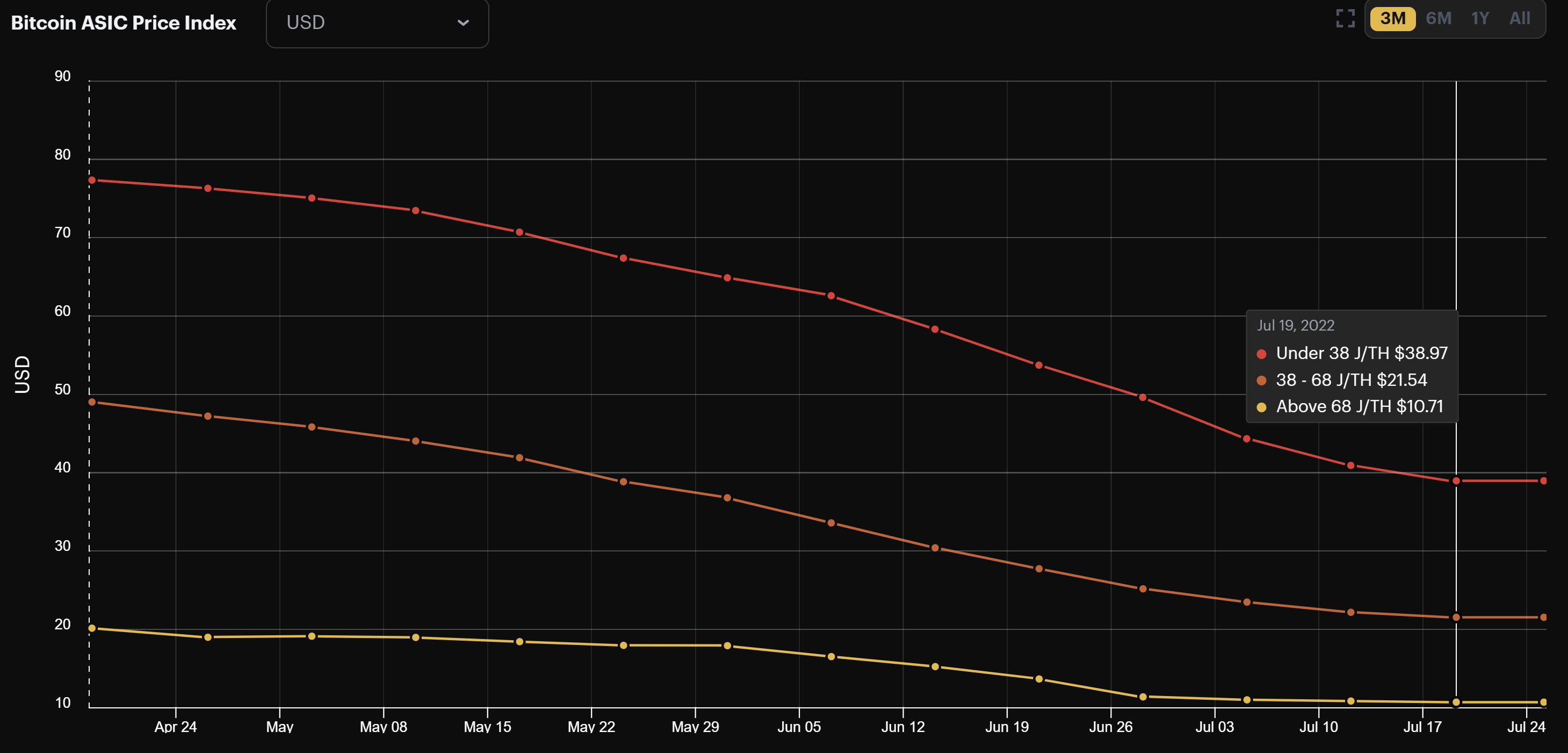 💰
BITCOIN MINING PROFITABILITY
Bitcoin mining profitability rose over the week.
Whatsminer M30s++ (112 TH/s): $11.30
Antminer S19 Pro (110 TH/s): $11.10
Antminer S19 (95 TH/s): $9.60
Whatsminer M30s (86 TH/s): $8.70
Whatsminer M20s (68 TH/S): $6.90
Antminer S17 (56 TH/s): $5.70
Antminer S9 (13 TH/s): $1.40
Bitcoin Mining Stocks (July 25, 2022)
With Bitcoin's price recovering and Bitcoin mining economics up, as well, Bitcoin mining stocks are rallying. Our Crypto Mining Stock Index rose 11.6% over the week.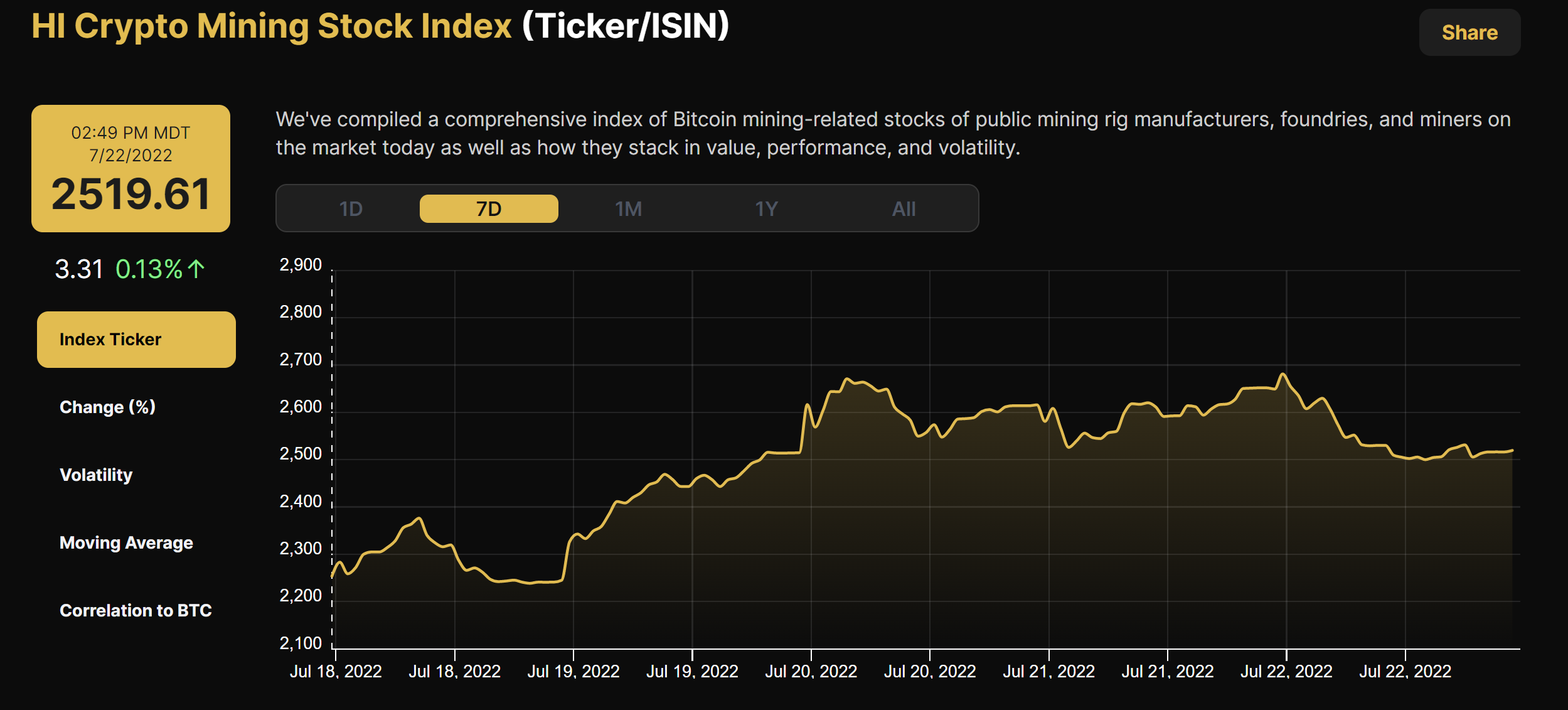 New From Hashrate Index
Hashrate Index Q2-2022 Report: Exit Pursued By a Bear
Last week, we released our Q2-2022 report on the current state of the Bitcoin mining industry. With the bear market clamping down on over everything from bitcoin mining economics to the ASIC lending market, there was plenty to chew over.
We've included a link to the report's blog page above, but you can also download it below.
Happy Hashing, and have a great week!
Hashrate Index Newsletter
Join the newsletter to receive the latest updates in your inbox.
---