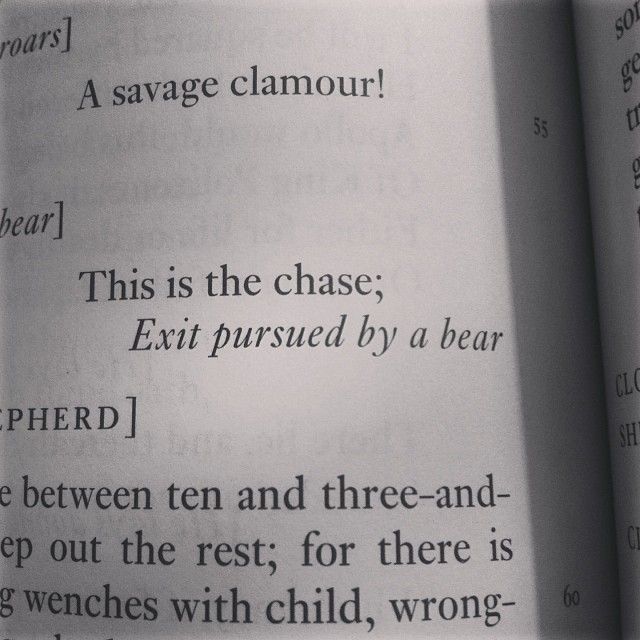 Hashate Index Q2-2022 Report: Exit Pursued by a Bear
The bear market is here and it's raising hell in Bitcoin mining markets
Happy Sunday, miners!
In lieu of the usual roundup today, we wanted to share our Q2-2022 report.
Bitcoin mining had a helluva bull run last year, and it's rearing up to have a helluva bear market. We make sense of all of the changes to bitcoin mining profitability / hashprice, ASIC prices, Bitcoin mining stocks, and more in our Q2-2022 report.
You can download the report directly below. We've also included some of the report's highlights farther down.
Enjoy, and please share if you find the report insightful!
Hashrate Growth Weakens in Q2-2022
Hashrate Growth slowed considerably in Q2-2022, particularly compared to last year given the post-China ban recovery and ASIC allocation frenzy.
This slowing is in direct response to bear market mining economics.  Plenty of miners are starting to shut off as their costs outweigh the profits they can squeeze in this hostile hashprice environment.
We can see this in how slowly hashrate grew in Q2-2022. Bitcoin's 7-day moving average hashrate grew only 7% in Q2-2022. Compare that to 15% growth in Q1-2022 and 27% in Q4-2021.
Unsurprisingly, old-generation mining rigs are now completely unprofitable except for those miners hashing with low or near-free electricity. Mid-gen machines are still eking out a living for folks with all-in power costs under $0.07/KWh. Even miners with the newest generation equipment are starting to sweat, particularly those in hosting agreements with all-in power over $0.08/KWh.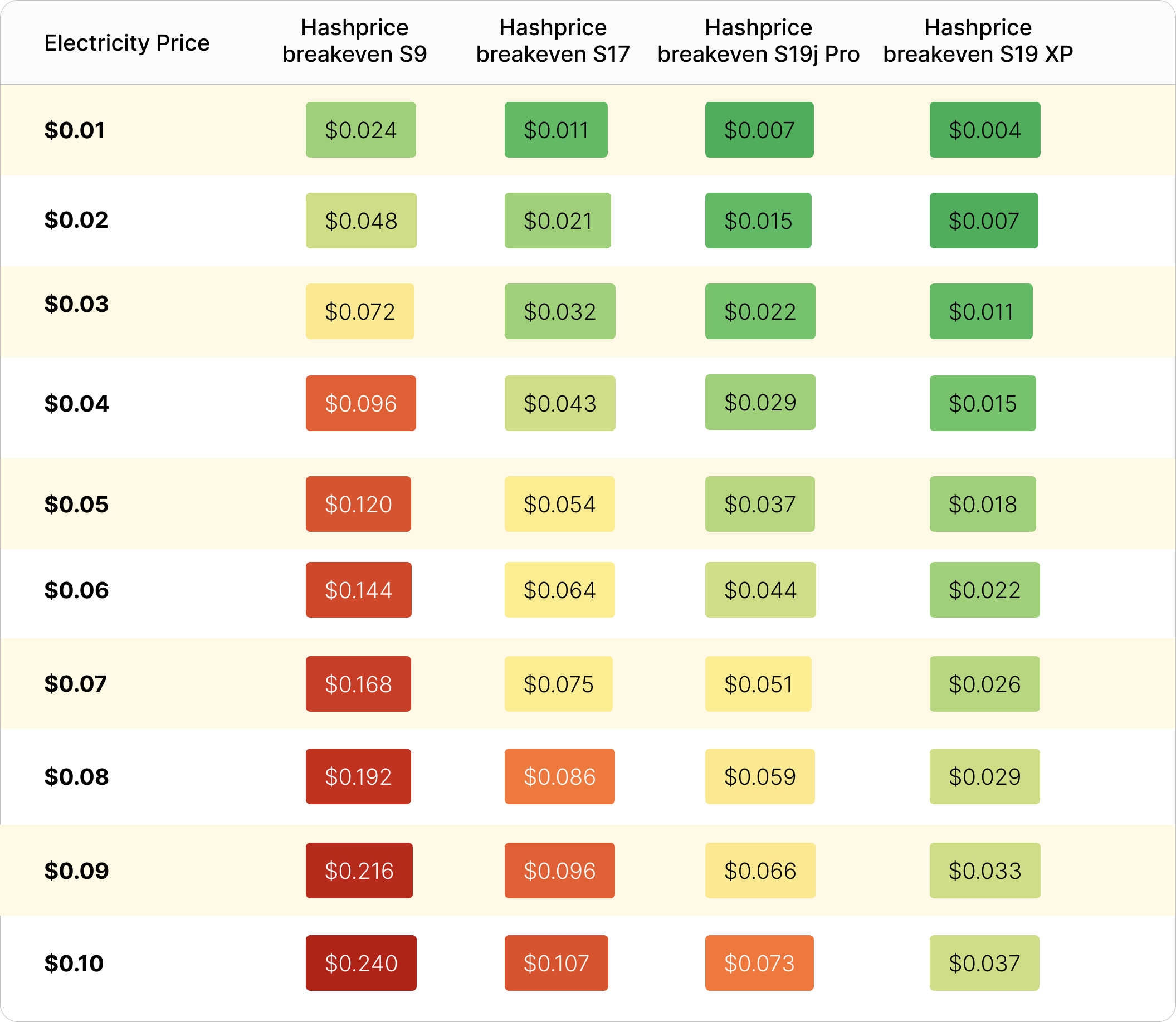 ASIC Prices Approach All-Time Lows
2022 has been one of the most punishing years yet on Bitcoin mining rig prices.
Long way up, long way down…from the beginning of the year to the close of Q2, the tiers in our ASIC Price Index fell:
Under 38 J/TH (-51%)
38-68 J/TH (-66%)
Over 68 J/TH (-56%)
Year-over-year, ASIC prices have changed:
Under 38 J/TH (-40%)
38-68 J/TH (-52%)
Over 68 J/TH (-49%)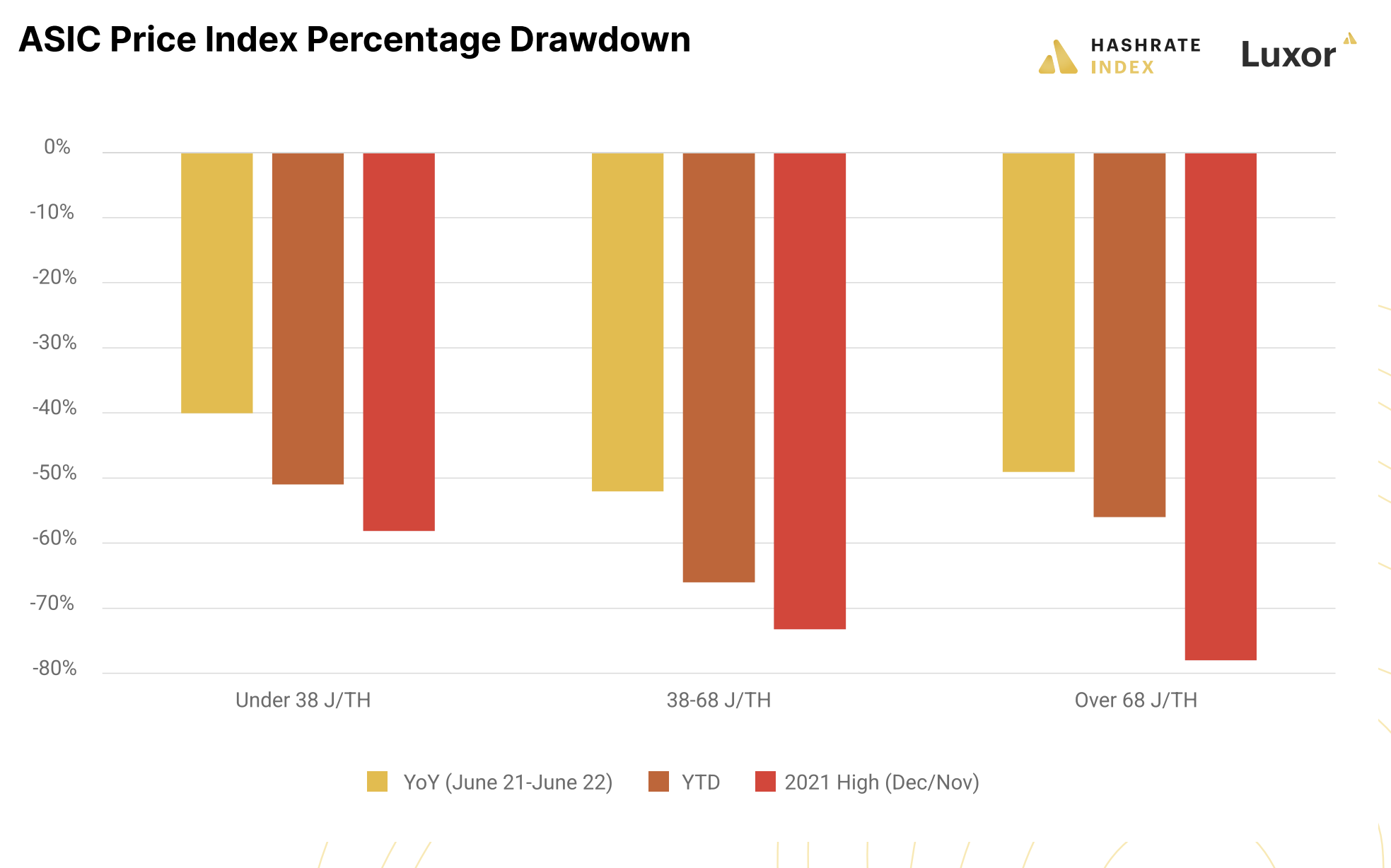 ASIC Loans Are Underwater
Debt financing deals became very popular in 2021 as more lenders entered the market and increased competition (and a low Fed funds rate) drove down interest rates for borrowers in 2021. Deal flow continued into Q1-2022 but slowed in recent months as lenders took a step back given the downturn in hashprice and broader financial markets. This coincided with public and private equity markets drying up. Miners are now facing a difficult environment to raise both debt and equity.
Despite the recent slowdown, Luxor estimates that miners have $3-4 billion in outstanding ASIC-backed debt on their balance sheets.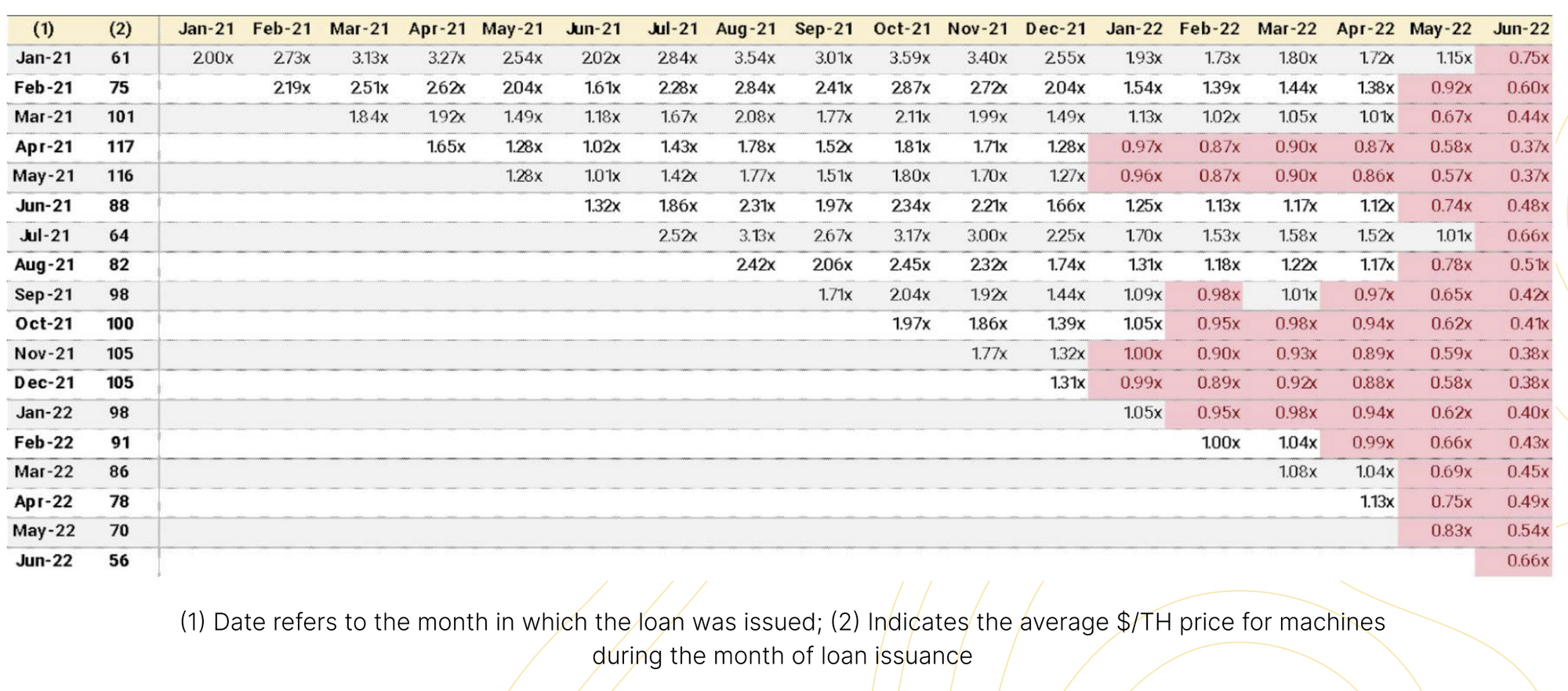 Bitcoin Mining Stocks Sell BTC to Fund Operations
As lending sources and equity financing spigots dry up, Bitcoin miners who traditionally try to hold 100% of their mined BTC are shedding inventories to pay bills and stay solvent.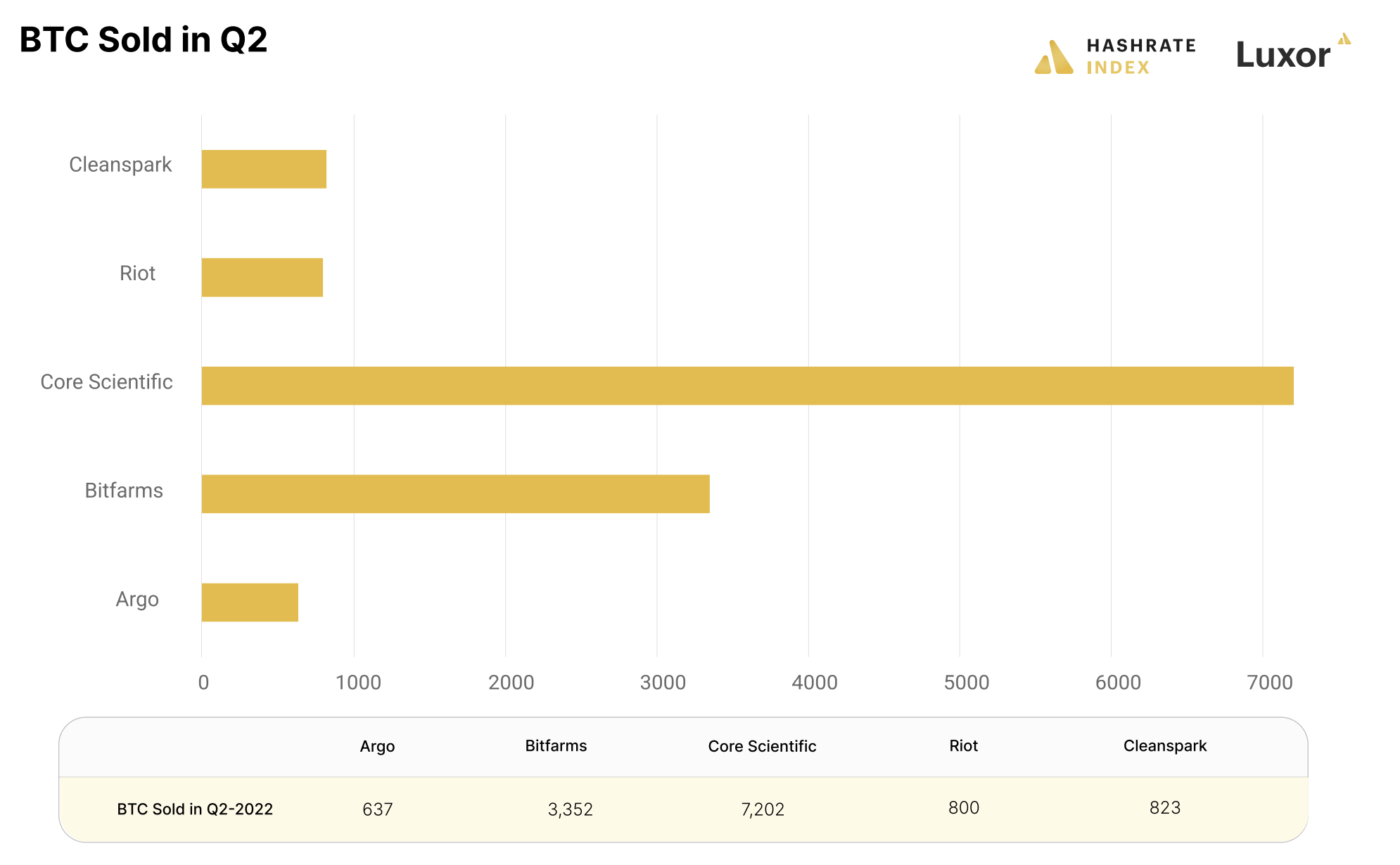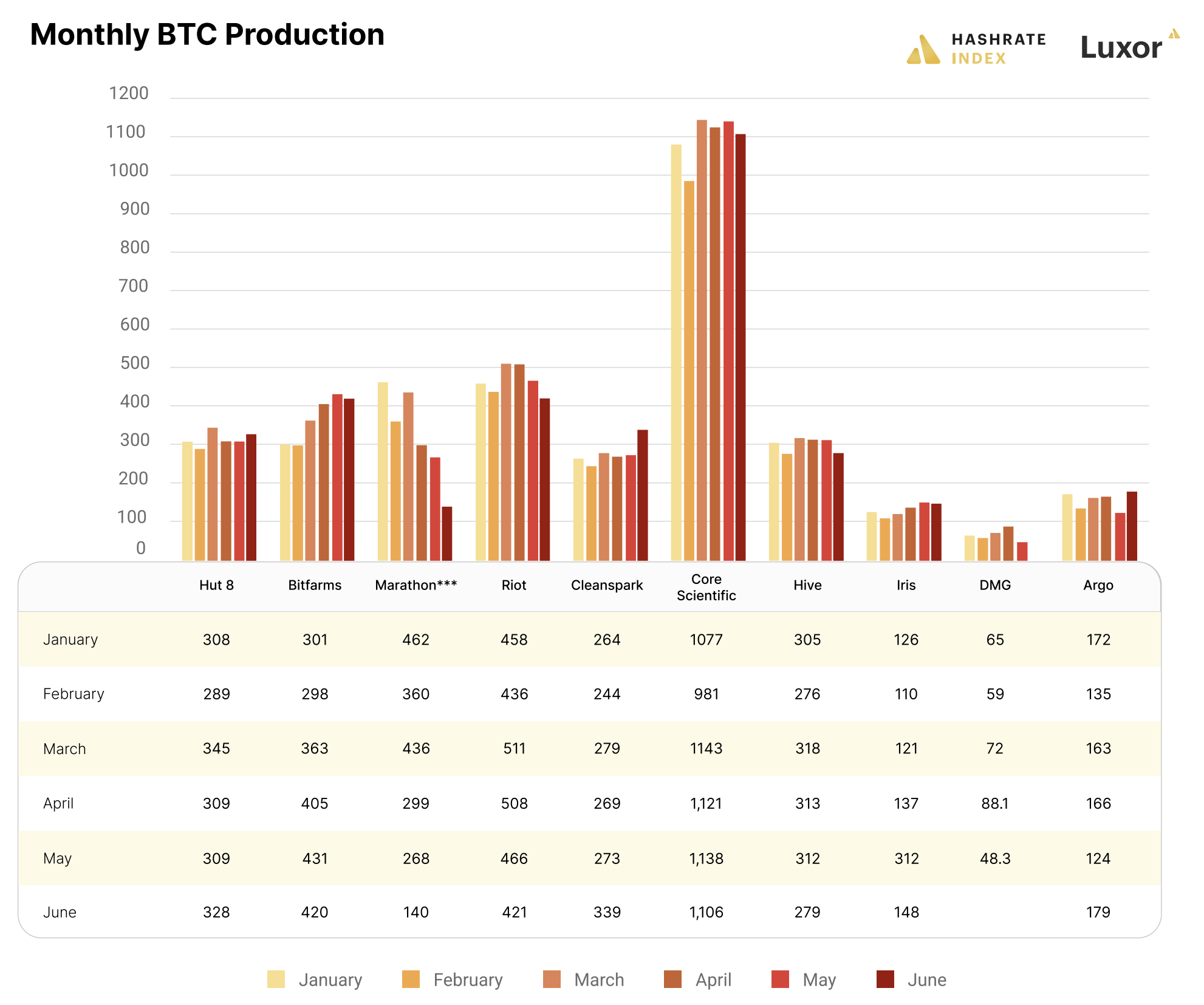 Have a great Sunday, and Happy Hashing!
Hashrate Index Newsletter
Join the newsletter to receive the latest updates in your inbox.
---