Hashrate Index Roundup: July 17, 2021
Hashrate is rebounding, but Bitcoin's waning price has continues to put a small dent in metrics like hashprice and rig prices; this and more in this week's hashrate data roundup.
Happy Saturday, y'all!
We're halfway through July and Bitcoin's hashrate has touched 100 EH for the first time since China's mining crackdown took it below this mark, while other metrics, like miner profitability, are sluggish due to anemic market activity.
But why tell you what the data says when we can show you?
Let's hop to it.
Hashprice Index
Bitcoin Price (24H): $31,338
Hashprice (TH/s/day): $0.2787
Average Fee Percentage per Block (24H): 1.57%
Network Hashrate (7-day SMA)-100.1 EH
Hashprice
Bitcoin's Hashprice slumped over the week, losing a few percentage points with a current price of roughly $0.28/TH.

Hashrate is up to 100 EH on the 7-day SMA as miners come online following the hashrate migration from China. With more competition revving up, and Bitcoin's price taking a hit, Hashprice has dipped accordingly.
Even so, miner profitability is at its highest levels since mid-May, when China's crackdown began and Bitcoin's price took a massive hit.
Price and Difficulty
We've got another downward difficulty adjustment incoming today, the fourth such in a row.

Current estimates gauge the upcoming difficulty will be ~13.7 T, a 4.7% drop from current levels. The downtick should give miners a small bump in profitability.
BRRR (Emission Schedule)
Transaction fees continued to dwindle last week, making up on average 2.5% of block rewards. Fees as a percentage of block rewards have tanked over the late spring and early summer in response to Bitcoin's market sell-off.
All-in-all, miner revenues took a hard hit in June following China's hashrate blackout.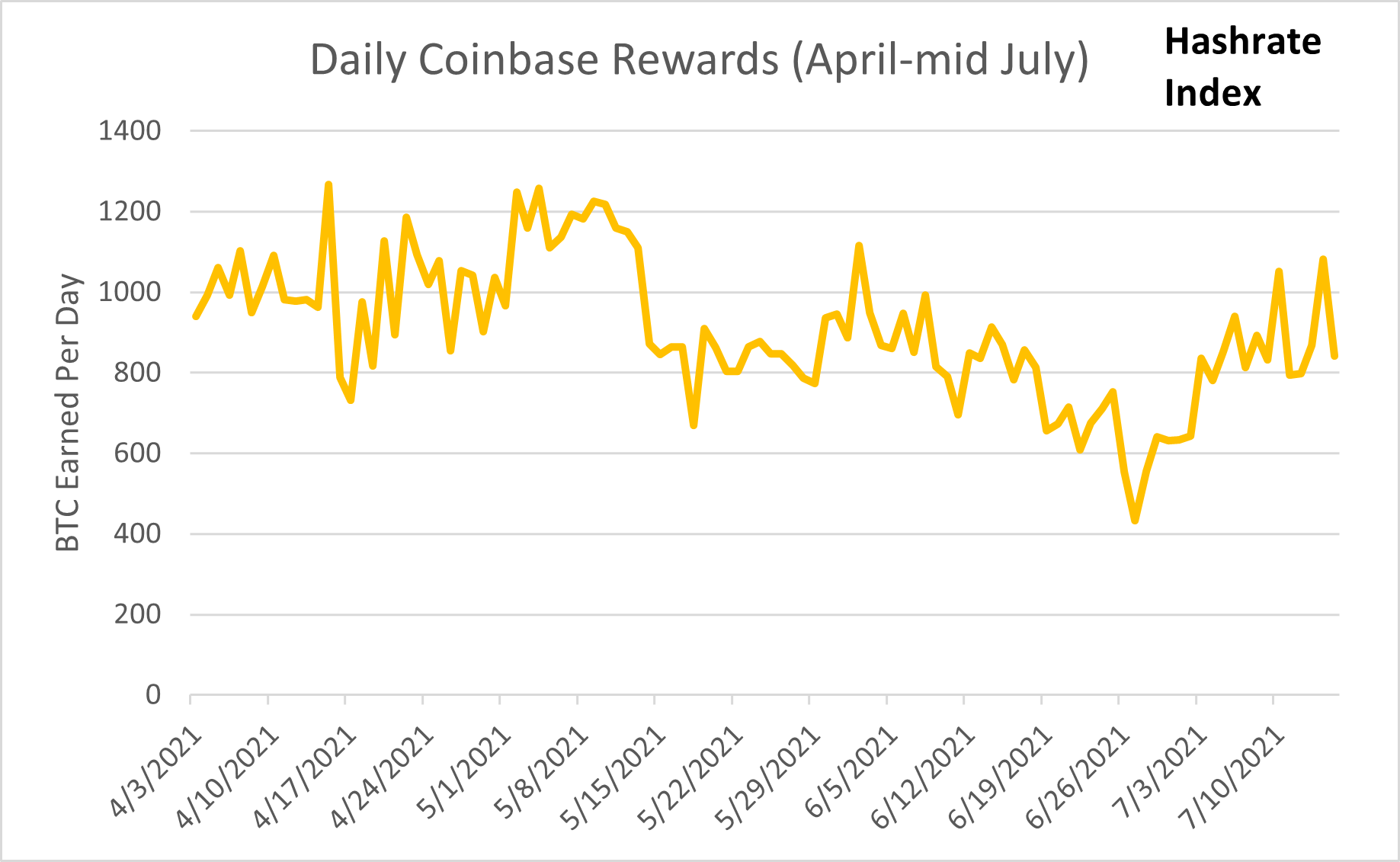 In the week leading up to July 3's historic 28% downward adjustment, blocktimes slowed to the point where miners were earning as little as 2/3rds or, in the case of June 27, less than half their daily expected revenue.
The adjustment gave a boost to profitability, but with fees suppressed (and another negative adjustment on the way), daily rewards are still below their highs in the Spring.
Rig Index
Capex/TH (<35J/TH): $62.32
Estimated Payback Period: 264
Rig Price Index
The price per TH for rigs of all efficiencies fell again last week for the 9th week in a row, but we're starting to see signs of smoothing in the secondary market
Over the past week, the average prices for the following efficiency buckets changed:
Under 38 J/TH: $62.32 (-7%)
38-60 J/TH: $46.24 (-9%)
60-100 J/TH: $23.7 (-7%)
Over 100 J/TH: $16.16 (-14%)

While prices are calming down some from the frenzied selling we noticed following China's ban, there's no guarantee that they won't go down further--especially if Bitcoin's price can't hold $30,000 or rack space continues to obstruct the migration process.
Breakeven Rig Efficiency Threshold
Miners' breakeven thresholds have fallen a smidge since last week's update:
$0.02 kWh: 591.92. W/TH
$0.04 kWh: 296 W/TH
$0.06 kWh: 197.31 W/TH
$0.08 kWh: 148 W/TH
$0.10 kWh : 118.13 W/TH

Profitability of Popular SHA-256 ASIC
The current daily rewards of the more popular bitcoin miners are:
Antminer S19: $27.18
Whatsminer M30S: $25.17
Antminer S17+: $20.80
Whatsminer M20S-65TH: $18.59
Antminer S9: $3.29
.Happy Hashing, and have a great weekend!
-Luxor Team
Hashrate Index Newsletter
Join the newsletter to receive the latest updates in your inbox.
---