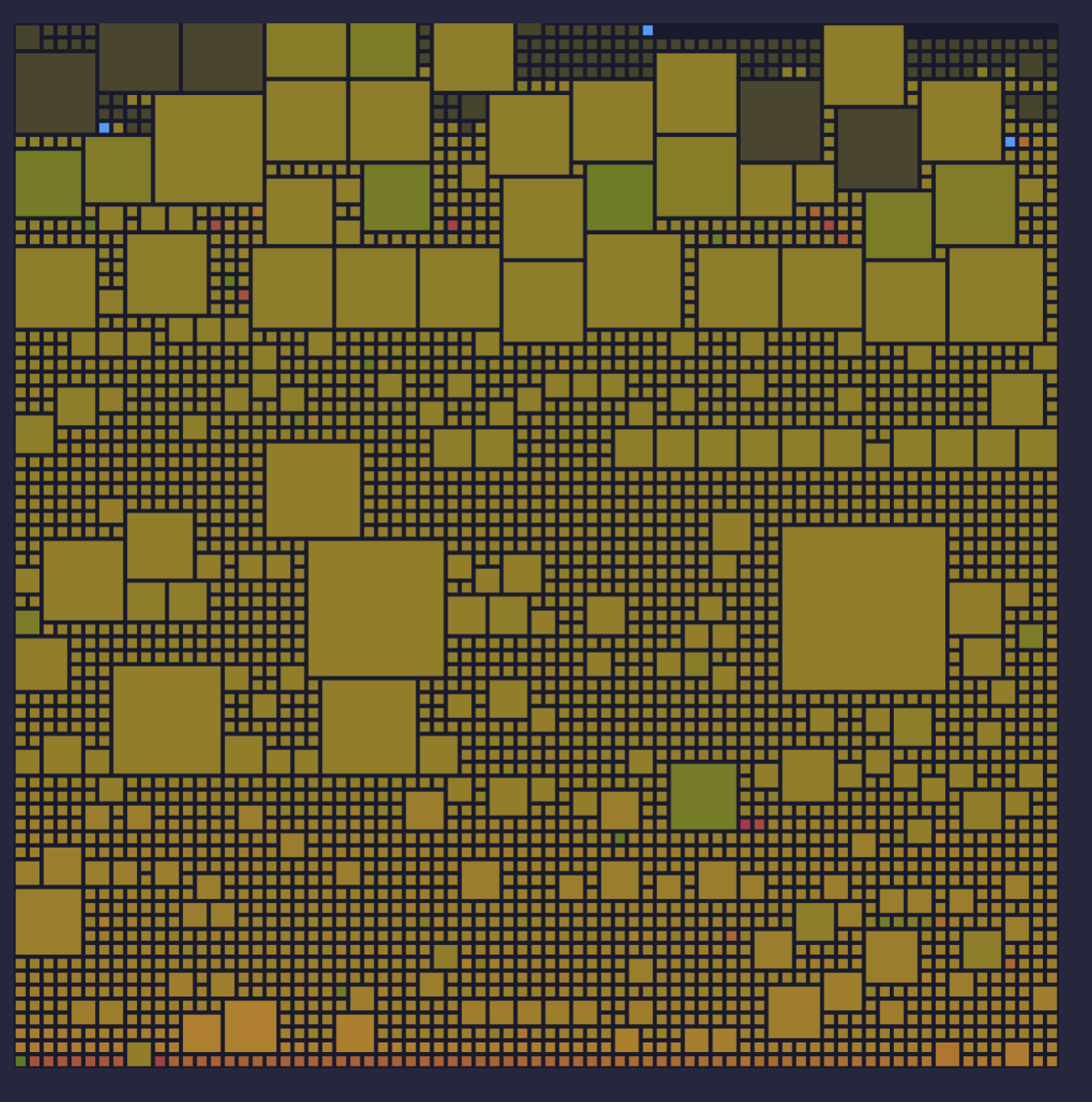 Hashrate Index Roundup (February 12, 2023)
Ordinal inscriptions are starting to put pressure on transaction fees.
Happy Sunday, y'all!
Ordinal inscriptions are popping up on Bitcoin's blockchain faster than gaggles of paid models at shitcoin conferences.
There are now over 65,500 inscriptions on-chain, up from just 1,000 ten days ago when we profiled the phenomenon for the first time. As NFT collections and other inscriptions populate Bitcoin's chain, block sizes are swelling and transaction fees are rising from the pressure.
So far in February, transaction fees made up 2.37% of block rewards, versus 1.62% for the second half of January. Over the same timeframes, the average block sizes were 1.93 MB and 1.22 MB respectively.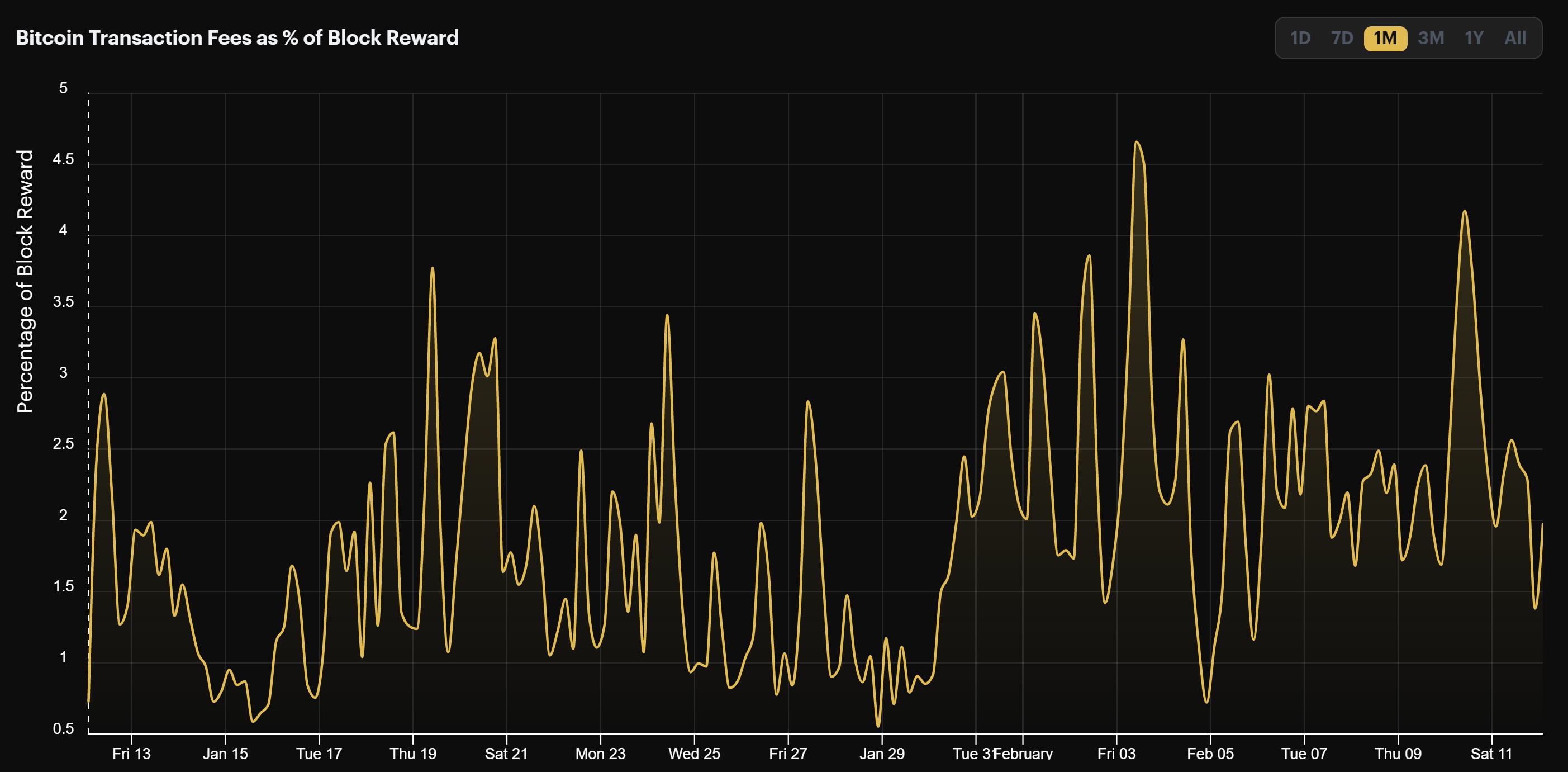 Per analysis from Data Always, inscriptions have cumulatively produced just over $460,000 for miners, basically all of which were paid in February.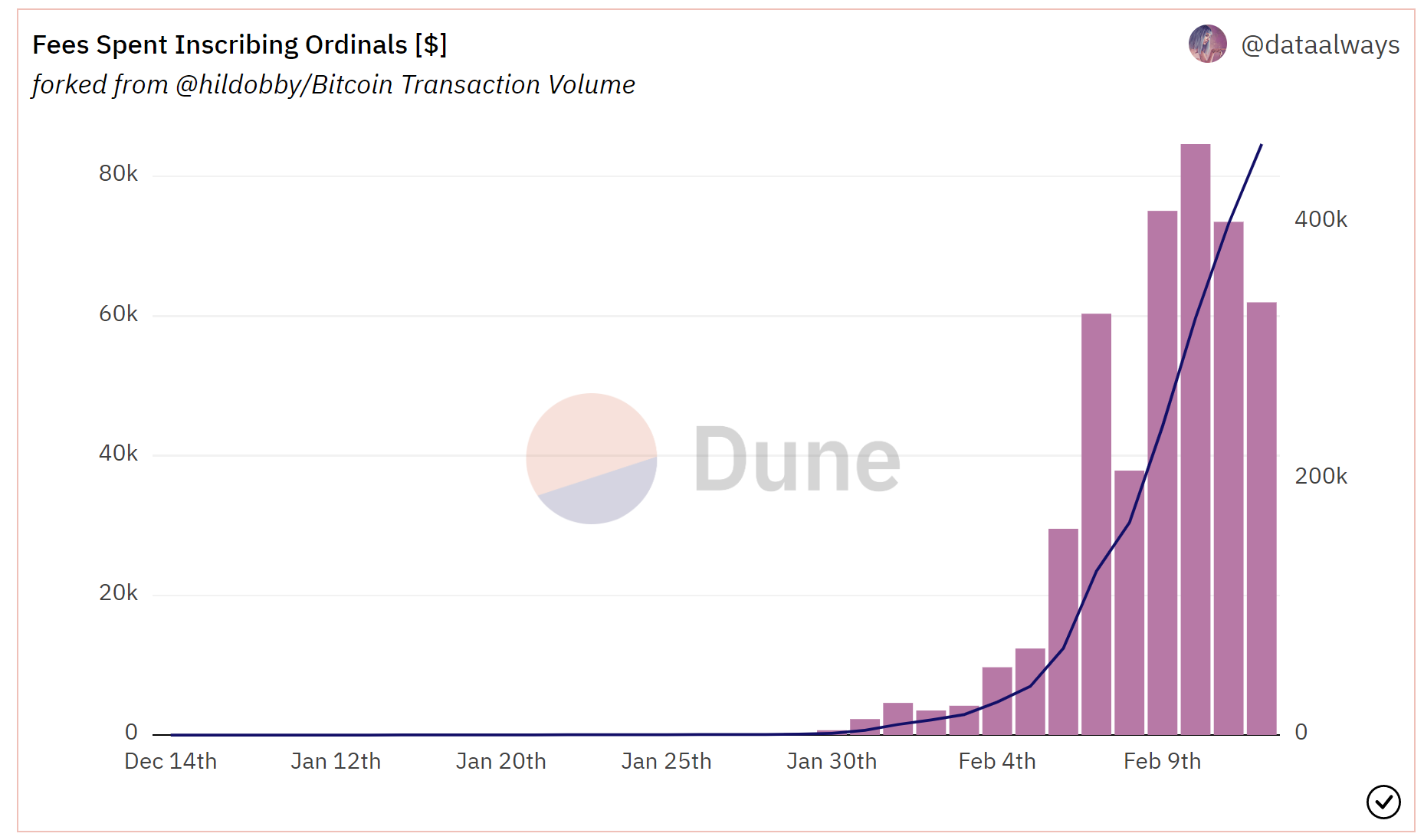 Inscriptions are certainly pushing up transaction fees, both from their own fees and also from other transactions bidding up fees to compete for blockspace. That said, we haven't seen runaway fee pressure yet; in fact, fees are roughly at the same level as they were during FTX's collapse and the subsequent scramble to move/liquidate funds.
Bitcoin Mining News
Mining Market TLDR (Change from Prior Week)
Hashprice: $71.78/PH/day (-4.2%) | 0.00327633 BTC/PH/day (+1.2%)
Hashrate: 290 EH/s (+5.4%)
Difficulty: 39.16 T (-0.49%)
---
Sponsored by Luxor
Luxor's Antminer firmware is nearly here. LuxOS provides all of the finetuning miners have come to love from custom firmware and more. Wanted to test it out? You can join the waitlist here.
Hashprice Index (February 12, 2023)
Bitcoin is back below $22k, so Bitcoin's hashprice took a bit of a hit this week.
A negligible (but still appreciated!) negative difficulty adjustment kept hashprice from falling below $70/PH/day, and transaction fee increases from ordinal inscriptions are buttressing mining profits a little bit, as well.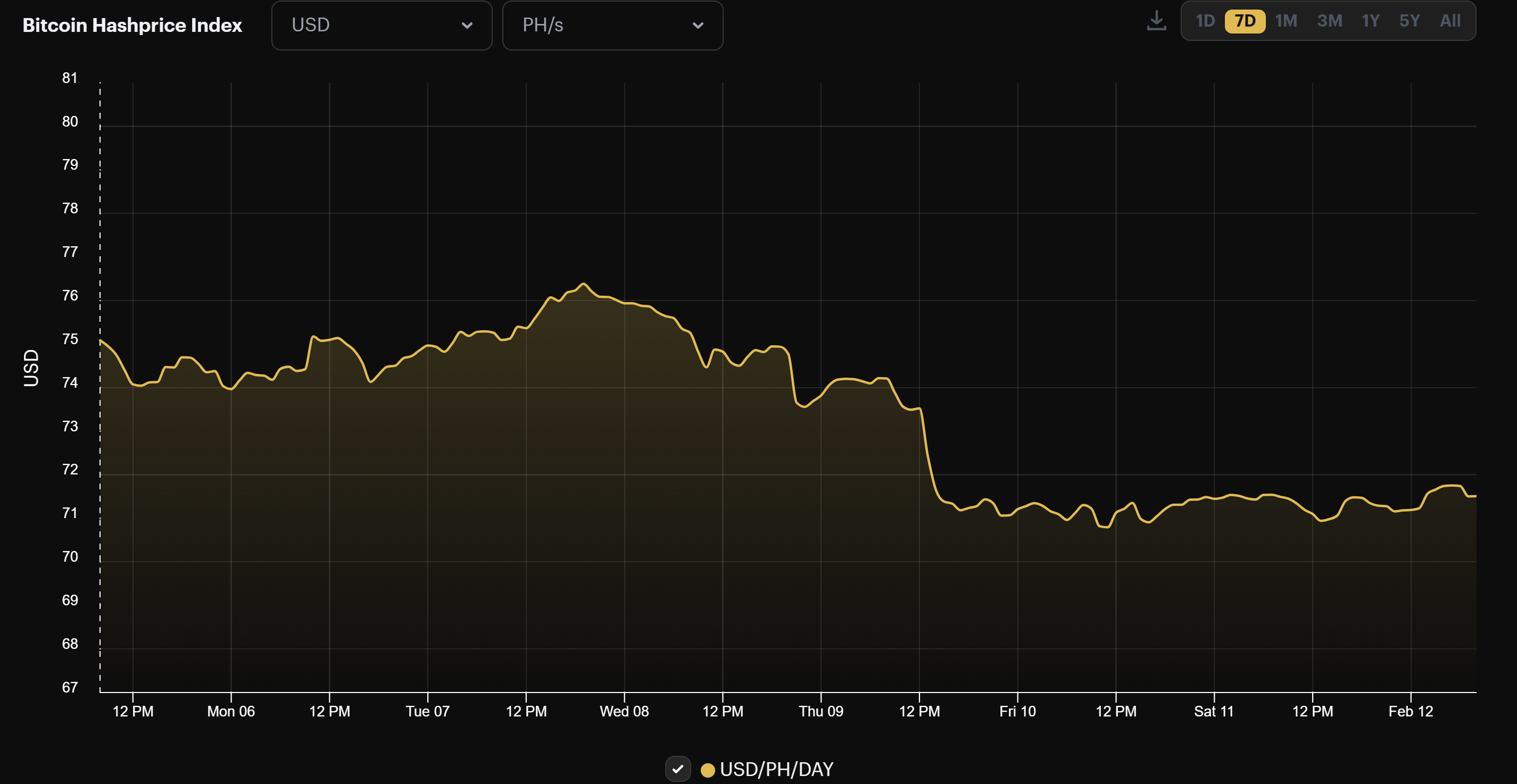 📈
BITCOIN MINING DIFFICULTY
In the wee hours of this Sunday morning, Bitcoin's mining difficulty fell by 0.49%, the smallest difficulty adjustment since November 6, 2022.
The adjustment follows a series of cold spells in the first week of February that throttle North American mining operations. Some mining operators in hotspots like Texas, for example, had to curtail power draw to support the grid, and this took a sizeable chunk out of Bitcoin's total active hashrate.
The frigid weather took some 26 EH/s offline. Most of that hashrate has returned, but it was slow enough to come back online that we were graced with today's slight negative adjustment.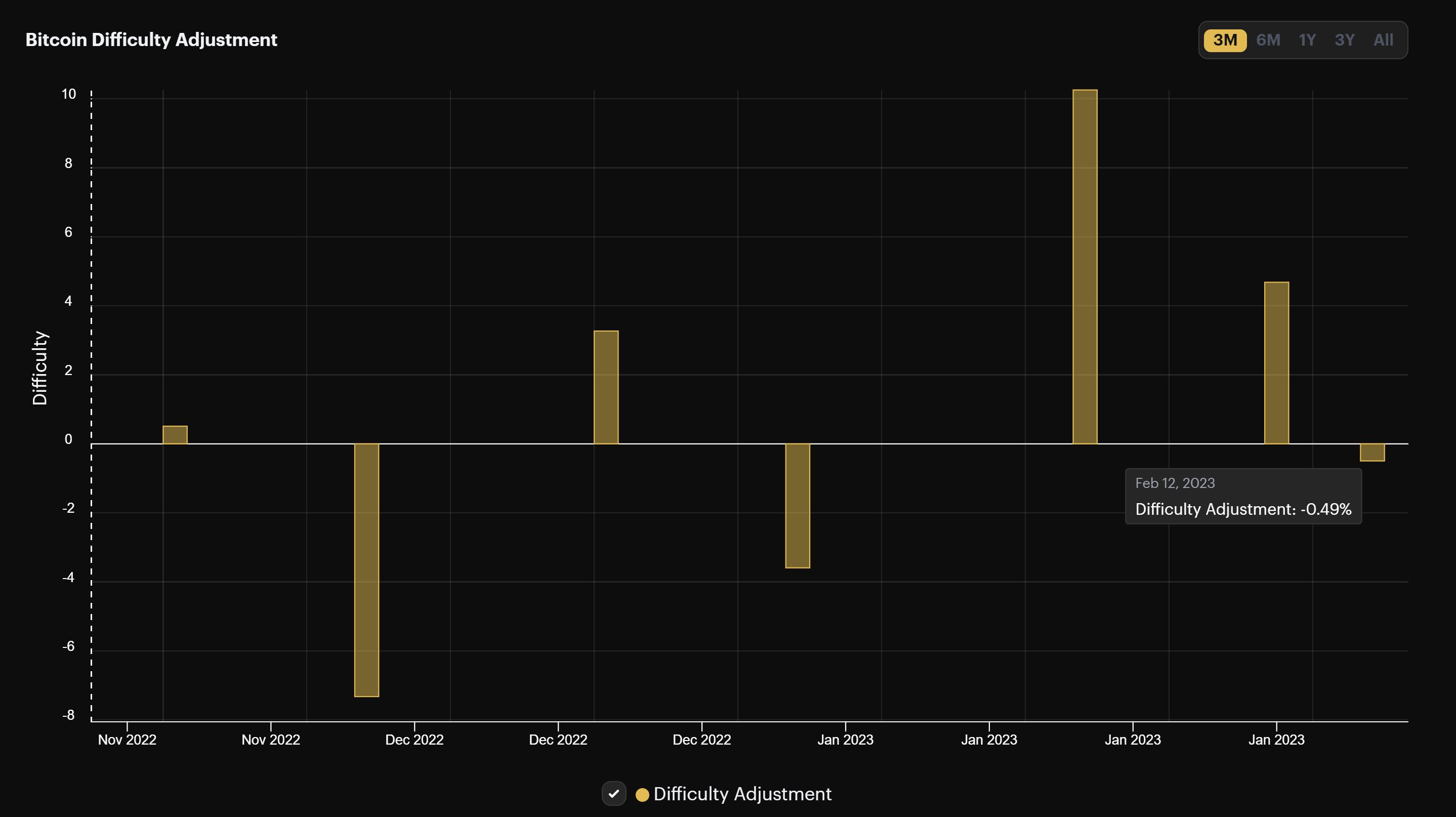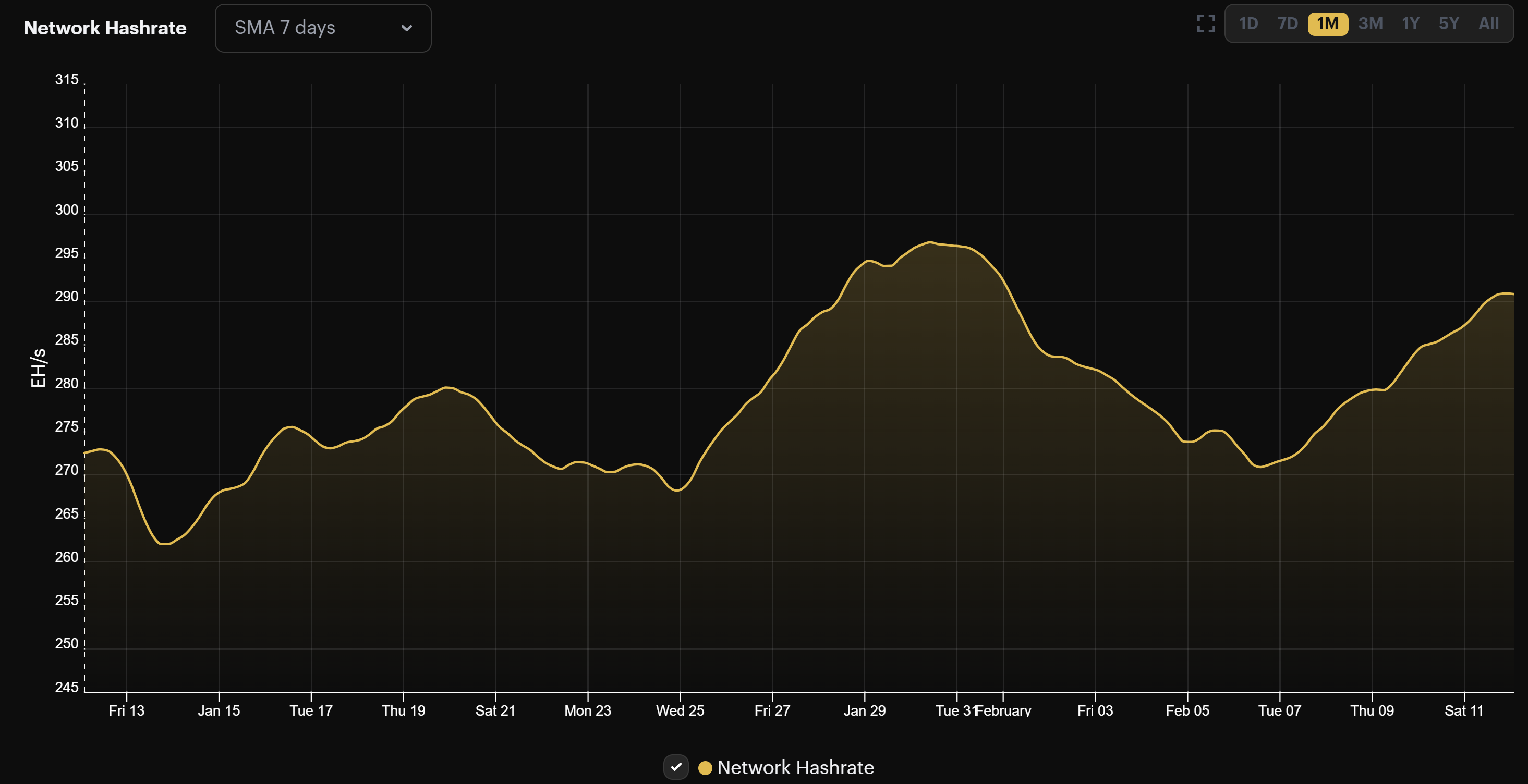 Bitcoin Mining ASIC Price Index (February 12, 2023)
ASIC prices are still on the comeup. For the first time since 2021, prices for new-gen Bitcoin mining rigs rose for the third week in row. Mid-gen machines rose in value for the second week in a row.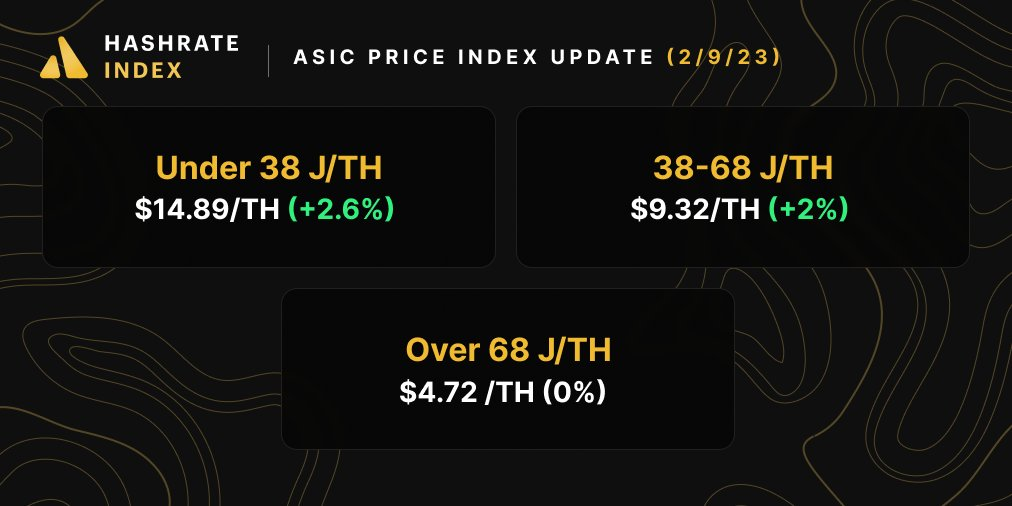 💰
BITCOIN MINING PROFITABILITY
When hashing at $0.07/kWh power cost, here are the current bitcoin mining profitability specs for popular mining rigs:
Antminer S19 XP (140 TH/s): $5.0
Whatsminer M50S+ (114 TH/s): $4.7
Antminer S19j Pro (104 TH/s): $2.3
Whatsminer M30s++ (112 TH/s): $2.2
Antminer S19 (95 TH/s): $1.4
Whatsminer M30s (86 TH/s): $0.7
Antminer S17 Pro (53 TH/s): $0.3
Bitcoin Mining Stocks (February 12, 2023)
Bitcoin mining stocks fell substantially over the week in response to Bitcoin's own price decline. Our Crypto Mining Stock Index is down 12%.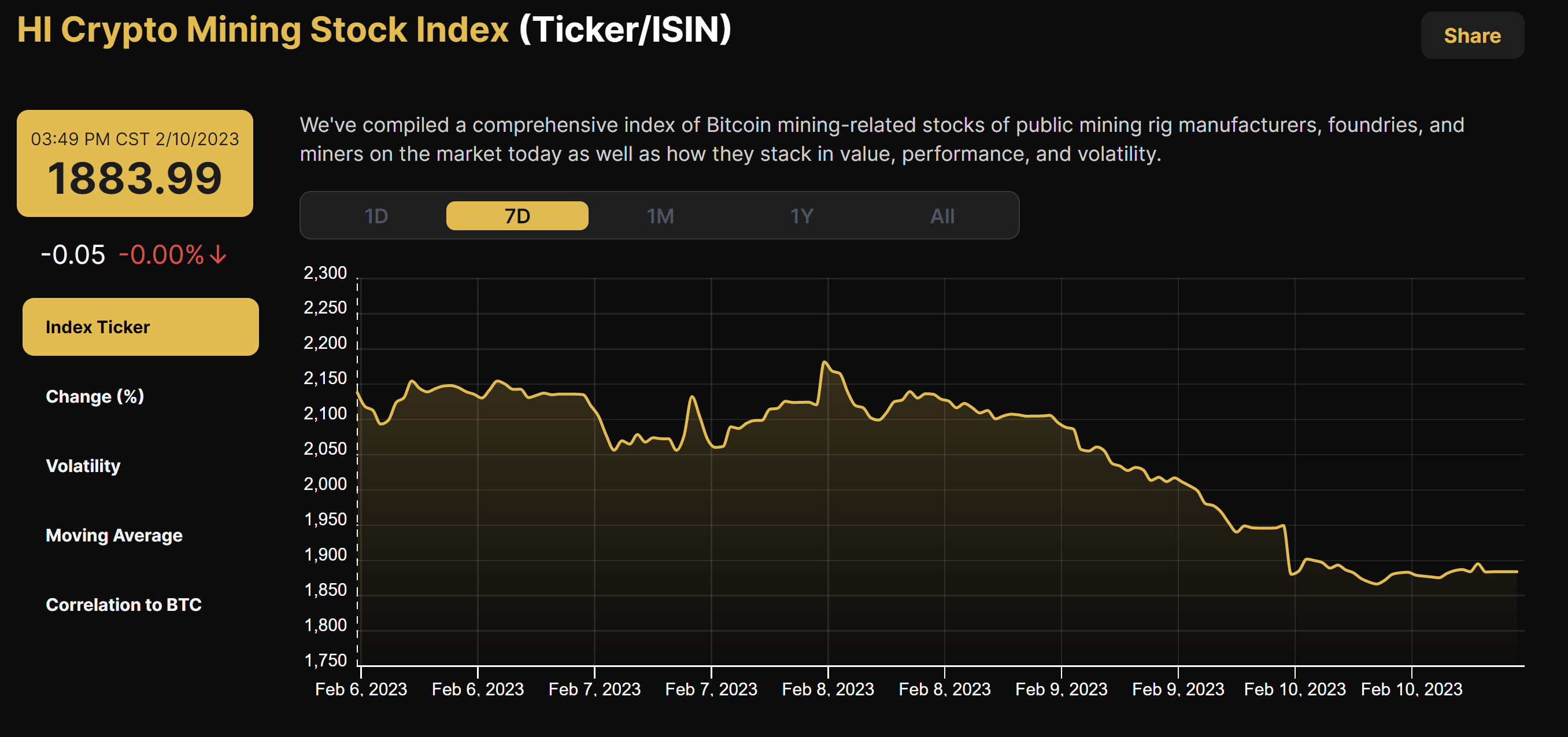 Week-over-week performance of popular Bitcoin mining stocks:
RIOT (-17.14%)
HUT (-21.50%)
BITF (-13.44%)
HIVE (-18.01%)
MARA (-14.57%)
CLSK (-14.10%)
ARBK (0%)
IREN (-20%)
New From Hashrate Index
Bitcoin Mining Stocks: January 2023 Production Updates
The public bitcoin miners have released their production updates for the first month of 2023, revealing continuous hashrate expansion and significant growth in bitcoin production from the previous month. January saw a massive rebound in mining stocks thanks to the bitcoin price increasing by 40%.
Bitcoin Mining Around the World: Paraguay
Paraguay, one of the smallest countries in Latin America, is quickly becoming one its largest Bitcoin mining hubs.
In the latest article for our Mining Around the World series, we take a closer look at what makes Paraguay such an attractive hub for Bitcoin mining, as well as some of the regulatory mandates that may be a cause for concern for future hashrate growth in the country.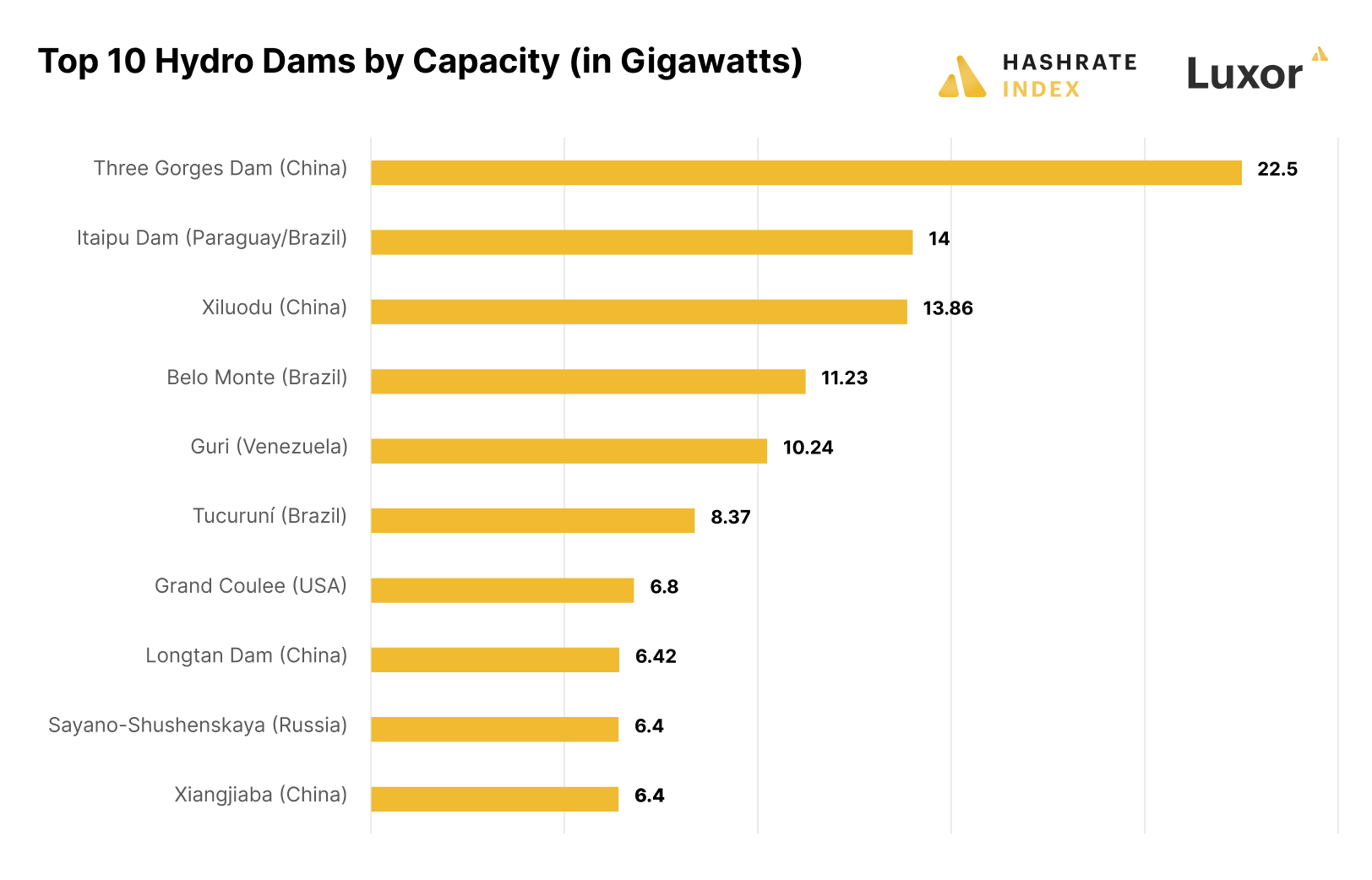 Do the public miners spend too much on administration?
Public bitcoin mining companies have historically spent a higher share of their revenues on administration than firms from comparable sectors. These administrative spending habits have raised concerns from investors experienced in similar but more mature industries like gold mining, tech, or oil and gas.
This article compares the historical administrative spending in the bitcoin mining industry to similar sectors and reveals which public mining companies are the biggest administrative spenders.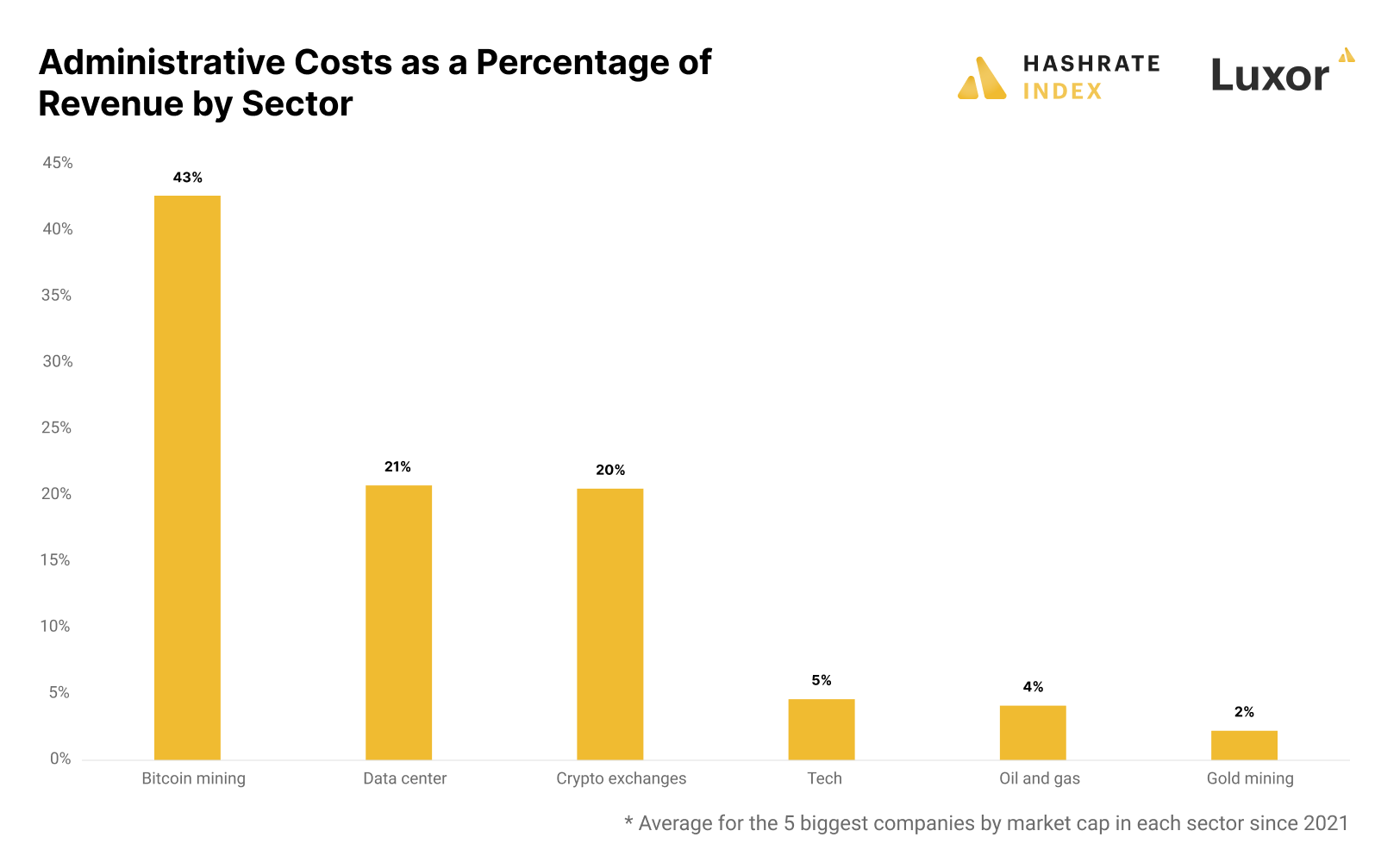 ---
Have a great week, and Happy Hashing!
Hashrate Index Newsletter
Join the newsletter to receive the latest updates in your inbox.
---