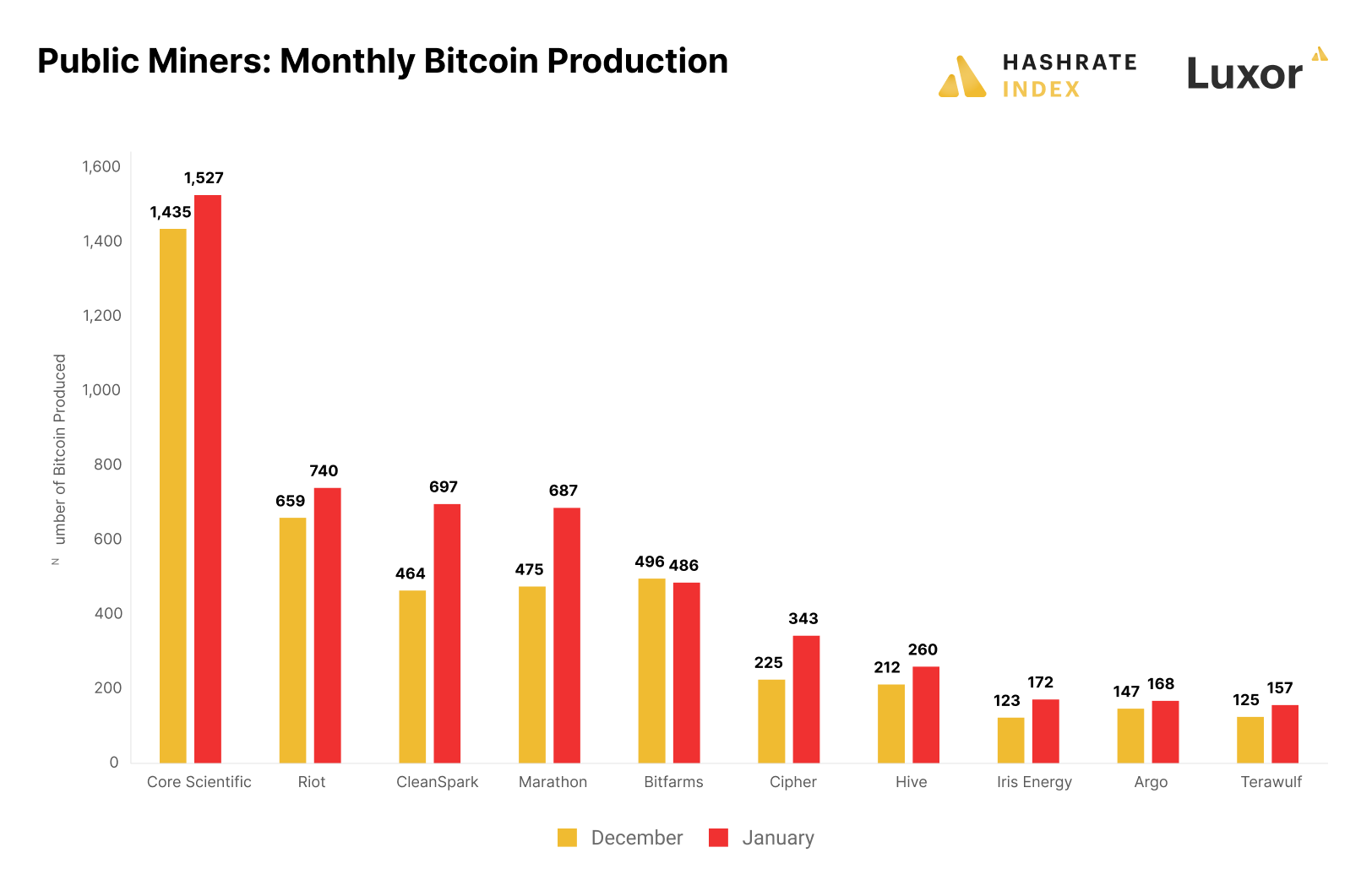 Bitcoin Mining Stocks: January 2023 Production Updates
The public bitcoin miners have released their production updates for the first month of 2023, revealing continuous hashrate expansion and significant growth in bitcoin production from the previous month. January saw a massive rebound in mining stocks thanks to the bitcoin price increasing by 40%.
In 2023, we will publish one monthly article summarizing the public miners' production updates. Let's get into the first one.
Cipher added the most hashrate in January
Most public miners added hashrate in January, albeit slower than expected. These companies have, on several occasions, extended the timeline of their lofty hashrate expansion goals. Most of them have plans to drastically increase their operating hashrate by the end of Q2 this year. At the current rate, most of them will likely have to push their expansion plans further into the future.
While most public miners were slow in adding hashrate in January, there was one exception. Cipher grew its hashrate by more than 50% in January. With 4.3 EH/s plugged in, the Texas-based company has now joined the mega miner club. Cipher has been building hard during this bear market, and I expect the company to reach its hashrate goal of 6 EH/s of self-mining capacity by the end of Q1 2023.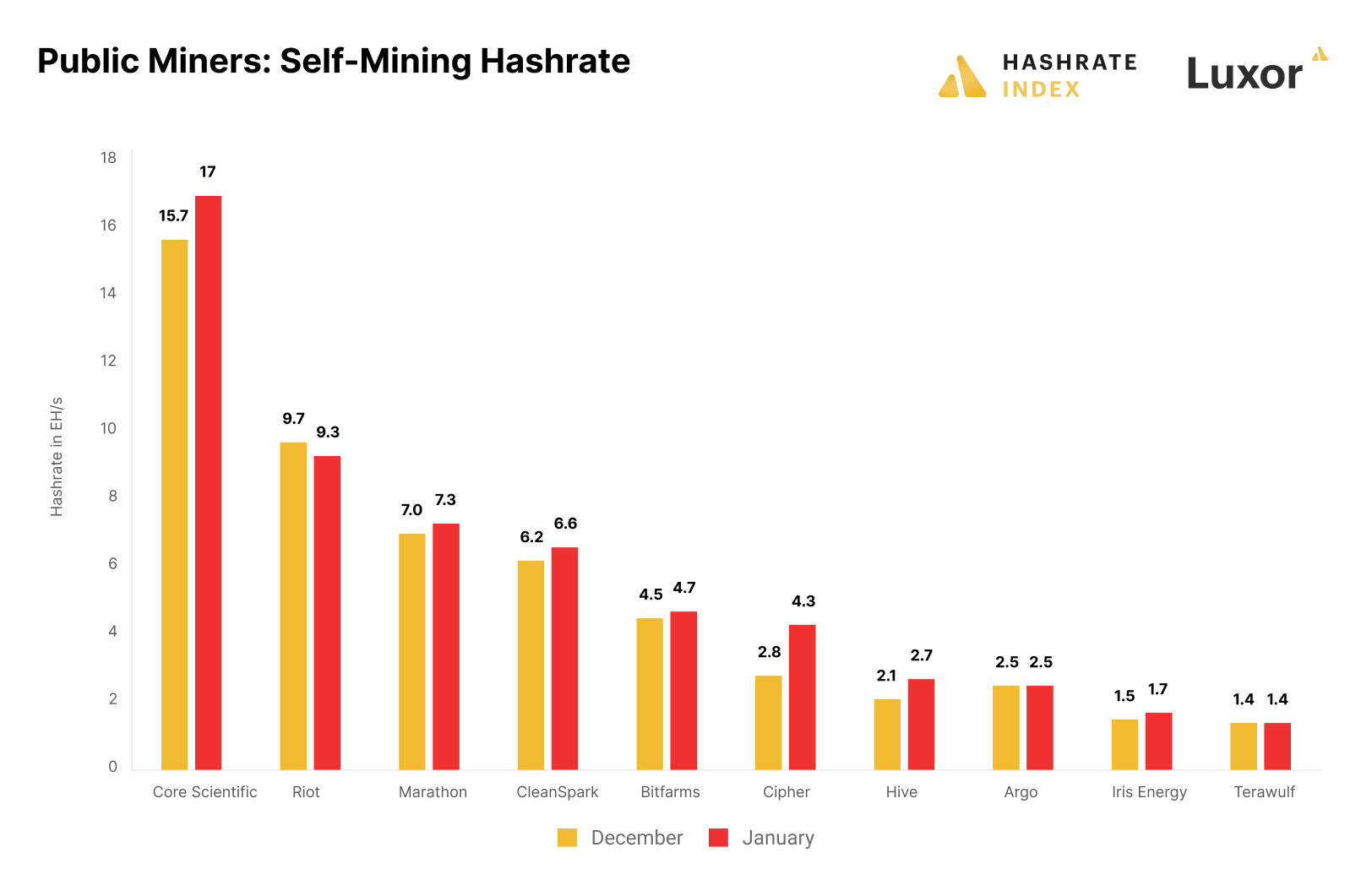 Riot, another Texas-based mega miner, met hashrate headwinds in January, with its self-mining hashrate declining from 9.7 to 9.3 EH/s. A severe winter storm knocked out one of its buildings housing 1.9 EH/s, and the company stated it might have to delay its Q1 2023 hashrate plan of 12.5 EH/s. Apart from that, the company keeps progressing with the remaining infrastructure buildout at its Rockdale and Corsicana facilities.
Core Scientific steadily grows its self-mining hashrate as usual. The bankrupt mining giant may not have had control over its finances, but at least it knows how to build and operate mining facilities. It grew its hashrate from 15.7 to 17 EH/s in January, continuing its uninterrupted streak of months of positive hashrate growth since its inception. Core Scientific will likely see its hashrate shrink next month as it will hand over 18% of its mining rigs to lender NYDIG in exchange for extinguishing $39 million in debt.
Hive also saw substantial hashrate growth in January, increasing its hashrate by almost 30% from 2.1 to 2.7 EH/s. The company keeps replacing its GPU fleet with ASICs, primarily with its in-house designed Buzzminers.
CleanSpark increased bitcoin production the most in January
Most public miners substantially increased their bitcoin production from December to January. In December, a winter storm swept the North American continent and led to surging electricity prices that periodically forced many of these companies to curtail operations. With the weather more benevolent in January, electricity prices stabilized, and miners were able to achieve a higher up-time.
CleanSpark increased its bitcoin production by 50% from December to January, achieving an all-time high in monthly bitcoin produced of 697. The company rapidly grew its hashrate in late 2022 after a series of acquisitions and is finally able to fully exploit its hashrate as electricity prices have come down in Georgia, where it mainly operates. According to its CEO, Zach Bradford, the company achieved an exceptional up-time of 98% in January.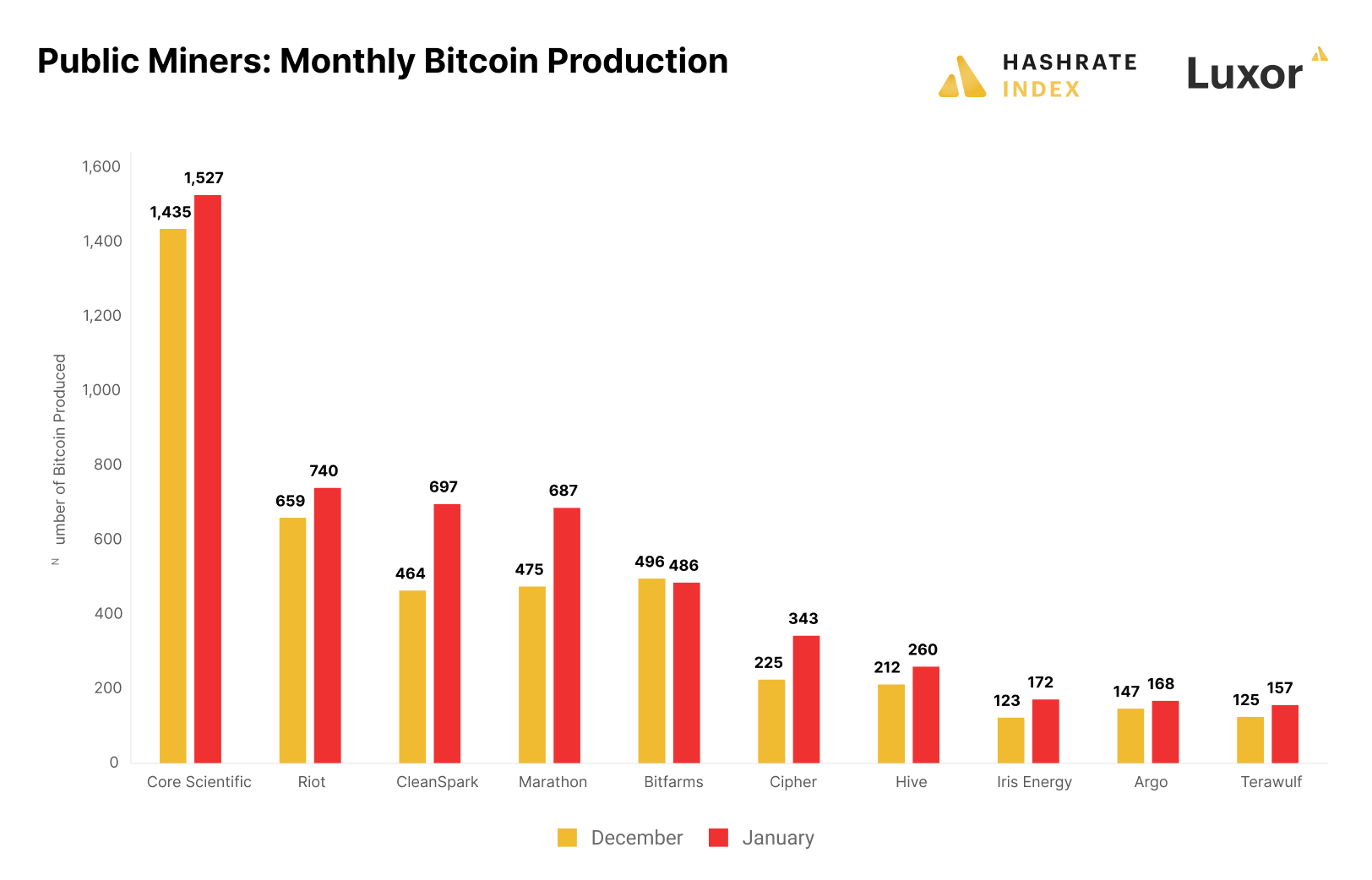 Core Scientific is, as usual, the biggest bitcoin producer, generating 1,527 bitcoin in January. This is more than twice as much as Riot, the second-biggest producer. Like CleanSpark, Riot crushed its previous all-time high in bitcoin production, generating 740 bitcoin in January. Although the company saw its hashrate decline, it achieved a significantly higher up-time due to stabilizing electricity prices.
Marathon also sees a massive increase in its bitcoin production. The asset-light company produced 687 bitcoin in January, corresponding to a 45% increase from December.
Terawulf is leading the pack in terms of efficiency
So far, in this article, we have looked at hashrate and bitcoin production growth. While growth is essential for a bitcoin miner, operating efficiency is often overlooked. A high hashrate is useless if you don't utilize this hashrate efficiently. Therefore, we will analyze the public miners' bitcoin produced per EH in January. Generally, a high score on this metric indicates a miner is achieving a high up-time and doesn't overreport its hashrate.
Terawulf squeezed out 112 bitcoin per EH in January and is leading the bitcoin mining pack in terms of efficiency. The company primarily utilizes hydropower, which has proven less vulnerable to electricity price volatility than natural gas, the main energy source of many less efficient miners. Terawulf is currently energizing its behind-the-meter nuclear-powered bitcoin mining facility, which will likely also achieve a very high operating efficiency.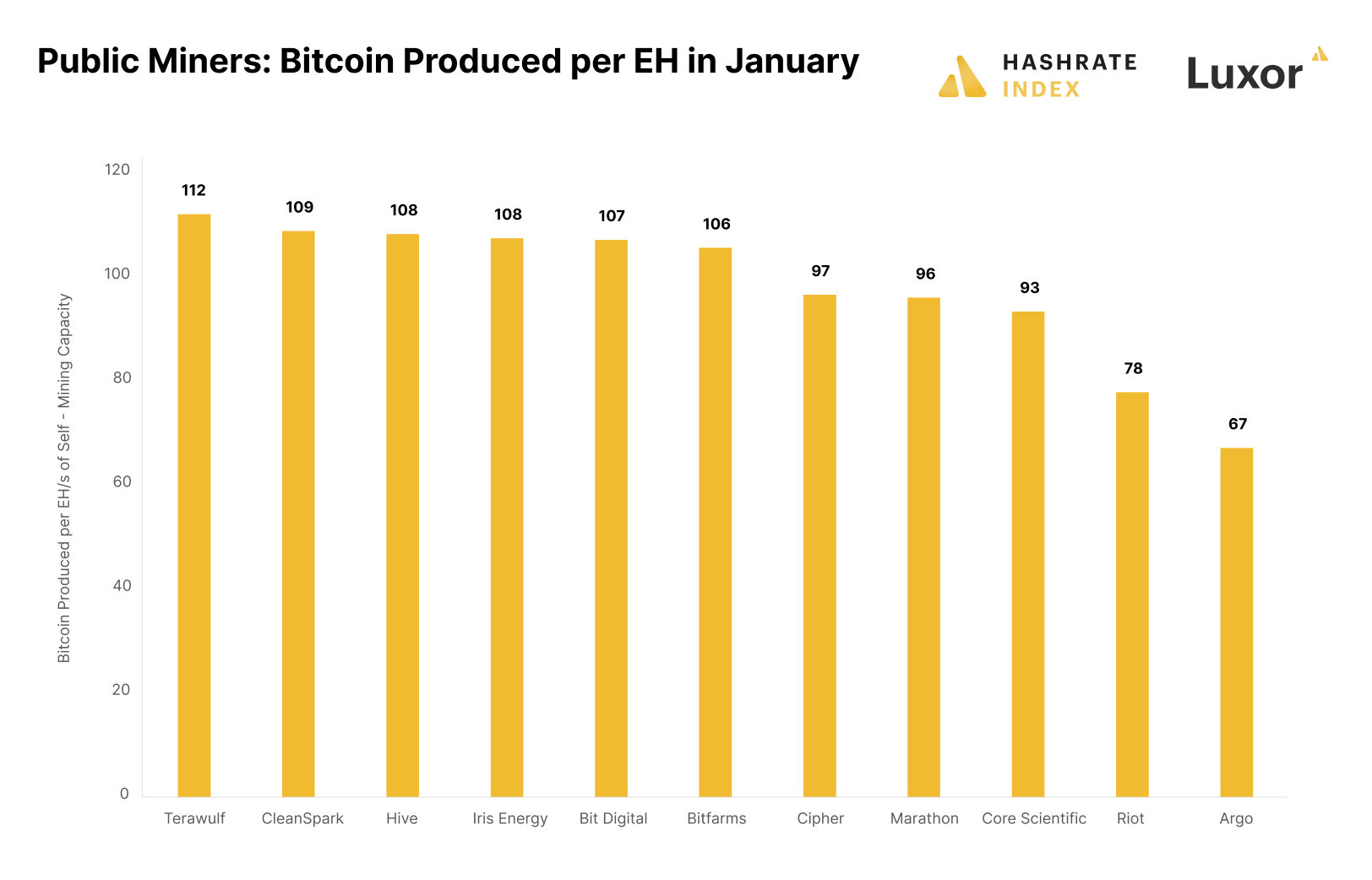 CleanSpark, Hive, Iris Energy, Bit Digital, and Bitfarms also achieved solid operating efficiency. Three of these companies are predominantly powered by hydro, further confirming hydro's stability as a power source. Meanwhile, two Texas-based miners, Argo and Riot, struggled with achieving a high up-time in January.
I'm confident this metric will become increasingly important in 2023, as many miners will struggle to achieve a high up-time if electricity prices keep being volatile and mining economics stay depressed. With the break-even electricity price of mining staying near all-time lows, miners in volatile electricity markets often have to curtail operations. In many cases, these companies are paid to turn off machines, but it's still important to keep in mind that the heavy CAPEX investments in machines require a certain up-time to give a decent return on the investment.
Hashrate Index Newsletter
Join the newsletter to receive the latest updates in your inbox.
---