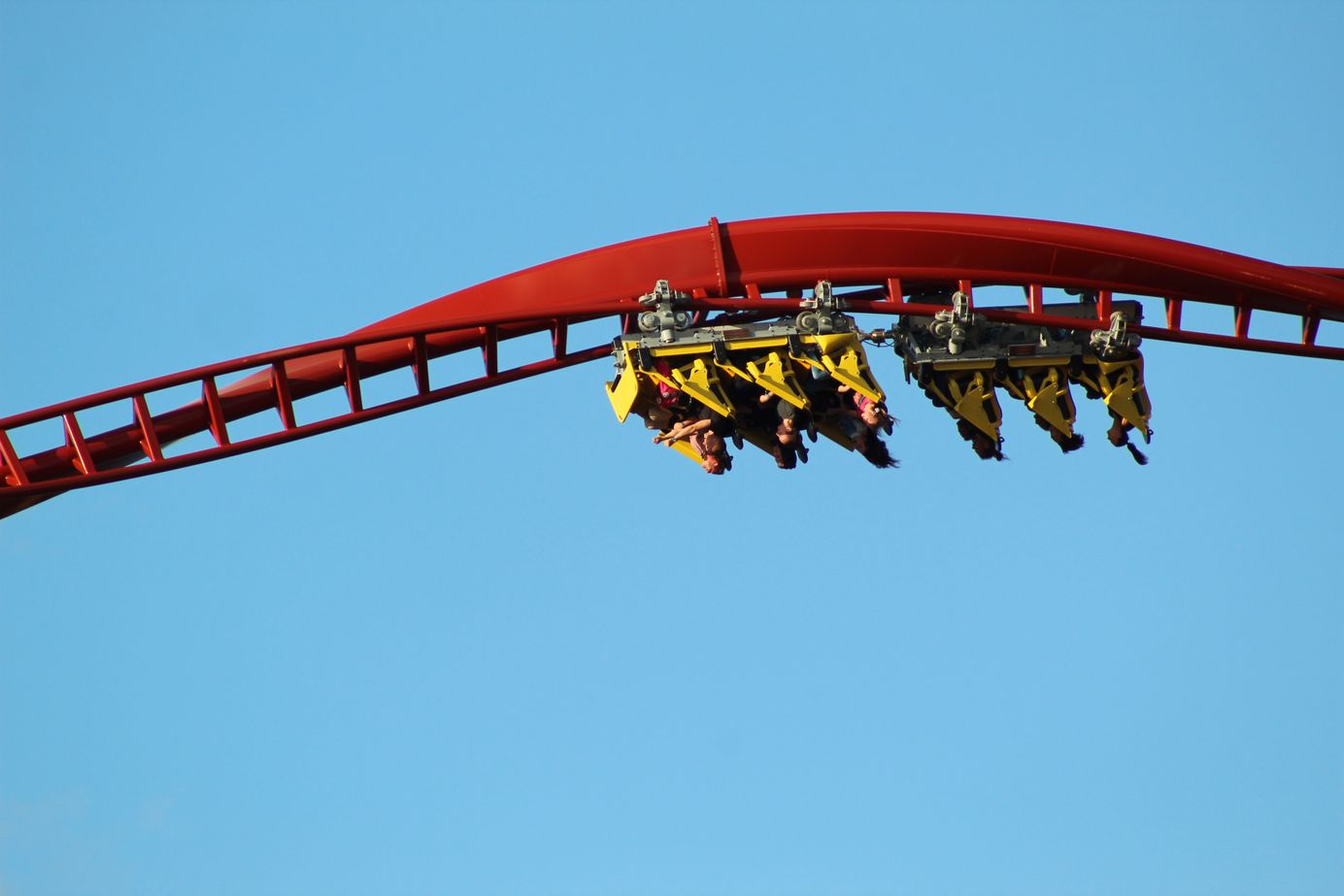 Hashrate Index Roundup (August 21, 2022)
Things have turned on a dime from last week's update, with BTC price dropping as hashrate ramps up.
Happy Sunday, miners!
New week, new price action y'all – but it's not in the direction we would like.  
Yup, Bitcoin's price is puking again. After bumping up against $25,000 last week, Bitcoin is retesting $20,000 for the second time in a month.
The downward price action coincides with rising difficulty, as well, which is putting extra pressure on hashprice. This is coming at a time when public bitcoin miners reported their worst quarter in recent memory, with the bear market's effect on Bitcoin prices, mining profitability, and ASIC prices leading to more than $1 billion in loses in Q2 (keep an eye out for another newsletter tomorrow where we cover these earnings in-depth).  
FOUR PUBLIC MINERS RECEIVE ENVIRONMENTAL INQUIRY FROM CONGESSIONAL COMMITTEE
The U.S. House of Representative's  Committee on Energy and Commerce sent Core Scientific, Riot, Marathon, and Stronghold a letter last week inquiring about energy use and environmental impact.
"Blockchain technology holds immense promise that may make our personal information more secure and economy more efficient. However, the energy consumption and hardware required to support [Proof-of-Work]-based cryptocurrencies may, in some instances, produce severe externalities in the form of harmful emissions and excess electronic waste (e-waste)," the letter reads.
---
Sponsored by Luxor

---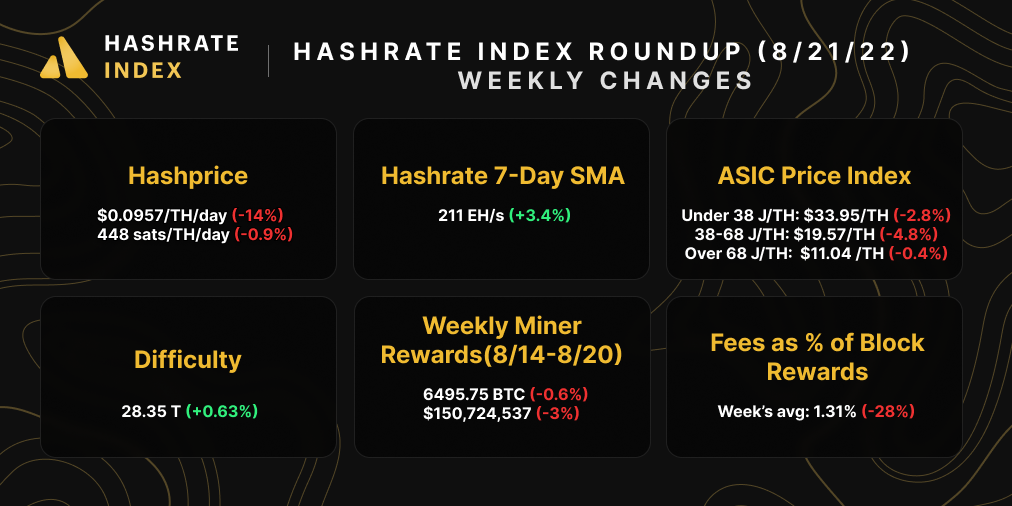 Hashprice Index (August 21, 2022)
Last week, hashprice crested $0.11/TH/day, but that rise was short-lived...
With Bitcoin's price dumping and difficulty pumping, hashprice has fallen back below $0.10/TH/day to $0.0957/TH/day at the time of writing.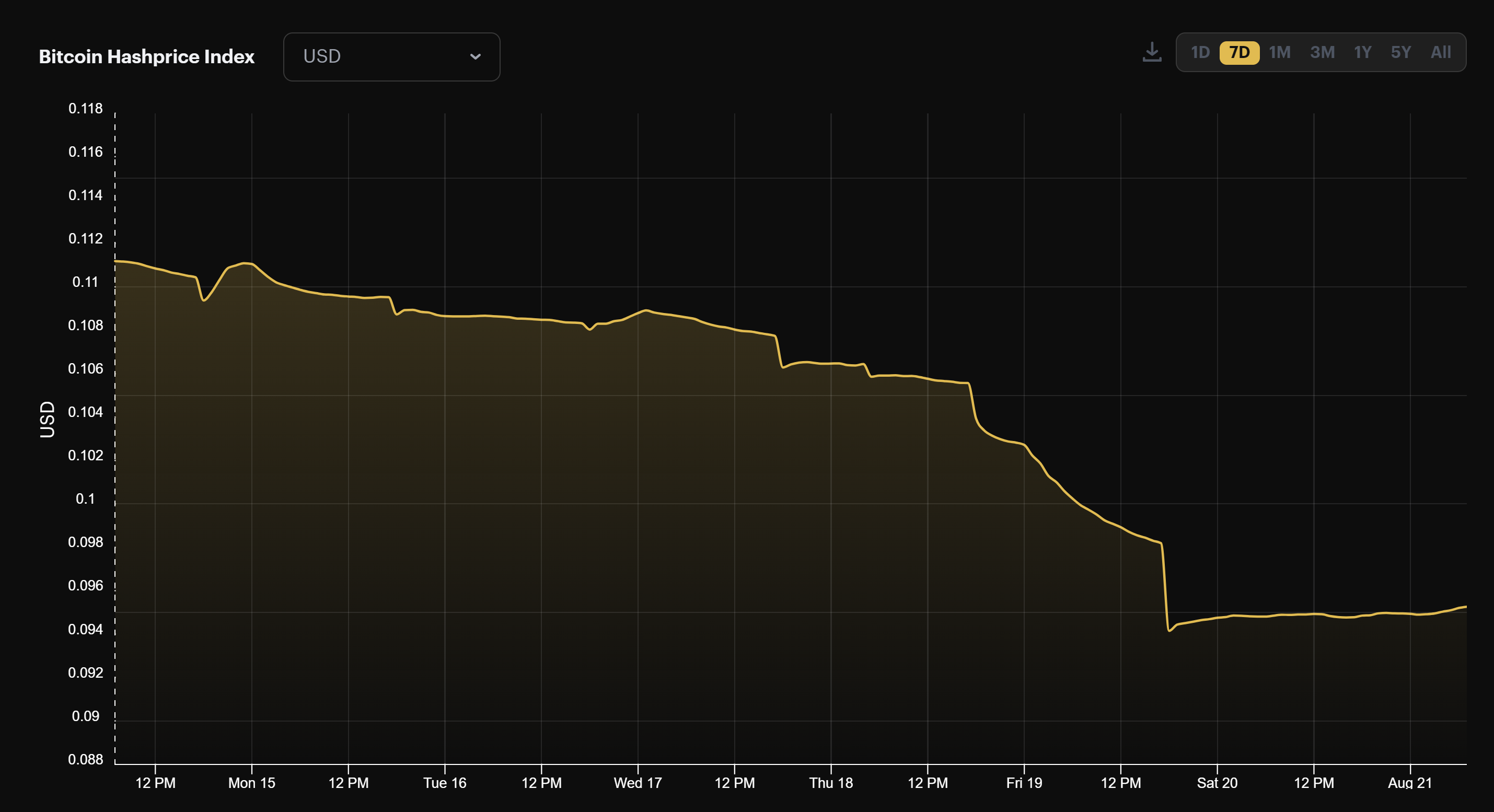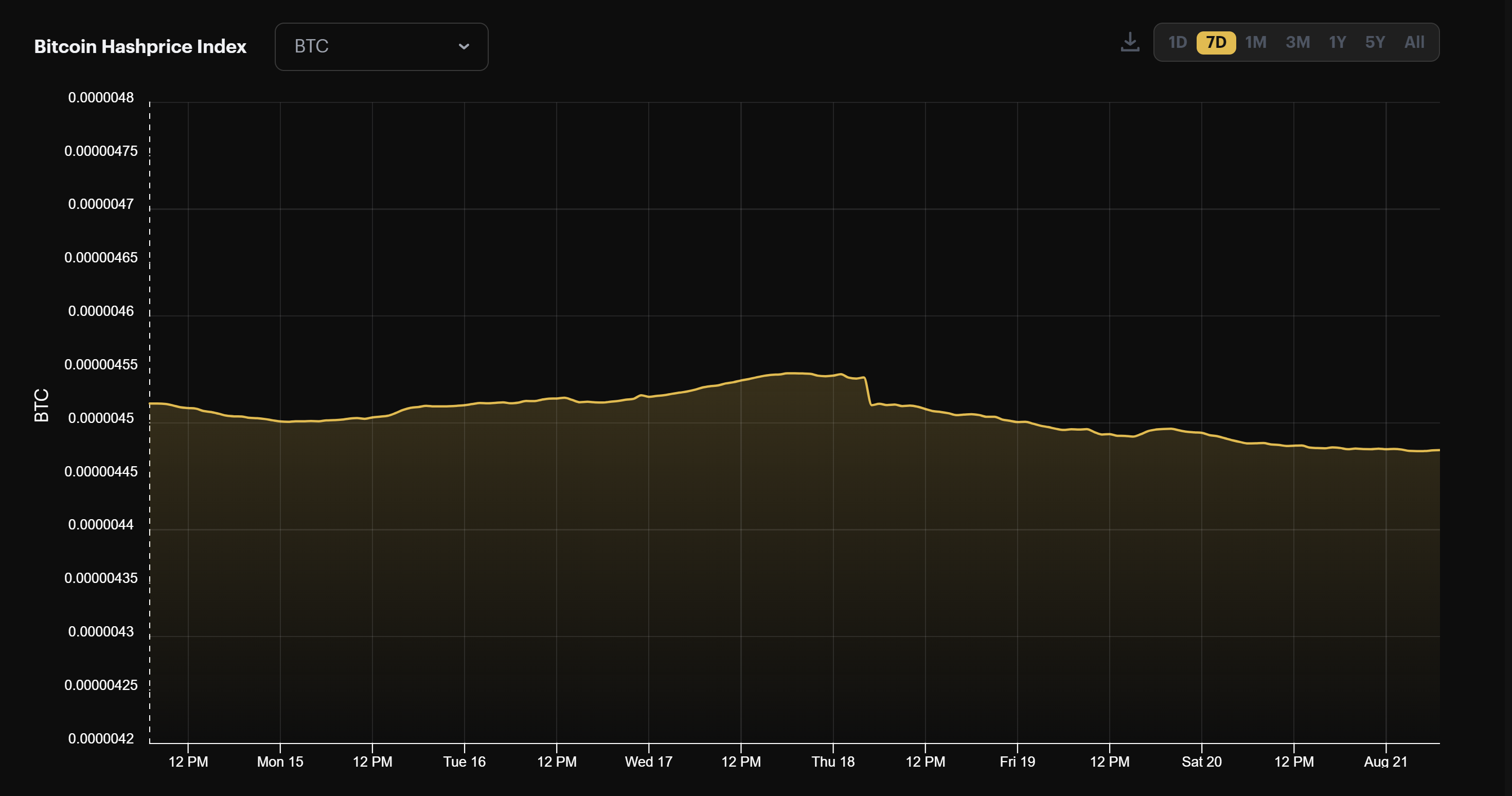 📈
BITCOIN MINING DIFFICULTY
Bitcoin's mining difficulty rose last week. The slight rise of 0.63% to 28.35 T followed Bitcoin's 7-day hashrate rising substantially to 212 EH/s on August 8, only to plummet back down to 198 EH/s on the day on the adjustment, August 18th.
This tapering mitigated what would have otherwise been a more substantial increase. But don't celebrate prematurely, because hashrate is back to 211 EH/s, meaning the next adjustment will likely be larger still.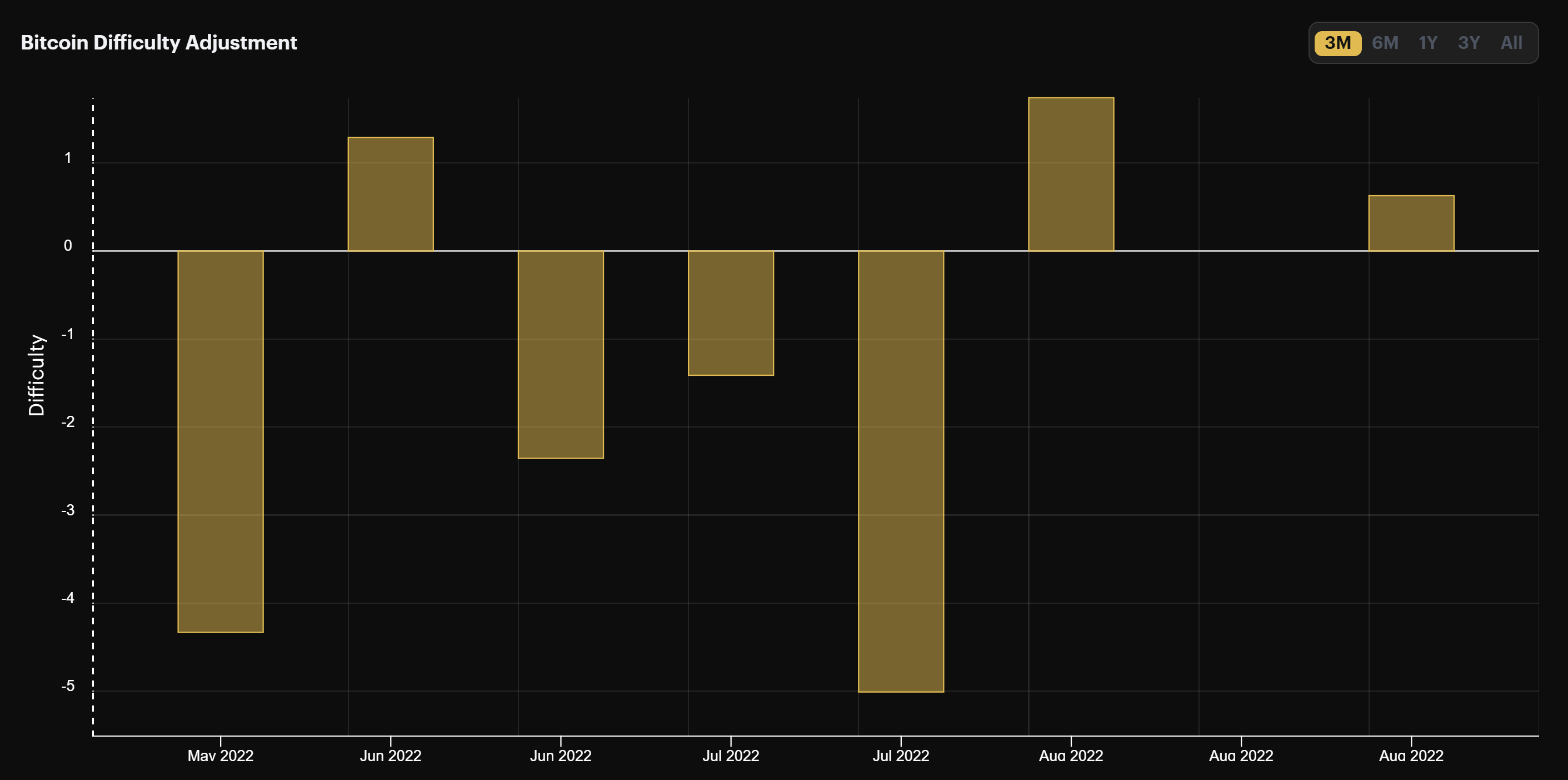 💸
BITCOIN TRANSACTION FEES
Bitcoin's transaction fees fell substantially over the week.
Transaction fees made up 1.31% of block rewards last week, a 28% decrease from the prior week.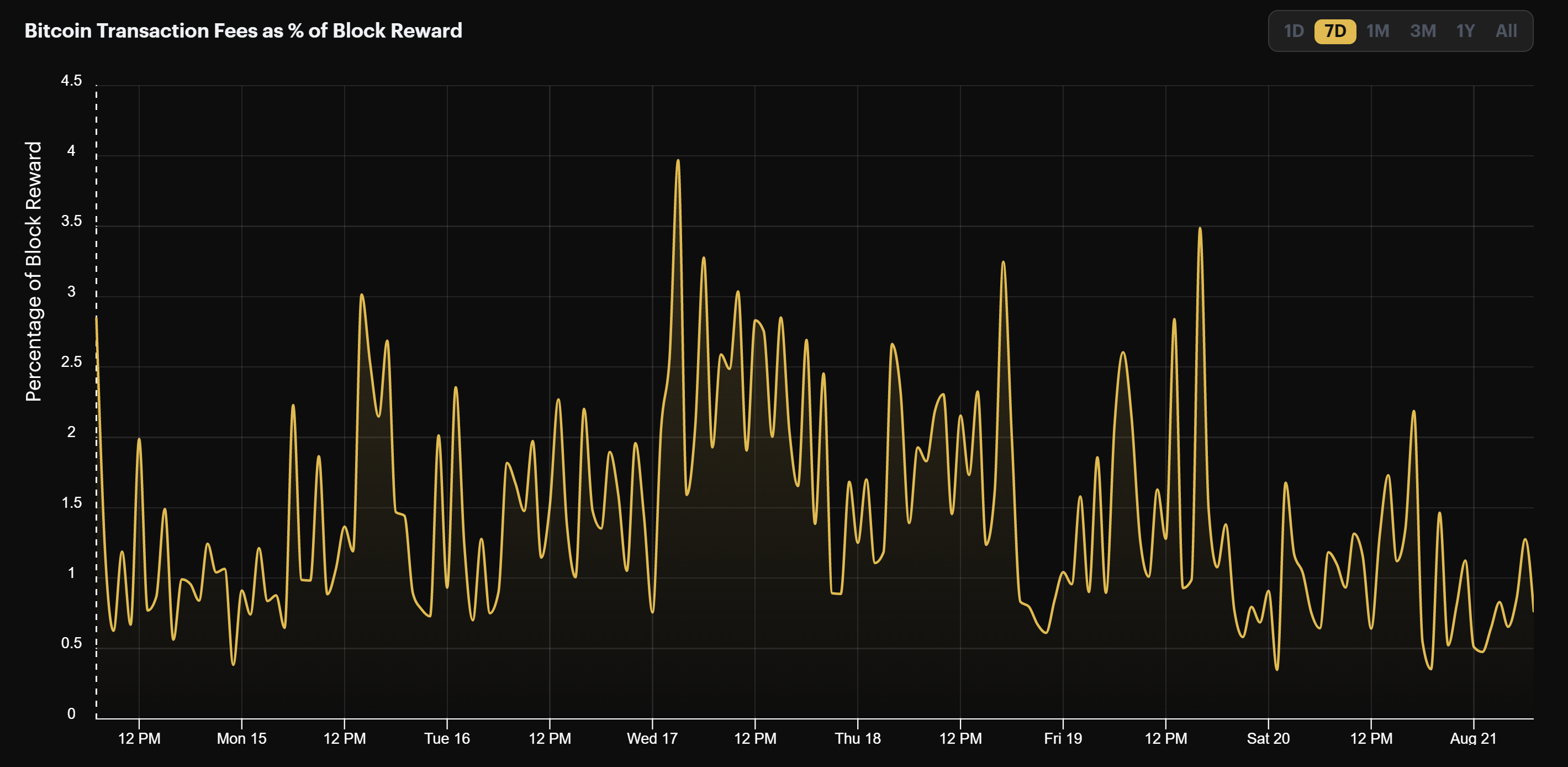 ---
Bitcoin Mining ASIC Price Index (August 21, 2022)
Bitcoin mining ASICs are finally showing some signs of stabilizing.
Sure, they fell again, but new and mid gen efficiency machines experienced their smallest percentage drawdowns of the year last week.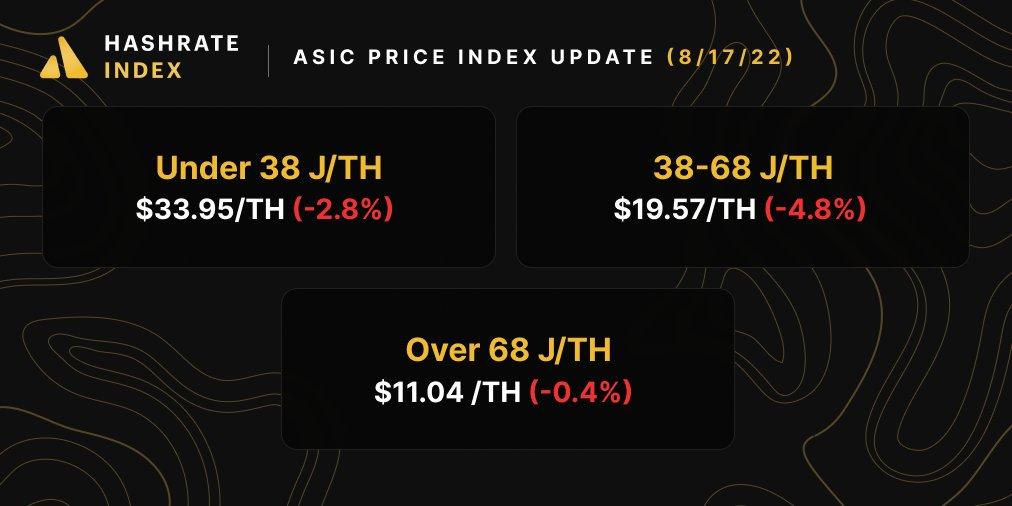 💰
BITCOIN MINING PROFITABILITY
Hashprice is down, so the earnings potential for popular rigs fell over the week. Here are the current daily revenue potentials for popular rigs:
Antminer S19 XP (140 TH/s): $13.30
Whatsminer M50 (114 TH/s): $10.9
Whatsminer M30s++ (112 TH/s): $10.70
Antminer S19j Pro (104 TH/s): $9.90
Antminer S19 (95 TH/s): $9.10
Whatsminer M30s (86 TH/s): $8.20
Whatsminer M20s (68 TH/S): $6.50
Antminer S17 (56 TH/s): $5.30
Antminer S9 (13 TH/s): $1.30
Bitcoin Mining Stocks (August 21, 2022)
After a brief rally last week, Bitcoin mining stocks are back in the dog house following their Q2 earnings. Our Crypto Mining Stock Index fell precipitously by 20%.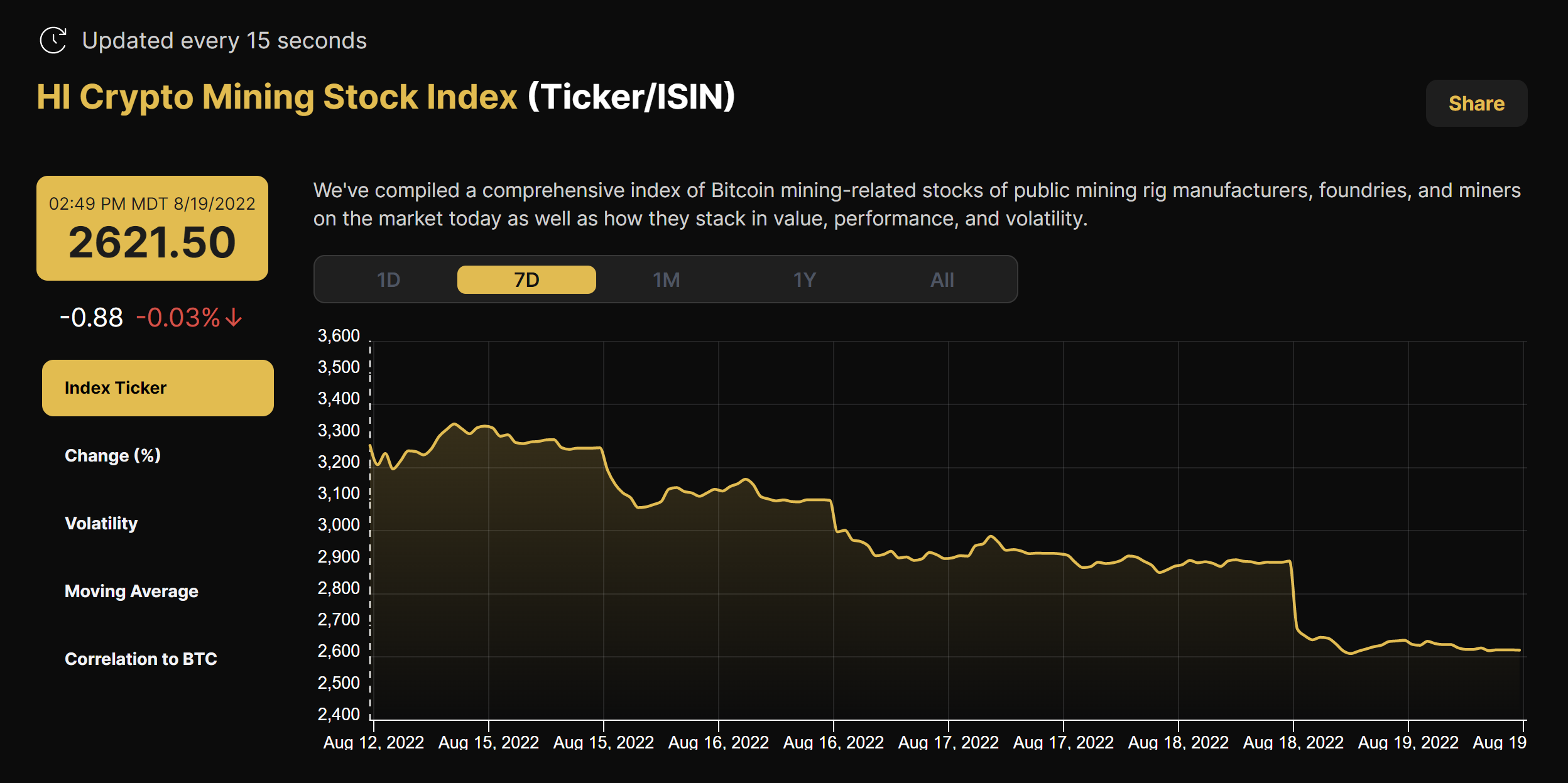 New From Hashrate Index
If Ethereum's Merge Goes Through, What Will ETH Miners Do?
ICYMI, last week, we sent out a newsletter covering what options ETH miners have if Ethereum's pending merge to proof-of-stake is successful.
The long-short: there aren't really any good options.
The proposed ETHPoW fork, which would create an alternative Etheruem chain that runs on proof-of-work, has too many uncertainties surrounding it, not to mention some questionable design decisions.
Additionally, no other altcoin offers the same revenue potential as ETH. In fact, when we look at YoY data for DOGE, ETC, and XMR, these GPU-friendly alternatives combined only produced 1/15th of Ethereum's mining rewards during the same period. (Litecoin is not a GPU-friendly coin, but we added it to the below graphic for comparison's sake).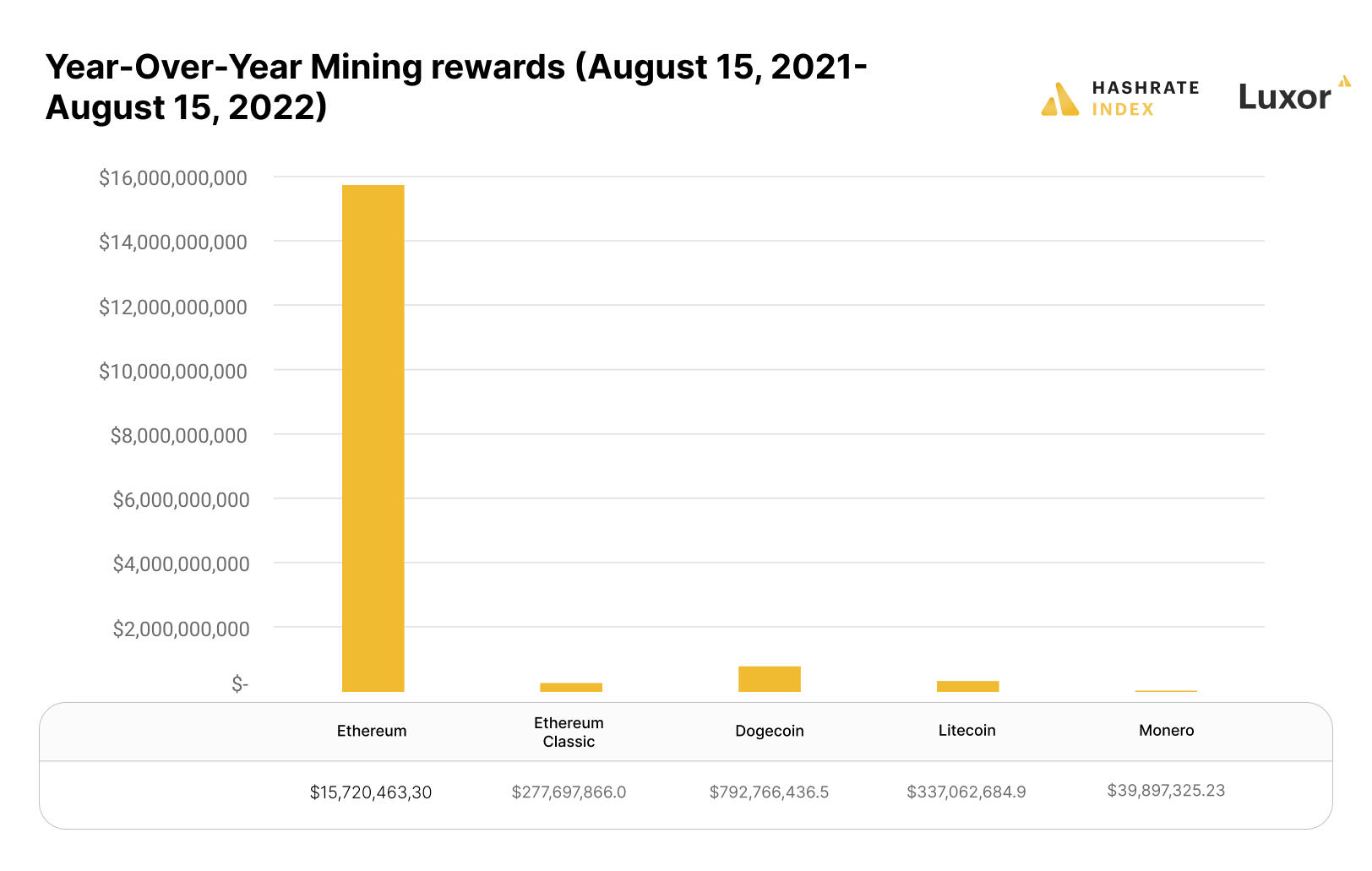 Have a great week, and Happy Hashing!
Hashrate Index Newsletter
Join the newsletter to receive the latest updates in your inbox.
---