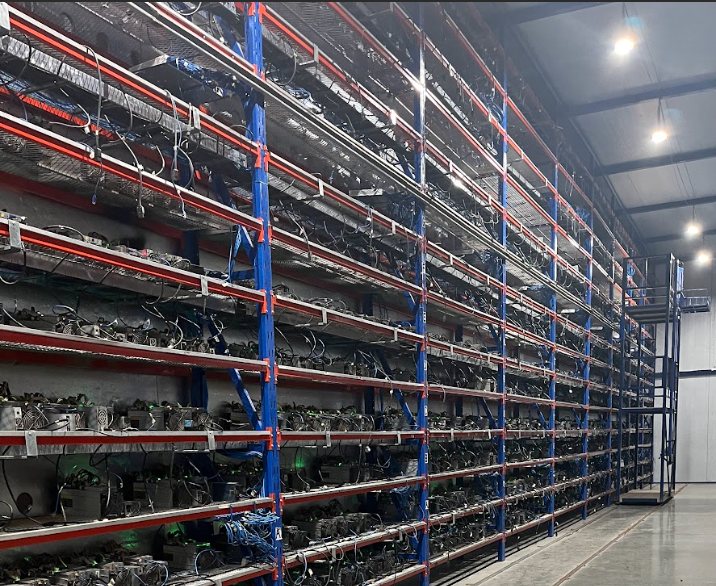 Hashrate Index Roundup (April 23, 2023)
Bitcoin fell while difficulty rose last week, squeezing hashprice down to $72/PH/day.
Happy Sunday, y'all!
Bitcoin is taking a breather after a running upward for more than a month. At the time of writing, Bitcoin is ~$27,500, a 10% decrease from the local top on April 14 of $30,800.
Bad news for hashprice obviously, which was also met by a difficulty all-time high on Thursday. This difficulty adjustment contributed to the compression of hashprice, which is two bucks away from revisiting $70/PH/day.
That last difficulty adjustment makes five in a row, the longest streak since difficulty rose 6 times in a row between December 2021 and February 2022.
This streak could come to an end, though, next difficulty adjustment, as Bitcoin's hashrate somewhat plateaued at the end of last week. Bitcoin's hashrate surged to an-all-time high of 360 EH/s on April 19. When April 20 difficulty adjustment kicked in and Bitcoin's price slipped, hashprice fell over 10%, and now every miner's breakeven costs are lower (a 100 TH/s S19j Pro's breakeven power right now is $0.072/kWh).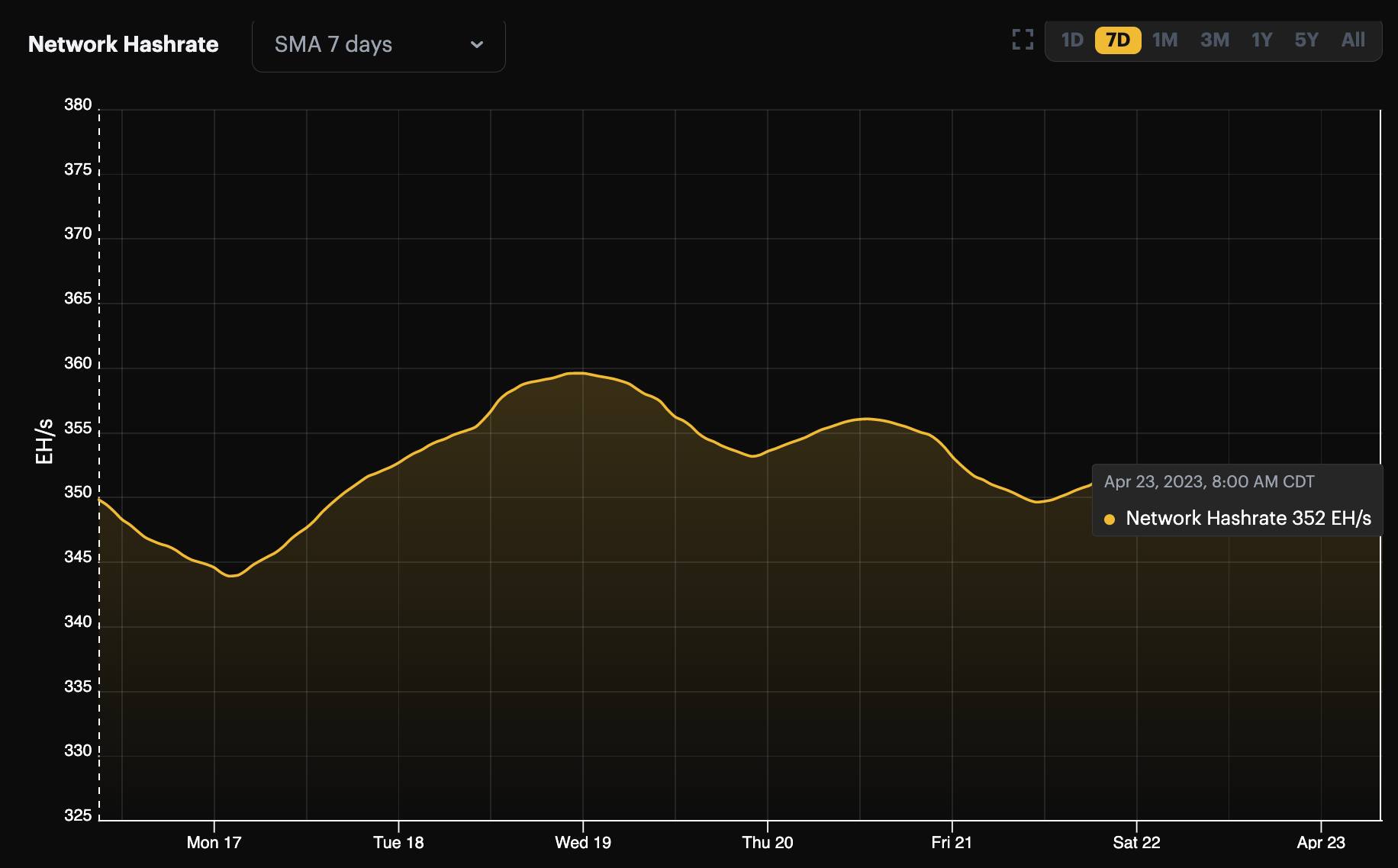 So all of that said, we may be in for some reprieve come the next difficulty adjustment, because all of the profitability headwinds indicate that a negative adjustment should be around the corner.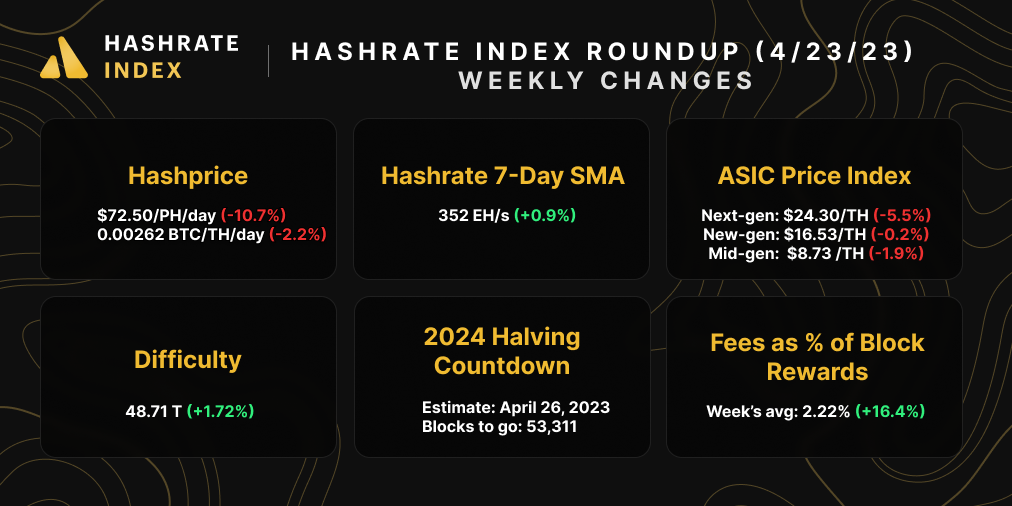 ICYMI: We released our Q1-2023 report this week, a 40+ page document that provides data and analysis for hashprice trends, ASIC prices, Bitcoin mining stock financials, and more. You can download the report (and check out a synopsis) from the blog post below.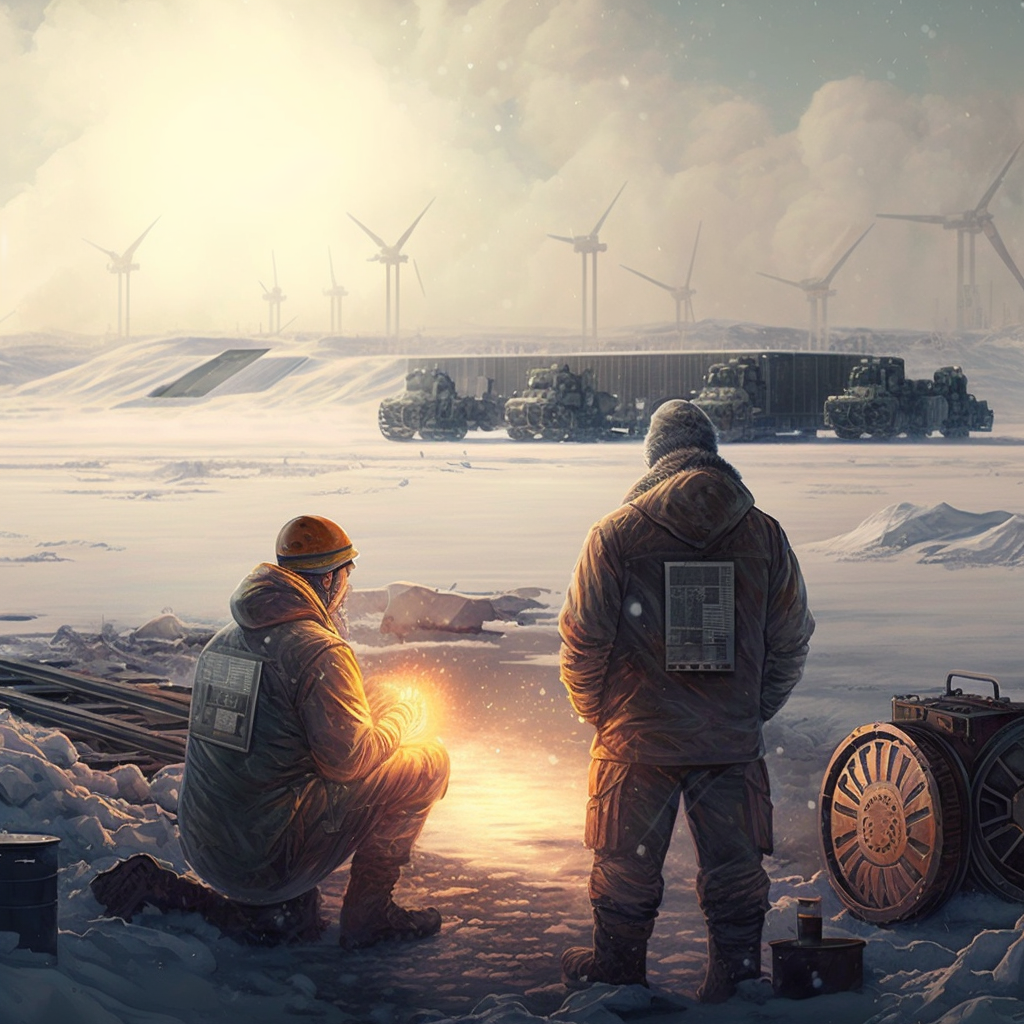 ---
Bitcoin Mining News
---
Sponsored by Luxor
Luxor's Antminer firmware is here! LuxOS provides all of the finetuning miners have come to love from custom firmware and more, including 45+ API commands to give miners complete control over their mining rigs. Visit Luxor's firmware page to learn more.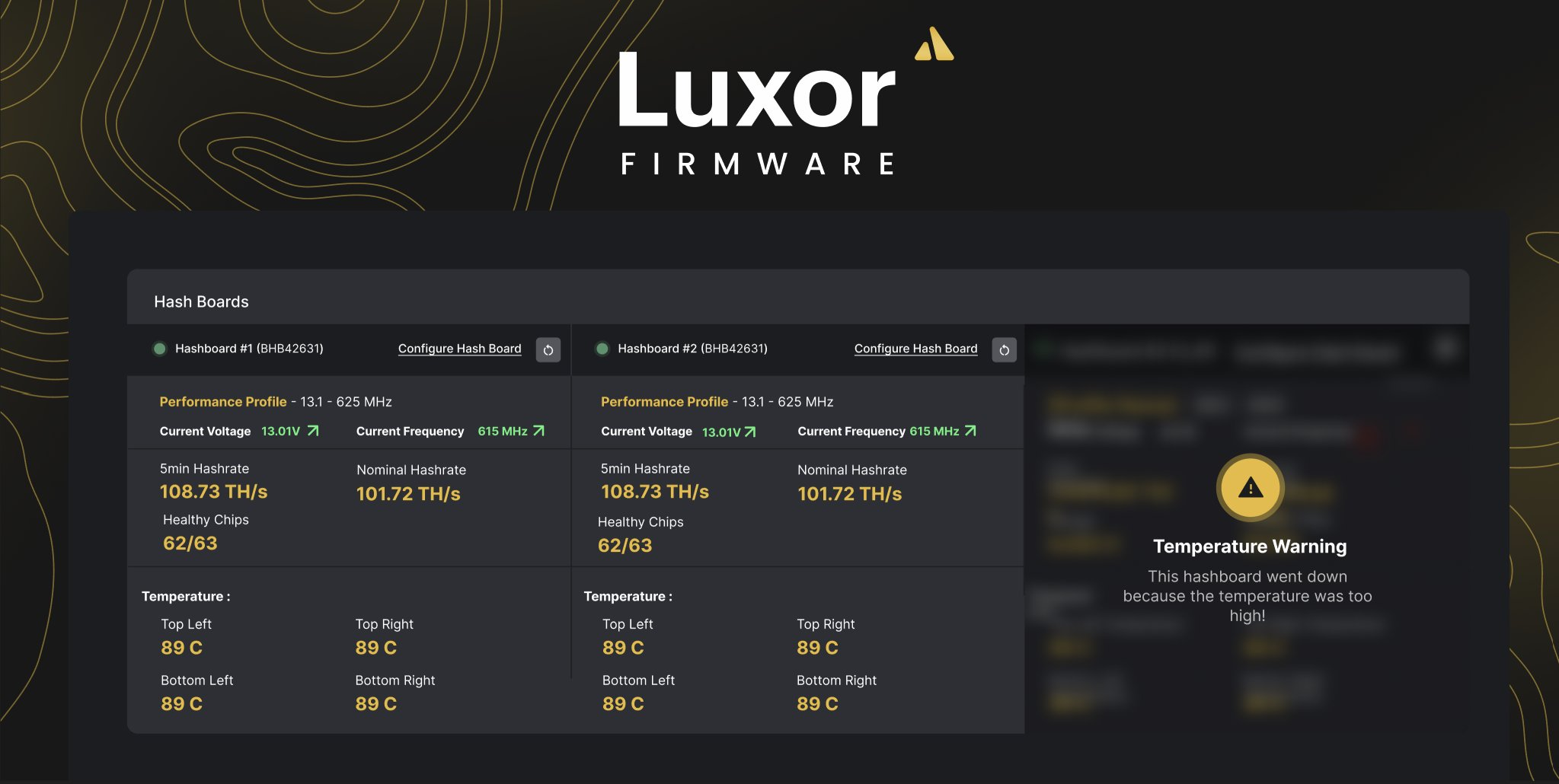 ---
Bitcoin Mining Stocks Update
Bitcoin dumped this week, so the Bitcoin mining stocks market posted some dismal returns. Our Crypto Mining Stock Index, for instance, fell 7.5% last week, a decline that followed the prior week's 30% rise.
This week, every stock but one in our Bitcoin mining stocks fell.
RIOT: $10.52 (-15.43%)
HUT: $1.69 (-15.08%)
BITF: $1.04 (-7.56%)
HIVE: $3.23 (-14.78%)
MARA: $8.93 (-18.82%)
CLSK: $3.87 (+1.04%)
ARBK: $1.44 (-3.36%)
IREN: $3.97 (-5.92%)
---
New From Hashrate Index
Hashrate Index Q1-2023 Report: From Ramen to Ribeye (or at Least a Decent Sirloin)
Last quarter hit the mining sector like a slap in the face or a splash of ice cold water – but in a good way. Bitcoin's sudden rise over the quarter shocked the industry back to life, and as margins improved, Bitcoin's hashrate surged, public Bitcoin miners bounced back from the brink, and miners with average power/hosting costs in the US rose back above breakeven costs. We cover all of that and much, much more in our Q1-2023 report.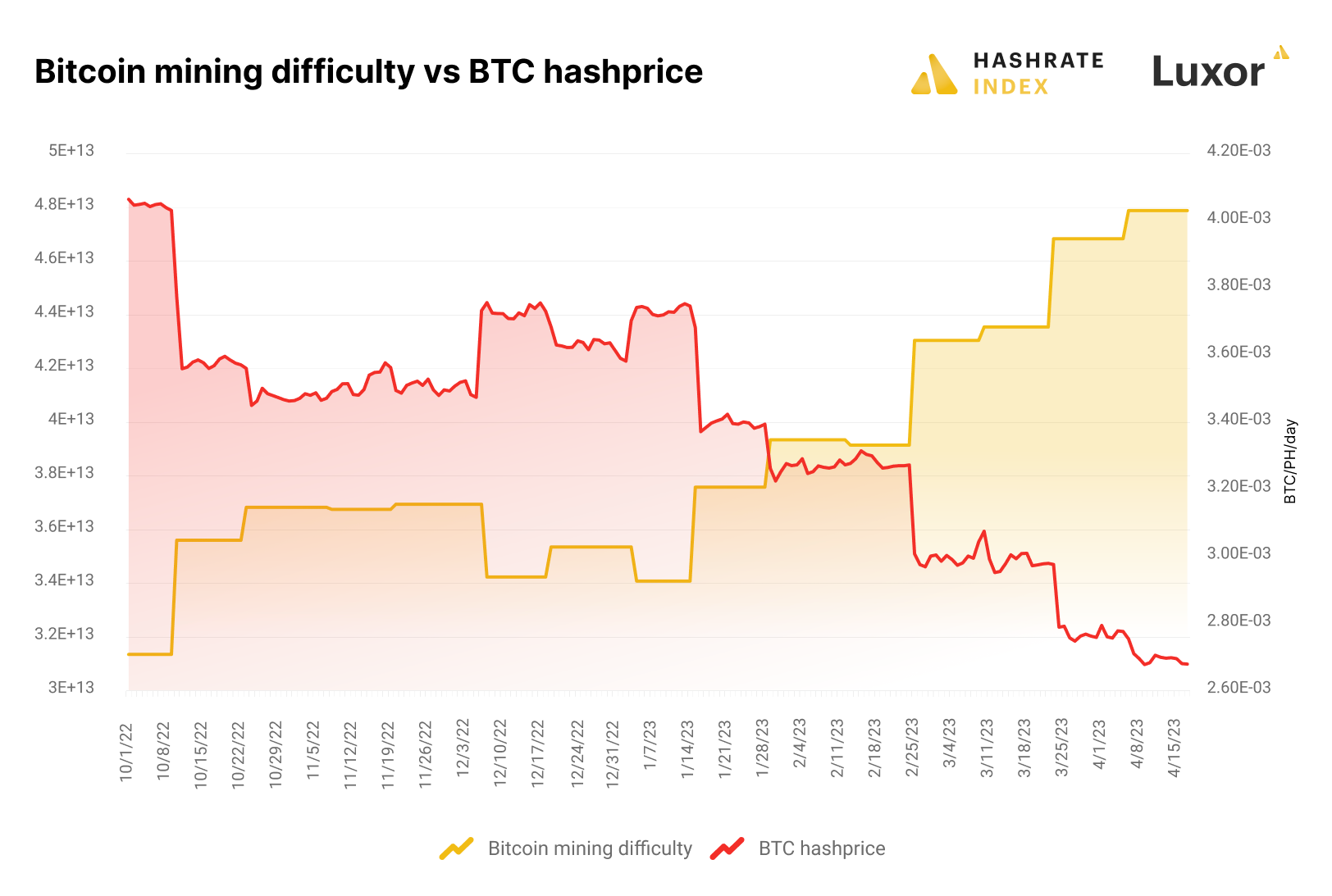 Bitcoin mining stocks are crushing it so far in 2023
Even with this week's sell-off, 2023 has been a great year for Bitcoin mining stocks. While the bitcoin mining sector has performed terrifically year-to-date, there are substantial performance differences between individual stocks. What is common for them is that they are all ahead of Nasdaq's meager 20% increase. At the same time, 20 of 23 mining stocks outperformed bitcoin. Let's look at who are the best performers.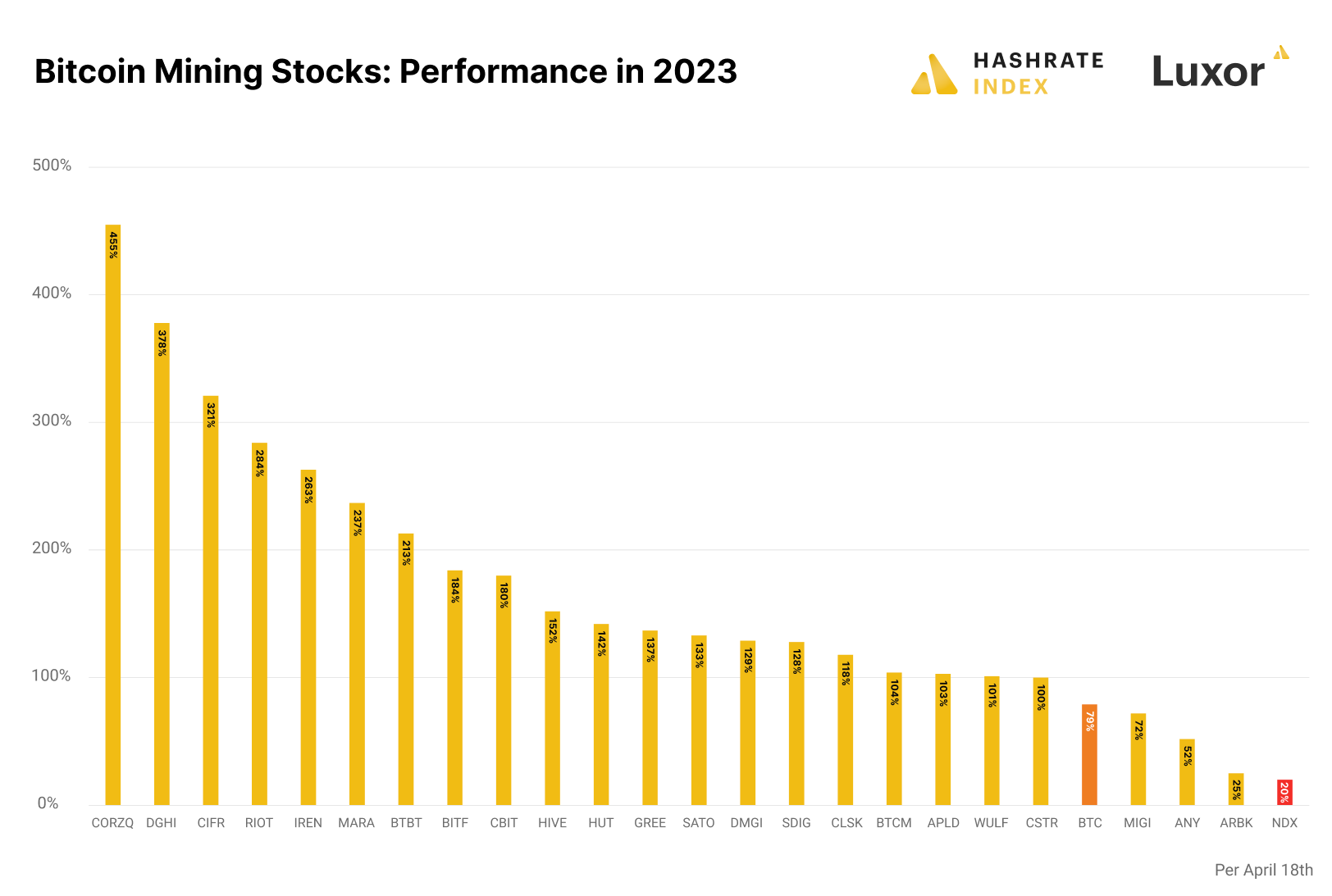 SB1751 would hurt Bitcoin miners, but who does it benefit?
Three bills have been passed by the Texas Senate, and they're all troubling for Bitcoin miners – and for anyone interested in free energy markets. SB 6, SB 7, and SB 1751 all take aim at different elements of Texas' grid operator, ERCOT, and none of them are particularly good for Texans in general.
---
Have a great week, and Happy Hashing!
Hashrate Index Newsletter
Join the newsletter to receive the latest updates in your inbox.
---