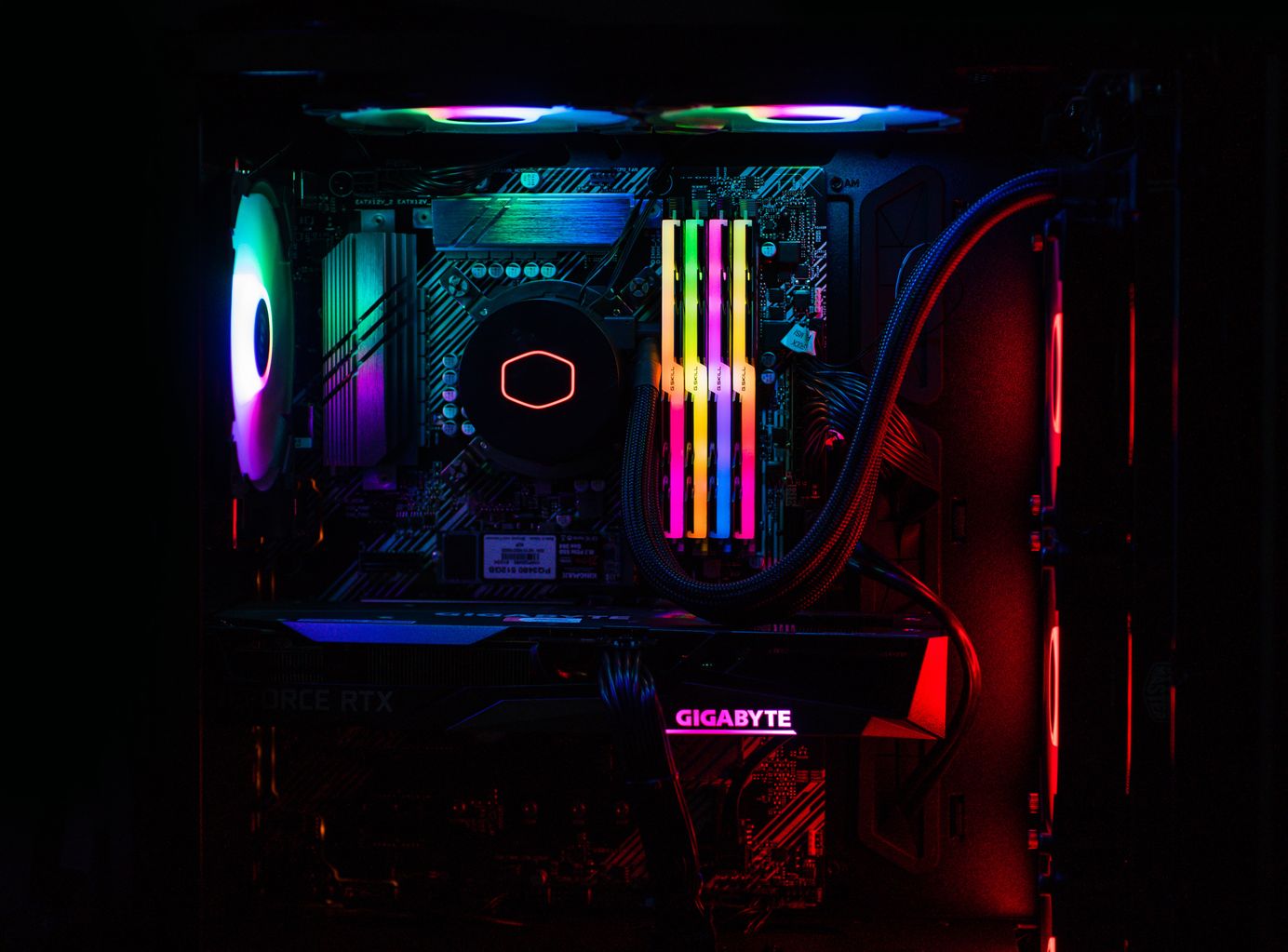 Hashrate Index Roundup (9/18/2022)
GPU mining is out, and Bitcoin's hashrate is going to the moon.
Happy Sunday, y'all!
It's the end of an era: Ethereum's long-anticipated merge finally happened last week. Now that Ethereum is proof-of-stake, erstwhile ETH miners are fighting for scraps on other chains like Ethereum Classic, Ravencoin, and Ergo.
The merge marks the end of a golden altcoin mining era and has made the GPU mining sector a shadow of its former self.
There's still Bitcoin mining though, and thank Satoshi for that! At the same time that Ethereum wound down its mining industry, Bitcoin's own mining sector is winding up, with hashrate and mining difficulty setting all-time highs this week.
It may be a down market, but miners are pushing against the headwinds. If hashprice continues dropping from here, though, the question becomes: how many can keep up the fight?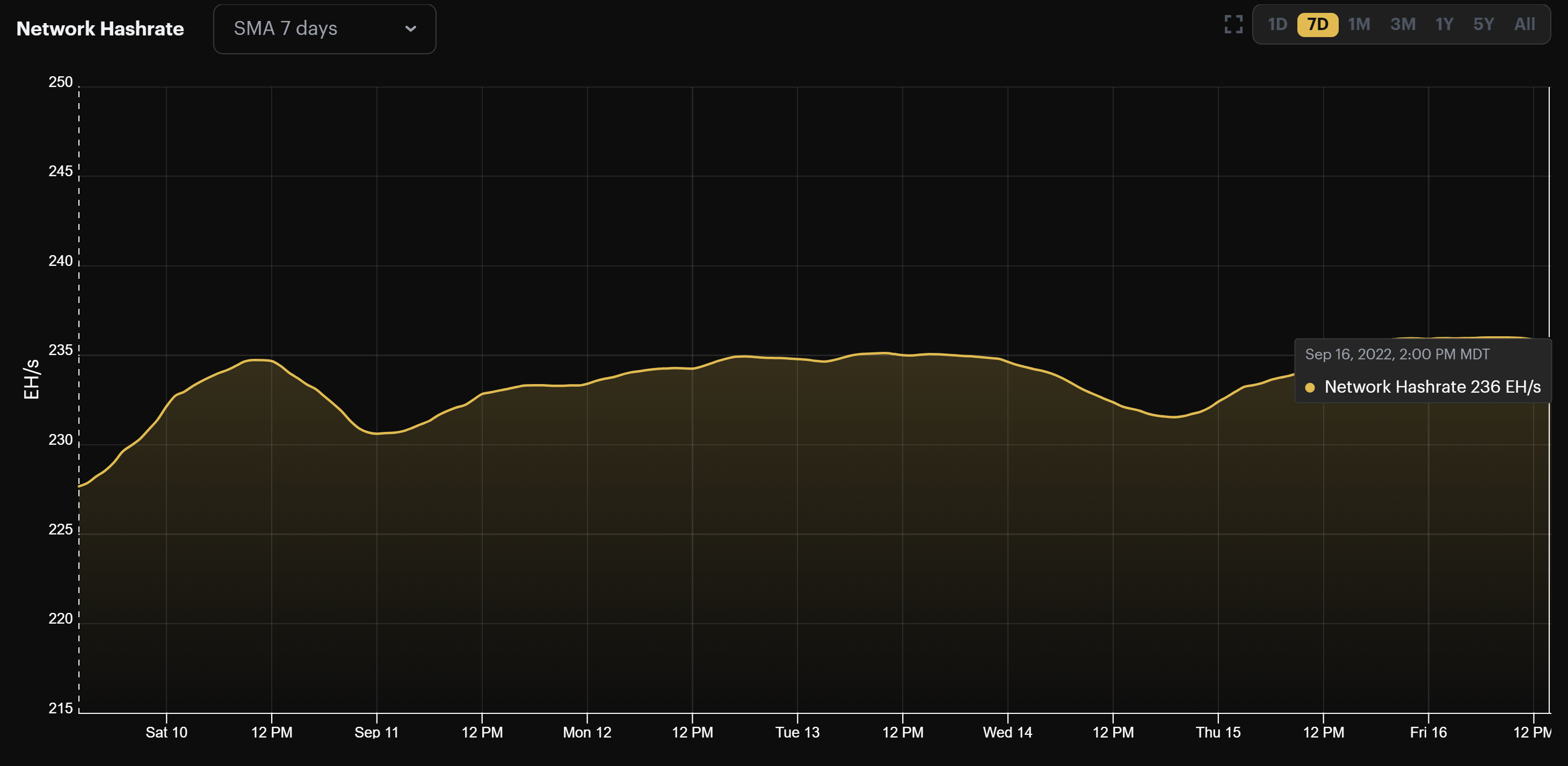 Mining News
Mining Market TLDR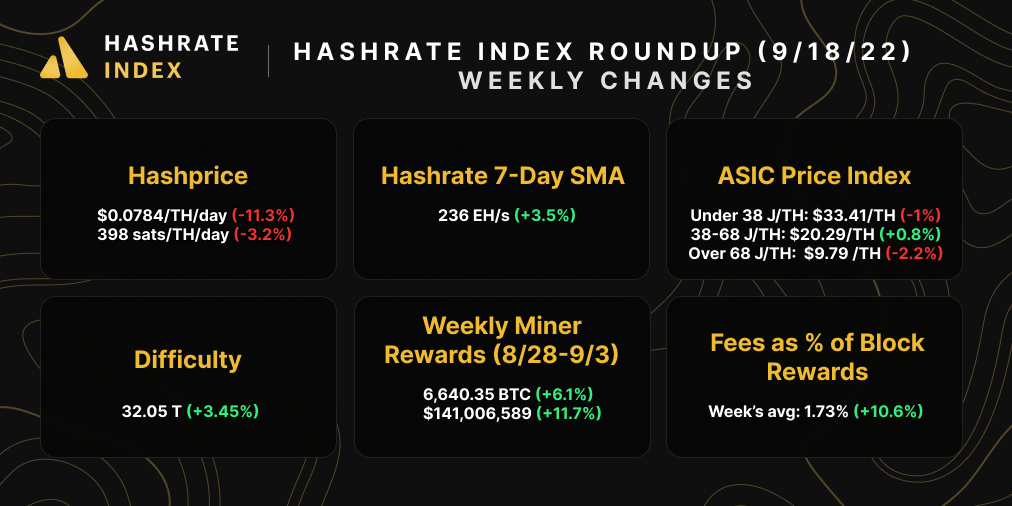 ---
Sponsored by Luxor

---
Hashprice Index (September 18, 2022)
All-time high difficulty and anemic price action are battering Bitcoin's hashprice.
Last week's two-front assault has driven USD-denominated hashprice back below $0.08/TH/day and closer to all-time lows, while BTC-denominated hashprice has set a new low for itself (398 sats/TH/day).
If hashprice trends lower from here (and odds are pretty damn high that it will), we could see hashrate grow more slowly as lower efficiency / high cost miners drop off the network.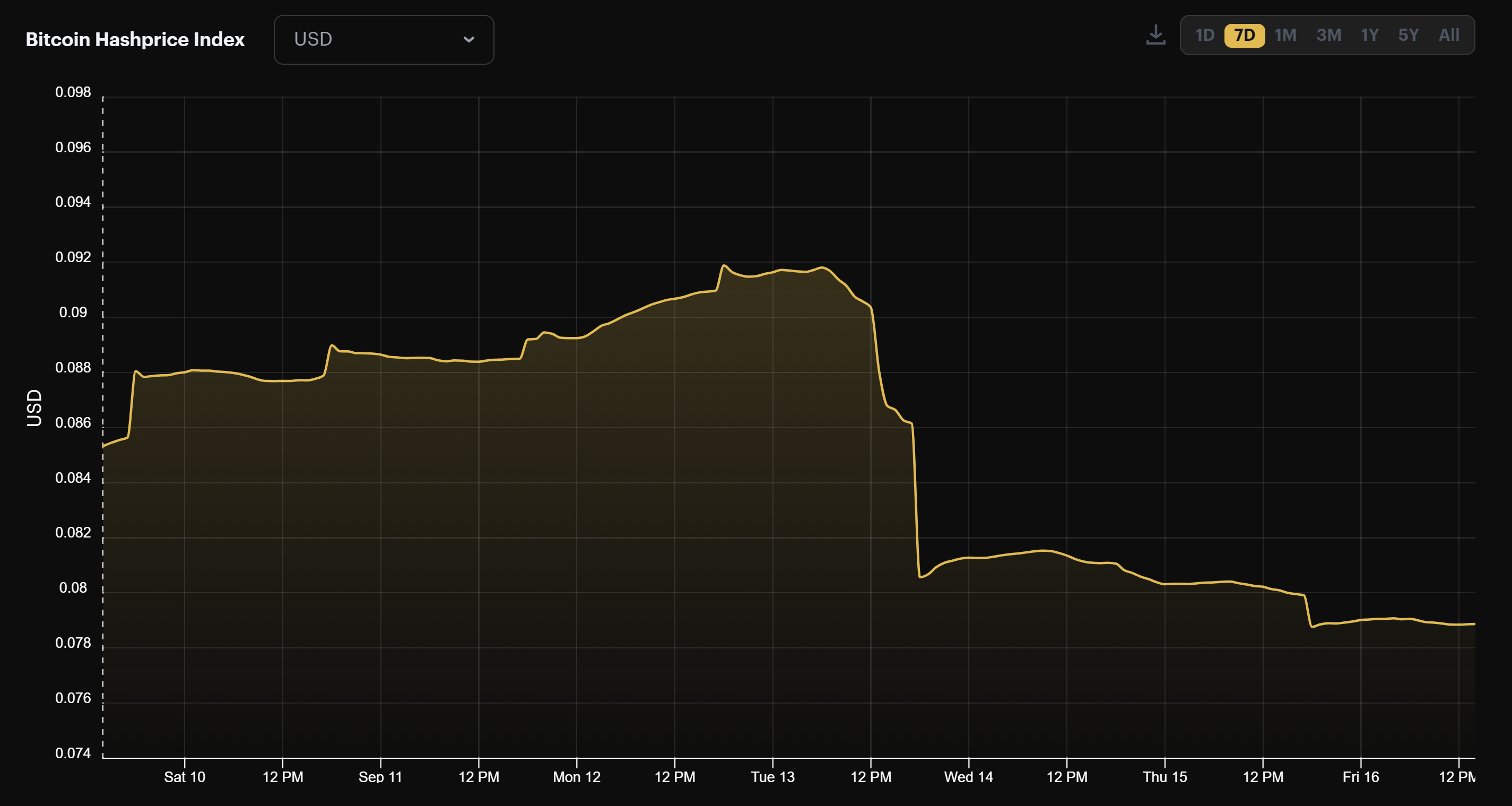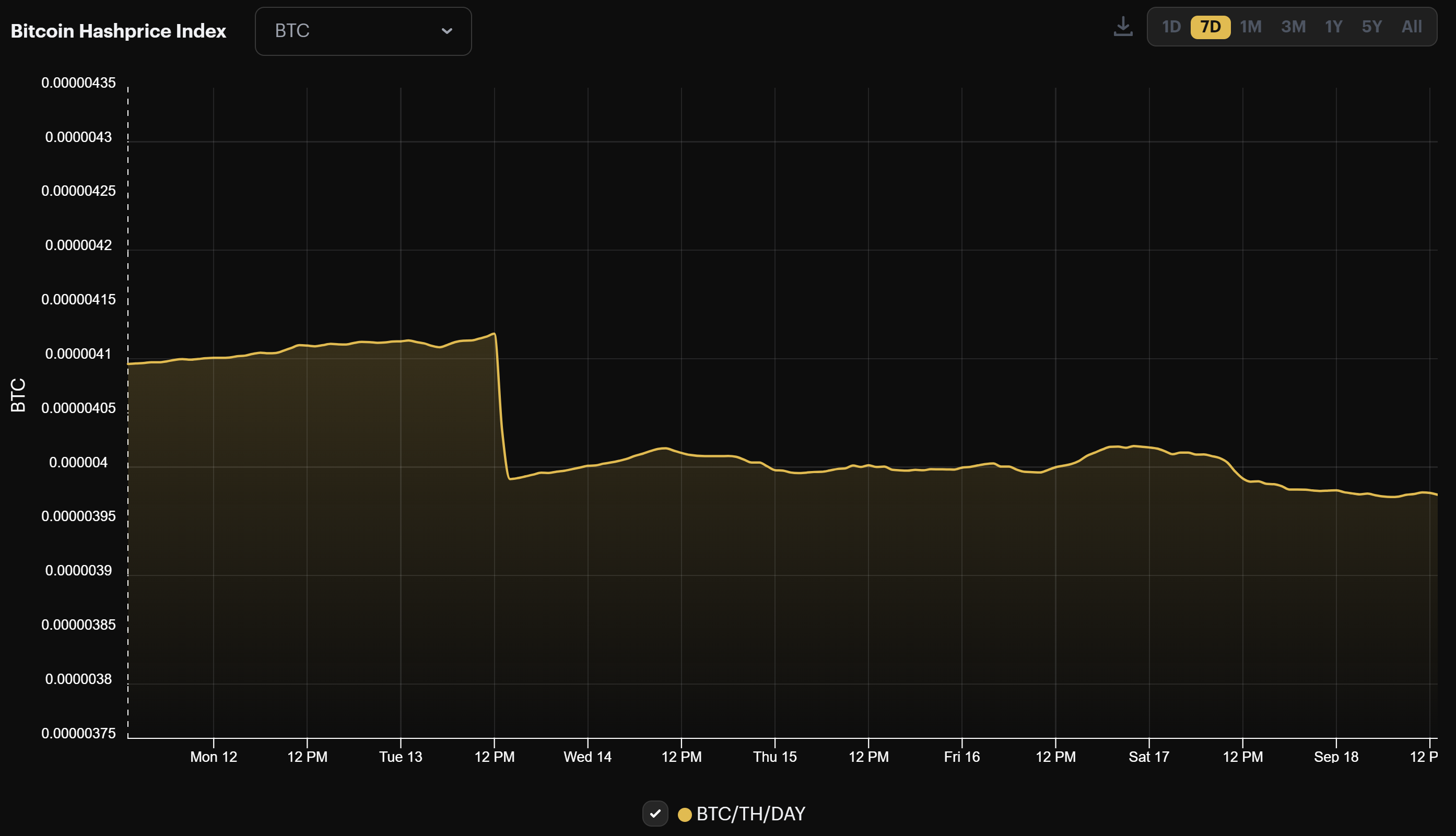 📈
BITCOIN MINING DIFFICULTY
Bitcoin's mining difficulty experienced a sizeable increase over the week. The 3.45% rise set a new all-time high difficulty of 32.05 T.
That adjustment makes for four in a row, and we don't see this streak ending next week given the fact that hashrate keeps rising. Assuming the next adjustment is upward, that will mark the longest succession of positive adjustment in 2022.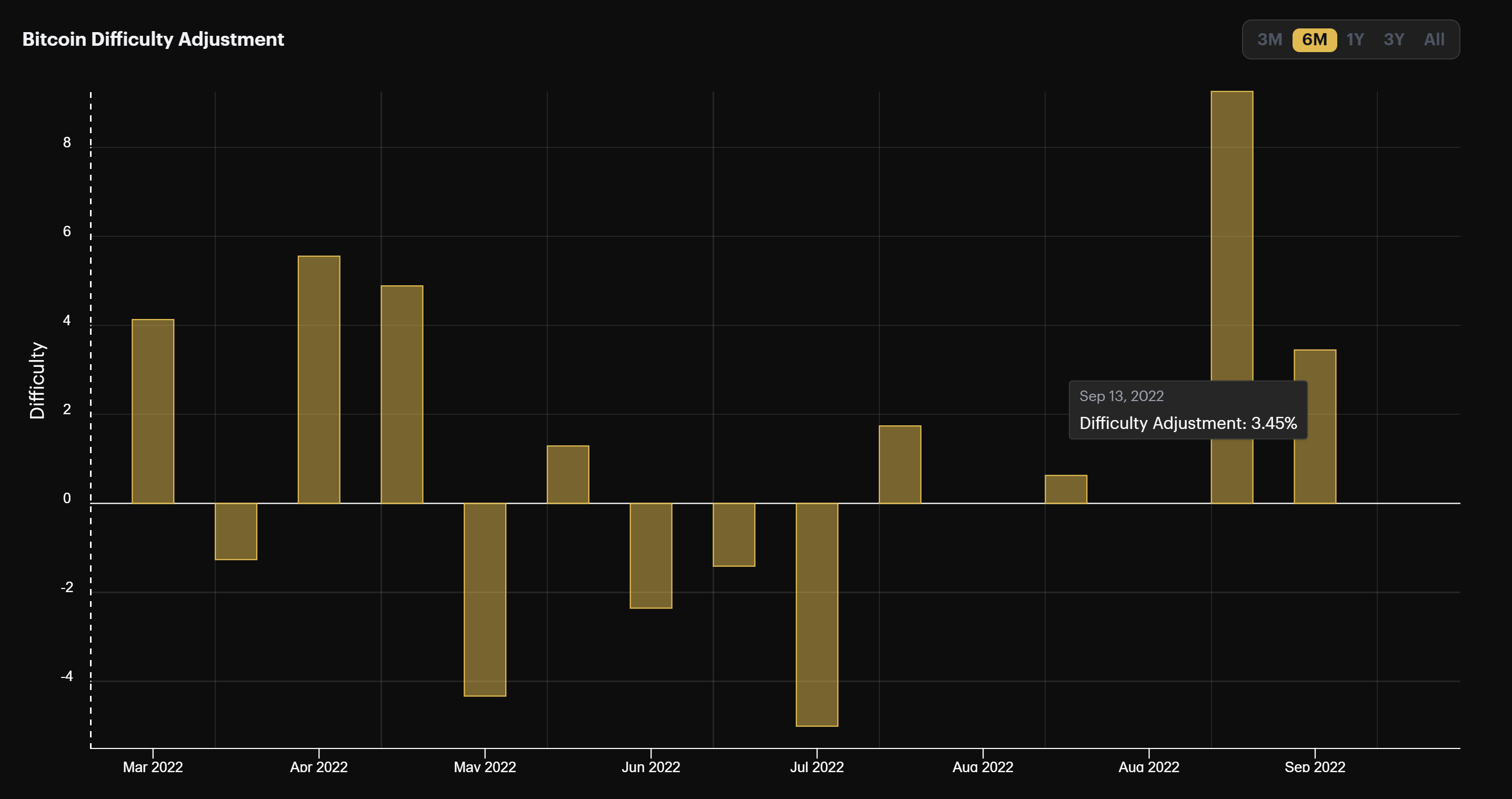 💸
BITCOIN TRANSACTION FEES
Bitcoin's transaction fees rose slightly over the week to 1.73% on average.
It's ain't much, but this is better than the 30-day average of 1.44%. Needless to say, of course, miners would be happier (and their pockets fatter) if these numbers were higher.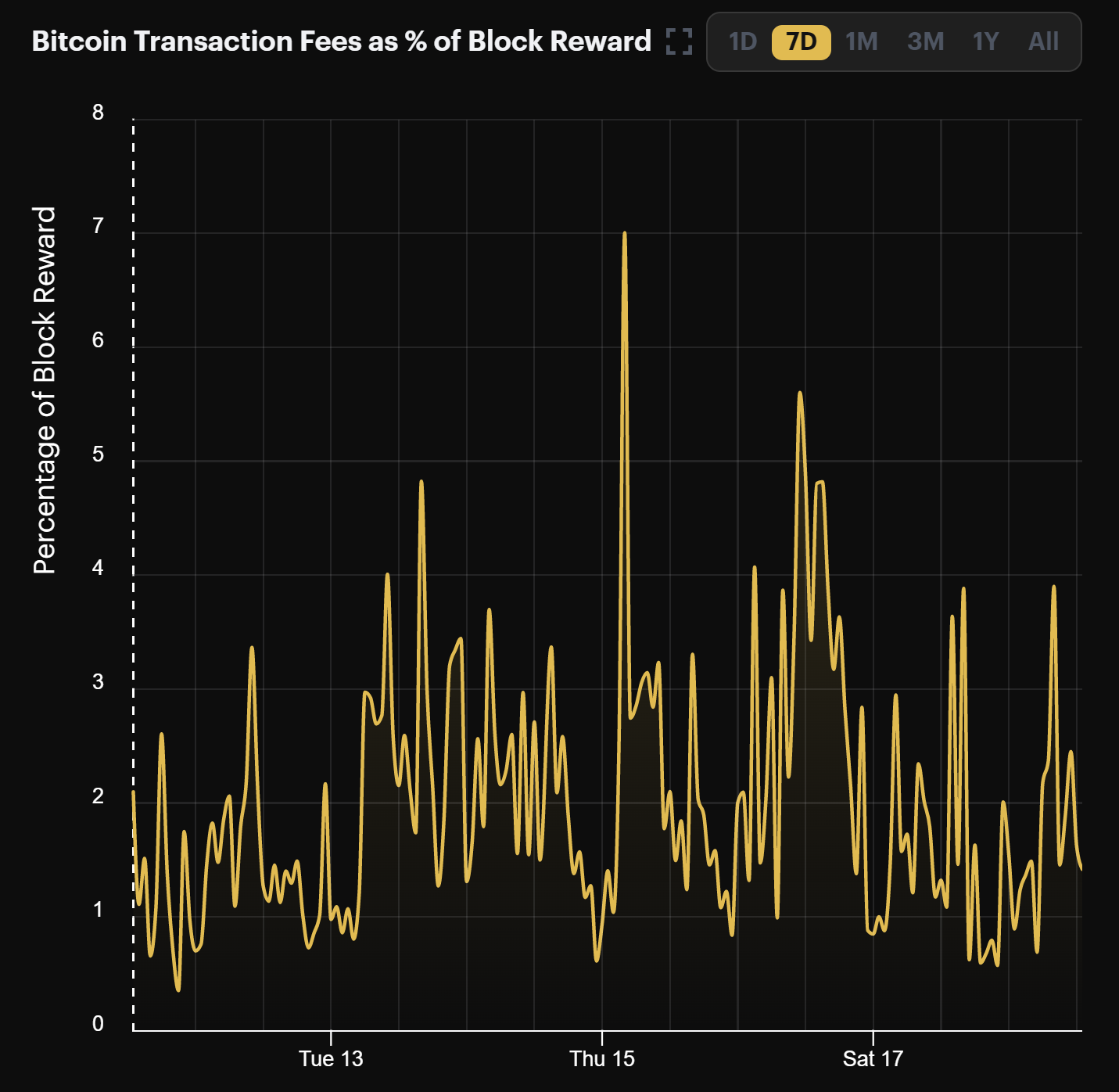 ---
Bitcoin Mining ASIC Price Index (September 18, 2022)
The tiers in our ASIC Price Index had mixed returns last week.
New-gen machines declined in value by a modest 1%, while mid-gen equipment actually rose by an even more modest 0.8%. Old-gen rigs fell by the largest margin – an unsurprising decline given current market conditions.
We're still a long way from all-time low territory for new and mid-gen rigs. With the bear market here and the arrival of the newest generation machines like the Antminer S19 XP, we expect to see these lows before the end of the year or shortly after the new year.
Speaking of the S19 XP, we're adding a new efficiency band to Hashrate Index to accommodate this rig! Read more on our blog post.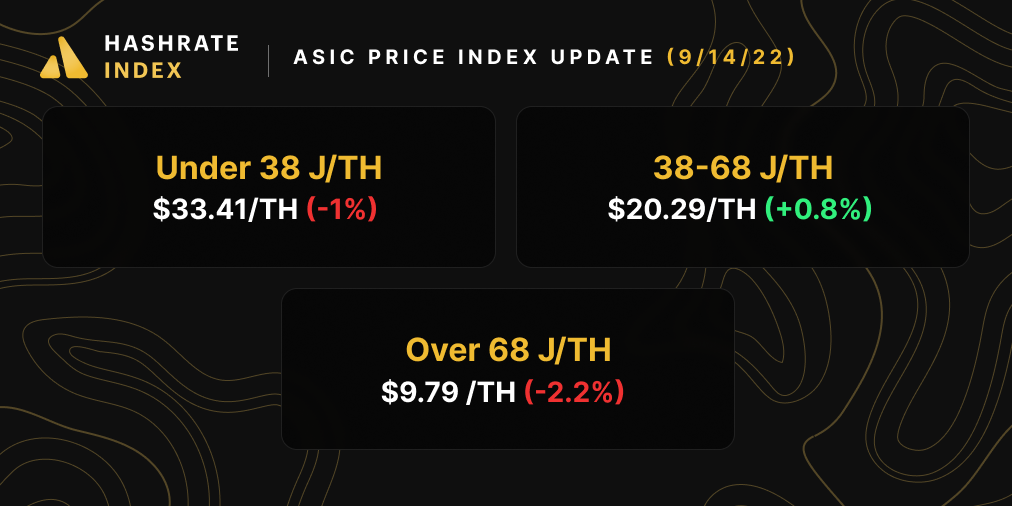 New From Hashrate Index
Top Public Miners have 17 EH/s Scheduled for Delivery This Year
We analyzed the outstanding ASIC orders of Argo, Bitfarms, Cleanspark, Hut 8, Marathon, and Riot to see how much pre-ordered hashrate these miners will receive for the remainder of the year.
It's a lot: roughly 17 EH/s worth. These public Bitcoin miners will receive this hashrate in batches each month until the end of the year.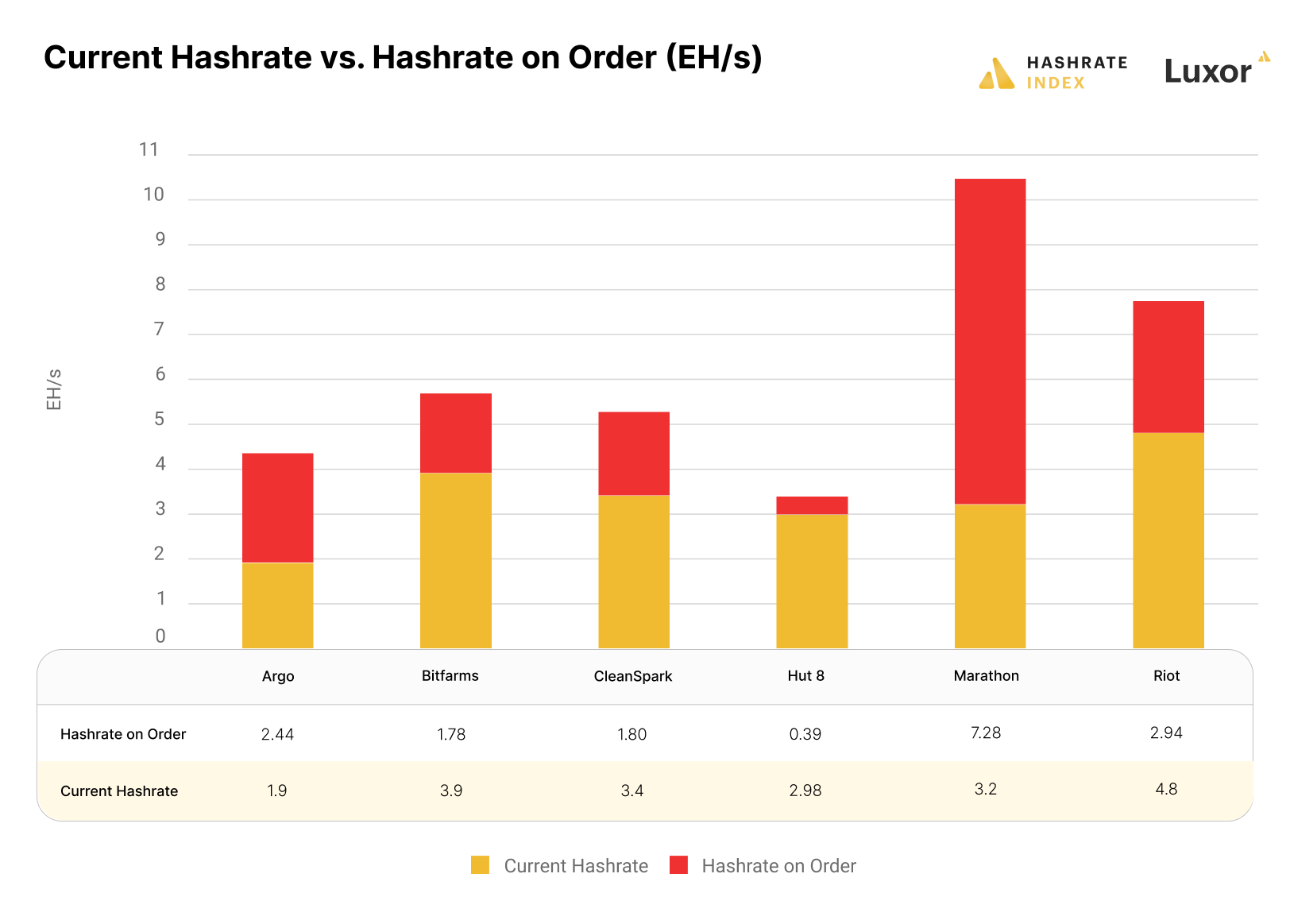 Bitcoin Mining Stock August Updates: Miners Expand Despite Bear Market
More on the Bitcoin mining stock front: public miners are expanding their hashrate in the face of the bear market.
Nearly ever public miner in our analysis added hashrate to its operations last month, and every one mined more BTC last month than August.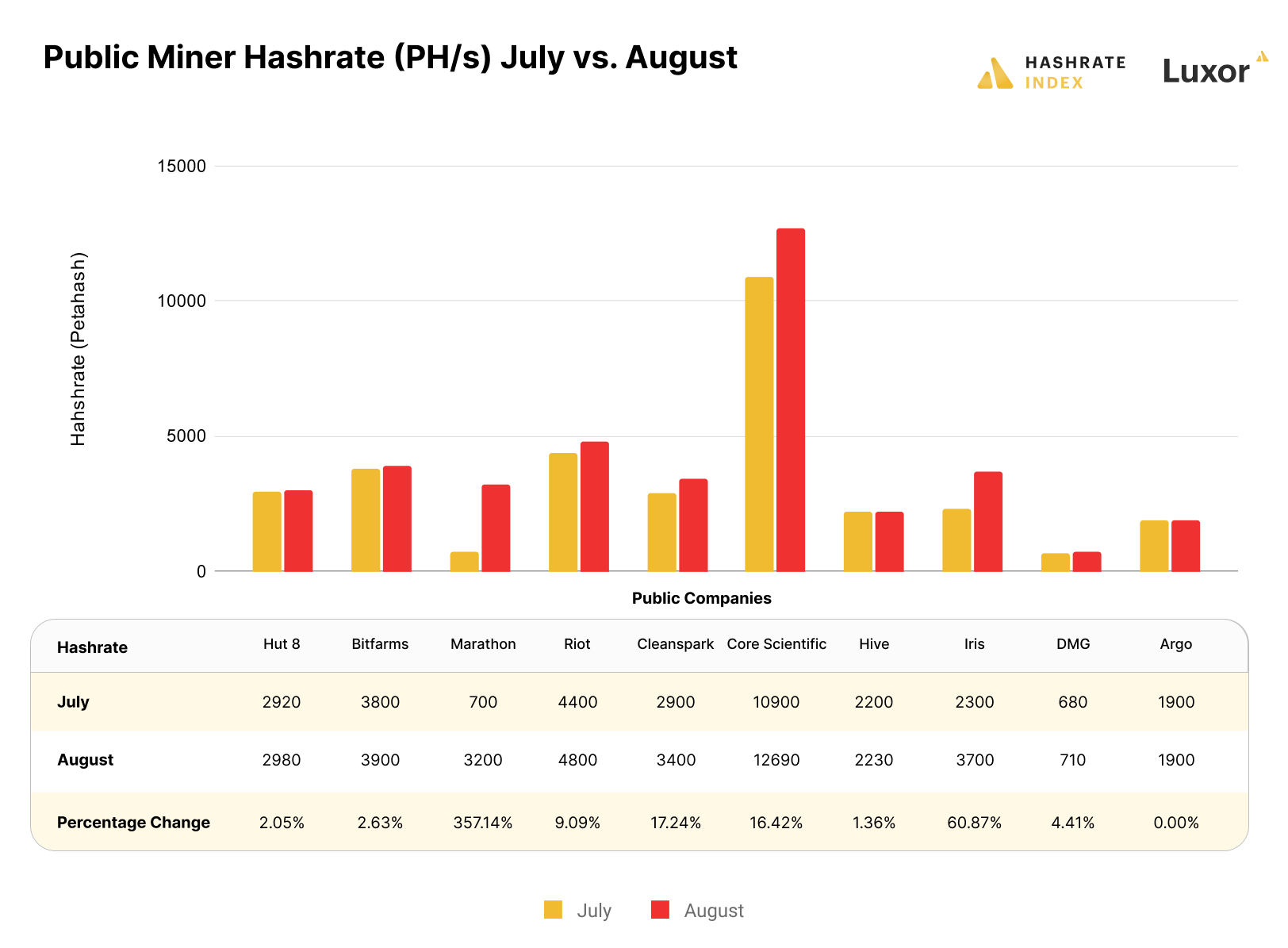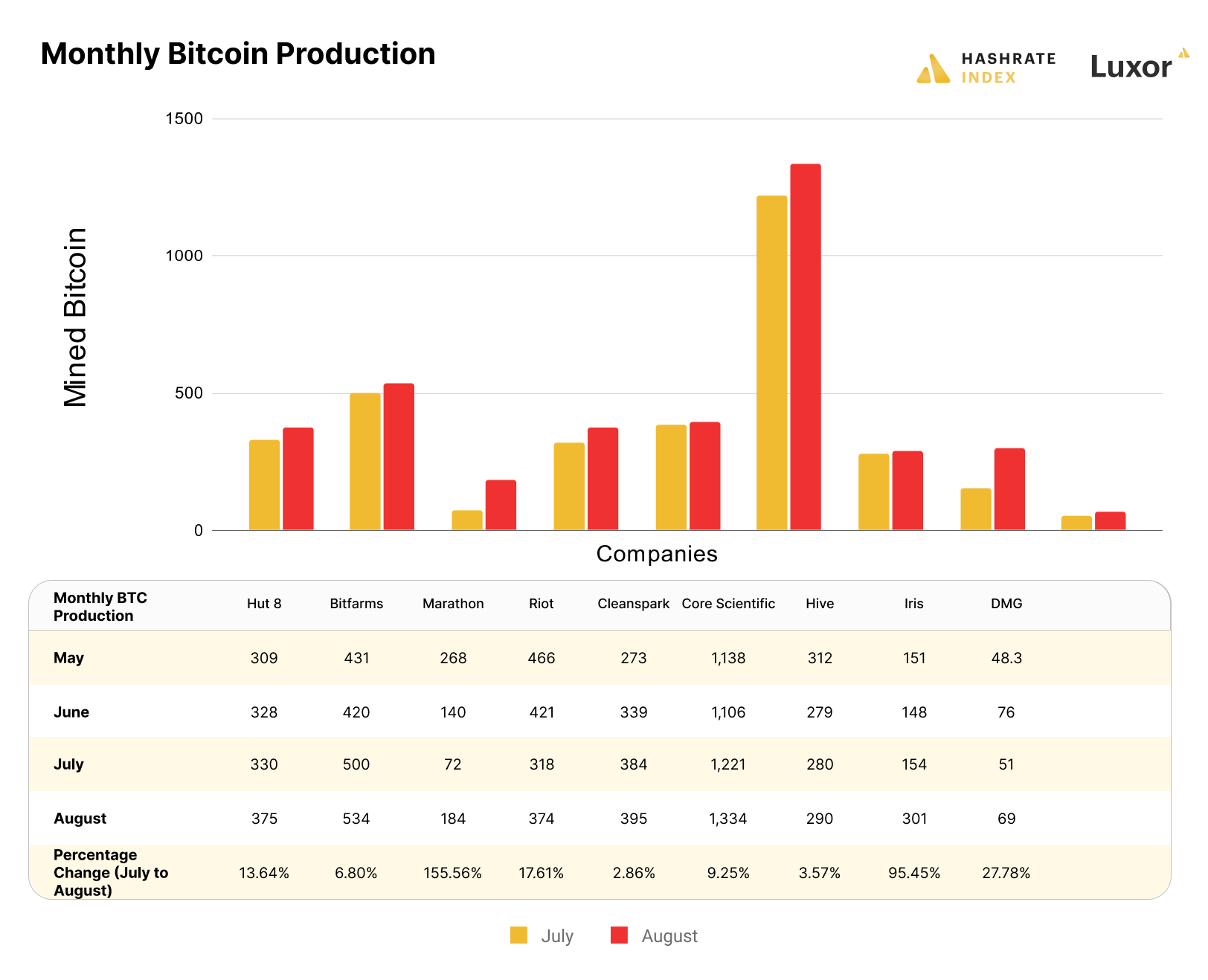 Have a great week, and Happy Hashing!
Hashrate Index Newsletter
Join the newsletter to receive the latest updates in your inbox.
---