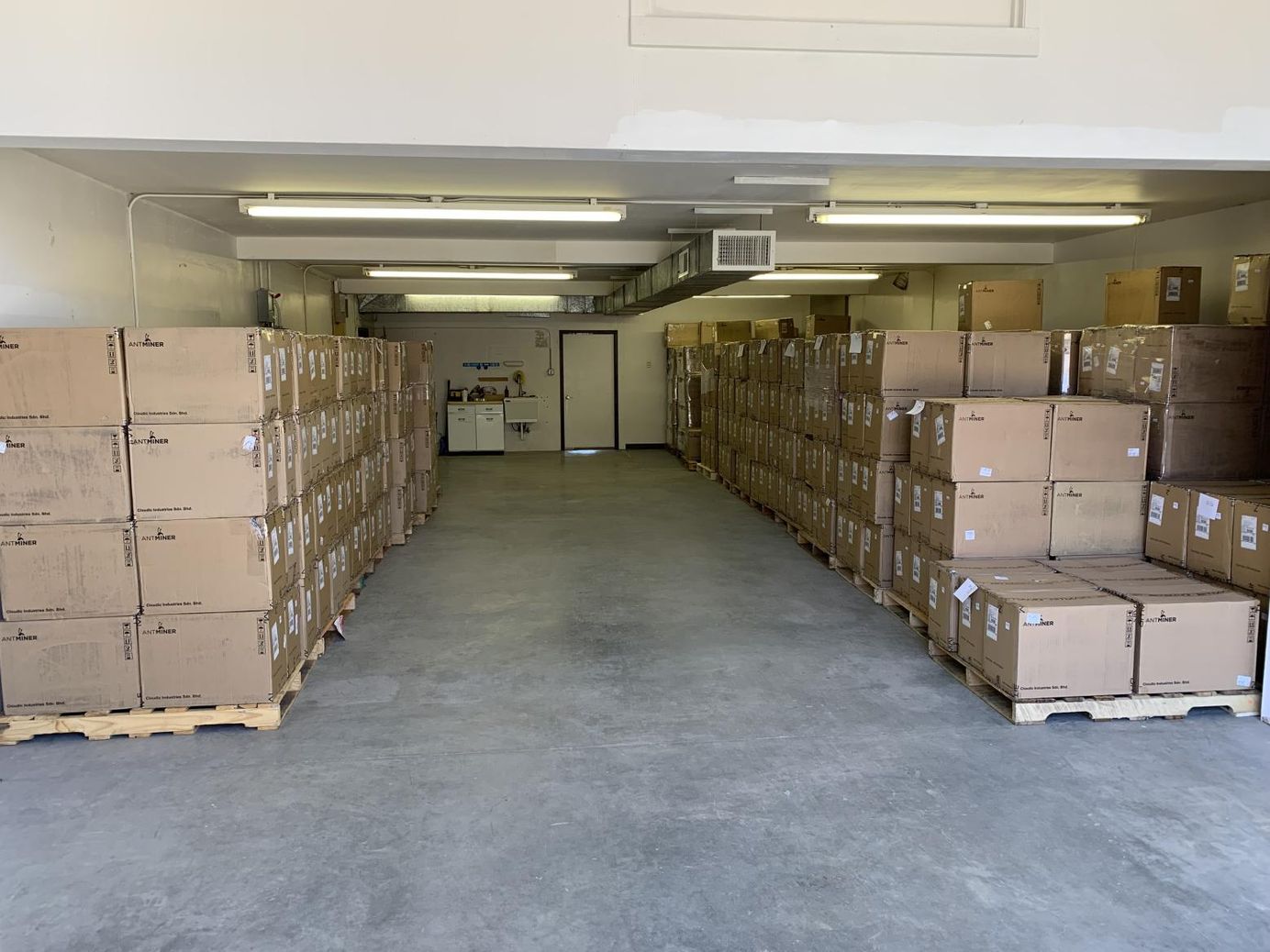 Bitmain Reprices S19 XP Order: Here's How Much Bitcoin Miners are Saving
Bitmain repriced orders for its S19 XP series, leading to big rebates for Bitcoin miners who purchased these ASICs last year.
In the wake of sickly market conditions, Bitmain is repricing orders for its latest machine, the Antminer S19 XP, as well as older S19 models.
To stay competitive with fast-changing ASIC prices, Bitmain slashed sticker prices for July and August orders of the S19 XP. Per the terms for these orders (which were placed in November and December of 2021), miners are getting price protection credits from Bitmai. Bitmain adjusts the value of the order approximately 15 days in advance of final payment.
After Bitmain adjusted prices, prices in the secondary ASIC market dropped dramatically. The average price for S19 XPs on Luxor's ASIC Trading Desk, for example, fell nearly 30% from June to July.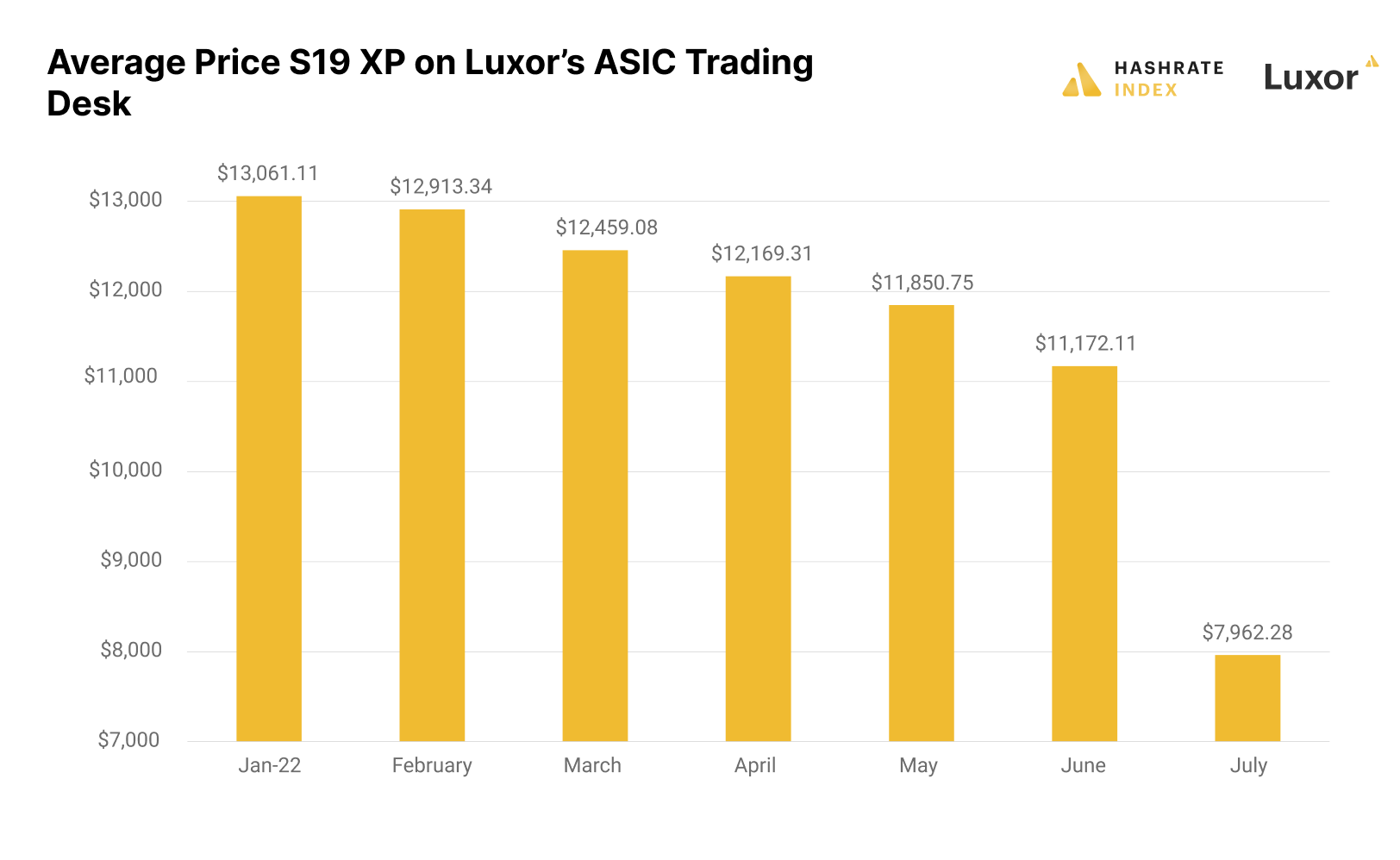 In total dollar terms, Marathon Digital has the largest price adjustment, as they have over 73,000 S19 XP scheduled for delivery from July 2022 to December 2022.
Bitmain Makes Big Price Adjustments to Antminer S19 XP, Antminer S19J Series

Bitmain is on the hook to reimburse contracts for S19 XP, S19J, and other S19 models from Q4 2021 pre-orders. For miners with security deposits on pre-orders, Bitmain gives the following options:
Pay the remaining balance on the order with a price adjusted according to the orders new market value
Add new machines to the order to make up the difference in cost (subject to negotiation with Bitmain based on available inventory)
Cancel the order in part or in whole
S19 XP Pre-Order Value After Price Adjustment
Marathon Digital is receiving significant rebates for their large S19 XP order from late 2021. The original prices for Marathon's orders were $83/TH ($11,620) for Q3-2022 deliveries and $78/TH for Q4-2022 deliveries.
Now, assuming Marathon takes the first price-adjusted option listed above, let's look at the estimated price adjustments for July and August orders. Each month Bitmain will ship 13,000 units to Marathon Digital.

With these discounts in mind, Marathon has earned $110 million in cost savings on their first two shipments of S19 XP miners!
It remains to be seen what discounts Marathon and other miners will receive on September, October, November, and December deliveries, but it likely won't be too far off from these repricings–unless Bitcoin's price dips or rips considerably.  
Riot Blockchain pre-ordered 18,000 S19 XP machines, which receive price protection. As shown in the table below:

Below is an order schedule with pricing for Riot's Antminer S19 XPs.
Riot Blockchain also has S19J Pro orders with price protection.
This summer, Riot has been receiving about 1,500 units every month with an original contract pricing of $60/TH. Bitmain no doubt would have adjusted prices for these July and August orders. Assuming Riot received $35/TH adjustment for their August order, they earn $25/TH back in value.   Price protection for Riot's order of S19J Pros is worth approximately $3.75 million for the month of August.

*Estimated value based on spot prices of S19J rigs.
Below is an order schedule with pricing for Riot Blockchain's S19J Pro orders:
Bitfarms has a smaller order of S19 XP miners clocking in at 1,200 units. Based on a Bitfarms press release, we assume the same 6 month delivery schedule and costs as Marathon and Riot, with 200 units scheduled for delivery every month throughout the summer.
Based on the smaller order size, it makes sense for Bitfarms to take on more mining units with the price adjustments, rather than take the discount, but we show the discounted values below so that the data set has continuity with the analysis above.

* Estimated value based on S19 XP pre-order costs

Bitmain S19 XP, S19 Series Repricing Contract
And just for the fun of it, below is an excerpt of a Bitmain order document that dictates Bitmain's repricing terms:
Upon receipt of notification of the actual price provided by Bitmain, the Purchaser shall be entitled to three options:
(i) continue to perform the Order of the current batch of the Product(s) with the original rated hashrate and pay the remaining amount at the actual price; or
(ii) request Bitmain to increase the rated hashrate in equivalent to the difference in price. Under this circumstance, Bitmain shall have the right to negotiate with the Purchaser for the amount of the additional rated hashrate based on its then inventory; or
(iii) partially or wholly cancel the Order of the current batch of Product(s).(iv) Under this circumstance, the Purchaser shall not claim any refund from Bitmain. If the Purchaser has made payments and there is remaining balance, such remaining balance shall be credited to the balance of the Purchaser and its affiliates. The payments for the batches that the Purchaser has canceled cannot be used as down payments for any batch listed in this Agreement.
Hashrate Index Newsletter
Join the newsletter to receive the latest updates in your inbox.
---