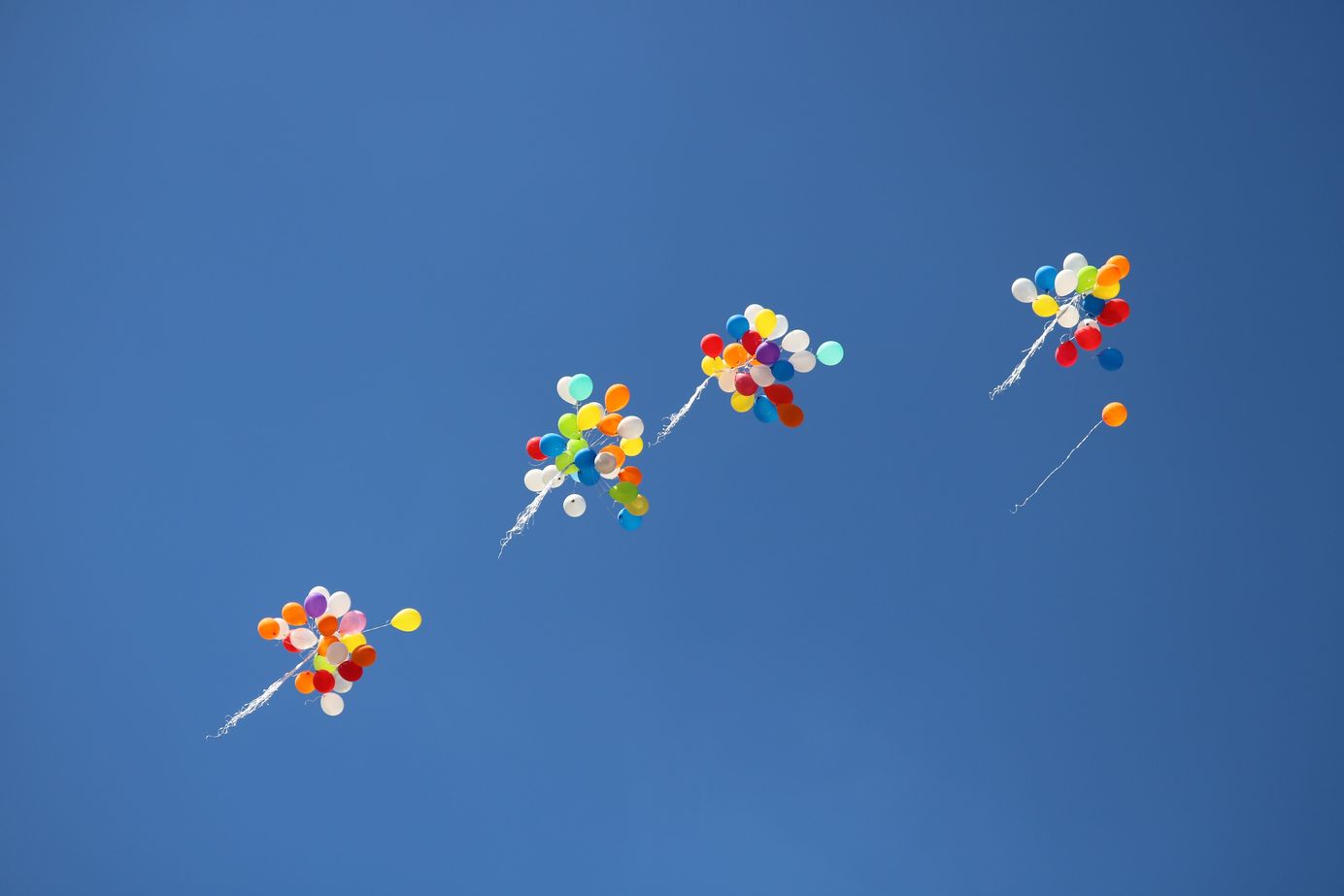 Hashrate Index Roundup (7/31/2022)
Bitcoin mining economics are finally looking up, but how long will the relief last?
Happy Sunday, miners!
Last week, we wrote about how things were finally starting to look up for Bitcoin miners. And boy did they look up over the week.
Bitcoin's price surged to $24.5k, its highest point since mid-June when the price starting puking. The week before last, Bitcoin's difficulty also fell by 5%, the largest drop since China's mining ban; this difficulty adjustment and Bitcoin's price rise supercharged hashprice, bringing it back above $0.10/TH/day for the majority of last week.
Enjoy it while you can folks, because we've got an upward difficulty adjustment coming up this week, and who knows how long Bitcoin's price will hold here.
With Ethereum's Merge to Proof-of-Stake In Sight, ETH Miners Search for Alternatives
The Ethereum Foundation is (once again) saying that the switch to proof-of-stake is imminent. Now, it could happen as early as September if everything goes according to the ever-changing roadmap. So ETH miners are starting to look for a new home; Ethereum's original chain, Ethereum Classic, is an obvious choice (and one that has Bitmain's support), and Ravencoin has also come up in conversation (both coins pumped substantially last week).
There could also be a third option: a fork of proof-of-work Ethereum. That's right, Chandler Guo, the same guy involved in the Ethereum Classic fork the first go around, is saying that he'll do it again.
---
Sponsored by Luxor

---
Hashprice Index (July 31, 2022)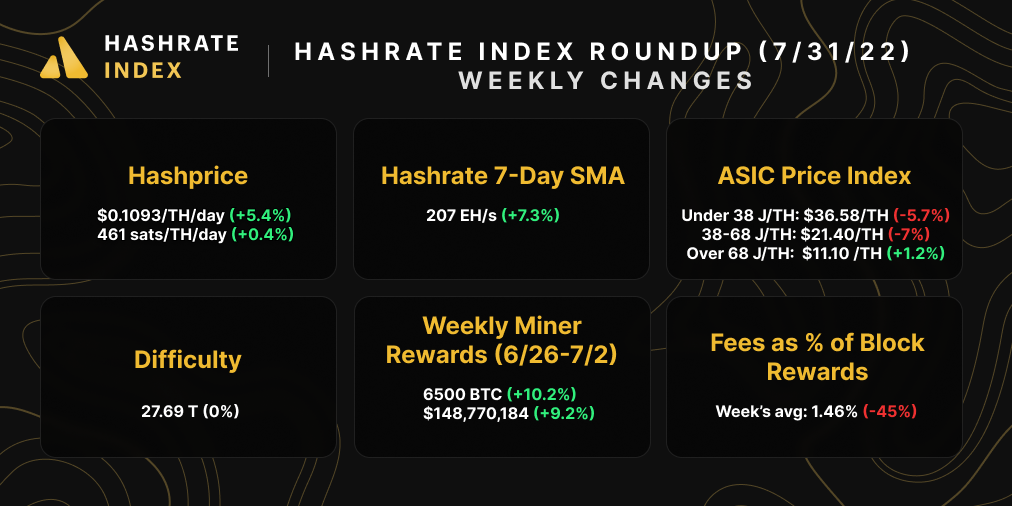 Bitcoin's hashprice stayed at or above $0.10/TH/day for the majority of last week. In BTC terms, hashprice was roughly 460 sats/TH/day for most of the week.
Bitcoin's upcoming difficulty adjustment will hamper this rally somewhat. Scheduled for the middle of the week, the next difficulty adjustment will probably be in the ballpark of 1-2%.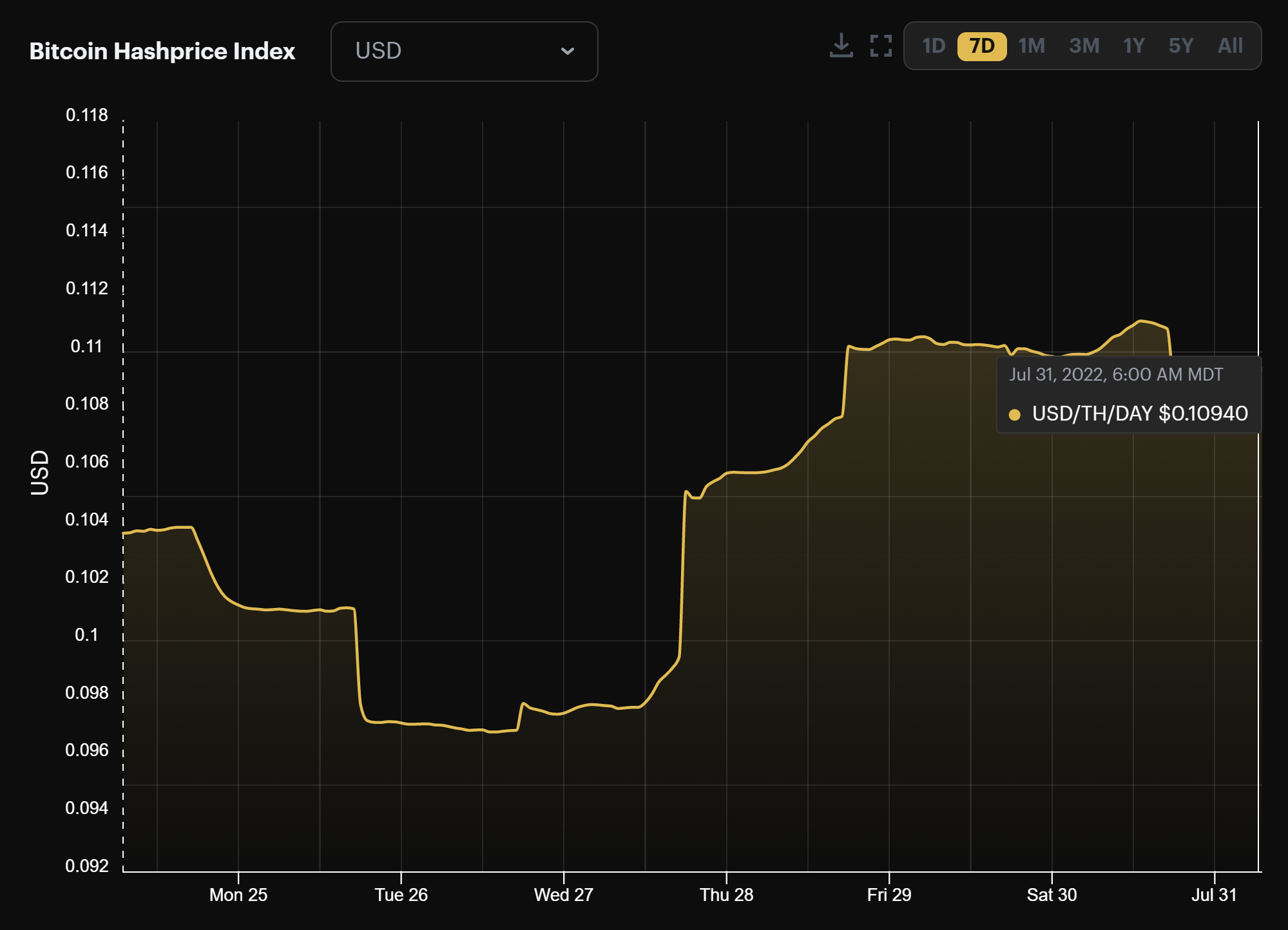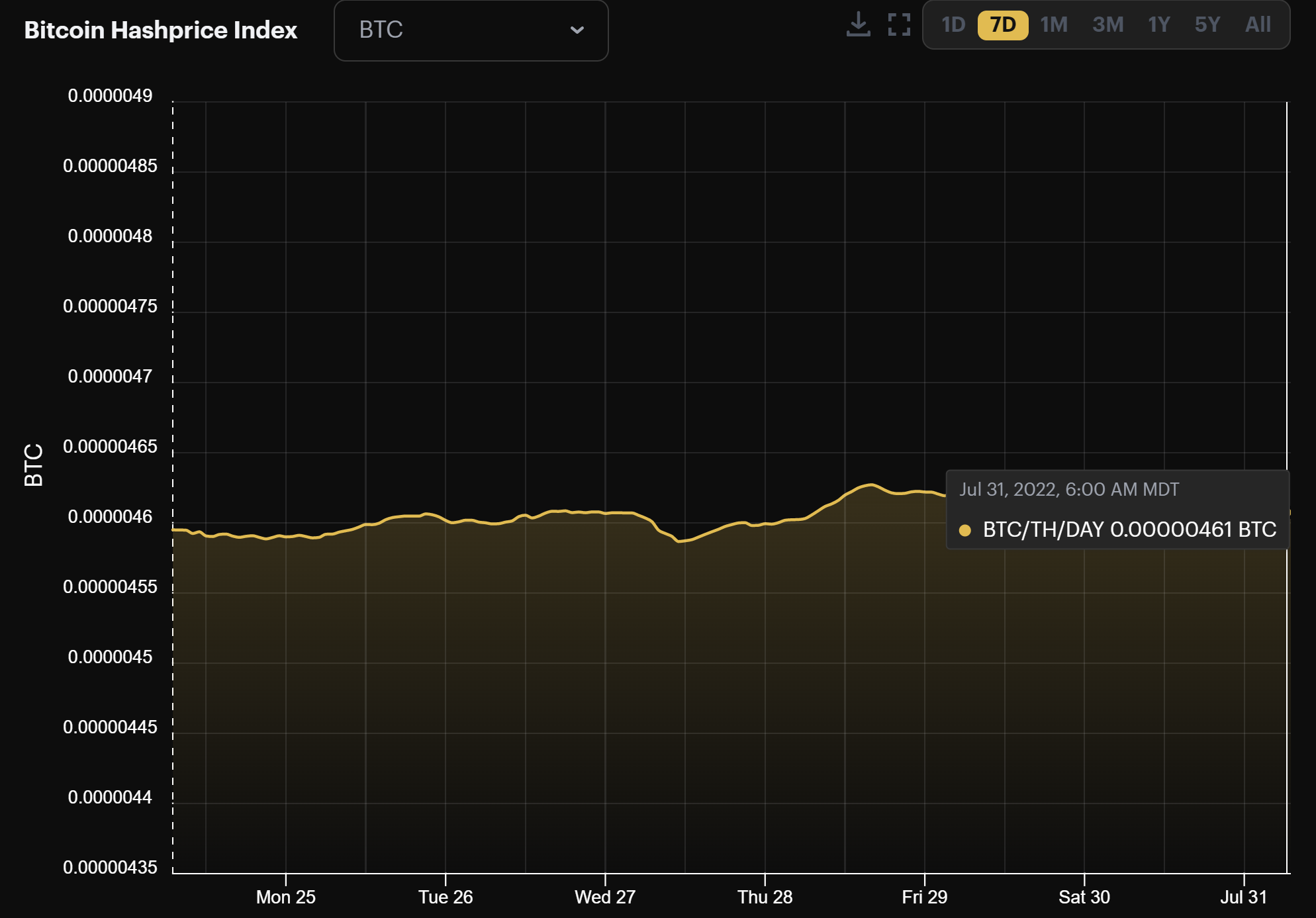 💸
BITCOIN TRANSACTION FEES
After spiking in June and July during Bitcoin's price plunge, Bitcoin's transaction fees are falling again.
Transaction fees as a percentage of block rewards were 1.45% of block rewards last week, compared to 2.67% the week prior.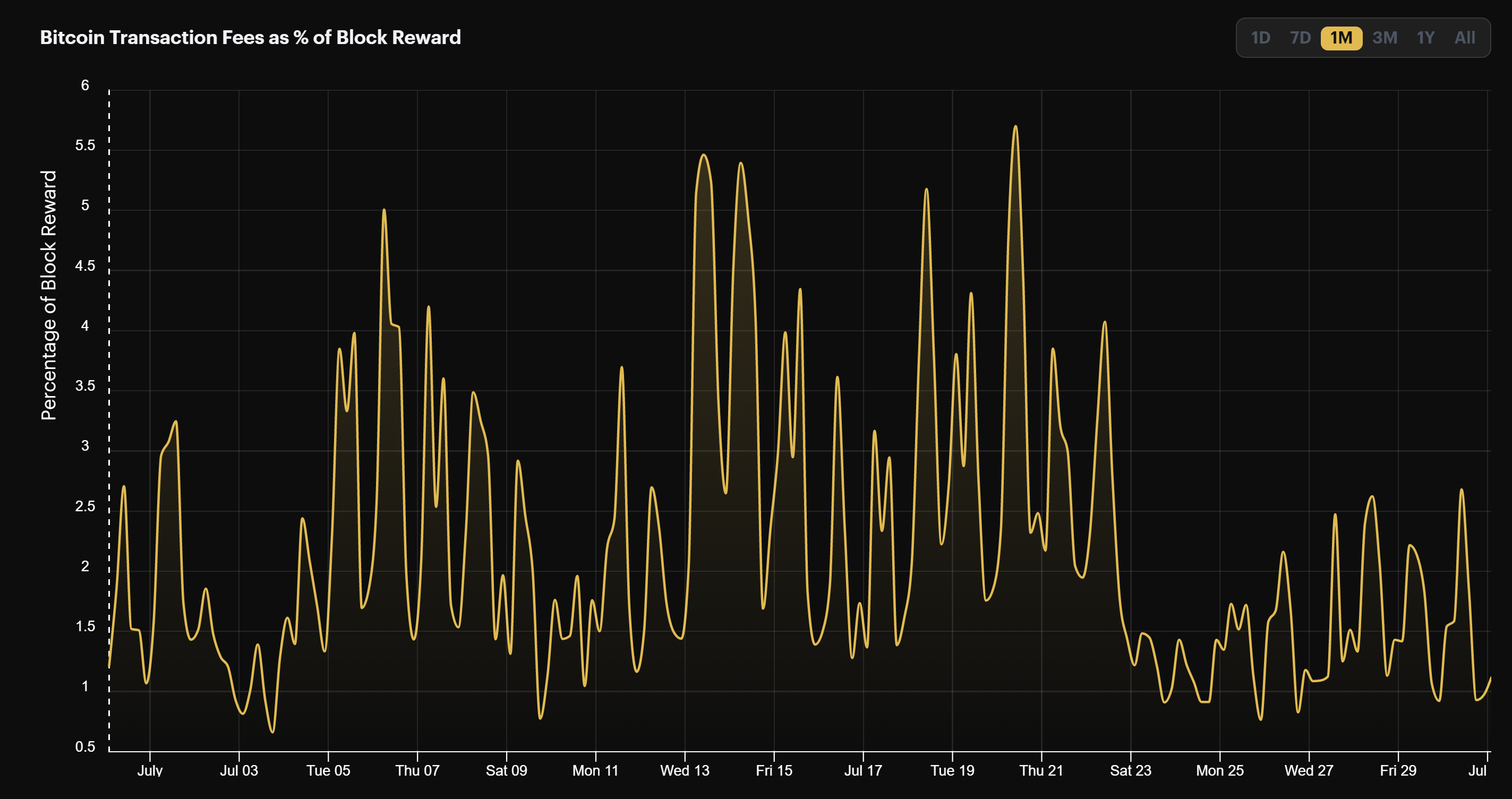 ---
ASIC Price Index  (July 31, 2022)
For the first time all year, we had a positive move in the Bitcoin mining ASIC market.
Ok, admittedly the move came from the lowest efficiency tier, a tier which is most prone to aberrations like these since there are fewer old-gen machines in the resale market. Still, the positive move could be a good omen for rig prices, as selling continues to cool off from the drastic drawdowns we experienced earlier this year.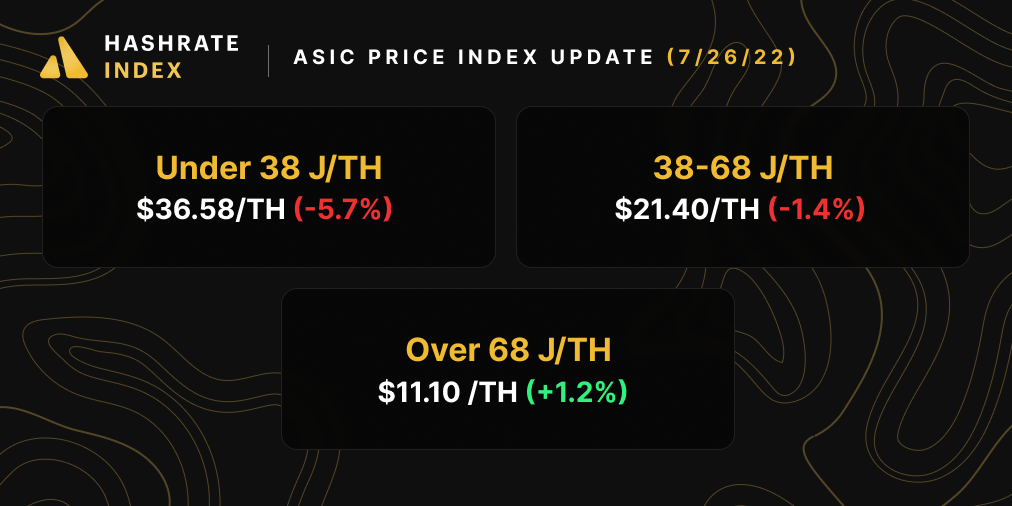 💰
BITCOIN MINING PROFITABILITY
Bitcoin mining revenue potential rose over the week.
Whatsminer M30s++ (112 TH/s): $12.20
Antminer S19 Pro (110 TH/s): $12.00
Antminer S19 (95 TH/s): $10.40
Whatsminer M30s (86 TH/s): $9.40
Whatsminer M20s (68 TH/S): $7.40
Antminer S17 (56 TH/s): $6.10
Antminer S9 (13 TH/s): $1.50
Bitcoin Mining Stocks (July 31, 2022)
Bitcoin's price rose bigly over the week, so Bitcoin mining stocks rallied hard, as well. Our Crypto Mining Stock Index rose 6.2% over the week.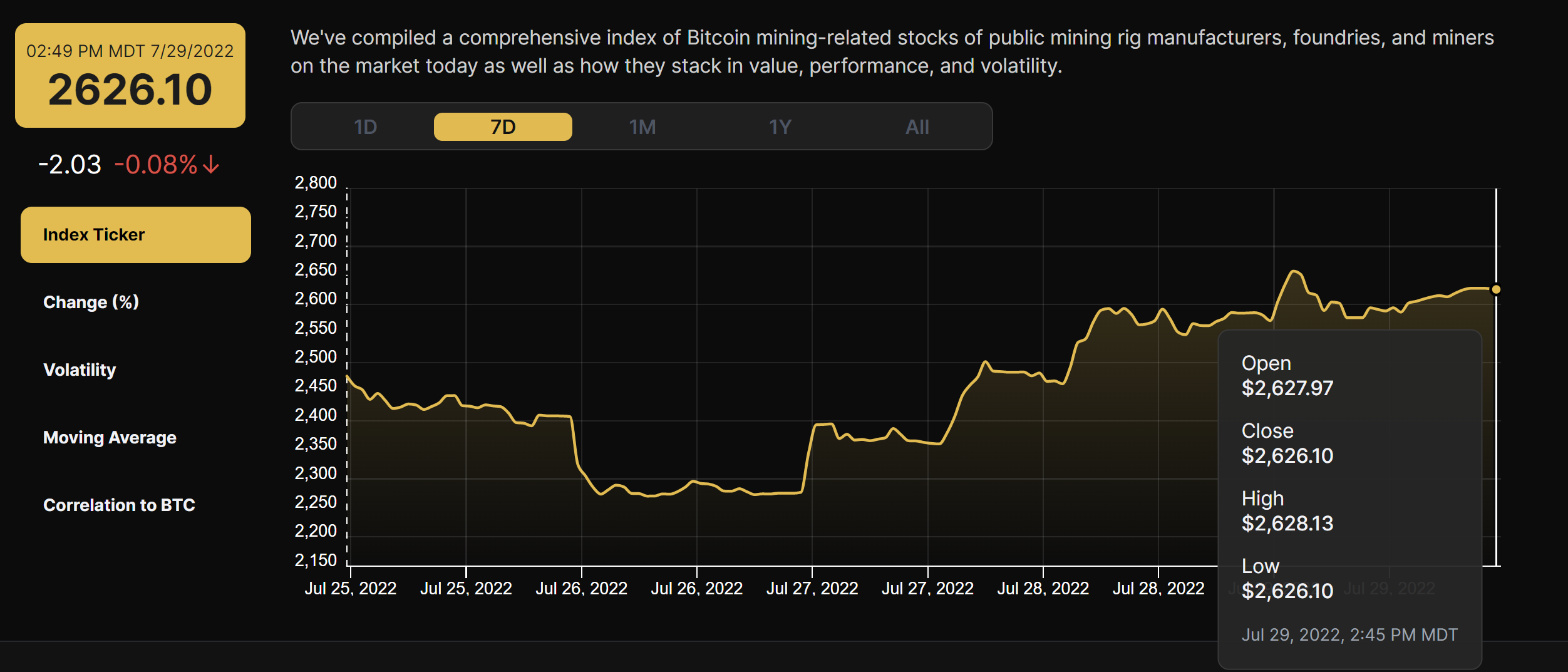 Happy Hashing, and have a great week!
Hashrate Index Newsletter
Join the newsletter to receive the latest updates in your inbox.
---